How many of you remember this bad boy? We did a full blown feature on it last year [click here] actually, but we figured it was time to give you guys a small update on what the car looks like nowadays. Before we go any further we gotta thank the guys at BAUSAuto as this set of photos was originally taken for them, but they were kind enough to allow us to share these stunning photos that photographer Julian Morales captured. This bad boy is still owned by the same owner whom we admire so much. Years ago he managed to build one of the most beautiful G37 coupes all around (in our opinion) and even nowadays we really can't think of many that can even come close.
Photos By: Julian Morales exclusively for StanceNation & BAUSAuto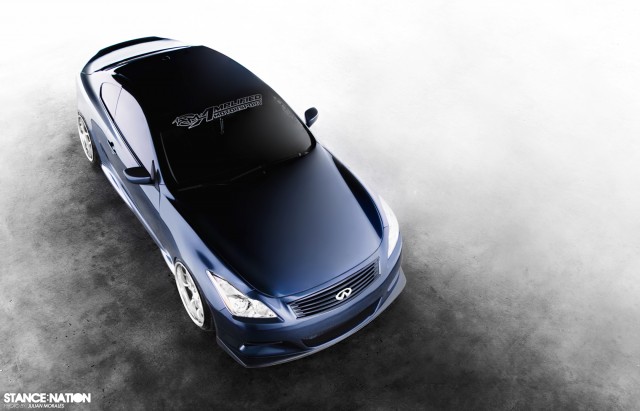 From that flawless fitment to the aggressive BAUSauto's Z-Style Rep Full Kit and the amazing HikkataDori Fiberglass Trunk, this G37 is truly unlike any other. Car is slammed on the ground with K-Sport coilovers with the springs replaced by Universal Air Suspension. The owner had also added SPC rear camber arms and mounted a set of AME Shallen MX wheels. Last time we featured the car the specs were 20×9.5 up front with 225/35/20 tires and 20×10 in the rear with 235/35/20 tires and it looks like they're still the same. Can't blame him, why mess with perfection right? Thuysi is also finally ready to release the specs of his wheels which are -11 up front and -1 in the rear.
Under the hood you'll find Status Elite Carbon Engine Cover, Radiator Cover, Battery Covers and plenty of Password JDM Bolts. Thuysi is also rocking a GT Spec Strut Bar with Custom Overflow Tank and Samco Hoses. Last but not least, Thuysi added the HKS Hi-Power Exhaust with GTM Test Pipes and Takeda Intake for a little bit more of a kick and sound. The car wasn't built for speed as you can tell but like we said last time, 330+ HP isn't too bad.
Once again, big shout out to fellas at BAUSAuto as well as Julian Morales for the incredible photos. Make sure you follow them on facebook by clicking the links below and shoot us an email at snfeatures@gmail.com if you think your ride has what it takes to be on our site!
Follow BAUSAuto on Facebook // Follow Julian Morales on Facebook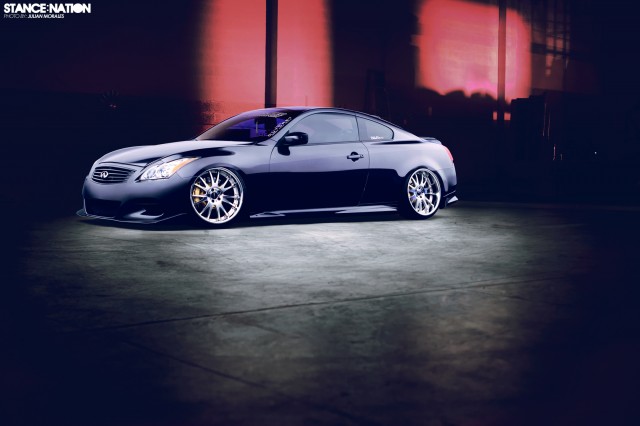 Wheels/Tires/Suspension

AME Shallen MX 20×9.5 20×10
General Exclaim 225/35/20 Front & 235/35/20 Rear
K-Sport Coilovers
Universal Air Suspension Air Ride
SPC Rear Camber Arm

Exterior

BAUSauto's Z-Style Rep Full Kit
HikkataDori Fiberglass Trunk

Engine

HKS Hi-Power Exhaust
GTM Test Pipes
Takeda Intake
Status Elite Carbon Engine Cover
Status Elite Radiator Cover
Status Elite Battery Covers
GT Spec Strut Bar
Custom Overflow Tank
Samco Hoses
Password JDM Bolts