California is blessed with so many talented photographers, and from time to time, we would like to give exposure to other deserving talents who happen to live in other states. It was a rare opportunity for one of our incredible photographers, Javier Santiago, to be in Southern California, and this time we scheduled a shoot with Armand Pranadi, the owner of the uniquely built MR2 that you see in front of you. Due to work schedule for both Javier and Armand, they could only do the shoot at night. Fortunately, Javier's specialty is nighttime photo shoots as he can control the lightning to his liking. Pictures truly do speak for themselves, so let's take a look!
Armand and his close friend, Steven Pan, drove in separate cars to pick up Javier at the Mariott Hotel where he was staying. They needed a chase car to do some rolling shots and to lug Javier's Pelican case which was full of camera gears. While devouring 50 pieces of wings at Hooters in Anaheim and getting a bit of insight on his approach to the stance he is currently at, Javier brought up the idea that the shoot should feature some of the most iconic things that Southern California has to offer. After choosing the places that suit the theme and working out the route, they all headed to a parking structure nearby, and went to the top for a backdrop view of Angel's Stadium.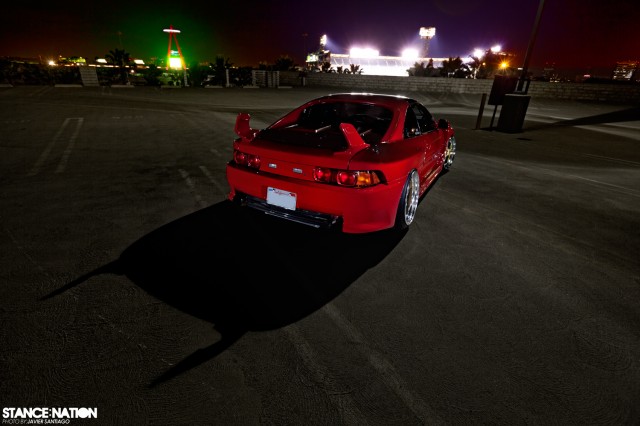 His journey to the current state of his Deuce has been a long one, starting from when he purchased the car back in March 2007 when the odometer read 137,000 miles. After going through two sets of weak-spec that did not do justice to fit the widened dimension of the Deuce, he was offered by his good friend a set of Work Meister S1's in Gold. Armand then purchased that set of Meister from Tee Giang, but the wheel spec (18×8.5 +16, 19×10.5 +10) was still weak for a Widebody MR2. He also upgraded the suspension parts, with Tein S.Tech springs, Tanabe 22mm anti-sway bar and TRD strut bars to go along with the Meisters. For a year and a half, Armand was rocking stacked spacers to make the stance of the car better; 20mm +8mm up front and 25mm +8mm out back. Even stacking spacers like that, nothing bad has happened during his 34K miles driving his car around SoCal with -3.5 camber up front and -4.2 on the back and occasional canyon runs. His love of Work Meister led him to buy yet another set a year and a half later, and this time he bought the set brand new from Speed Alliance in San Diego. Although still in the same color, this time the spec of the wheels suited the Widebody MR2 a bit better.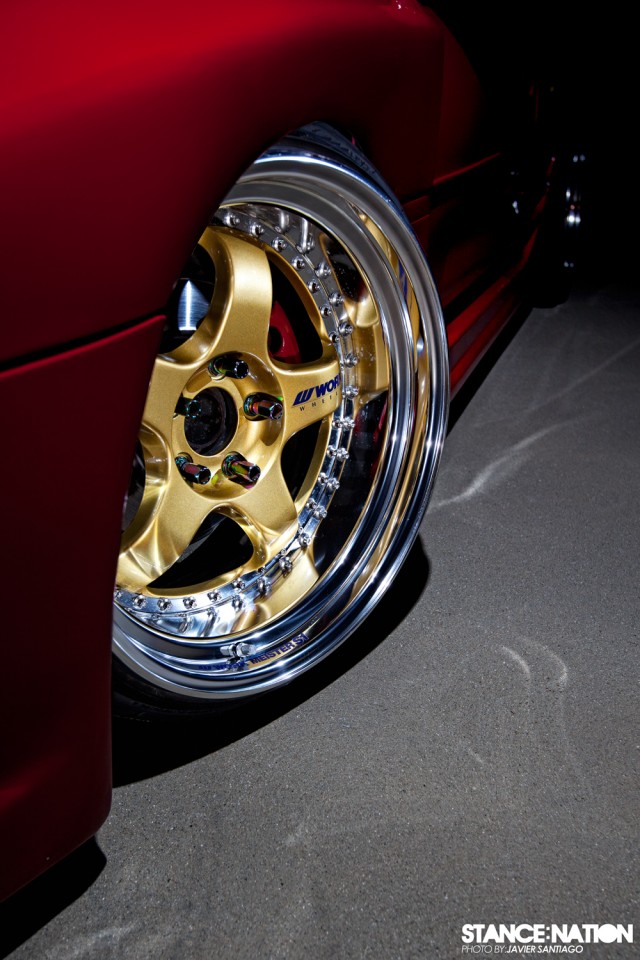 Armand wanted the maximum wheel width the MR2 could fit, so he settled for a set with 18×10 and 19×12.5 in dimension. However, that spec did not come easy, as Tee and Armand spent 2 months calculating the new spec down to the millimeter for what they call "paper clearance". Fitting wheels in such dimension on a 20 years old chassis requires some modification beyond just buying parts off the shelf. Steven made a custom-built coilover with 11.6Kg Eibach springs up front and 12Kg Tein springs in the back, allowing the car to go a lot lower than any other coilovers available on the market. Steven also had to modify a set of Cusco camber plates to get more camber, necessary to clear the fenders with two-paper clearance between inner barrels and coilover housing. After some other modifications, the camber is now -3.5F & -4.2R. While shooting at the parking structure with Angel Stadium as the backdrop, Steven backed his car out of the way and accidently ran over Javier's Pelican case. Our hearts skipped a beat when we heard the loud crack; Armand ran towards the case to check for damages. The Pelican case survived with just scratches, and Javier was extremely relieved since he has some of his best camera gears in it.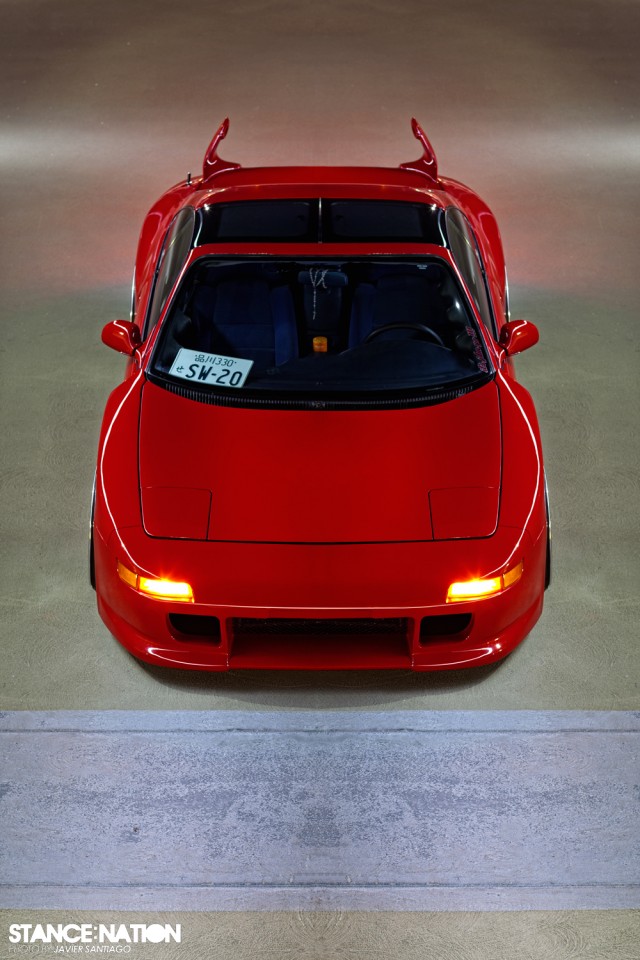 Aside from his enormously wide and gleaming Work Meister S1, probably one of the best-known features of Armand's TRD2000GT Widebody SW20 is his wing, or the lack of it. He calls it "The Devil's Horns Wing" and the picture below shows what he means by that. Having something unique like that on a bright Ferrari Corsa Rosso (Racing Red), means he's no stranger from being pulled over by cops, and his loud APEXi GT exhaust with Berk downpipe don't help either. Armand was once pulled over by a California Highway Patrol and asked if he took off the centerpiece so the car would go faster; but the sad truth about the wing is that a drunk guy stumbled and leaned on the centerpiece and broke it in half. En route to Downtown L.A., Javier was seen hanging out of the window of Steven's Celica GTS, trying to get a few rolling shots. It was a rare opportunity to see a nicely done TRD 2000GT MR2 rolling on Gold Meisters with wicked stance; the Gold Meister spinning mesmerizing other drives.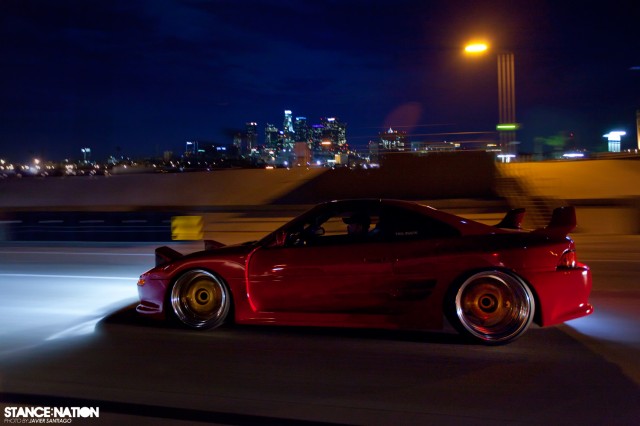 Javier then got curious about the ride quality of Armand's Deuce, so after a quick stop, Javier was riding shotgun. Javier was amazed by the quality of the ride; it was firm but not bouncy, and the car felt like a little go-kart, very agile in lane change but drives arrow straight. The fact that the car is Armand's only car means it is driven every day and mostly everywhere, pilling up on average 21,000 miles/year!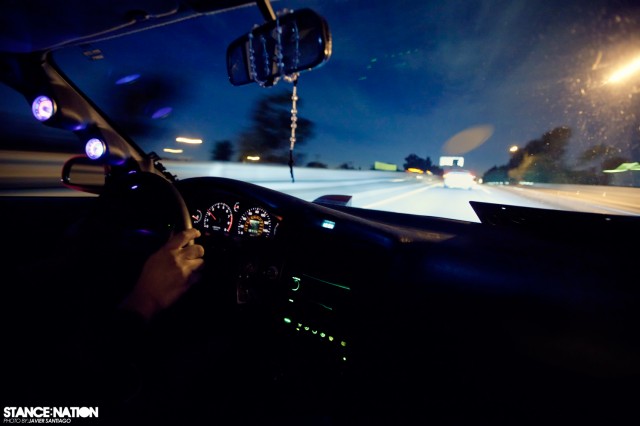 As soon as they got to the spot in Downtown LA, Armand was pulled over by LAPD, wanting to know what they were doing in that area. Javier raised his camera and told them that they were shooting the car, and the cops let them go. This happened twice, as another cruiser went by 10 minutes later and asked the same question.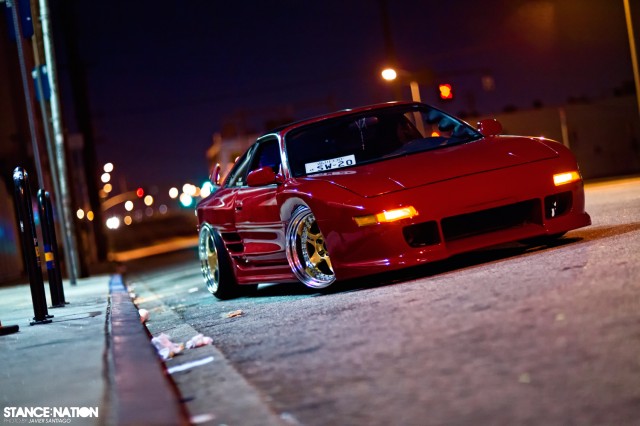 Recently Armand has radiused his rear fenders, raising his wheel arch to allow him to squat the rear even more. Even after doing that, all of his wheels are still poking past the fenders, and that is just what he wants them to be. It seems that his coilover adjusters work only one-way: downwards. The TRD 2000GT Widebody kit is made from fiberglass, allowing it to flex when the tires move up during compression and hit the fenders. With almost no clearance between the tires to the fender, every rub shaves the sidewall of the tires.
It is somewhat hard to believe that his car is on coilovers, when seeing how there is no clearance between his tires and fender. While Javier and Steven were discussing the fitment of the car, Armand took the time to clean up the barrels of his wheels from brake dust, and rubber chunks from his sidewall.
After plotting the best route with the least amount of potholes and cleaned up his wheels from dust, they moved to Los Angeles County Museum of Art (LACMA). The best part was seeing Armand go and take pictures of his own hard work. Really shows how proud he is!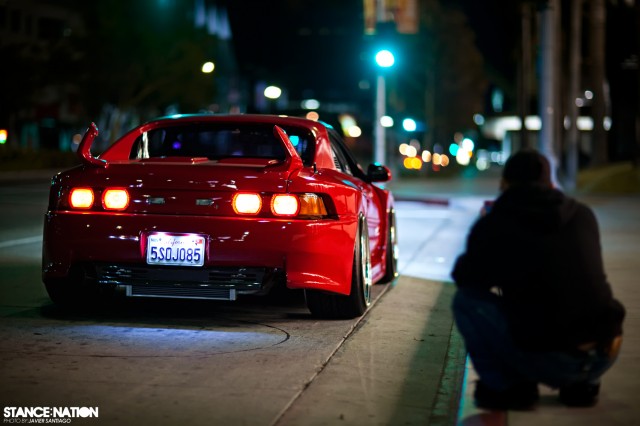 Illest Store in JapanTown is also considered a place to be visited, so they paid a visit and got a parking spot right in front of the store. After some pictures were taken, they went to Kouraku Ramen to have a late night grub.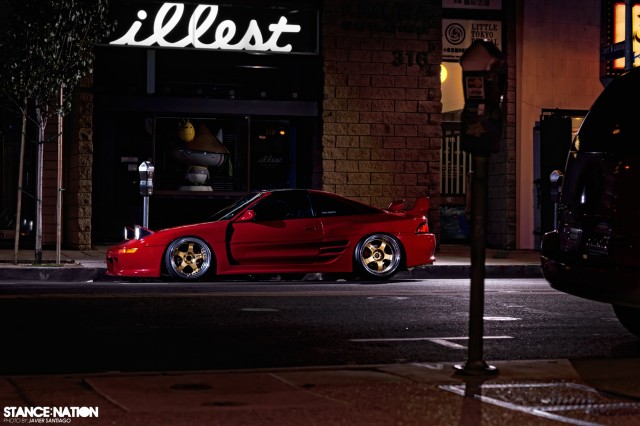 As for our final stop, we decided to go to the famous tunnel near Bunker Hills; luckily, it was 1am and traffic was not an issue. As Armand made a pass on the tunnel, his odometer rolled to an even 219,000, celebrating 82,000 miles of he has put on since he acquired the car 4 years ago. It was heart warming, knowing that a car like that got driven daily instead of getting garaged and hidden from public. This is easily one of the favorite cars we've ever had on our site.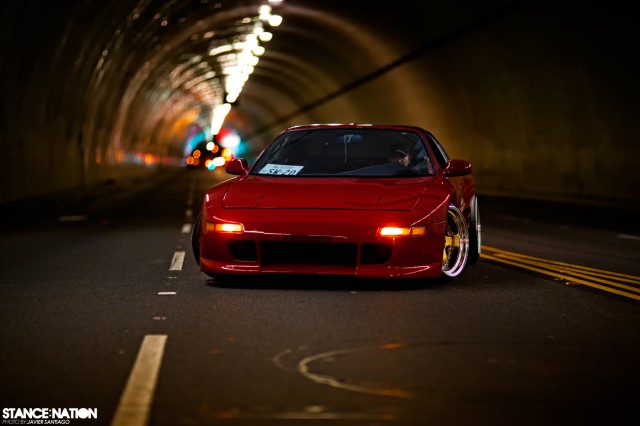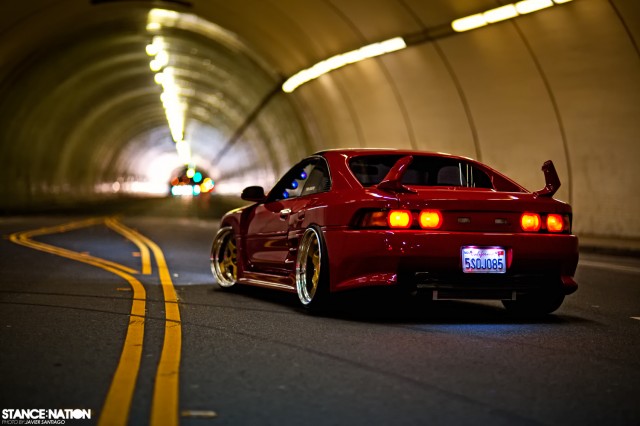 Big shout out to our photographer Javier Santiago for making this feature happen and capturing some of the finest photos that ever graced this blog. Of course, we also got to thank our good friend Armand Prandi for everything! Make sure you say whatup and congratulate him on the feature if you see him in person!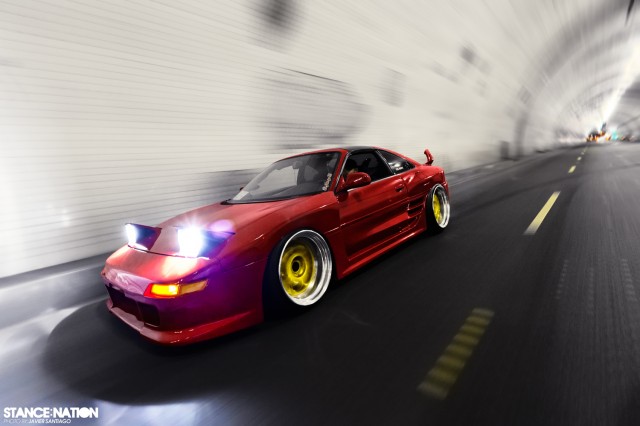 We will leave you with this last image of this iconic MR2, and his last words to me, "The Devil is in the details".
Wheels/Tires/Specs
Stance:
Custom coilover with Koni Yellow
Front springs: 650lbs/11.6Kg Eibach
Rear springs: 672lbs/12Kg
Modified Cusco Camber Plates
Tanabe 22mm anti-sway bar front and rear
High & Tight end links front and rear
TRD strut bars front and rear
Techno Toy Tuning RCA
OBX camber bolts
Project Kics Neo Chrome lug nuts
-3.5 camber front
-4.2 camber rear
Wheels:
Old setup:
WORK Meister S1 3-piece in Gold
-18×8.5 +16, stacking 20mm + 8mm spacers to make -12 effective offset, with 215/35/18
-19×10.5 +10 stacking 25mm + 8mm spacers to make -23 effective offset, with 235/35/19
Current setup:
WORK Meister S1 3-piece in Gold
-18×10 +5 with Toyo T1R 235/30/18
-19×12.5 +5 with Hankook Ventus V12 285/30/19
Exterior
TRD 2000GT Widebody replica
Color change to Ferrari Corso Rossa
The Infamous Devil's Horns Wing
Shine Auto carbon-fiber grill
Windshield wiper delete
'94+ Kouki tail lights
Badges delete
Interior
Left pillar: boost gauge, oil temp gauge, oil pressure gauge
Right pillar: voltmeter and another boost gauge for the passenger to see 😉
Engine
High Boost @19.5PSI: 298.24 RWHP, 254.31 RWTQ
Stock bottom end USDM 2nd Gen 3SGTE
Stock cam gears
Stock clutch
Stock AFM
TVIS delete
Fidanza flywheel
USDM 2nd Gen head with 3rd Gen camshafts
Cometic headgasket
ARP head studs
RMR intake manifold
550cc injectors
JDM '93 ECU
CT20b turbo from 3rd Gen 3SGTE
HKS EVC IV Boost controller, low boost 15PSI, high boost 19PSI
K&N filtercharger
Berk 3″ downpipe
APEXi GT exhaust
HKS SSQV BOV
Air-to-Water Intercooler w/ Heat Exchanger
Water tank for Air-to-Water in the trunk
Water Injection from AlcoholInjectionSystem, 2x3Gph nozzles, set at 8PSI, with water tank in the trunk.
Dual Spal fans with shroud under engine lid