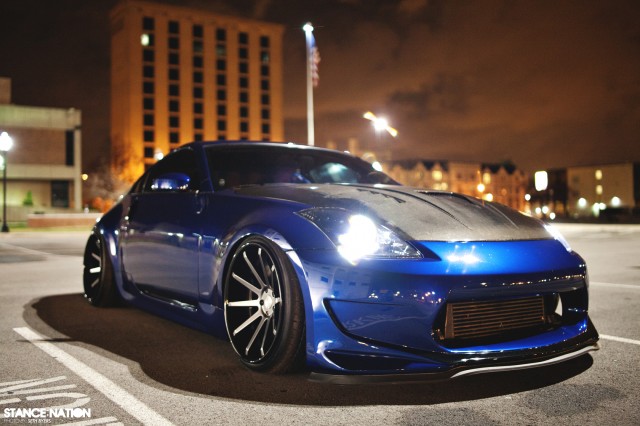 Before anything, we would like to give a big shout out to Nessen  Forged Wheels for allowing us to use their photos shot by the legendary photographer Seth Byers. So some of you may or may not remember Mick's previous features here on Stance Nation. We both thought that after the second feature we wouldn't be seeing his car for a while since he told us that he had no plans to do anything else to the car. Well,  small fender bender changed all that. Ok, what really happened was one night when Mick was changing lanes on a narrow bridge he lost control and instead of hitting a Lincoln Town car coming straight at him, he opted to hit the SUV that was travelling the same direction as Mick. It destroyed his wheels and did a bit of front end damage, though thankfully he wasn't hurt. After the accident Mick planned on just replacing the wheels and fixing the damage but that all changed.
Photos By: Seth Byers exclusively for StanceNation.com & NessenForged.com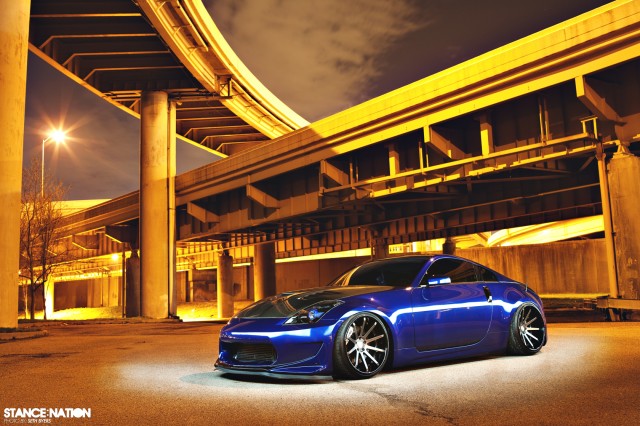 Here is how it all went down. His old wheels were no longer available so he started to look at other options. Mick contacted all the major wheel company's asking for sponsorship and every one of them came back with about the same deal so he decided to go with a new company, Nessen Forged, because nobody had these wheels especially on Z's. They were able to work out a great deal and  Mick ended up going with 20×11 up front and 20×13 in the rear wrapped in 255/30/20 tires up front and massive 305/25/20 in the rear. He knew that he was in for some body work to make them fit the way he wanted them to. After almost 4 months  his new wheels arrived and let's just say that he was blown away. We don't blame him, these things are just jaw dropping if you ask us. As for the kit on the car he decided to hit up VIS Racing Sports for a deal on their new AMS GT kit which was inspired by the 370z Amuse so they agreed to give him a great deal! He now has beautiful wheels and super rare kit and he can't be happier.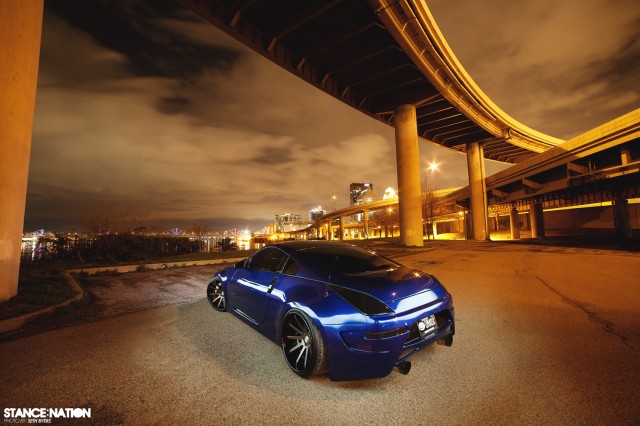 After getting his wheels and body kit in place, he then needed to find a body guy who knew what he was doing. That's where John Alvey came into picture. Mick told John exactly what he wanted and John got to work! John did a very aggressive 2" pull per side in the rear plus some fiberglass and bondo to finish things off. He also built up the rear bumper to meet the fender flawlessly (which looks amazing might we add). As for the fronts, he did some "pie cuts" to make sure those aggressive 11" wide wheels would turn and not do any damage to the fenders. Getting the ride height perfect was a lot of work. They added a lot of preload to the springs and now the wheels miss the fender and coil over by about 1mm each side. Mick decided to go with a darker blue then stock because he hated how the stock Daytona Blue washed out in the sun. John also added some pearl to the new blue so it was now a "tri color" application. Mick also had John cut the rear diffuser out so those sexy polished pipes would show some more.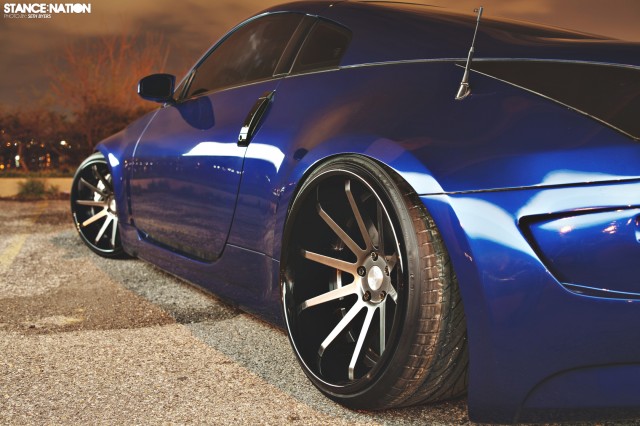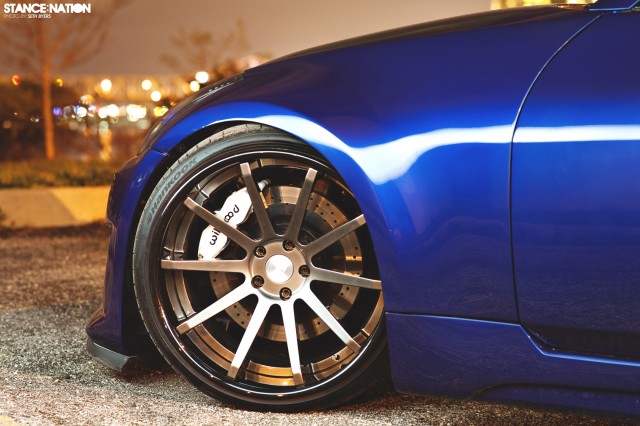 Mick also ended up getting new '09 head lights that he had modded with blacked out main housing and blue projector housing to match the car paint. They look a lot more aggressive then the old ones if you ask us, what do you think? There you have it, after 2.5 months of hard work and many trips back and forth from the body shop the car was finally done. Though Mick couldn't have done it without his girlfriend Hannah. The constant support and running back and forth from the body shop with Mick certainly means a lot. It's always nice to read about the incredible women out there who support their boyfriends & husbands with what they love doing. Big shout out to Hannah from all of us!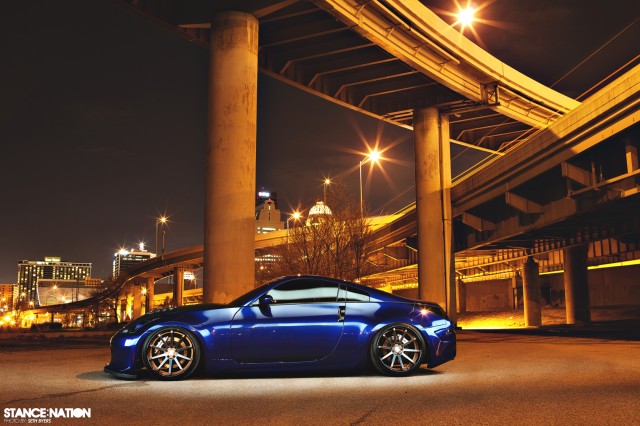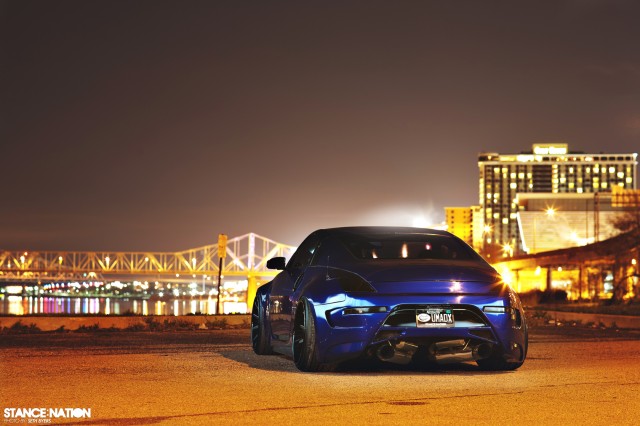 That big intercooler you see is there for a reason.  He tells us that he is pushing about 400 horsepower at the wheels with the Precision 6262 Turbo, but that's going to change before you know it. Mick doesn't sound too happy with just 400WHP and it looks like it'll be pushing another couple hundred very soon.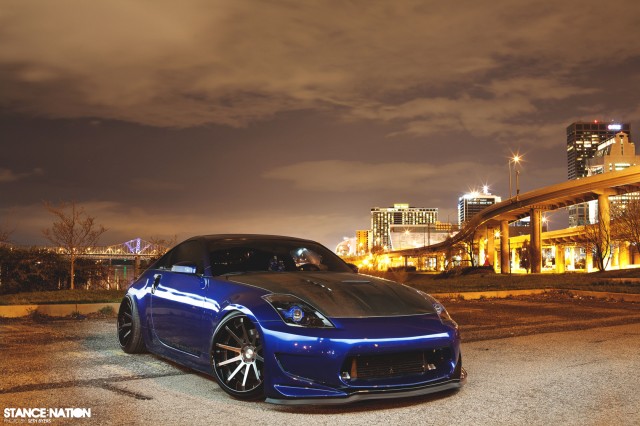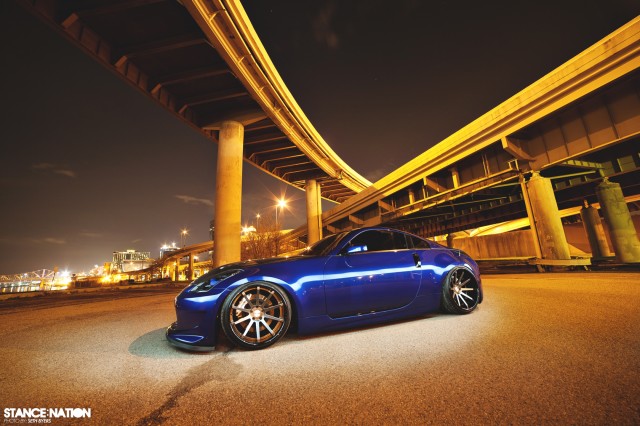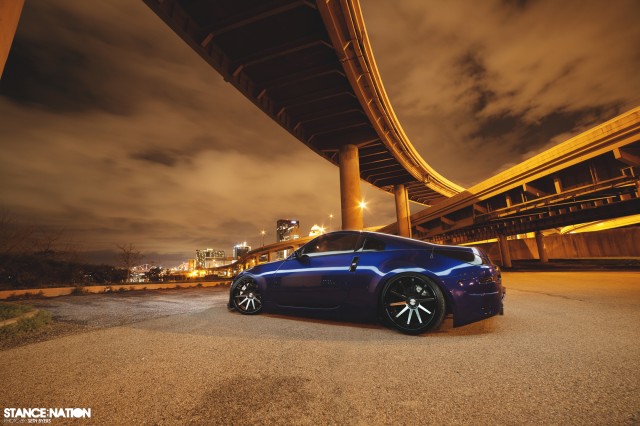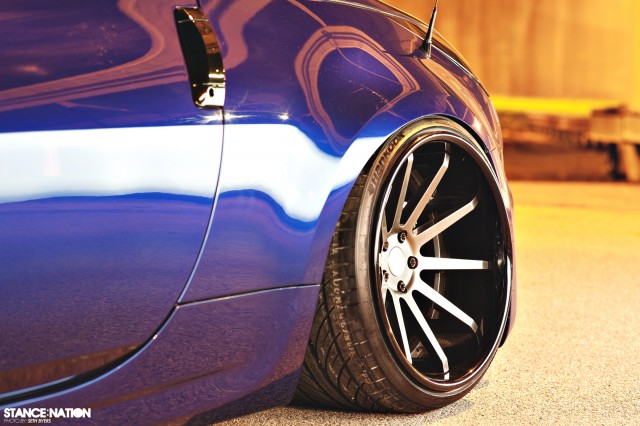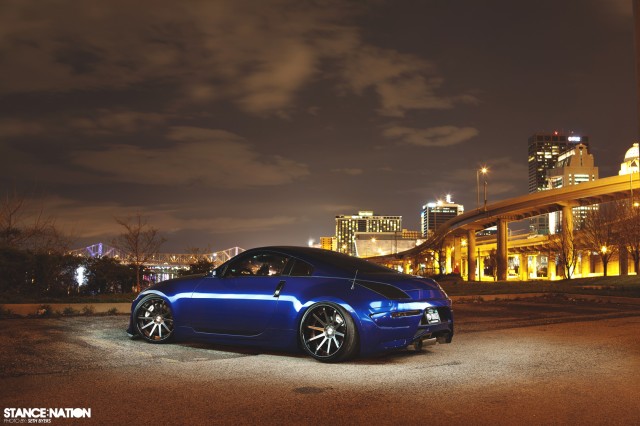 As you can tell there are quite a few photos in this feature. You can all blame photographer Seth Byers for that because we couldn't pick out just 10-15 like we usually do. Every single one of his photos is just incredible in our opinion. Drop a comment below and let him know what you think about his work!
With that said, we want to give another shout out to Nessen Forged and Seth Byers for the photos and of course Mick for constantly outdoing himself and building an awesome ride yet again. Make sure to visit Nessen Forged by clicking here and check out their facebook page for more of their awesome wheels. Don't forget to contact us with photos of your ride, we are always looking for new cars to feature!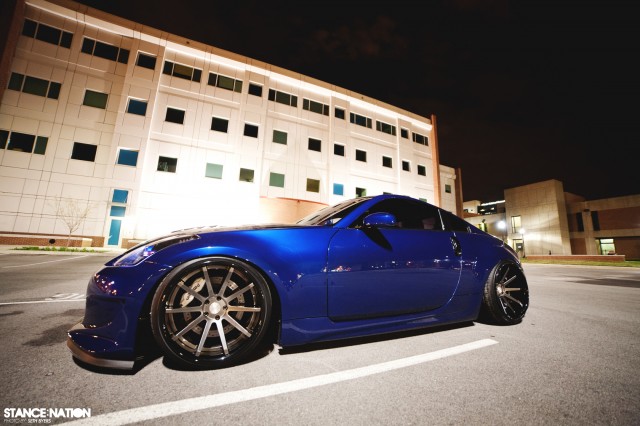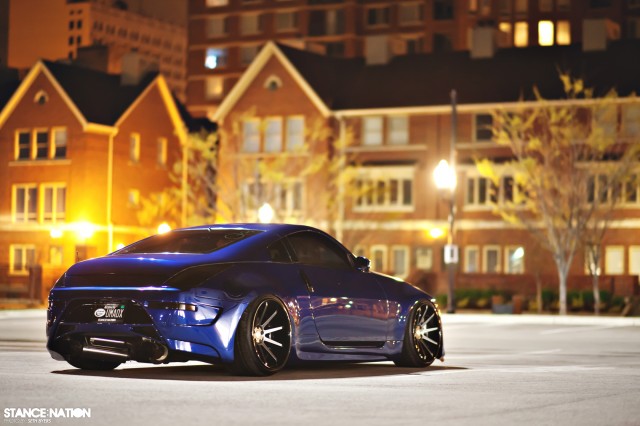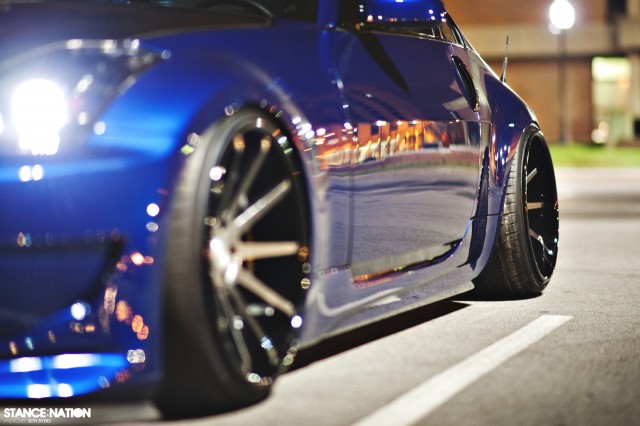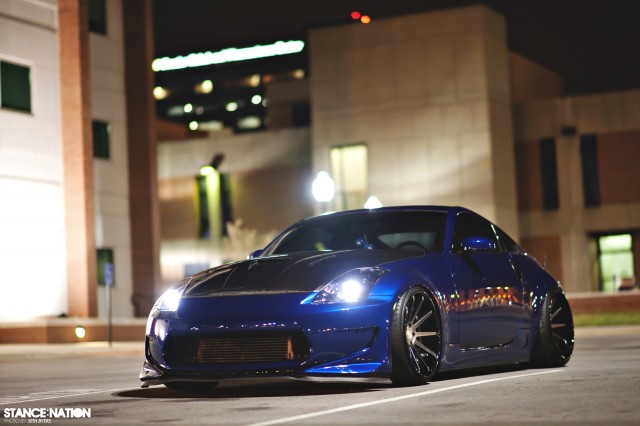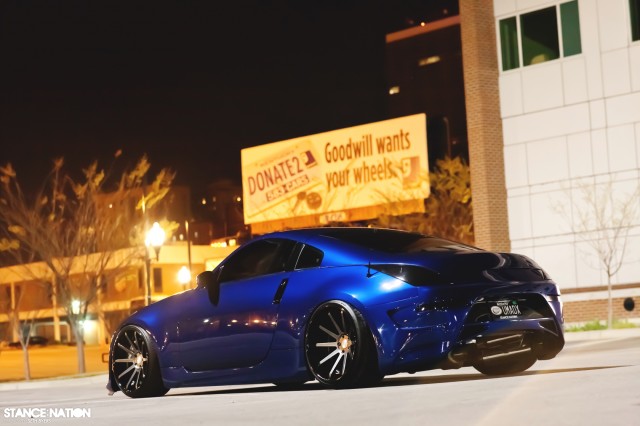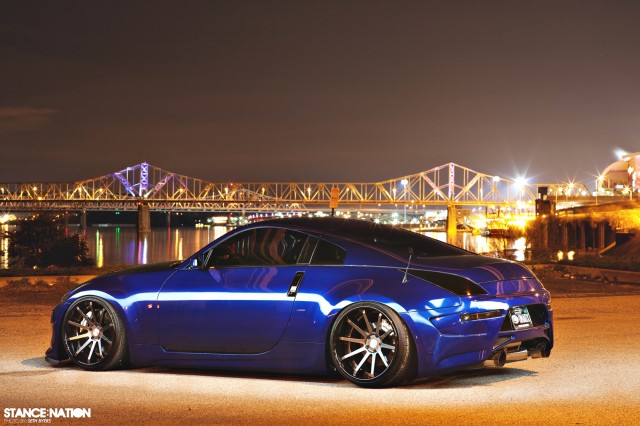 Wheels/Tires/Suspension

Nessen Forged custom 3 piece S.10

Front 20 x 11" 5.5" Concave with 5" lip.

Rear 20 x 13" 5.5" Concave with 7" lip.

Tires:
Hankook 255/30/20 front.
Hankook 305/25/20 raer.

Suspension:
Megan Racing Track Series custom full coilovers
32 way damper adjustment
14kg front springs
12kg rear springs
Stock spring weight is 8/6kg
The car is lowered about 4.5″
Megan racing rear lower tie bar
Camber -4 rear and -2.25 front

Brakes:
Wilwood 4 piston front
Wilwood 4 pistonrears
Wilwood 14″ Cross drilled front rotors
Wilwood 13″ Cross drilled raer rotors
Braided brake lines

Exterior

Over 200 hours in Custom Wide body set up, 4" wider then stock in the rear, 2" wider in the front.

Custom blue pearl paint job.

Fully shaved body with emblems, spoiler and rear wiper deleted.

VIS racing AMS GT Front bumper

VIS racing AMS GT Side skirts

VIS racing AMS GT custom wide rear bumper with diffuser removed

Seibon 07-09 VT Carbon fiber hood

Carbon fiber mirror covers

Rare JDM wiring harness cover

Carbon fiber battery & master cylinder covers

Carbon fiber cooling plate

Blacked out door handles

Custom LED taillights

Headlights:
07-09 headlights
Blacked out housings
Painted Blue projector housing
White HID LED halos
White side marker LED
White ironman halo
Red demon eye LED
STi Lenses
8000k HID bulbs

Interior

Defi boost gauge
AEM Wide band o2 gauge
2 Din Eonon DVD/MP3 with TV
ARC Audio 1500 Watt Amp
Pioneer Champion series 10" Sub woofer
Pyle Front Splits
Rockford Fosgate Rear speakers
Power Acoustik 1.5 farad Capacitor.

Engine

3.5L VQ35DE V6 Turbo

OBX Light under drive pulleys

OBX Power Tower helix throttle body spacer

OBX Silicone radiator hoses

OBX Thermal Manifold Gasket

GReddy Turbo oil pan

Cosworth Duel Plenum Manifold

DeatschWerks 440cc injectors

Walbro 255 lph high pressure fuel pump

Transmission:
Fully rebuilt RE5R05A auto, will handle 700+ hp
Transgo shift kit
Large valve body
Heavy friction plates
Independent trans cooler
2800 Hi Stall converter

Induction:
Precision 6262 Turbo
Turbonetics piping
Spearco intercooler
Turbonetics Evolution waste gate
GReddy type RS blow off valve

Engine managment:
Stock re mapped ECU with Uprev's Osiris software.

Exhaust:
HKS custom type single 3" into duel 2.5"
Badlanz 3" wireless remote controlled cut out.