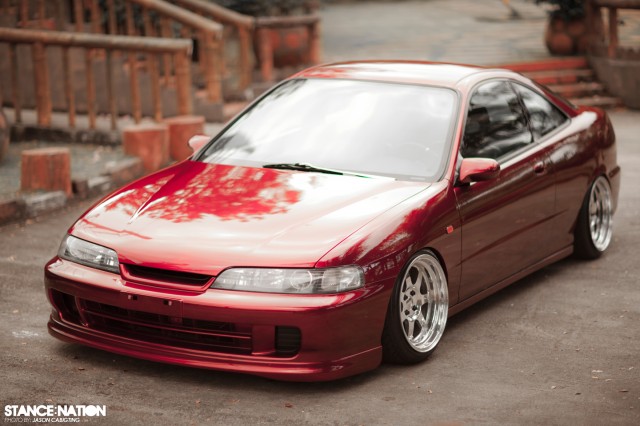 About 6 months ago we received an email from Charley Mendoza who showed interest in possibly having his car shown on our site. Right away we were impressed with how humble Charley was before we even scrolled down to look at the photos he attached. As soon as he told us that he was from a small (and beautiful might we add) paradise Island of Guam we knew this was going to be good! We've featured several rides from Guam before and these guys know their stuff. They definitely don't get as much credit as they deserve but that's why we are here. It's been a few months since you saw an Integra on StanceNation so it was definitely long overdue. Let's take a look at Charley's pride and joy and learn a bit more about it, shall we?
Photos By: Jason Cabigting exclusively for StanceNation.com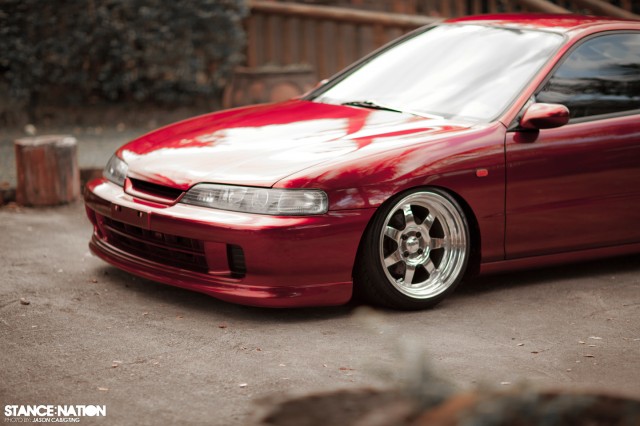 After years of "hand-me-down" cars from his brothers and sisters Charley was fortunate enough to receive a brand new '97 Integra RS as a graduation gift from his very kind & generous parents. For years he enjoyed his stock Integra until the "Fast and Furious" phase of the scene swept Guam. In 2002 he entered a show by the name of "Island Import Nights" sporting a custom "burple paint" with a full kaminari body kit, lots of chromed out wires under the hood and running on Niche Bella wheels. (Oh yeah, we did just say Niche Bella!!) he took home the 1st place trophy and that's what got the ball rolling. Charley entered show after show picking up trophies left and right. In 2004 he painted his car "Candy Red" and installed lambo (vertical) doors cause at the time that was hot. Then, in early 2006 he decided to "retire" from the scene putting the car under covers for 5 long years.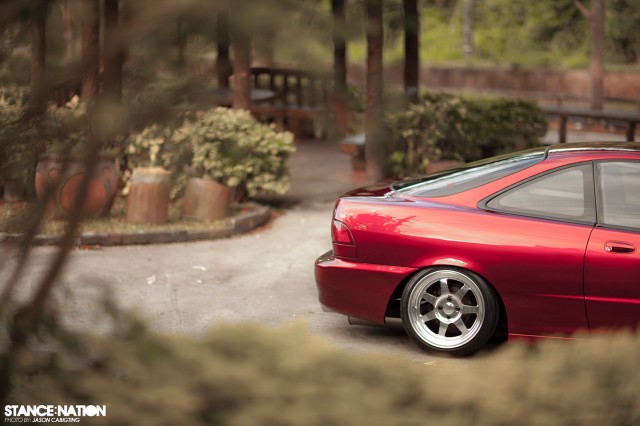 Mid 2011 came when Charley brought the car out again to an event by the name of Upshift Stancefest. Feeling a bit out of place he decided it was time to give the car an update and put that Kaminari kit look to the side. The changes consist of a full JDM Type R conversion and a whole different shade of House of Kolor Brandy Wine. He of course also tossed out the vertical doors and those sexy Niche Bella wheels and replaced them with a fresh pair of JLine's.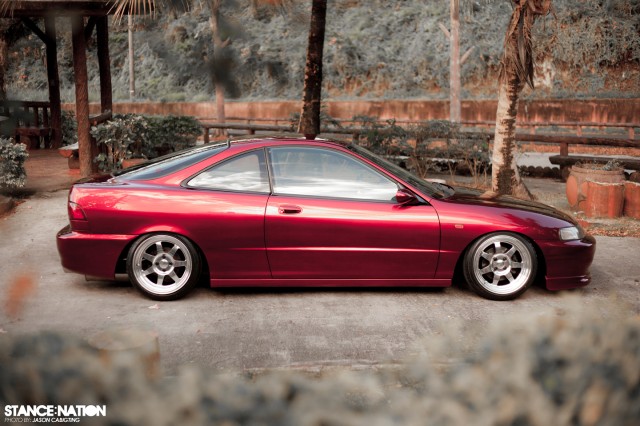 So, we now sit with a drop dead gorgeous '97 Integra with only 30K miles on it. Besides the Type R conversion Charley also added Spoon mirrors and as we said JLine 7sl2 wheels. They are actually sitting 16×9.5 all around with an offset of +15 and are wrapped in Falken 205/40/16 tires. Polished/Chrome finish is usually not our first choice but it looks absolutely stunning against that smooth Brandy Wine paint. Behind those beautiful wheels we can also see SP Performance cross drilled & slotted rotors. Job well done Charley, just right!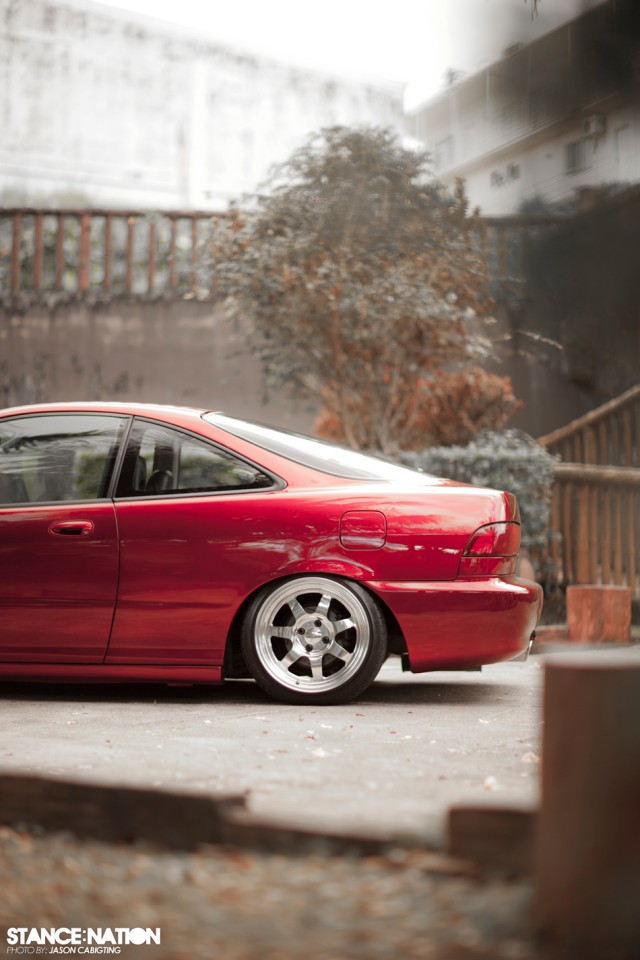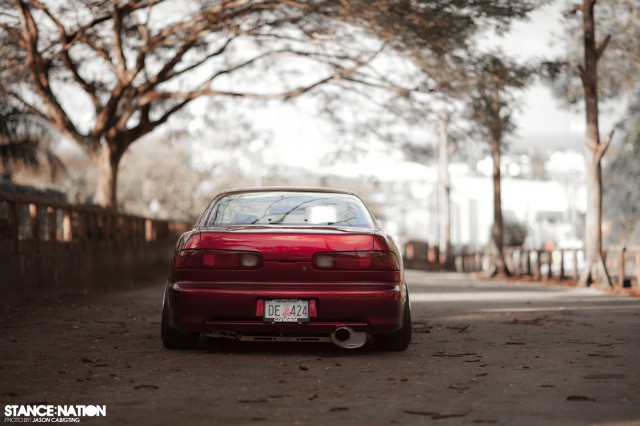 Suspension wise the car is running AGX adjustable struts, v-spec adjustable coilspring and Megan rear lower control arms. Charley also added the Benen lower tie bar and Blox adjustable camber up front and in the rear. No crazy camber here rather just enough for wheels to clear the fenders properly. We dig it.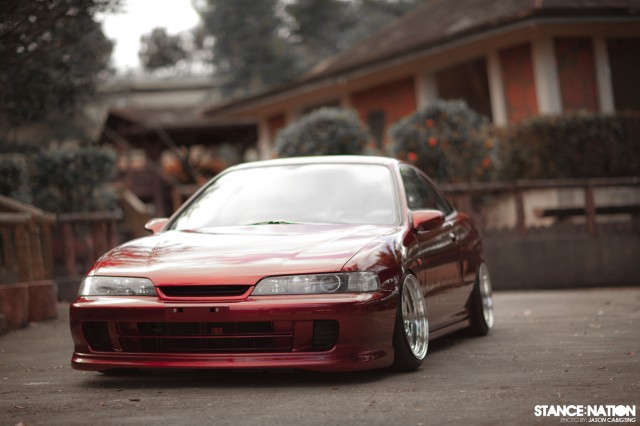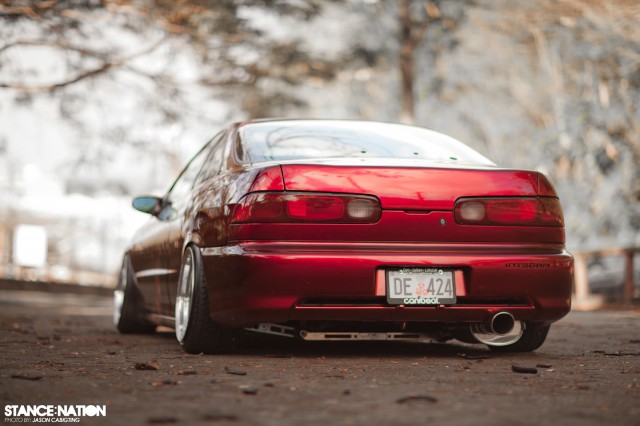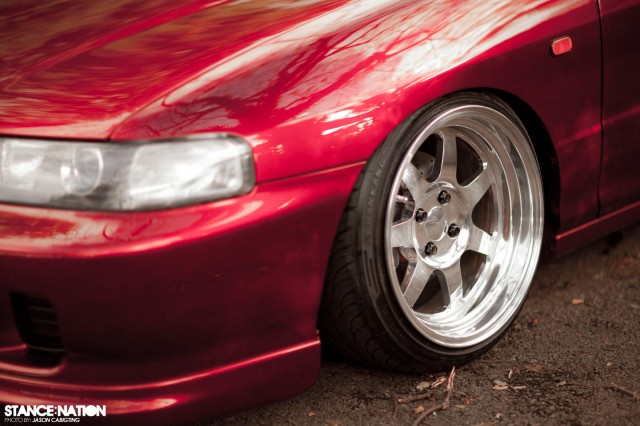 Under the hood we have quite a bit of small stuff actually though there is still a few things that were left from cars previous stages. Many parts were carefully dipped in chrome though Charley also added a few things like AEM fuel filter, AEM cam sprockets, Samco radiator hose, a fully polished Megan radiator, Weapon-R coolant catch can and STR reservoir covers. Charley is also running a full Greedy catback exhaust. Judging from what we are told, we have a feeling that there may be engine swap and wire tuck coming REALLY soon here. His goal for 2012 is to finally drive his Integra as much as possible and of course bring the car back out to more shows.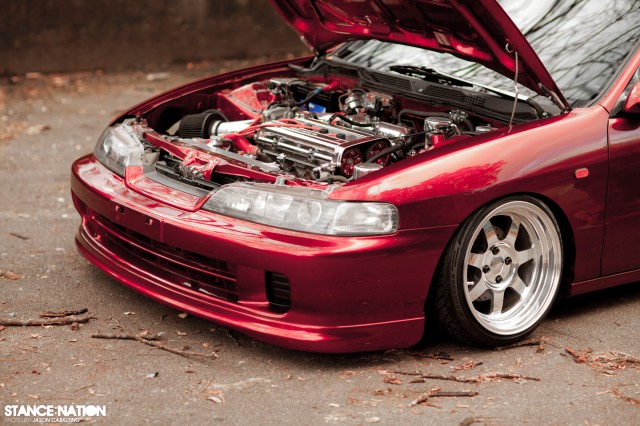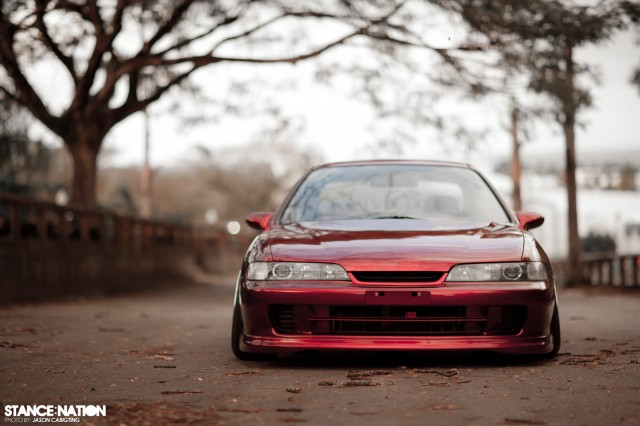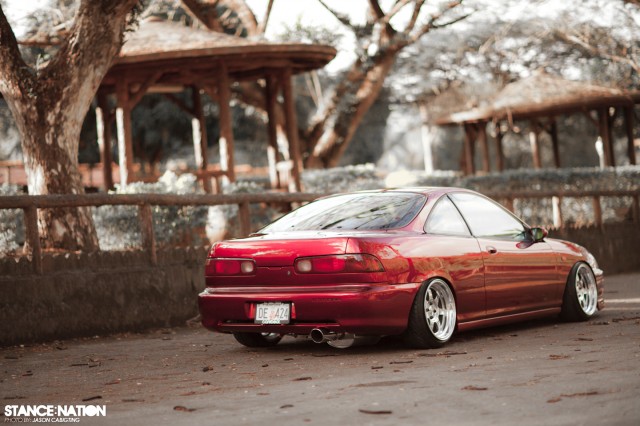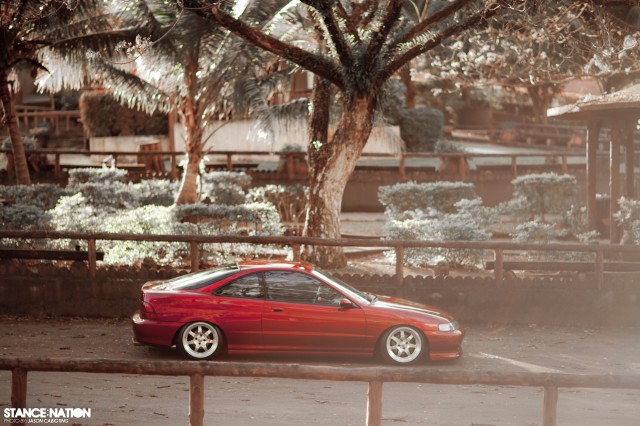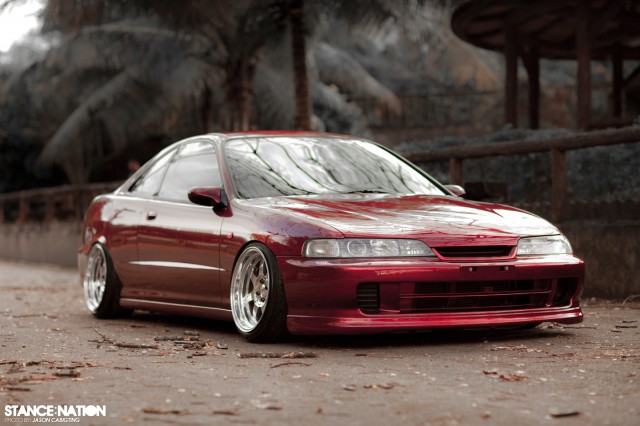 Interior features Integra GS-R leather seats, carbon fiber air bag delete tray, a Megan shift knob, ITR shift boot, Megan quick release steering hub and of course the Momo steering wheel that you see in the photo below.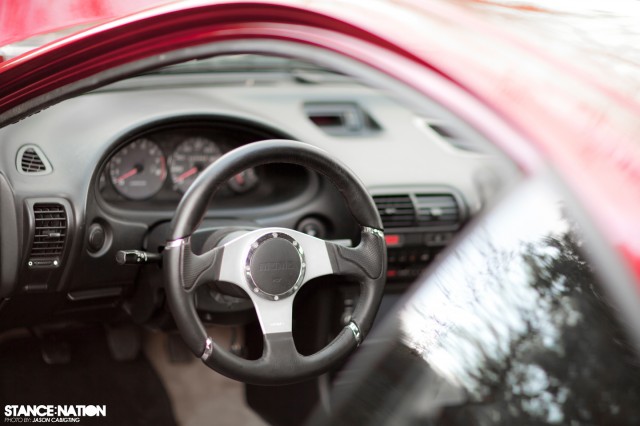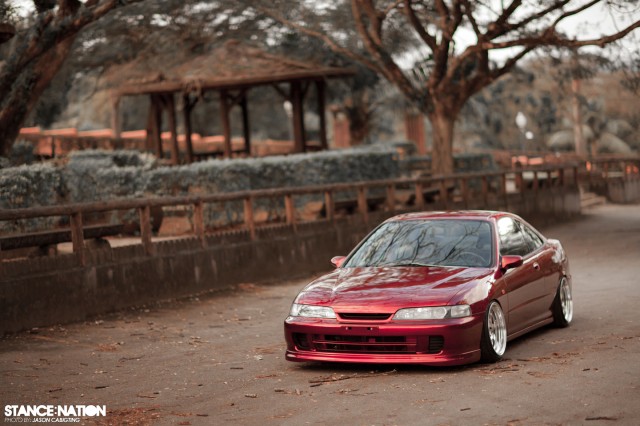 Huge shout out to Charley as well as our very talented photographer Jason Cabigting for hooking us up with some incredible photos! Charley also wanted to thank his friends Delfin and Troy, Bustillio family, Jun Muhi, The Porkys Crew and everyone who helped Charley make this build possible. As always, make sure you shoot us an email if you think your ride has what it takes to be on our site! Special thanks goes out to all our Guam fans out there!