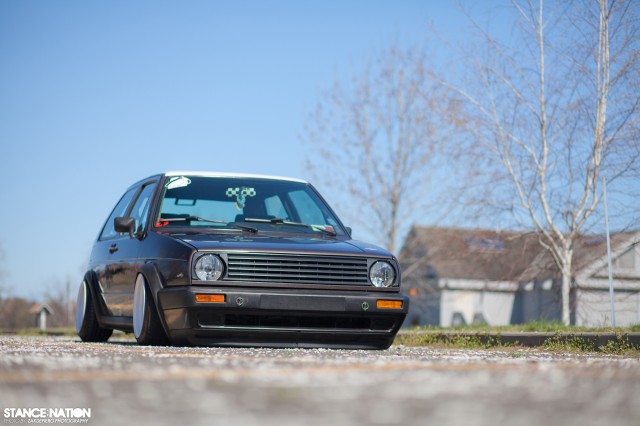 One of the most awesome things that comes with running a site like StanceNation is getting a chance to meet so many talented people. Whether it the owners of these mind blowing cars or the incredible photographers who go out of their way to get that "perfect" set of photos. We were recently contacted by Kevin about a possible feature that him and his friend Zak shot, so today we'll be looking at this awesome VW Golf MKII which we're sure you'll love just as much as we do. With it's front lip kissing the ground and fender flares sitting right on top of those stretched tires it's one of those cars that truly deserves to be seen. It's an honor to have it up on our site.
Photos By: Zak & Kevin exclusively for StanceNation.com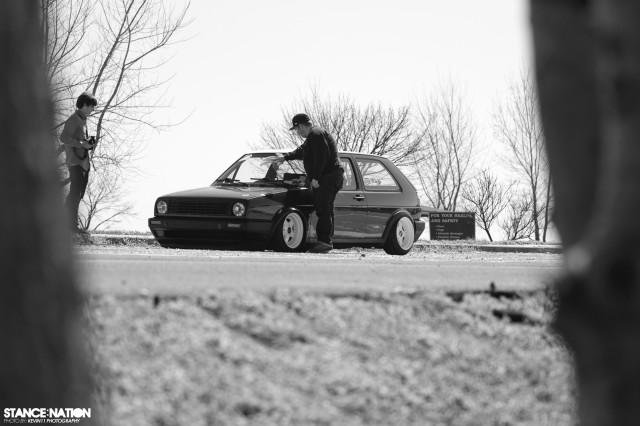 As with most Euro cars, it looks like it was all about staying simple and clean. You won't find any flashy paint or anything over the top for that matter. The owner took his time cleaning the body up by removing/shaving off lots of unwanted body parts. He removed things like the antenna and cleaned up the hatch and sides, which looks awesome might we add.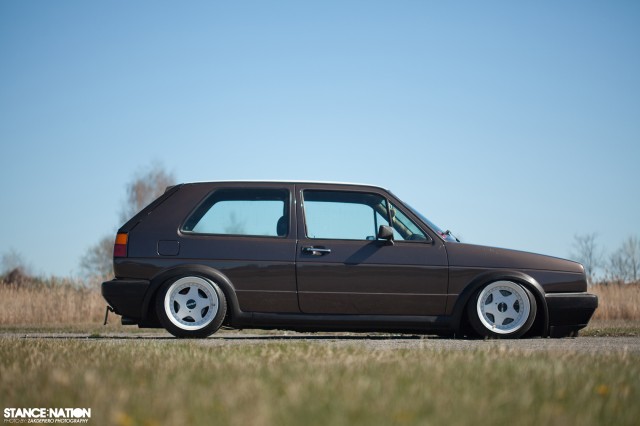 One of the things we like the most about this ride is how the owner was able to make the colors work so well together. By painting the roof same color as the wheels he definitely thought things out. While we're on the wheels why don't we get into some numbers! The OZ Fittipaldis are sized at 15×9 up front and 15×9.5 in the rear and are wrapped in 195/45/15 tires all around. They were finished off with an awesome big brake kit which you can see better couple of photos down.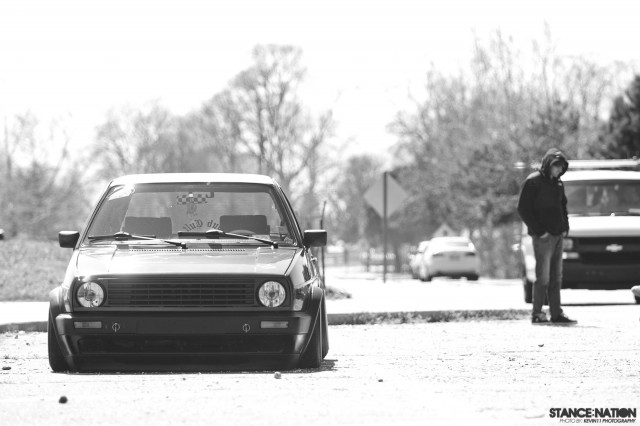 We hate to favor cars but this is honestly one of our favorite VW's we've ever featured. It's all about simplicity and execution for us and this car definitely has them both. It's safe to assume even when aired up the lip sits just inches of the ground. We would love to hear what you guys think about this beauty so make sure you drop a comment if you get a chance.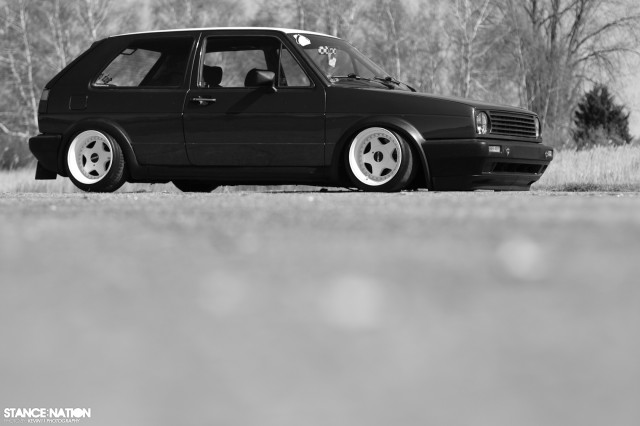 We would like to give special thanks to Zak and Kevin for the awesome photos. We'll leave you with a dozen more photos to enjoy, make sure you click them for higher resolution. If you think your ride has what it takes to be on our site we urge you to email is a few photos right now! We're always looking for slammed and fitted rides to feature! Make sure you visit Zak's flickr and facebook as well as Kevin's flickr and facebook to stay up to date with their work!