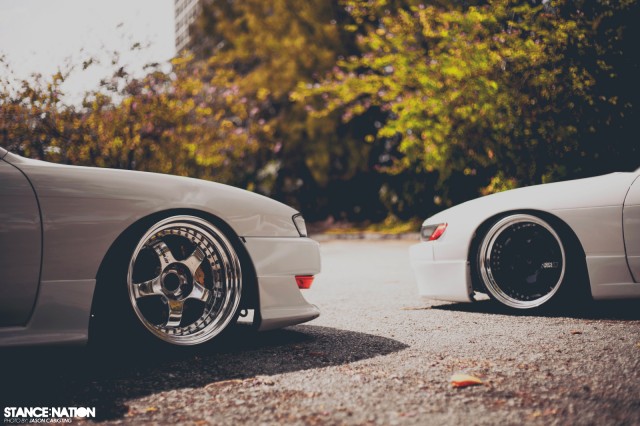 Guam is back in the spotlight yet again and they're not going anywhere anytime soon! Today we are bringing you a couple of slammed & extremely sexy Nissans which belong to Rowell Santos & his friend Ben Garcia. They recently got together with our talented photographer Jason Cabigting who was able to take quite a few photos for us. Actually, this feature consists of about 30 photos so make sure you scroll thru all of them below. Big shout out to all of our Guam fans, seems like the stance disease is spreading there at a very fast pace!
Photos By: Jason Cabigting exclusively for StanceNation.com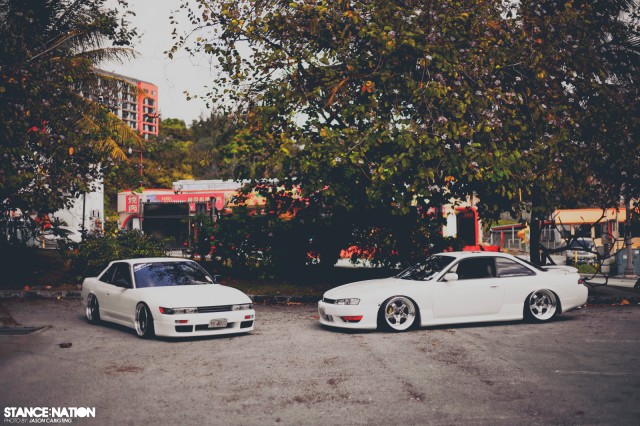 Let's first start with Ben Garcia's '98 Nissan 240SX shall we? Going for that simple and clean look, up front Ben went with a JDM Kouki lip as well as JDM grill. As "simple" as it sounds the front end looks pretty damn deadly. Very intimidating. Ben is also running the OEM wing along with Navan side skirts as well as Navan valences in the rear. Now we don't know about you guys but if you ask us, Silvia S14 is easily one of the most aggressive looking cars, ever. Especially when they are laid out on the ground with wheels/tires poking slightly past the fenders. Talk about sexy…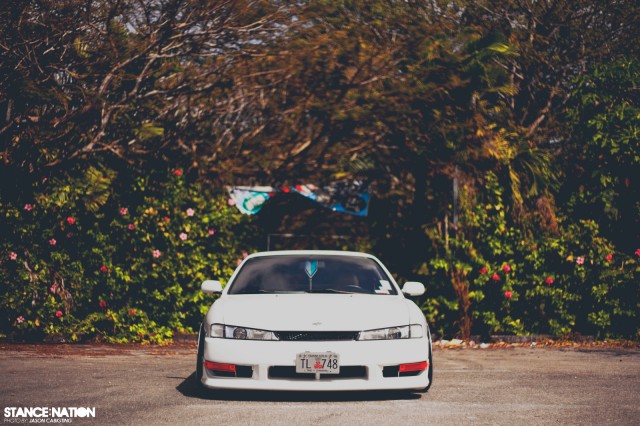 This is where it get's pretty awesome. Ben obviously wasn't going to settle for just simple coilover upgrade so he ended up changing a ton of stuff. Currently he is running Tein MonoFlex coilovers, Tein Inner tie rods & Tein Strut bars. On top of that, other upgrades include things like SPL RUCA, SPL Toe arms, SPL Traction rods, SPL Outer tie rods, PSM FLCA, PSM RLCA and PSM Super Steering Knuckles! Last but not least the car is also running Energy suspension bushings. We're willing to bet that it rides like a supercar.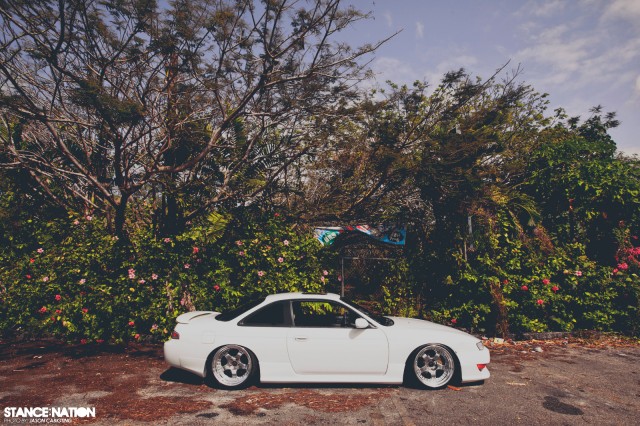 Fitment, fitment, fitment. Ben's choice of wheels were the sexy WORK Meister S1's! Not the most aggressive setup we've ever seen but they fit like a glove! Front wheels are 18×9.5 with an offset of -3 and a pair of Federal 595 tires sized at 215/35/18. Rears sit a bit more aggressively at 18×10.5 with an offset of -1 and of course Federal 595 tires in the rear as well sized at 225/40/18! You really can't go wrong with Work Meisters on S14's they look so well together don't you agree?
That brings us to what you see peeking behind those wheels. Yes, those are Z32 front and rear calipers which also include DMF Rear Dual Caliper Bracket, EBC Red stuff pads and DIF Brake lines. Ben is also running ASD Hydraulic Pull back handbrake.
So let's see here. It rides, looks and stops like a champ, what more can you ask for!? Ben definitely did a great job building his ride and we can't thank him and our photographer enough for wanting to share it with us. Before we forget, the car is also equipped with Mishimoto Aluminum Radiator, Mishimoto Aluminum Dual fans & Shroud, Fidanza 11 lb flywheel and lastly DSS aluminum shaft. Well built all around, wonder what's next…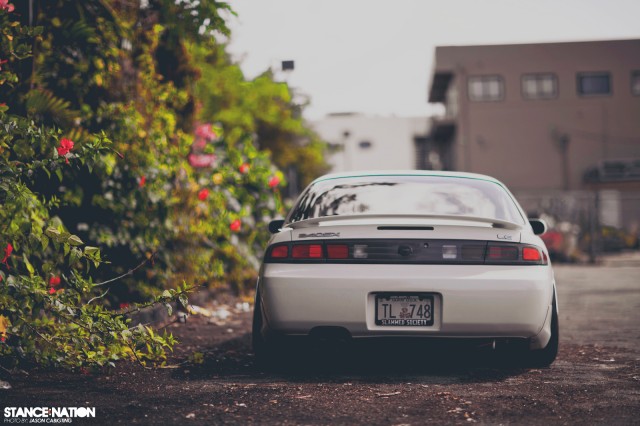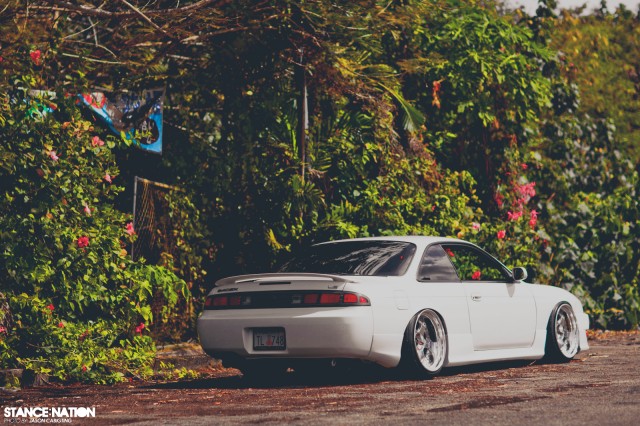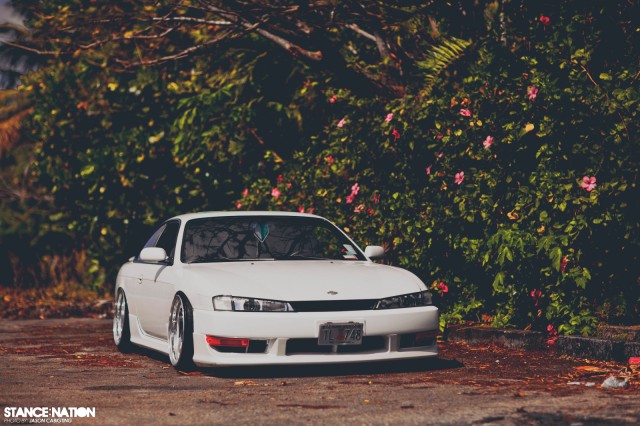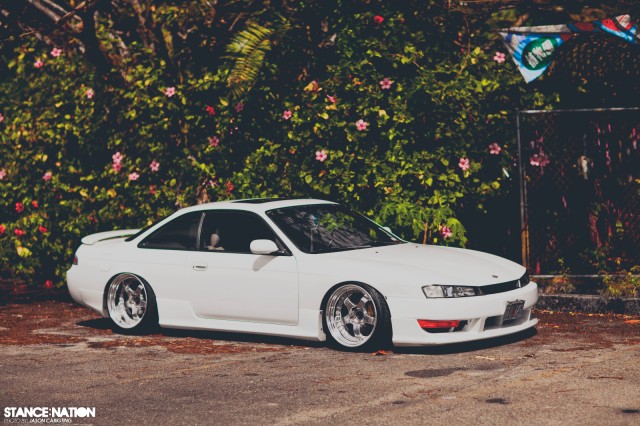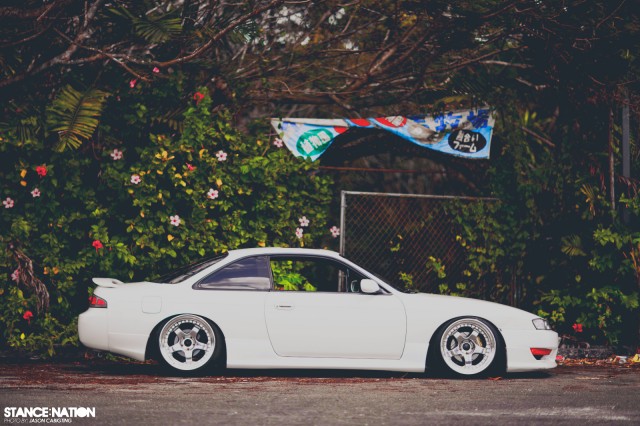 And now it's time for Rowell to shine with his 1992 Nissan 240SX! His approach is pretty similar to Ben's when it comes to moding his car. Change the OEM look quite a bit but maintain that clean and sime appearance. Every change and addition done to the interior is JDM starting with the Silvia Aero Bumper & Silvia Aero Sideskirts and ending with Silvia Aero Rear Valences & Silvia Window Visors. You can't go wrong with a legit Silvia kit now can you? Major kudos to Rowell, this thing looks absolutely beautiful!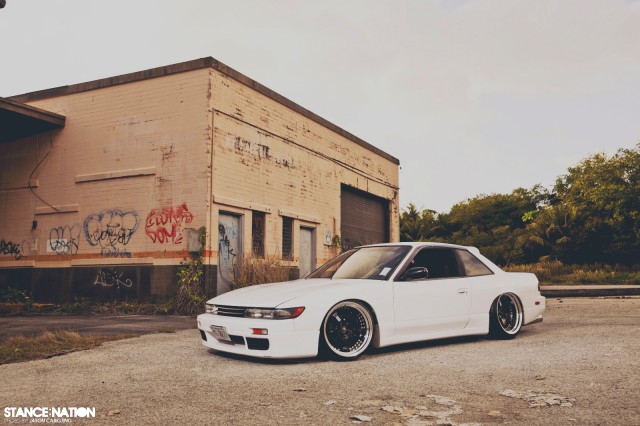 Just like Ben, Rowell waisted no time changing up lots of his suspension components. He started off with simple Stance GR+ coilovers and eventually ended up with new SPL RUCA, SPL Toe Arms, SPL Traction Rods, SPL Outter Tie Rods, SPL Tension Rods and Peak Performance Inner Tie Rods. We're loving the tuck and camber that this beast is running…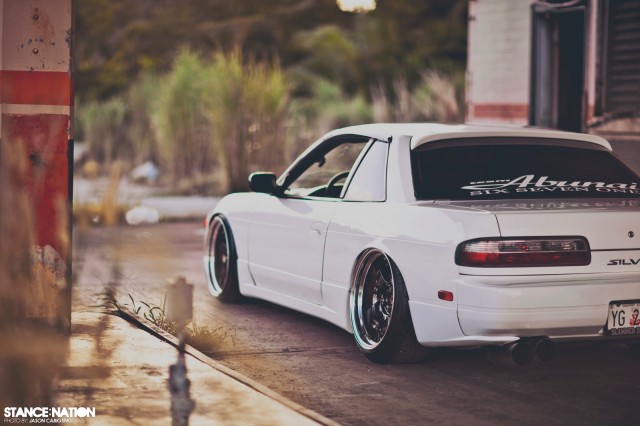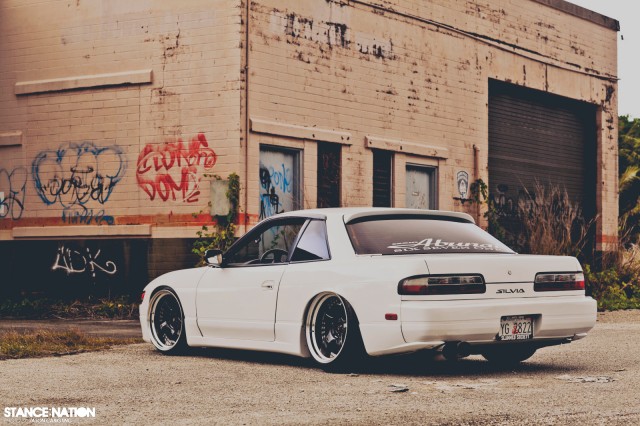 As said before, we're digging the he'll out of that tuck! Rowell is running a set of SSR SP1 wheels which are sized at 18×10 up front with an offset of 11 and Federal 595 tires sized in 215/35/18. Out in the back we have 18×10 and an offset of 11 wrapped in Federal 595 tires and sized at 225/35/18. Not too crazy with the camber, stretch or aggressiveness of wheels. Love it!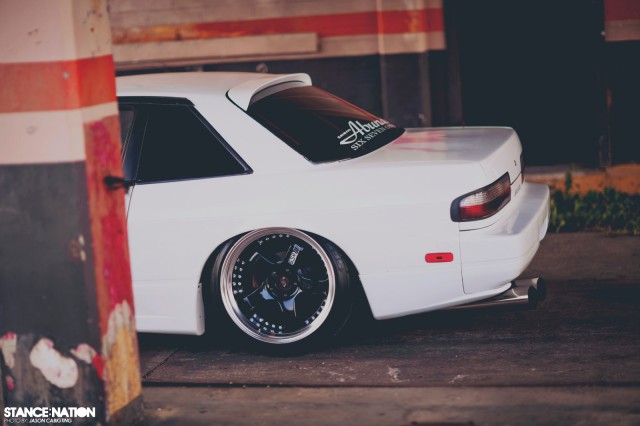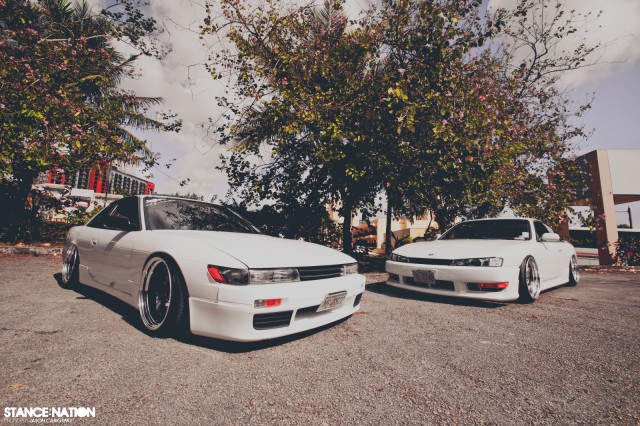 Under the hood sits a JDM S13 Sr20det blacktop accompanied with Mishimoto Aluminum Radiator, Mishimoto Aluminum Dual fans & Shroud and lastly ISIS Dual 3″ exhaust with 4″ tips. Nothing further, we're starting to get really jealous here…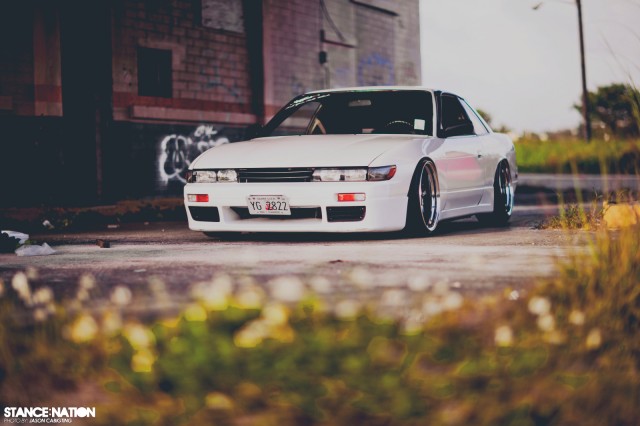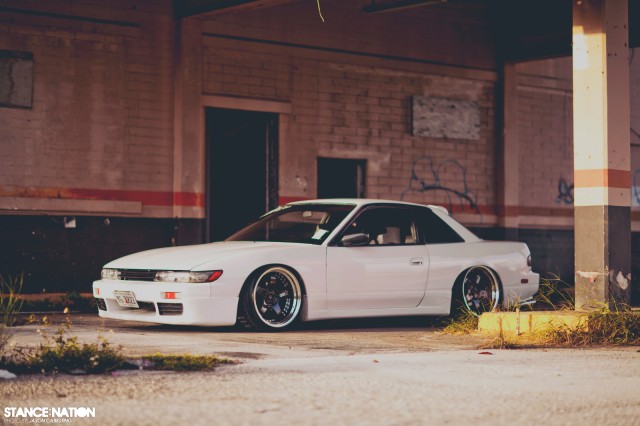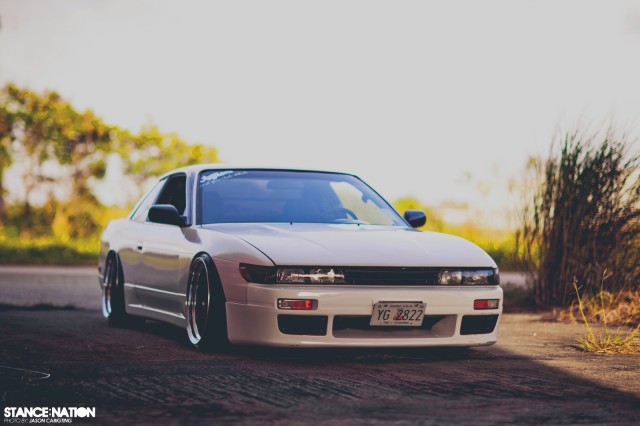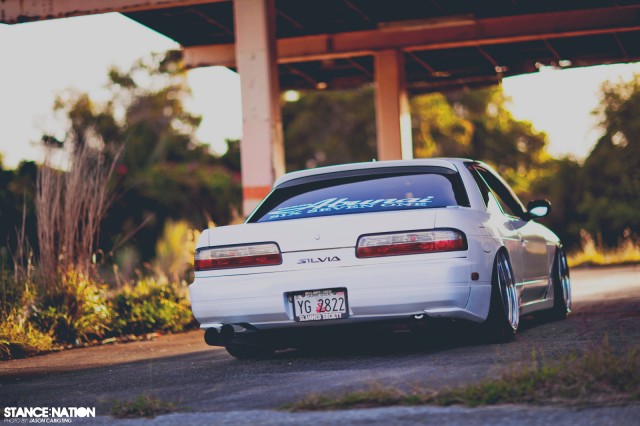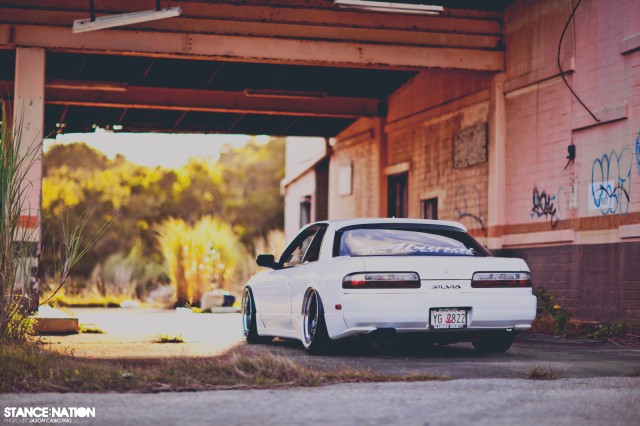 Big ups to all of our Guam fans! We really appreciate all the support you show us and we're honestly very honored to have your cars on our site. The world needs to know about the beautiful paradise. If you've got a ride that may be ready for a feature on our site please shoot us an email at snfeatures@gmail.com when you get a chance! Like we always say, we're always looking for new cars to feature! We'll leave you with a few more photos taken by the awesome Jason!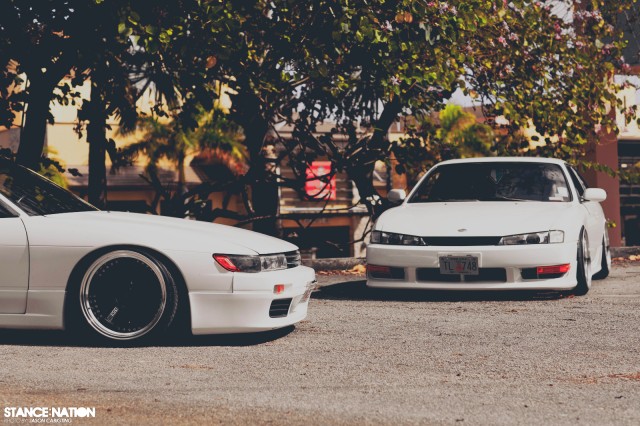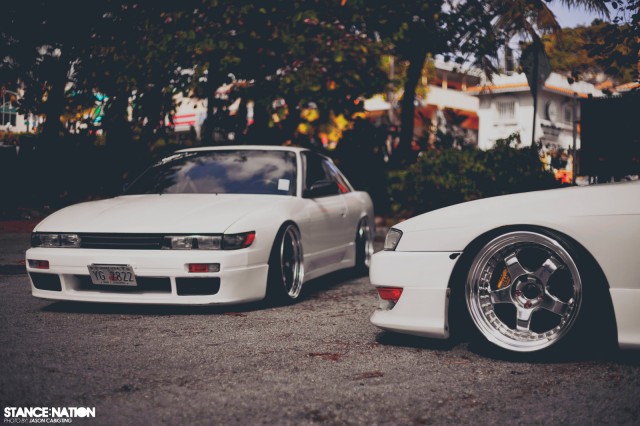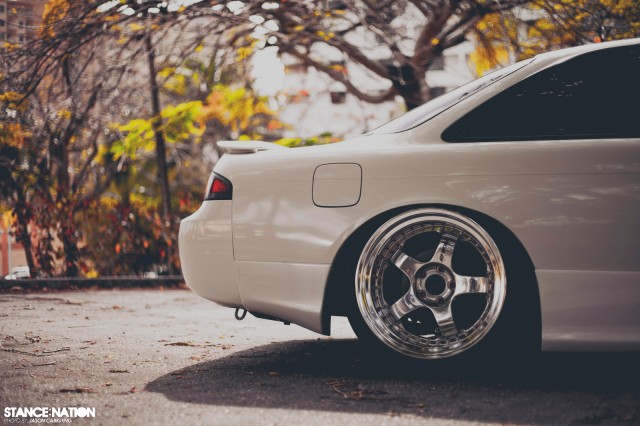 Saved the best for last, check out this rear end shot!