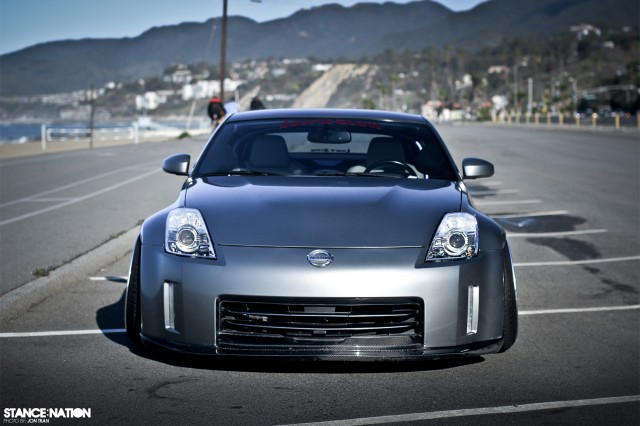 Here is a car that we've been meaning to shoot for the last few months but never got around to doing it until a couple of weeks ago. Our photographer Jon Tran met up with Squire (350Z owner) and Omid (S14 owner) early in the morning to get some awesome shots by the beach, and he certainly did. What do you say we first take a look at a few photos of Squire's than we'll move on to Omid's ride? One of the things that attracted us the most about this Z is obviously the way it sits. But don't get it confused, that isn't just any ordinary drop & wheels "posture" the Z is rocking, there is something quite special about it. Body work. Clean, wide, and just right. Let's take a closer look shall we?
Photos By: Jon Tran exclusively for StanceNation.com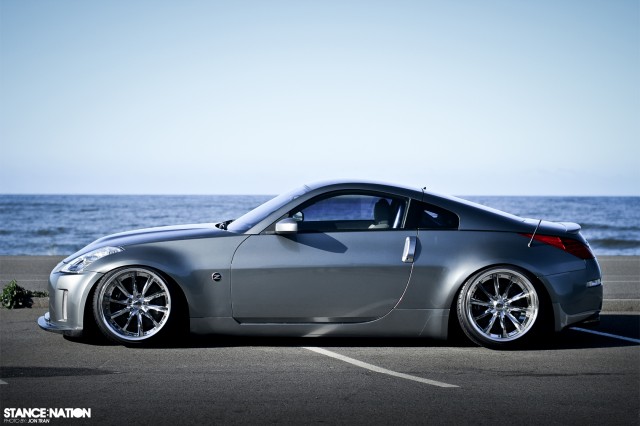 Because Squire is running such aggressive wheel setup he had to do some work to the body to make them fit the way they do. Now we don't mean to "over exaggerate" anything but let's just say that the aggressive fender widening took more work than your standard roll & pull. Not only that, but we really love the fact that the original body lines are kept intact. We've seen plenty of fenders and Z's in our times, and this is definitely one of the better "jobs".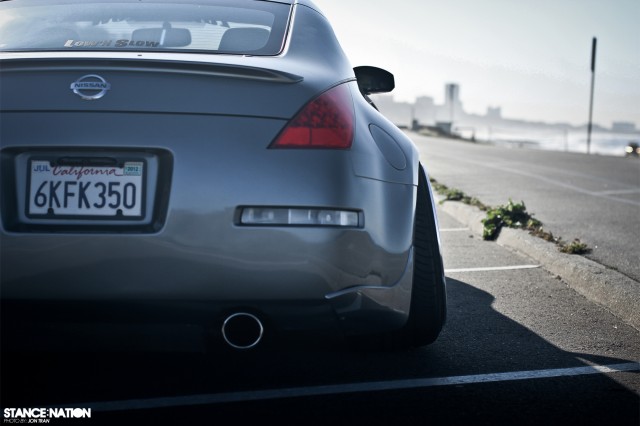 The wheels don't appear to be as wide in the photos above as they really are, right? Actually, another one of the things we absolutely love about this car are it's wheels. Weds Kranze Vishunu happen to be one of our favorite wheels of all time and they look so damn good on this Z. Anyway, ready for some sizes? Well, fronts are sitting at 19×10 with a ridiculous offset of -43 while the rears are even crazier at 19×11.5 with an offset of -37! Now that's aggressive!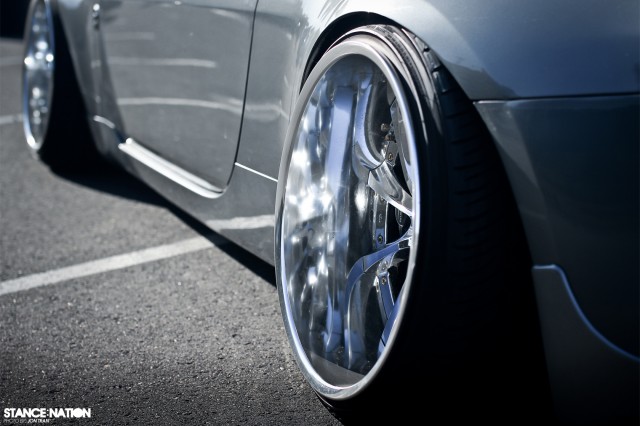 Besides the fender work, most of the exterior is kept pretty stock besides that Veilside carbon fiber front lip. Then again, completely kitted out Z's tend to look a bit tacky and overdone in most cases so a front lip alone was just enough in our opinion. Check out the way that rear end squats in the photo below! Seriously awesome stuff if you ask us.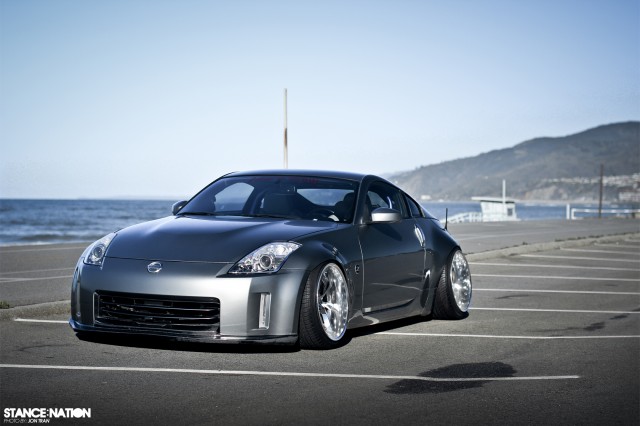 Hidden behind the Weds Kranze Vishunu's is the Akebono Big Brake Kit and hidden inside the cabin is a barely noticeable Cusco 4 point Cage. The car sits on true Stance Coilovers and while the car doesn't really get driven hard (hence the crew name) Squire also added Stillen sways to keep the body lean minimal. Apparently the car will sit even lower in the near future but we'll keep the specifics on the low for now.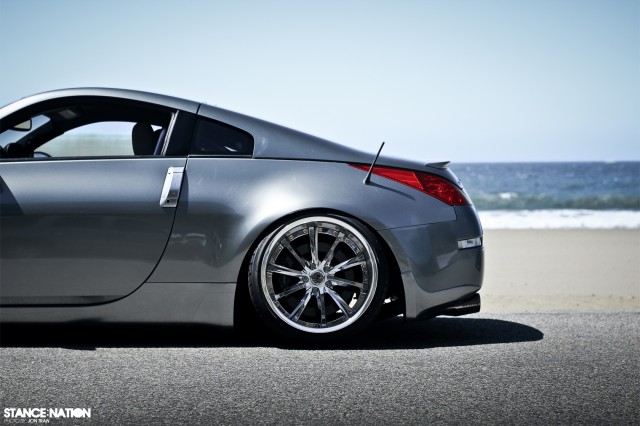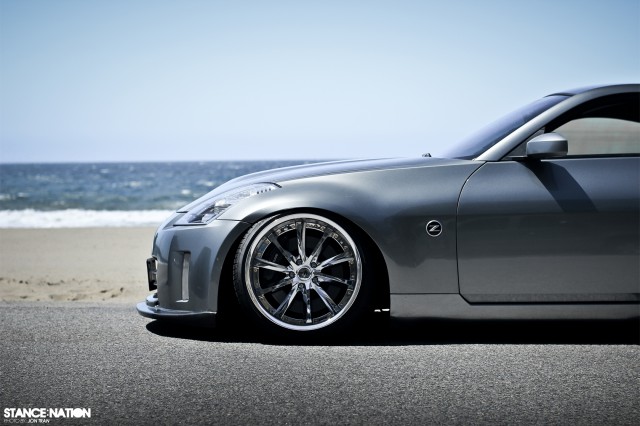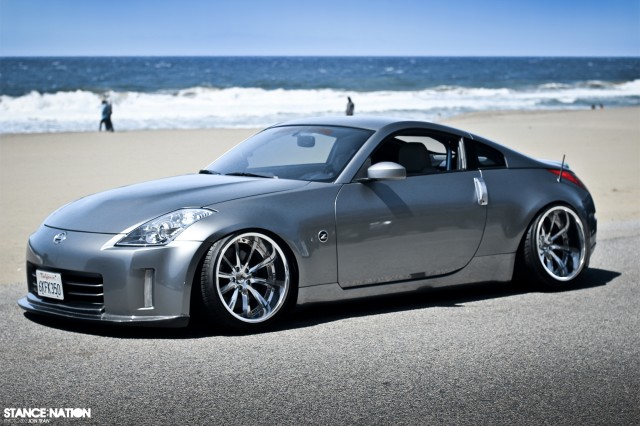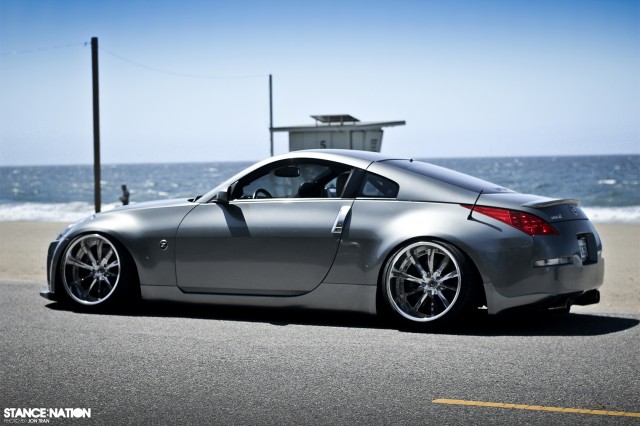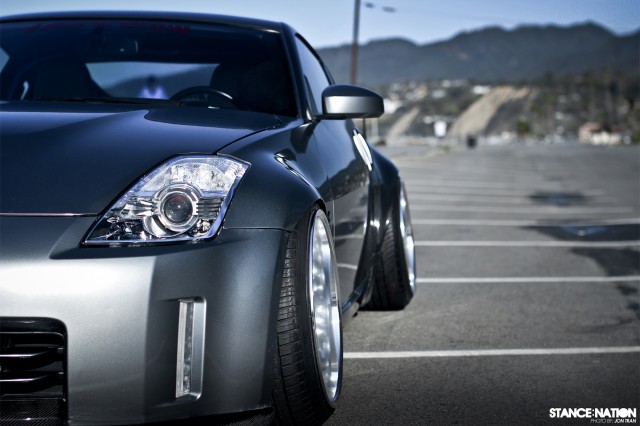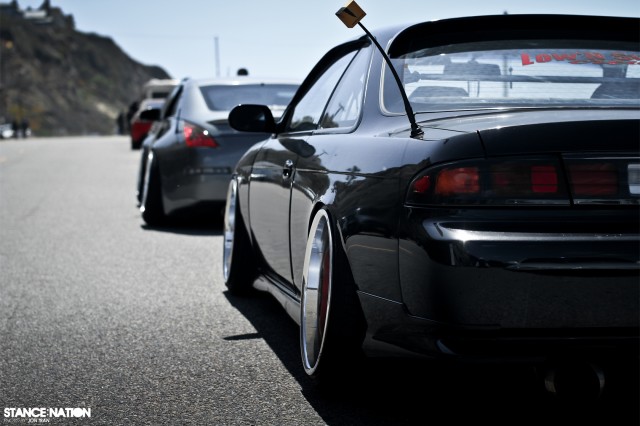 With that said, let's take a look at Omid's legit 240SX. Legit as in "true" '97 Kouki that is. Again, nothing too wild as far as appearance looks but it's guaranteed to grab attention whether it's driving down the street or hanging out at the local meets. There is just something about the S14's that screams "LOOK AT ME!!!". Adding a flashy set of wheels and lowering slamming the car is literally adding fuel to the fire. Check out the photo below to see what we mean.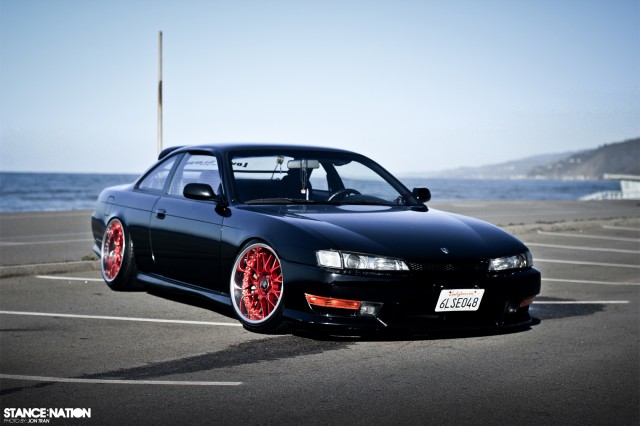 The exterior features a J Spec front bumper along with a new JDM rear bumper. The OEM side skirts look just right so Omid didn't bother touching them. However, he did change up the stock hood for JDM one and in the rear (as seen in the photo below) he added a roof wing which was a very nice touch in our opinion. What do you think?
Omid played around a little bit with some "function" oriented mods such as ExedyStage 1 clutch and a R33 differential. He also added a Mass Angle Steering Kit and an exhaust that he found on Ebay which he seems to like. Interior is pretty clean looking with practically nothing upgraded besides the Nismo Shift Knob.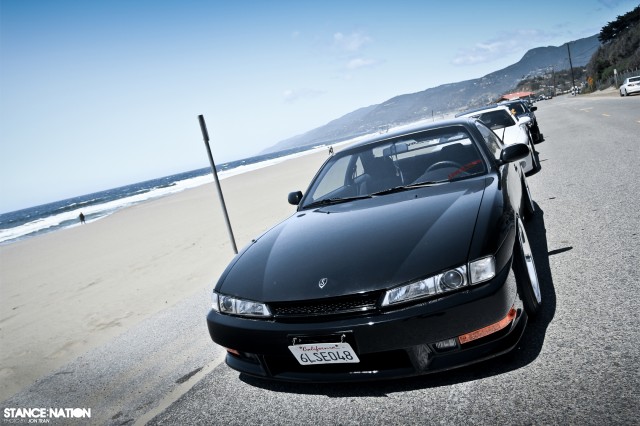 Suspension wise Omid is running Stance GR+ coilovers along with SPC Tie Rods. It may not be the lowest S14 out there by any means but the overall presence of it looks incredible we gotta say. Big ups to Omid!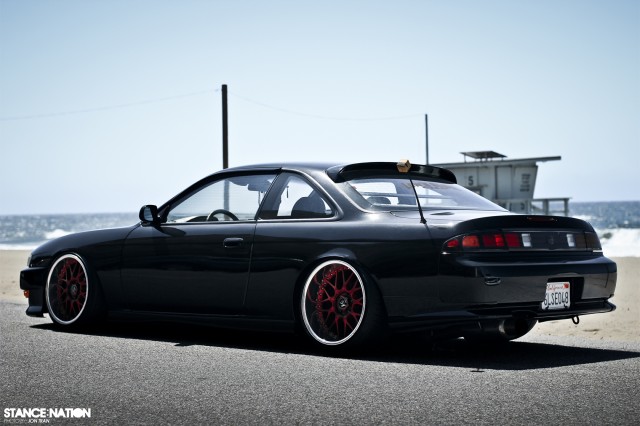 We're finally down to what you all waited for. Wheels specs. Wheels are obviously (custom finish) Work VS-MX's and they sit at 18×10 in the front with an offset of -7 and a pretty aggressive 18×11 with an offset of 5. Behind them Omid is rocking custom drilled and slotted rotors and to finish things off he went with a set of Project Kics lug nuts.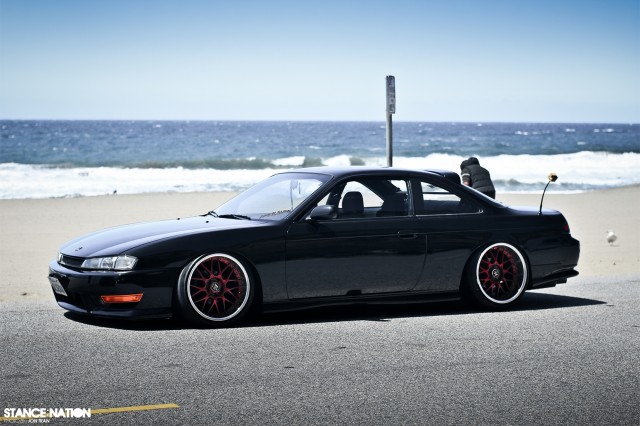 Huge thanks to both Squire and Omid for everything! As always, we'll leave you with a few more photos and ask you to give us a shout at stancenation@gmail.com if you think your ride has what it takes. Special shout out to our photographer Jon Tran. Stay tuned for more!