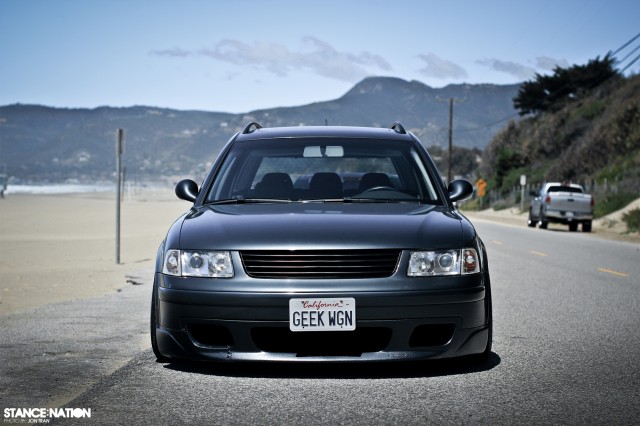 It's certainly been a long time since we had a wagon up on StanceNation! We're very excited about this particular Passat though because last time we saw it in person it looked nothing like this. This beautiful "Geek Wagon" belongs to our friend Jason out of SoCal. Yes, he is also part of Low N Slow crew and has been for a very long time now. Variety is always good and we're glad the LNS crew agrees with us by not being biased towards specific makes or models. As long as you have the right attitude, passion and of course fitment, Low N Slow will hear you out. Jason's ride is a prime example why we will always have a thing for wagons. Let's take a look at some specs shall we?
Photos By: Jon Tran exclusively for StanceNation.com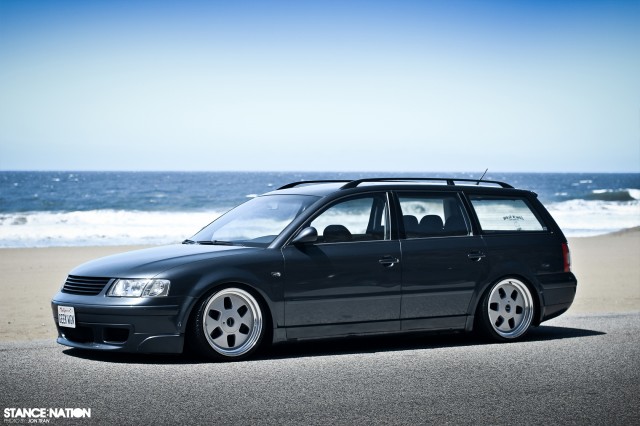 In just a few years Jason has racked up over 256,000 miles on his Passat. Under the hood you'll find a Neuspeed K04 turbo and downpipe accompanied by Neuspeed software which was modified by Torque Factory and a Neuspeed stainless exhaust w/ Magnaflow muffler. Didn't expect that did you? Jason is also running a B5.5 air box with K&N air filter, a 225hp Audi TT fuel injectors and last but not least Forge recirc valve. Now we don't know about you but this definitely sounds like it would be a blast to drive. We're also diggin' the way this family hauler sits..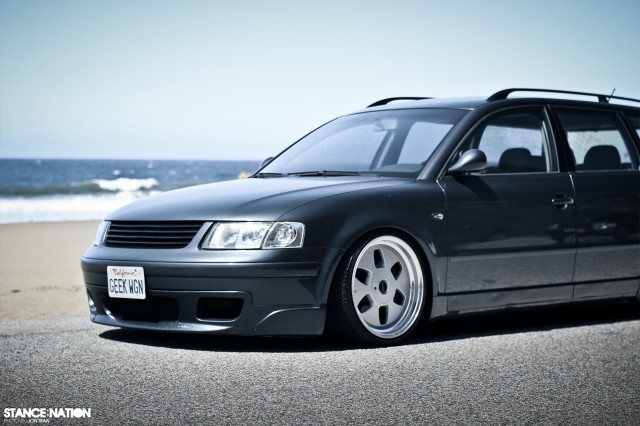 When it came time for "stance & fitment" Jason went with KW variant 1 coil overs. The wheels are of course MAE mono blocks and are sized at 18×8.5 on all four corners with offsets of 22 up front and 17 in the rear. For the tires, Jason went with 215/35/18 on all four corners as well. Jason's ride is also a fine example of it not always being about running the widest wheels, lowest offsets or biggest stretch on your tires. You can easily have a great looking wheel fitment as long as you know the basics of your car and of course the wheels and their specifications. Jason dexided to raise the entire transmission about 1/2 inch for clearance reasons and he also added a Thor skid plate for some extra protection. Behind those sexy MAE's sit Audi A8 front brakes which Jason upgraded to recently.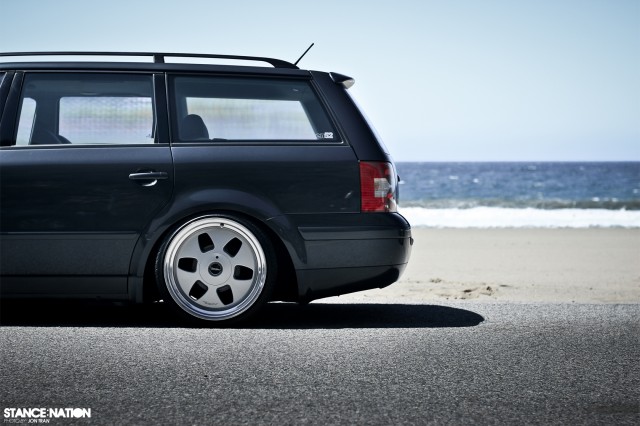 Focus your attention to the exterior and you'll notice many subtle changes. First and foremost is the discontinued (rare!) Oettinger front spoiler. It is accompanied by Bonrath badgeless front grill and OEM euro xenon projector headlights. Move to the side of the car and you'll spot another pair of rare and discontinued items, the Projektzwo mirrors. Jason spent a lot of his time upgrading what most of us would overlook such as the B5.5 rear tail lights and that custom rear badge. But those who know Passat Wagons will know and appreciate every little thing on this car very much! The addition of JMS roof wing and a Honda s2k antenna were a nice touch but one of the things that transformed the car the most must be the color matching all of the lower body panels.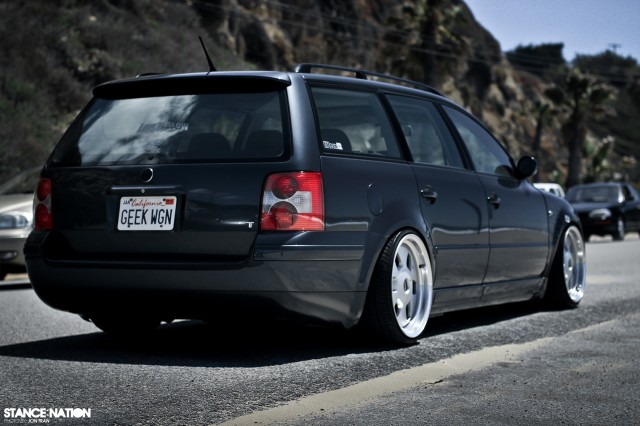 Absolutely love the way this wagon sits. Check out the photos below to see what we're talking about. Major kudos to Jason for building such a clean ride. It is truly an honor having it on our site.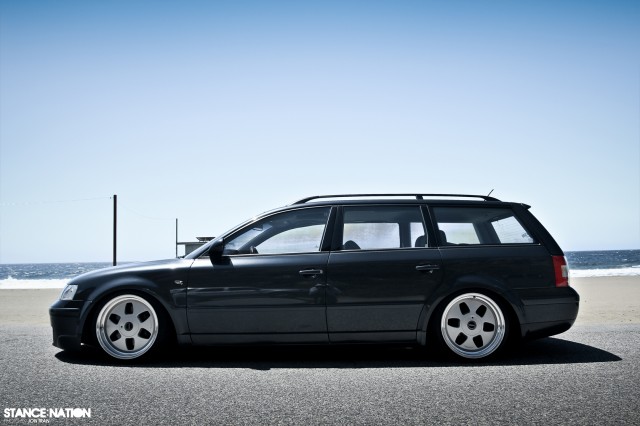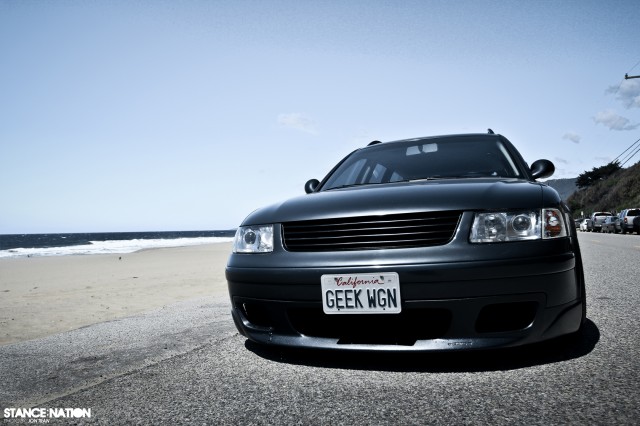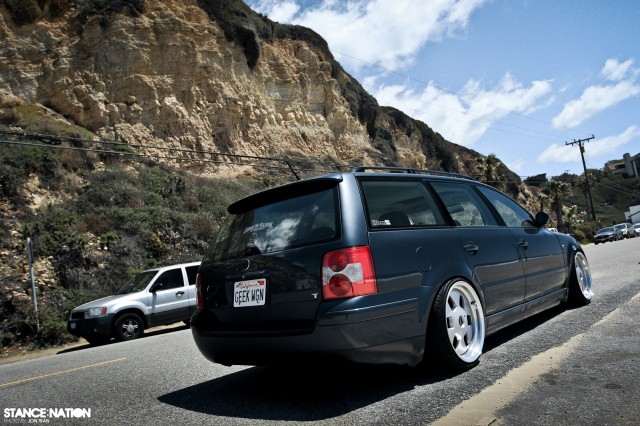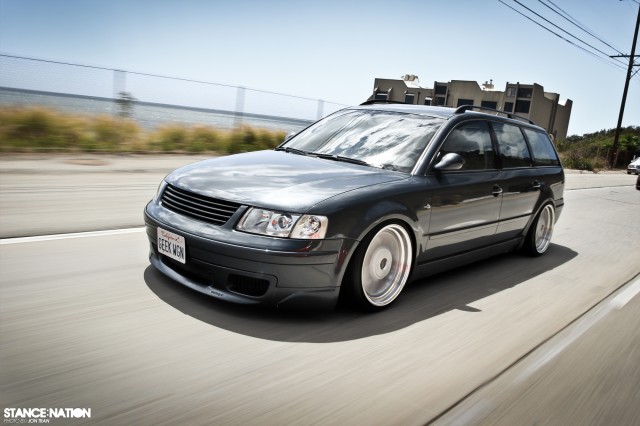 When was the last time you saw one of these Toyota Celicas? Let alone sitting as nice as this particular one is. This old school gem belongs to Jesse who as you may have guessed by now is also part of the Low N Slow Crew. Not only does it sport that mean "posture" but it's actually got quite a little surprise under the hood as well.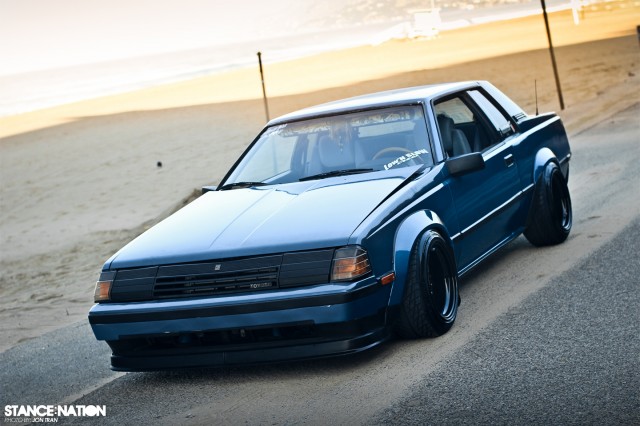 Jesse did most, if not all of the work right in his backyard. A complete 1JZ swap with a R154 transmission and a single 66mm turbo. The motor and transmission mounts are all custom as well the intercooler and radiator. Jesse is currently running an open down pipe, no muffler needed! We have a ton of respect for guys like Jesse and we're sure Low N Slow is proud to have him on the team!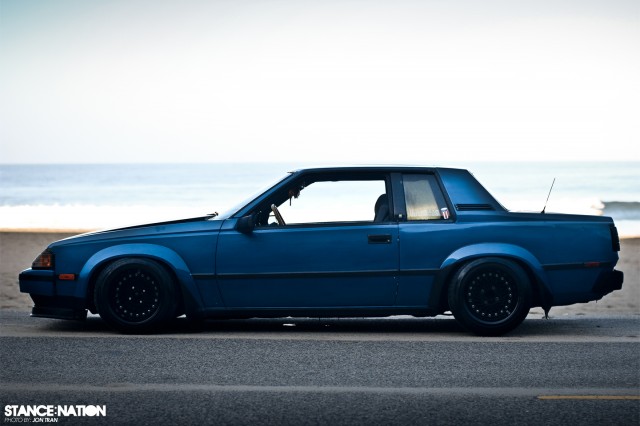 Suspension wise it's sitting on Ground control front coilovers and Nissan S13 rear coilovers. Jesse is also running a MK2 supra rear sub frame swap. The choice of wheels is just awesome if you ask us. These custom Epsilons sit at 15×9.5 up front with an offset of -35 while the rears sit at 15×10 with an even more aggressive offset of -40! Let's hope we see more of these older Celica GTS', they're such awesome looking cars.
We'll leave you with more photos as always and another huge shout out and thank you to Jon, Jesse & Jason for making this feature possible. Don't forget to shoot us an email at stancenation@gmail.com if you think your ride has what it takes to be on our site!