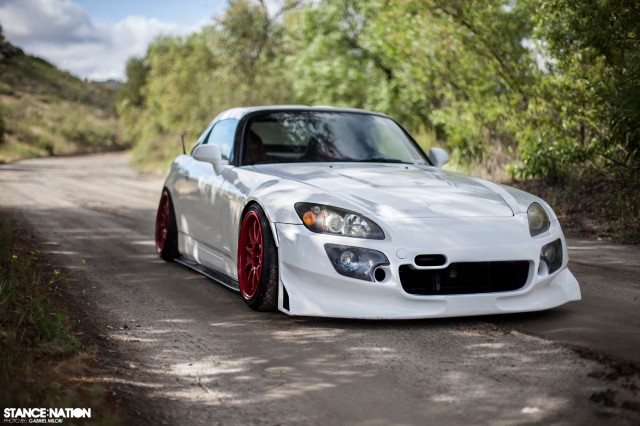 We can't even begin to tell you how excited we are to share this awesome S2000 with you! It belongs to our friend Jake Gruny who is representing the city of San Diego to the fullest. With so many S2000's out there it's literally gotten to a point where many of them are starting to look very much alike. Not that there is anything wrong with that, but we all know the importance of having a car that stands out from others. Jake definitely did a great job in that department by taking a little bit of that influence from both the "function" as well as the "form" crowd. Our friend Gabriel recently met up with Jake who managed to get some superb shots for us. Let's take a look at few of them…
Photos By: Gabriel Milori exclusively for StanceNation.com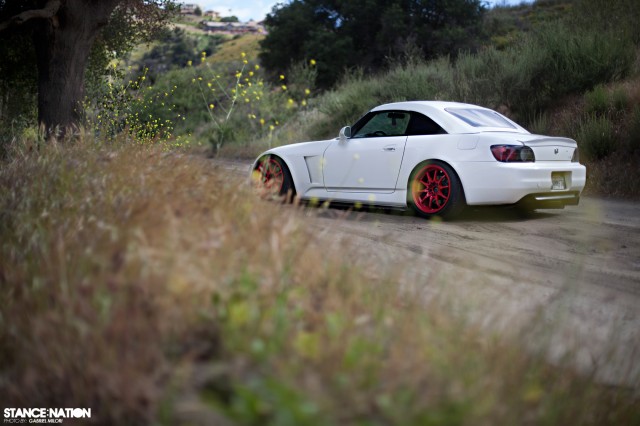 Alright, so let's start with the exterior. First up we have a ASM Hood up front along with ASM front fenders and the ASM duckbill spoiler. Yes, Jake has a thing for ASM as you can tell. He also gutted the soft top and replaced it with one from Mugen. Some of the sexiest S2K's out there are the rocking Mugen hardtops. Front bumper, which seems to be a love/hate thing with most people is made by Spoon. Jake wanted to bring the body a bit closer to the ground so he added Shine side diffusers which not only look awesome but also sit just a couple of inches off the ground. Obviously though the urge to sit low didn't just stop there…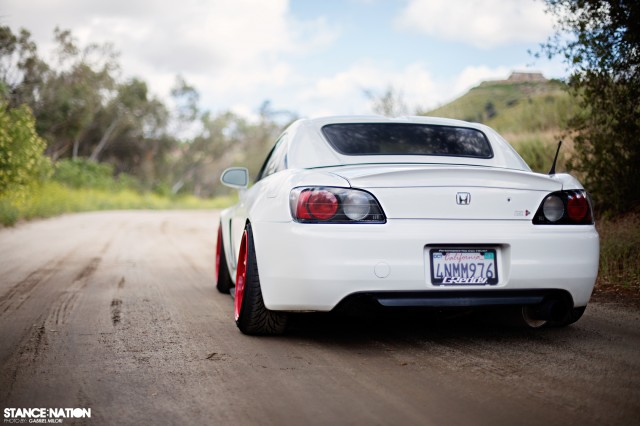 As a matter of fact, not only did Jake want to sit lower but he also wanted his wheels to sit pretty flush with the fenders. For that he turned to Tein Monoflex coilovers which brought the car down quite a bit. His wheels choice didn't disappoint either. A fresh set of Volk CE28's sitting at 17×9.5 with an offset of 28 all around. Jake had the wheels powder coated to color match the Red that Volk released on their Volk TE37SL's and they look damn good. Lastly, he is running a set of 215/40/17 tires. It may not be the lowest S2K out there or even running the most aggressive wheels but it's definitely a head turner that deserves to be seen.
Jake drives his car every chance that he gets. Under the hood you'll find things like Mugen Intake, ASM cooling plate & ARC heat shield. For that extra "oopmh" he added the legendaey HKS 75mm exhaust system which sounds great! Do a quick YouTube search if you don't believe us…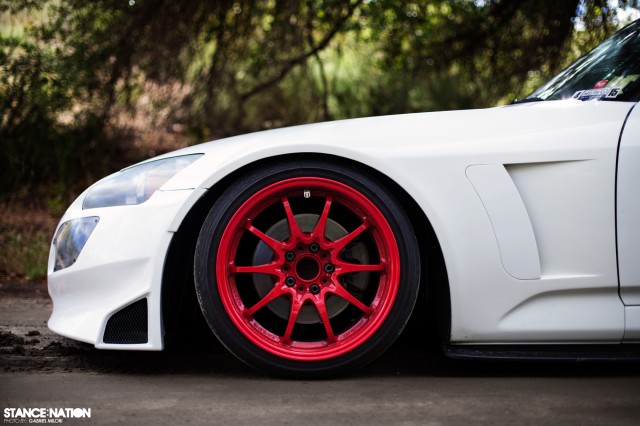 We asked Jake to tell us a little bit about what the future of this car may look like and here is what he said. "I tend to switch out the wheels constantly but I'm going to try and keep these for awhile. If I keep them I'd like to put a little bit bigger of a tire on there, maybe 235/40/17. My dream wheels for this car have been TE37's in the sizes 18×9.5 with an offset of +22, and that would be the only wheel I'd switch too."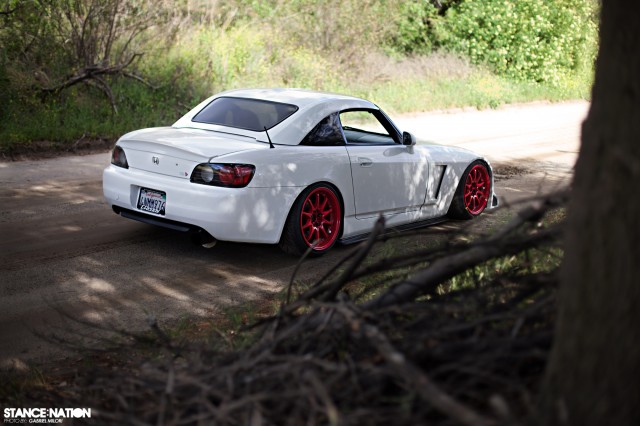 He also said the following. "I used to have two ASM bumpers before my Spoon front end and when my car is "done" I might switch back to an ASM bumper with carbon fiber lip like I used to have just to complete the ASM theme. Also, I used to have a Spoon rear diffuser but it ripped off from being so low. I would like to pick up another diffuser someday. Other than that the only other things I might do in the future is get a J's racing or Voltex wing. I owned my first S2000 for a little over a year but then sold it and picked this one up about 15 months ago." He clearly loves S2K's!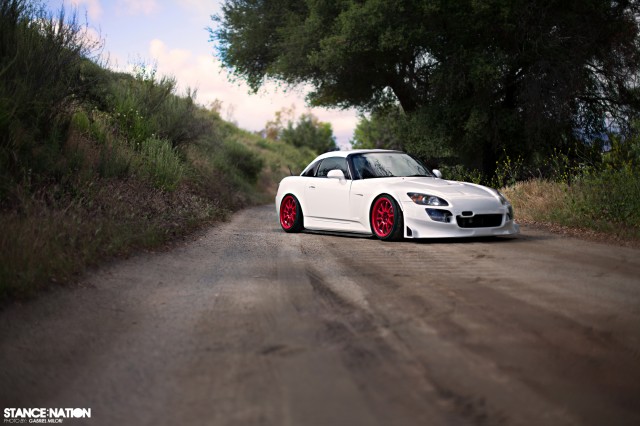 Interior is pretty much stock at the moment but it get's the job done. Mugen Shift knob and those sexy Red Recaro Pole Position Racing seats complete the interior. Check out some more photos below.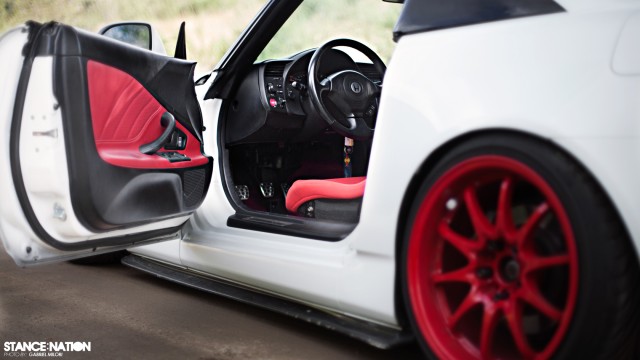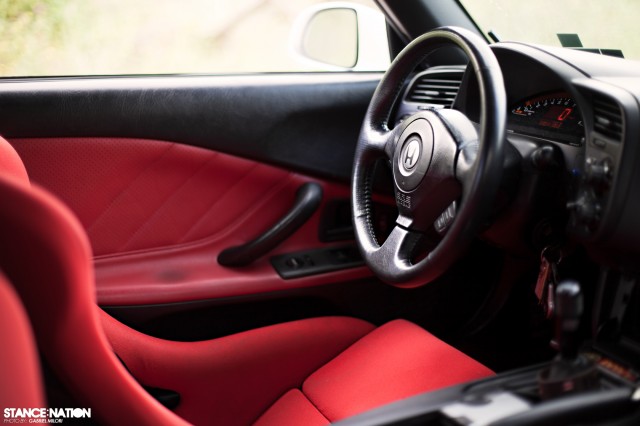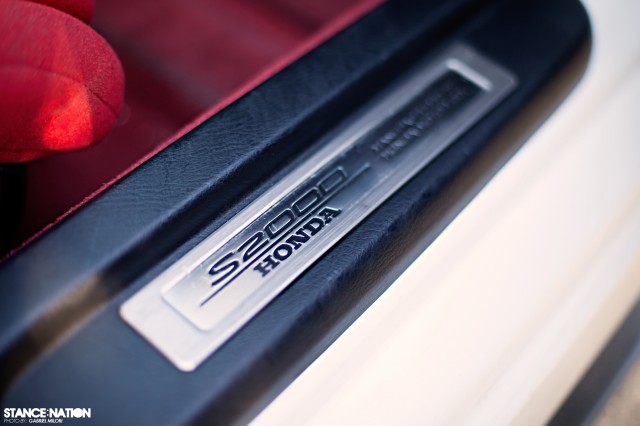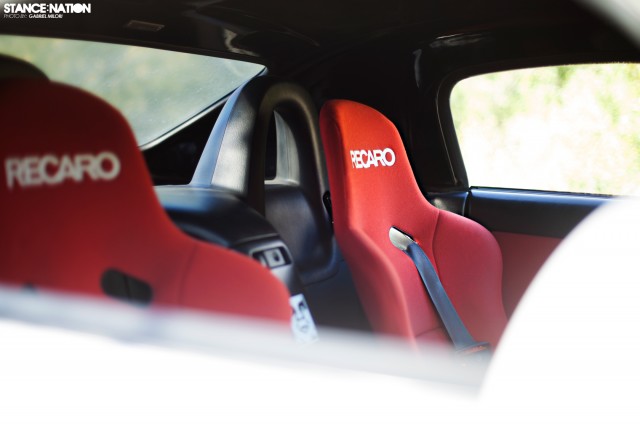 With that said, we'll leave you with a few more photos and as always a huge thanks to our photographer for making this feature a reality. Of course, same goes out to the owner Jake Gruny. If you think your ride has what it takes please shoot us an email at stancenation@gmail.com! We're always looking for new cars to feature. However, please don't forget to include a couple of photos please. Feel free to drop a comment below!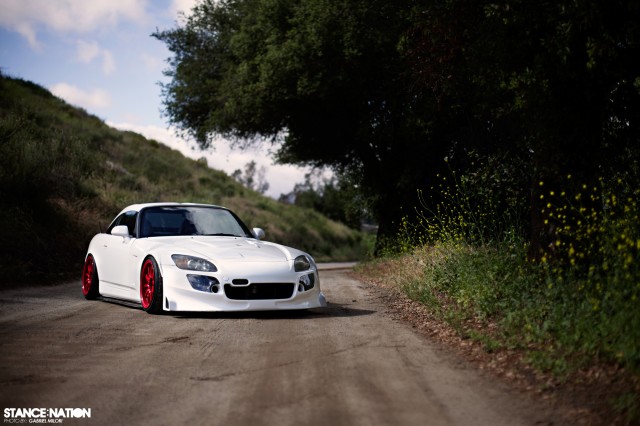 The two photos below are sized for your desktops. Just right click > Save and set as your desktops!