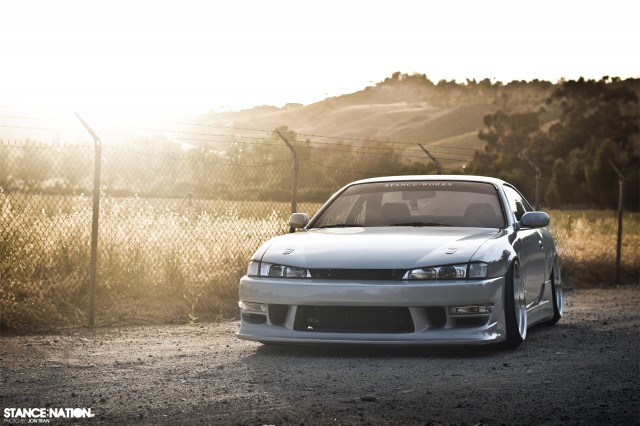 No matter how many S-Chassis cars we post we never get tired of them. They may not be everyones cup of tea but there is no denying that they look down right killer with proper stance, especially S14's. This particular Nissan belongs to Daniel Harding out of southern California. He previously owned a '97 Prelude but soon enough he got the urge to move to a RWD platform, which is where his Nissan came into picture. The car was in pretty bad condition when Daniel first purchased it. We are talking beat up primered car with a "terrible" body kit here. That's where the modding begin.
Photos By: Jon Tran exclusively for StanceNation.com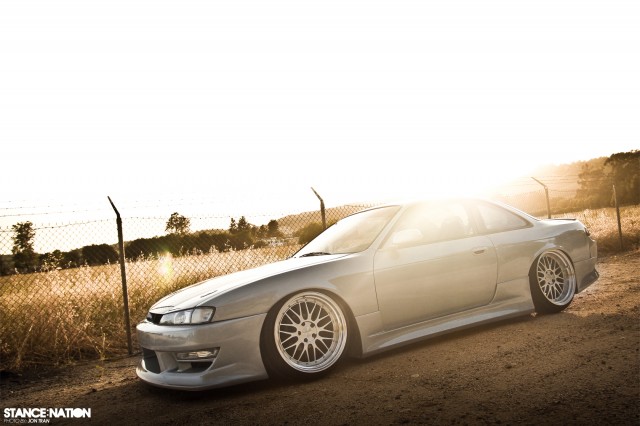 One of the first things that Daniel did was he re,over the old kit and replaced it with a full Origin kit, followed by a fresh coat of paint. He also put in a simple T25 turbo setup (tuned by enthalpy), but had many difficulties after he dented his oil pan and blew the motor. He also had issues with "certain" mechanics and eventually had the motor rebuilt by Andrew Molina from Garage Boso. He did great work and Daniels car was on the road again with a new T28 turbo setup! Daniel was able to get all of this done before he started college. Unfortunately after driving the car for just about a week and finally breaking in the new motor and clutch, he was hit by a truck in the passenger quarter panel. This as you can imagine set Daniel back and he had to rethink not only what he wanted to do with the car but his finances as well.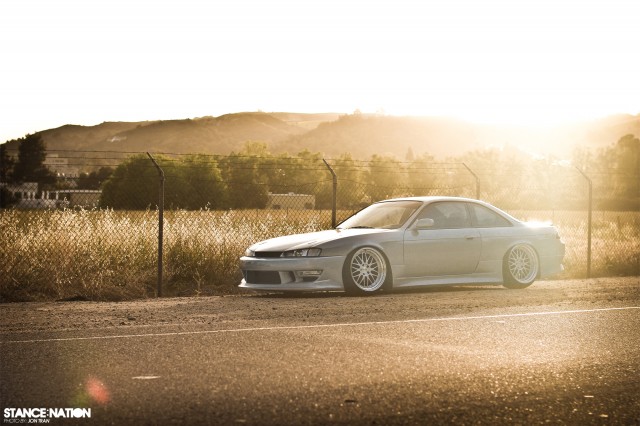 Fortunately after a few months Daniel decided it was time to come back and do everything even better than the first time! His first move was going wider, as in wide body. Countless hours were spent on bodywork, especially when it came time to start modding the front fender vents closed and molding the rear quarter panel. Daniel was able to track down a damaged Vertex Lang front bumper that with some work was back in great shape. Obviously it all started with a Kouki conversion and slowly worked it's way to those custom 20mm front fenders, vertex front bumper and VIS CF hood w/Aerocatch Hood Pins. Up front youll also notice clear turn signals and and as you work your way around the car you'll see that Daniel added Origin Stylish sideskirts, custom molded 30mm rear overfenders and a Origin rep. rear bumper.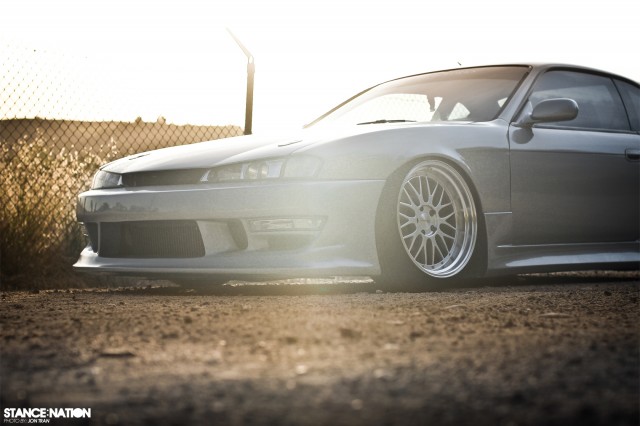 After the aero was done it was time to move on to wheels, tires and suspension. Daniel decided to go with Varrstoens. He tells us that most people dont run 19's but he decided that he would bite the bullet and try it out which he eventually ended up liking and keeping. For those who like to know the exact specs of the car, you're looking at Varrstoen 1.1.2 sized at 19×10.5 up front with an offset of 12 and 19×11 in the rear with the final offset being 15. Daniel is running Greddy Type S Coilovers along with Megan Toe Arms and Megan RUCAS as well as 5 Lug Conversion and lastly a Nissan OEM Strut Bar.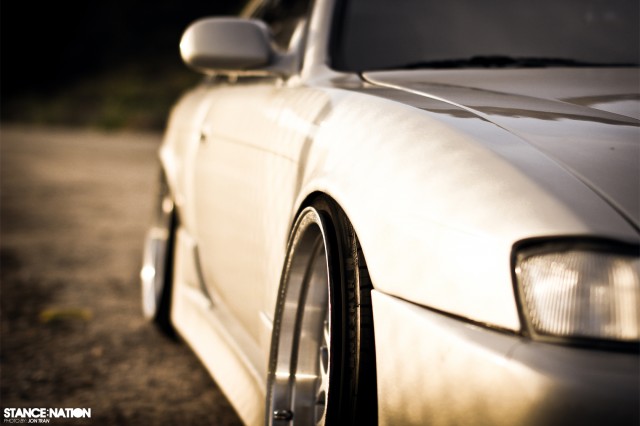 Seriously awesome fitment right here. Molding those custom rear overfenders was a great idea because judging by the photo below he can run an even more aggressive setup in the future if he feels like it. Possibilities are endless, we love the way Daniel thought things out. Downsizing to 18's would literally put the car on the ground.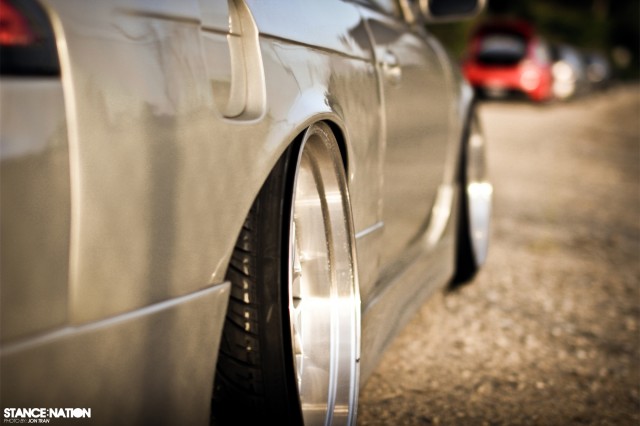 Other small things that Daniel changed out is the JDM trunk (no 3rd brake light), Origin Carbon Fiber Trunk Spoiler and Kouki Taillights. He also ended up relocating L.E.D. 3rd Brake Light for that extra touch. You can check out an awesome rear end shot on the bottom of the page so scroll on down…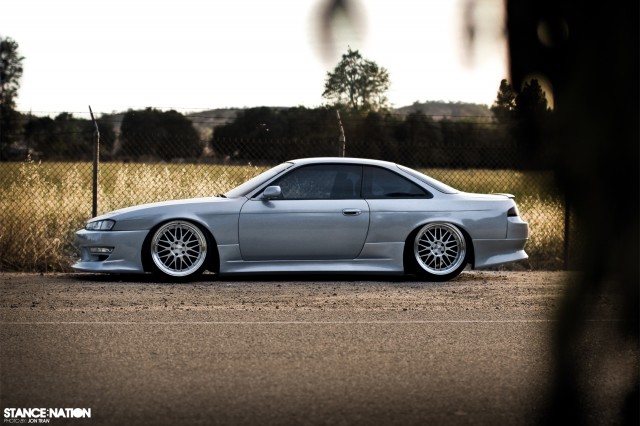 He got the car resprayed and finally back on the road after almost a year of being out of service. Trying to do all this work on a minimum wage job with school isn't an easy task but Daniel somehow pulled it off. He even got the engine and all his turbo kinks running right! Being in SoCal, he wanted to make the engine bay look as stock as possible so he ended up getting a custom KA/SR hybrid manifold made by Alex Gower from NorCal, and using SR components to make it look stealth as possible. All the Cali guys will know what we're talking about…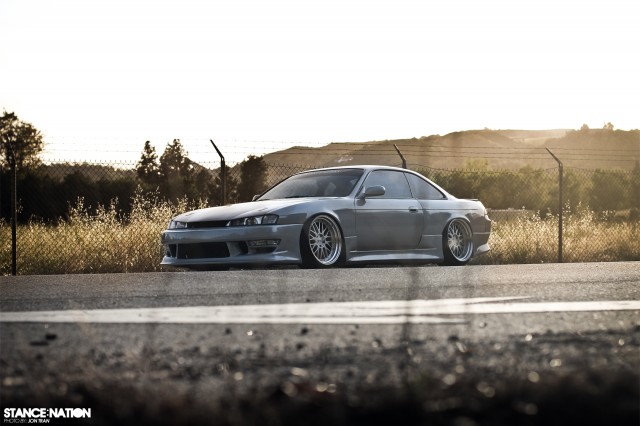 The car was never dyno'd and is only running on stock wastegate boost which is set at 7psi, but it should be roughly at 230WHP. That is plenty for Daniel as the car is not a race car, rather a daily driver that breaks necks everywhere it goes!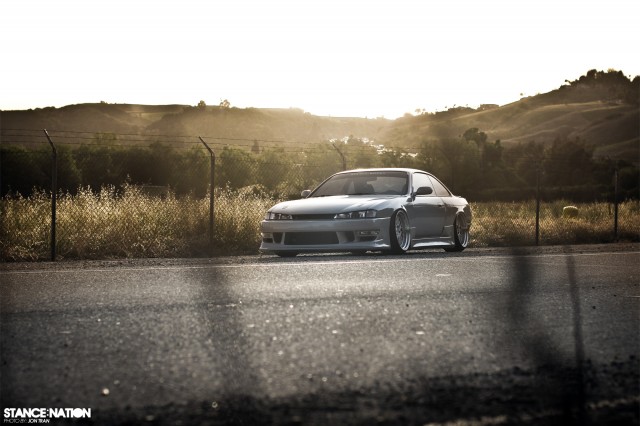 Which brings us but to the current stage. You won't be happy to hear that just a few days after these photos were taken Daniel sold the car! He told us that he was selling it because he has plans on getting a nice daily Lexus LS400 VIP project, as well as another s-chassis to build on his free time but we didn't think it was going to be this fast.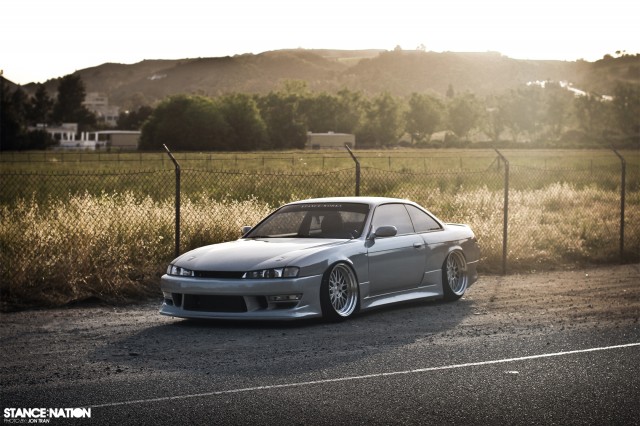 Huge shout out and bittersweet congratulations to Daniel for building such an awesome ride and of course a special thanks to our awesome photographer Jon Tran for killin' it behind the lenses. As always' we will leave you with the full spec list on the very bottom of the page as well as plenty more high resolution photos to enjoy..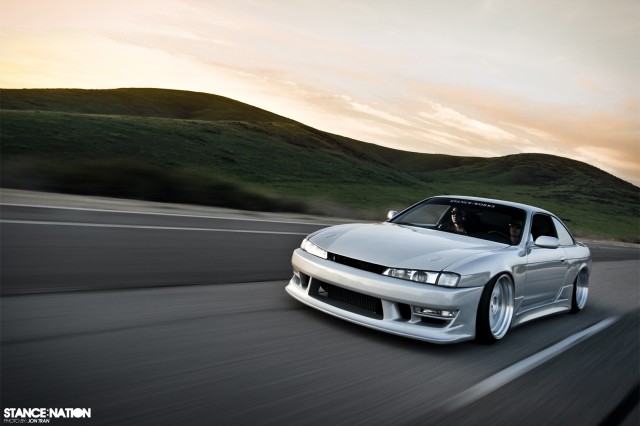 If you think your ride has what it takes to be on our site feel free to email us via our contact page above or by directly shooting an email to stancenation@gmail.com. Make sure you include a couple of decent photos and a little bit about yourself as well as the car!