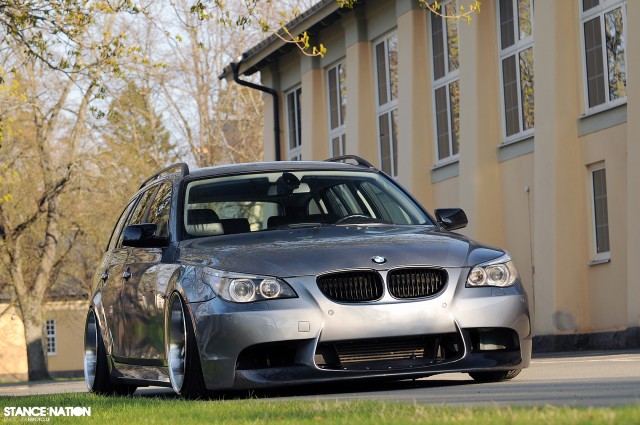 Just how often do you see this? A slammed and fitted like no other, BMW E61 (5-Series)! This beautiful wagon comes to us all the way from the beautiful country of Sweden and it belongs to our friend Henrik Schmidt. We've shown you quite a few Swedish rides before (click here) and they never disappoint. The "stance" scene In Sweden is nowhere as big as it is in the states here but when it comes to quality it's definitely there, as our friend Henrik shows us. Growing up in the Schmidt family sounds awesome to say the least. Henrik tells us that his father used to race rally cars such as the Opel Ascona while his mother raced on track in a Lancia Abarth. Now that Henrik is all grown up in his mid 20′s it's time for him to shine. Without further adieu, allow us to introduce you to Henrik & his pride and joy.
Photos By: Edvin E Beganovic exclsively for StanceNation.com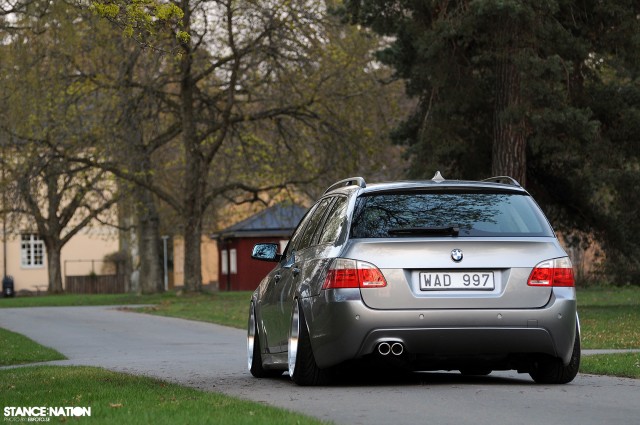 Henrik is one of those guys who never cared about outdoing others. He'll set a goal for himself, accomplish it, and be happy with it. His very first car was a  Peugeot 306 but after owning it for some time he realized it just wasn't the car for him. After that he moved on to cars like Volkswagen's and he even owned a  BMW 325iM-88 at one point. The 325iM-88 was (and still is) one of his longer projects sporting a ton of aftermarket stuff. It now sits in the garage while he is working on his E61. You won't belive who and what got Henrik hooked to the low lifestyle!
You guys remember Christoffer right? (click here)  Henrik was the one that did most of the body and paint work on Christoffer's Audi and after he saw how sexy a slammed and fitted car looked he just had to get in on it! His other friend Marcus (whom we also featured) also played a role in the build of this car helping Henrik get the right set of wheels. People like Marcus, Henrik and Christoffer are one the reasons why the stance scene keeps growing in Sweden. Classy gentleman with the right attitude.  Big ups to all of you guys out there…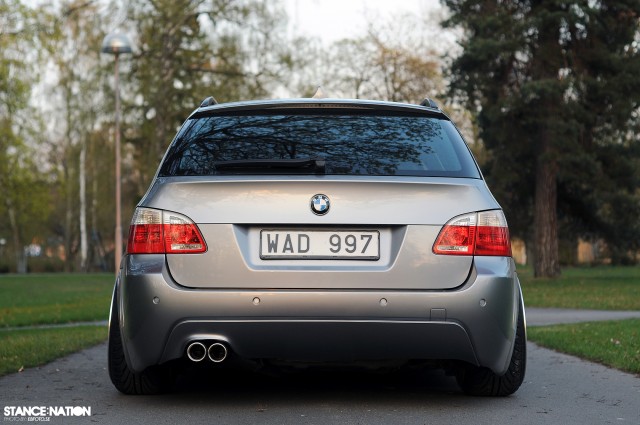 Wheels are made by Work and are called Gnosis GS-1′s. Front setup sits at 19×9.5 with an offset of +10 while the rears is a bit more aggressive sitting at 19×10.5 with an offset of +15. Henrik wrapped the wheels in 215/35//19 tires up front and 235/35/19 tires in the rear. Painting cars for living always helps when it comes to making your wheels stand out by painting them that custom color you see in the photos. Perfect combination in our opinion.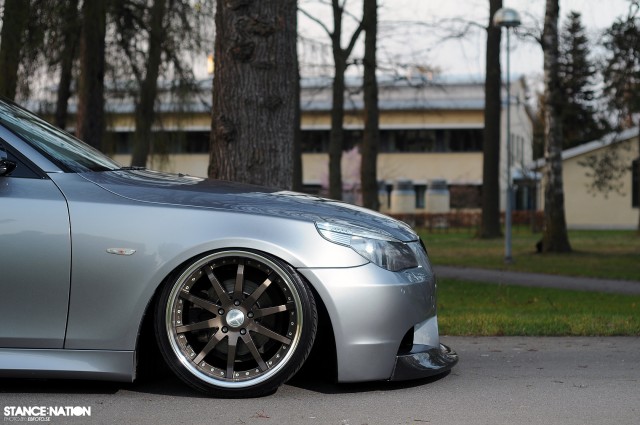 Henrik decided to run custom Air Suspension but he put a twist to it by designing the entire trunk setup on his own. He tells us that his awesome father deserves some credit too for helping him with wiring and other minor stuff. Click here to check it out and let Henrik know what you think about it in the comments below.
Being a painter and having experience with working on bodies always helps. The front bumper is one off, created by the man himself. He took a custom E92 M3 front lip and merged it into the stock E61 bumper. Looks like it came off the factory if you ask us. We're loving the overall aggressive presence of this wagon how about you?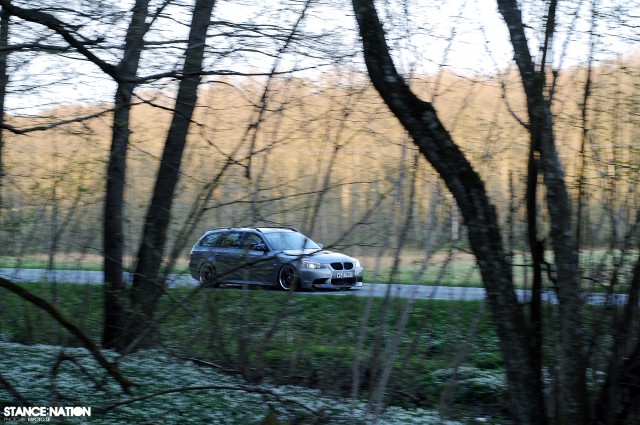 The car also wears a full M Package kit (sides & rear) and the front end features a custom front lip.
With that said, we'll leave you with a few more photos shot by EBFoto. Big shout out to Henrik for sharing his car with us, it is truly an honor. We also want to give a big shout out to OijOij-Society for helping the stance scene grow out there in Sweden. Keep it up guys, we got our eyes on you.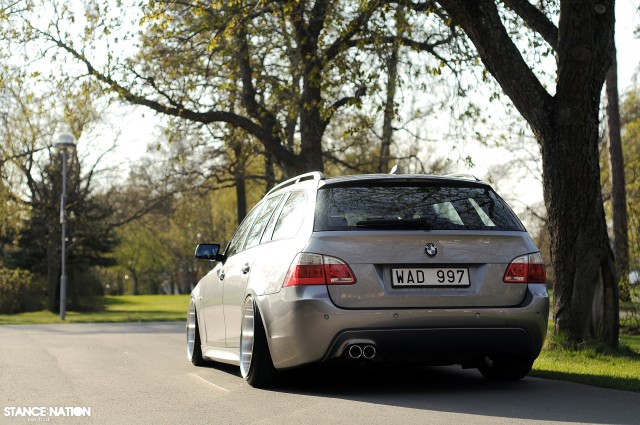 If you think your car has what it takes to be on our site make sure you email us at snfeatures@gmail.com. Make sure you include a few photos and your spec list as well as any other information we should know about you or your car. We're always looking for cars to feature! In the meantime we'll see you guys over on our facebook.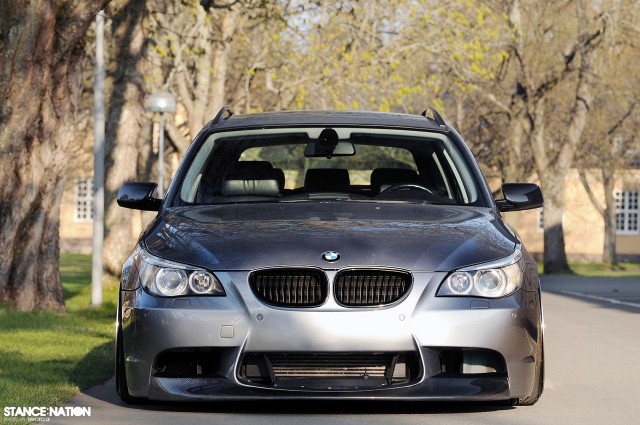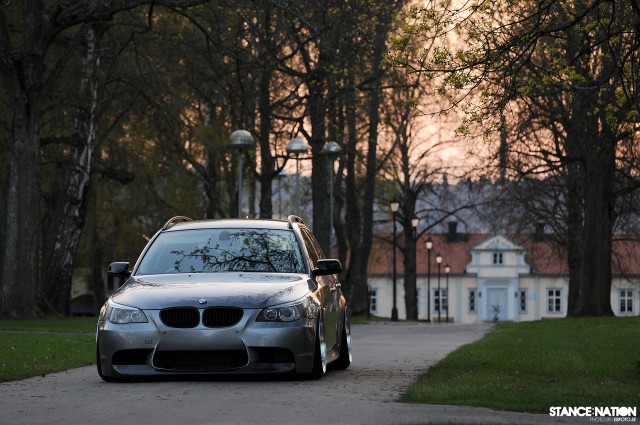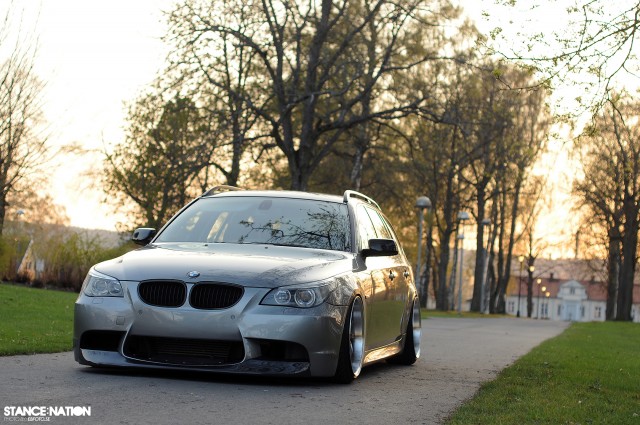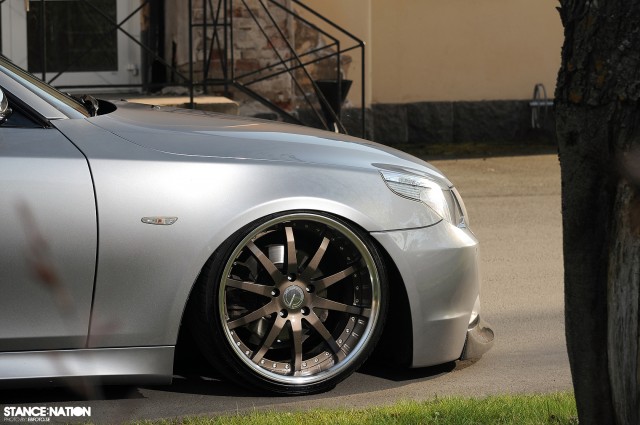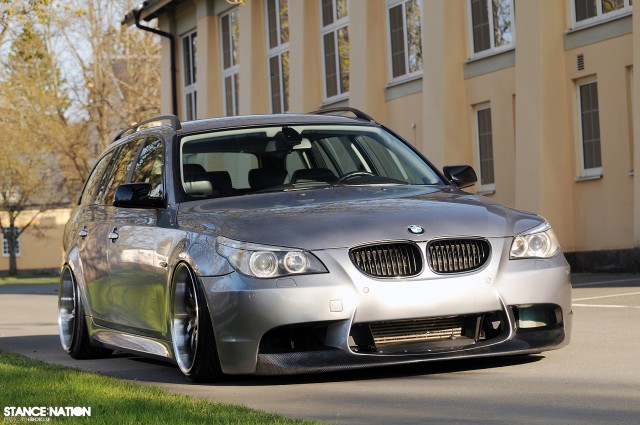 Wheels/Tires/Suspension

Work Gnosis GG-1
19×9.5 et10 & 19×10.5 et15
215/35/19 & 235/35/19
Custom Air Suspension

Exterior

M Package Kit
Custom Molded E92 M3 front bumper
Custom Carbon Fiber Lip