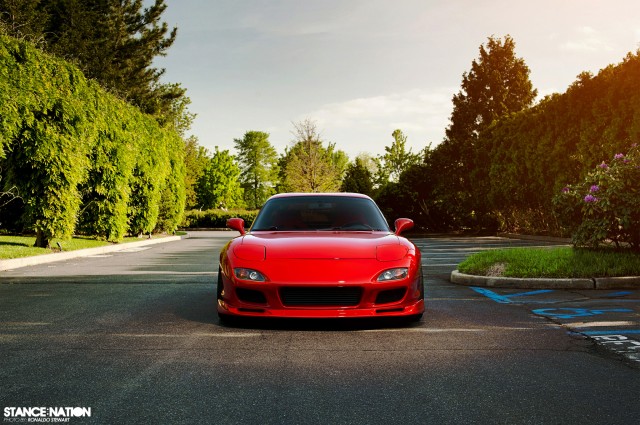 We're pretty sure that we're not alone when we say that Mazda RX7 will probably go down in history as one of the finest cars that ever came out of Japan in the recent history, and by far one of the finest vehicles that Mazda ever built. We have been working on getting this particular FD on our site since last year and with the help of our photographer Ronaldo Stewart it's finally here. At first you may think it's just an extremely clean show car that has nothing going for it besides the looks, which is okay. We thought the same thing actually, until the owner (Steve Prew) forwarded us his specification list. We'll get into the all the specifics a little later but for now let's just say 454whp @ 24psi.
Photos By: Ronaldo Stewart exclusively for StanceNation.com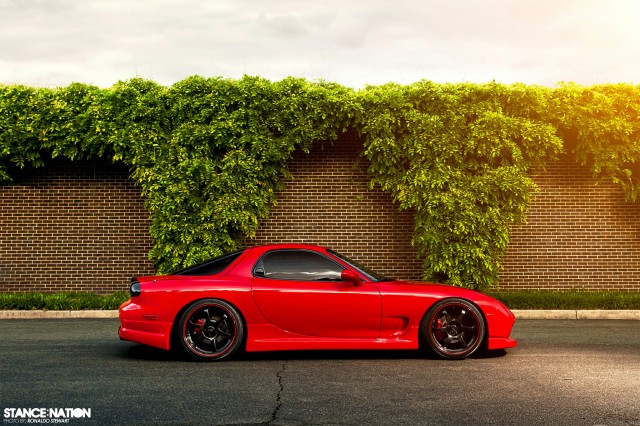 Why don't we start with the exterior first. One of the biggest changes to the car that you'll notice is of course that full GP Sports body kit. Steve also did a few smaller changes and additions though that many of us non-FD owners will easily overlook. OEM 99 spec turn signals, OEM 99 spec tail lights & Wise Sports crystal clear headlights just to name a few.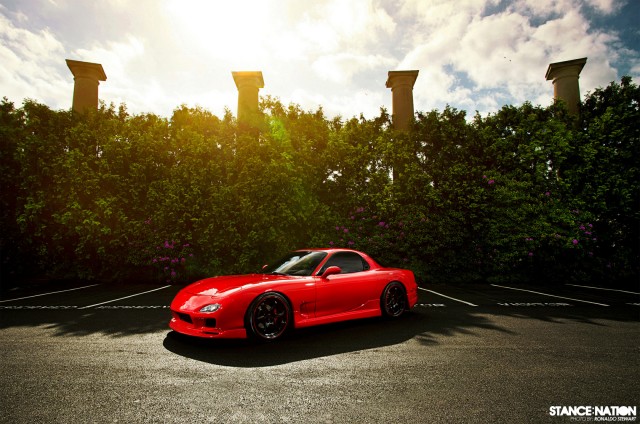 While it may not be as low as most of the cars that we tend to feature, there is no denying that it sits beautifully. Steve's choice of wheels is pretty awesome actually. SSR Comp-H's sized at 18×10.5 all around with an offset of +43. They were finished off with a gloss black powder coat. In order to have the wheels exactly where he wanted them to Steve had to add 5mm spacers up front and 15mm spacers in the rear (effective offset, +38 F, +28 R).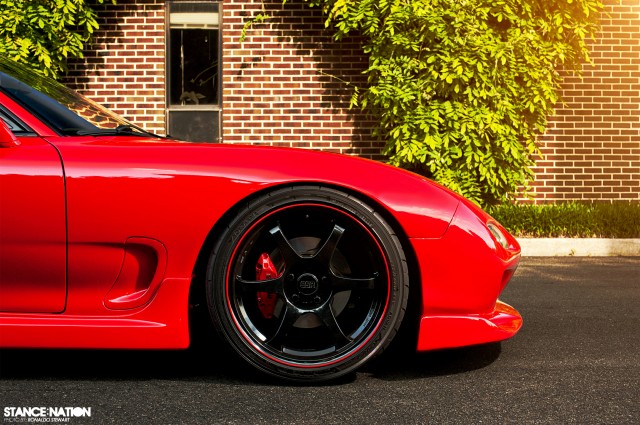 Suspension wise the car is sitting on Apexi EXV coilovers, though Steve has a few more goods added to keep everything in control such as Megan Racing toe links and trailing arms. Behind those stunning SSR Wheels sit StopTech slotted rotors, pads, and stainless steel brake lines accompanied by Motul RBF600 brake fluid. If you haven't figured out by now, let's just say that this beast gets "driven aggressively" at times.
We're really loving the Black/Red theme this thing has going for it. How about you? Drop a comment below.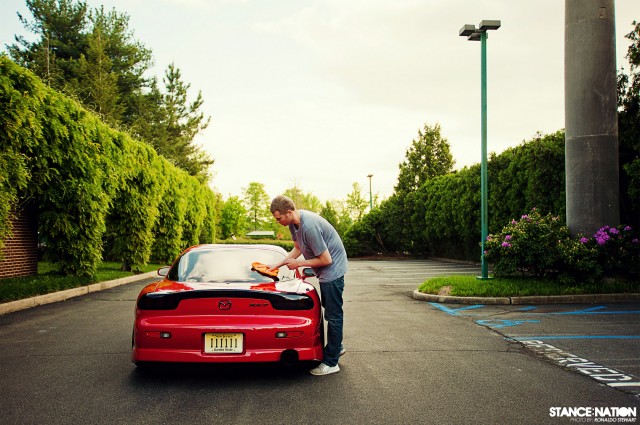 That brings us under the hood. What you see in the photo below is Steve cleaning up his street ported and rebuilt 13b-rew engine that's sporting a PT67 Billet Precision Turbo. Many of the parts have been powder coated black to go with the black/red theme. Powder coating the R1 strut tower bar red was a brilliant idea in our opinion. Looks perfect!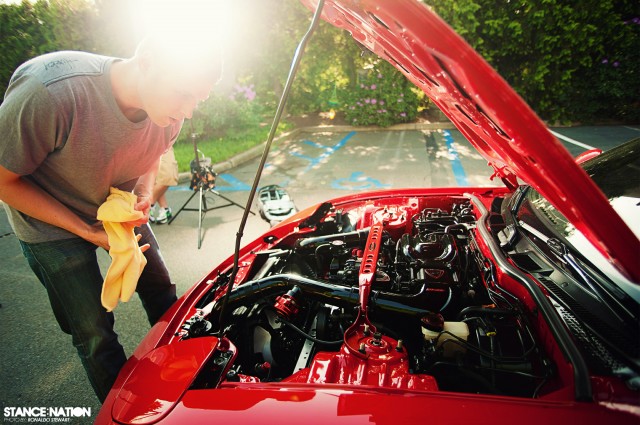 Make sure you scroll all the way down for the entire specification list of not only the engine but every other modification that Steve ever added. As we mentioned before, the car puts out 454RWHP @ 24PSI. Now if we only had a video of this bad boy tearing it down the track our life would be complete.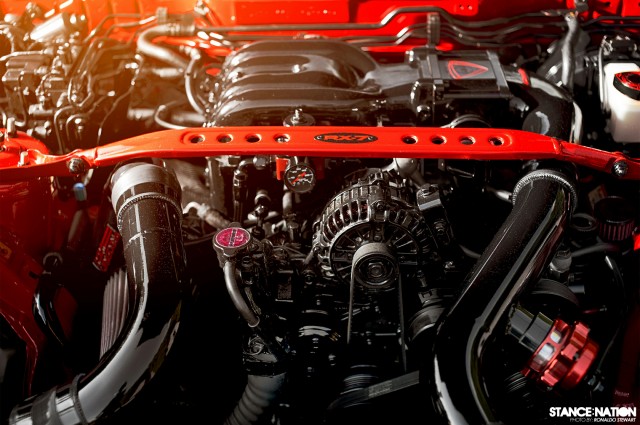 Interior features a ton of modifications starting with custom red with black lettering Recaro SPG seats that are sitting on of course Recaro sliding rails. All plastic panels were refinished or replaced at one point and the entire center console, shifter and e brake boots were leather wrapped and red stitched. Few other things that Steve did to the interior include a Sparco Champion Limited Edition steering wheel with Work s Bell Steering Wheel Hub and custom red LED gauge cluster with JDM black gauge bezels. It's obvious that no amount of words or photos will ever do this car justice. It is truly one of those cars that has to be seen in person to be fully appreciated, in our opinion.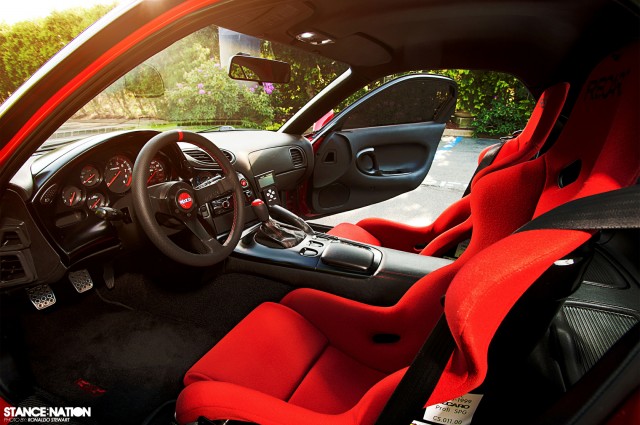 With that said, we'll leave you with a couple more awesome photos that our very talented photographer Ronaldo Stewart captured. Huge thank yo goes to to him for making this happen and of course a special thanks for to Steve. The amount of respect we have for Steve simply can not be put in words.
If you think your ride has what it takes to be on our site, don't forget to shoot us an email at snfeatures@gmail.com with a few photos as well as specifications. We're always looking for cars to share with our awesome fans!