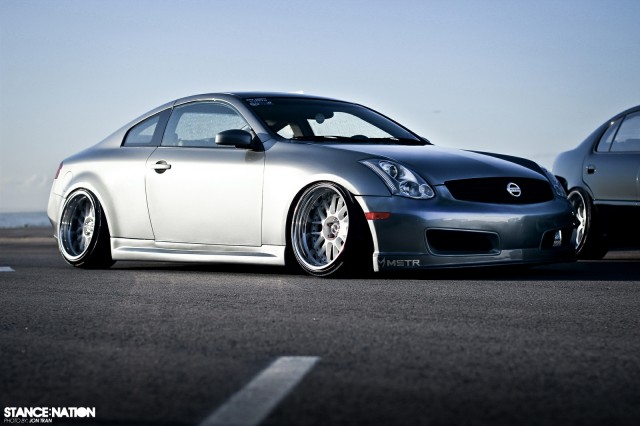 Is it just us or has the amount of properly fitted G35 Coupes gone way down in the last few months? For example, last year we had a new G on our site at least once a month, this year however it's very different. We're halfway in the year already and this is our first G feature if we remember correctly. This particular one is pretty special to us because it belongs to one of the Low N Slow guys who we happen to be so close to. We featured a few of their cars last month (click here) but never got to Noel's G35 however. What we learned about Low N Slow from those previous features was that they don't build their cars for shows or magazine covers. Most of their cars are very similar to ours, just slightly more of everything (lower, wider, etc). Let's take at what our friend Noel did to his Infiniti G35, shall we?
Photos By: Jon Tran exclusively for StanceNation.com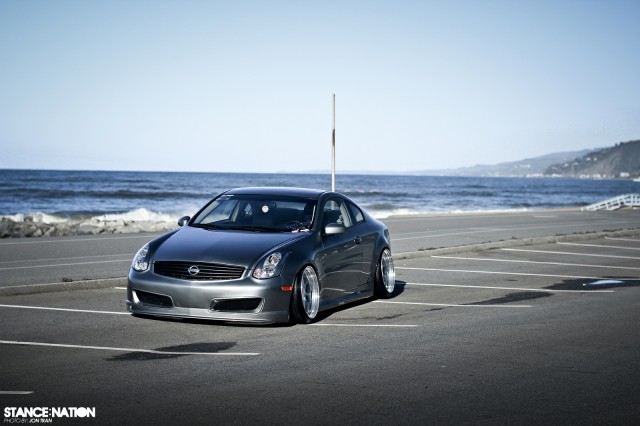 The exterior features a replica Nismo poly front end & Impul poly side skirts. They didn't bring the car down as much so Noel got himself a set of Stance GR+ coilovers. Having an overly aggressive set of wheels usually means that you're either going to have to do some body work or tweak your suspension some more. Noel chose to go with a pair of SPL rear camber arms along with Megan rear toe links and Megan UCA. The negative camber on this thing is just right especially from the rear end! Noel killed it!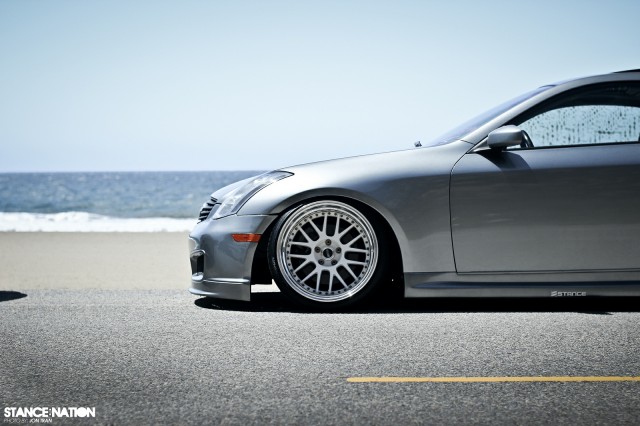 One of the things that Noel took a slight risk with was those wheels and their finish. The Diamond Graphite color usually doesn't work too well with "colored" wheels but we honestly think he pulled it off. The good fellas at WheelFlip flipped and polished the barrels of those SSR MS1's, powder coated the faces Gloss White and painted the hardware Noble Gold. The results are stunning especially in person. As far as wheels go, they are as we mentioned SSR MS1 and are sized at 19×9.5 up front with an offset of -33 & 19×11 in the rear with an offset of -13. Noel wrapped the wheels in 215/35 & 255/35 rubber and got the car to sit exactly where he wanted.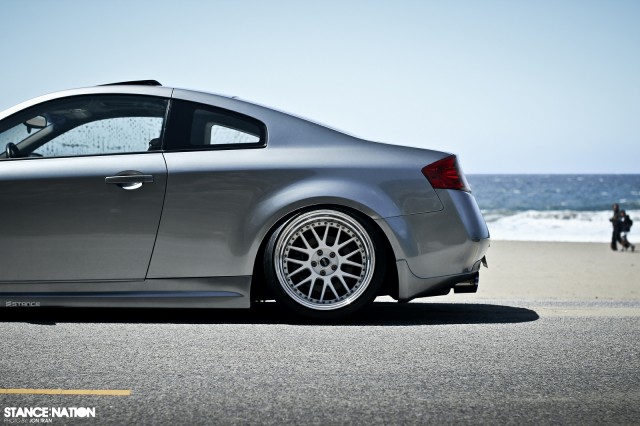 By no means does Noel race the car but he certainly enjoys a few additional horses that he squeezed out of the stock G35 engine. At the moment, under the hood you'll find a true HKS dual exhaust with titanium tips, an FD swap to 3.54 gear differential with VLSD and custom grounding kit. Other then that, the few other things that he did under the hood include a Polished plenum, Polished throttle body and a Polished Injen CAI. Again, you're looking at a daily driven street car.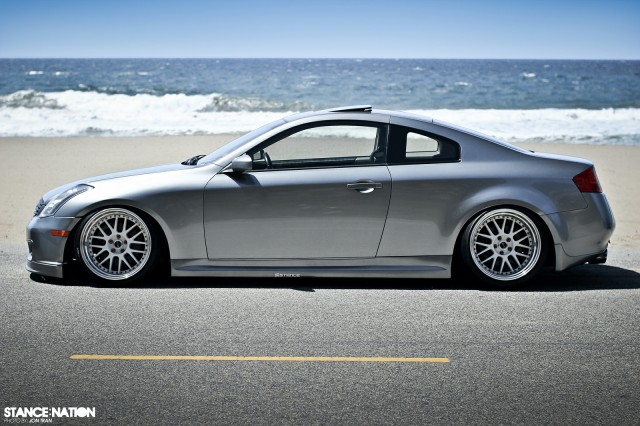 With that said, we'll end this feature with a huge shout out to the entire Low N Slow crew, especially Noel! Noel managed to create one of our favorite G's out there and more importantly he did it with minimal amount of mods. Well done sir, well done.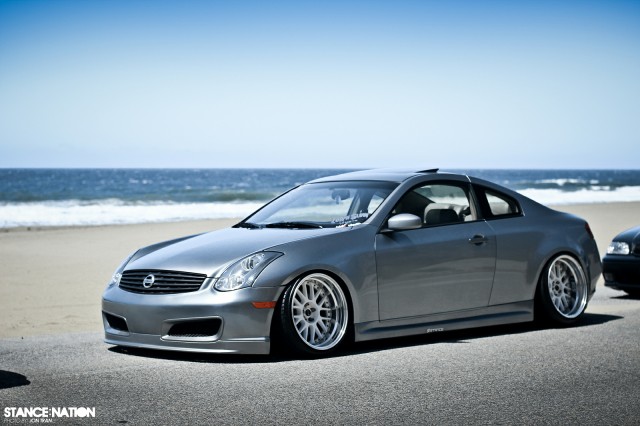 If you think your car has what it takes to be on our site make sure you email us at snfeatures@gmail.com. Make sure you include a few photos and your spec list as well as any other information we should know about you or your car. We're always looking for cars to feature! In the meantime we'll see you guys over on our facebook.