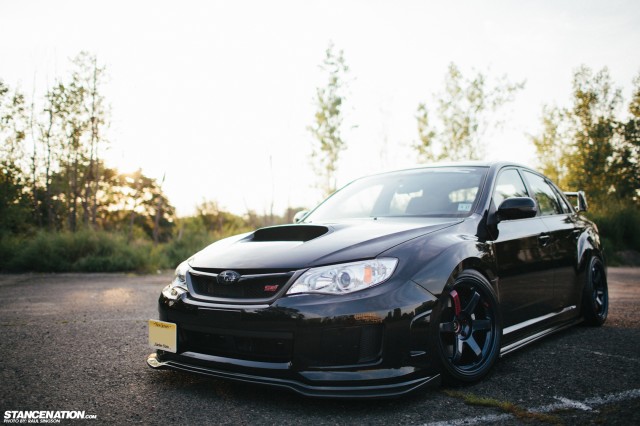 Most project cars begin with humble intention. First its "I'm just going to add rims" then "I need a new clutch, why not upgrade?" followed by the good ole "I just want an intake… it can help my gas mileage." Suddenly you have a built motor, full suspension and you're missing back seats. Ive been there myself, "who needs back seats? I don't like being designated driver anyway." Not every build is meant to take a car to its limit, some of us just want a good blend of speed and style. Denis Supa and his Subaru STI are a perfect example of just that.
Photos By: Raul Singson exclusively for StanceNation.com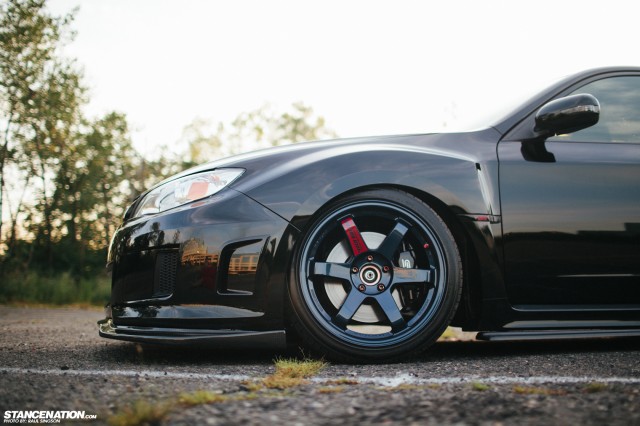 Subaru seems to have a cult following. Most of the Subaru drivers I meet have either owned multiple Subbies or  have plans to. Denis is no different. His previous ride was a 2011 WRX which he traded for this 2012 STI. In just five months he has already assembled a pretty impressive mod list and created the kind of STI that lives in many of our dreams. Few can argue that an STI is a real competitor right out of the box. It has a very generous amount of power, a well designed AWD system and looks that seem to scream for attention & challenge.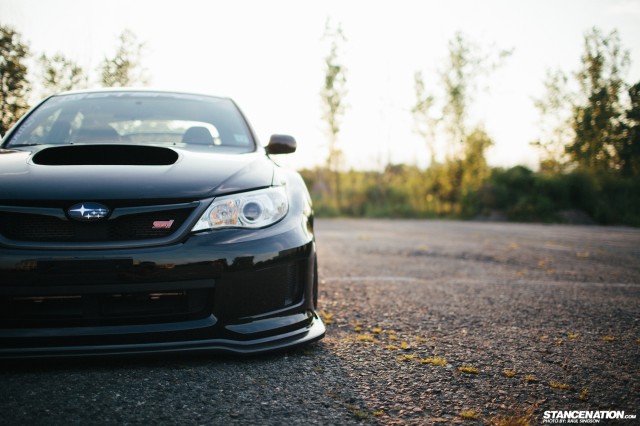 Denis chose to stay simple with the body additions. A Blacktop Aero carbon fiber front lip paired with a set of Blacktop Aero carbon fiber side skirts give the exterior a unique look without making any wild changes to the already wild body. Even though the additional body parts aren't dramatic, they definitely help sharpen the already fierce stock appearance. They also bring the body closer to the ground without any crazy suspension adjustments. This allows Denis to have a low and aggressive stance and still be able to keep full control of this beast while slicing through any concrete jungles.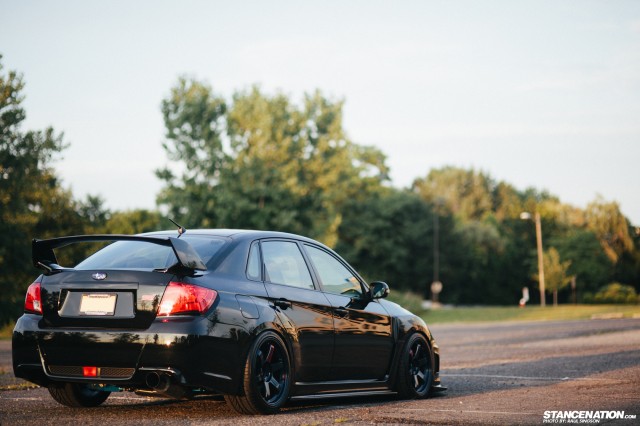 Denis made some small adjustments to the lighting of his car as well. As if he needed help gaining the attention of fellow motorist, Denis added a jdm third brake light/fog light, tail light overlays and LED turn signals that switch between two colors.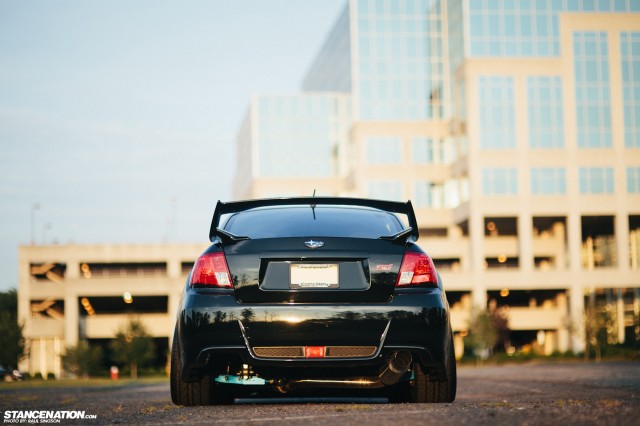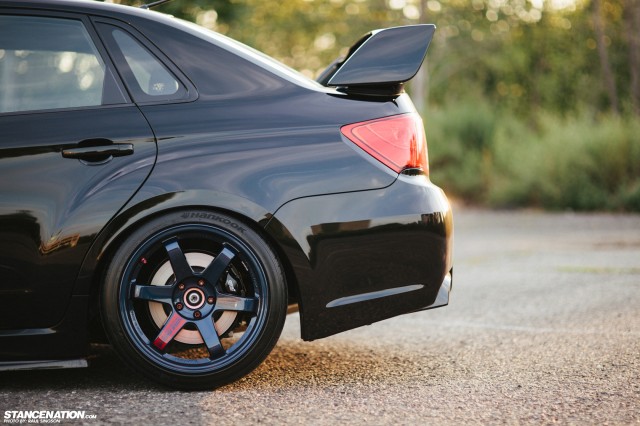 Before I go into the details, I'd like everyone to really take a good look at the next picture. This wheel combination is flawless. This, is the definition of flush. The kind of fitment that belongs to legends.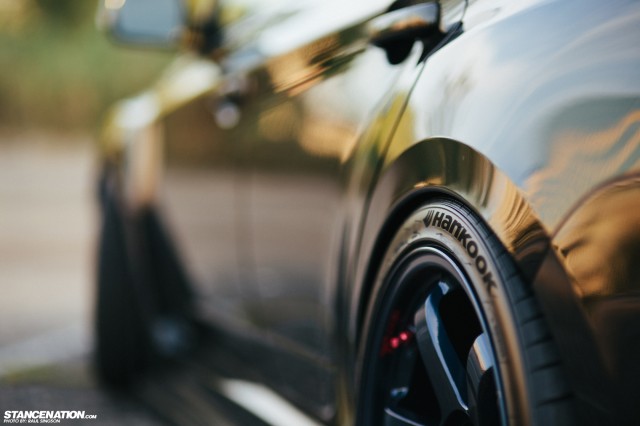 These Mag Blue Volk TE37sl align with the tire and fender with razor sharp precision. I don't know how you can make this any more perfect. One aspect of this fitment I really appreciate is the thick Hankook v12 265/35/18 tires. You can see the entire sidewall! Now don't get me wrong, I love seeing huge wheels squeezed tightly into fenders, but this is a flawless blend of form and function. Denis explains "I've always loved meaty stance" and with a car like the STI, combining  function & form is the right formula. I'd also like to point out that this isn't Denis's first attempt at fitting a set of wheels to this car. He originally had a set of Rays Gramlight 57Ds in 18×9.5 wrapped in Hankook v2 265/35/18 and after a short while he decided to upgrade to the timeless TE37. The results speak for themselves.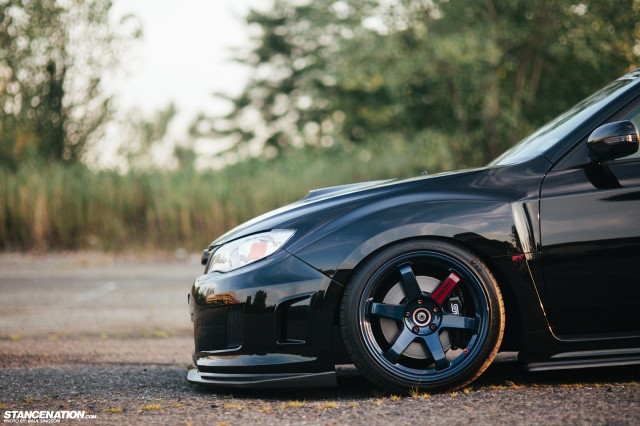 Although Subaru provides fantastic sport tuned suspension with their STI line up, this kind of fitment could never be created without adjustable suspension. Denis installed Bc Br coilovers to help provide the clean drop and smooth ride. With Eibach front camber bolts, Cusco rear lateral links and Whiteline rear toe arms, Denis is able to make the necessary tuning adjustments to create this flush fitment and keep a daily drivable car.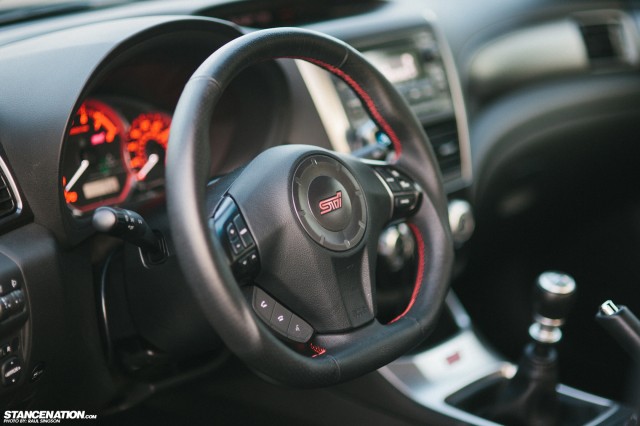 One of the best ways to improve your driving experience is interior mods. To add a more personal feel to his daily commute,  Denis installed a Gtspec D shape steering wheel that blends with the rest of car perfect and is molded for maximum grip. I'm usually more interested in a standard simple round steering wheel, but I believe that I would add this same steering wheel if this had been my car. Take a look at it below and tell me what you think!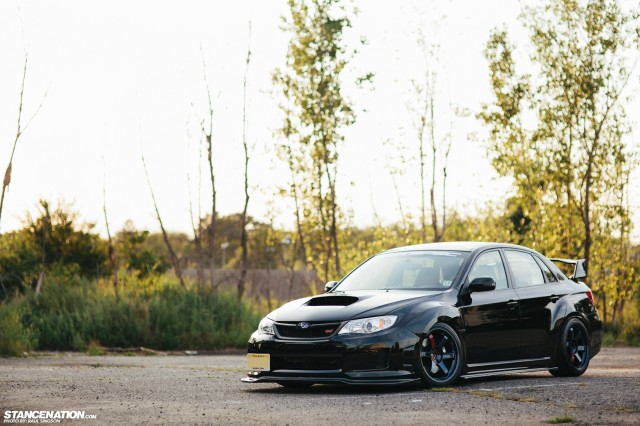 This Subaru isn't just good looks without any power. Considering this is a daily driven car, the power upgrades are mild but well thought out. Helping increase the flow of the exhaust is a Invidia catless downpipe attached to a Invidia N1 race catback with a titanium tip. This cuts the stock dual tip exhaust down to one single canister which cuts weight and lets the turbo spin with less restriction.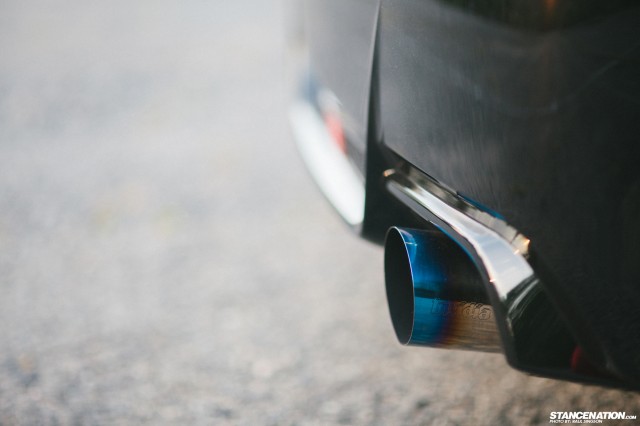 Cobb AccessPORT helps to safely adjust engine tuning so Denis can reach full potential with all power modifications. Keeping the undercarriage safe from rocks and road hazards is a Gtspec aluminum under tray.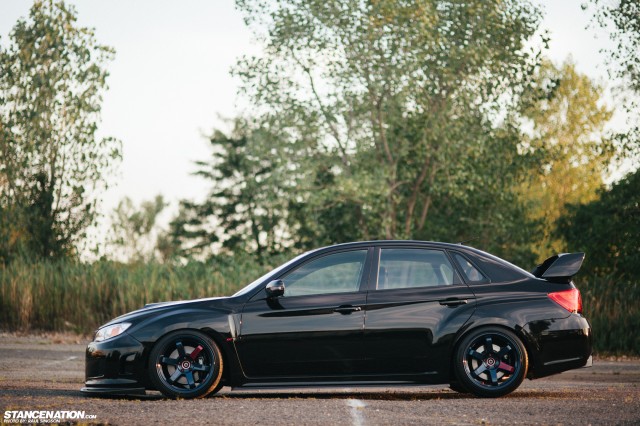 Many of us car addicts enjoy the attention that comes along with a modified ride, there's still one group  that we all prefer to avoid, the good ole red and blue. Knowing the police in New Jersey, Denis follows the rules. He keeps both front and rear plates installed and visible with a front Grimspeed license plate relocation and a LED lit rear license plate. As a finishing touch he changed his stock side emblems into R205 Jdm side badges.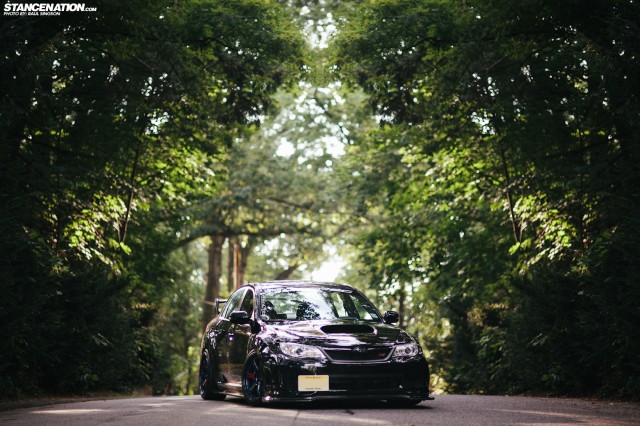 Although this car started as a simple daily driver, Denis isnt done yet. "My future plan is to add a Carbon fiber rear diffuser, Air Suspension, aggressive wider wheels, and more wheels". Although I love this car the way it is, I also know that this clean simple look couldn't last for ever, so I'm still excited to see whats next for this STI and it's awesome owner Denis Supa.