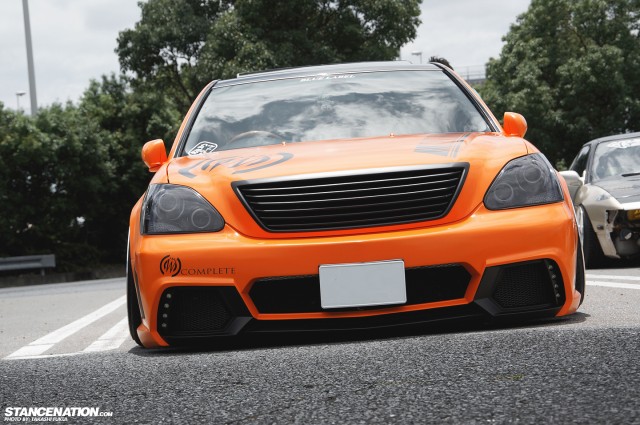 A few years back when the fitment scene in Toronto hadn't quite got rolling yet and the only stretched tires I had seen in person were a few buddies with VW's and my own, there wasn't much that was making me say "WOW, I want to do that!!!". At one of the first fitment meets put together by the Stretch & Poke guys, I encountered my first legitimate pure blood VIP car, a black UCF20 sitting on a set of Junction Produce Scaras. After that, Lexus' flagship became VIP car royalty in my eyes, even seeing stock LS' I started picturing them slammed with every wheel and tire set up possible, body kits, widebodies, Crown conversions, etc. After brief ownership of a UCF10 I ended up sticking to my roots and stayed in the Nissan family (those who aren't familiar with my car click here) when it came to my big body purchase, but my love for the styling of every generation Celsior never left.
Photos By: Takashi Fukui & Kouji exclusively for StanceNation.com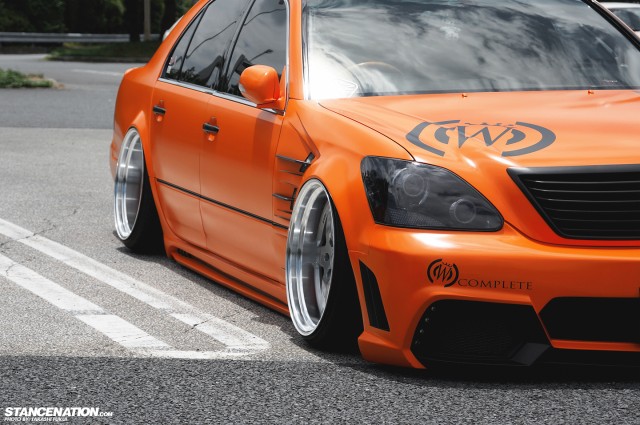 What I love about our friend Kouji's UCF30 is that I never once pictured anything like it… This Celsior stays mostly true to vip styling where most of the attention and work goes into the fitment and perfecting exactly how the wheels sit in relation to the fenders. In this case the choice of Work Gnosis and flush fitment flows flawlessly with his custom widened and vented fenders. Obviously the only way to pull off such aggressive fenders is to select the appropriate exterior accents. Kouji selected the Mercedes inspired Black Bison front, rear and sides from none other than Wald International. The black vents and ducts pair up with the custom blacked out projector headlights and badges grille as if they were made specifically for the car. Topping off the exterior is the matte orange paint job, in a world of the ever growing vinyl wrap it's not so common to see such a loud color made a more permanent addition to the vehicle.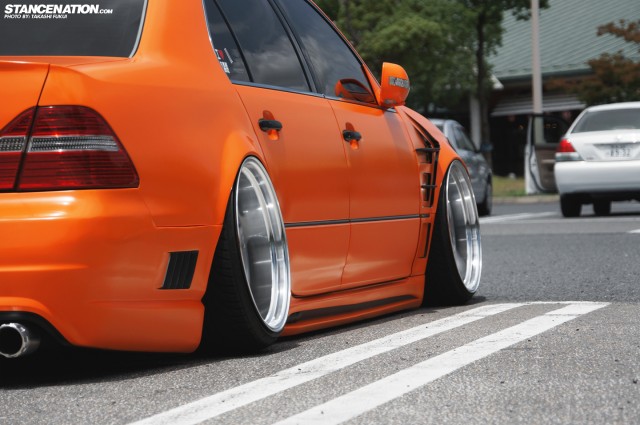 What is fender to tire relation without the right drop? As much as the static vs air argument goes back and fourth a lot of people don't realize the difficulties both set ups bring fourth. When static, you need to pay very close attention and set the car up precisely so it can ride slammed without buckling fenders or constantly rubbing. On air, you need to not only perfect the aired out fitment but also the ride height. There is nothing worse than a car that needs to air up 3″ to clear the overly aggressive offsets the ride height can't handle. Looking at this set up, you know Kouji has put in the time to pick the right tires, alignment specs and offset to still be able to ride low. If you haven't already guessed, Kouji's car is running Bold World's Ultima Leggero Advance air ride. A set up that only the most dedicated American vip builds would consider.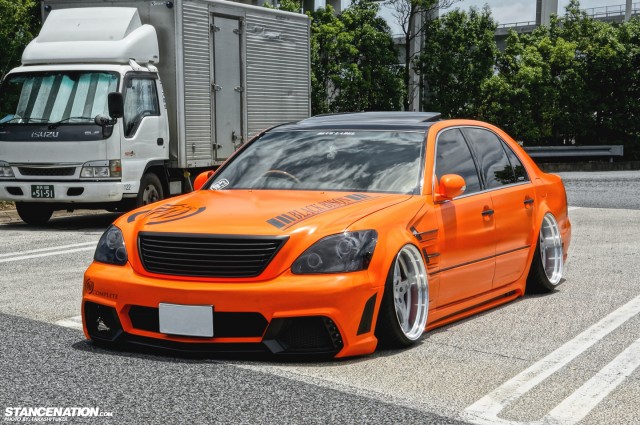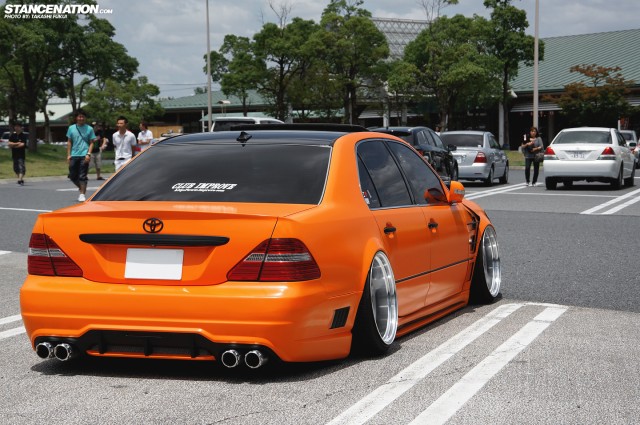 As most vip builds go, the motor and performance work is kept to a minimum and exhaust work is exaggerated. Of course, like the rest of the car, no cut corners as Kouji is running a full custom exhaust with Job Design mufflers that fill out the rear bumper and accent the custom trunk. Of course, being an LS, a big brake upgrade is usually the last on the list, Kouji has cleaned up his stock BBK and given it his own flavour that flows great with the matte orange.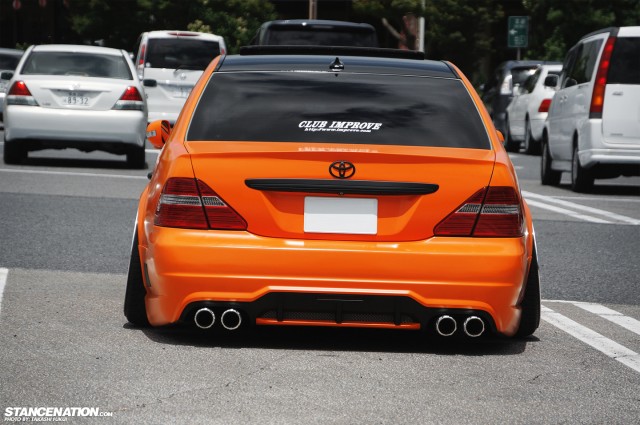 As this car may seem as good as it gets, our Japanese friend is just getting started. A unique custom interior with all new leather is soon to be in the works as well as full audio set up that I'm sure will make the trunk set up something to see! After just 3 years of ownership, I'm sure I speak for everyone when I say I'm excited to see this car in a year from now.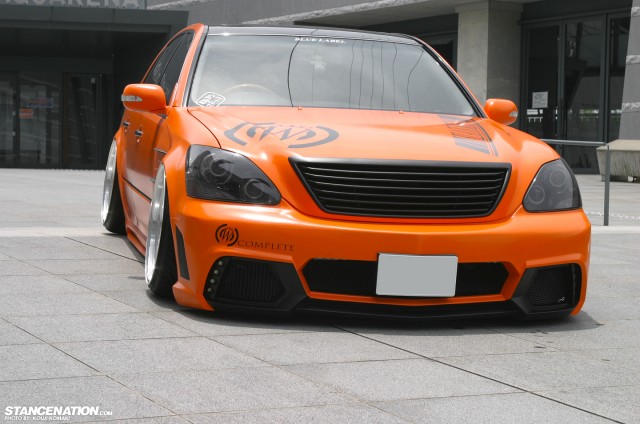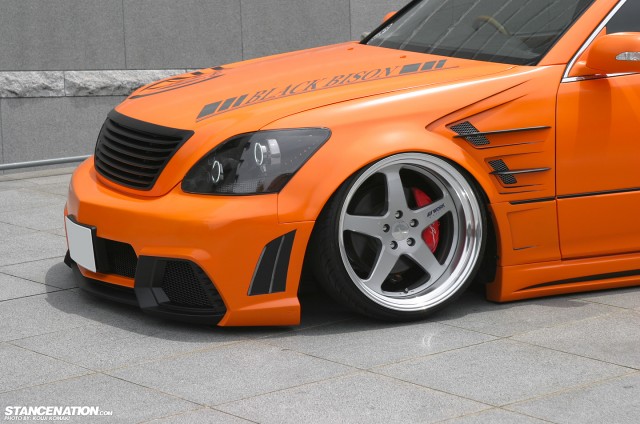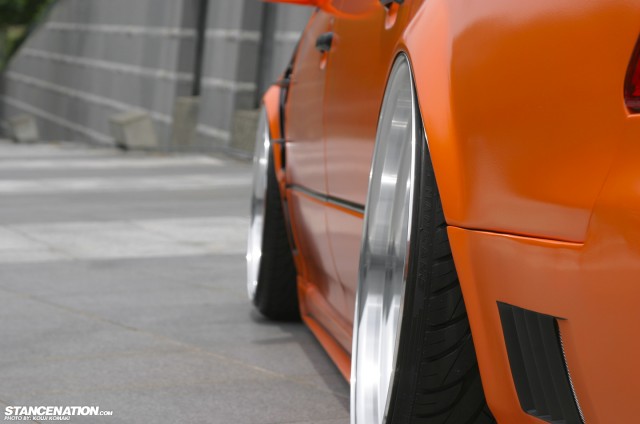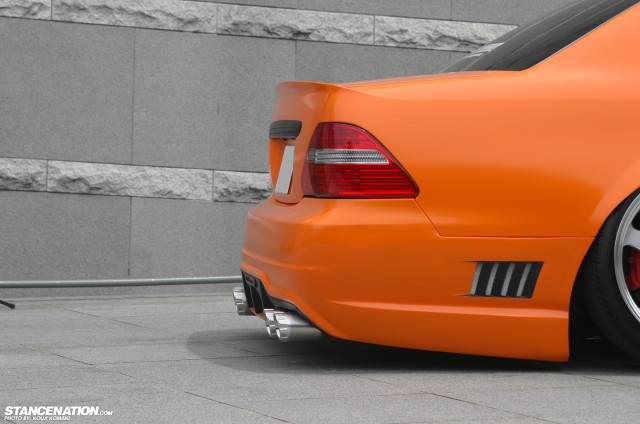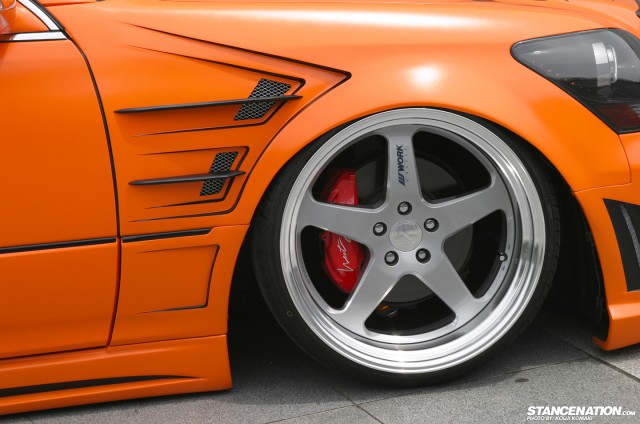 Wheels/Tires/Suspension

Work Gnosis 20×9.5 & 20×10.5
Nankang 225/30/20 & 245/30/20
Bold World Ultima Leggero Advance Revision Air Suspension

Exterior

Front/Side/Rear – WALD Black Bison kit from Mercedes
Custom trunk spoiler
Widened Fenders 1.2inch F & 1.6inch rear
Customer Fender Vents
Custom Exhaust with Job Design mufflers
Custom painted headlights
Custom projector lights w/x4 LED turn signals
Custom matte orange paint.