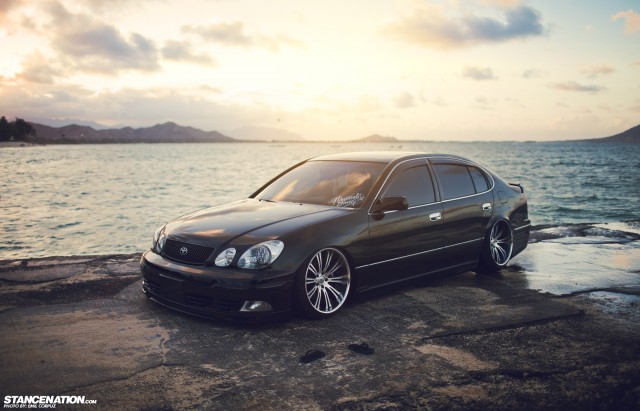 Now that I finally own a big bodied Japanese sedan I find myself falling in love and appreciating properly done VIP Style & inspired cars more and more. One of the things I find so intriguing on "this" side of the scene is the attention to detail. Not to take away from majority of the cars in this awesome community of ours, but let's face it, most of the cars you see around the net and at local car events tend to only have wheels, drop and maybe some kind of front lip. With that said, not all of the guys who are into the whole "VIP" side of things have "true" VIP cars. Window curtains, tables & fusas/kitsunas hanging off the rear view mirror do not make a VIP car, rather everything from the way a car sits, down to small details such as custom lighting, stereo, and even smaller things like pillars, knobs & garnishes. It's the chassis & ultimately the details that separates a proper "VIP Style" car from a "VIP inspired" one.
Photos By: Emil Corpuz exclusively for StanceNation.com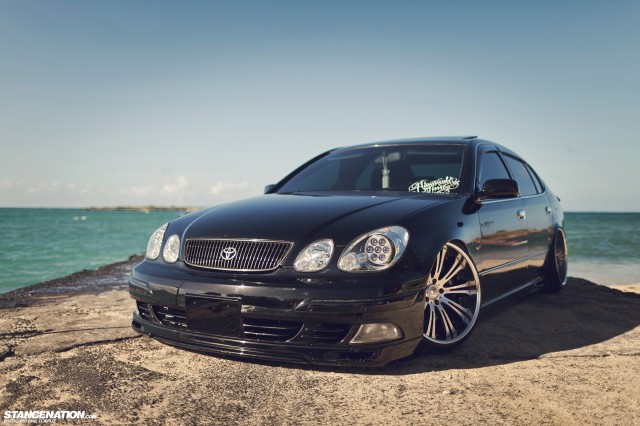 One of the cars that does a great job representing a proper VIP vehicle is this particular Lexus GS300 which belongs to our friend Sean Gono out of Hawaii. Sean has always had a passion for American muscle as he grew up around them them, but as he got older and started hanging out with other car guys who drove Honda's, 240SX's and such, he grew to like imports. A few of the cars Sean has owned previously consist of a 98 SR'd 240, 3 SR'd s13′s, 2 LS400′s and a even a lifted Toyota 4 Runner. Somehow all those cars led him to purchase this stunning GS300 back in July of last year and it has not looked the same ever since.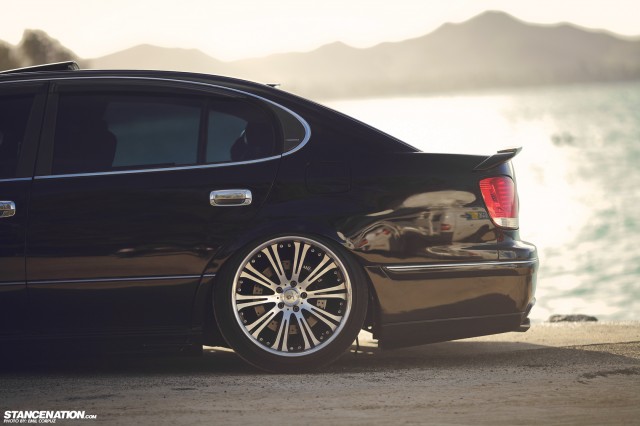 Sean was very fortunate and got a great deal. The GS already had quite a few modifications such as the AirRunner suspension, OEM window visors, Silk Blaze front lip, Ugo roof spoiler, led tails, an eBay trunk spoiler and a set of Work wheels. Ultimately the decision to purchase the GS300 was made because he wanted to have something that would somewhat hold it's value and not have to worry about cops as much as he did back in the 240SX days. The car didn't obviously didn't stay the same for long and just a few weeks after purchasing it he started adding things to it to make it "his own". It all started with simple light bulb changes, then Junction Produce front table and even an aggressive set of Trafficstar SFR wheels! "I was hooked", Sean says, and the mod bug only kept biting…
The car was slowly turning out just the way he had imagined but he wanted to do something that no body really had done before on the islands. Little did he know, that wasn't going to be easy to accomplish because Hawaii's VIP presence is one of the strongest in the country. After realizing just how much "competition" is out there, Sean simply had to step his game up. By beginning of August last year, he picked up a complete K-Break Platinum V-Spec aero that his friend Bryan Lee helped him with. At the time, it was one of the first, if not the first kits of it's kind stateside, which only gave Sean the drive to keep pushing things further.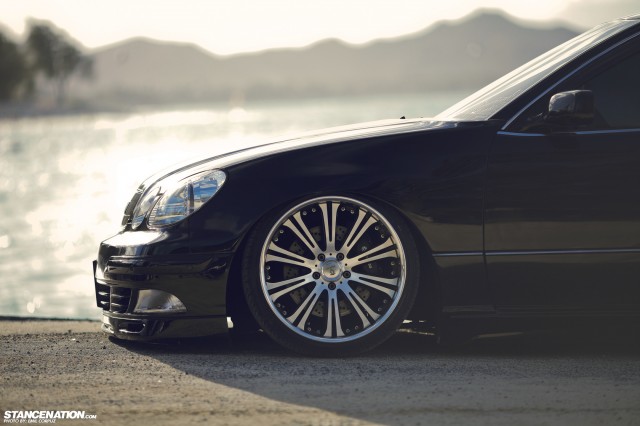 Fast forward a year and this is where the car sits at the moment. Let's start with the fitment for example, those 19×10 + 15 & 19×12 +15 Trafficstar SFR's sit just right thanks to the custom fender work that Sean had to do. Sitting behind those beautiful wheels up front is a Brembo GT 4 pot big brake kit and in the rear, a Wilwood 4 pot big brake kit.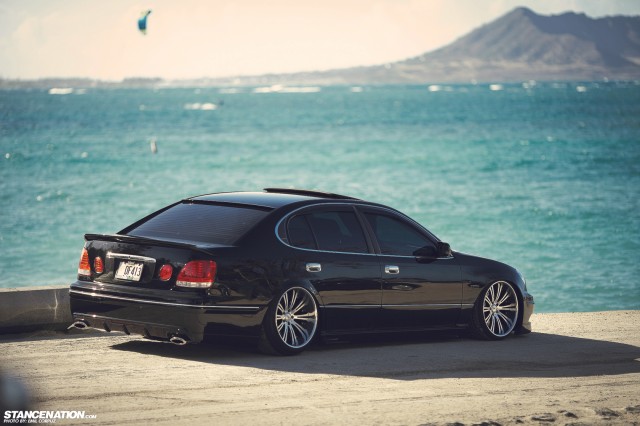 Besides the obvious K-Break kit with LS460 fogs, the car also features many smaller things that would be overlooked by many non-GS owners. For example, this thing is rocking a Junction Produce roof as well as trunk spoiler. Along with that, Sean picked up a few genuine JDM Aristo parts such as chrome door handles, trunk bar, carbon c-pillar, a rear license garnish and last but not least a front grill. It didn't stop there though, scroll down for full spec list.
Where do I even begin when it comes to the interior of this beauty? Besides some of the more obvious additions such as Junction Produce front table and the Kitsuna seen hanging off the rear view mirror, this thing is fully loaded with Garson goodies. Things like the D.A.D rear view mirror, cigarette lighter, curtains & shift knob are just a few things. The trunk itself is also packed with random goodies from brands such as Alpine & Rockford Fosgate.
With all that said, we have some truly heart breaking news to share with you. Just last week Sean was involved in an accident that literally destroyed everything he built and worked so hard for. Thankfully he was not seriously hurt but I can only imagine the emotional pain he had to endure. Regardless, we're glad that he is okay because quite frankly, everything is replaceable except for our health and lives.
But, we will leave this on a good note and include some more awesome photos that our photographer Emil shot of the car in it's prime. Huge thanks to Emil as well as Sean for making this feature happen. Sean would like to give a special thanks to his family, girlfriend Tracee, Bryan Lee, Revision Audio, and the whole Empire Family.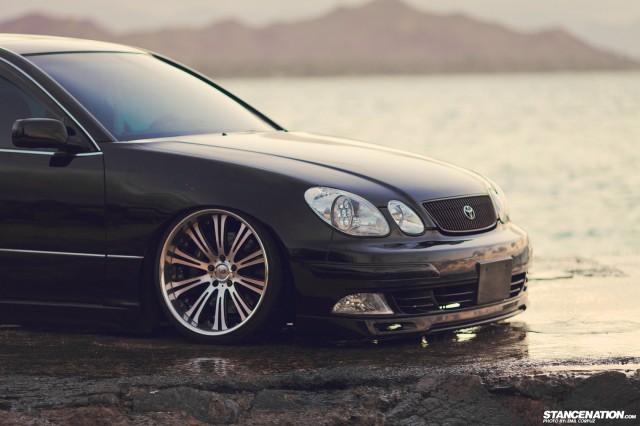 As always, if you think your car has what it takes to be on our site make sure you email us at snfeatures@gmail.com. Make sure you include a few photos and your spec list as well as any other information we should know about you or your car. We're always looking for cars to feature! In the meantime we'll see you guys over on our facebook.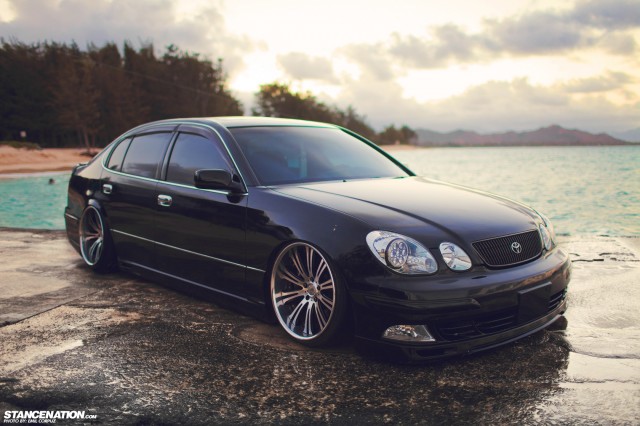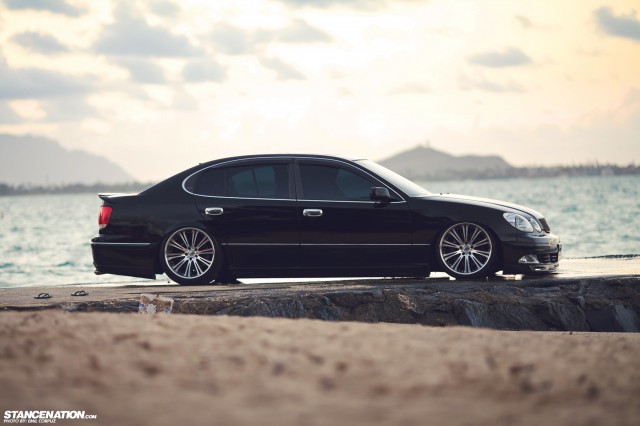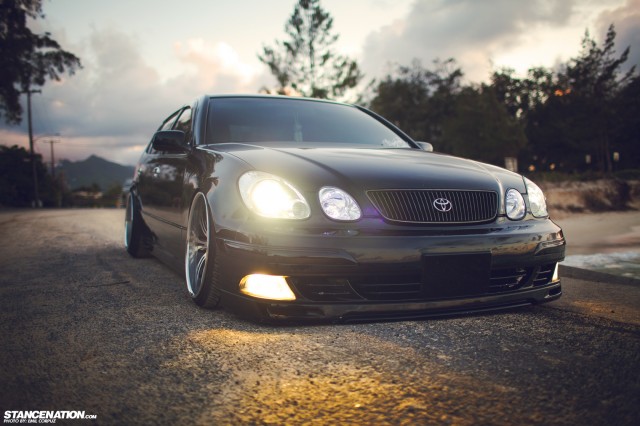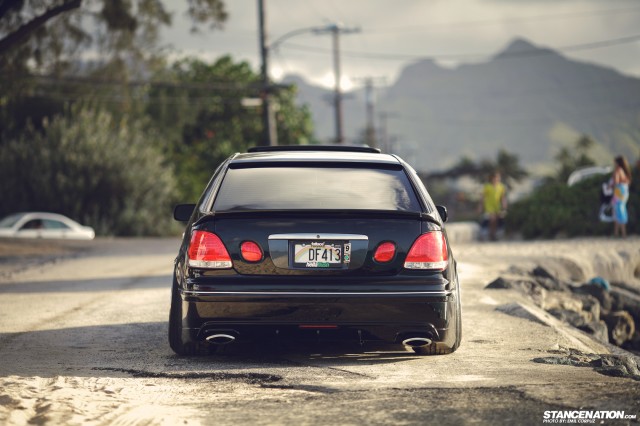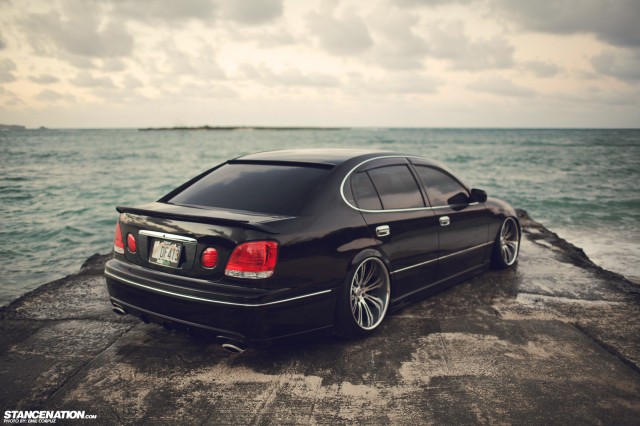 Wheels/Tires/Suspension

Trafficstar SFR

F/19×10 +15 & R/19×12 +15

Goodridge ss lines

F/Brembo GT 4 pot

R/wilwood 4 pot

Prodject kics r40 lugnuts

Suspension:
Air Runner
Digital Dakota Gauge
Viair 380 compressor

Exterior

K-Break complete platinum v spec w/Ls460 fogs
Junction produce roof spoiler
Junction Produce trunk spoiler
Jdm aristo chrome door handles
Jdm aristo chrome trunk bar
Jdm aristo Carbon c pillar
Jdm aristo rear liscense garnish
Jdm aristo grill
Insurance led taillights
Depo headlights with Q45 retrofit
Mode parfume exhaust

Interior

Junction produce front table

Junction Produce steering wheel cover

Junction produce kitsuna

Garson D.A.D. rear view mirror

Garson D.A.D. cigarette lighter

Garson D.A.D. curtains

Garson D.A.D. shift knob

Jdm aristo blackwood door trim

Jdm aristo scuff plates

Stereo:
Alpine ina-900bt head unit
Rockford fosgate T3 6.5 seperates F/R
Rockford Fosgate T2 12" x2
Rockford Fosgate T600-4
Rockford Fosgate T2500bdcp
Cache Eq
optima Yellowtop
Kinetic HC2000