Ever since StanceNation's very first post back in March of 2010, I personally don't recall any features like this particular one. Sure, we may have done a couple of features on female-owned cars, but never like this. In order to make it happen, we have to take you all the way to the source of the VIP lifestyle, the beautiful country of Japan. Our photographer Takashi Fukui recently caught up with these awesome ladies who were very excited to share their awesome cars with us! Let's start off with the youngest of four, 20 year old Chihiro Ueda and her Toyota Crown.
Photos & Video by: Takashi Fukui exclusively for StanceNation.com
As much as I want to continue to point out that these cars are owned by girls, I actually won't. Why? Because that alone isn't what makes this feature so awesome. It's the cars. Starting with Cihiro's Toyota Crown Athlete for example. It sits on a customized set of Peerless coilovers and custom rear arms. Front & rear fenders were radiused about 1.4 inches as well. It's not your traditional VIP build, she definitely put her own touch to it which I really like.
I realize that camber is a love/hate thing in our community but there is no denying that some cars can definitely pull it off better than others. Cihiro is running completely custom rear arms in order to get her awesome Volk Rays TE37 wheels to fit. They are 19×9.5 up front and 19×10.5 on the rear. She finished everything off with a set of NRG lug nuts.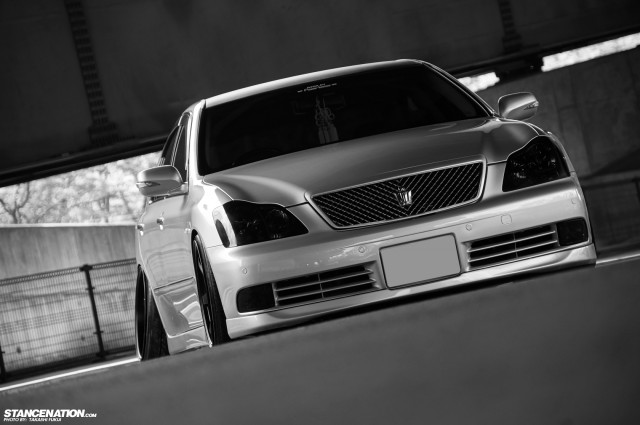 Both head and taillights were painted over with a thin coat of black to . The photo above is my favorite, how about you?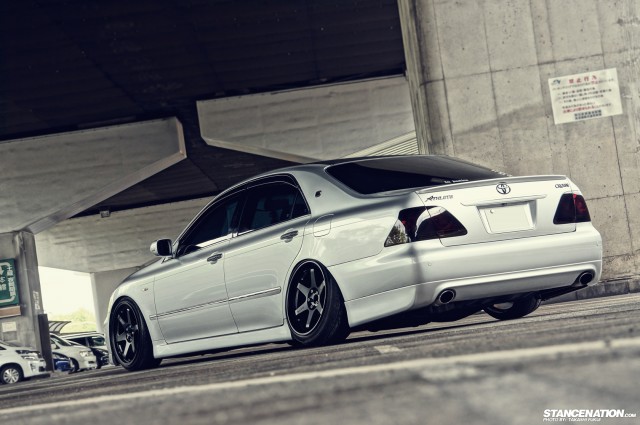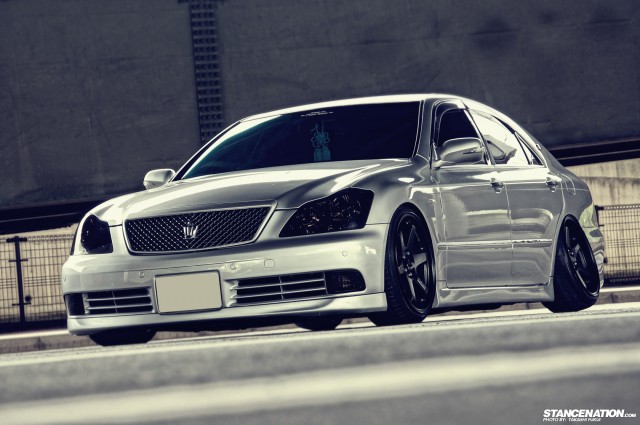 Up next we have Chiaki Kawamura's slammed Toyota Crown Majesta. Chiaki is 27 years old and has owned her car for quite some time now. Judging by her bumper it looks like she is still not quite done with it. Her Crown is dropped on the ground thru a custom Air Suspension SS kit and the car sits on a beautiful set of 19″ Trafficstar wheels.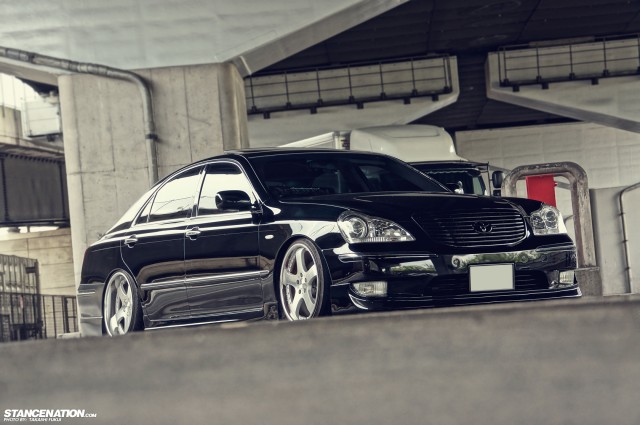 Other things that Chiaki had changed include an upgraded exhaust, caliper paint, seat covers and floor mats. Scroll down for some better photos of wheels as well as the interior!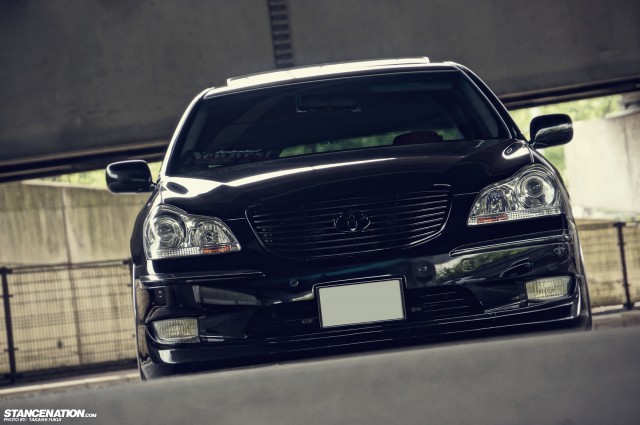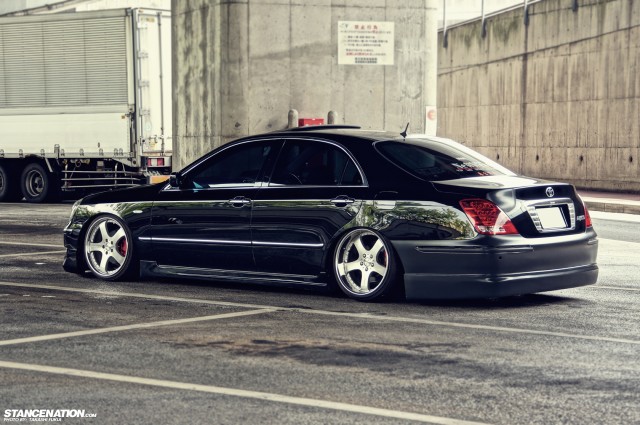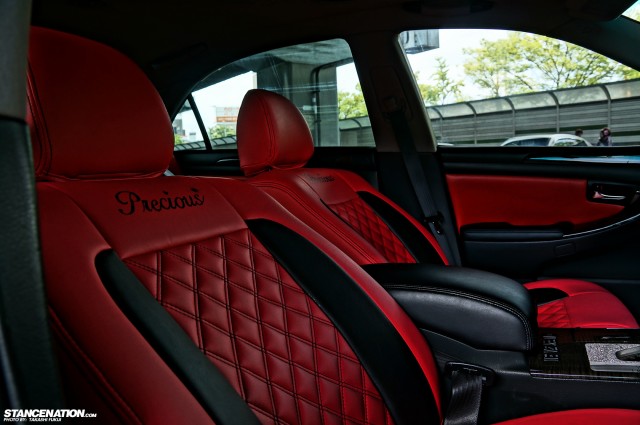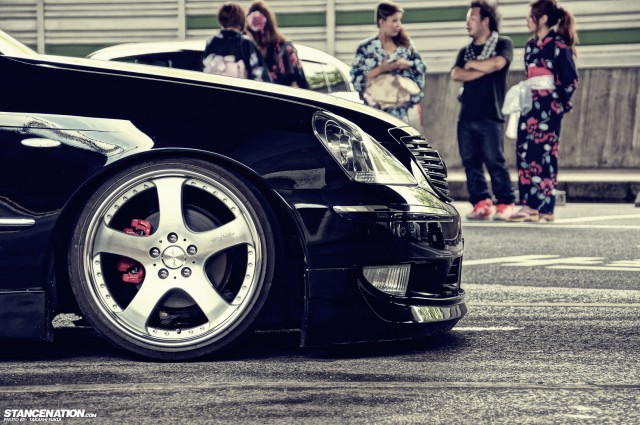 Up next we have another 27 year old, and her name is Yui Tomiyama. She drives a pretty common vehicles around, a 1996 Nissan Y333 Cima, also known as Infiniti Q45 stateside. Unfortunately I'm not too sure as to what kind of suspension it is on due to our language barrier but it is indeed sitting pretty on a set of 20″ Leonhardiritt Orden's. Front being 20×9 and rears sitting at 20×10. Everything about this particular car screams sexy to me. From the chrome/polished finish on the wheels to the beautiful mix of aero parts. Scroll down for more photos..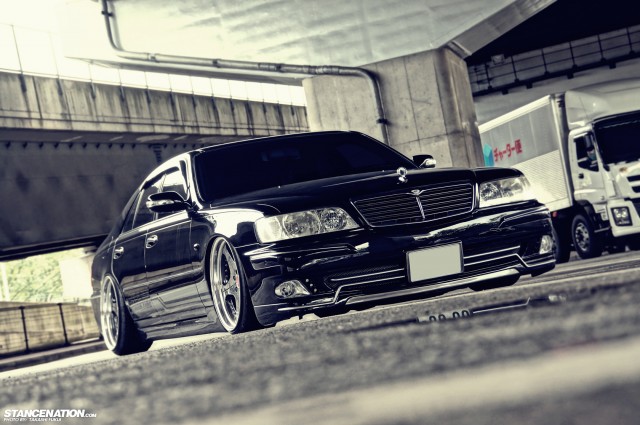 When it comes to the exterior, Yui mixed a K Break front bumper and side skirts with Blow Design (Mode Parfume) rear bumper. Great combination if you ask me. Her exhaust is completely one of as well.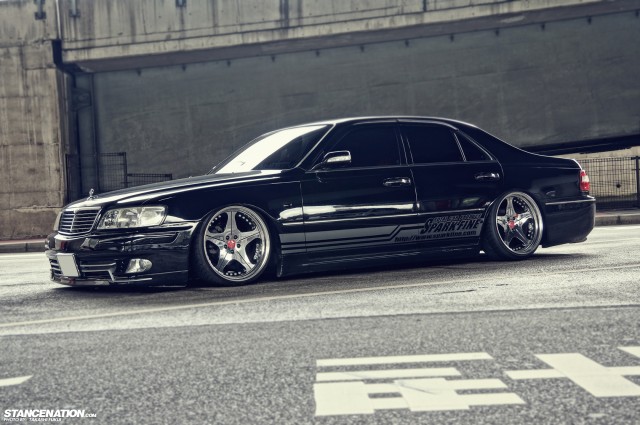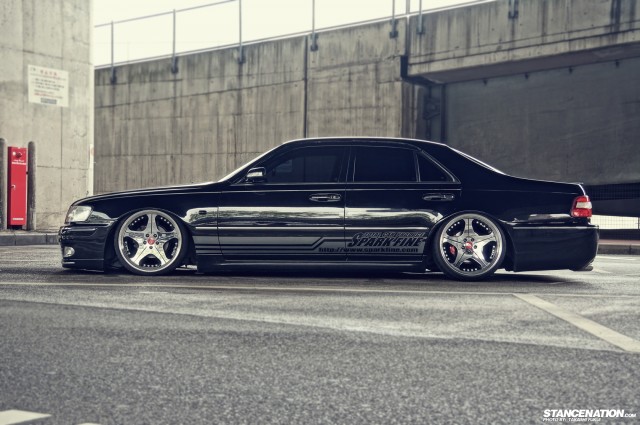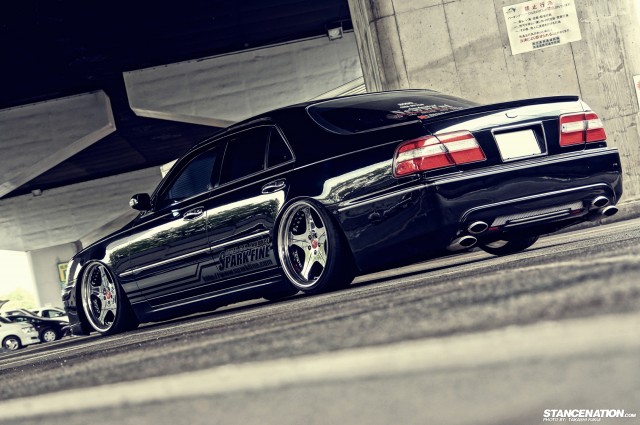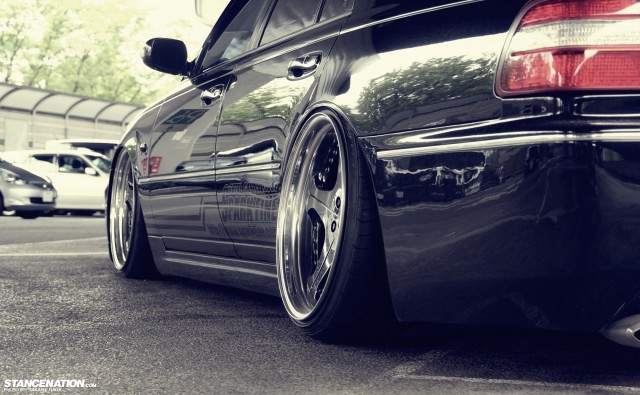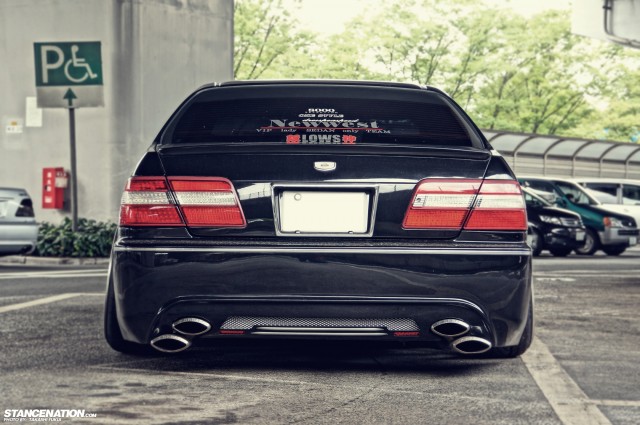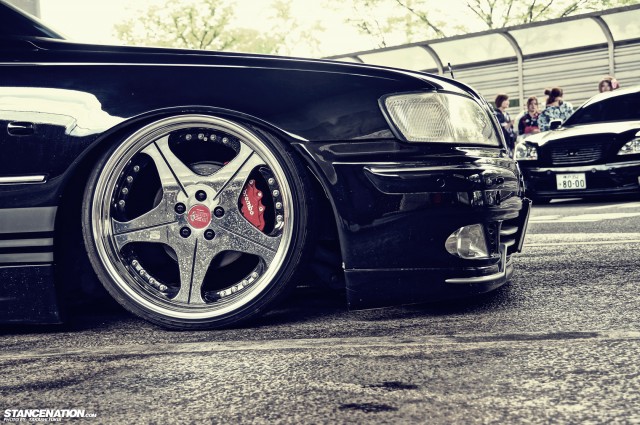 Last but not least, Miyuki Masui and her stunning Cima. She is the oldest of the bunch at 29 years old. Her spec list is pretty large too but we'll trim it down for you to be fair. For example, the wheels she went with are 20″ Rays Blackfleet V120's! They are the newest wheel from the Rays lineup and they certainly look sexy!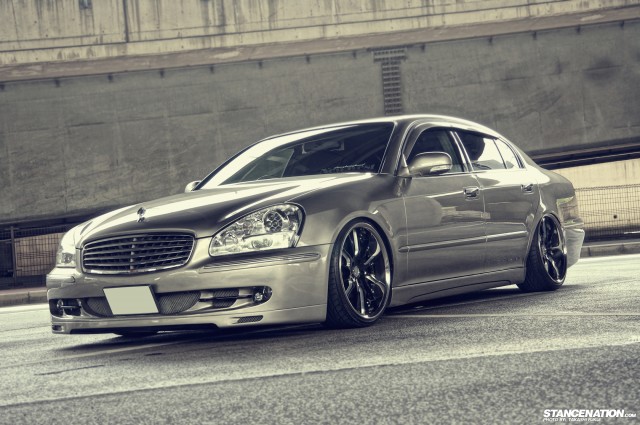 The Cima is dropped on the ground via a set of JIC coilovers and it is equipped with Aimgain aero (front, sides & rear). For foglights, Miyuki went with a set from Blow Design (Mode parfume) and her mirror turn signals actually came off of a Prius! Rear fenders were radiused just under an inch and the car was painted an Audi beige color.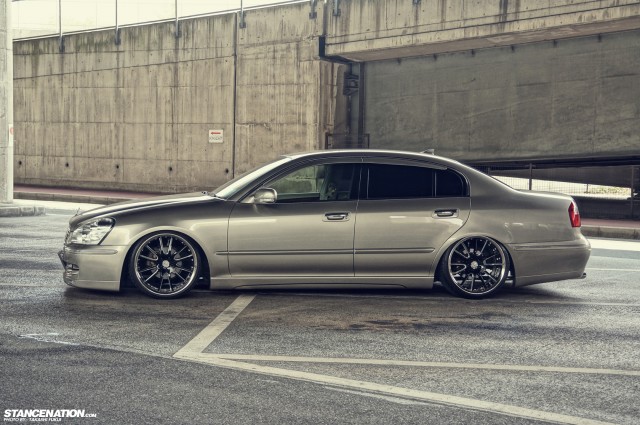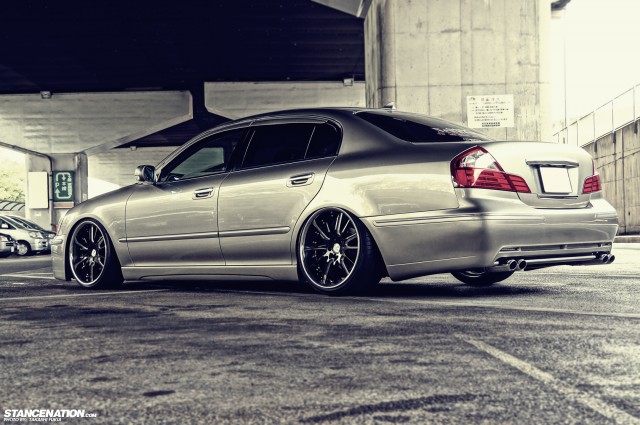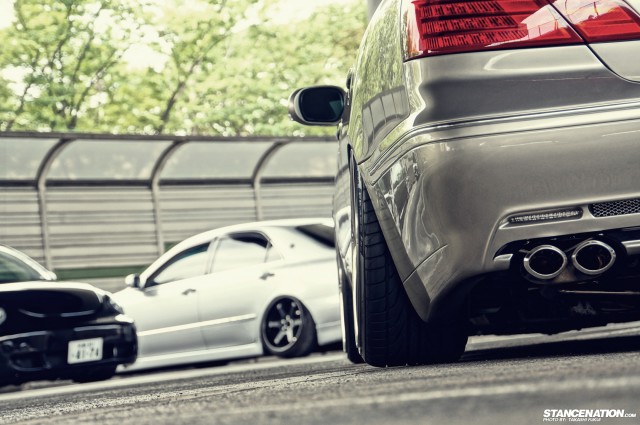 Big thanks to the girls for wanting to share their cars with us! We would like to give a big thanks to our photographer Takashi Fukui as well as all four ladies once more. どうもありがとう <3