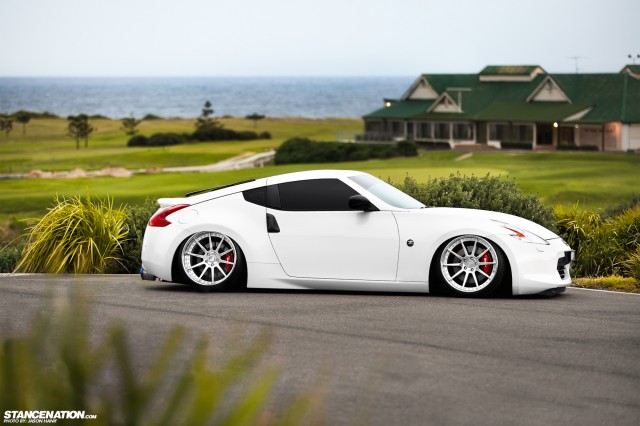 As OEM styling changes, the way cars are modified changes with them. Keeping things simple gets harder and harder when your platform styling continually progresses. The Z34 is a prime example of that as Nissan knew they had to top one of the best cars they've ever designed. Now I won't pick sides and choose one over the other, but pay close attention to the differences in the 350z and 370z as well as the similarities. Of course staying true to the Z car tradition; wide fenders and long headlights are a given, but the 370 now sports jagged, aggressive body lines and tall flat fenders opposed to the straight hard body lines and round rear quarters we all grew accustomed to.
Photos By: Jason Hanif exclusively for StanceNation.com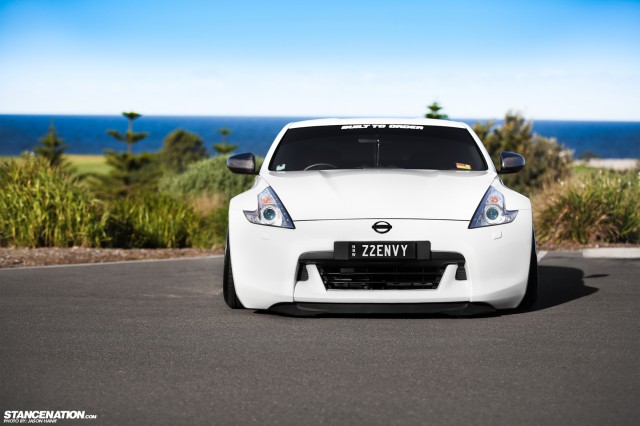 The 370Z, although not yet perfected like the Low & Slow 350 for example, has a few heavy hitters starting to show everyone what these cars are capable of in the fitment scene. With that said, please allow us to introduce you to Peter representing Built To Order in New South Wales, Australia with his 2010 Pearl White 370Z.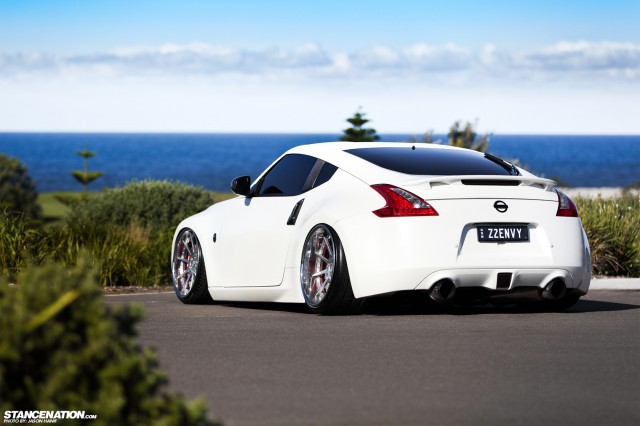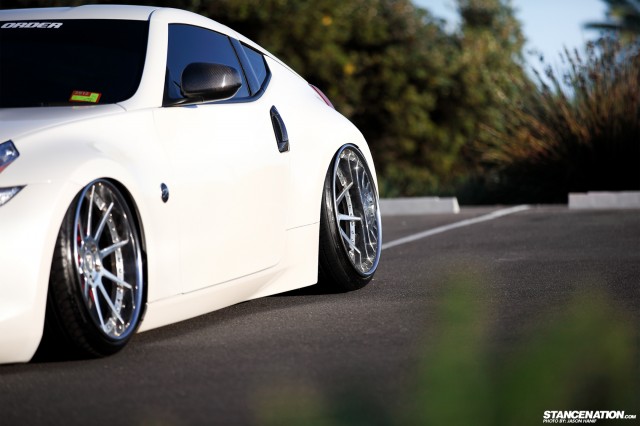 Start off with what most have already spotted, the wheels being a 10/12 staggered set up of COR Ciphers. These wheels were built to order by the Florida based company and shipped to the other side of the world. Going with a simple concave straight ten spoke worked wonders for Peter. The wheels are open enough to show off the Akebono OEM big brakes but full enough to still catch your eye. The 370, unlike the 350, takes the larger wheels much better. Twenties on the 370 fit like nineteens on the 350. Again, this comes back to the large and flat fender arches.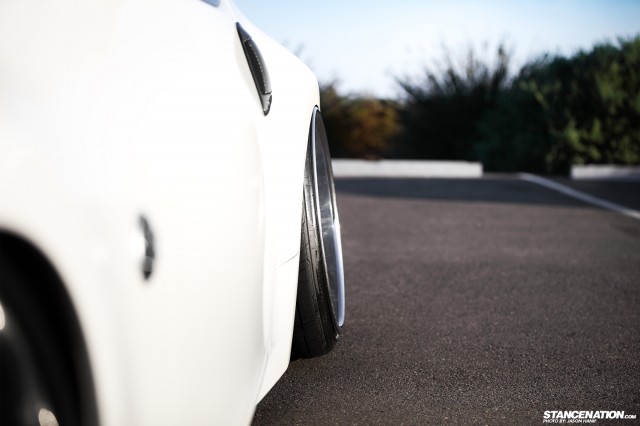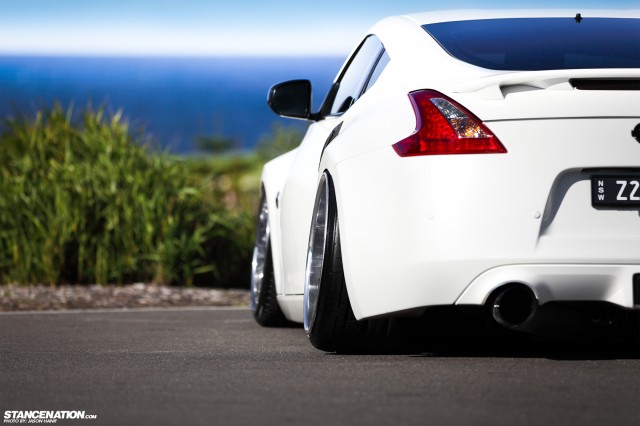 Next up is the suspension. Peter chose Accuair air management which I couldn't be happier about. The E-level set up is a seamless design that makes air ride simple and straight to the point. At the touch of a button the car is at it's slammed ride height and ready to roll. Luckily our friend Jason captured the car at multiple heights including its "poked" setting and it's "tucked" setting. The UAS bags offer full adjustability to slam the car right out and tuck those massive 20×12 rear wheels!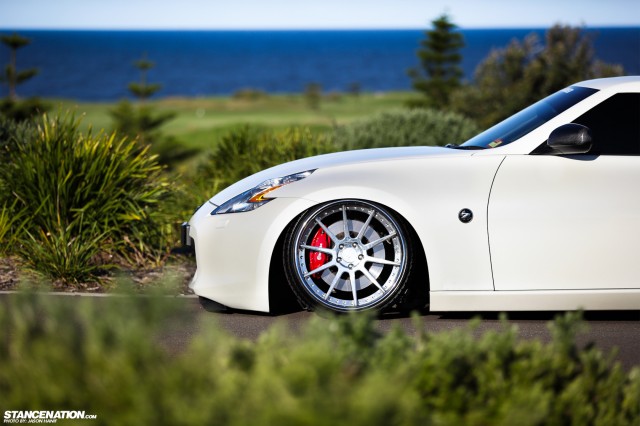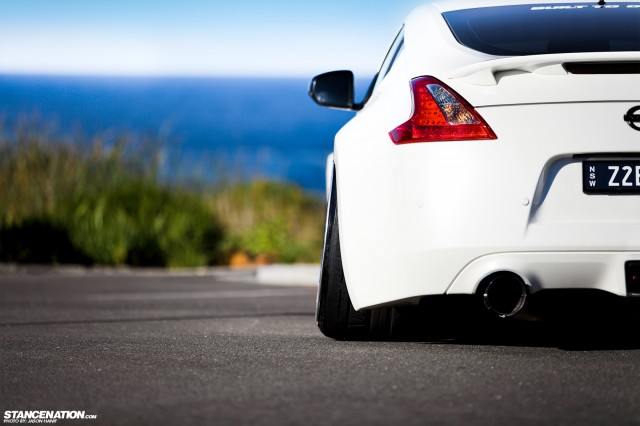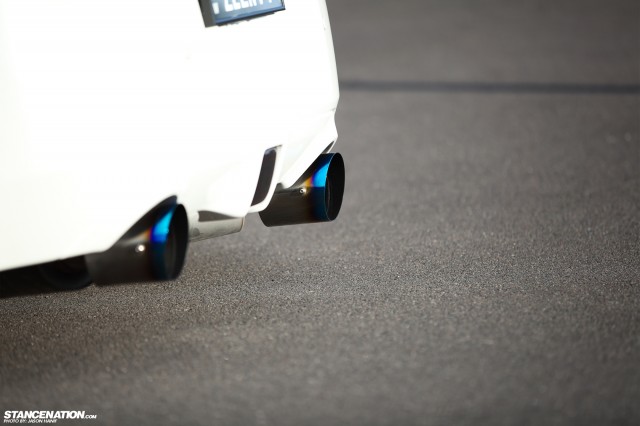 Peter has yet to do many performance mods to the 3.7L VQ motor but has got the ball rolling with dual injen intakes and an HKS hi-power exhaust. He didn't share any future plans for motor mods but he says it is on the agenda as he is nearing the end of the aesthetic end of the car. Can't go wrong with clean & simple.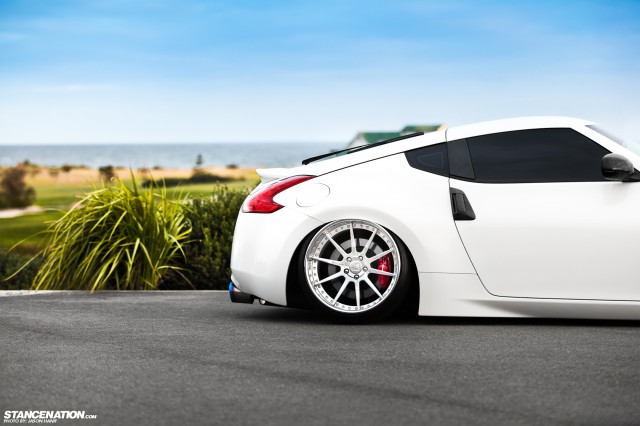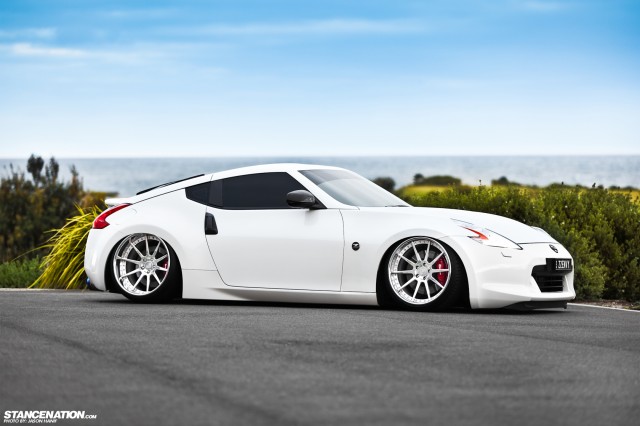 In the future, Peter hopes to add a body kit or lip kit of some sort and get working on the motor, unsure of when we'll hear more but this Z is definitely one to keep on the radar!