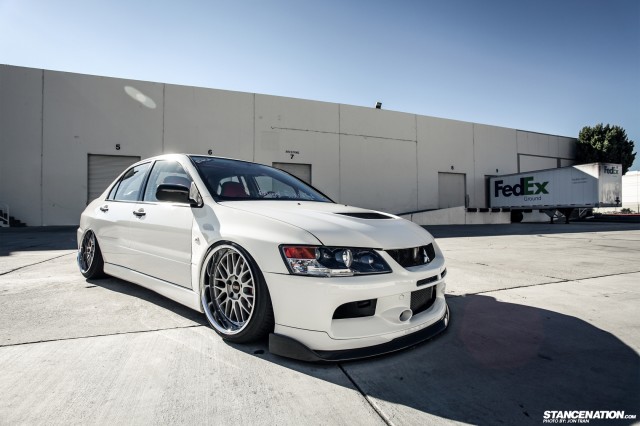 We all modify our cars for different reasons. This has made a pretty diverse community of enthusiast. The ultimate goal usually fits somewhere between speed and style. You can find average economy cars at the track crushing quarter mile times, or sporty two door coupes rolling around town with massive rims and curtains in the windows. I personally don't see any problem with this. I, myself have always felt that above all else, you should build your car so that it looks and feels the way you want it to…and Waynes Evolution 9 is a great example of that.
Photos & Videos By: Jon Tran & Brandon Burke exclusively for StanceNation.com
Before you assume that this Mitsu is all stance and can't dance, lets talk about the engine. The Mitsubishi Evolution is equipped with the highly capable 4G63 2.0 liter 4 cylinder turbo. There are so many different elements to enjoy about a well equipped car, one of the most important to me, is the sound. You can hear this incredible engine as its fed fresh air through an HKS intake, intercooler and piping. An HKS ssq bov can be heard hissing between gears as it releases boost pressure.
Other incredible sounds can be heard from the exhaust side of the turbo. There you will find an Espelier down pipe, test pipe and turbo xs exhaust. Helping keep his engine safe from over boosting, manual boost controller was installed and set at 29 pounds. A Walbro pump feeds a set of Rc 1200cc injectors as they dump enough fuel to compensate for the fresh air that is forced into the cylinders. After ripping around town, a HKS turbo timer helps cool the turbo down before shut off. Wayne had his Evo tuned with two maps, one for 91 octane pump gas, and another for E85 with 28psi and a healthy 390hp. Wayne is currently running a stock turbo, but has a Full Race complete turbo kit with a GT35R just waiting to be installed.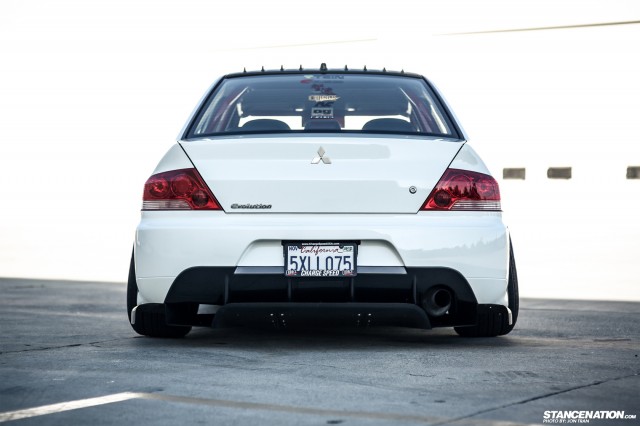 When you have an attention grabbing car like an Mitsubishi Evolution, it's always good to have to an equally appealing set of wheels. Measuring 18×11 with a +30 offset, these LM model of BBS wheels have no probably getting attention.
I think we could all agree that fresh white paint and shining chrome lips look better when you bring them close together. You cant do that without getting low, and as you can see, this Evo isnt afraid to get low. Wayne installed a set of Tein mono flex coilovers and Megan lower control arms so he can make these BBS' fit just right.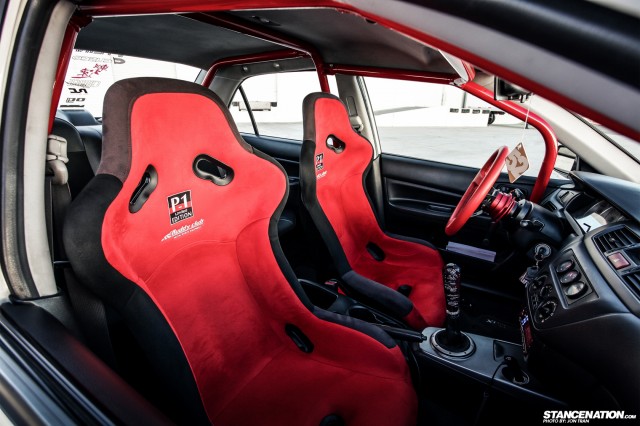 Usually when you're seeing red behind the wheel of your car, you're probably feeling a bit of road rage. Now in Wanye's case, hes probably just looking at his Sparco Monza 550 limited edition red steering wheel connected to his red NRG 3.0 quick release and hub. There's also no reason to get angry when you have a fresh set of Red Buddyclub P1 Limited editions bucket seats and sliders keeping ya comfortable and calm while driving. When turning corners with that Sparco wheel, Waynes uses a bubble shift knob to cut through gears.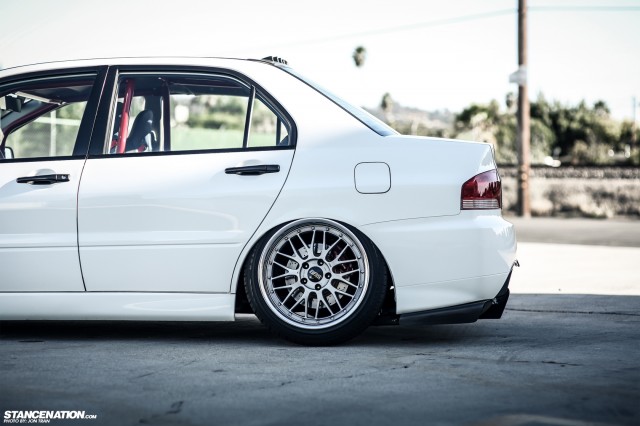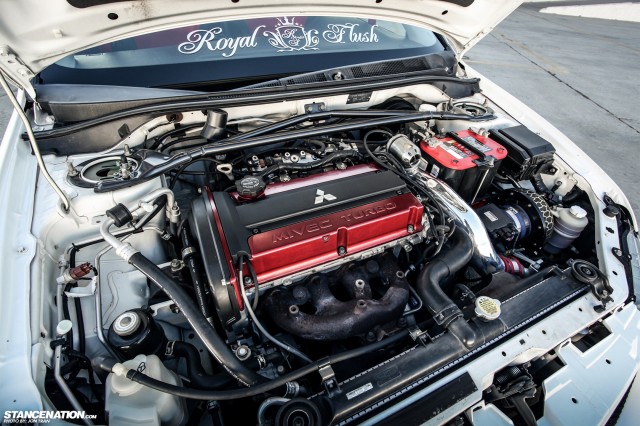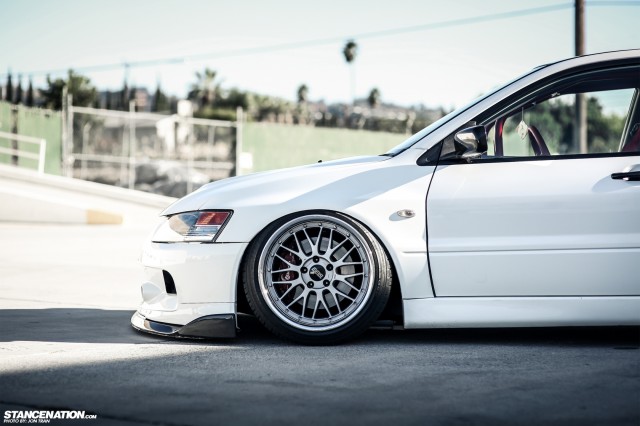 The streets can be a dangerous place for a fresh set of wheels and it's important that your car can react as fast as you do. A Cusco bolt in cage powder coated Ducatti red was installed to help keep this Evo rigid and responsive. A Carbing trunk cage and subframe brace work with a Perrin rear sway bar to help the back wheels react to any sudden change in direction. If that isn't enough, Dba rear brake rotors with Ferodo ds2500 pads were added to the already impressive factory brakes. Now Wayne can slow this Mitsu to a reasonable speed when cutting around road hazards. (also known as potholes and speed bumps in our community)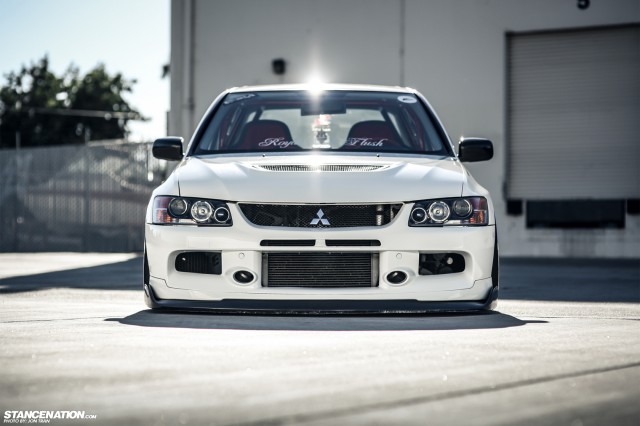 The exterior body additions aren't aggressive, and really don't need to be. In the front is a carbon fiber Chargespeed bottom line lip.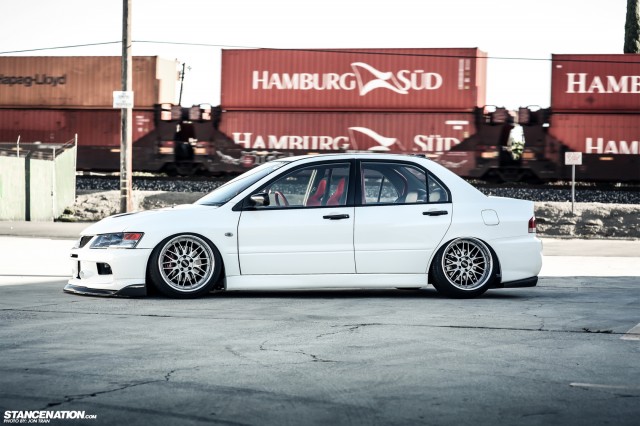 In the back a Rexspeed carbon fiber vortex generator sits atop the rear window and a Varis rear diffuser was added to the bottom of a JDM rear bumper.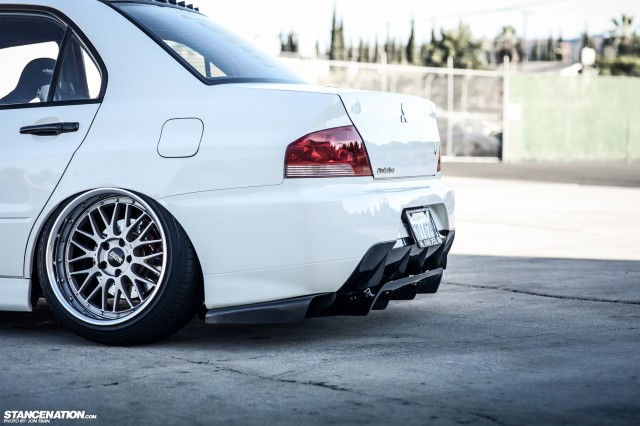 Although this car sounds amazing in action, every ride needs a sound track. With Fosgate 4 channel 600w and 2 channel 1000w amps connected to a 12″ dvc sub. It's safe to say that Wayne's song of choice can be heard loud and clear.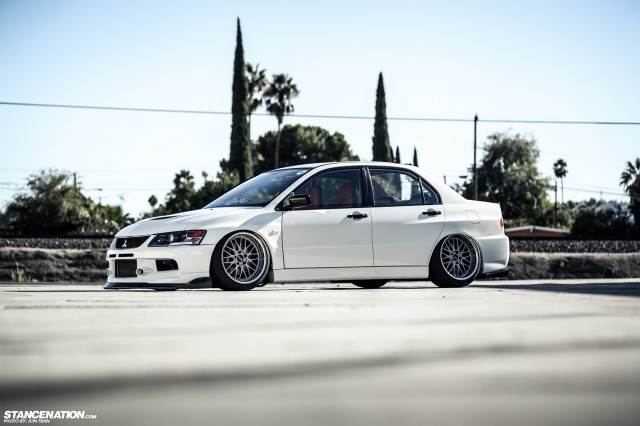 Now I'm sure that some will say that they would have done things differently, but that doesn't matter, because this isn't their car. When Wayne bought this Evo, a set of Volk Ce28s were the only thing that separated it from the crowd. And a we all know, CE28's are pretty common on EVO's nowadays. Since then, Wayne has made this Evolution into a one of a kind street brawler that has the look and feel that he prefers. In the end, isn't that what its all about?