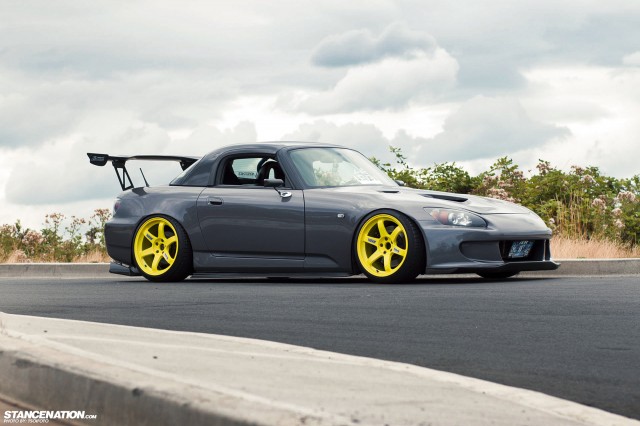 Do you ever find yourself wondering what could've been?  I'm not talking about the girl that got away but, what could've been if you had kept a car?  Where would you have been if you had stuck to a project for years, instead of changing chassis and starting off with something new?  Constant changes in trend and the endless multitude of options make sticking with a project difficult, especially if Donald Trump hasn't blessed you with a trust fund capable of supporting a Jay Leno-sized car collection.
Photos By: Tsoifoto exclusively for StanceNation.com
There are, however, many individuals in this community who really love their cars.  They work towards their goals relentlessly — even if the project goes through some changes in direction during the process.  Often times, it's these long-term builds that have the most impact.  These enthusiasts resist the urge for "the new model" or even the easy on the credit rating so-I'll-just-trade-this-real-quick-on-Craigslist move.  Years go by and when the human condition demands a change of pace, they stick to the essence that drives the heart of the game – modification.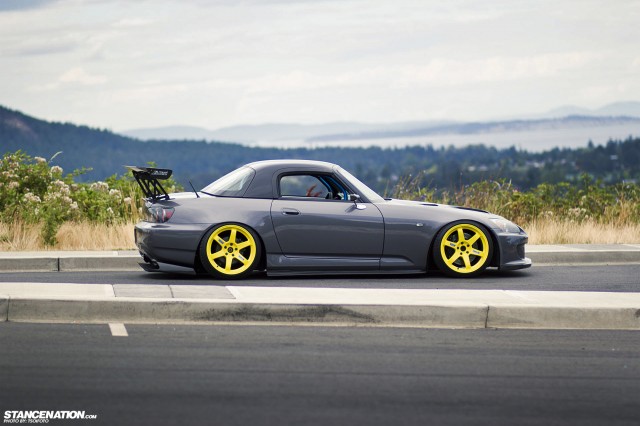 Jackie Law has owned this '03 AP1 S2000 for over 6 years.  It doesn't sound like too long of a time, but think about it.  In 6 years children go from "are you sure that stick isn't lying to you?" to walking, talking, light-up-shoes-wearing, tee-ball playing members of society.  Just as with a child, Jackie has nurtured the Honda roadster with only the best of what the aftermarket realm has to offer.   Personally, I have always been a huge fan of S2000s; I feel that they are a definitive example of a modern sports car.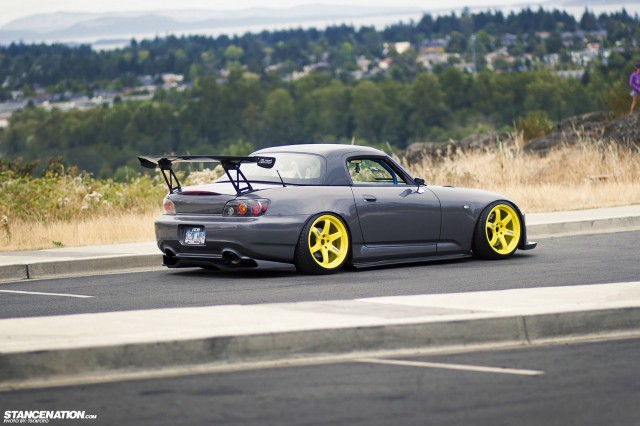 In the past 6 years Law has had plenty of time to have touched almost every aspect of this S2000.  The original silver finished is gone, replaced by the deep Moonrock-Metallic paint the car now wears.  The lunar-inspired finish flows well over the cars naturally aggressive lines, accentuated by an ASM front bumper, Shine Auto side splitters, and a Voltex diffuser out back.  After going through 2 prior GT wings, he has currently settled on a 1700mm J's Racing GT piece to have perched atop the decklid.  Of the various hardtops available for the S2000 my personal favorite is employed here, an OEM Honda offering.  The headlights are updated AP2 projectors with the taillights to match.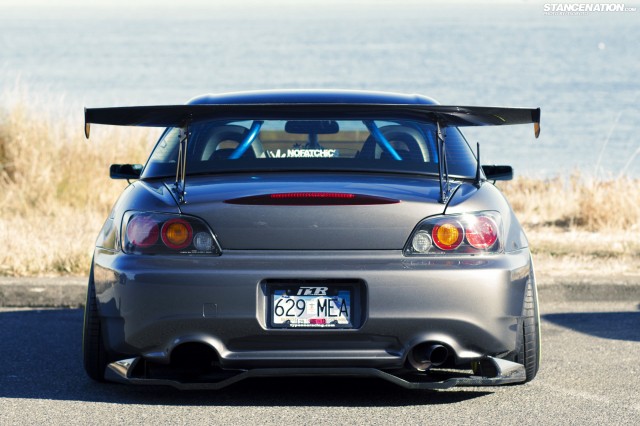 The aggressive stance is provided by a smorgasbord of top-end parts.  T1R B-Max coilovers bring the car down around the eye-catching tri-coat pearl yellow Volk TE37s, found in a square 18×9.5" +22 fitment, which have been paired with 235-tread width Continentals DWs.  Of course, Jackie didn't stop at simply changing the springs and shocks; the chassis is bolstered with pieces from Cusco and Spoon Sports and T1R provided front and rear anti-bumpsteer kits.  T1R roll-center adjusters maintain proper steering geometry on the super-low setup.
J's Racing pieces are found again when it comes to the engine-bay.  The Japanese tuning company provided components designed to extract the full potential from the naturally aspirated F20C, while maintaining factory internals for maximum reliability.  I'm sure the high-RPM Honda howl is intoxicating heard through the J's 70RR exhaust while Law rows through the gears, firmly planted in the Spoon Sports seats.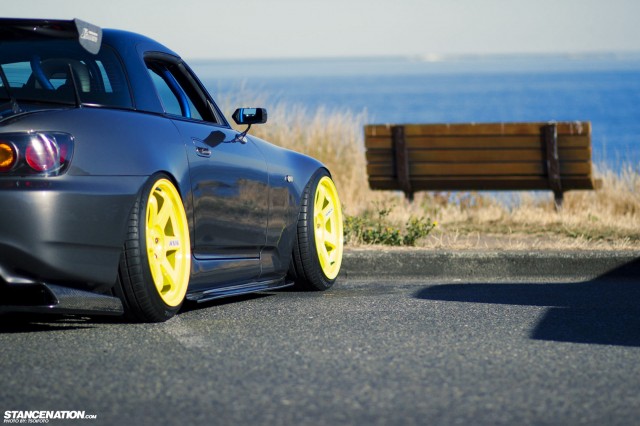 I'm glad to report that Jackie is still not done.  He tells us the TEs will be retired for a new set of wheels and the F20C's combustion chambers have some..pressurizing in their future.  The project continues, and judging by what he has already accomplished this S2000 has a promising forecast for its adolescent years.