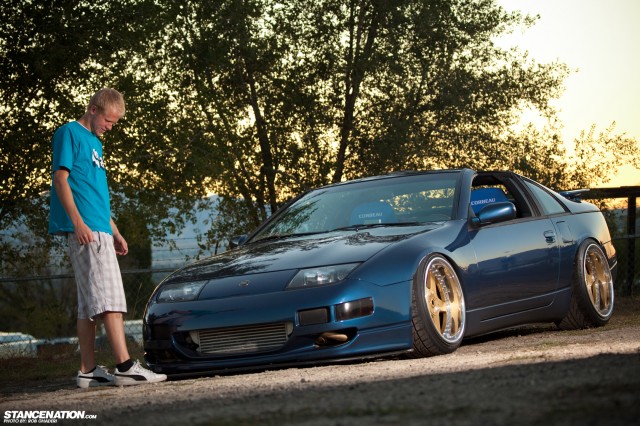 An 8 year old Skyler Slade sits in front of the television. Amidst the colorful shows of the 1990's he is enamored with nothing other than a car commercial. No, it wasn't a dealership advertisement screaming at him about credit approval; this commercial was much more emotionally charged. It was one displaying the Nissan 300ZX, the latest iteration in the long lineage of the famed Z-car. The young Skyler was in love with it and he told himself he would one day have a 300ZX of his own.
Photos By: Rob Ghaderi exclusively for StanceNation.com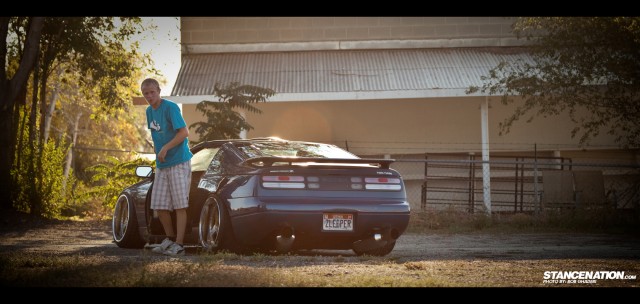 Fast-forward many years later, present day Skyler is on his 2nd Z32. His dreams originally came into fruition in the form of a white naturally-aspirated car, but he says he had always lusted after a blue one – which led him to this twin-turbo model. The Z's modified life began as many typically do, subdued aesthetically with a concentration on performance improvements beneath the factory looks.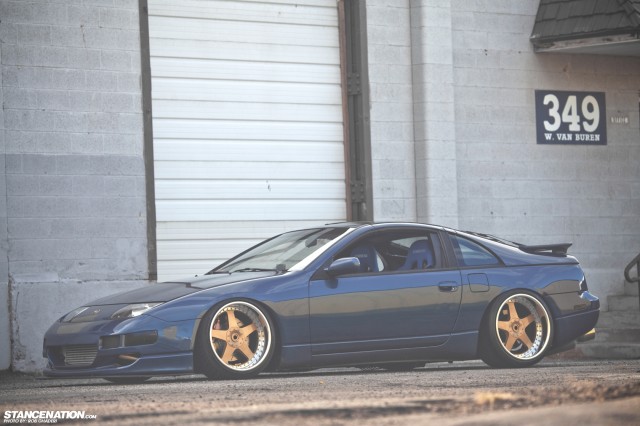 Before I had the pleasure of actually experiencing a Z32, my impressions were sullied by stereotypical hearsay. People spoke down of them citing their weight or comparing their power capabilities to the MKIV Supra, giving the car a bad rep. Since then I've driven stock to mildly modified, N/A to upgraded twin turbo versions and can honestly report that they are wonderful cars. The wide, low-slung bodylines are aggressive without necessitating extensive modifications, and they look especially good with "appropriately sized" wheels.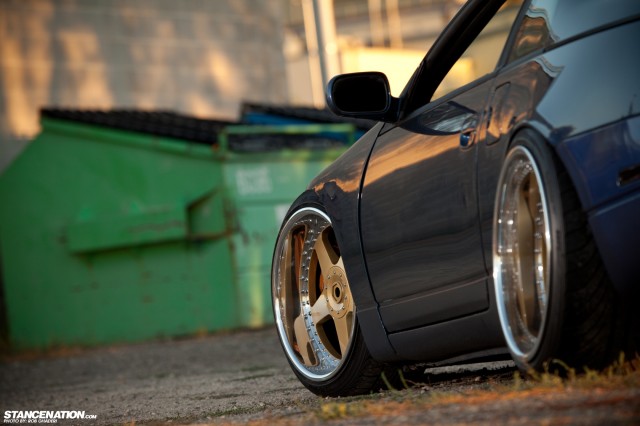 Of course, "appropriately sized" becomes a relative word in these modern times, especially on Z32's. They are capable of fitting remarkably wide wheels. Utilizing D2 RS coilovers, Slade brought the Z down over a gorgeous set of period-correct Veilside Andrew Racing Vs, sized 18×10" +12 in the front and 18×11.5" +15 in the rear. Avid wheel enthusiasts may notice that these Veilsides look a little difference than normal. Aside from the prismatic gold finish on the faces, Skyler has also deleted the large bolt usually found in the center cap. He chose to invert the caps for a sleeker look. Sleek is certainly the name of the game for this particular build, with '99-spec Japanese bodywork and taillights to seal the deal.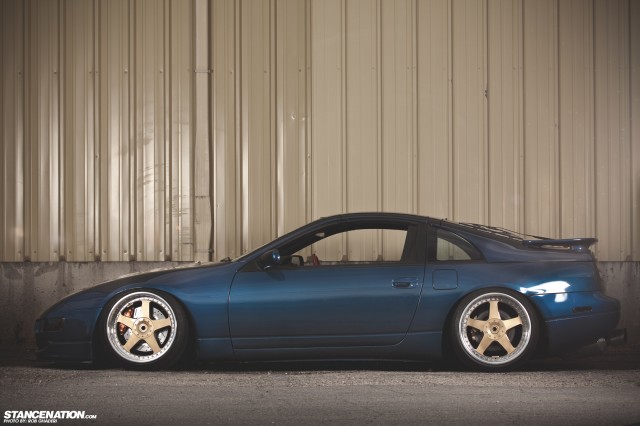 The Z has certainly earned its 'ZLEEPER' license tag. The VG30DETT requires very little changes in order to lay down impressive numbers, and with fortified internals they are ready for almost anything. We haven't been provided with any dyno numbers, however typically VGs equipped with turbos like the Sport 500's Slade has employed are capable of easily producing over 450-500rwhp. With power like that pushing him back into the Corbeau seats I'm sure Skyler is thankful his car has the ZNS Creations big brake kit to bring the Z to a safe stop when necessary.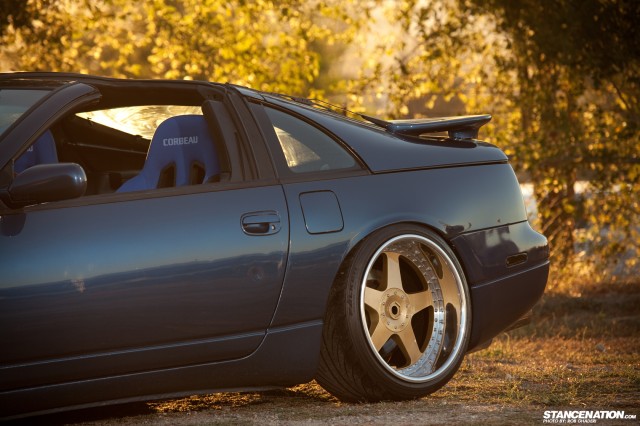 The world is full of special cars. They don't have to be the rarest of vehicles to stir your soul. For many, life has a way of preventing them from obtaining the dream cars of their childhood. Luckily, Skyler is not one of those individuals. He fell in love with his Fairlady long ago and has since executed a fine example of the Japanese sports car. I wonder what that 8 year old would say if he was shown these pictures of the Z he would one day call his own.