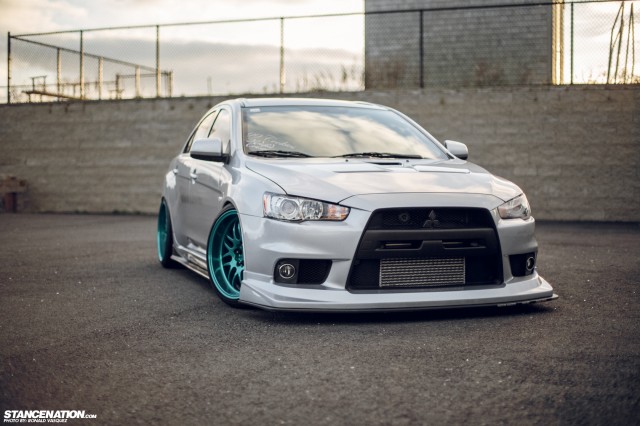 There is a point in a car enthusiast's life, when they attempt to convince themselves, and in some cases their significant other, that a newly acquired car will be kept stock, or limited to a certain few choice modifications. Usually, after this choice there will come a time in that same enthusiasts life when they attempt to rationalize going completely against this decision. Ronald Vasquez, the owner of this flawless Mitsubishi Evolution X is no different.
Photos By: Ronald Vasquez exclusively for StanceNation.com
Deciding on the perfect car to buy is a daunting task for some; changing your mind multiple times and weighing the pros and cons of each vehicle is an approach to car buying that has been exhausted time and time again. Sometimes settling on something just for the low miles, the great price, or convenience factor. But there is that one car, the one you saw while cruising by a dealership, or flicking through the channels, that captures your attention, and makes you decide right then and there that there is no other options to be considered. Ronald's path was the latter, catching a glimpse of a Mitsubishi Evo X when it first came out, he knew that he would one day sit behind the wheel of the sought after chassis, and be able to call it his own.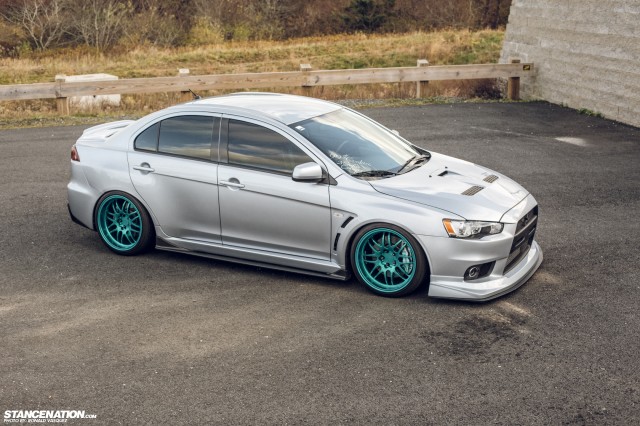 Ronald purchased the car in 2010, after a long two-year search, convincing his wife (and most likely his self) that he would only be adding coilovers and wheels. So, a set of KW coilovers, and conservative set of 18×10.5 CCW classics were purchased, the Evo X was transformed into a head turning, attention-grabbing machine that Ronald was proud of. Getting the thumbs up from unlikely sources; bikers, muscle car guys, even the Subaru fans were guilty of gawking at the rival platform, left Ronald happy and content with his work. But there is always that desire to do more and go bigger, to build the car that you never dreamed would grace your driveway– a desire that I am sure most of you reading this have had before.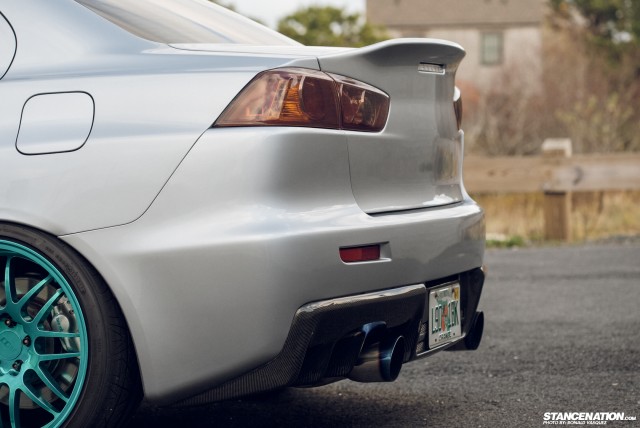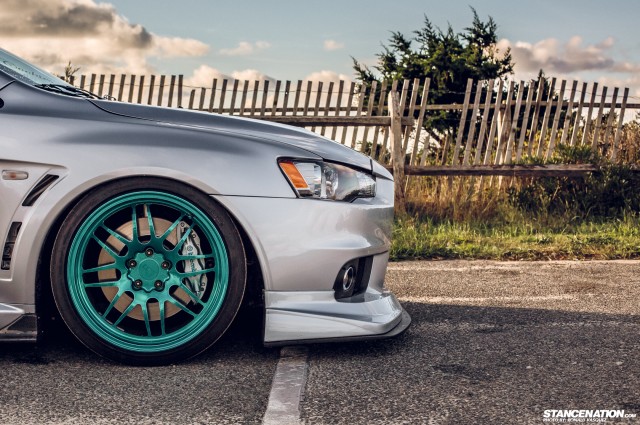 A few months after installing the CCW's and supplying the Evo with a much needed drop, Ronald began making up a parts list to tackle his first large project on the car, the interior. A pair of Bride Stradia seats replaced the stock ones, and a Sparco harness bar along with Takata harnesses help keep him and his passenger firmly planted in place. A Nardi steering wheel paired with a Works Bell hub and quick release ensure that every turn of the steering wheel is precise and comfortable, while TWM supplied the shift cage and short shifter, giving the hand gripping the Moddiction shift knob a clean crisp throw. AEM gauges for boost, wideband, and oil pressure finish up the interior, leaving it clean, comfortable, and sensible – Just the way it should be.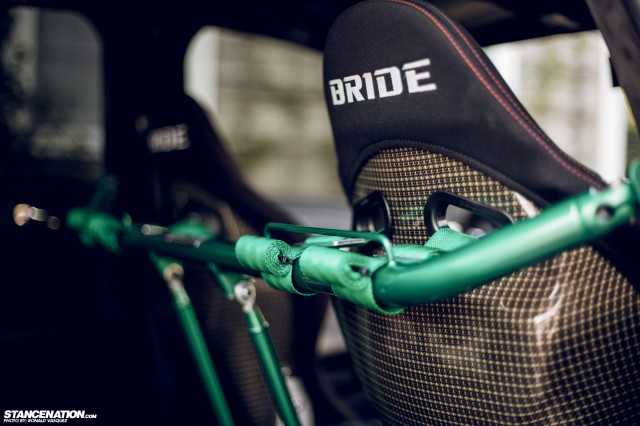 At this point, it was time for Ronald to focus on the exterior, craving a more aggressive look for his Mitsubishi he chose a few subtle modifications, a Voltex front lip and splitter, and a Do-Luck trunk, to take the overall look and feel of the car in the direction that he wanted it. As for wheels, there is nothing wrong with tried and tested, a wheel package that has been done numerous times on a certain model with success will guarantee good results. But what if good isn't enough? What if, like in Ronald's case, the mold is broken, and something graces a vehicle that has not been done before? This risky move often works against the executor, leading to the oh-so ridiculed offset fail, or lack of stylistic appeal. But in Ronalds case, a set of CCW Sp16r wheels sized larger and more aggressive than his previous pair (19×10.5 et+5) were decided on, a set of wheels that had never been bolted to the hub of an Evo X were en-route to his door.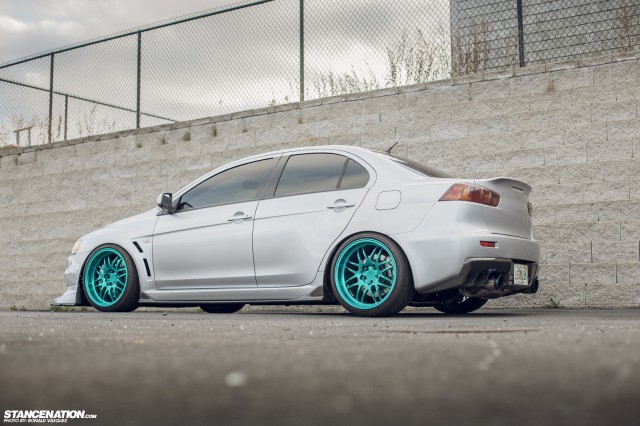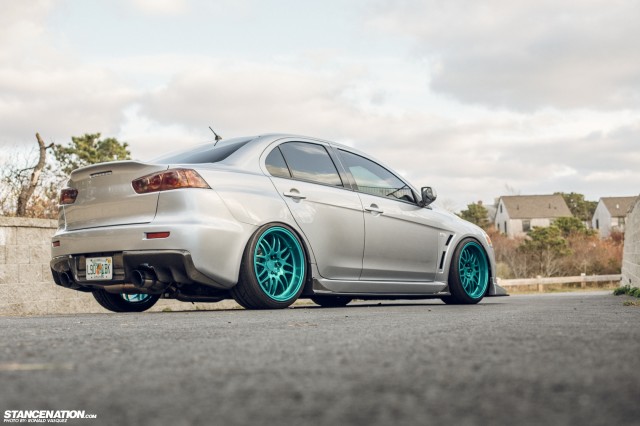 Recently, the decision was made to address the lack of power that was under the hood of the Evo, and I say lack of power with loose premise, as most people would be more than satisfied with over 290hp. With Ronald coming from a previous Rsx, that boasted an impressive 450hp, the itch for go-fast parts for his Mitsubishi was soon to be scratched. Ronald aquired a bigger turbo (EF3 Turbo Dynamics) to replace the stock unit already bolted to the motor, and all of the supporting mods under the hood along with it.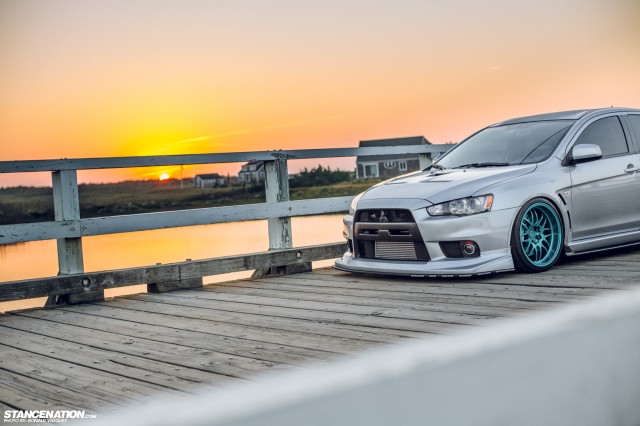 Building a car that stands out from the rest is not easy, especially with a chassis like the Mitsubishi Evo X. Ronald Vasuez's ambition, persistence, and hard work have paid off; crafting a vehicle that and his wife can cruise in and enjoy, without blending into the cookie cutter mass ideology of what an Evo should look like. It is a special feeling to sit behind the wheel of a completed car, which is built exactly the way the owner envisioned it. To look back at all of the long frustrating nights in the garage, and the impatient days spent checking FedEx tracking numbers is not the way to look back at a build. Everyone should take a note out of Ronalds' book; enjoy the finished product with the people who are most important in your life, and appreciate the positive reactions from people who recognize the time and effort put into creating an extension of yourself, in the form of a car.