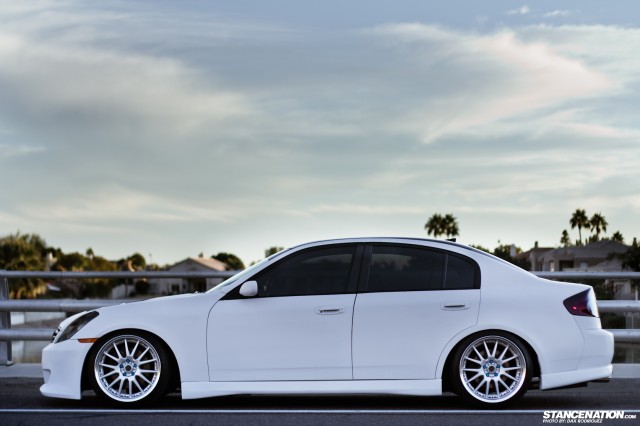 I know for a fact that I'm not alone when I say that we often get caught up with all the "e-famous" cars and overlook the ones that truly deserve attention. Don't get me wrong, having the "lowest/widest/wildest" and so on is awesome in it's own way, but what about those who play it safe fitment wise? We can't simply ignore them, especially when it's as well built as Joshua's Infiniti G35 sedan. Joshua is not only an automotive enthusiast like many of us here but he is also a Sergent in the Army, Infantryman to be exact. We can not be more honored to end our year with a feature dedicated to all of those who protected and continue to protect this wonderful country of ours.
Photos By: Dax Rodriguez exclusively for StanceNation.com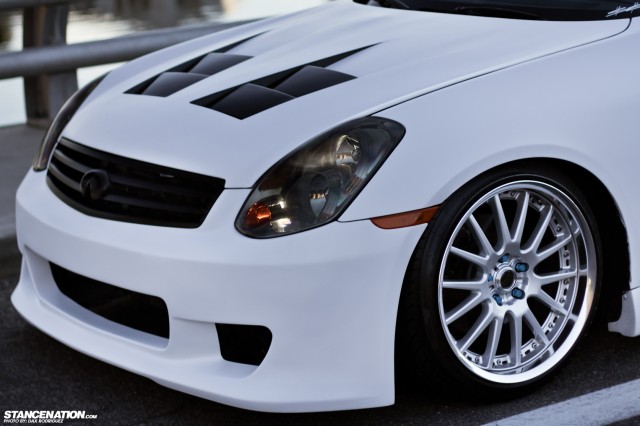 This Purple Heart soldier has a ton more plans for his G, but let's look at some of the stuff he did to it so far. Starting with the exterior for example, there are a ton of smaller features that seperate this G from others; One-of custom VIS carbon fiber hood (which we love very much by the way) topped off with a custom hand laid carbon fiber roof, b pillars and carbon wrapped shark fin antenna. It also features a KuRookie front bumper, NisRookie sides skirts and Nismo rear lip. The exterior was finished off with a custom 3m flat white paint. Truly a "show car" quality.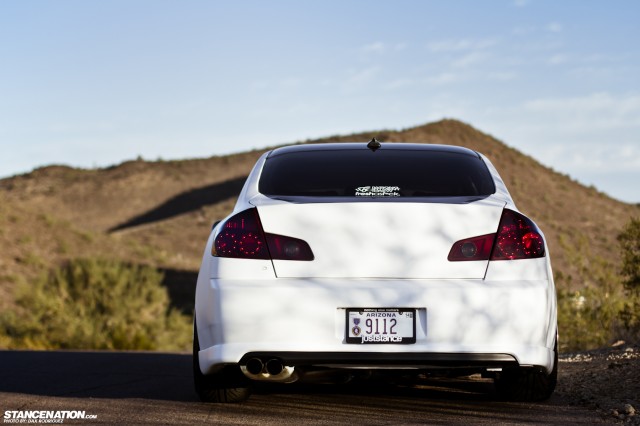 You are not looking at a car with just a few exterior mods, far from it actually. Joshua spent a ton of time on the interior as well as engine as well. Stillen goodies such as ceramic headers, exhaust and HFC's, along with AEM Cold Air Intake, Skunk2 Plenum Spacer and throttle body spacer just to name a few. Most importantly however this thing is running a 150 wet shot Nitrous setup. All of which will put many street cars to shame when Joshua does choose to drive his G a bit hard. Don't worry though, it doesn't happen that often.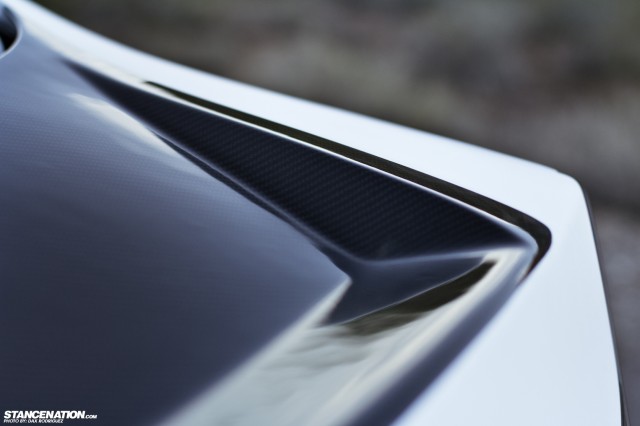 When it comes to fitment, a set of Volk GT-M wheels did the trick. They are sized at 19×10.5 all around with an offset of +21 up front and +13 in the rear. They are stretched on 255/30/19 & 225/40/19 tires and the rear fenders were widened about 20mm. Joshua also equipped the car with Tein coilovers and to perfect the way his car sits he added Kinetix adjustable upper control arms, Eibach upper and lower front and rear sway bars & front and rear Kinetix camber kits. It may not be the lowest, but it is ridiculously clean. Most importantly, it is exactly what Joshua wants.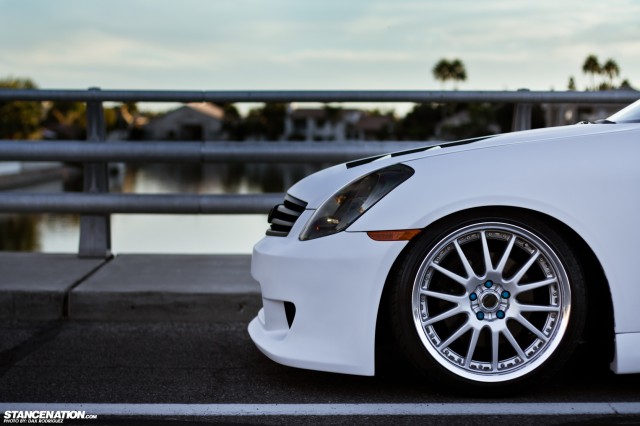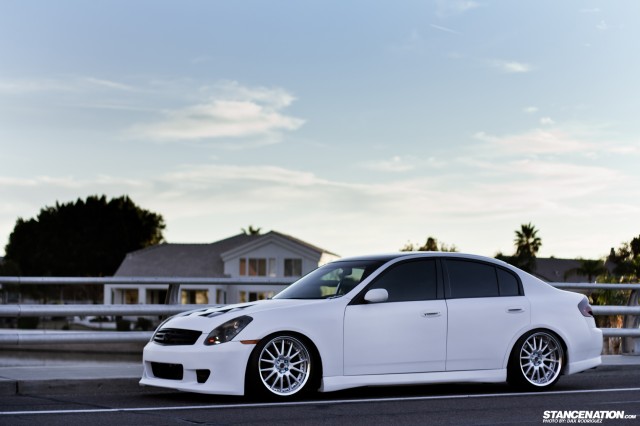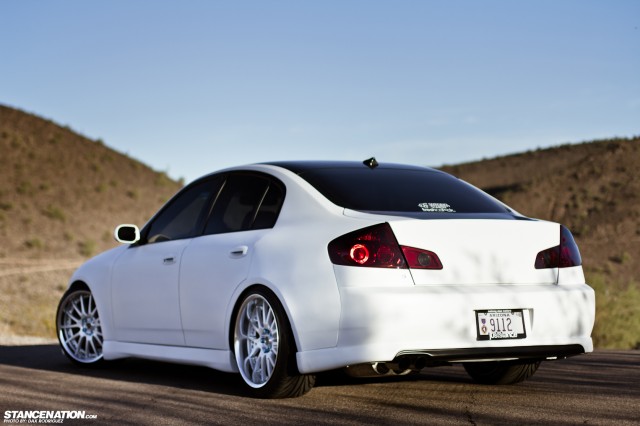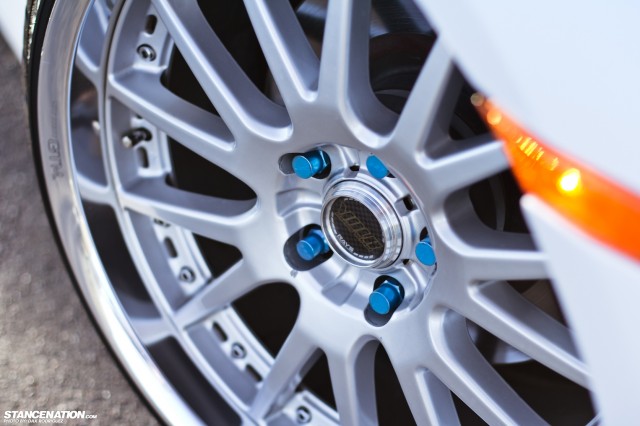 Interior didn't get overlooked either. It features many small things such as a custom brushed Aluminum Shift Knob, NR-G Seat Belt Harness Bar and Pioneer AVH-P4100DVD Double Din With JDM Double Din Kit. Check out some of the photos below.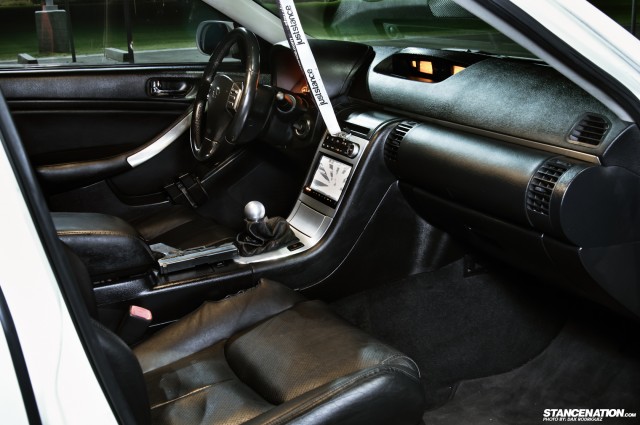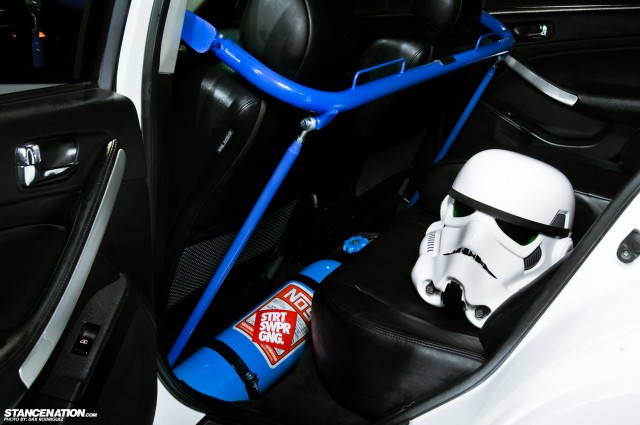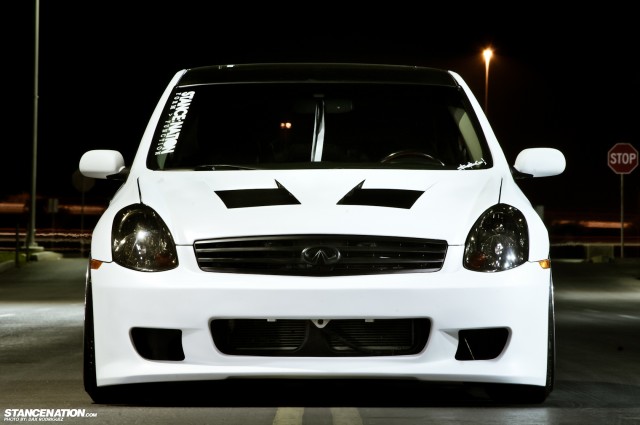 What it comes down to is that you should be building your car for yourself, not others. "Extreme" anything is nice, but "mild/normal" things will never go out of style. I would like to thank my friend Dax Rodriguez for hooking me up with photos of Joshua's ride and of course Joshua himself not just for building this beautiful G but for serving and protecting our freedom.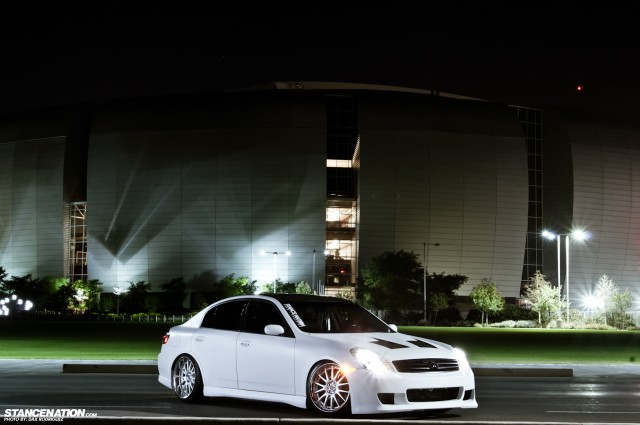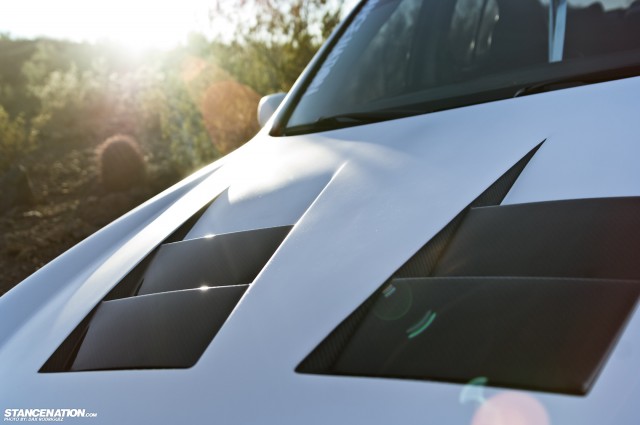 As far as future plans go, Joshua would like to build the motor and run a Twin Turbo setup. Maybe polish up a few parts under there, and upgrade to BC Coilovers. Since he has been running the flat white paint he tells us that he is ready for a New White paint with a Pearl flake, Powder Coat the NR-G Harness bar white, Bride Seats and lastly wrap the interior in Bride Material.