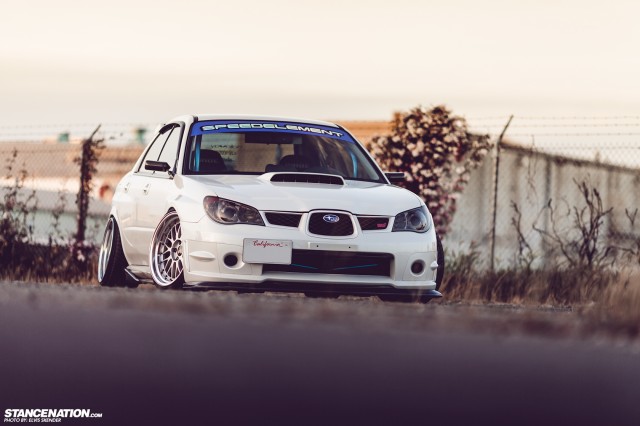 As a prior owner of a Subaru myself, I can honestly say the Subaru community is and forever will be the absolute example of how fast the stance scene has grown. I recall the days when I thought a set of wheels barely flush with my fenders and a mildly reduced wheel gap was "aggressive" and I was officially cool enough to share my ride with any social media sight I could. That was back in 2008, and the scene has transformed substantially since.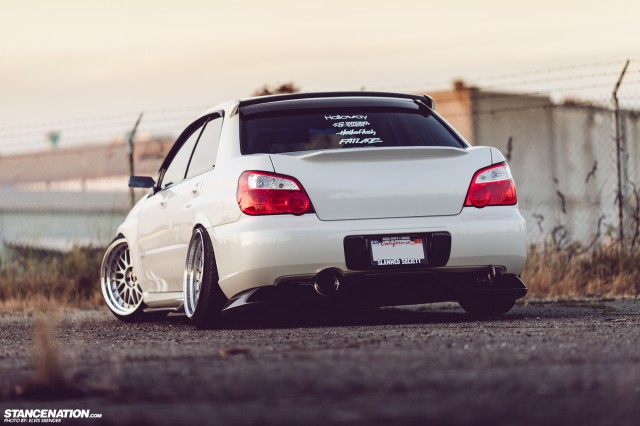 Take this incredibly clean 2007 Subaru STI built by Kyle as a perfect example. Each year since purchasing the car in 2007 it has been thru a different phase, and I think this latest one is the best phase of them all. It still amazes me how much the scene has changed. It amazes me even more how something as simple as a car, originally designed to get us from point A to point B, can represent so well the marvelous ability we have to continuously evolve.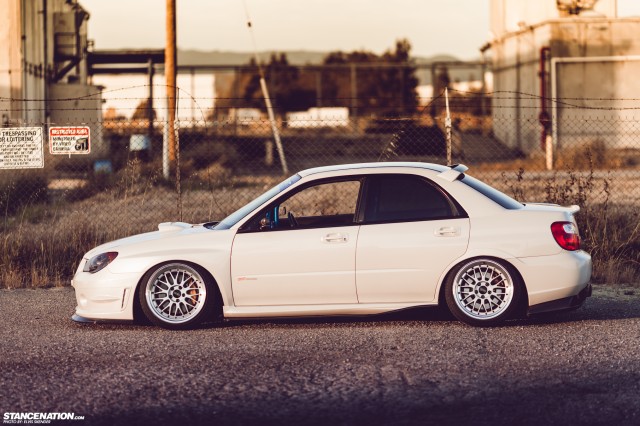 Kyle's STI represents this evolution I talk of because he knows very well the never ending journey to have the "cleanest and most refined car" possible. We all strive to have attention from others, those video shoots, and the respect from everyone around you, but it takes understanding of evolution to have such a car. Kyle's STI is one of the cleanest I have seen personally, and it is clearly evident he did all he could to stand out from the crowd while getting from point A to point B, in all the right ways.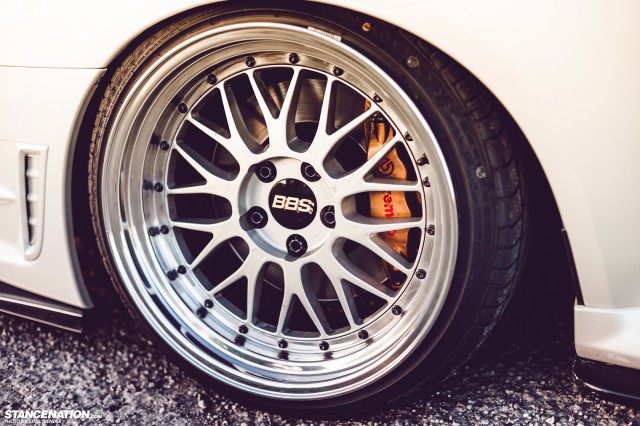 Kyle used to own an aggressive set of Work Emotion XD9's that looked very nice on his STI, but after a while he had the itch for more. That itch was to do something vastly different from the rest, and he did just that with these beautiful BBS LM's in bright silver with polished lip.
The fitment had to be on point, it is a must for all of us, so he reverse mounted them. Despite his doubt in making them fit, he was able to pull off 18×10 +5 on stock body, gaining help from some Achilles ATR Sport in 215/40/18 all around. He was able to achieve such fitment with Standard R3 Coilovers, dropping his STI to what I personally believe is the perfect ride height. Kudos to Kyle for driving his car on daily basis!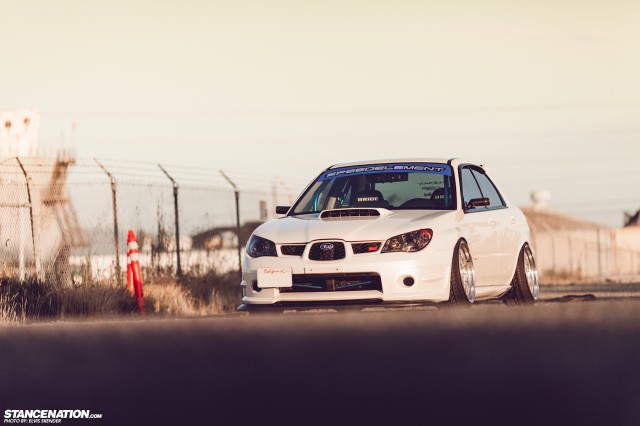 But Kyle wasn't done there. In his own words, "I like to pay attention to detail and add different modifications that only a select few would notice." You can notice this instantly in his perfect execution of color combination (that is of course if you look close enough). With items such as a Cusco Front Member Brace, the blue OEM Subaru badge, the giant SpeedElement banner, and a Cusco 6-Point Roll Cage, there is an obvious theme of blue against that rare and beautiful Satin White Pearl.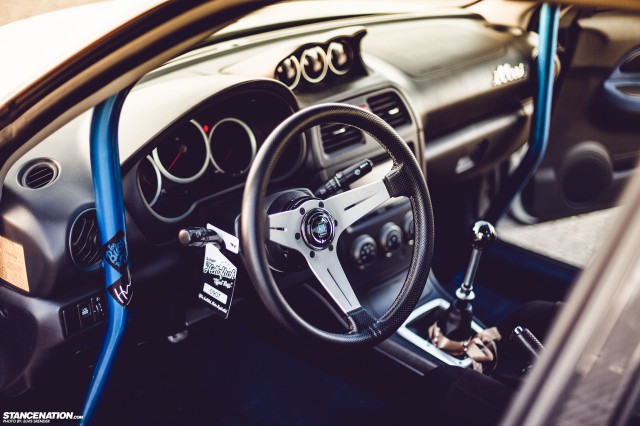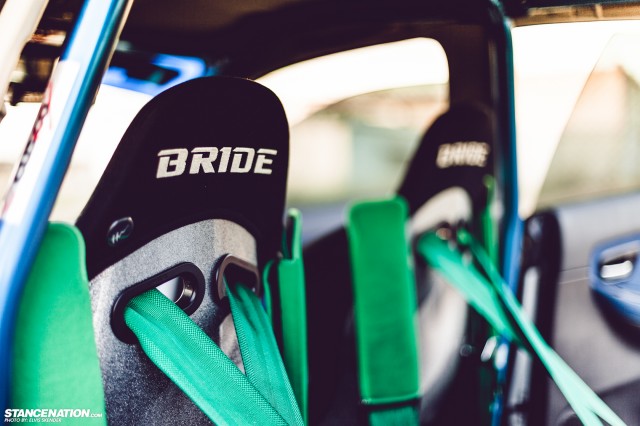 He continued the ridiculously clean styling inside the cabin as well by adding some Bride Zeta III seats and a Nardi Deep Corn steering wheel, as well as some more miscellaneous pieces that balance out the interior perfectly in my opinion.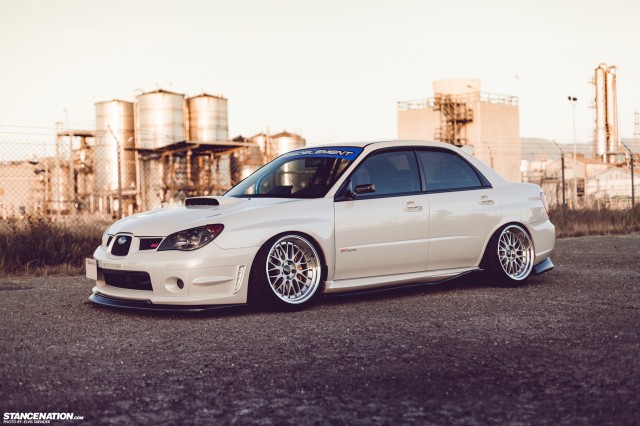 Kyle made sure he didn't forget one of the most crucial pieces to any build in the Subaru world; the exterior. The Subaru stance scene is so vast that OEM body "stanced" Subaru's are a dime a dozen.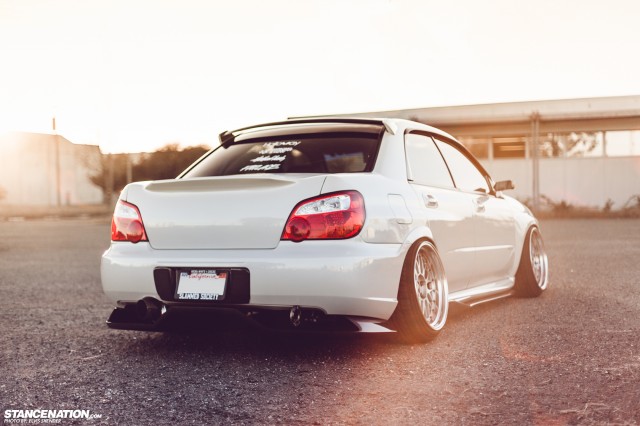 But with items such as a third APR CF Front Lip (after the other two blew up on the streets of San Jose), Chargespeed Bottomline Side Skirts paint matched to the OEM OBP color, a Voltex Carbon Fiber Rear Diffuser, a Do-Luck Style Trunk painted and shaved, and more, Subarus like Kyle's are an absolute joy to witness. When I say Kyle made sure he didn't skimp out on any little detail, I meant it. Make sure you check out the entire spec list on the bottom of this feature.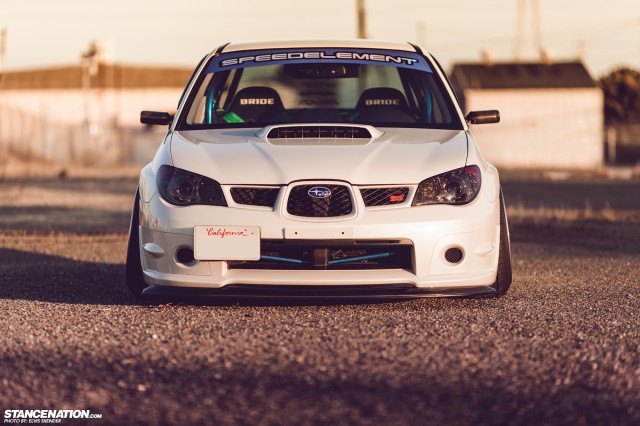 He also made sure he didn't skimp out on power either. An Invidia V2 Downpipe, N1 Race Exhaust, APS Cold Air Intake, were installed and put to use with a custom tune to ensure the STI put down the power to match the looks.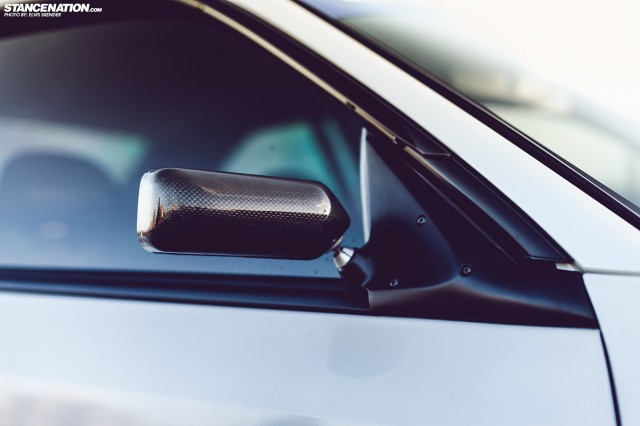 Kyle tells us that his goal was to strictly build a daily driven show car that met his standards and nothing else. I fully believe Kyle has done just this, and as he says, "all while ensuring I didn't go through the Karlton Flare phase. Stock body for the win!" Last but not least, Kyle says: "A shout out to SpeedElement for all the help getting the car where it is today. To my friends and family for always supporting my expensive hobby!". Enjoy more photos below!