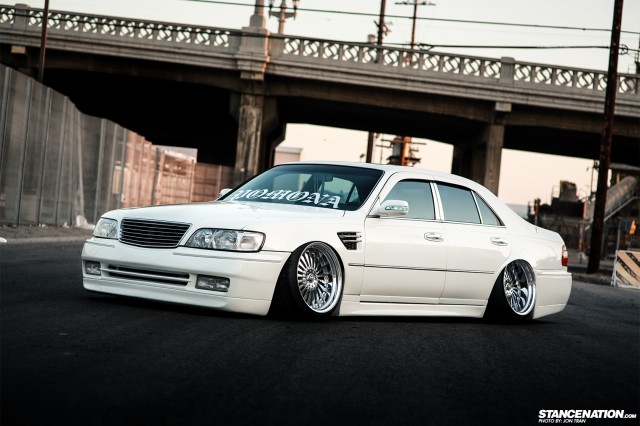 Let's be honest. After seeing the above thumbnail, how many of you thought you were looking at a Japanese-built Y33 Cima? Even if "VIP" isn't your thing, there is certainly gotta be some space near your heart that can appreciate a well-built, attractive sedan. As I sit here and stare at these photos, I am taken back just about 24 hours where I had the pleasure of seeing this car in person. Don't get me wrong, I give my friend Jon Tran major kudos for his awesome photos, but there are some cars that photos simple don't do justice. Drew's big bodied Q45 being one of those cars.
Photos By: Jon Tran exclusively for StanceNation.com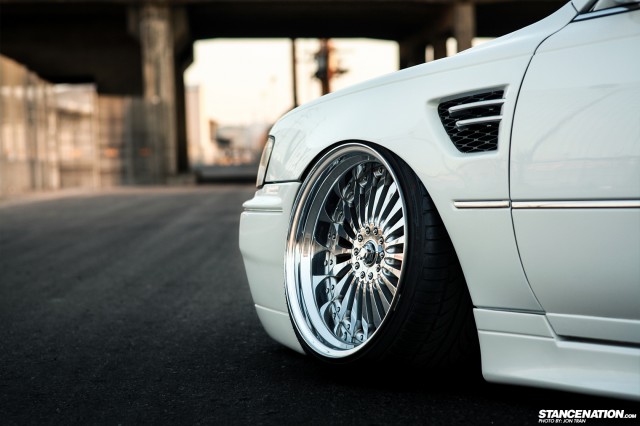 I wanted to get to know Drew and his car a bit more so I asked him things about his cars past. Out of all the cars out there, why the Q45? As expected, it wasn't a simple thing to answer so Drew told me all about how he was torn between the Y33, F50 & UCF20. For those familiar with these platforms, you'll probably agree with Drew when he says that Y33 is one of the better platforms. "Main reason was because I could start off the build with a decent priced platform all while my wheel fitment possibilities would be pretty much endless." says Drew. He also told me that when he started this build he had no intention of building it to how we see it before us today. With every passing day and every small modification he added to her, he fell more and more in love. So in love actually that it got to a point where he could not stop. Ultimately that's what led him to not only what you see before you, but also picking up seven more Infiniti's; from Y33's, Y34, and F50's.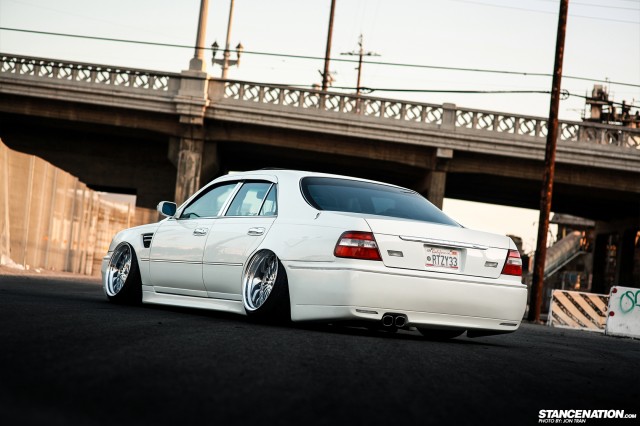 The crazy thing about this entire story is that it's only been about two and a half years since he picked his car up. And that's including the entire year it sat in the garage while Drew figured out what direction he wanted to go with! Coming from the Honda community and being new to the whole "VIP lifestyle", Drew initially built the car around simplicity. You know, wheels & drop. As the time went by however Drew learned more about his car and knew that the car's current state had to be the final product. I suppose you can still call it simple in its own way but put it next to a stock Q45 and you'll never even consider referring to Drew's car as simple.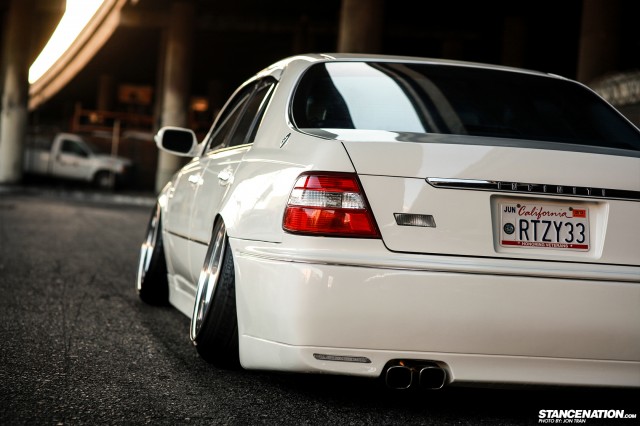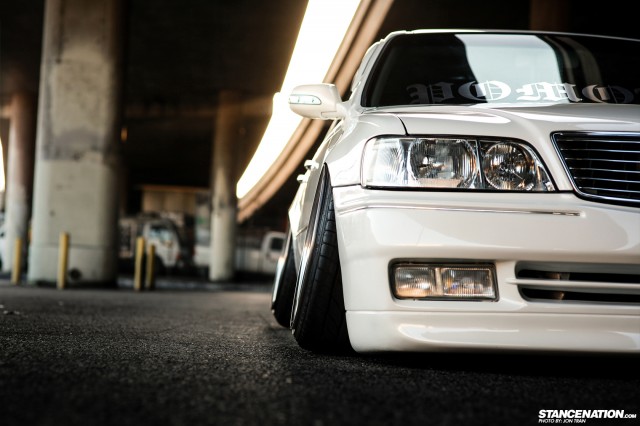 Now that the car is finally complete I asked Drew what some of the challenges were that he faced during the build process. His response; The biggest challenge was putting my own take and interpretation of VIP styling to this car. What I mean with that is that there are so many Y33's out there and I did not want to follow their paths. No disrespect but it seems like everyone these days has a lowered Y33 "stanced" aggressively on wheels so I knew it would take a bit more to build something that stands out. Couldn't have said it better myself.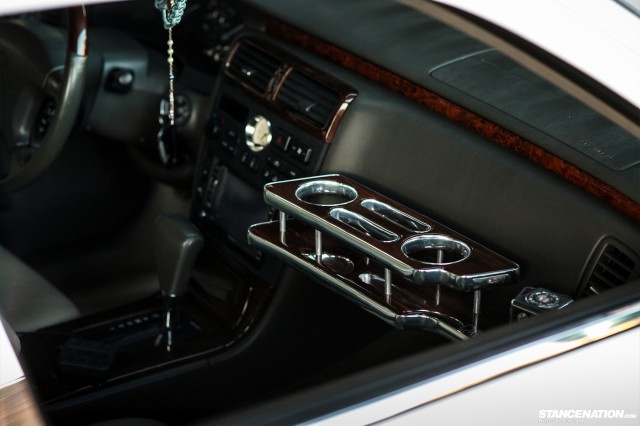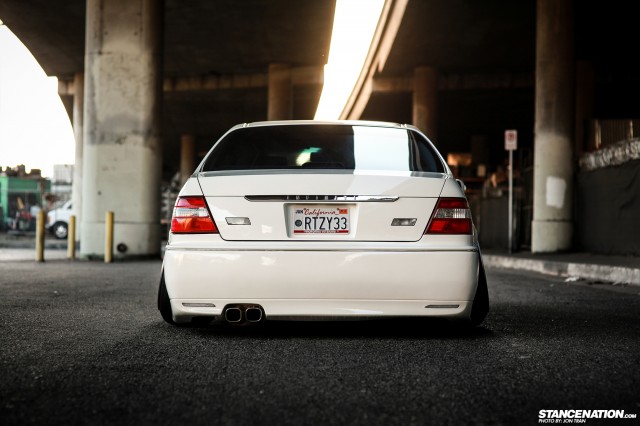 So just what exactly did Drew to make his Q45 a standout? The list of things is quite long but for starters the kit (Version Select) has been customized all around including extension of the rear bumper. Also, if you look closer you'll notice a pair of Lexus RX300 Rear Bumper Reflectors which were molded into the bumper by David Deezign. Front fenders feature Range Rover inserts which look absolutely awesome while the rear fenders were slightly radiused by the SoCal Collisions guys out in Pomona, CA. Other things many people overlook on Drew's car are things like the shaved rear trunk and hood squirters, new headlights, grill, and the slightly tinted blue windows.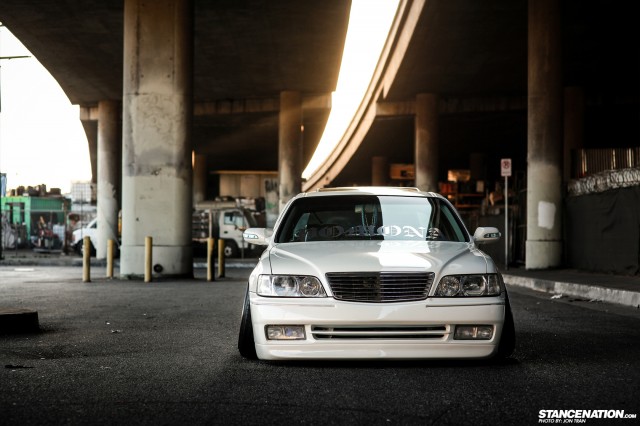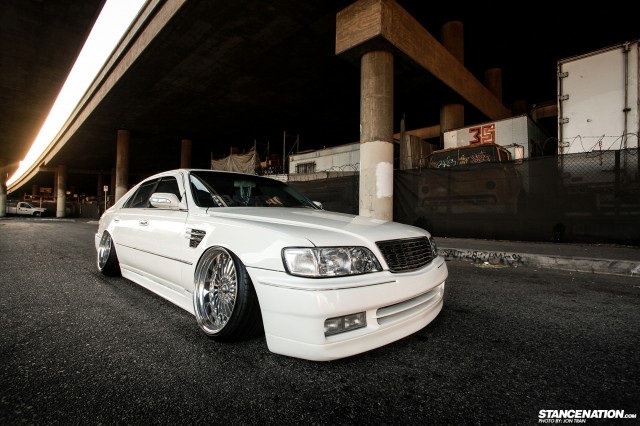 How about those wheels? I personally love them and give major kudos to Drew for doing something different. They are custom finished (by VR Wheels) Veilside Andrew Racing wheels step lipped and sized in 19×11 (-16) up front & 19×12 -26 rear. The guys at 714 tires took care of stretching 245/35/19 & 265/35/19's.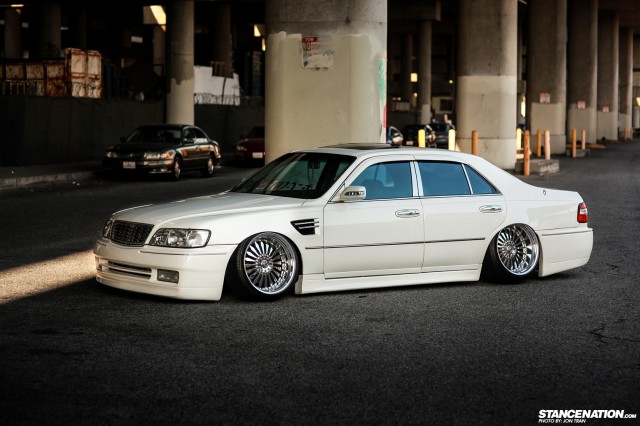 The car currently sits on PBM coilovers & Airlift v2 bags though as recent as last month the car dropped low on just the PBM coils. To achieve the camber that you see before you, Drew ended up replacing the upper control arms (Megan), traction rods and toe arms from an S14 and custom front struts which were done by Battle Version. Final numbers look to be about -10.5 of camber all around and it looks incredible. As some of you know, I have a thing for even camber. The entire car just looks more complete with matching camber wouldn't you agree?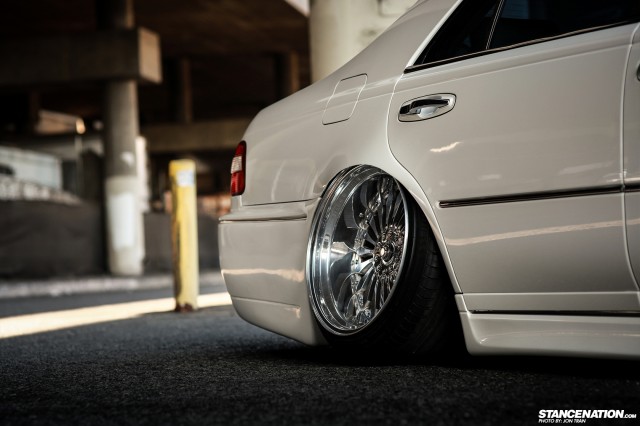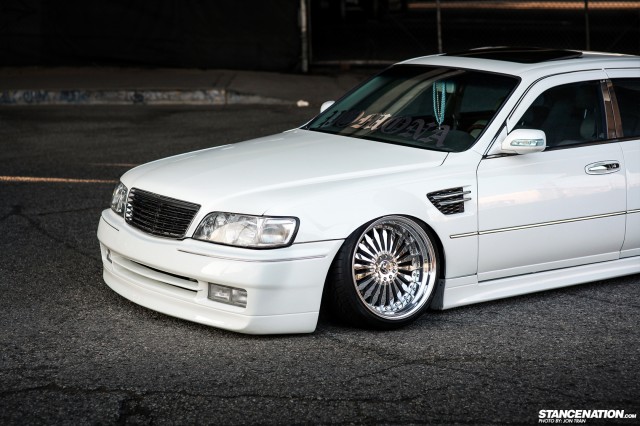 So what's next you ask? Well that's where things go south unfortunately. Drew tells me that the car is currently for sale. He wants to step away from the scene for a bit (as it's pretty much taken over his life) and focus on building his business'. Don't worry though, he has every intention of coming back into a Y33 platform with the aim of going the Sporty VIP route next time around. Drew says; "I can honestly say I did everything I wanted to do with her as she sits now. Of course doing some engine mods and interior would help with the final look but there is also the long-lasting expression of  "less is more."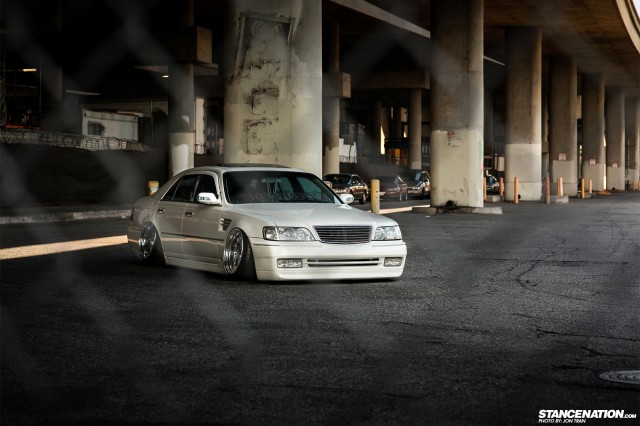 I'll end it there with a huge thank you to Lin & Drew for building such a beautiful car. It was a pleasure meeting them also. Drew also wanted to say some last words; "The only thing (or rather people I should say) who get overlooked is everyone that contributed and that I should credit and thank for this build. Of course I must thank for all things possible; God, my family and my girlfriend Marilin all of whom gave me the opportunity and allowed me to pursue my passion. Shout outs to my crew Style63, Tin @ SoCal Collision, David Deezign, VR Wheels, 714 tires, Afterhours Garage, Reachout Industy, VSC and any other forums exposing and educating the scene. Also my personal mechanics Sunny and Handy, my city, and last but not least all the INFANTRY soldiers holding it down for our freedom here and allowing us to do what we do."