The car scene as we know it, is an ever evolving hobby. As time passes, every dimension of the car game grows in depth as more companies come into existence offering many different things that were not available in the beginning. Although I am not old enough to remember, there once was a time when owning 17 inch rims made you the hottest kid on the block or at car shows, people would remove their rims to show off the craziest mod in their day – 16 way adjustable coilovers. However, this pair of luxury sedans do not represent those days. Gone is the conventional and conservative way of building VIP cars, as today it seems whoever can run the widest wheel setup and the most generous amount of negative camber available on a big body sedan can claim best VIP car. Tuan and Jimmy however, build theirs as tribute to the original gangsters with a modern twist.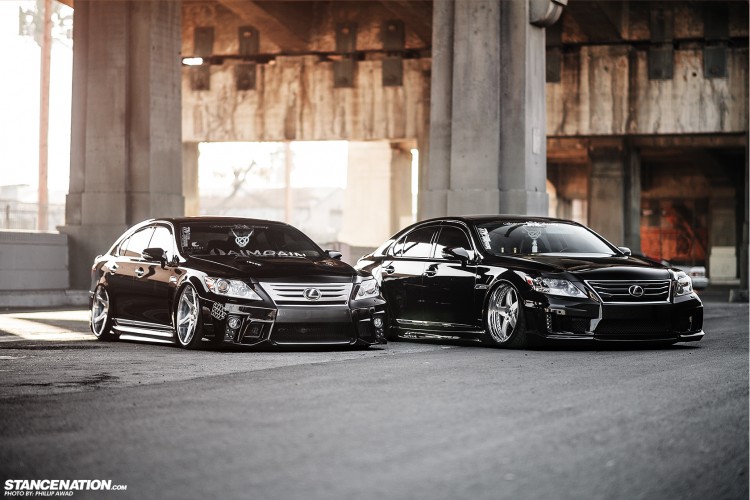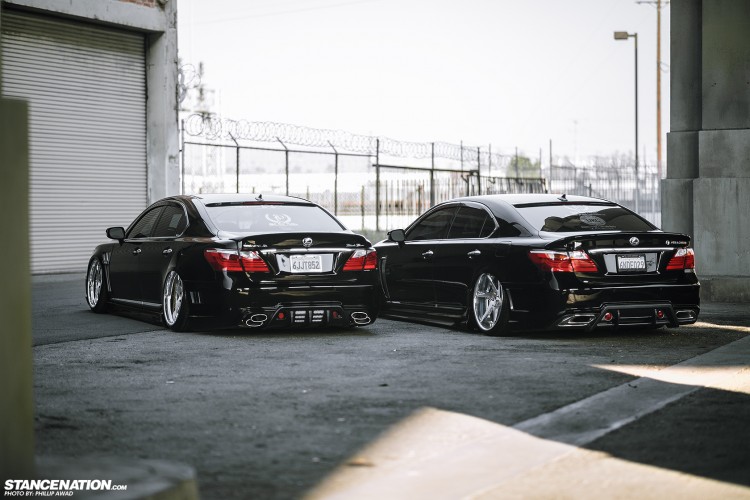 When you first glance at the cars the initial thing you notice is nothing but everything. Although lacking the trending excessive negative camber, both cars command and maintain presence as I can vouch, being one that has seen both these cars in their showcased glory as well as when they both were stripped of the luxury parts and looked like projects. Built to mirror both owners intentions and feelings, the cars act as a silent megaphone and portray their own way of making a message. Not only do they share the same make and model of cars, they also share the viewpoints on the scene at the moment. With the sole reason of inspiring those around him as well as those new in the car game, Tuan built this car from the best quality parts as he wrapped up the last project he had, a full Junction Produce 2nd-Gen GS.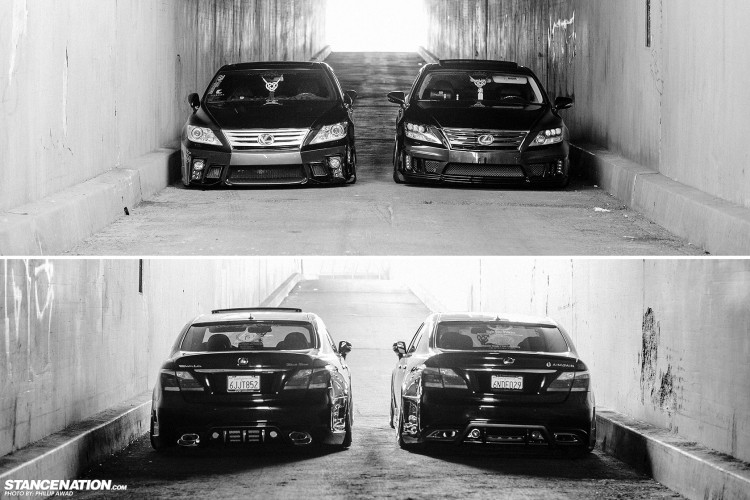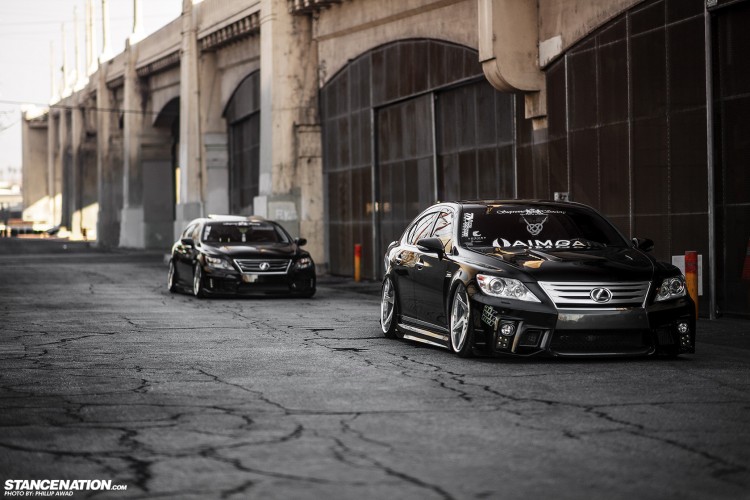 Sporting the full Aimgain kit, Jim's LS460  has its own share of modifications that bring his own taste to the niche we call VIP. Underneath the Aimgain fenders are Luxury Abstract Jungo.Easily one of the most unique designs of all the VIP brands, making it a fairly rare mod in the VIP movement today. Sitting behind all four wheels are the Futura big brake kit, they ensure this beauty stops on a dime. In addition, another significant brand, Accuair lends to this build their famous air suspension with the new E-Level which allows this big boy to raise and lower this car all at the touch of a button –  all regardless of whether he is in the car, or twenty feet away on his phone. As the founder of Style Over Politics, a movement that began in October of 2013, bred from discussion of how many events are now on a basis of a political nature where the judging is done as support for a certain person or group, Jim seeks to promote that judging should be appropriate to build rather than to strengthen relationships between two parties.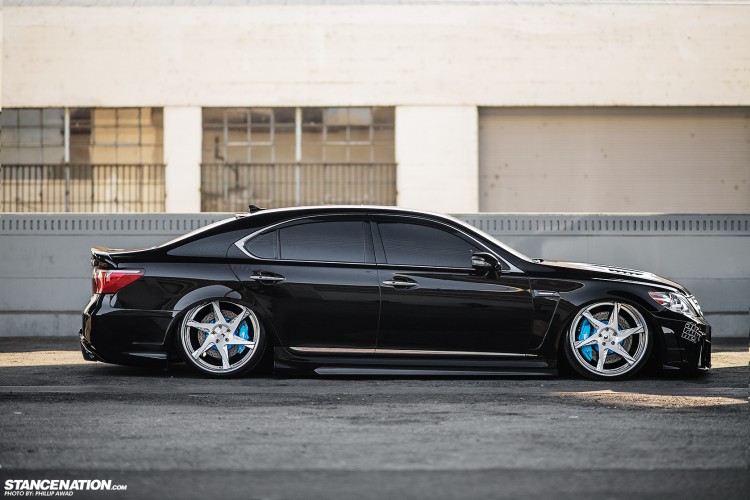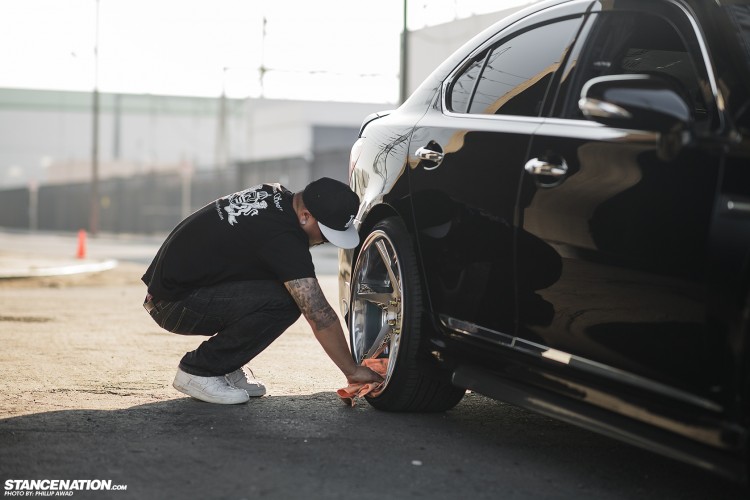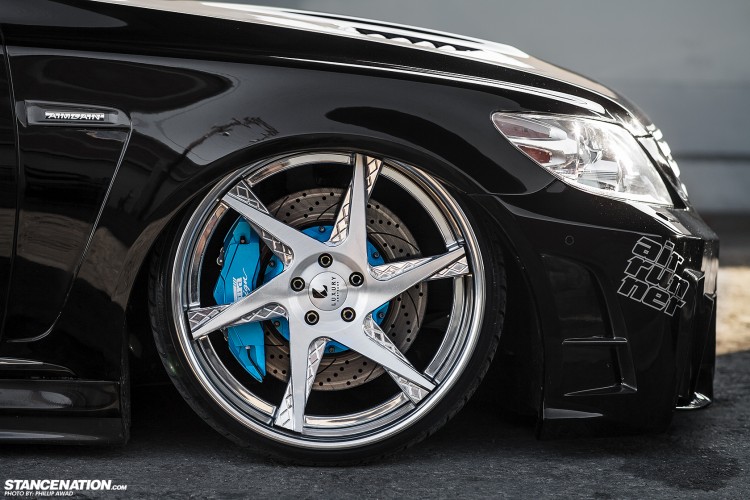 Th interior is nothing short of breath taking. I'm talking fine wood flooring throughout the car, high end double diamond stitching on all the doors and seats, suede headliners and pillars, and the list goes on. Jim also added a few Junction Produce goods to take things to a whole new level. It's one thing to rock a JP Fusa and table in your car, but to call your car a complete VIP car, you gotta have the whole package, and guess what? Jim's LS460 certainly has it!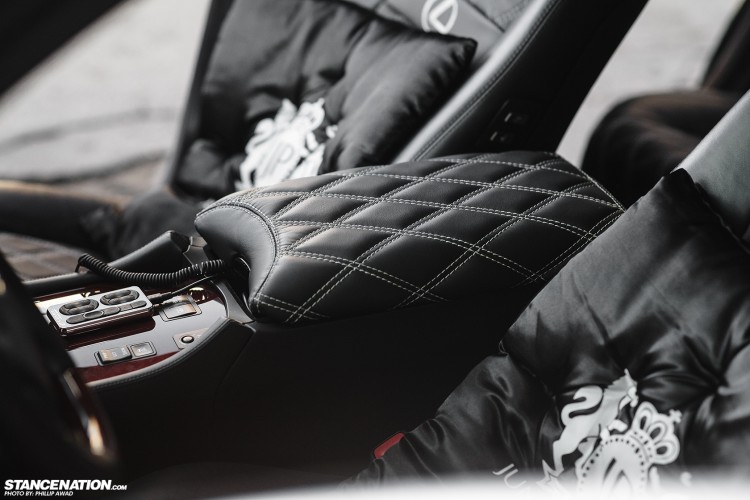 On the other end of the spectrum, Tuan brings to the table some  21″ Avant Garde F130 situated underneath the subtle but aggressive fender arches. The rear fender itself has been meticulously built, incorporating a complete radius and metal widebody. Flaring out an addition 2″, this is easily one of  cleanest fender jobs as it retains near OEM look and quality. It also would be one of the most hardest things on this build as it was finished.  Constantly overlooking Supreme Society and taking on customer requests before his own vehicle, Tuan had the span of 8 weeks to build this LS as well as two other members vehicles for an event. 3 days prior to the show, the rear quarter panels of this LS still showed metal as time ticked down. Forced at 4am on the day of, paint was laid down although the weather honestly was too cool for the best results. Although, in the end, the job was finished and the showing was on time, the paint experienced a chemical reaction and the work was revisited and redone later. Hey, did I mention, all the work on both of these cars were done by the ever meticulous Tuan a.k.a. "TnAutoInspired"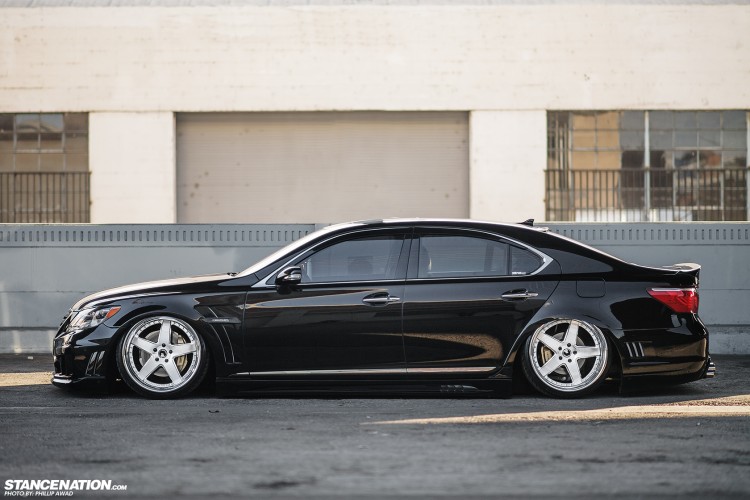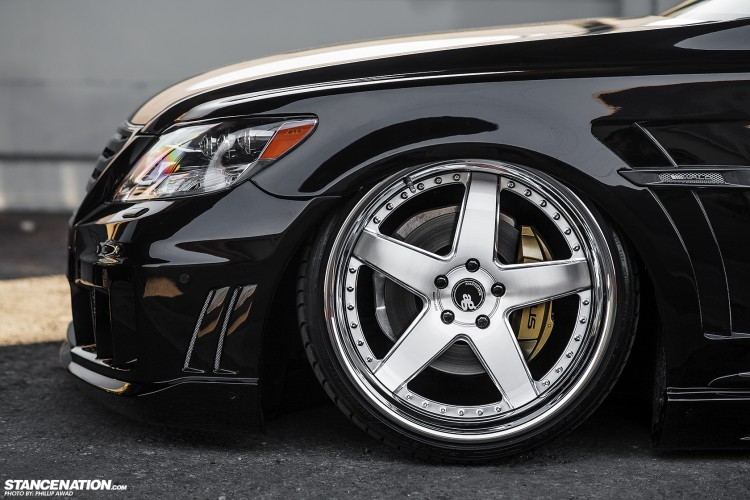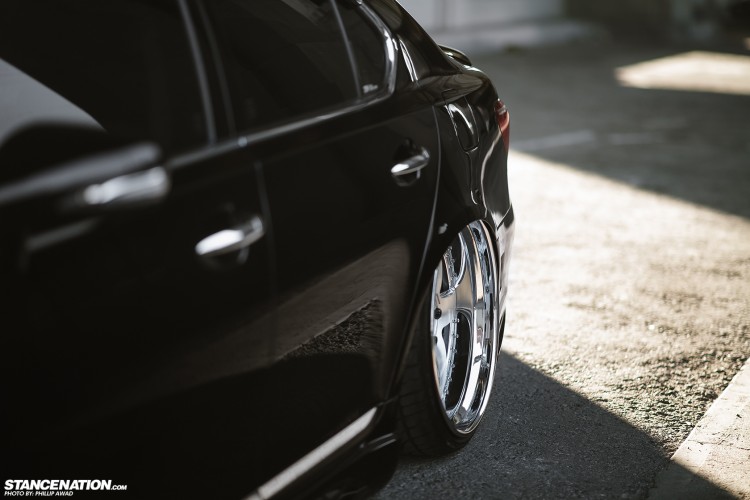 From one of the oldest VIP names, Wald is the brand of choice for Tuan as he outfitted his car with the Black Bison kit. Although Jimmy chooses the Aimgain GT kit, both Tuan and Jimmy say they chose the LS460 out of admiration for the Lexus flagship sedan and its grandfather, the LS400.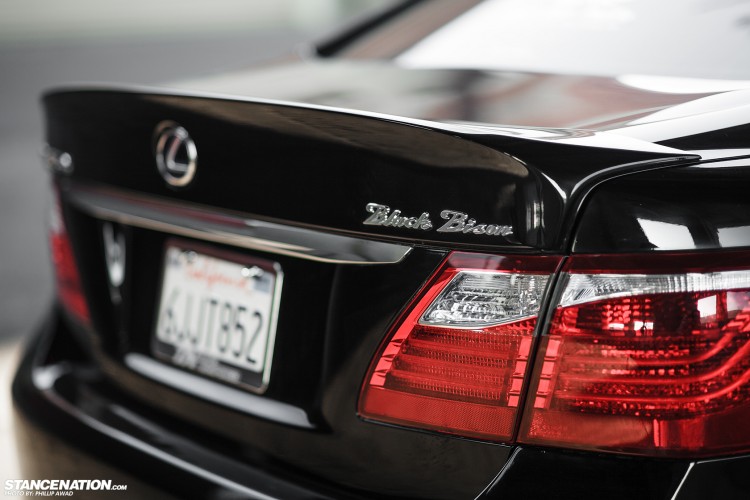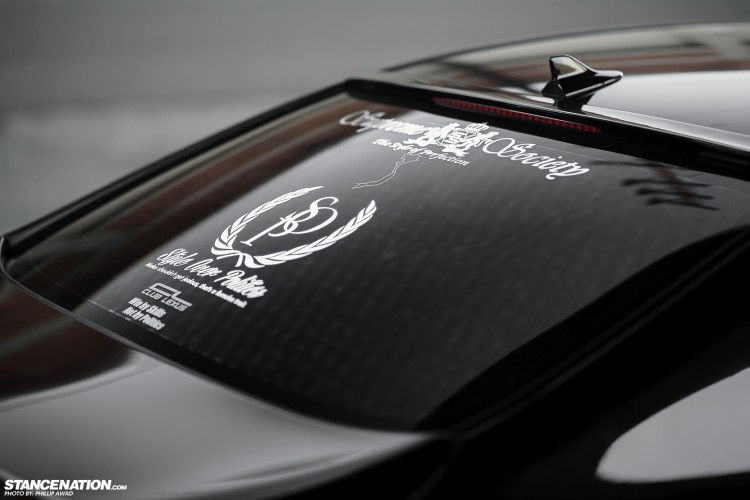 As with Jimmy's LS460, the guts of Tuan's ride are luxury at it's finest. Bottle service on deck at all times, JP cushions and neck pads along with proper VIP fusas made by Junction Produce as well. The trunk is just as stunning, check out these photo below.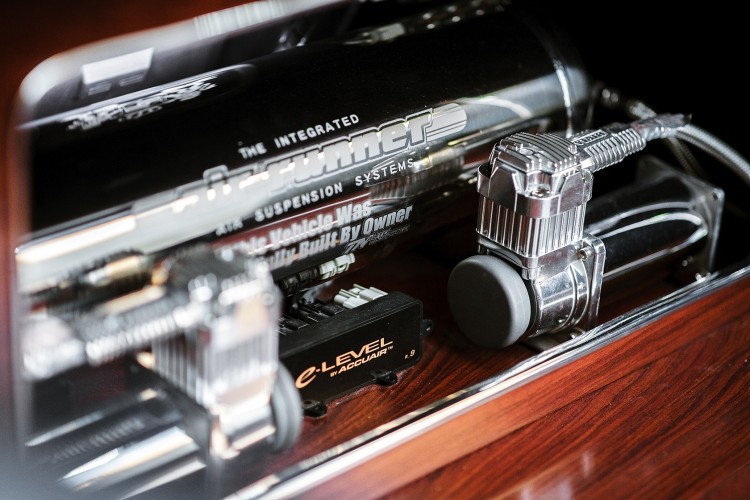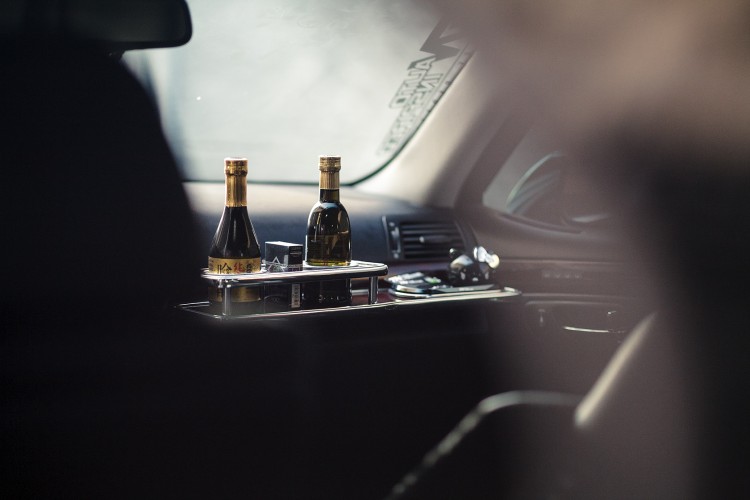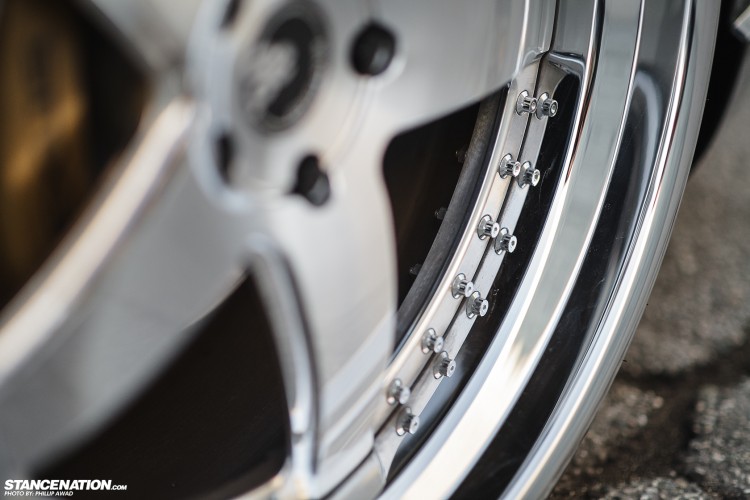 Either way, keep an eye out for Tuan and Jimmy and their respective builds in the new year. In store could be some nice things as Tuan is looking into some under the hood mods while Jim is looking to finish his interior. In addition, Supreme Society as it is one of Southern California's fastest growing car crews. Led by one of the most vibrant people that I have personally known, Supreme Society is home to aficionados that share a passion for the same thing. Founded on May 14 2011, the crew has become a lasting presence in Southern California and are very supportive of one another. Furthermore, Style Over Politics, a movement that could hardly be argued against, is something that levels the playing field for those who start in their car builds and hold no ties to any groups or teams. I definitely feel its my duty to present these to you as I have even seen this car make it onto random facebookers' cover photos from across the world and in separate time zones. Both these cars surely capture the epitome of VIP. Giving respect where it's due.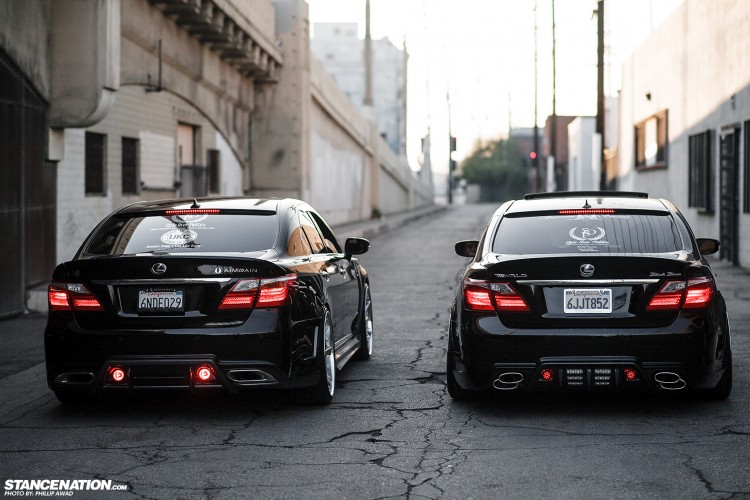 Jimmy Lee – 2010 Lexus LS460
Exterior:
Aimgain VIP GT Full Kit
Aimgain Roof Spoiler
Aimgain Trunk Spoiler
Aimgain Fenders
Lexus LS600 Hybrid Grill
Hybrid Emblems
Custom Vented Hood
Lexus OEM Window Visors
Interior:
Double Diamond stitched Leather Seats
Double Diamond Stitched doors
Double Diamond Stitched Dash Mat, Suede Headliners & Pillars
TnAuto Inspired Wood Floors
TnAuto Inspired VIP LED Table
D.A.D. Push Start & Ring
D.A.D. Shift Knob
Junction Produce Pillows
Junction Produce Neck Pads
Junction Produce Hello Kitty Air Freshner
Junction Produce Fusa,
Junction Produce Kintuna
Junction Produce Tissue Holder
Wheels/Tires/Suspension:
Suspension: Airrunner with Elevel
Luxury Abstract Jungo F22x9 R22x11
Tires: Lexani F 225/30/22 R 255/30/22
Brakes: Futura Design Brakes F 405mm 8pot R 380mm 6pot
Tuan Nguyen – 2009 LS460 Converted to 2011 LS600HL
Conversion:
LS600H Trunk
LS600H head light
LS600H tail light
LS600H front door mirrors with custom white led signal light
LS600H hybrid front grill
LS600H hybrid trunk emblem
Exterior:
Wald black bison full kit
Wald fenders
Wald black bison trunk spoiler
Wald root spoiler
Wald black bison led fog lights
TnAuto Inspired Custom VIP Eyelids
OEM Lexus window visor
Interior:
TNAutoInspired VIP table
Junction Produce fusa
JP kintsuna
JP cushions
JP neck pads
white led all around
TnAuto inspired custom wood flooring
Wheels/Tires/Suspension:
Suspension: Air Runner suspension
Accuair e-level
Air runner 4 gallon chrome tank
dual viair 380 compressors
Accuair E level ecu
Accuair vu4 solenoid valves
Wheels:
21″ Avant Garde F130
Front 21×10.5+15 offset
Rear 21×12+17 offset
Other:
Joe Z series ls460 exhaust
Custom rear 2″ widebody