It's safe to assume that most of us would call R34 Skyline a "dream car" to own. A very fortunate young man by the name of Vu Quach has also always dreamed of owning an R34. Allow us tell you just a little bit about this awesome Aussie! Vu has been through a lot of cars, and we mean a lot! Out in Springvale Victoria, he runs a well known and established automotive shop called DT Panels. It's known for having produced some of Melbournes finest cars. He recently bought a wrecked S15 and was about to turn it into a 2JZ track-only car, but plans were scrapped when a opportunity at buying his dream car arose. Since the purchase, it's been his "daily driver" as well as an occasional track car. Being 27 and recently married to the girl of his dreams, his priorities have to change for the better so he believes that this will be his last car for a while.
Photos By: Vyet Le & Shaun Chiew exclusively for StanceNation.com

We beg to differ and so does our friend and photographer Vyet Le! We sure hope to be right as we've seen Vu's older ride and it was just as stunning! So where do we even begin? You're looking at a 1999 Nissan Skyline R34 GTR V-Spec that's obviously influenced a lot by both form and function. We constantly point out how tough it is to find the "median" between the two and pull it off properly, yet we keep featuring such cars. As you would expect, everything added to the car is quality. Exterior features Nismo skirts and Nismo rear pods along with the small but effective Nur Spec Front Bar. As said earlier, Vu likes to track his R34 from time to time which is why you see that APR Performance GT500 70″ Carbon Fiber Spoiler in the rear. Lastly, the exterior was completed with a fresh coat of PPG Jet Black Paint with Glasurit High Solid Clear Coat.
We've all heard how tough the local law is out there when it comes to sitting flush and pretty much doing anything out of ordinary. We can only imagine how many looks Vu gets driving this beast past the authorities! It sits on a fresh set of Volk Rays TE37 Superlaps in 19×10.5 with +12 offset and 265/30/19 Federal 595SS all around. It's also sporting red Volk Rays lug nuts which compliment those beautiful Superlaps really well in our opinion. Vu went with the HKS Hiper D Coilovers with Greddy front strut brace and did some brake work by upgrading the stock pads to Project Mu Type HC+ all around, topped with Project Mu GFour brake fluid. It's the little things that matter especially when building an already perfect vehicle. When it's time to track this beast the shoes get upgraded to Volk Rays CE28Ns in 18×10.5 with +18 offset and 265/35/18 Federal RSR tire all around. Hit the Read More button below for more photos including a track photo!
While most of the time was spent building a car that looks good on the outside and performs well on the track, Vu also decided to touch up the interior with a pair of Nur Spec Black Seats. Other stuff includes a Nismo GT Black Titanium Shift Knob, Nismo 320KM/hr Black Cluster, Works Bell Short Boss Kit, Works Bell Rapfix Quick Release, the beautiful Nardi Deep corn steering wheel and lastly a touch of dark tint on the windows. Perfection inside and out!
The spec list under the hood is pretty amazing so we'll include it below. All we know at the moment is that Vu will be the most envied man ever after you are done reading this feature! At only 27 years of age he is truly living many peoples dream. Good for him, and we wish him the best!
– Garrett 2860-5 Turbos with
– Siemens 610CC Injectors
– OS Giken Cam Gears
– HKS SPL Hard Piping Kit
– HKS ECV 6 Boost Controller
– HKS Front Pipe
– HKS Type 1 Turbo Timer
– HKS 100MM Intercooler
– Greddy 10 Row Oil Cooler Kit With Relocator
– MetalCat 3.5inch
– Kakimoto Cat-back Exhaust
– Custom Stainless Twin Pipe Exhaust (track use)
– Nismo Fuel Pump
– Turbosmart Fuel Regulator
– Hypertune Fuel Rail
– Splitfire Coilpacks
– Wolf V500 ECU
– Tech Edge O2 Controller
– Hi Octane Oil Catch Can
– ATS Carbon Twin Plate Clutch
– Motul 300V Engine Oil
Huge shout out to Vu, Vyet and Shaun for their awesome contribution to StanceNation! We would like to especially thank Vyet for making this feature happen and keeping it a secret from Vu until now! It's truly an honor to have such amazing ride on our site. Make sure you email us at snfeatures@gmail.com if you think your car has what it takes to be on our site!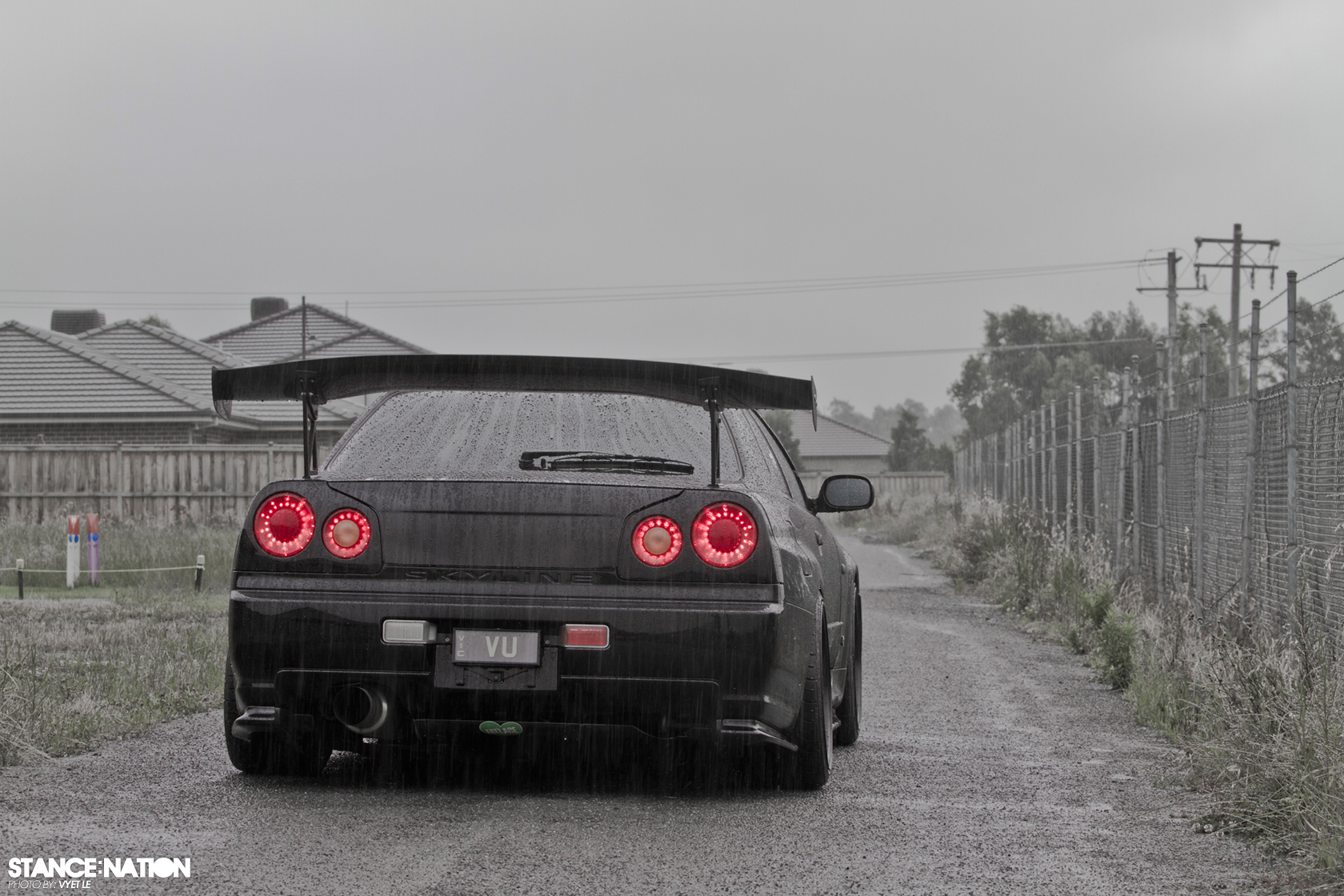 Lovely shot provided to us by Shaun Chiew!