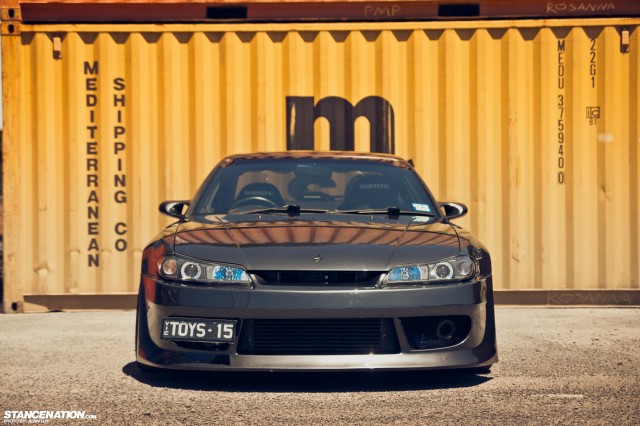 Sinister. Merriam-Webster defines sinister as something, "singularly evil or productive of evil." Meet the automotive equivalent of sinister, Elmo's S15. If a picture were to be included in the dictionary for "sinister" a shot of this S15 should be right next to it. Just look at it! Wide, low, dark paint, and a killer stance just ooze evil animosity. Still, the car is much more than a nice body kit and set of wheels. As they say, the devil's in the details, and that's what this Australian Nissan S15 is all about.
Photos By: Alan Luy exclusively for StanceNation.com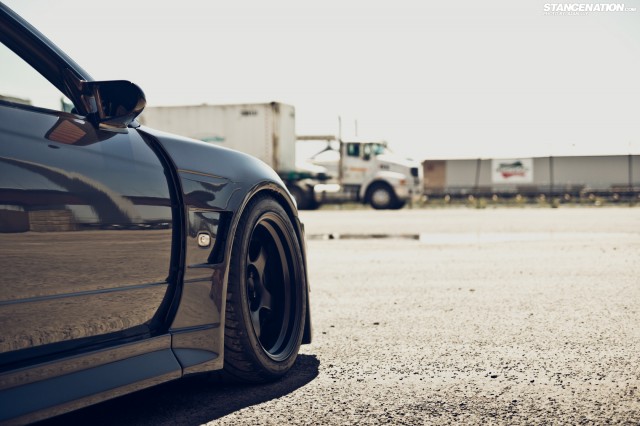 Nissan's Silvia has always been a popular chassis for tuners and modifiers for years. It's last iteration, the S15 is probably the most popular yet. The sleek lines, distinguished headlights, and of course the potent SR20DET motor under the hood make for a potent combination. The car in stock-form just screams aggression and it doesn't take a whole lot to really make a statement, but this one in particular grabs everyone's attention. Everywhere Elmo goes, people are always taking pictures or videos and commenting about the car. It was no easy journey though. Like most thoroughbred cars, this S15 was built over the course of several years. Imported from Japan, completely stock, the modifications started a few months after owning the car. Elmo would surf the car forums searching for parts and ideas for his new baby, and like most projects the small mods snowballed into what we see here.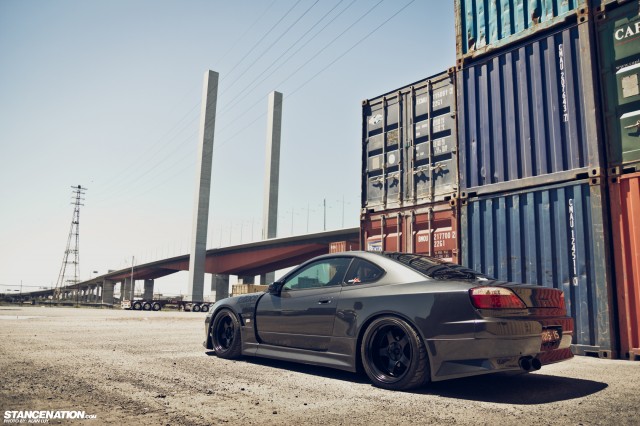 The exterior of this S15 makes the biggest statement, the Vertex Ridge wide-body adding some extra muscle to the car's flanks and toughening up its already mean attitude. Despite being so in-your-face, the wide-body doesn't take away too much from the car's factory lines. After the kit was affixed to the chassis, the whole car was resprayed in Lexus Graphite Grey Pearl which is a very subtle hue, yet does wonders for the car's sinister appearance. A pair of Ganador mirrors and LED tail lights finish of the exterior mods nicely.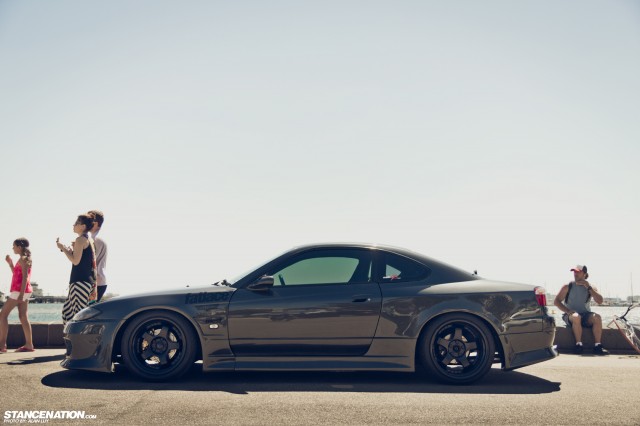 Of course with such a sinister exterior, an equally bad-ass set of wheels were needed. Enter the SSR Professor SP1s, a classic multi-piece, 5 spoke wheel. Sized up at 17×9 -9 up front and 18×10.5 +5 out back, the satin-black rollers fill up the beefy wide-body fenders nicely and go superbly with the Lexus GGP paint. Wrapped in Federal 595 RSR rubber front and back, the S15 hugs the road nice and tight. To bring the car down closer to the tarmac is a quartet of Greddy Type-S coilovers. Fine tuning of the suspension is allowed by a host of goodies from Tein and SPL as well as some extra chassis stiffening thanks to Whiteline front and rear sway bars. It really is nice to see more people seeing the importance of having FULL adjustability of the suspension instead of just dropping a car on a set of coilovers and thinking everything is good. Being able to have full control of camber, caster, and toe is important not only in achieving great stance and fitment, but also in keeping the car driveable and usable. Elmo has done a great job here with his S15; low, wide stance, with great fitment, all while keeping everything usable.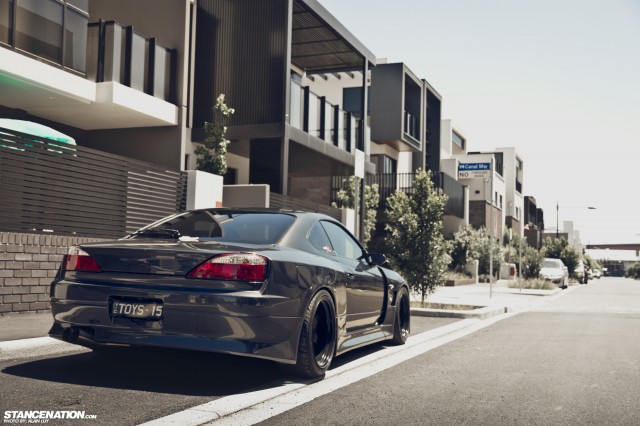 Of course, the rest of the car stacks up to the tough exterior. The turbocharged, 2.0L produces 250hp from the factory, but Elmo has certainly helped it make a little more than that. An HKS intake and 3″ to 3.5″ twin-exit exhaust help the car breath better while a Greddy M-spec intercooler helps keep the intake charge nice and cool. A Greddy Profec-B boost controller keeps the boost in check and an Apex'i Power-FC tuned by Chaser Motorsports keeps everything running the way it should be. There's a slew of other upgrades done to the car as well. Just look at the full specs list at the bottom if your curious to read more about what makes this beast tick.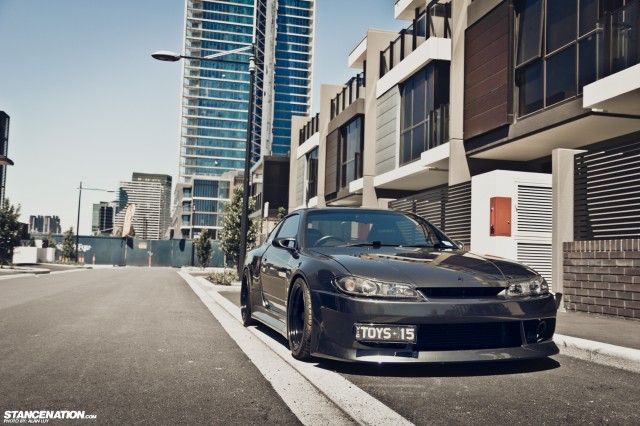 So what's next for the S15? "Well the plan was to have the engine rebuilt for a bigger turbo, but plans have changed," explains Elmo. He continues, "I've decided to sell the S15. I have moved over to the dark side and bought myself a BMW e92 335i as my next project car." It's hard to believe, but after a seven year journey to build his ultimate S15, it really isn't that hard to fathom letting go and moving onto something new. We hope that this S15 finds a good, new home, and we wish Elmo the best of luck with his new project. We'll leave you with a few more shots of this sinister S15.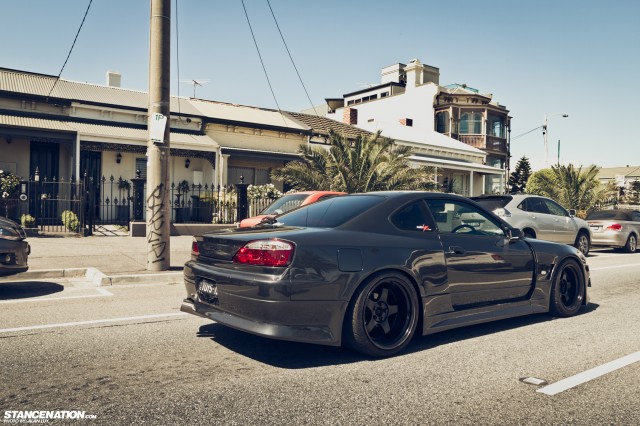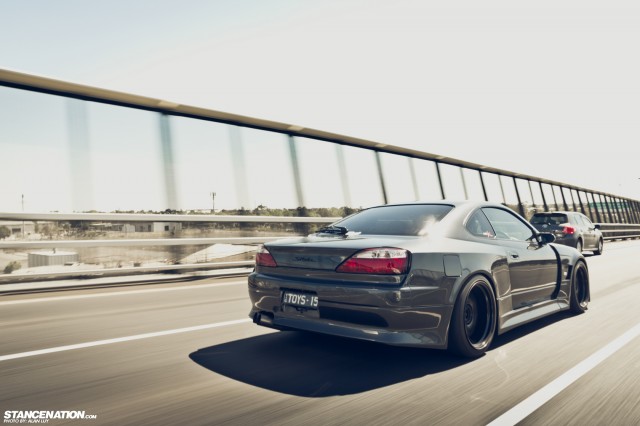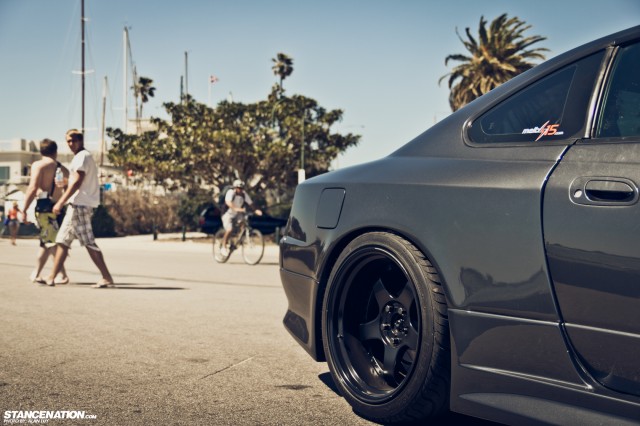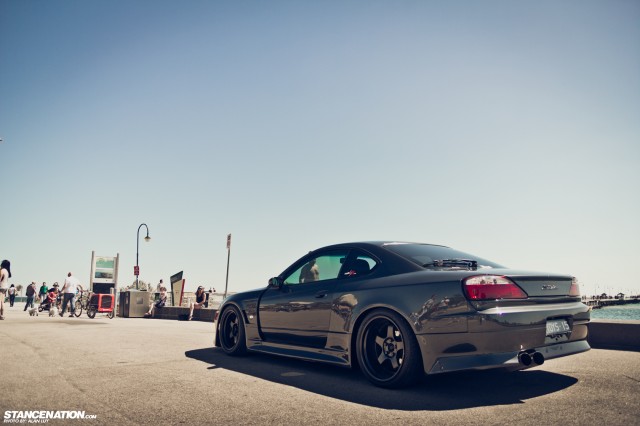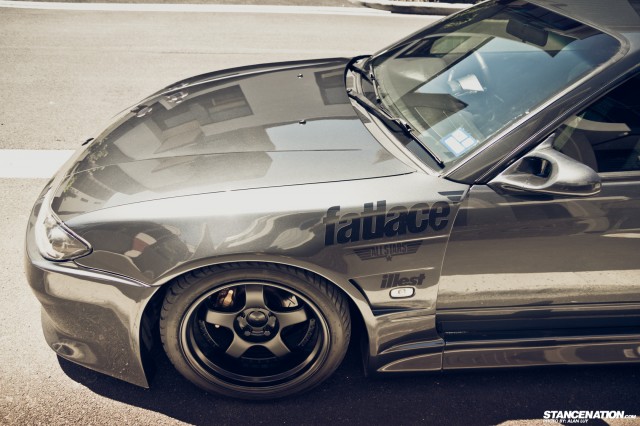 [toggle_box]
[toggle_item title="Wheels/Tires/Suspension" active="true"]SSR Professors SP1 (Powdercoated by Wheeltech in Satin black)
F=17×9 – 9 (235/40/17 Federal 595 RSR)
R=18×10.5 +5 (265/35/18 Federal 595 RSR)
Rays duralumin lock & nut set
Greddy Type-S coilovers
Tein tie rod ends
Tein tie rods
Whiteline front 27mm adjustable swaybar
Whiteline rear 20mm adjustable swaybar
Front strut brace
Circuit Sport engine damper
SPL TITANIUM camber arms
SPL TITANIUM toe rod arms
SPL TITANIUM traction arms
Nismo LCA's
Brakes:
DBA 4000 wiper-slot front rotors
RDA slotted rear rotors
QFM A1RM brake pads all around
GKTECH brake master cylinder stopper
[/toggle_item]
[toggle_item title="Engine" active="false"]Tuned by Chasers Motorsports (2008)
APEXI POWER FC (No controller)
Splitfire Coilpacks
Greddy profec B spec II boost controller
Greddy turbo timer
Bosch 040 fuel pump
Nismo 740cc injectors
GReddy M-Spec front mount intercooler
GFB blow off valve
Custom intake pipe
GKTECH dump pipe
GKTECH front pipe with flex pipe
3inch exhaust system into 3.5 twin straight pipes
HKS mushroom filter
Nismo low temp thermostat
Nismo radiator cap
Billion variable fan controller
GKTECH cooling panel[/toggle_item]
[toggle_item title="Interior" active="false"]Bride gias low max seats (driver & passenger)
3 point immobilizer/alarm system
Sony double din DVD player
Reverse camera
Boost gauge
GKTECH gear knob
Fire extinguisher[/toggle_item]
[toggle_item title="Exterior" active="false"]Vertex Ridge Widebody (Bodyform)
Full respray by DT Panels
Lexus graphite grey
Ganador mirrors
LED Tailights
[/toggle_item]
[/toggle_box]