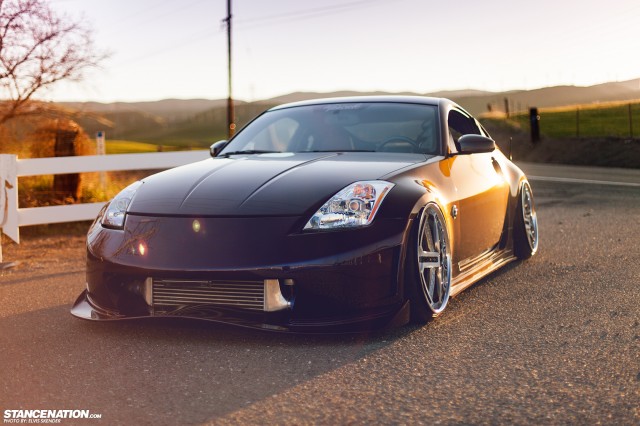 Let's face it, being original in today's culture is hard.  Whether it's fashion, music, or, in our instance, cars, originality is lacking.  Don't get me wrong, there are tons of great cars and builds, but I can't be the only who thinks that a lot of what's getting posted around the 'net is a bit…dare I say…the same?  Not to fear though as we've got something a little special to spice things up and get some chins wagging.  Without further adieu, Josh Chang's Nissan 350Z.
Photos By: Elvis Skender exclusively for StanceNation.com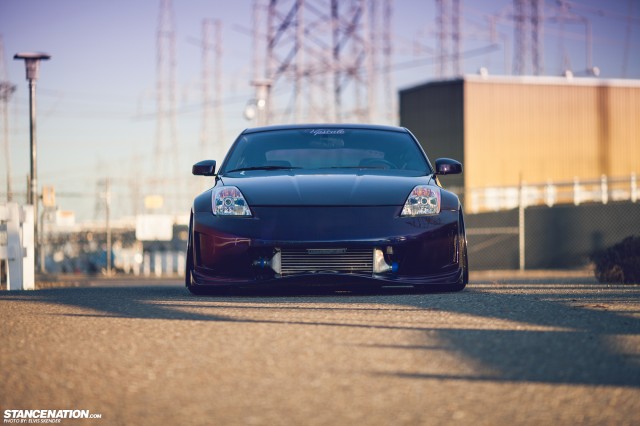 Josh and his Z are used to the limelight.  This car has been through many stages and has seen plenty of exposure and we're very grateful to be sharing it with you all here.  With 350Zs dominating the car scene it's hard to showcase a look that hasn't been done before.  However, with Josh's experience and knowledge plus his attitude of doing his own thing, this 350Z is truly one-of-a-kind.
The car started out life as a showroom-stock, 2005, 350Z which Josh purchased brand new.  Like any long-term project it has gone through many phases including a stint as a drift/track car.  Now with Josh turning 30, a wife, and a kid on the way, he has decided to turn it into more of a show-car.  As you can tell, he doesn't mess around and does things right the first time around.  This 350Z can hang with the best of them on the show ground, covering all of the bases; exterior, interior, suspension, motor, and electronics.  This car is jam-packed with goodies as you can see by the mile-long spec list.  Let's get on with the good stuff shall we?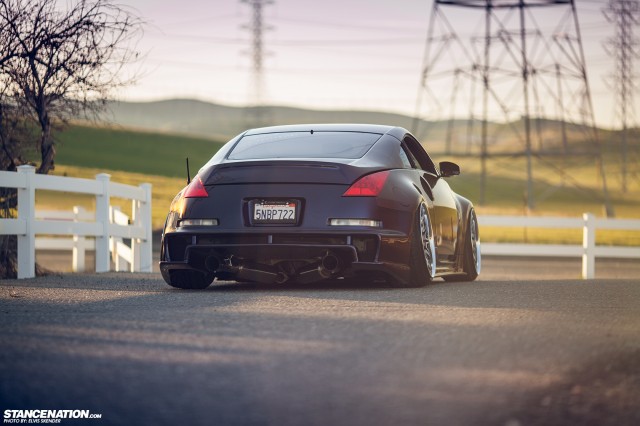 The fully kitted, midnight purple, exterior of Josh's Z is definitely what has caused a stir in the vast regions of the interwebs.  Now, I'll be upfront about it, fully kitted 350Zs certainly don't look the best, and that's probably why every single one looks the same with a healthy drop and some wheels.  That being said, I think Josh's Z looks just right.  Wait, what?  Did I just contradict myself?  Yeah, I pretty much did, but Josh's Z is a breath of fresh air in a scene that's stuck on slam-it-and-fit-it-with-a-set-of-wheels.  This has a look all its own, and it didn't happen by luck.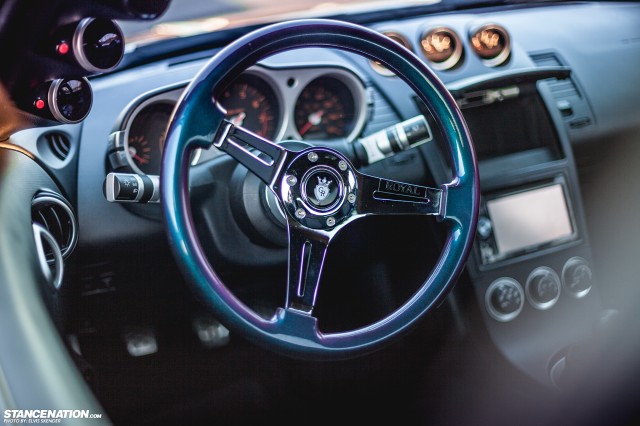 The Strafe SL2 aero-kit is a bold one for certain.  The front bumper and side-skirts aren't too in-yer-face, and flow well with lines of the Z.  The rear bumper however, is about as off-the-wall as you can get, but it just works on Josh's car.  It's his car anyways so who's to say what he can and can't do?  Haters can hate away!  "The hardest part," Josh explains, "is not letting the haters get to you.  The car is how I want it…"  With a few more choice body mods in place it was time for Josh's paint-shop of choice, TNT Autobody, to lay down the paint, and what a fantastic hue was chosen.  The Midnight purple paint is absolutely beautiful and suits Josh's Z perfectly.  It definitely throws people off when the light hits it, but you can't argue that the deep, purple, hue accentuates the kit and body lines beautifully.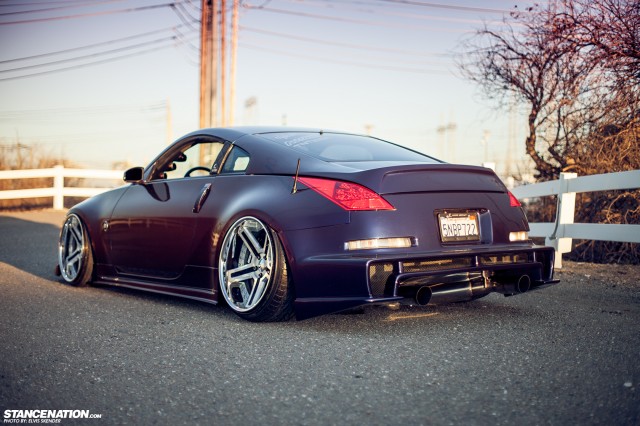 The wheels are another focal point on the car.  Almost as loud as the kit, there is no denying that the Luxury Abstract Grassor-Cs are a bold choice.  But bold is what this car is all about.  The intricate design, and 100% bespoke build of the Luxury Abstract wheels suit Josh's Z perfectly.  Sized up at 20×11 up front, and a steamroller sized 20×12 in the rear, the Grassor-Cs fill up the Z's cavernous arches with ease.  Now when it comes to impressive fitment on 350Zs, we've seen it all, and Josh's Z certainly will duke it out with the best of them.  His fender lips are most certainly resting between the wheel lips and tires.  While plenty of Zs roll static on coils, Josh's sits on four, comfy pillows at each corner.  Josh's favorite part about the car is actually the Ksport Pro Plus air suspension.  He explains, "it actually allows me to drive the car and pull it out.  I stopped driving my car cause I needed two 6-foot ramps in order to even get it out of the driveway. I love driving low but it comes to the point where i'd like to keep my car and not destroy it on every bump and driveway."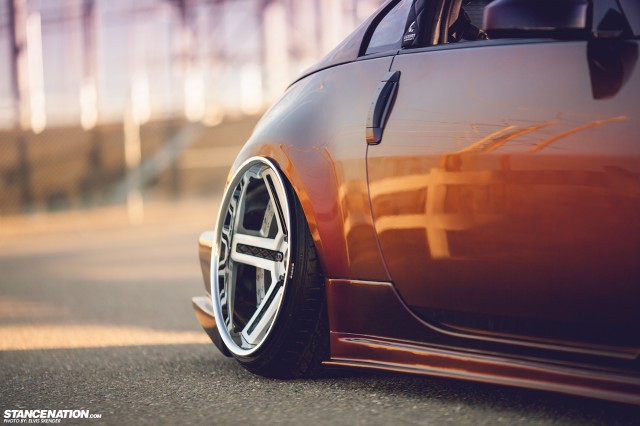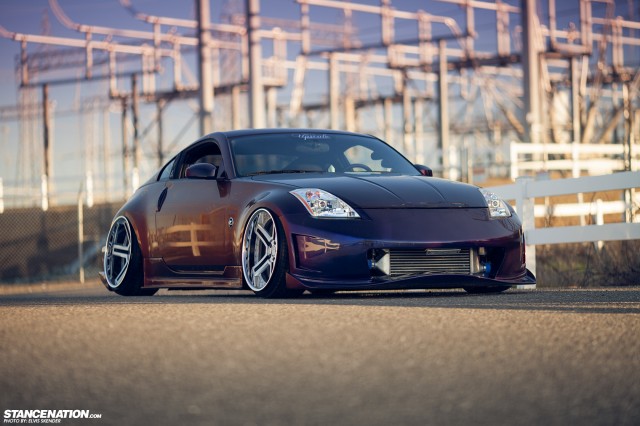 Despite the bags, deep-dish wheels, and aggressive aero, this 350Z is no slow-lane plodder either.  This car is very complete with all of its bases being covered including the motor.  It's hard to not notice the front-mount intercooler peeking from behind the bumper anyways.  Josh's Z is force-fed via a pair of Greddy turbochargers using their manifolds, piping-kit, and intercooler.  Other go-fast goodies include a CJM return fuel system, Motordyne plenum spacer, AMS radiator and hose kit, a Spec twin-disc clutch, and a TurboXS UTEC to control everything.  On the inside occupants are treated to a suede-trimmed interior.  A triplet of gauges keep tabs on engine vitals, and a slew of audio goodies keep the tunes bumping while Josh enjoys cruising in his one-of-a-kind 350Z.  This is definitely a complete car where every area has been touched.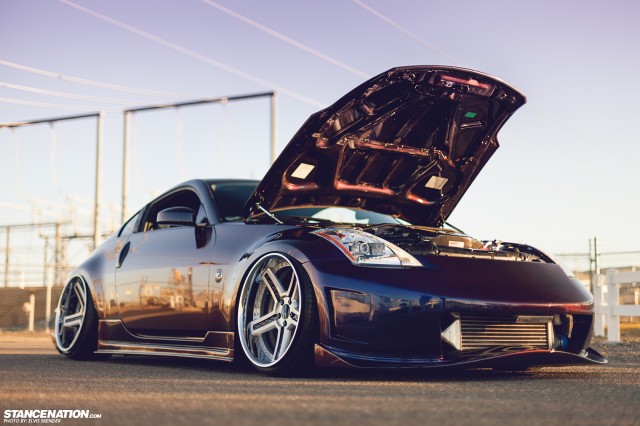 Josh definitely understands that his car may not be to everyone's taste, but he doesn't let that get to him.  He still has more plans for this car, and I'm definitely excited to see what's in store.  He has a pretty impressive track record after all, and even his wife rolls around a bagged Infiniti M45.  Regardless, this 350Z is one of the nicest I've seen this year and really is a breath of fresh air.  The body kit, the paint, the air-ride, and the wheels, it just all works.  Add in that it can back up its looks with a healthy helping of boost, and well…all I can say is point us to a more well-rounded 350Z (we'd love to feature it if you can!).  Josh would like to give a shout-out to his sponsors; Auto RnD, TNT Autobody, Simplicity in Sound, and Luxury Abstract, and of course his crew, Team Upscale.  We'll leave you all with some more photos taken by our fearless leader, Elvis.  Enjoy the sight.  I know I will.