Morning routines, everybody has one, and for the most part there is little variation.  Wake up, stretch, go to the bathroom, shower, and get ready for the day.  You might be checking Twitter and Facebook somewhere in there as well.  Then you usually go downstairs (sometimes upstairs depending on your bedroom situation) to go to the family room and kitchen to get breakfast.  Decorating the common area is usually pieces that describe you and/or your family and loved ones; photos, posters, etc.  A few pieces of furniture are placed about and you sit down at your table to eat, usually looking at the paper, or tablet or computer.  Our friend Tomonori Ikeshita here has a bit of a different view, and I'm sure one that any gear-head will be drooling over.  Come down his stairs, and you're greeted with large glass garage right in his living room to showcase his pride-and-joy.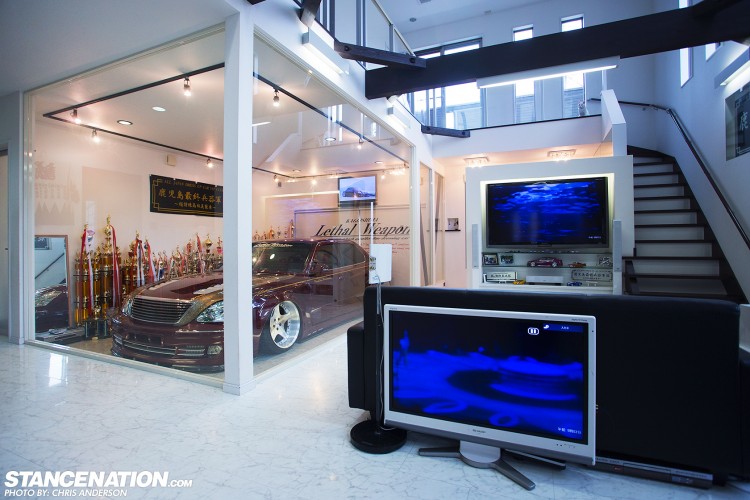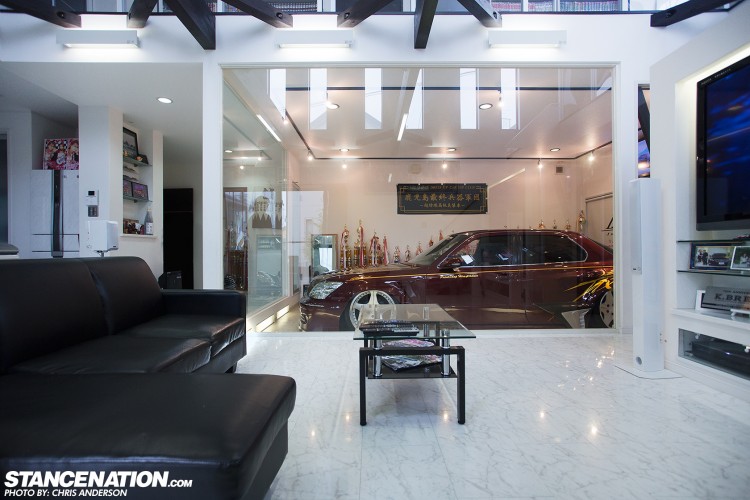 I'm sure more than a few of you have had the argument with your better-halves about letting you showcase your passion as part of the home decor, and are usually shot down.  Sometimes, your other half doesn't quite see your car in the same light that you do.  Some of us get lucky and find a partner who shares the same enthusiasm, but we can't quite go about building a garage that goes into our home.  Ikeshita-san is indeed a lucky man, but what is inside his glass garage is also a master-piece that has been 15-years in the making.  I'm certain that a few of our readers here have spotted this Celsior at events and coverage from Japan, but I'd wager that only a few of our hard-core VIP fans know what this car started out as.  Here's one you all have been waiting for; the Lethal Weapon Celsior.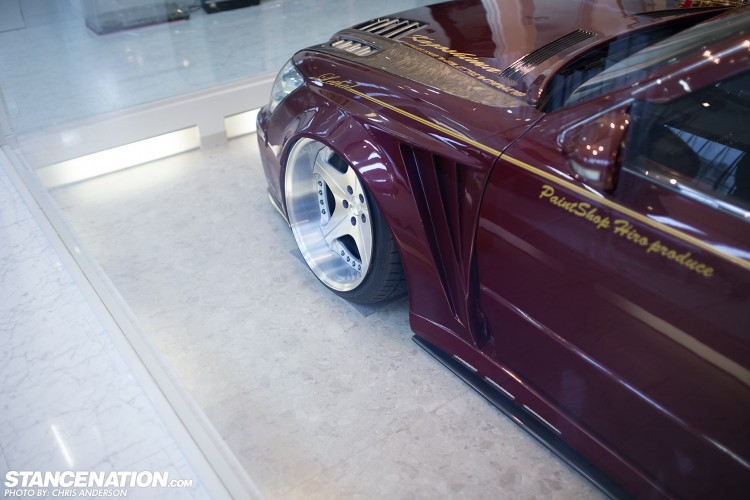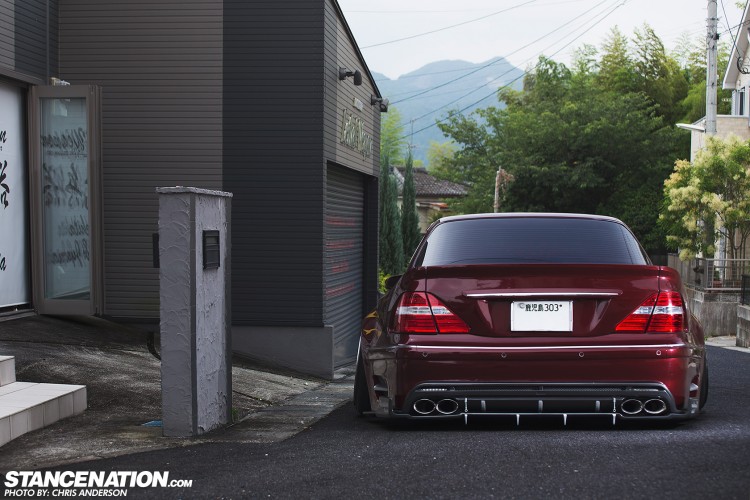 A legendary car such as this needs no introduction, but instead of just reeling off a spec list, I like to put a little effort into the story.  I like to think that despite the amazing photos from our man, Chris Anderson, that some take the time to read the words too.  Ikeshita-san has been building and perfecting this Celsior for over 15-years, and it certainly shows.  Hold on though…15-years?  That puts it prior to the year 2000 which is before the UCF30 came out, how does that work?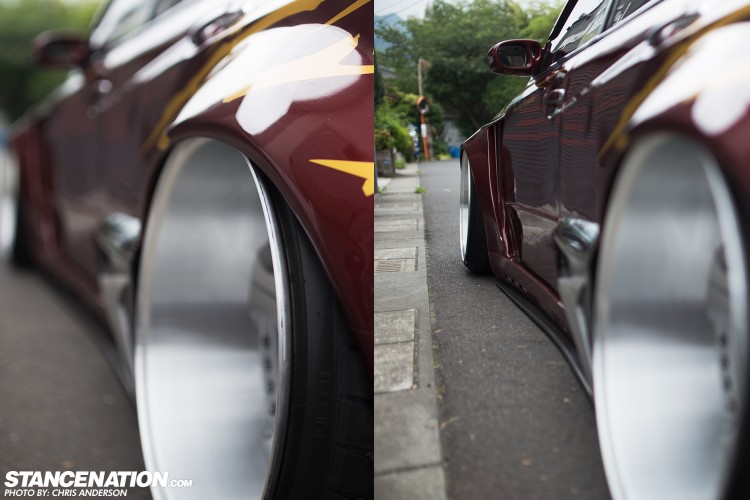 Well, it works because this isn't a UCF30 Celsior, it's actually a UCF11.  He bought the Celsior new in 1992 and has kept it since, a true testament to the term, "labor of love."  That's just it too, he does really love his Celsior, and considers it part of the family which is why he wanted to enjoy seeing it inside his house with the rest of his family.  "It has been about 15 years since I have acquired my Celsior, and to be able to display it in my living room is just amazing. I would like to live side by side with my Ceslior. It's my pride and joy and I plan on passing it down to my son sooner or later!"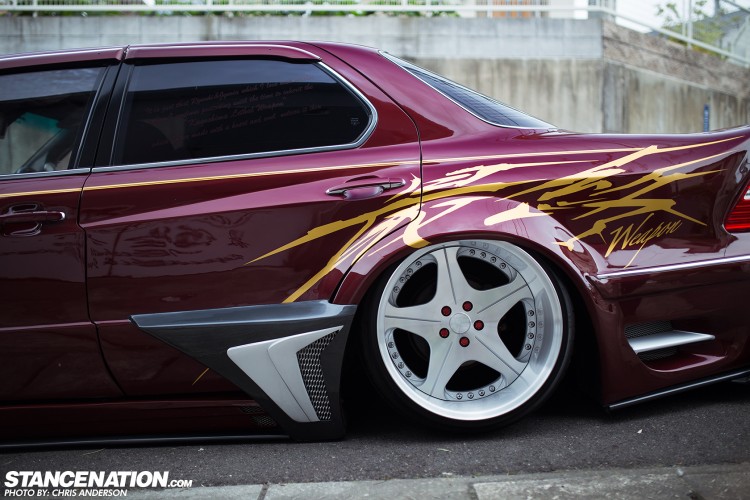 With such a masterpiece, it's fitting to have it on display as art.  Ikeshita-san is certainly proud of his car and for good reason.  The term 'custom' doesn't even do the car justice.  This car is pretty much the definition of 'one-off' as nothing on this car has been left untouched.  The obvious UCF30 front-end and rear-end conversion being the obvious stars, the next bit that steals the show (at least for me) are the one-off, blister fenders.  Ever since working on my own VIP project, I've become nearly obsessed with fender work.  I'm not talking just rolled and pulled either, that's amateur work.  I'm talking widened, radiused, bespoke fenders.  The Japanese have certainly made this an artform and Ikeshita-san's Celsior is one of the grand-masters.  These blister fenders are big, beefy, and juicy, and coupled with those ridiculous wheels just ooze aggression.  The wide fenders extend the width of the Celsior a monstrous 150mm on each side…cue Sir-Mix-a-Lots' "I like Big Butts."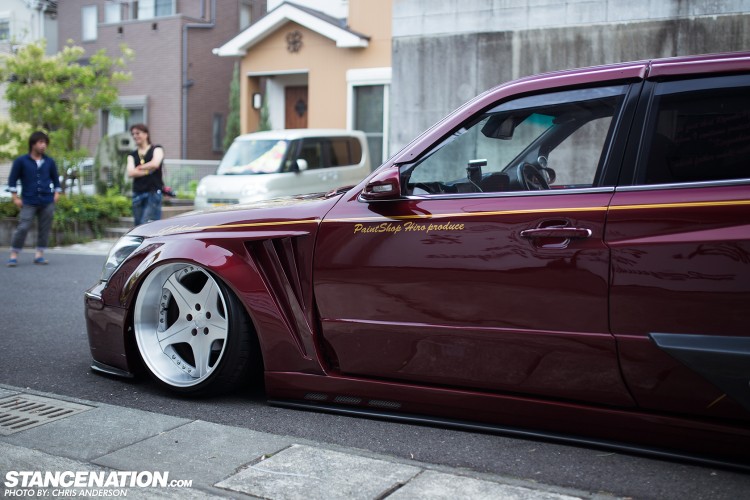 Speaking of fat butts, the Leon Hardiritt Ordens on this car are sure to make any wheel-geek tight in the pants.  The custom painted wheels come in steam-roller sizes, measuring 19×11.5 -35 in the front and 19×12.5 -45 in the rear with lips so big that every actress in Hollywood is jealous.  Being a UCF11, Ikeshita-san's car sits on an air suspension setup which has been modified from the original factory air setup.  Despite being able to buy a controller to over-ride the factory presets, the factory shocks aren't designed to deal with extended periods of slammage.  While a few of us prefer a static setup, we can't fault Ikeshita-san's decision to keep the air so he doesn't damage any of the superb body work.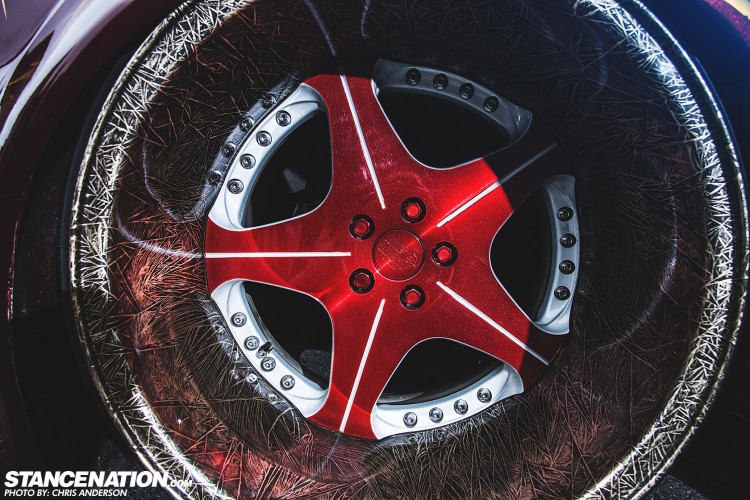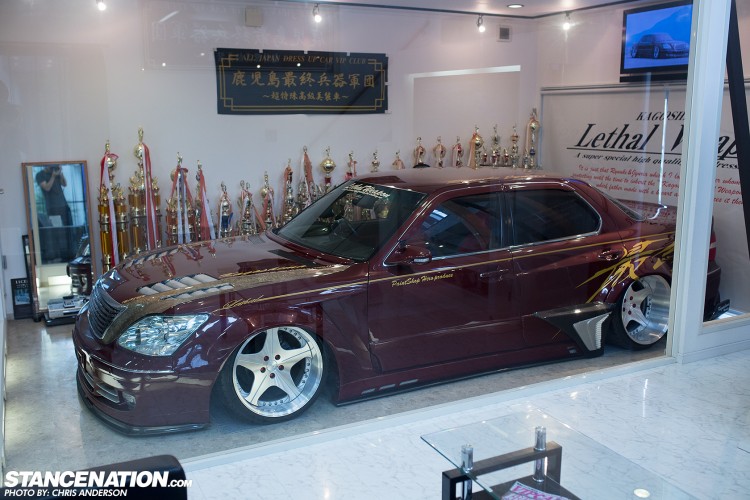 I briefly touched the body work of the car with describing the one-off fenders and UCF30 conversion, but everything else is just as impressive.  The front bumper is a Mode Parfume unit that has been modified to work with the extremely wide fenders, as well as the bonnet ducts on the hood to toughen up the front end.  The side-skirts are from Job Design and have been customized with custom, diffuser pieces on the ends and widened to flow with the rear fenders.  The rear is an Aimgain piece which has also been widened and finished with a custom, rear diffuser.  I like the balance that Ikeshita-san maintains between luxury and sporty with the diffusers and choice of bumpers.  It really blends well with the overall look of the car.  He didn't just throw a bunch of parts at it and hope for the best.  With over 15-years of work, it's easy to tell that there is a lot of thought behind this build.  For the paint, Ikeshita-san went with an OE Lexus Wine-Red color which, coupled with the marble-gold pinstripping looks absolutely gorgeous.  The color is so deep and lush that it just oozes with luxury, yet adds to the car's bold presence.  You just look at the car, whether parked or moving, and you know that it means business.  Ikeshita-san has really created an amazing masterpiece.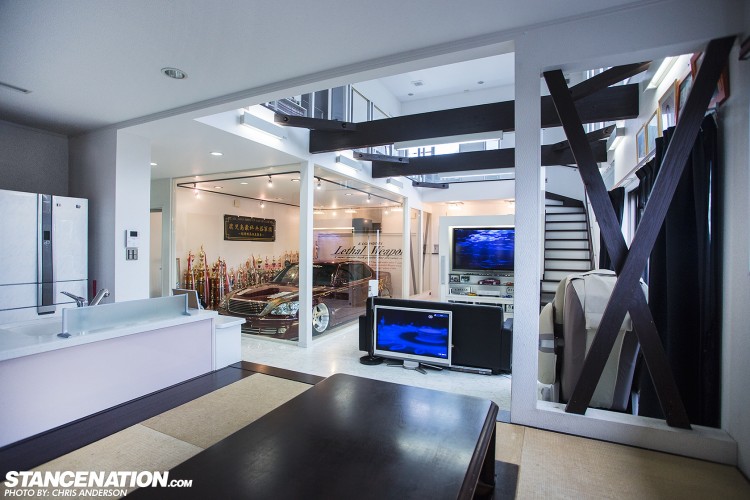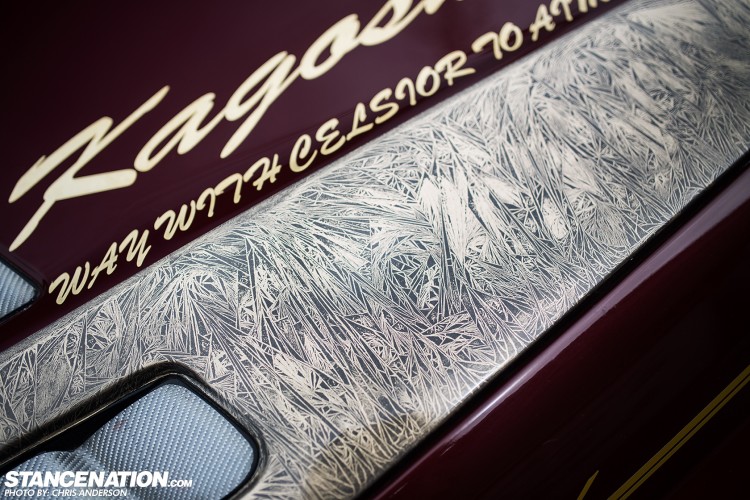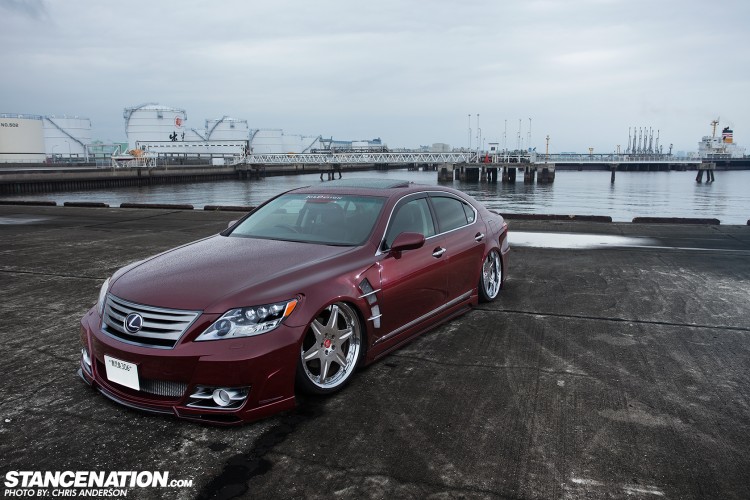 However, the story doesn't stop with the UCF11.  Ikeshita-san couldn't just stop with one masterpiece.  He needed something for the daily grind too, and his choice for his 'daily' is something that would still trump the US VIP game.  Ikeshita-san's UCF40 LS460 is a work of art in its own right, and hard to imagine that someone actually uses this thing day in and day out.  Just shows the level of dedication in Japan.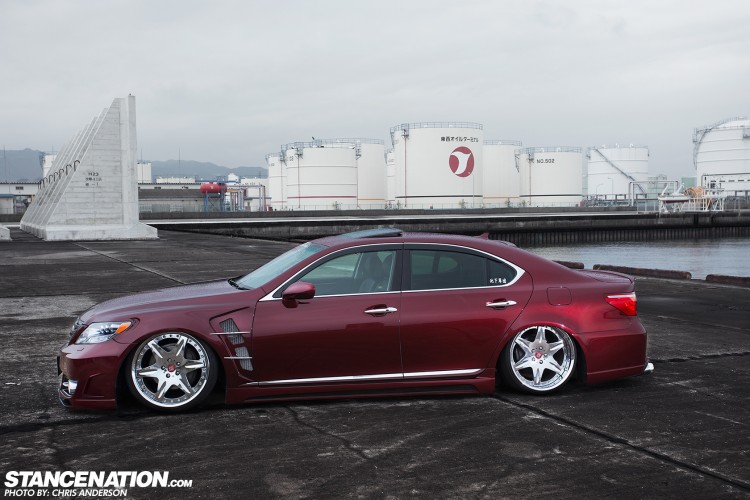 Ikeshita-san's decision to buy a LS460 was a natural one as he explains, "It was the successor of the flagship Celsior! Also at the time, Lexus was a new brand identity in Japan, so not many people owned an LS yet. I was also in the market for a new vehicle and thought.. it's now or never.. and bought a LS460."  With his new car now in his possession, little time was wasted in applying a few choice mods.  Hey, if you want to make an impact, what better way to do so than take a brand new car and modify it, right?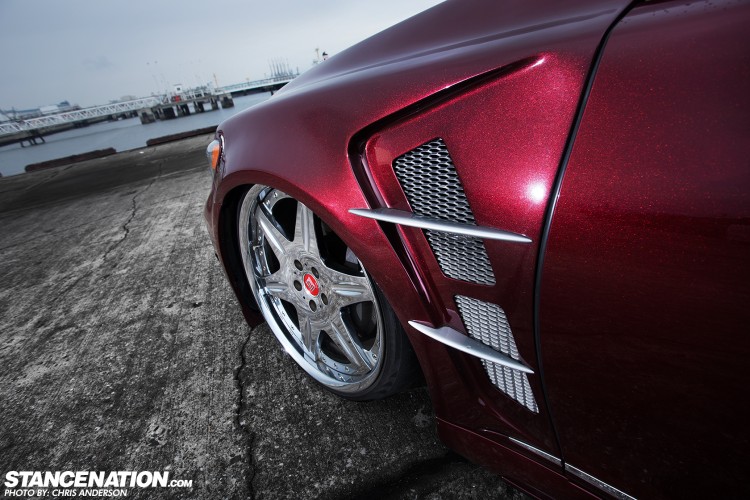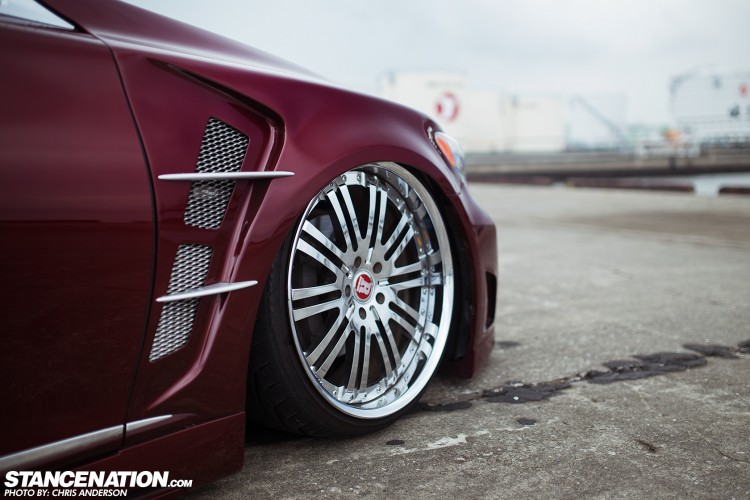 While having an impressive array of parts, Ikeshita-san's LS460 is rather tame compared to his Celsior.  You won't find any crazy blister fenders here (yet at least…).  With matching Lexus red wine paint, his LS460 wears a full Job Design aero kit comprised of a LS600 front bumper, side-skirts, rear bumper, and muffler.  The fenders are also Job Design pieces, but Ikeshita-san added a vent just about the headlights to accentuate them further, a small touch but one that garners some extra attention.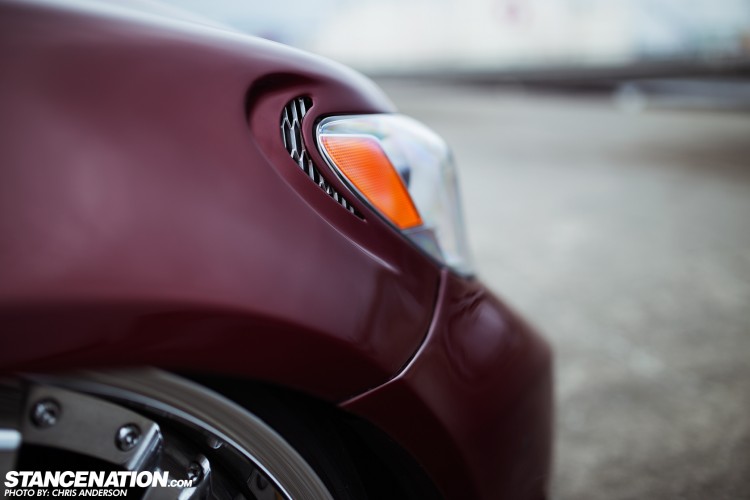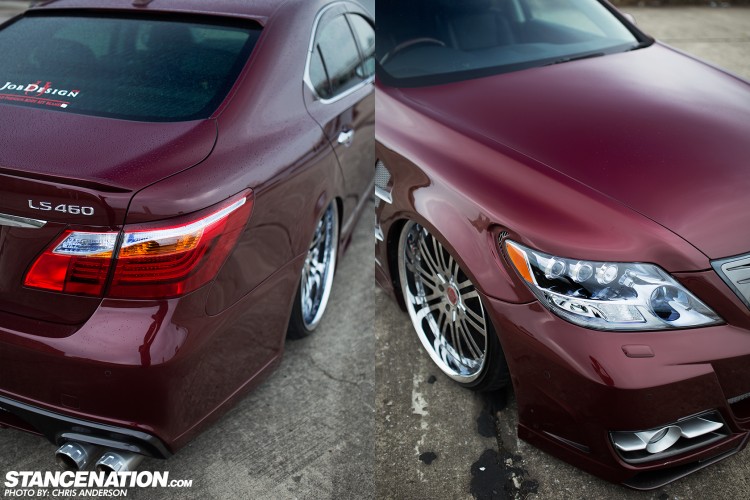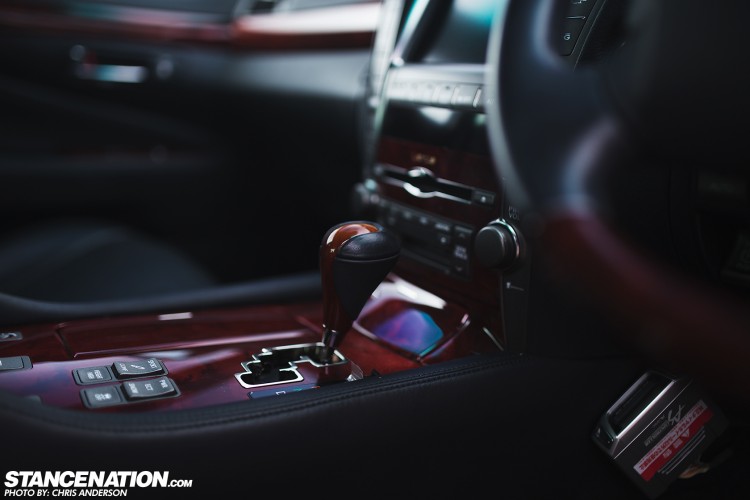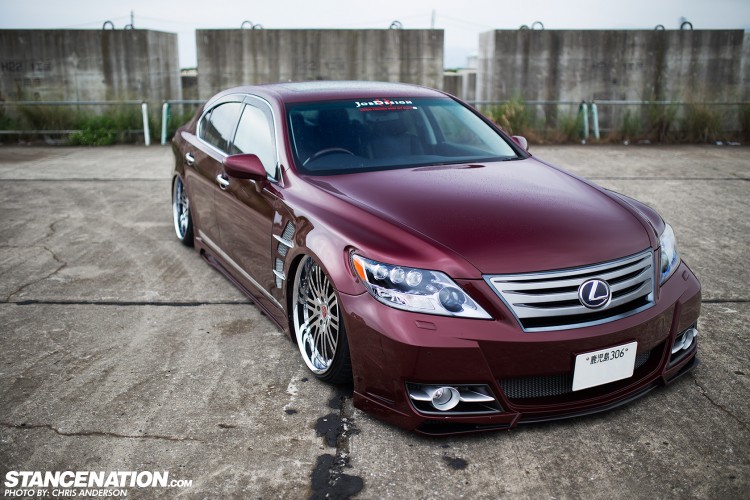 Also similar to his Celsior, the LS460 is also on air.  Being that this is his daily, air suspension makes the most sense so he can avoid any unnecessary damage from driving too low.  The one interesting touch on this car is that it is running two sets of wheels on each side.  It's a look that's rarely seen these days, and always throws me for a bit of a trip when I see it.  I'm used to seeing mis-matched wheels front to back, but hardly side to side.  The driver's side wears a pair of Work Rezax Universal forged wheels, and the passenger's side wears a pair of Work LS406 wheels all of the 21-inch variety.  No super crazy offsets here, but that's not the aim for Ikeshita-san with this car.  His goal with this car has always been to keep the car very luxurious, and keeping the offsets a bit more mild allowing them to tuck keeps with the old-school, VIP theme before offsets started getting crazy.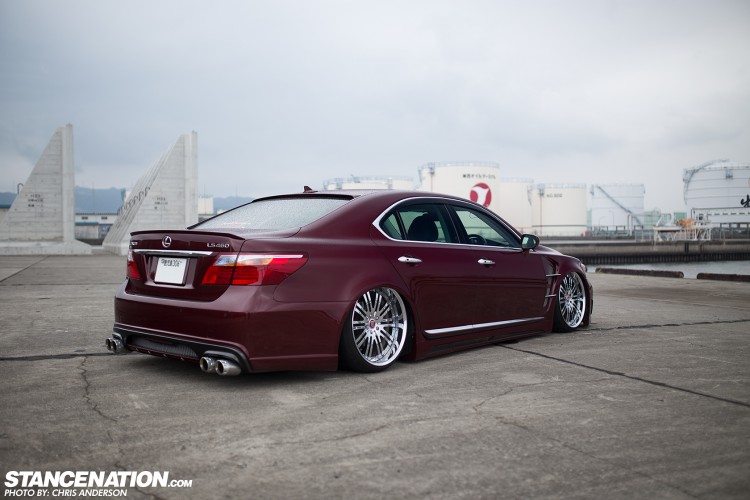 The rest of the car has remained rather simple.  LS460s come pretty damn well-equipped from the dealership, so you don't need to do much to make for a very comfortable and plush car.  Being the new flagship for Lexus, Ikeshita-san has done an excellent job keeping to the car's already luxurious roots, while adding his own touch.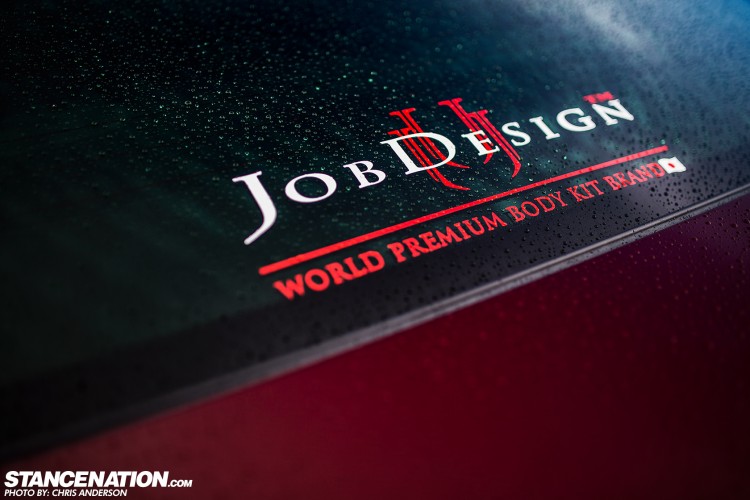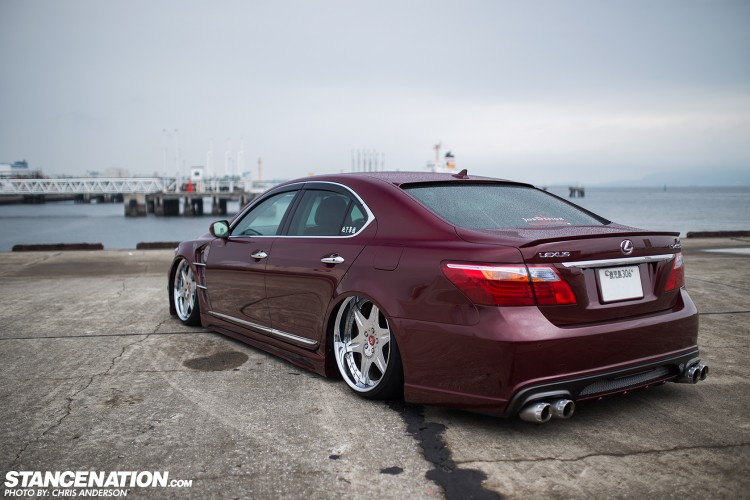 I'm sure most of us can't help but feel a little jealous of Ikeshita-san.  Having one of the craziest VIP builds ever, and a daily-driver that would still shut it down in the US, and hold it's own in Japan, plus that killer garage to house his pride-and-joy, Ikeshita-san certainly has a lot to smile about.  The cars balance each other, his Celsior being the wild, absolutely balls-out build, and his LS460 keeping things simple and elegant, the two go together so well.  It is our great pleasure to be able to share these two cars with you.  Many thanks to Ikeshita-san for letting us feature his two beauties, Chris Anderson for the stunning photos and video, and of course all of you readers out there who continue to support us.  Arigatou gozaimasu.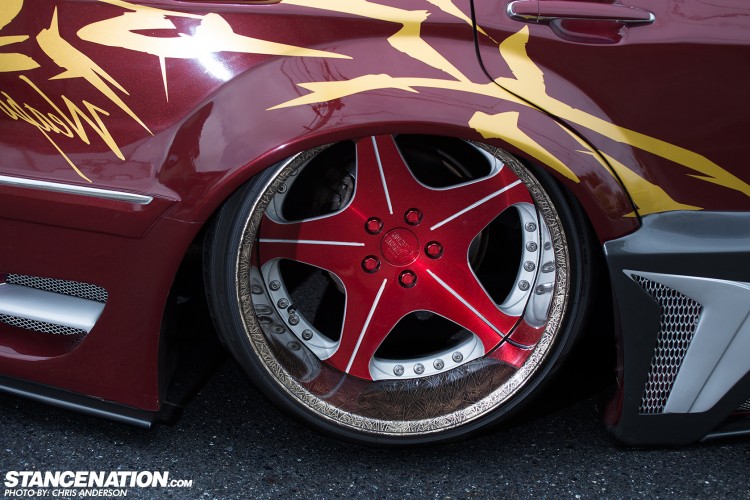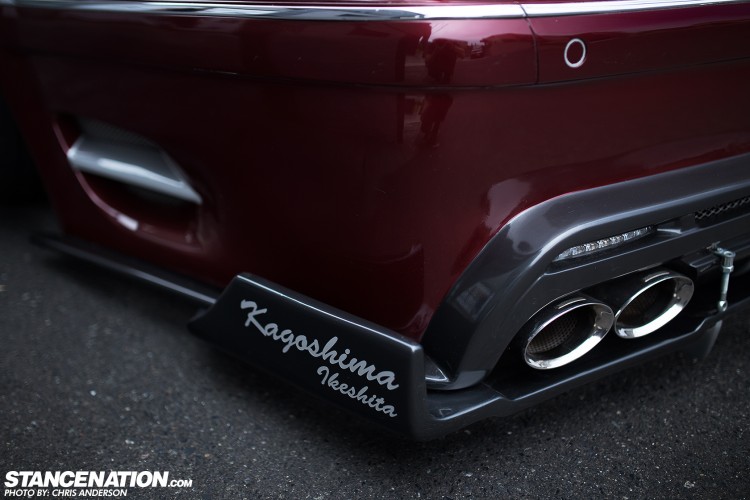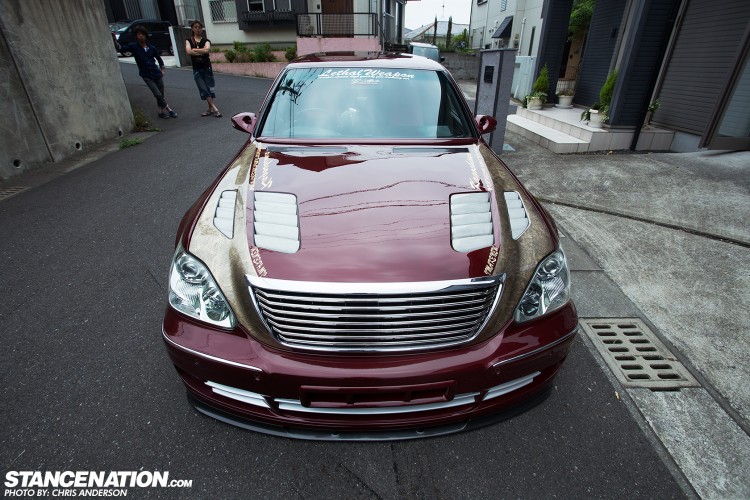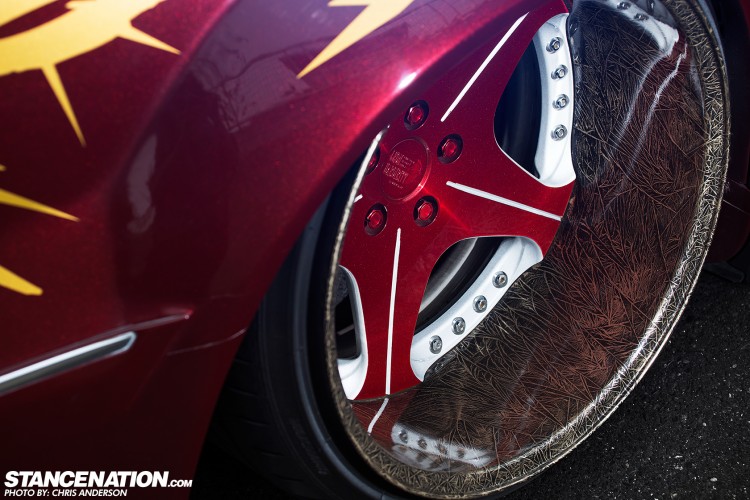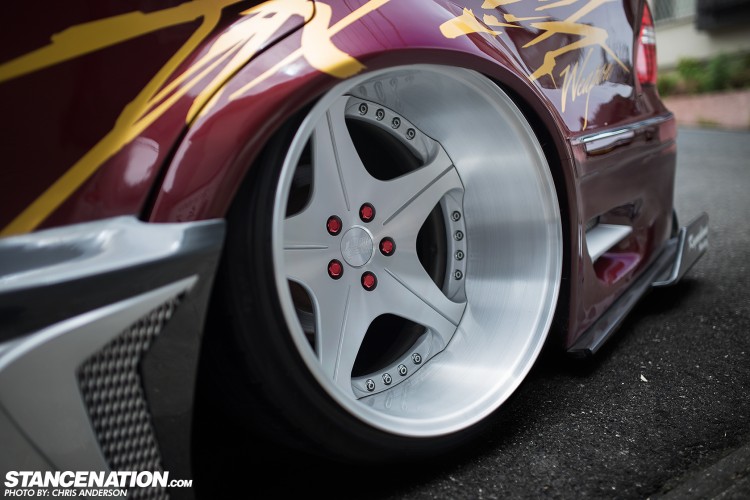 Lexus LS400
Front: Mode Parfume
Side: Job Design
Rear: Aimgain
Wing: One-off
Blister fenders: One off
Bonnet Duct: Mode Parfume
Mirror: Inspection
Pinstriping: Custom
Wheel paint: Custom
Aero: Custom work
Bonnet Spoiler: Anceltion
Muffler: Anceltion
Diffuser: One off
Authentic Lexus Wine Red Paint
Wheel:Leon Hardiritt Orden Super Stars
Offset: F -35 R -65
R 19×12.5
Lexus LS460
Front: Job Design LS600 mid-period
Side: Job Design
Rear: Job Design
Wing: Job Design
Muffler: Job Design
Work Rezax: 21in
Work LS406: 21in
Color: Lexus Wine Red
Many custom things