"That is seriously cool." He was fond of the PS13 240SX I was driving back then. I would end up hearing him make this declaration about a variety of cars, countless times, over the next several years. Like the origins of many friendships in the automotive community, I met Ryan Richey in a parking lot — on a random night when neither of us had anything else to do. Beneath the orange glow of shopping center parking lot lights we discussed the intricacies of Japanese culture and style; and I was careful to notice the white Impreza WRX he had arrived in, but spoke little of.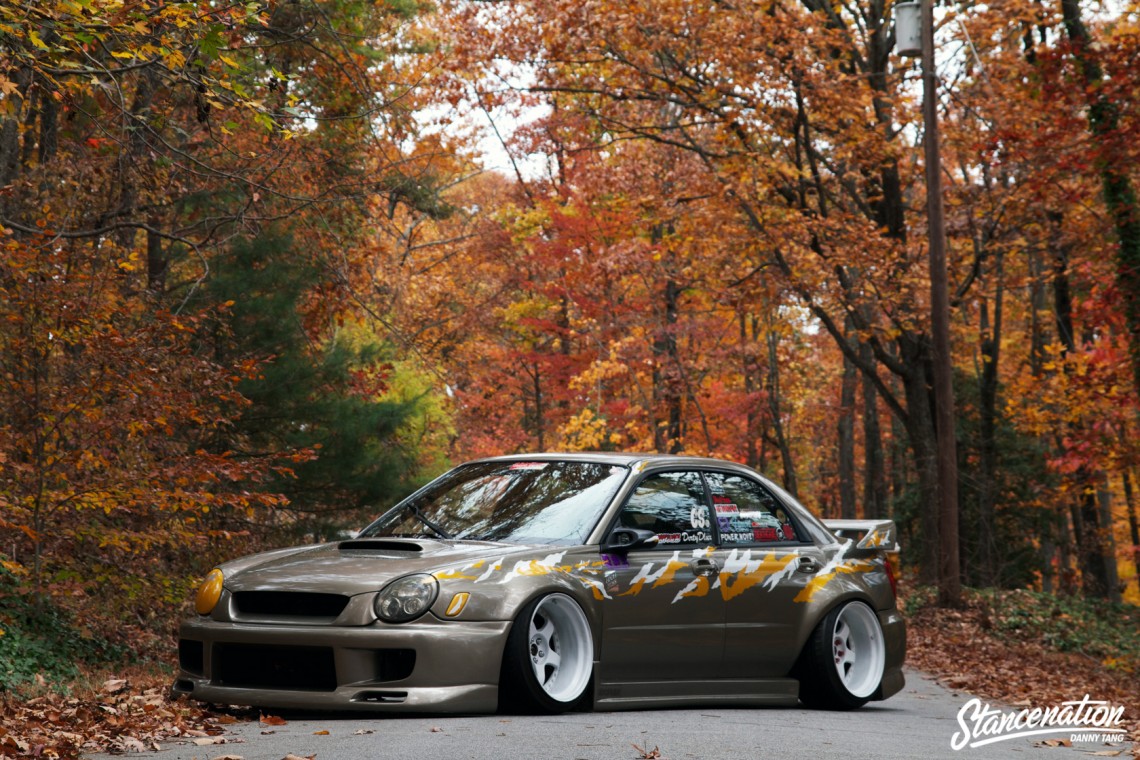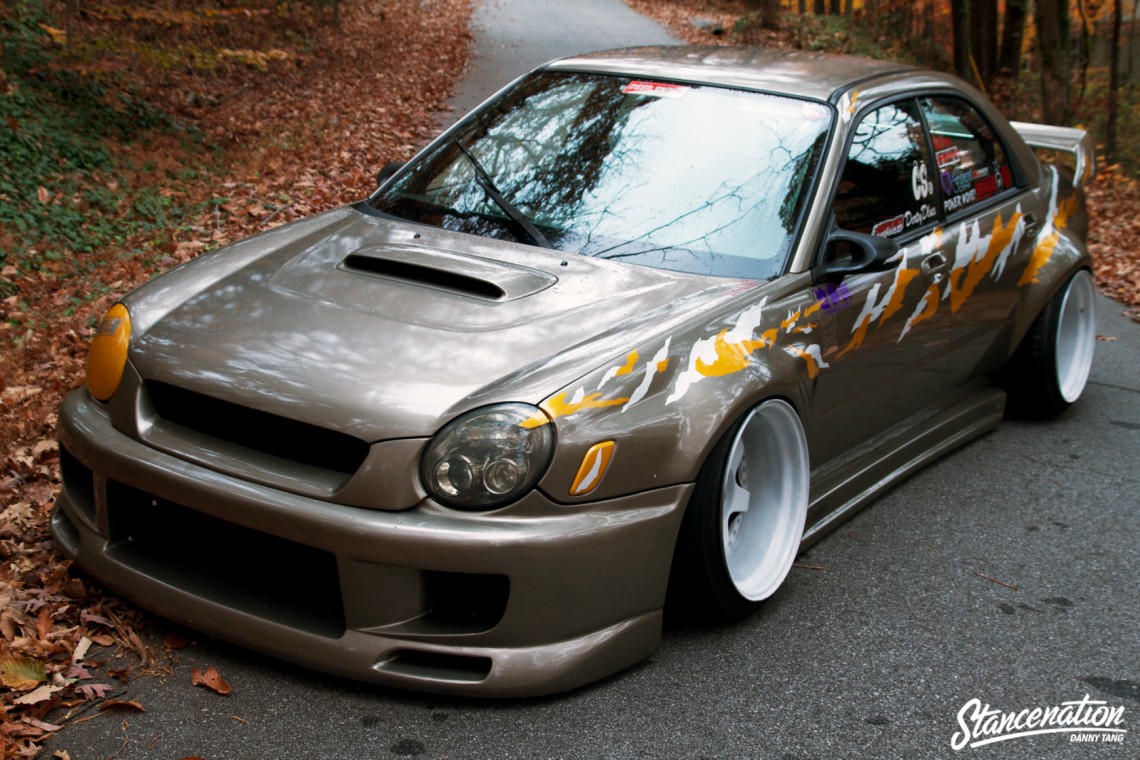 "I didn't know anything then." He hadn't owned the WRX for very long at the time we met. Prior to the Subaru, Ryan had been driving a Celica with a thorough selection of rather distasteful modifications. A rear-end collision ended the Celica-era and presented an opportunity for him to pursue something different, that matched his evolving interests. During his time spent with the Celica, he had been fervently reading popular Japanese automotive publications and his tastes had become more focused and developed. Particularly, the ever-popular Nissan S-chassis rose to the top of his list. However Ryan's father, always with his best interests in mind, guided him away from the aging S13/14s that caught his eye. Although Ryan's choice would be made with his money, it would be his sole transportation from college to work and home — and his level of mechanical experience at the time made driving an older vehicle a questionable decision. Ultimately, he would stumble across this Impreza WRX. It was Aspen White and came equipped with the basic modifications that fit his newest interests, a craze that was just gaining momentum at the time — aggressively-fitting wheels and coilovers. Decidedly "cool enough" for him, Ryan set off on his journey in the fall of 2010.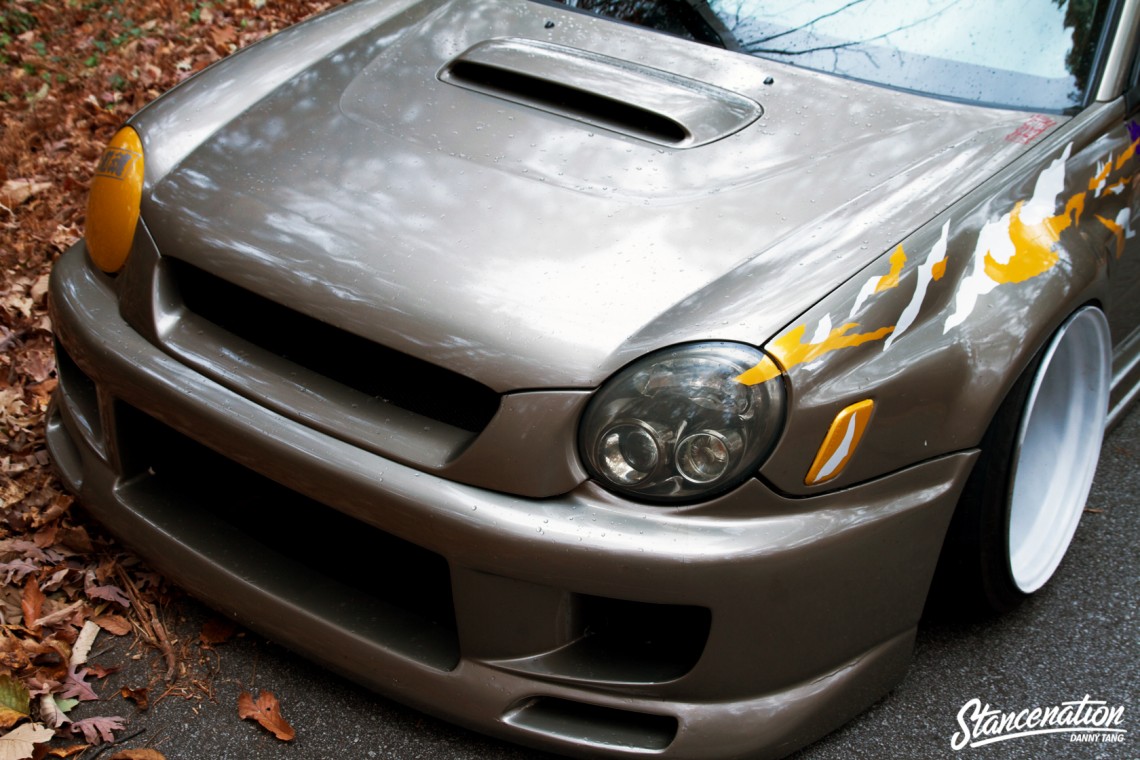 "It's a Subaru." Apparently Ryan does realize that he drives a Subaru, though his particular style and direction with the car are not representative of typical associations with the rally-bred manufacturer. Since beginning the project the car has experienced simplicity, a VIP-theme, and has eventually arrived at its current state. He tells us his ideas for the car, the over-arching themes and styles that interest him, are perpetually evolving. The car's development reflects its owner's growth.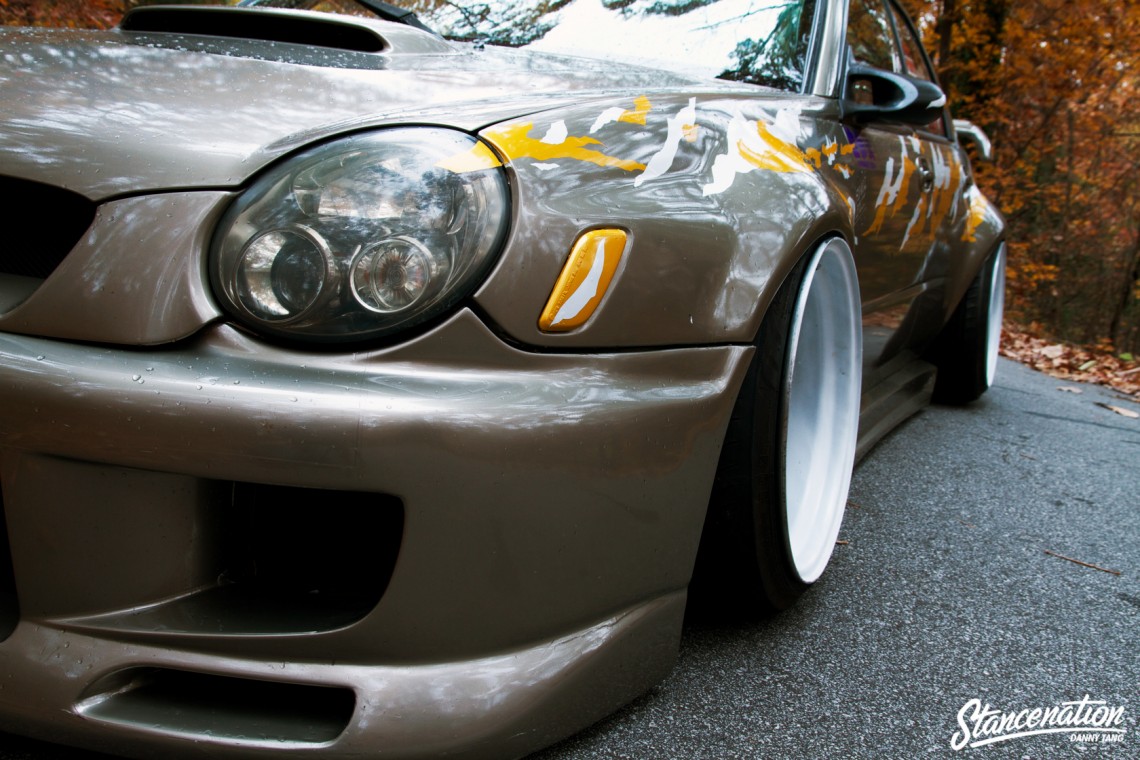 "I have no idea what I'm doing." The immense width of the WRX is arguably its most striking feature. In the pursuit of a wheel-accentuating, curved flare Ryan set out on a nearly year-long mission to fuse MKIV VW Jetta fender flares into to the hips and shoulders of his Subaru. On his own. With little to no experience in bodywork. Ryan's father, having limited bodywork experience, decided to lend a hand as well. I remember seeing the project in its infancy. I was impressed by the courage evident in Ryan's resolve; however I had some concerns for the future of the car. I couldn't picture it turning out well, but Ryan could. "We'll figure it out along the way," he asserted as a small army of his friends questioned the sanity of what we were doing, sanding blocks in hand. Ryan, of course, was right. The flares were coupled with ChargeSpeed aero and a 326Power Manriki wing (originally destined for an S-chassis). Ganador Super Mirrors, requisite components for any Japanese-market fanboy, are perched on each side. CL Designs expertly applied the Hexis vinyl wrap to the car prior to Ryan's own application of hand-cut graphics. Thanks to the Vertical Doors kit, Ryan always arrives in a manner cohesive with his belief of prioritizing style over everything. The finished product is distinctively Japanese in flavor and is absolutely jaw-dropping to see on the street.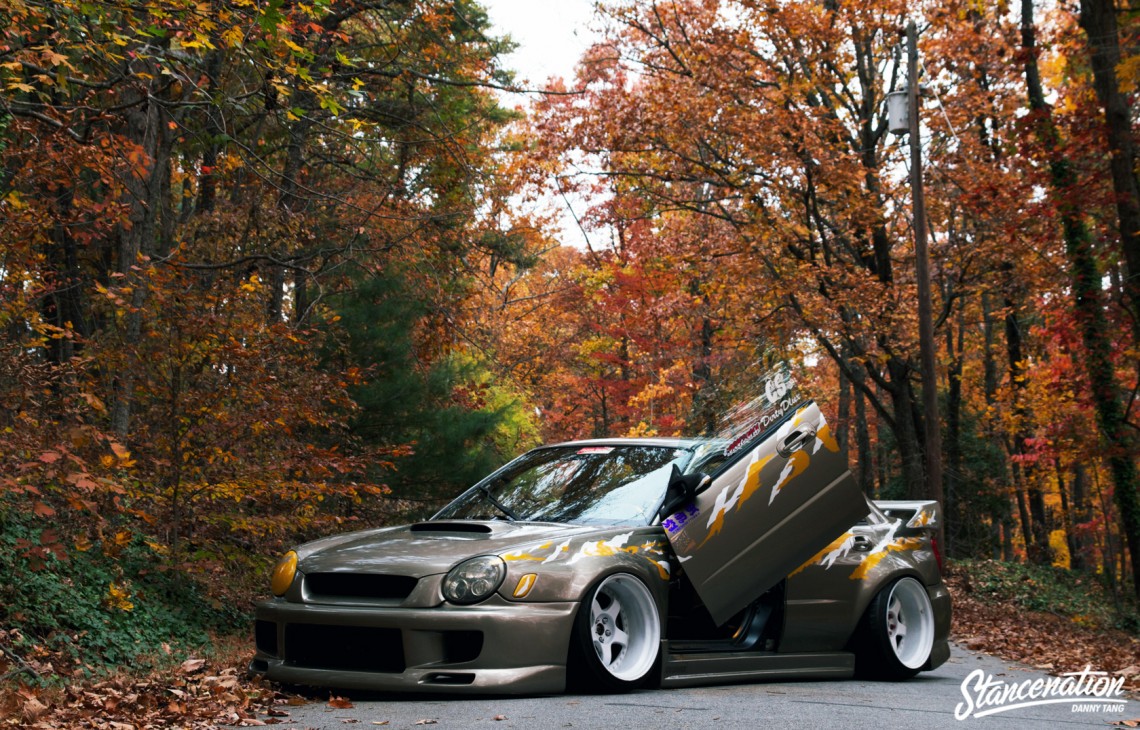 "I just don't go home as much." Ryan's family home is literally on the side of a mountain, necessitating a steep driveway entrance. Even with the D2 air suspension at its full extension, the low-slung aero means visiting the parents is still a risky trip. Coaxing the Subaru to its extra-low ride height took a lot of work, far beyond simple adjustment of the TruHart components and D2 perches but all the cutting, notching, and occasional inconvenience pays off in stylish dividends. Massive 18×11.5" Work Meister S1 wheels tuck beneath the custom flares. The devastatingly wide car demands negative offsets; the S1s are specified at -14 with an extra 32mm of spacer for the rear wheels.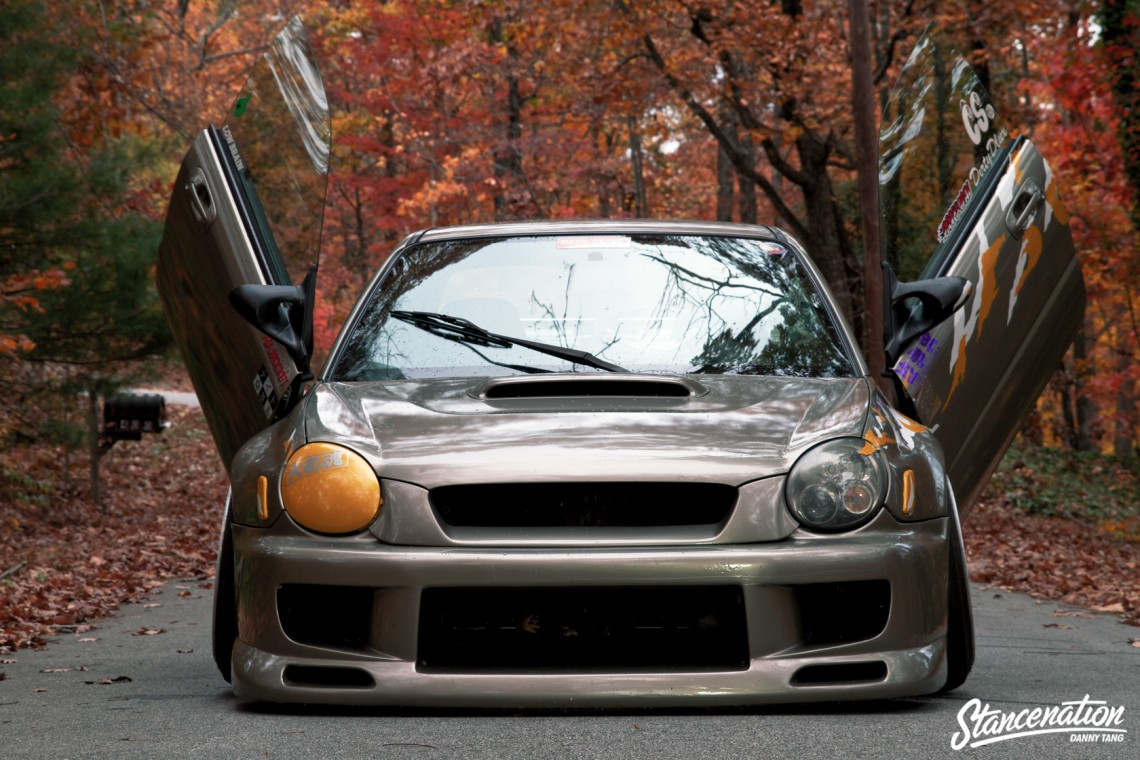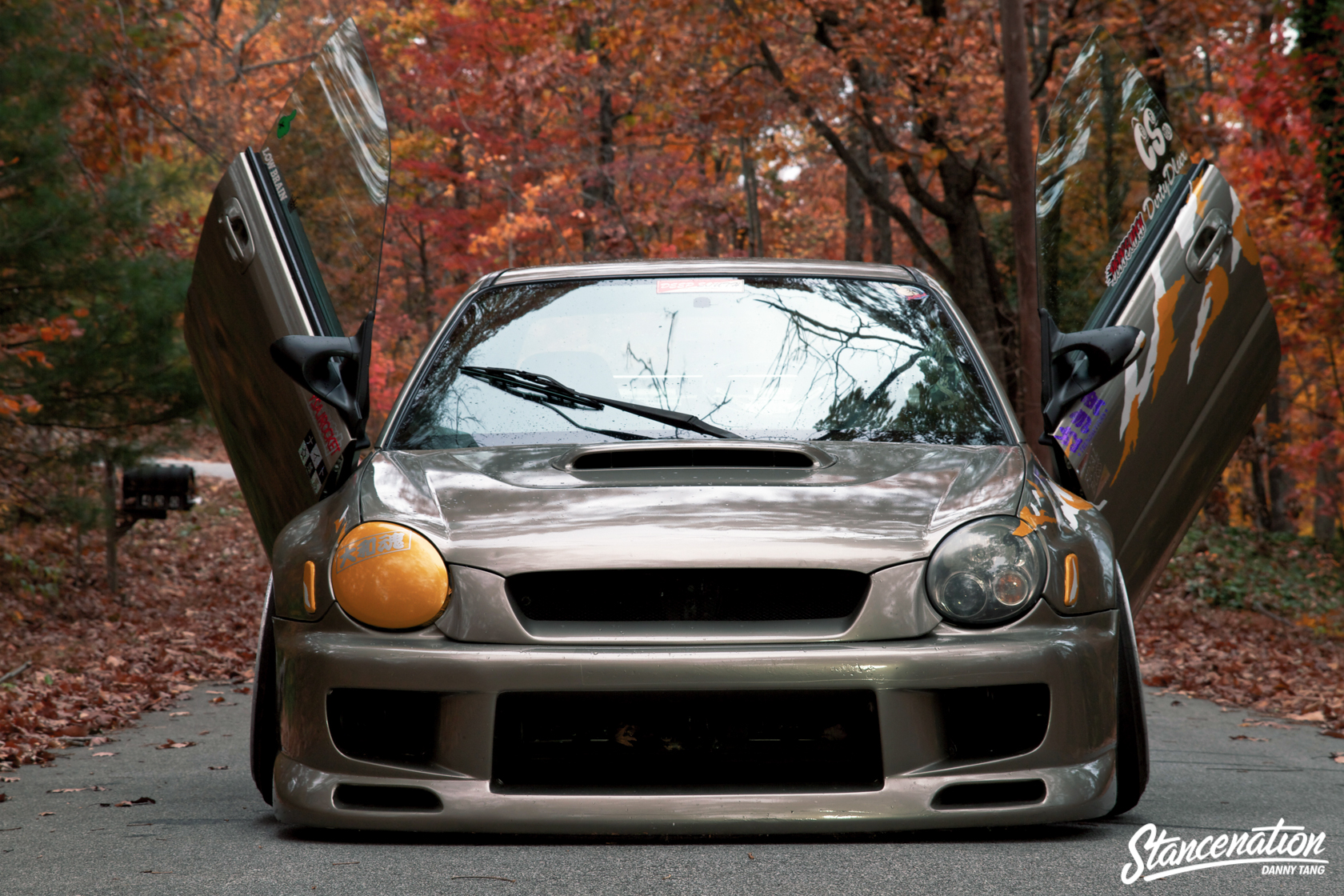 "I was so excited!" Since the early days of his automotive interest, he has developed an overwhelming affinity for rare Japanese parts. The acquisition of the Recaro SR-6/ASM SR-6 seats meant an exciting day for Richey. For those on the East Coast, it is common to see Ryan manning the Grip Royal vendor table. His close relationship with the custom steering-wheel company means changes in direction come courtesy of a Grip Royal chameleon wheel. Koi-pattern cloth drapes the A-pillars and headliner while shifts are executed via a samurai-sword handle, making the interior of this WRX somewhat of an ode to Japanese heritage.
At the time of this writing, the car has already experienced change. The air suspension has been replaced with a traditional spring/damper coilover setup and Volk Racing TE37s have taken up residence beneath the wide fenders. Venturing away from what he refers to as an "American Japanese style" Ryan seeks to emulate the style present in early 2000 Japanese tuning and dive deeper into the culture he has become enamored with.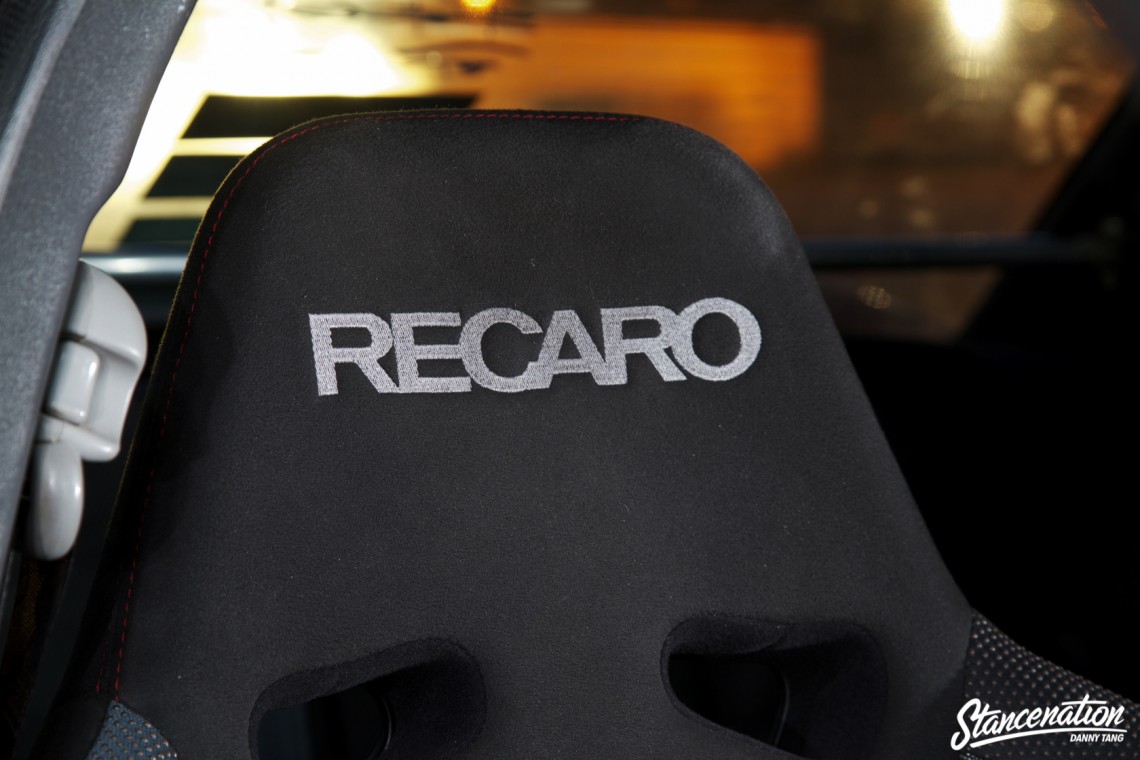 "It has to go on the car now," Richey insists as he hands me a Deep South decal, "it's about friends." Through the years spent with the WRX researching parts, discussing automotive culture, working on the car, and developing greater knowledge Ryan has been sure to enjoy the experience. The car has brought friends and relationships, far more fulfilling to Ryan than the car itself. Cheers, Ryan. Here's to the cars, the friends, and where the journey will take us.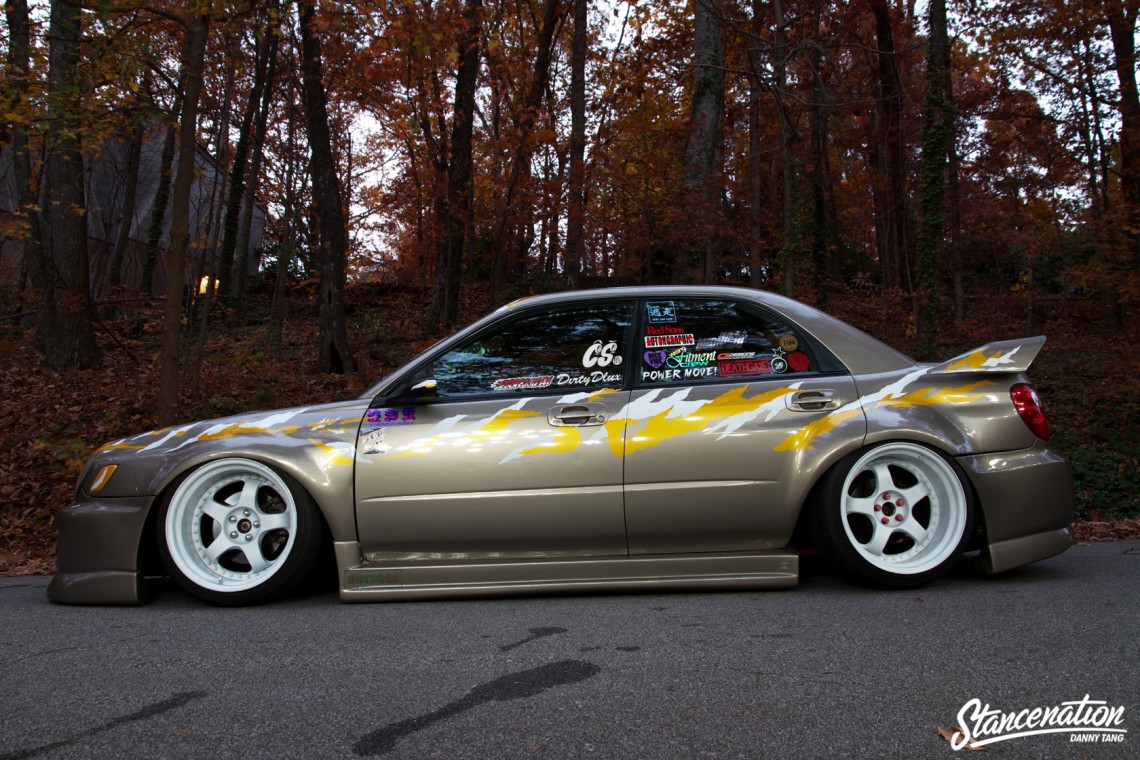 Ryan thanks his girlfriend Tessa, above all, for dealing with all the time he spends with the Subaru instead of her and all the occasions he's had to cancel plans because it was broken. He thanks D2 Racing, TruHart, Scott from Grip Royal, all his friends, and his dad.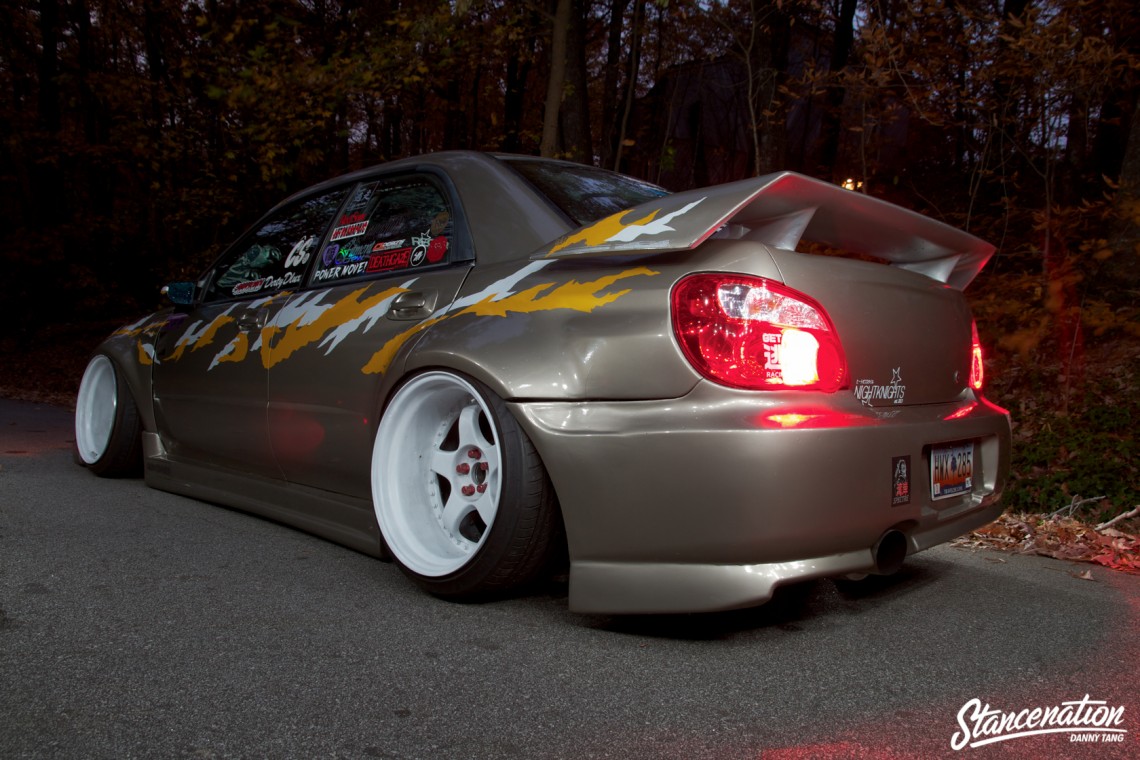 Engine:
K&N Intake
Mishimoto Radiator
No-name downpipe
Skunk2 Exhaust
Suspension:
D2 Air Ride
Manual management
TruHart lateral links
TruHart trailing arms
Strut tower brace
C-pillar brace
Custom notching
Camber bolts
Interior:
Grip Royal chameleon paint steering wheel
NRG hub
Dragon sword handle shift knob
Recaro SR-6 driver seat
Recaro SR-6 ASM special edition passenger seat
04 WRX black cloth back seats
Koi wrapped headliner
Exterior:
Chargespeed V1 Front bumpers- custom widened
Chargespeed V1 sideskirts- custom shortened
Chargespeed V1 rear bumper- custom widened
Custom "Deep South", hand made fenders from MK4 Jetta fenders
Liberal replica grill
JDM black chrome headlights
04 sti taillights
326 Power manriki wing
Ganador super mirrors
Vertical Door Inc. kit
Hexis vinyl wrap by CL Designs in Charlotte
Handcut graphics
Wheels/Tires:
Work Meister 18×11.5 -14
32mm spacer in rear
265/35/18 tires