-Insert witty Australia stereotype- Usually, I start StanceNation posts with something witty and cool regarding the car or owner and I tie it in with a creative edge. However, I have to apologize for my laziness as this beautiful Mitsubishi Evo before me leaves me with a loss for words. The creation that lies before you is owned by none other than Michael Zomaya. Hailing from Australia, this Evo is a necessity when his other car, a kangaroo, isn't fast enough to outrun the other killer animals. Anyways, try your best to not take offense, enjoy some chicken from the barbie – vegemite for you vegetarians, and allow me to present to you, Michael Zomaya's Widebody Evo.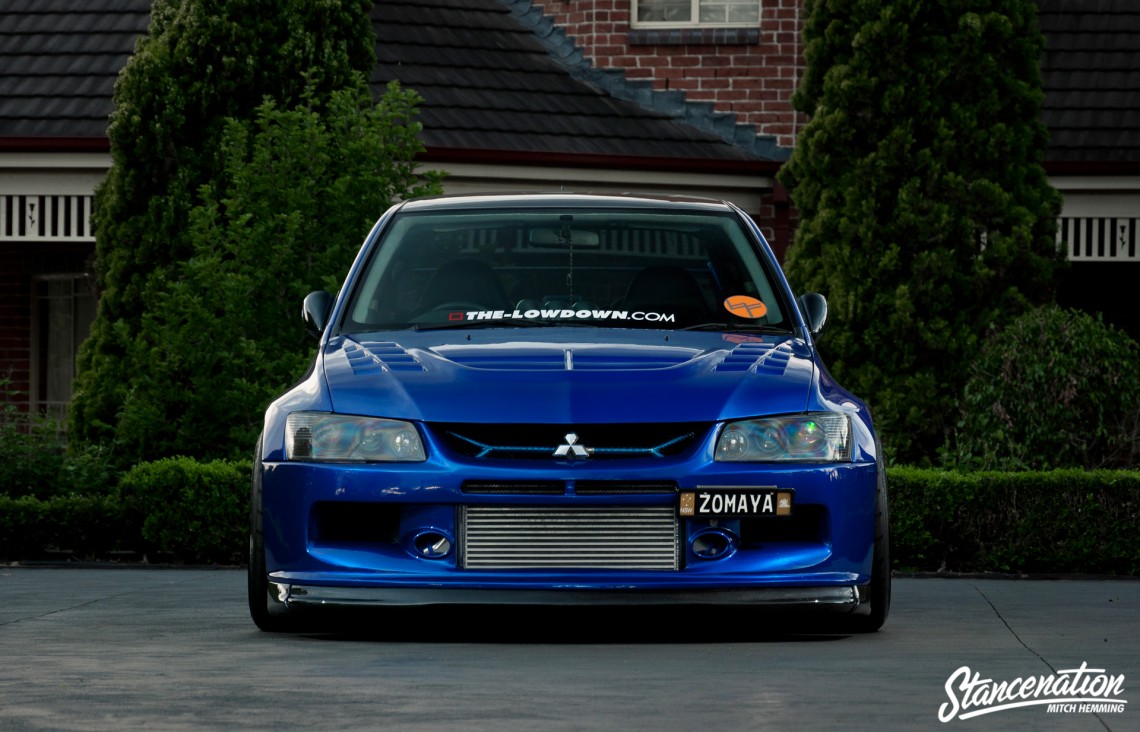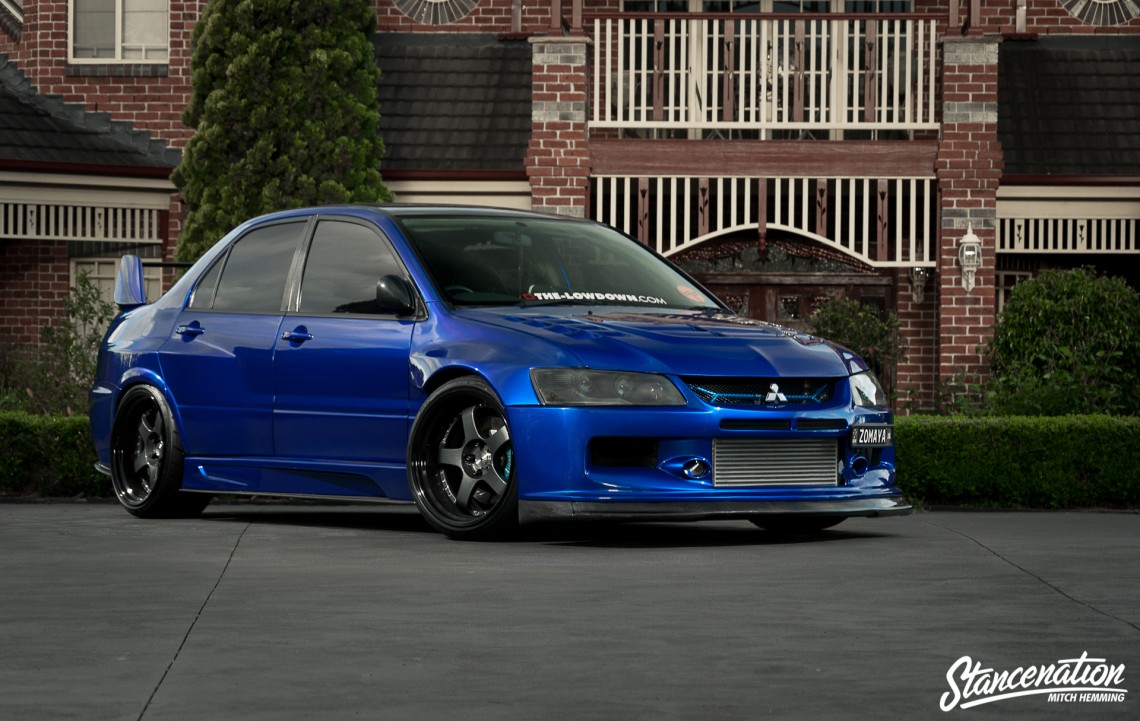 To those superstitious, 11/11 maintains significance. Coincidentally, Michael purchased this magnificent car, brand spanking new on that date in '06. Its strange to think when I was barely in middle school, he was already doing big things – Stance:Nation big. Like planets aligning, his favorite thing about this car is that "It's a one off creation, with the perfect balance of power, handling, and braking." Constructed from quality parts from reputable companies, as well as some one-off pieces, Michael has taken the time to put more than just time, energy, and money into this build. A perfect blend, everything working together in harmony to power this chaotic machine.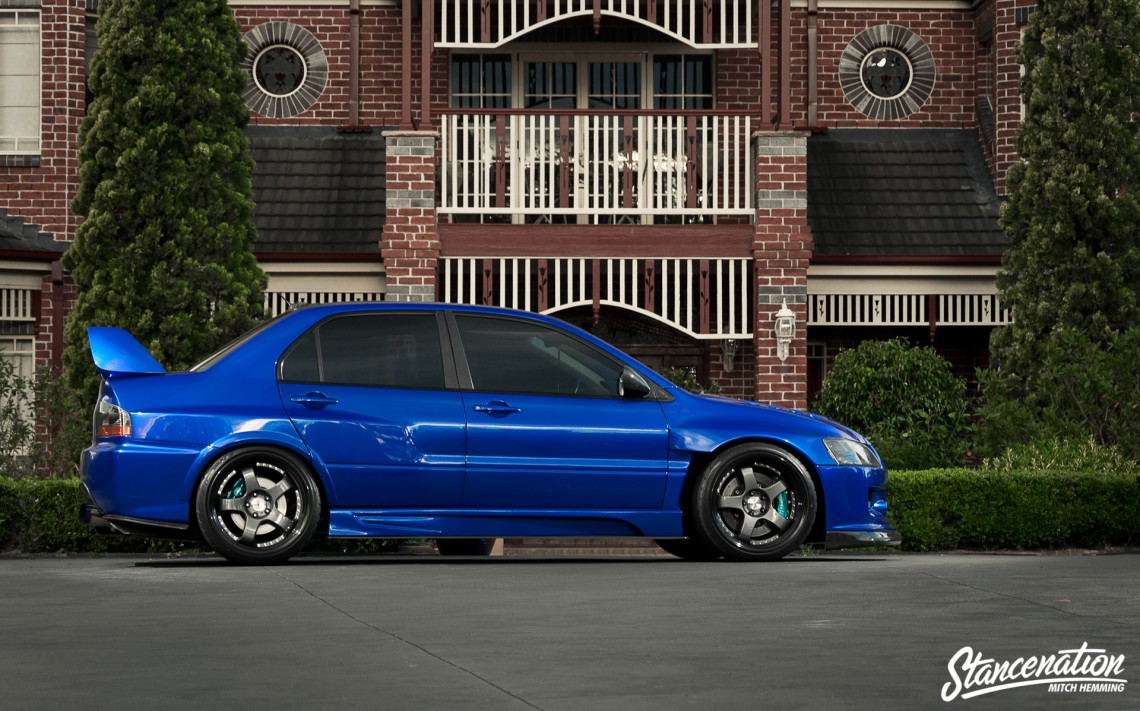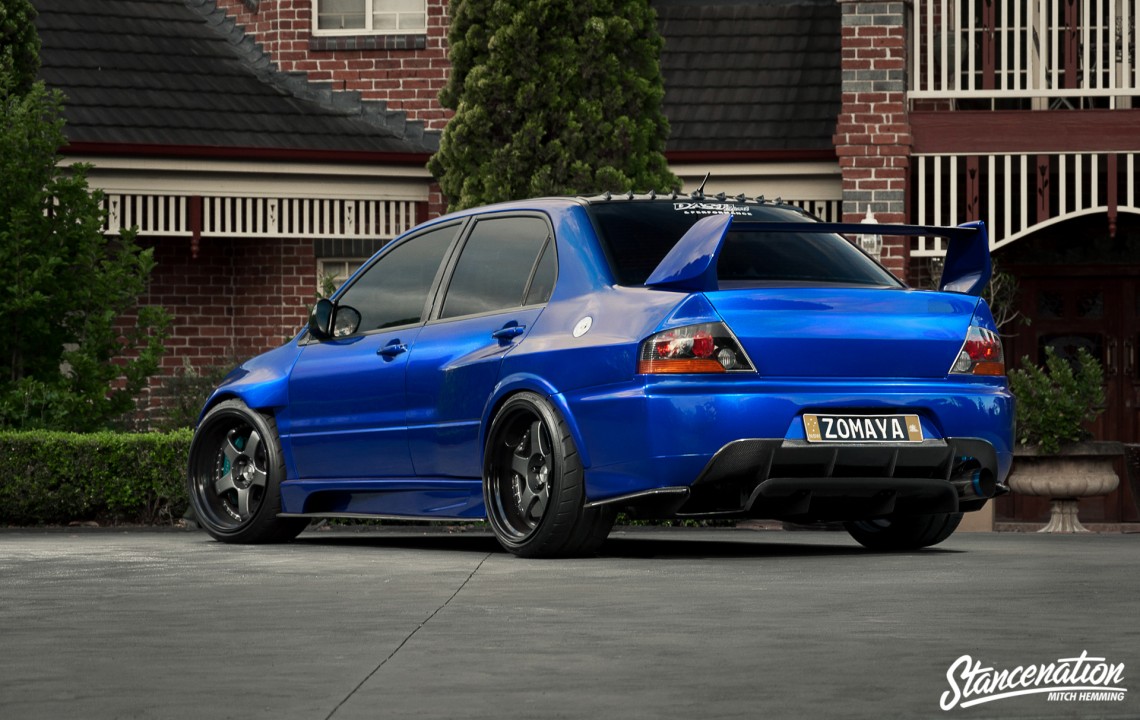 Certainly not the lowest car we've featured, what this car lacks in "omg so low!" is made up for in power. The common school of thought of "number of fingers that fit in the wheel gap" flies out the window as the concept of being slammed to the ground is not what Michael has in mind. In this special case, it seems there is a correlation of inches of wheel gap to gains in power. Coming in at roughly 400bhp, Michael has this beast running on E85.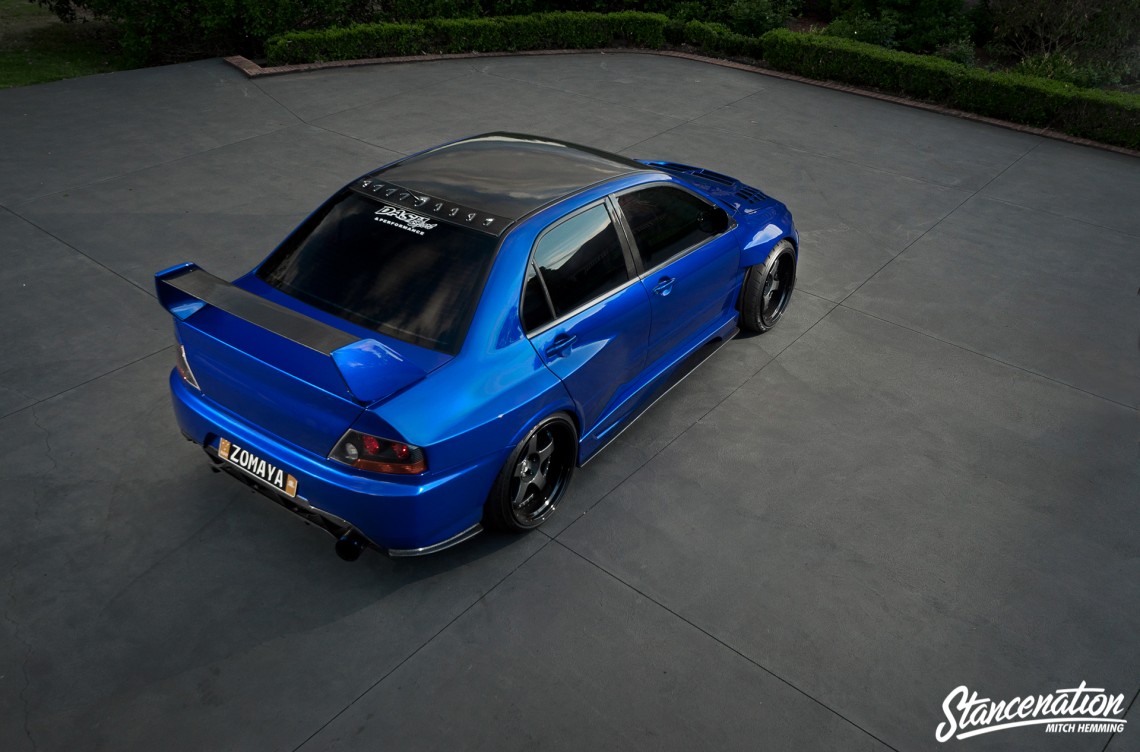 Bathed in a custom Electric Blue, Michael has added inches to each side, effectively widening the body. Well known companies like DO LUCK, Varis, APR, Voltex, and AMS all lend reputable parts to this unique build. However, rather than just mount these parts, Michael decided to take it one step further by customizing each part. With Peter from Bodyform's help, he was able to get each piece altered to his liking. This is the epitome of car modification. I've always liked Subarus more, but it seems this Evo is tugging at my heartstrings.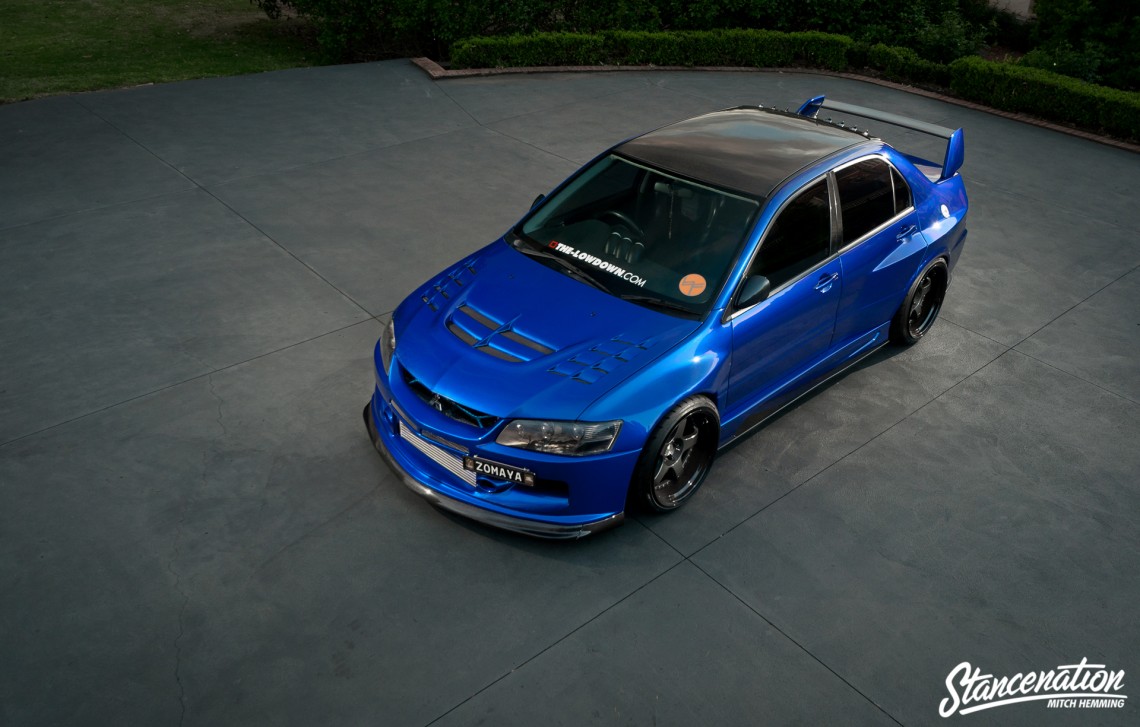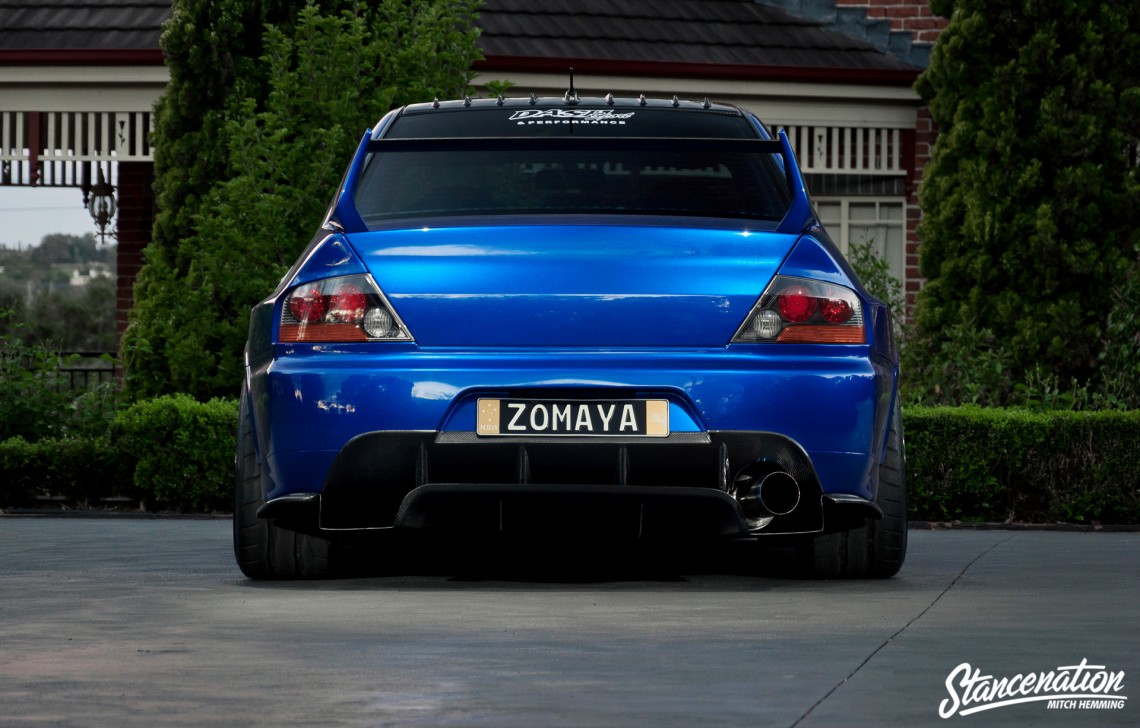 Running a squared set up, Michael chose to go with SSR Professor SP1's coming in at 19×11 -17 mounted on a 275/35/19 Nitto, this makes for a conservative stretch. This shows off the wheel, rather than the meaty, yet flush look, and allows it to "pop" more without making a huge compromise in safety. To allow the wide Evo to get low to the ground, Michael chose to go with MCA Gold Custom Coilovers with a custom King Spring. Cusco Rear Trunk Power Brace, Whiteline Rear Strut Brace and Extra Heavy Duty Sway Bar help with keeping the car tight and to maximize handling potential.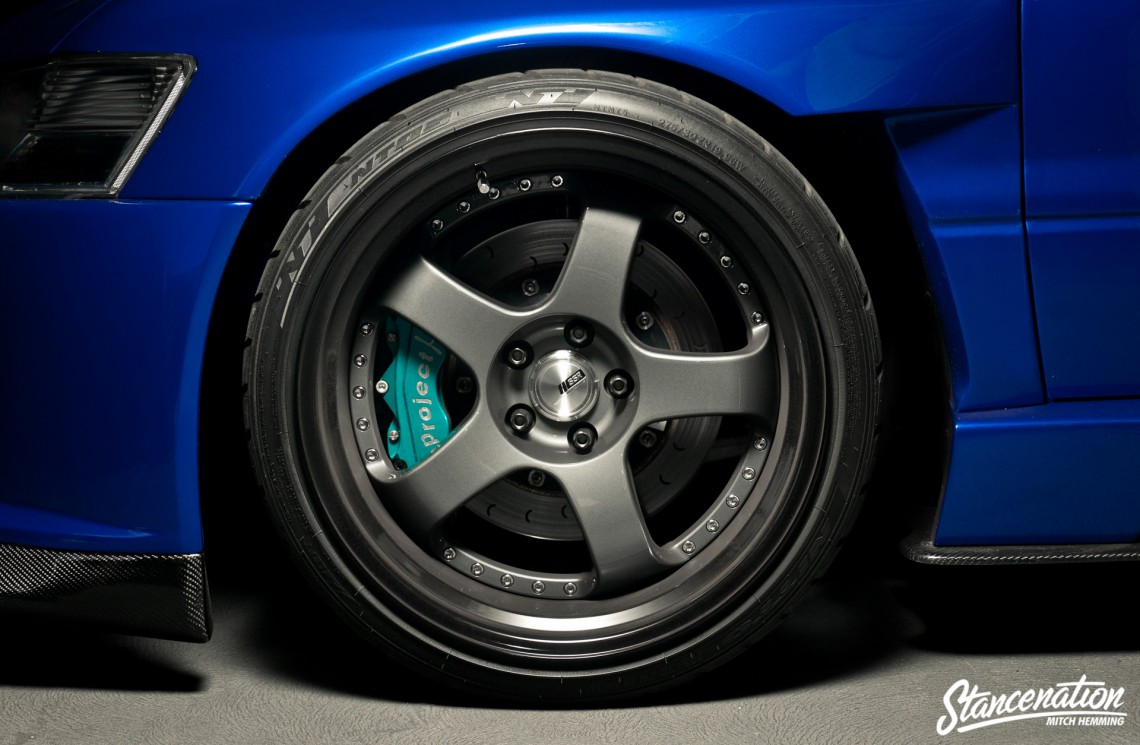 Project Mu does what they do best by bringing stopping power to this car. With its beastly power and wide wheels to transfer it to the pavement, stopping becomes just as important as going. In the front, 355mm rotors play house to a 6 piston caliper and Project Mu B-Spec pads. Brembo calipers with Project Mu pads grace the rear.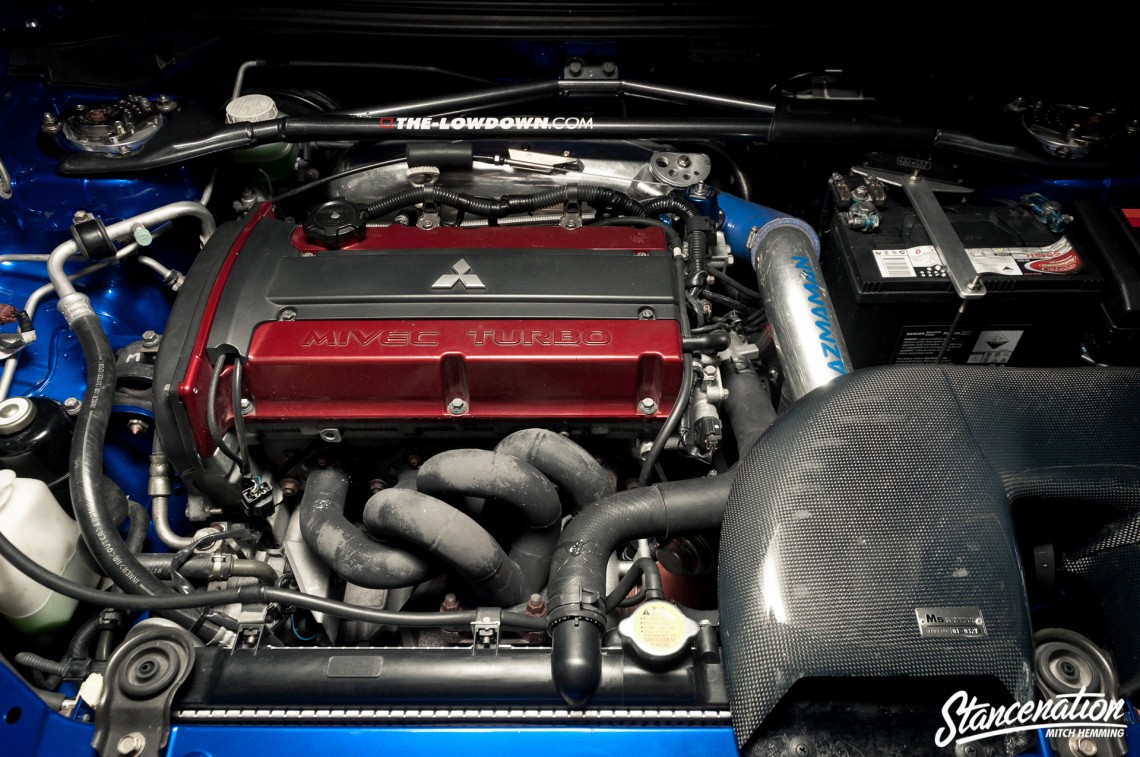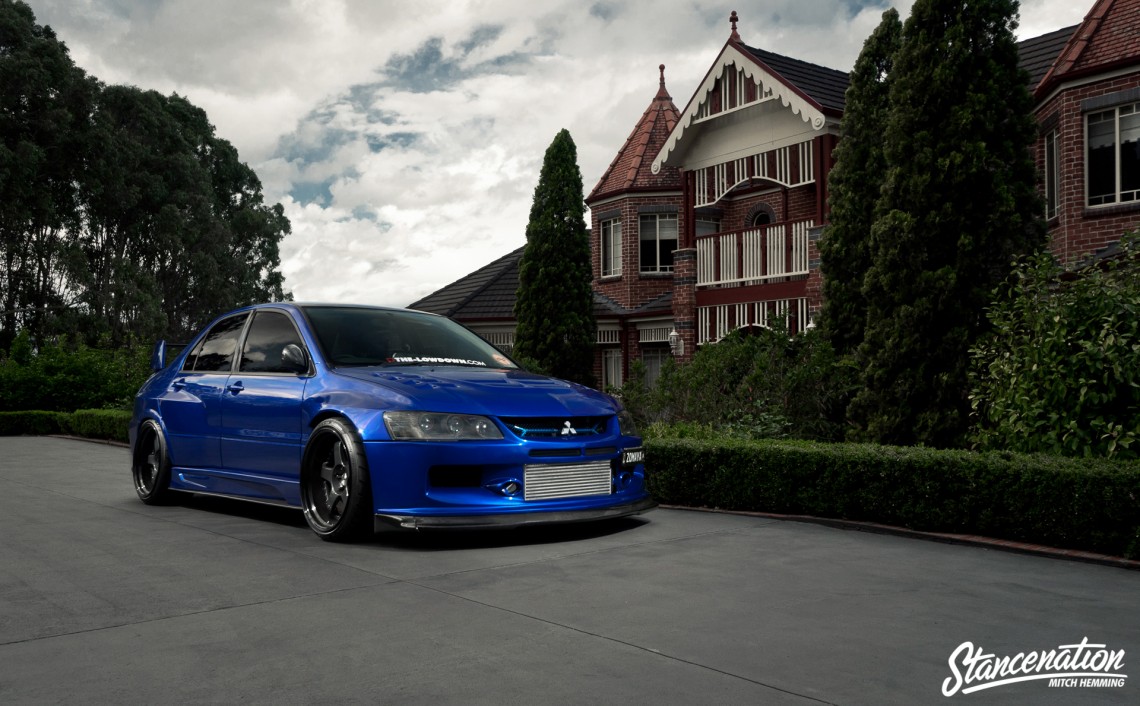 Michael would like to extend thanks to the numerous friends, family, shops that have helped him with the build. In addition his girlfriend, Anne-Marie for her support in such a culture that can be straining to some.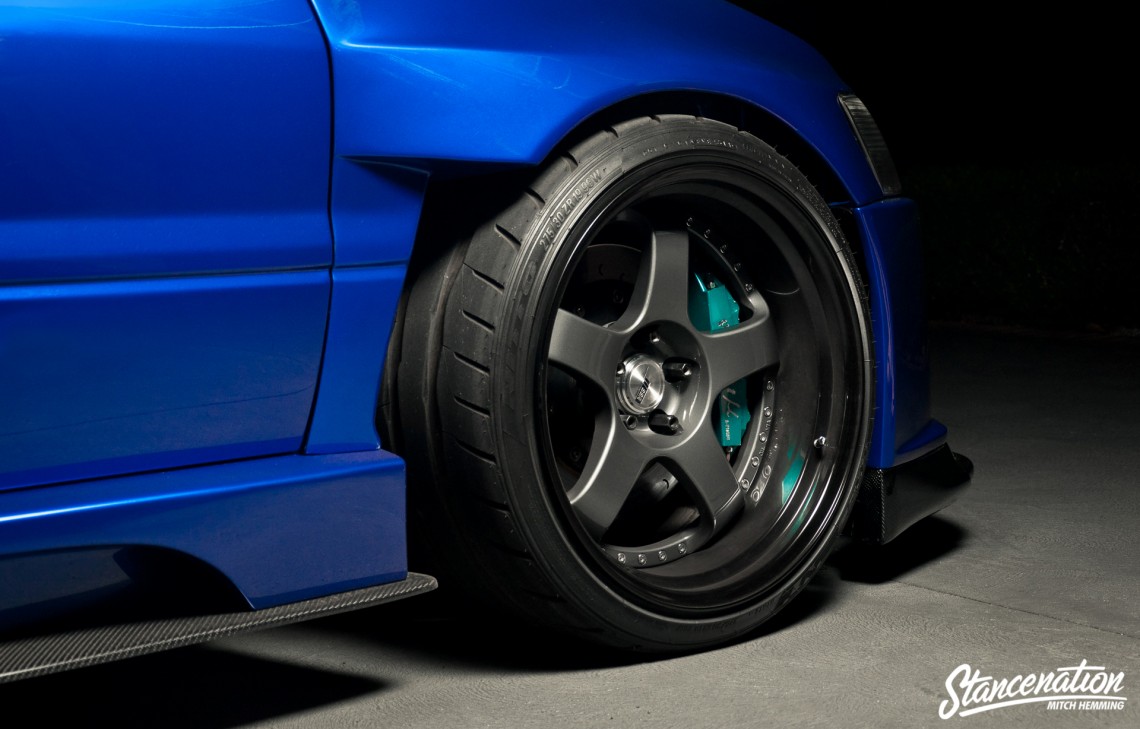 Shoutouts:
Alanski, Jason Hanif, Adam Bruce, Mauricio, Joanne, Anne-Marie, Peter from Bodyform Motorsports, Sam from G&S Bodyworks, Darren from Dashsports, Troy from Pro Speed Racing, and finally, Michael from Garage 88 for sourcing his JDM parts.
Make sure to visit The Lowdown!