When most people think of Sweden they think of beautiful scenery, lush green countrysides, perhaps even an old windmill in the distance on a hill; but did all of those mental images also include the loud spooling of a turbo accelerating through gears in the distance? If your answer is no, perhaps you have not yet seen Jimmi Jakobsson Svärd's 200sx. Having recently moved to Gothenburg from Värmland in Sweden, many Sweeds have had the pleasure of catching a look at this beautiful build.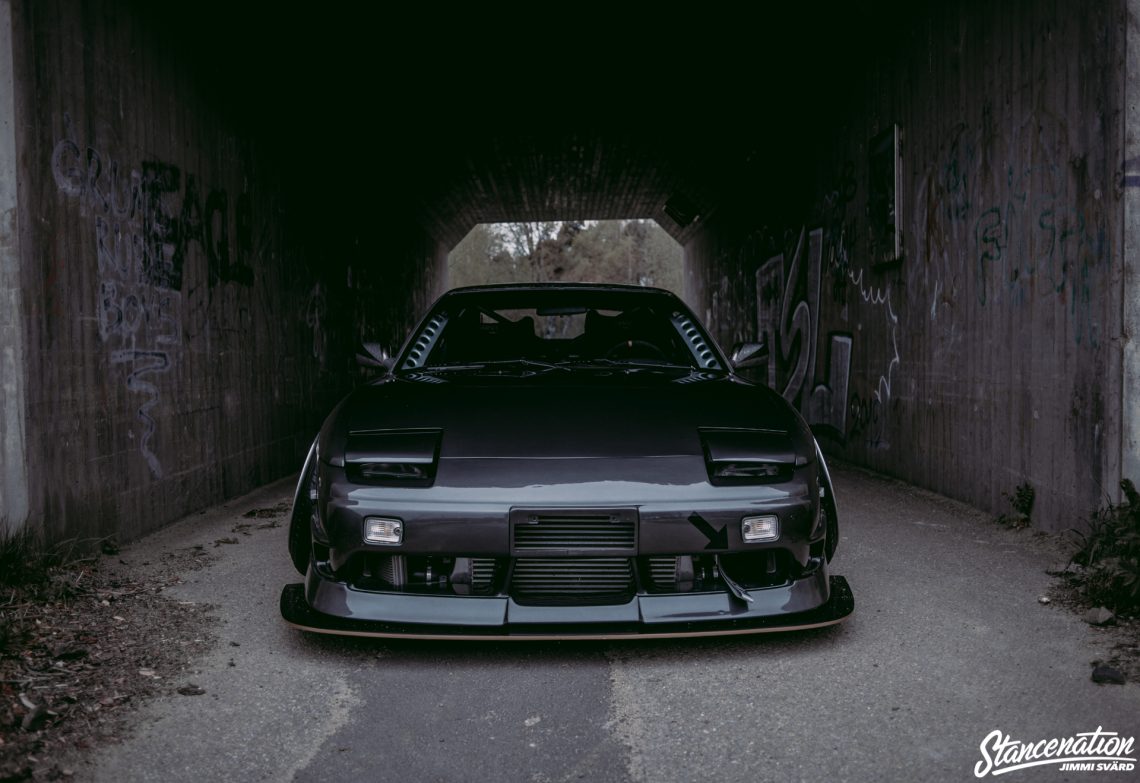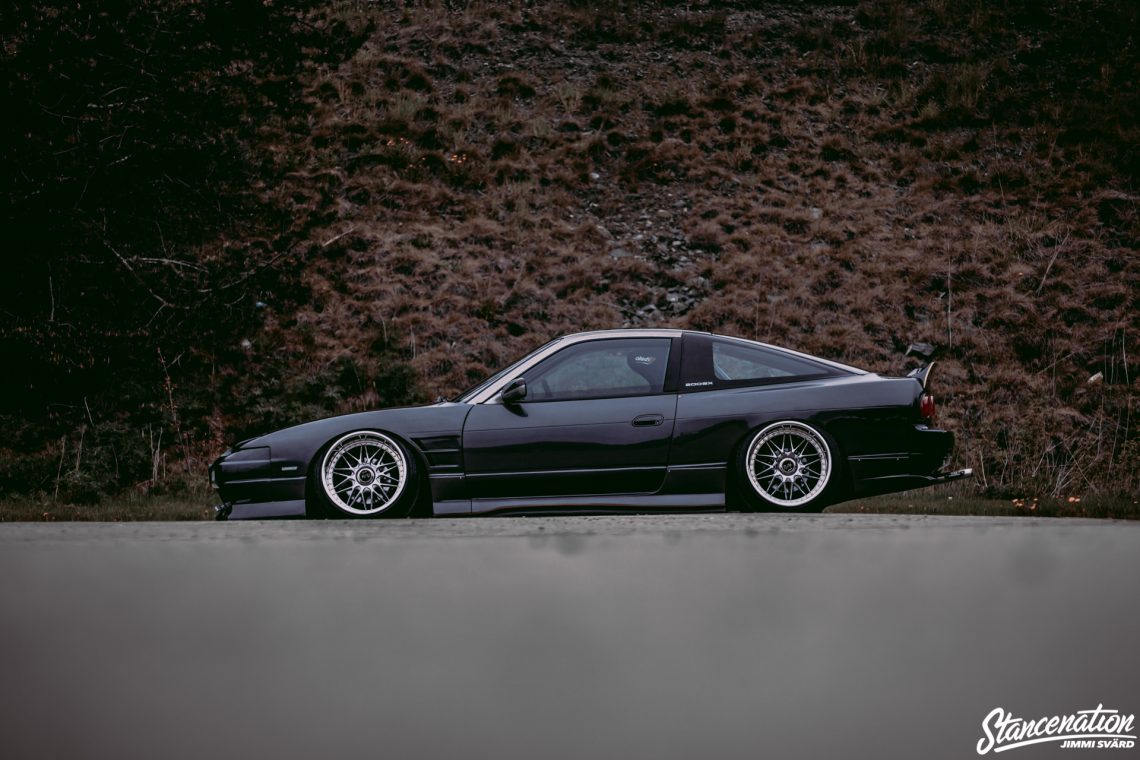 Bit by the drift car bug in the early 2000s, Jimmi was finally able to buy his own piece of the culture about 5 years ago when he snagged his '92 200sx. He remembers the hours spent on the computer watching various drifting videos, especially a clip of Koghuchi sliding a black 180sx type X around a course in Japan. "I still watch that clip to this day," says Jimmi; still as into it as the first time he saw it. It is an addiction he has no problem feeding. "To me, it was a whole new world where personality really affected the cars and the driving styles. Also, it wasn´t as generic looking and bland as some types of motorsports."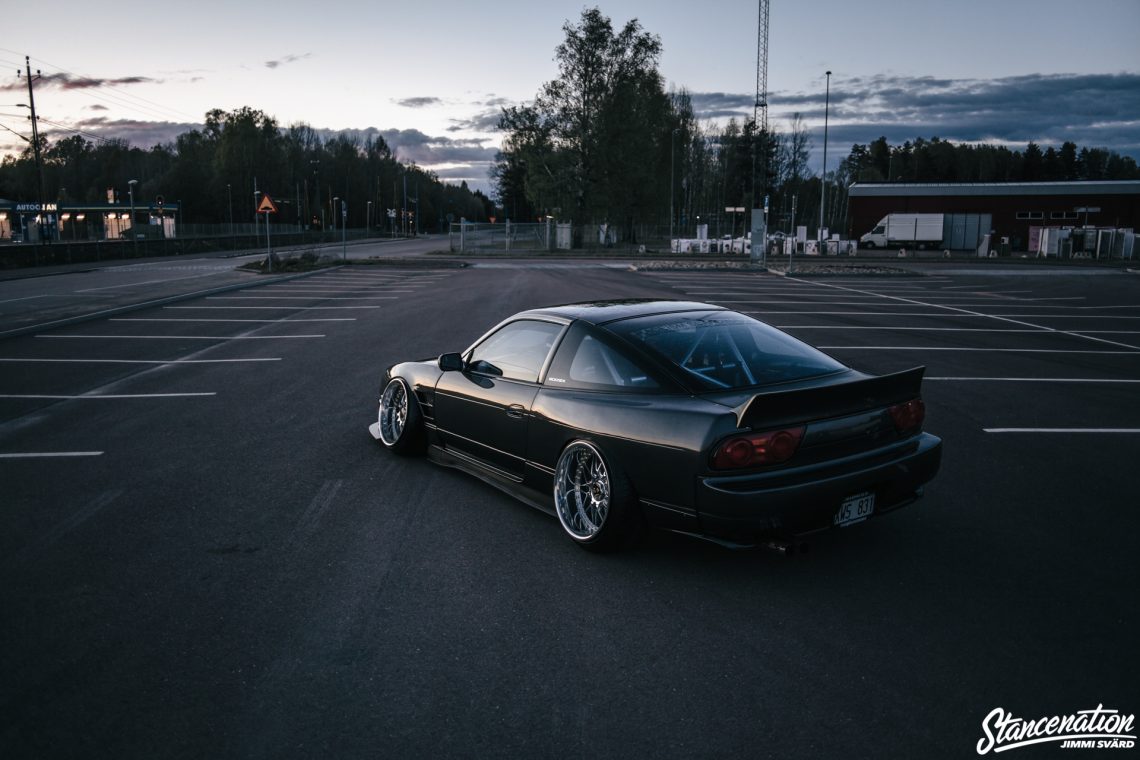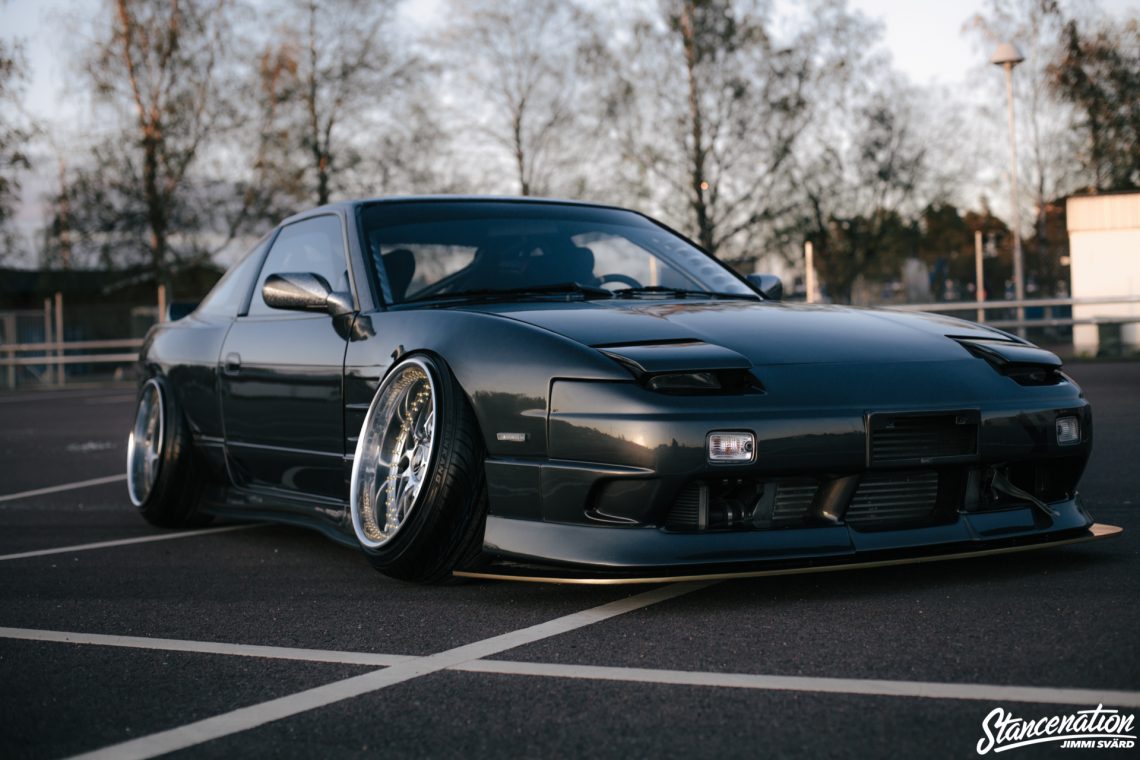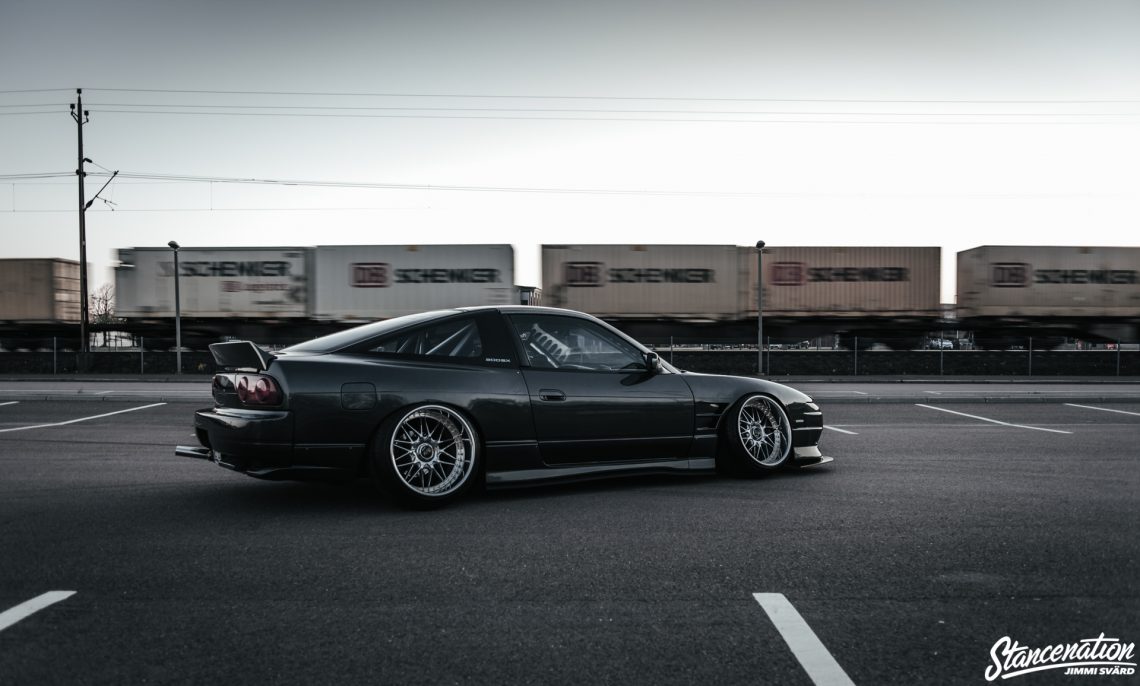 Behind every drift car is a power plant, and this build is no exception. Starting with the Ca 18 Det featuring dual exhaust cams, and an adjustable fuel regulator Jimmi Custom piped his intercooler to exactly how he wanted it. Among many other parts he added custom straight 2.2″ exhaust directly from the turbo. He moved the harnesses into the wheel custom wheel tubs he had built in to clean it up and even relocated the battery to the trunk.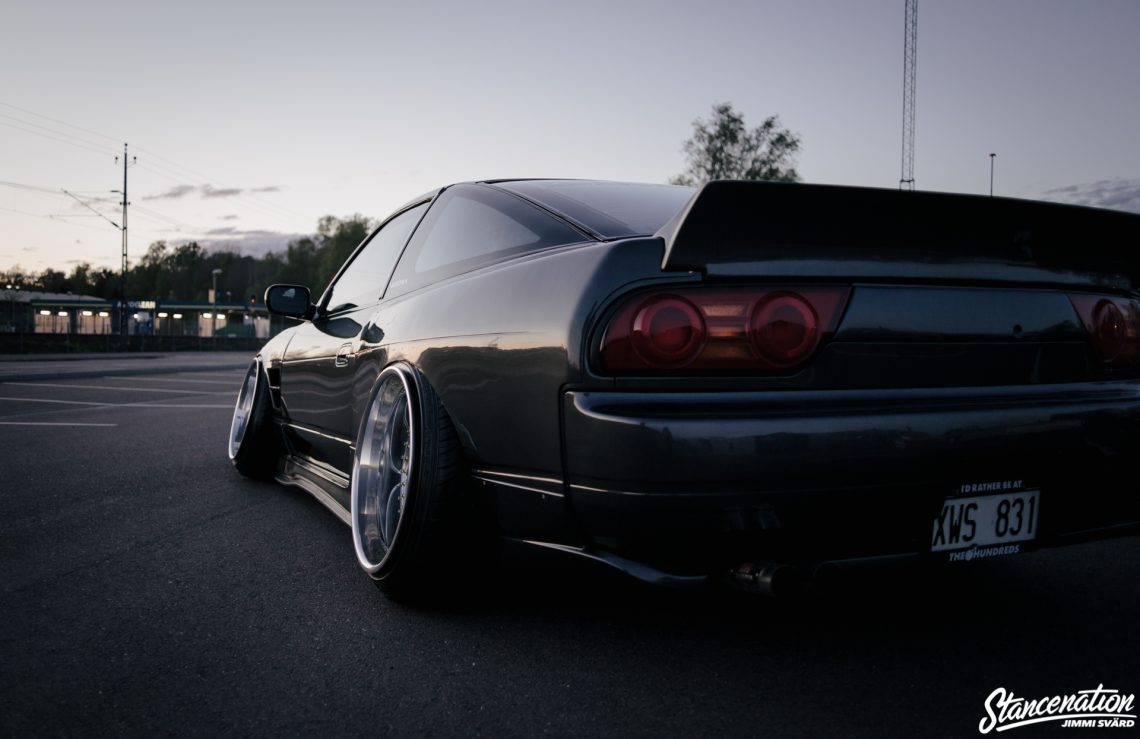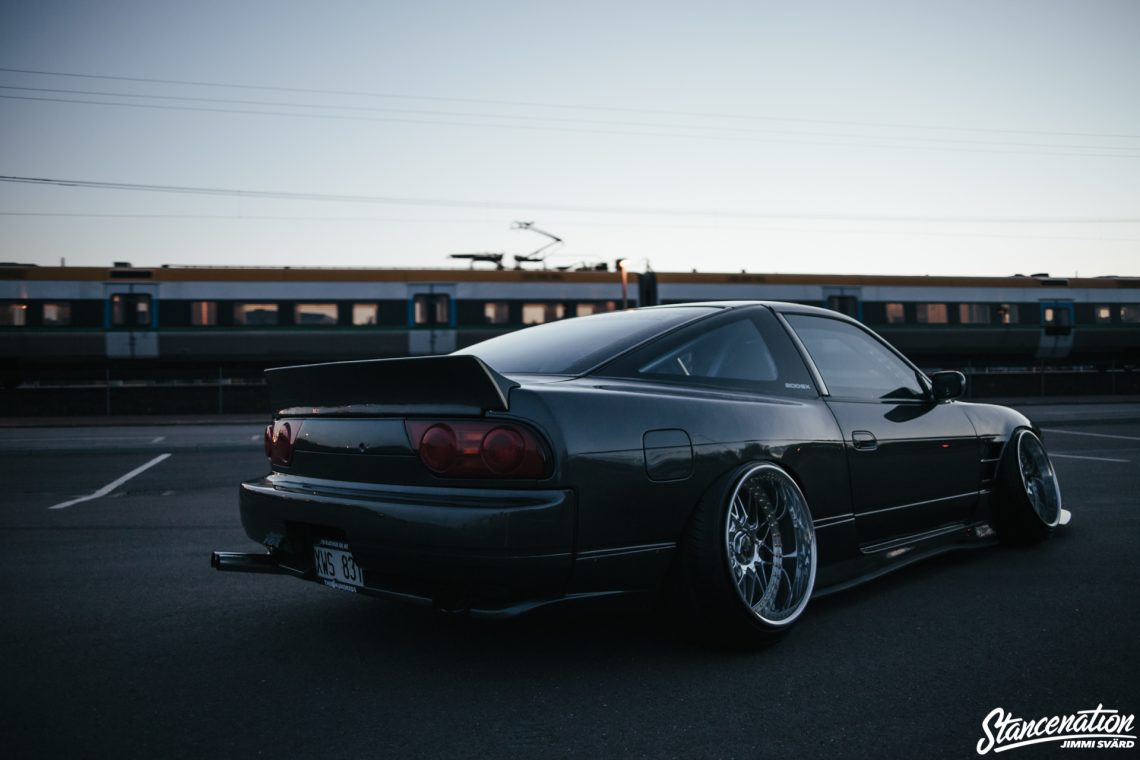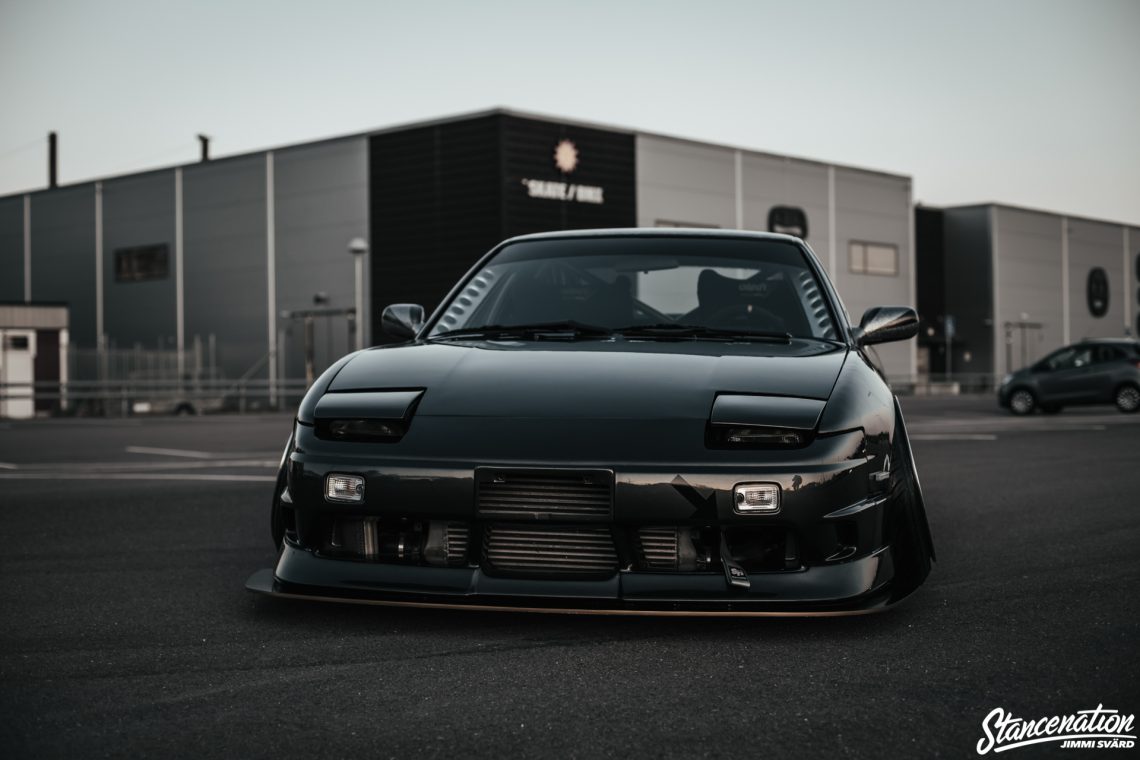 "Kouki everything" could not even describe this exterior in the least. It is all about the little touches on this exterior that bring it to life. The longer your eyes stay on it the more you will find. Starting with the shaved antennas and trim, to the 50mm over fenders in the rear which perfectly accent the aftermarket front fenders chosen specifically for their fitment. Add in the BMW E39 indicators and the fact that any visible exterior hardware matches, and then throw in that one-off paint job, and soon any fellow Sweed on Jimmi's block was having neck pains from when he would pass by. Anders Aldrin at Anders lackcenter helped him accomplish that paint. "I am very peculiar with colors and shapes," said Jimmi, " To be honest the roof is just the icing on the cake. To have met and be able to work and teach a little of Anders is the real treat."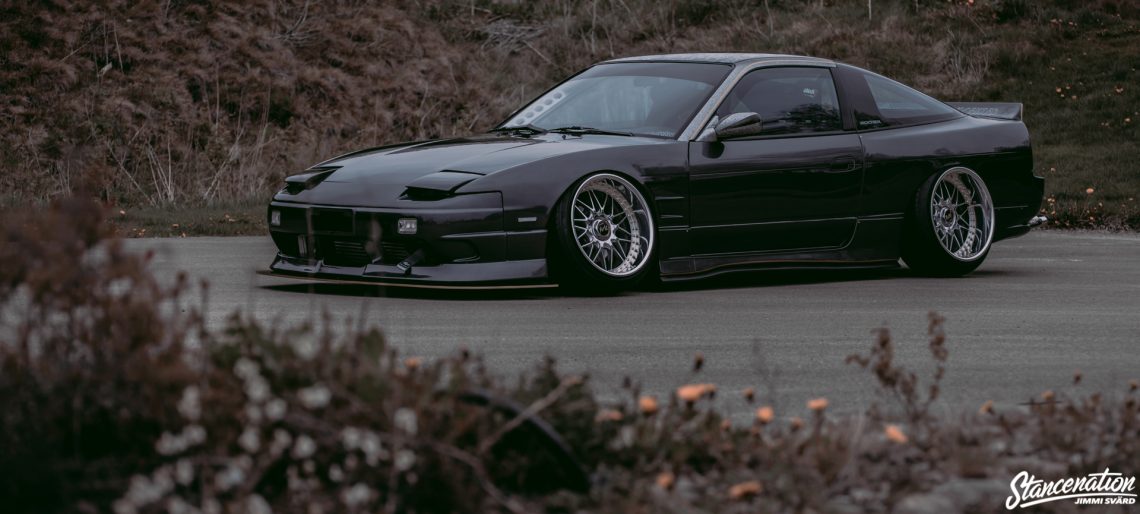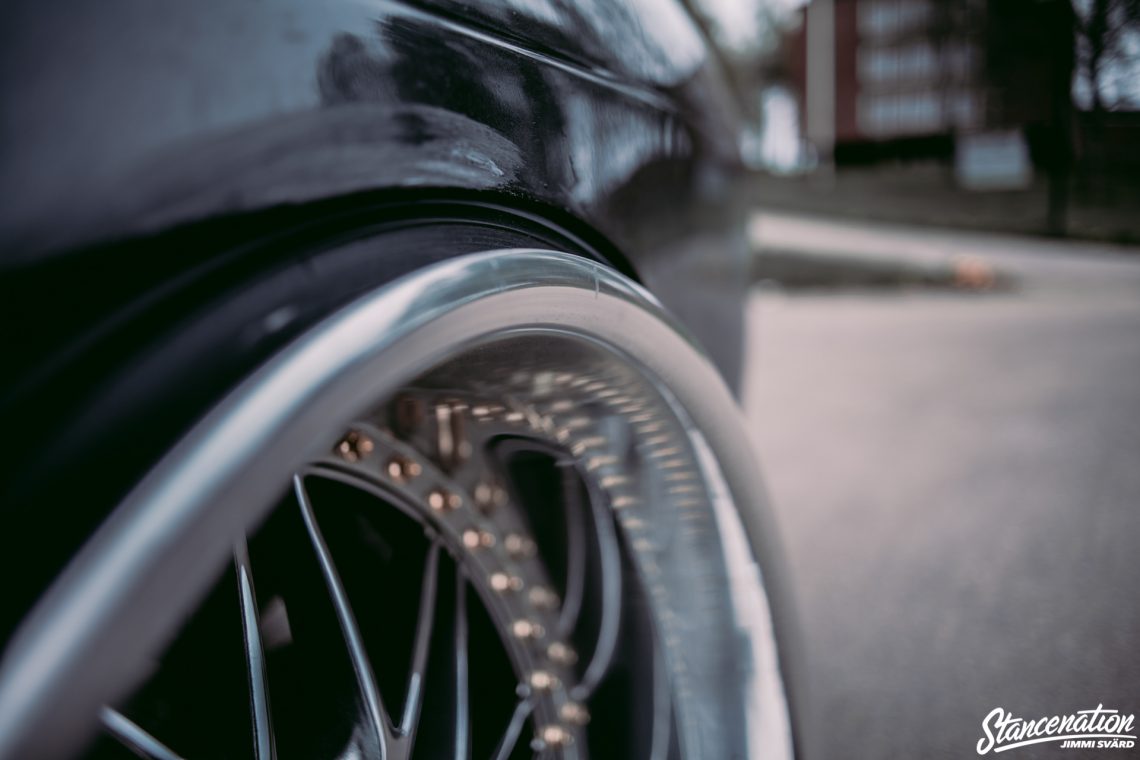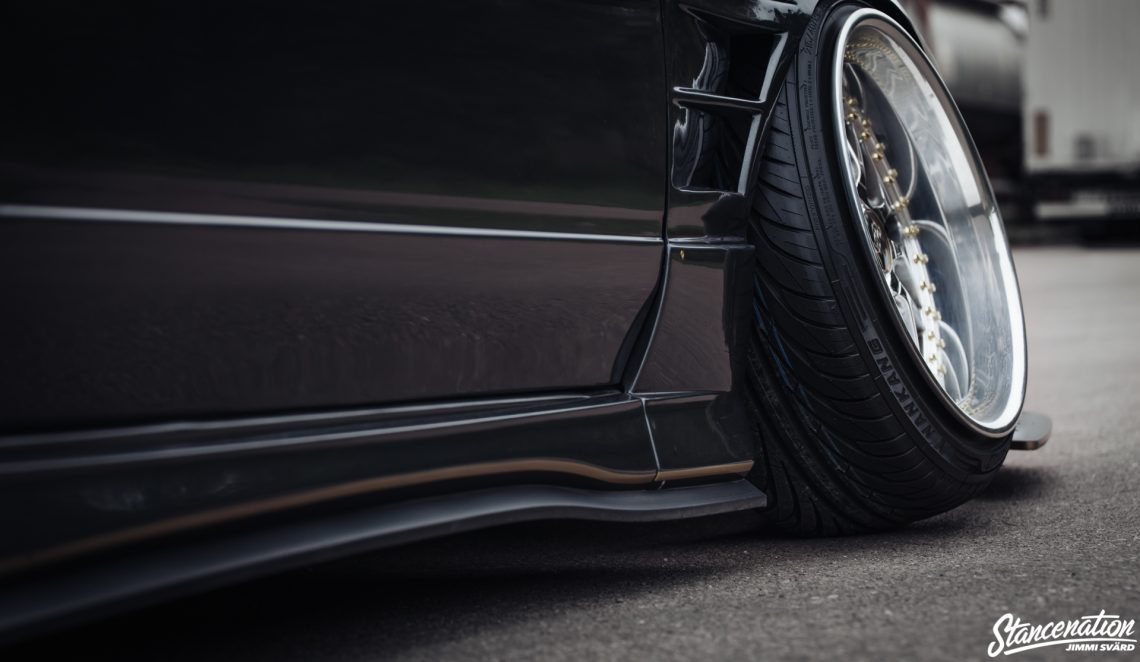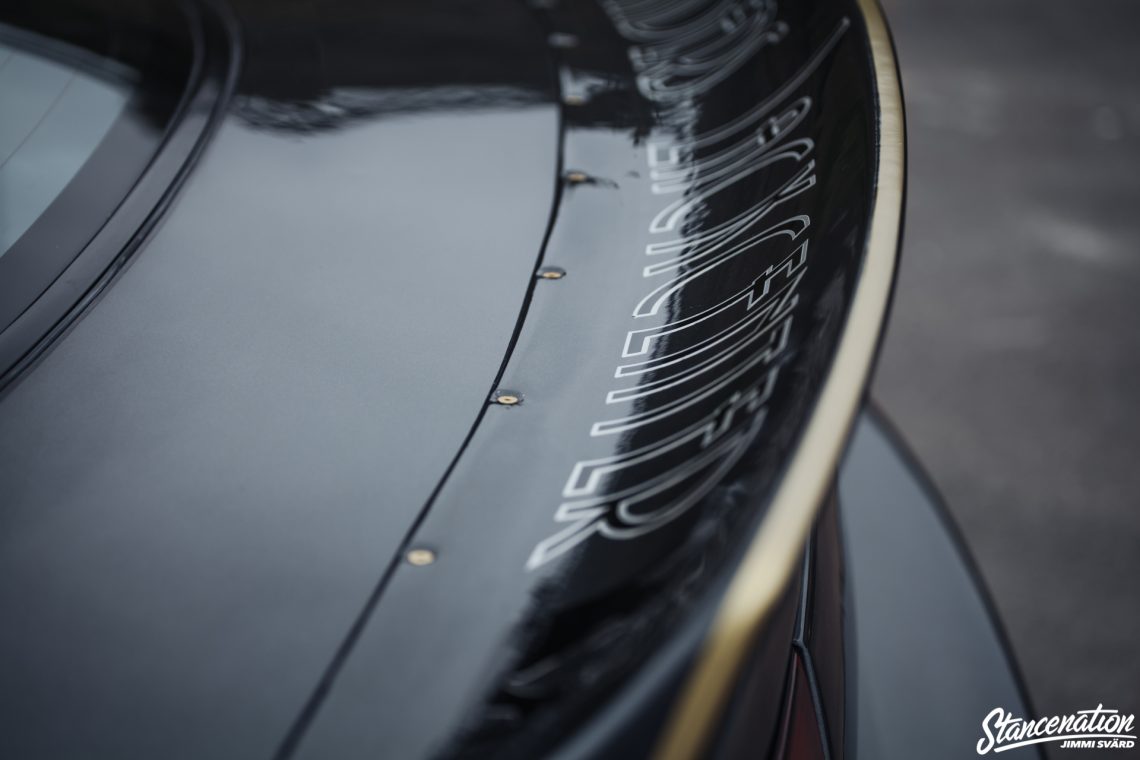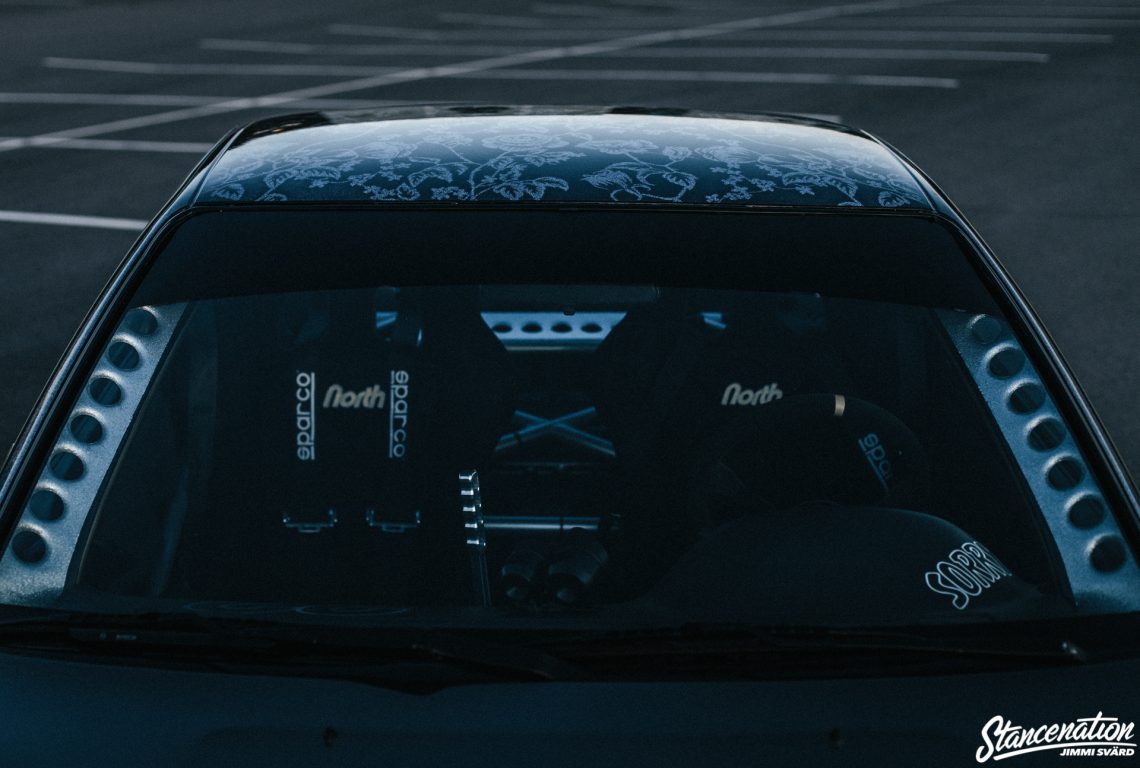 With fitment this perfect, many people would assume this drift car was on air ride; however the purists are happy to inform you that is not the case. With just about every Driftworks suspension piece they make, along with some modified BC coilovers this car sits proudly on its permanent flawless fitment. The 18×10.5″ in front and 18×11.5" in back Work Rezax mesh hide a tasteful set of drilled rotors with stainless lines, as well as a hub conversion which now has the car running 5×114.3 instead of the stock 4 lug hub. It's the little things.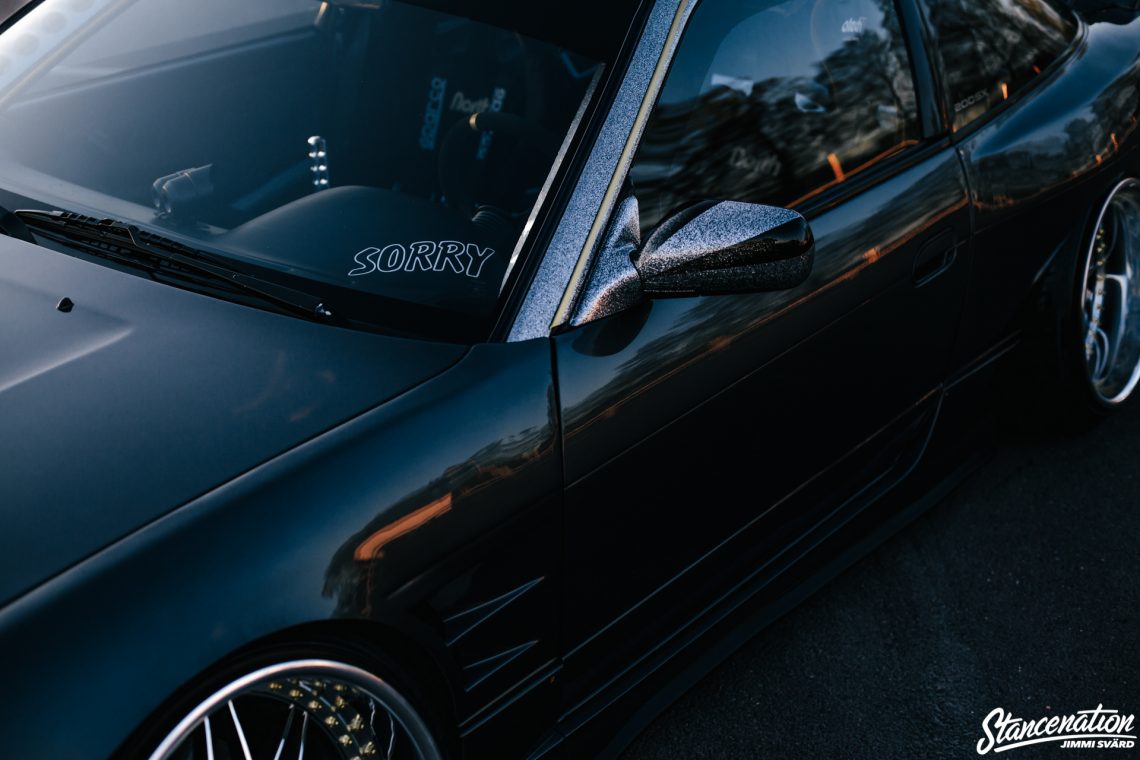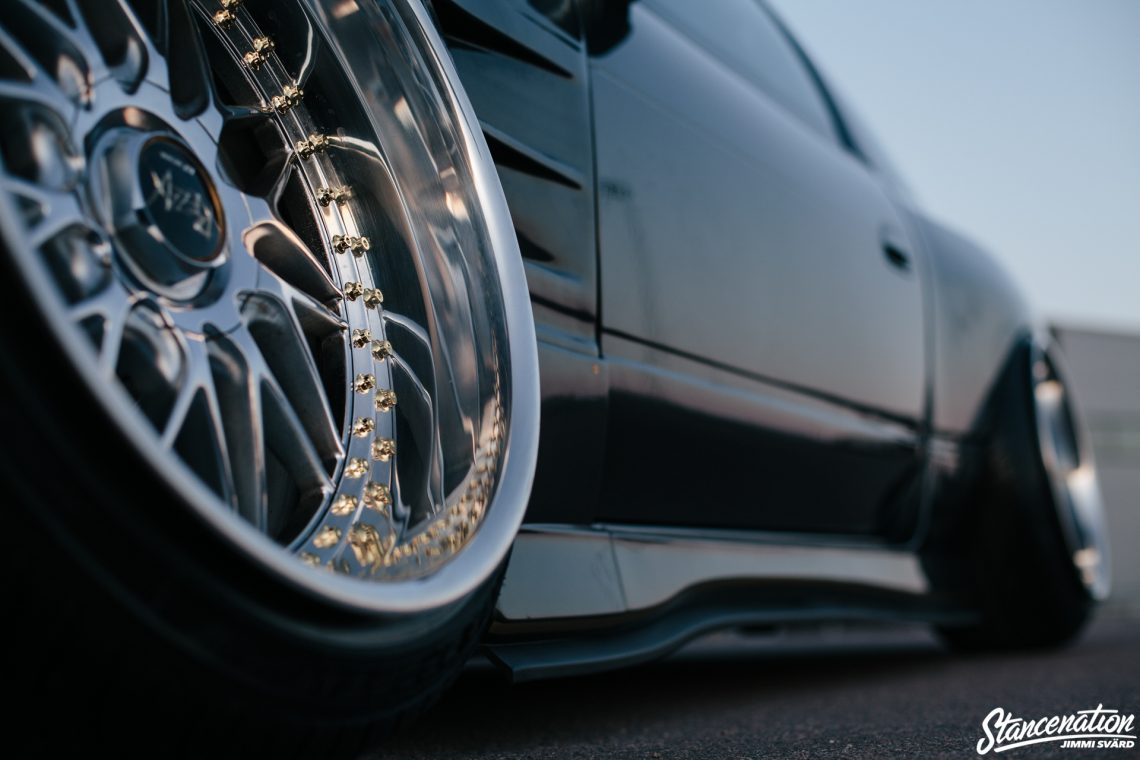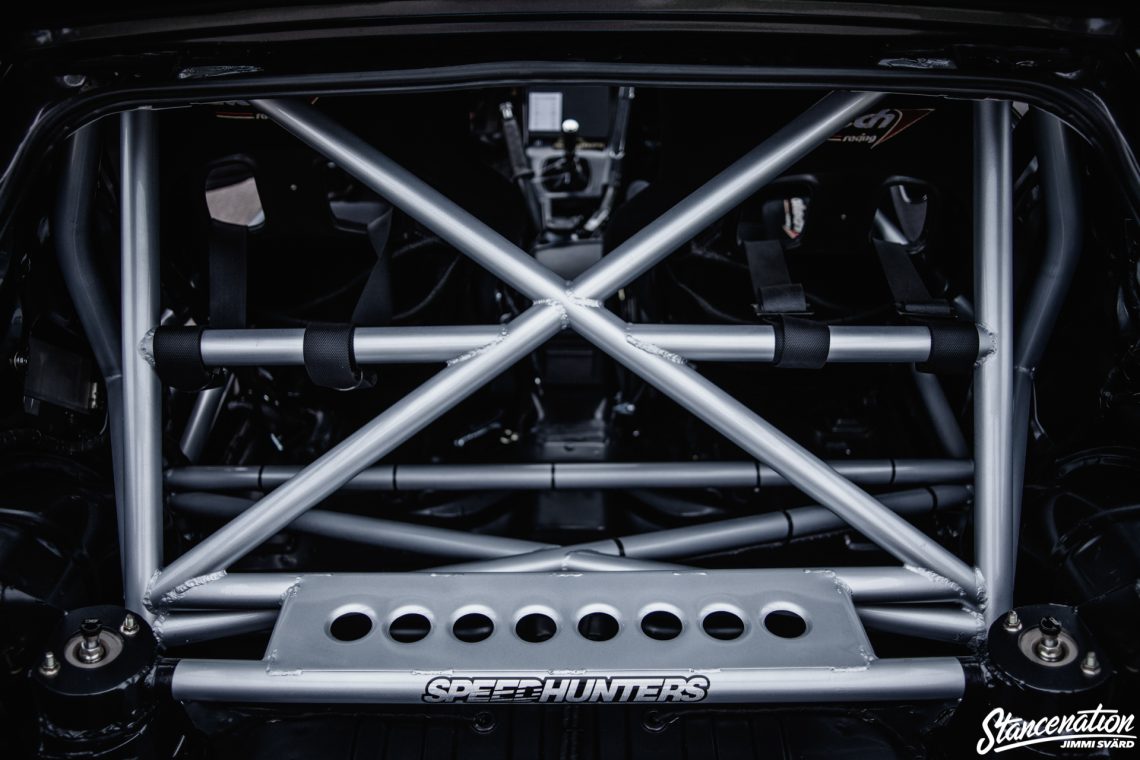 Going into this build with a mindset to cut no corners, to leave no stone un-turned; Jimmi gutted the entire interior of the then stock Nissan. Starting with the Atech North Fia seats he added in the Sparco six point H.a.n.s harnesses for functionality as well as keeping the correctness of the build intact. Tossing in the wide-band lambda gauge and boost gauge, as well as a fire extinguisher was no question; because what true drift built doesn't have an extinguisher?? The black Sparco mocca steering wheel, vertical hydraulic handbrake, welded Fia belt plates…the list goes on and on. There was no hesitation deleting the backseat and ridding the car of the mounts for it. Being a stickler for details, Jimmi even built his seat mounts to match the cage he tig welded and tooled himself.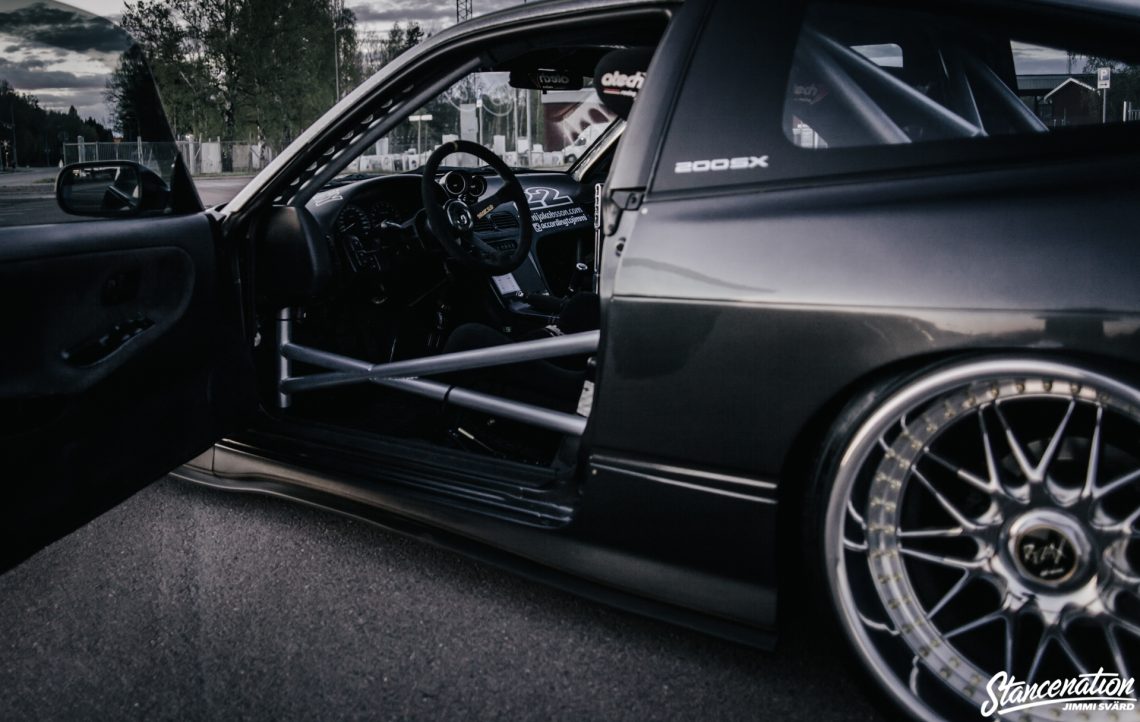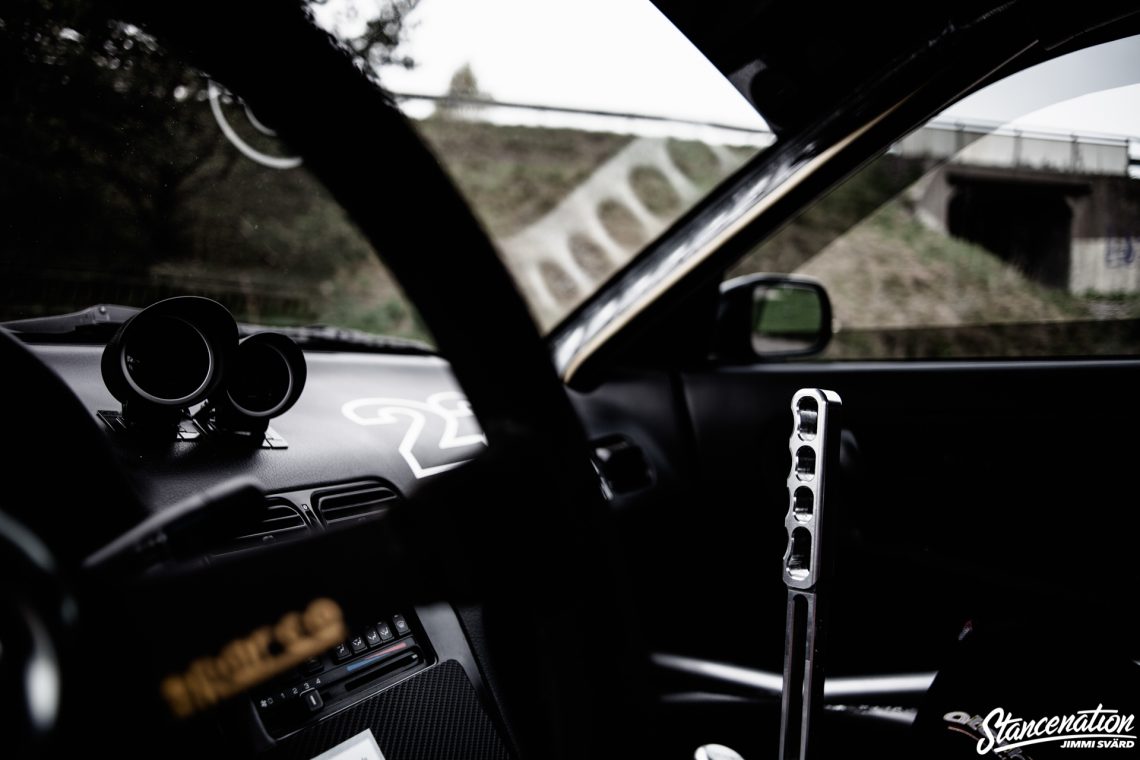 Having been in school the last few years and having plenty of life's distractions at hand, Jimmi has many more ideas and plans for the future of this car; and looks forward to having the time to pursue them. Until then, enjoy the beautiful car that it is for now.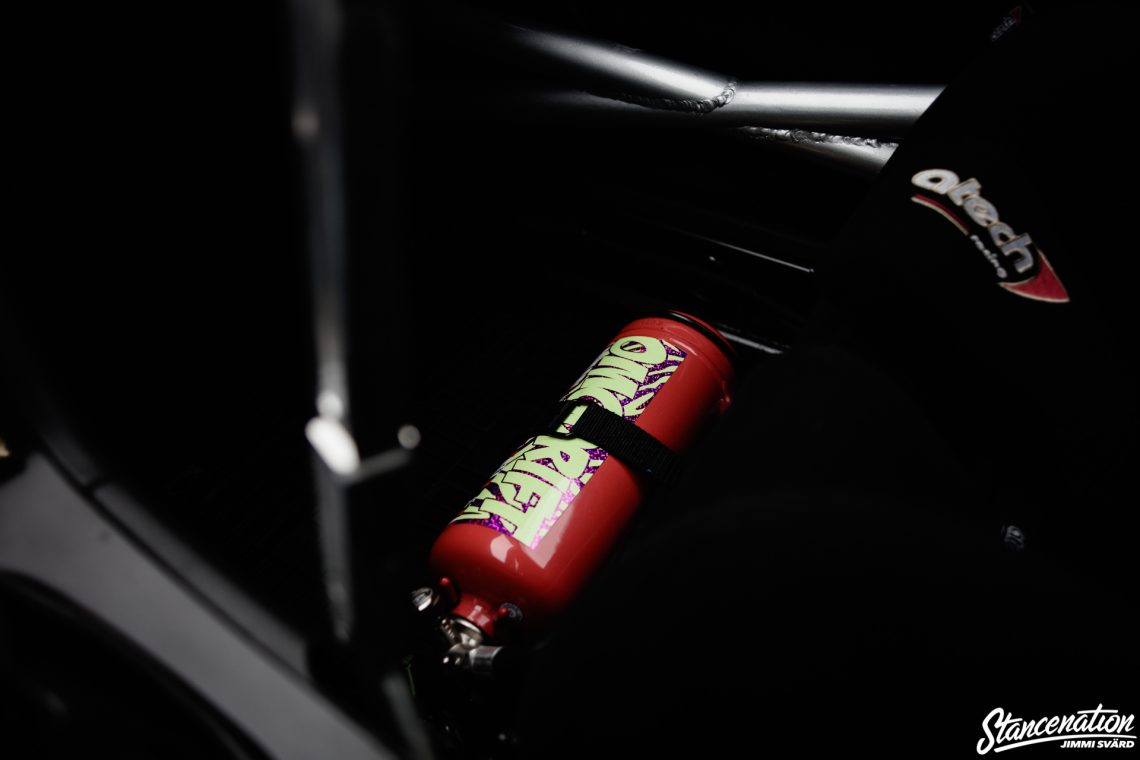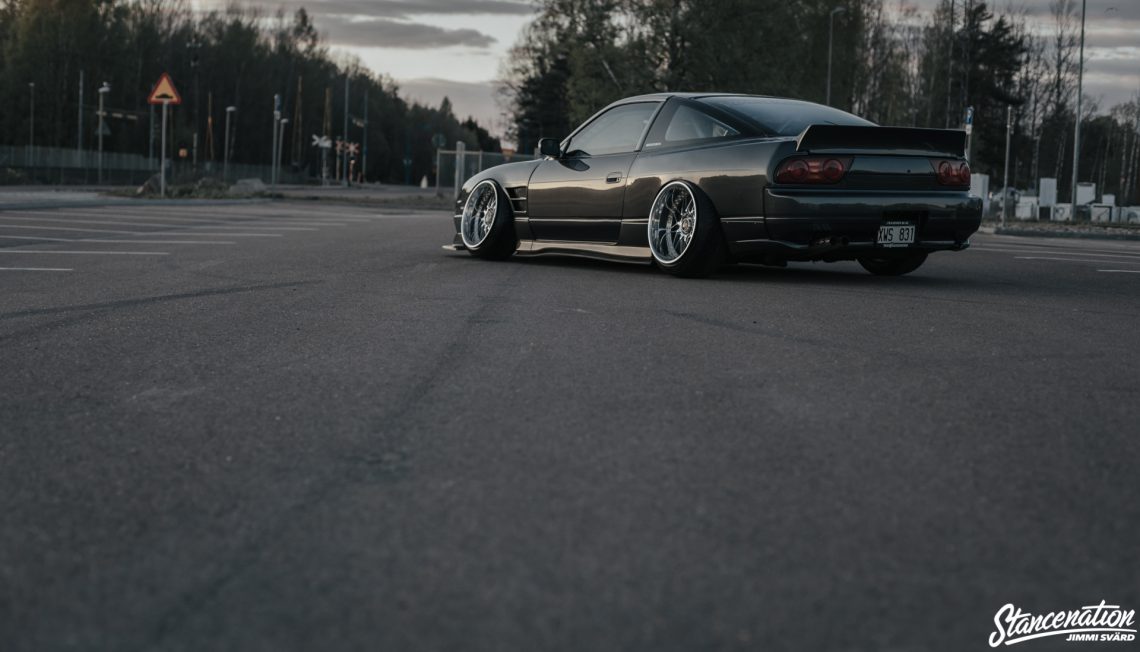 Specs: 1992 Nissan 200SX EDM Spec.
Exterior: Full kouki type x replica kit. Rocket bunny rear wing with all the rivet holes in the lower trunk part are shaved, custom front splitter, shaved trimmings and antennas , Oem kouki rear lights, the middle garnish of the rear lights are shaved from the reverse lights, 50mm over fenders in the rear that are bowed and with a altered radius, front aftermarket +25 frp fenders, altered radius. Bmw e39 indicators. Raised struts in the rear. All the hardware that is visible on the exterior are aluminium and are gold eloxated, Widened wheel tubs front and rear.
Interior: Gutted and scraped, Atech north fia seats, Sparco six point H.a.n.s harnesses, wideband lambda gauge and boost gauge, fire extinguisher , Sparco mocca steering wheel, vertical hydraulic handbrake, welded Fia belt plates. Gutted reat seat mounts. And the small boxes where the seatmounts run up to are modified with dimple died holes to match the cage (se pic 12 in the interior folder) The cage is Tig welded and built by me, tough the main hoop is bought because I didn´t have a tube bender to that. The dimple dies are made from a homebuilt tool
Suspension: Driftworks adjustable lcas in front, Driftworks caster rods, Japspeed hardened tie rods. Driftworks offset rack spacers, modified J-spec.se Camber, toe and tracion rods, Bc coilovers modified in the front, the rear ones are oem Bc tough. They all have shorter and harder springs.
All around Hub conversion from 4*114,3 to 5*114,3.
Brakes: Oem , stainless steel brake hoses, the rotor are drilled to 5*114´3 instead of the original bolt pattern.
Wheels: Work Rezax mesh with aftermarket lips and gold plated bolts, they measure 18*10,5″ in front and 18*11,5 in the rear and are et -7 before spacers. Nankang ns II tires
Engine: Ca 18 Det, Dual exhaust cams, adjustable fuel regulator, Custom intercooler piping, kl racing intercooler, 30 row kl racing oil cooler, Pipercross foam air filter, Horsham software, j-spec.se ignition coils , custom straight 2*2″ exhaust from the turbo. Solid engine bushings. Electrical harnesses in the wheel tubs has been rerouted into the engine bay. Relocated battery to the trunk.
Paint: Anders Aldrin at Anders lackcenter.
Transmission: Everything is Oem except the rear diff that has been welded, and I deleted the stock transmission cooler for the diff.