It's without a doubt that US VIP style is at an all-time high.  Everybody wants in on the big, Japanese luxury sedan scene, and with prices of these cars getting cheaper by the day, the scene is getting flooded with land yachts.  However, unlike the usual tuner markets, it's a bit easier to separate the wannabes and posers from the die-hards, OGs, and young talent that do their research and put in the work.  Jessie Edmunds from Florida is definitely the latter of the two groups, and his RHD Toyota Aristo is straight out of Japan…literally.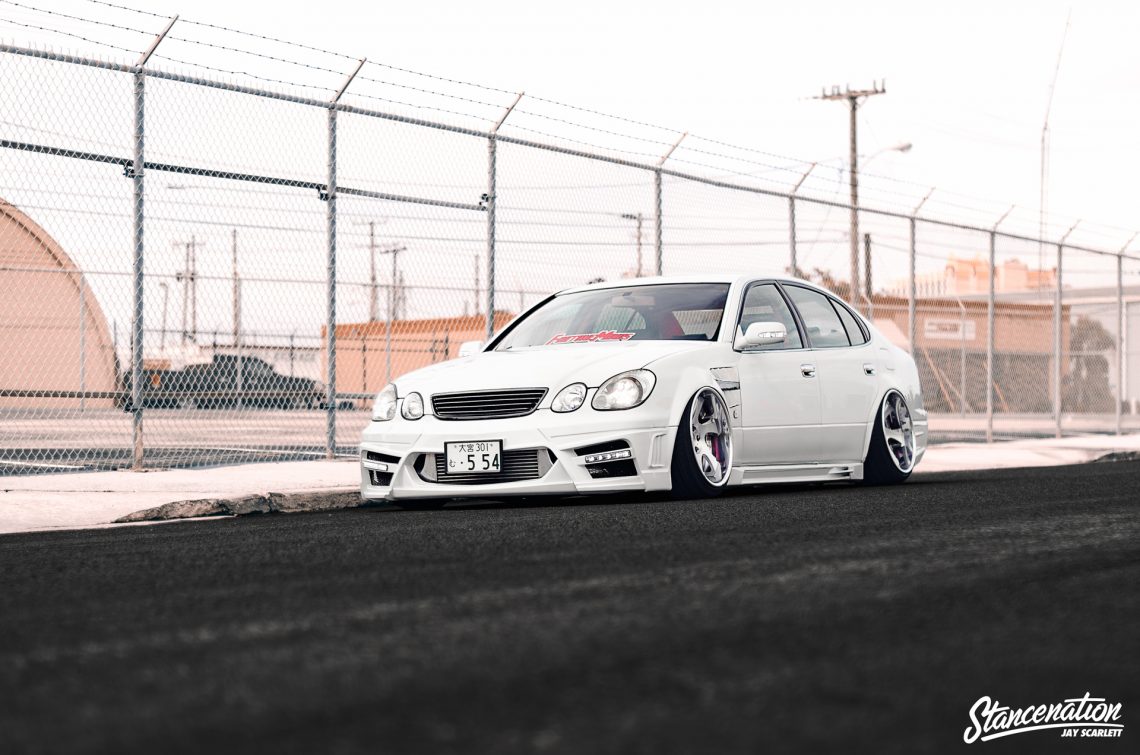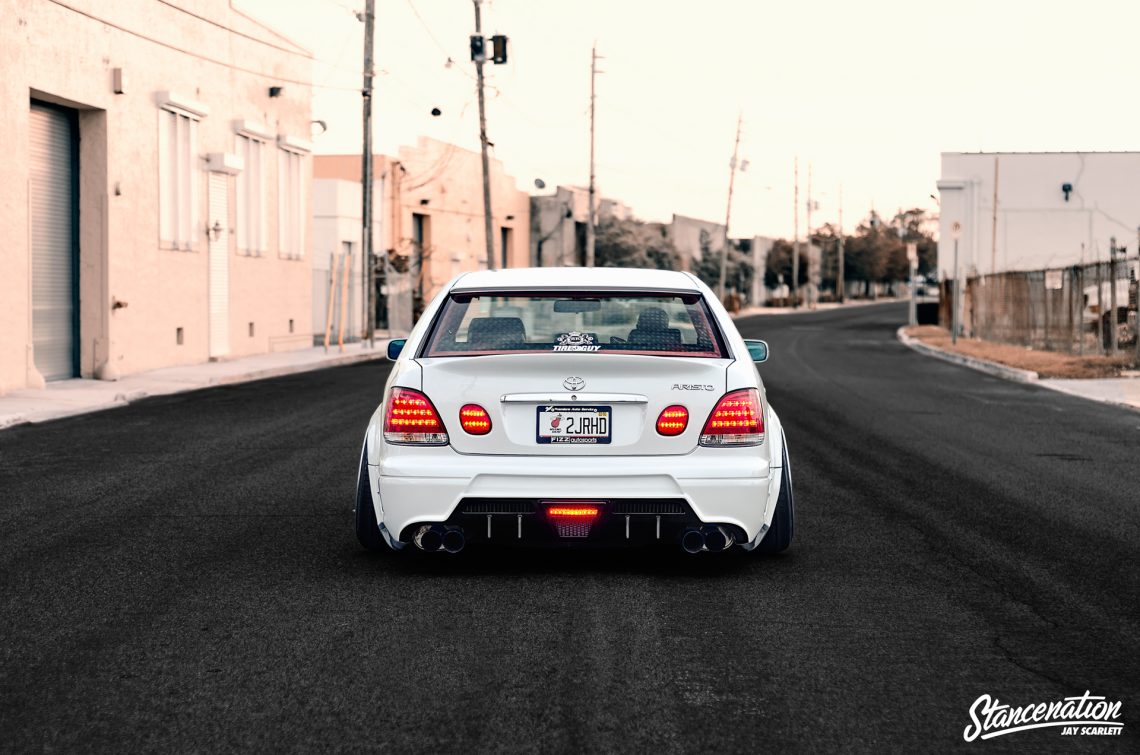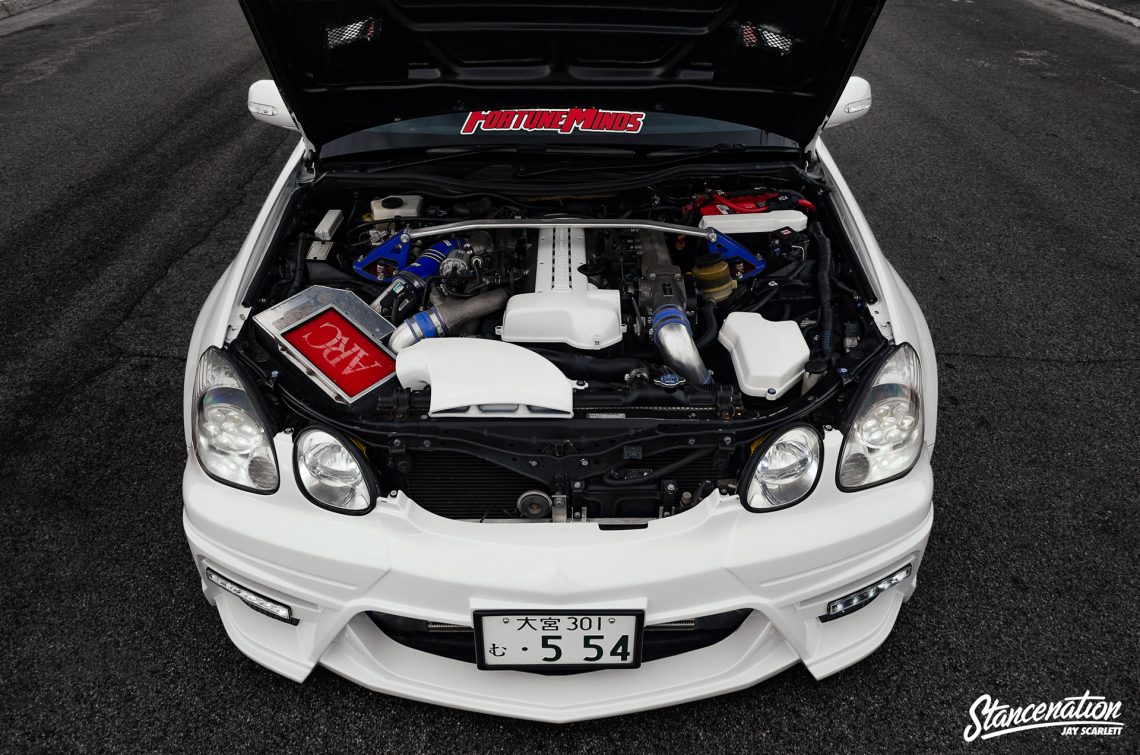 Jessie imported the car a mere 15-months ago, and got straight to work on it, tackling maintenance items first, and then adding his personal touches over the coming year.  Why an Aristo and not a US-market GS?  "I wanted something different from the others with a bit of luxury and of course, because of the twin-turbo 2JZGTE motor."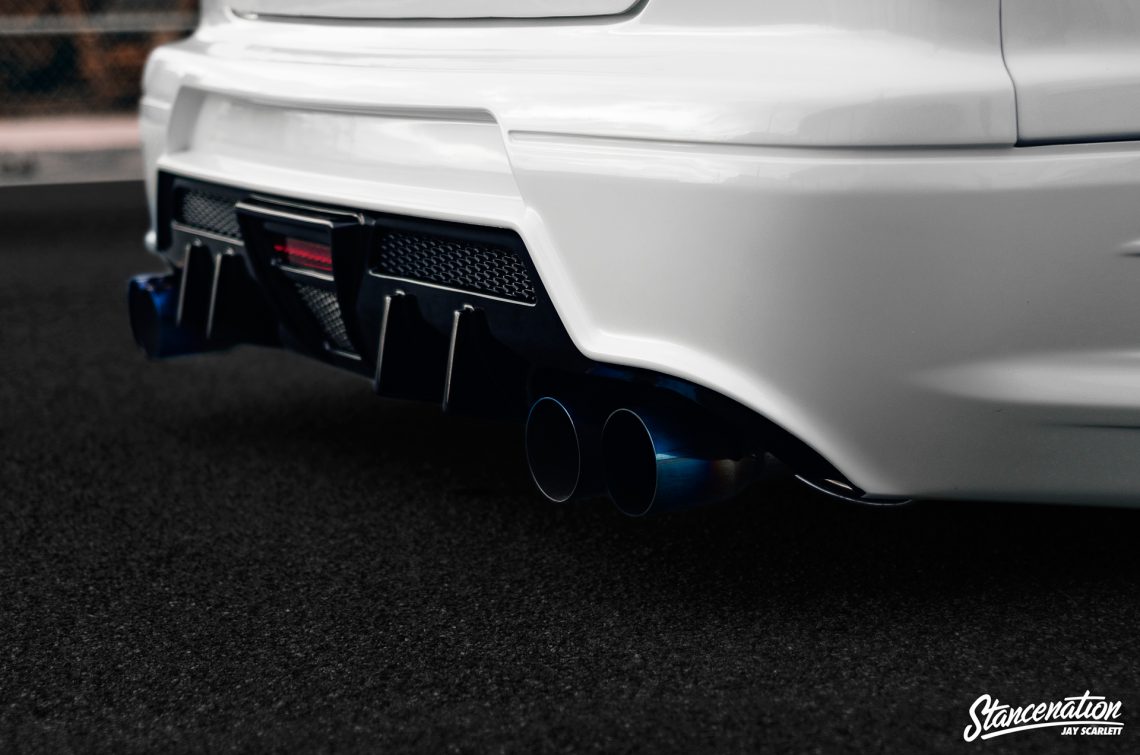 I've always felt that the US-market got the short end of the stick with the power-plants in our Japanese luxury cars.  The turbo 1JZ and 2JZ motors were cast aside for their naturally-aspirated counterparts, or swapped for larger displacement V8 engines.  While the V8s are silky-smooth, there's just an added cool factor to having a twin-turbo, luxury cruiser.  Jessie's GTE motor has been beefed up with an ARC induction box, Blitz ECU, HKS blow-off valve, Greddy intercooler, JIC Magic down-pipes, and a custom exhaust with quad, titanium AMG-style tips.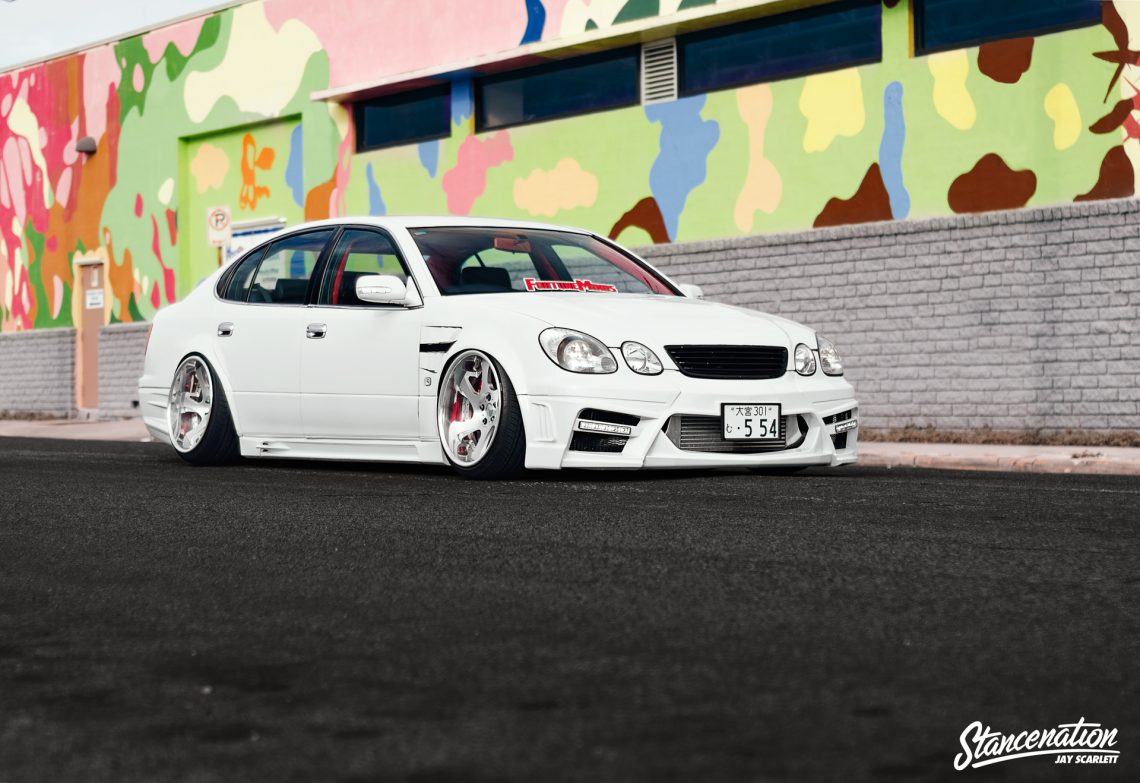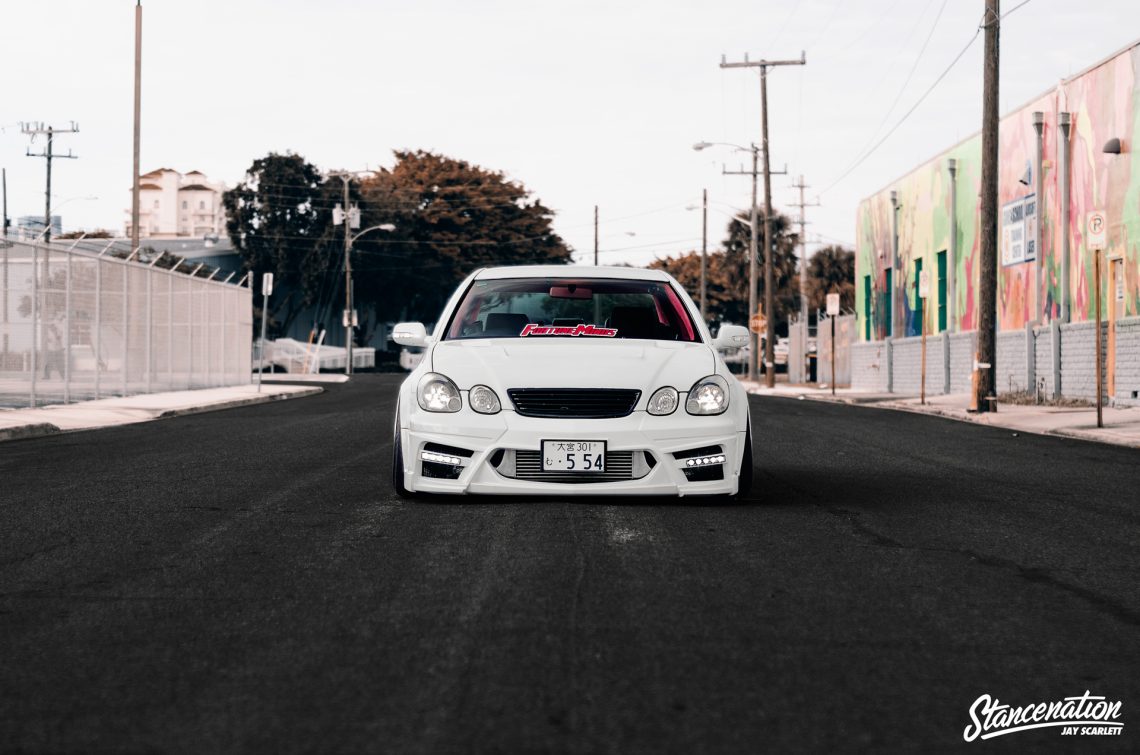 The exterior of Jessie's car features a slew of one-off parts, and not-so-common pieces as well.  Starting with the full, Black Pearl Complete body kit, one of a very few in the US.  The kit caters to a more aggressive style that fits the sporty nature of the Aristo, and the large opening in the front filled with the big intercooler backs up the aggressive looks.  Custom metal fenders by ProFab are matched by widened rear quarter panels to beef up the body, and custom, retro-fitted headlights by Nax Whitmore (a S:N regular) are matched with LED tail lights out back.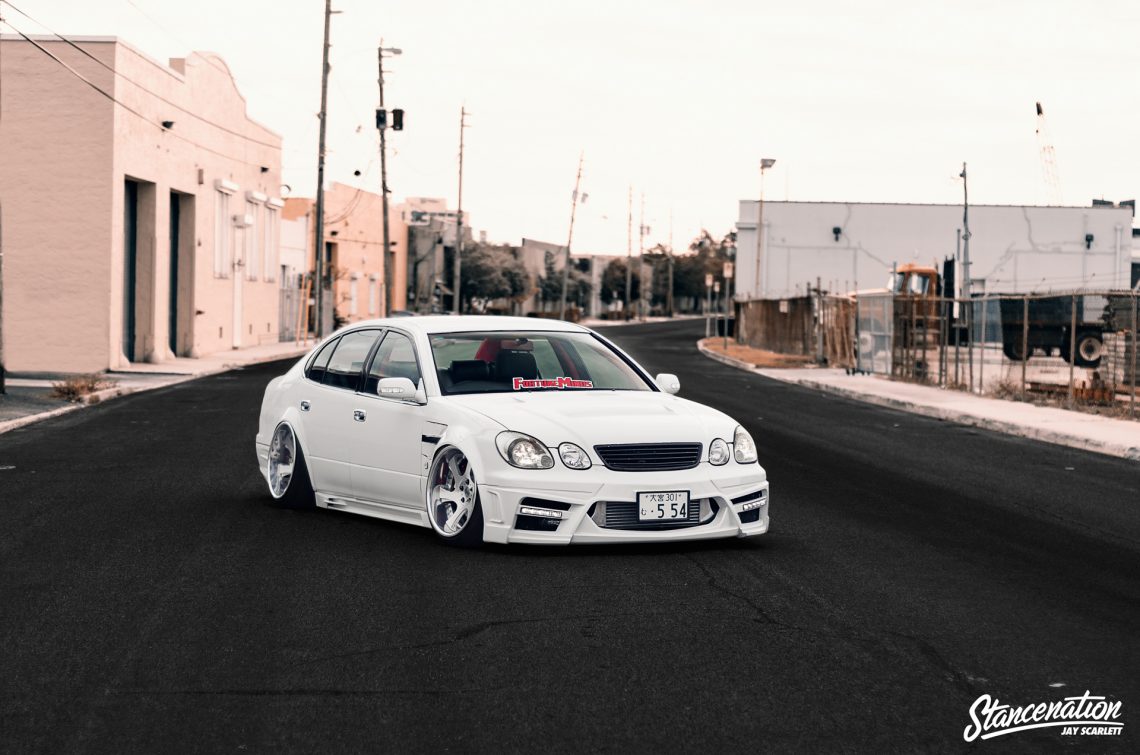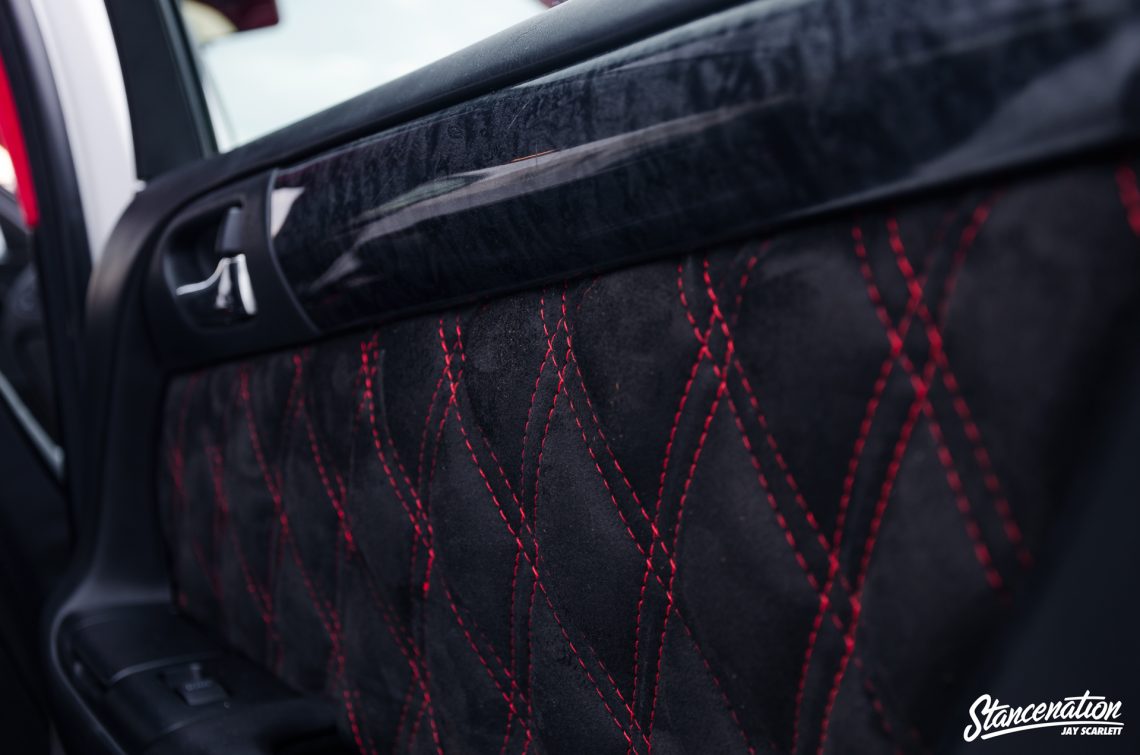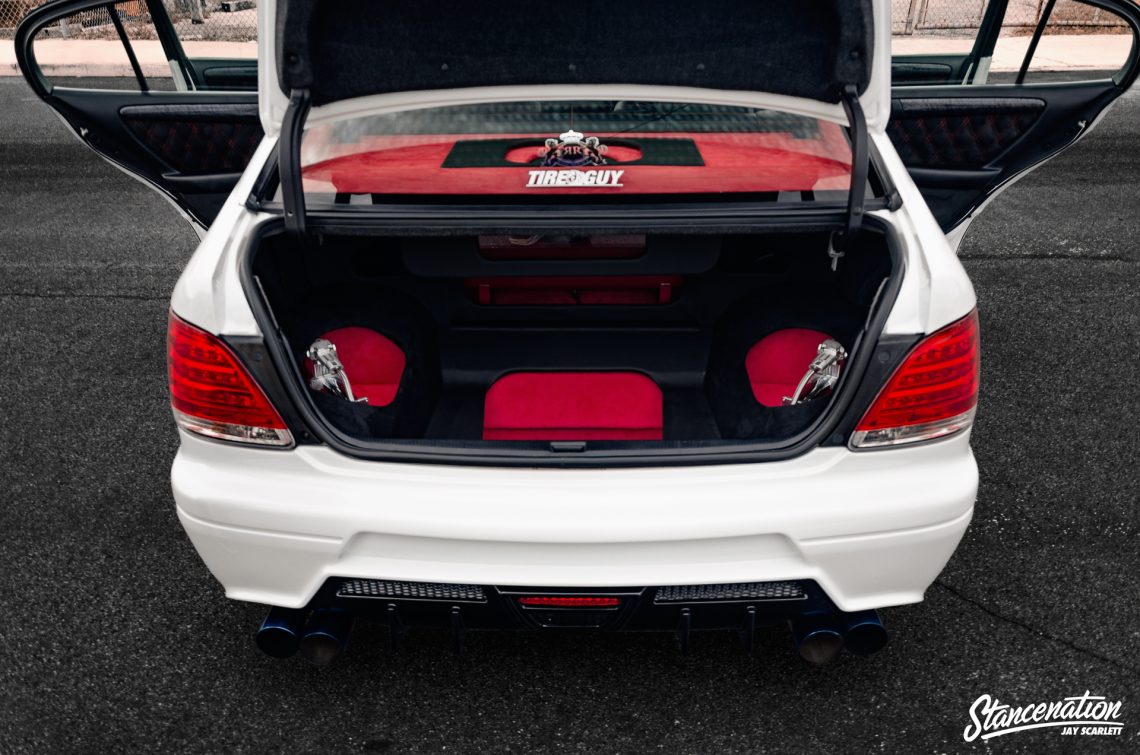 The VIP theme continues on the inside of the car with a full interior overhaul.  Seats, headliner, door cards, you name it, they were given the VIP treatment with a red and black color scheme carried throughout.  Some key features are the custom trunk setup to show off the air-ride install, and the Works-Bell/Nardi steering wheel combo with Works-Bell paddle shifters.  It's something a lot of people probably overlook, but a pretty trick modification to help make driving an automatic a little more fun.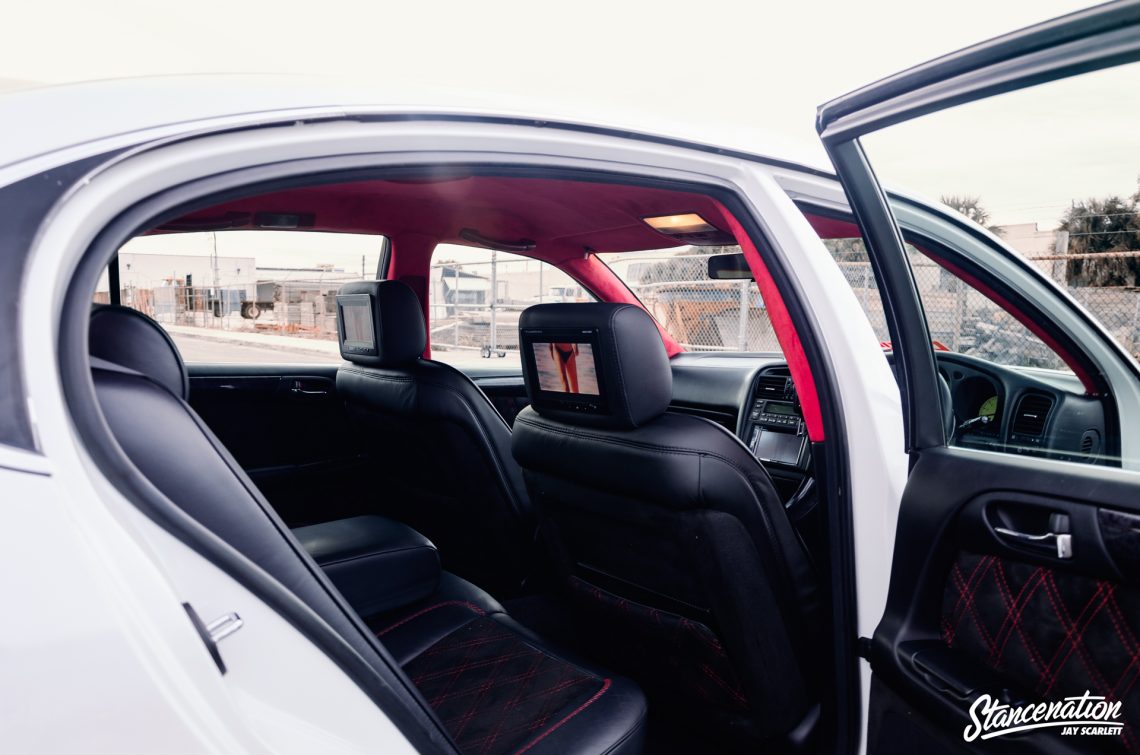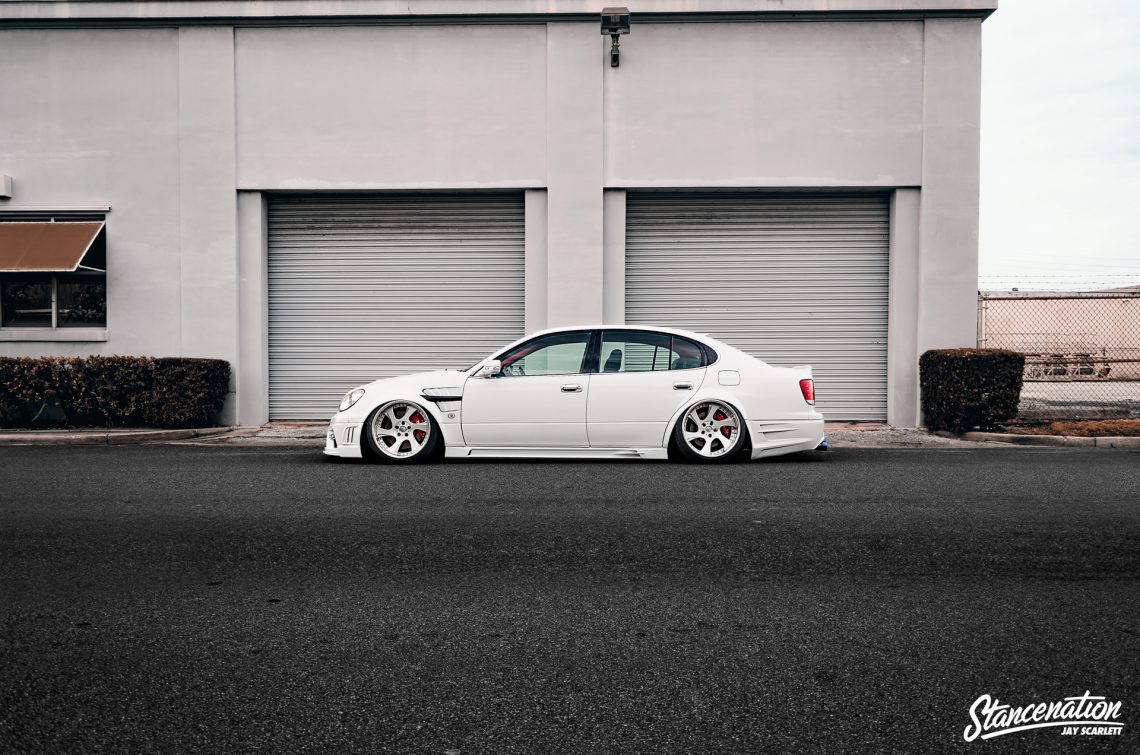 To get his Aristo sitting just right, Jessie went with a hybrid of the who's-who of the air-ride industry.  Featuring a combination of Airlift struts are paired with Accuair E-level management and Viair compressors to drop the car sitting just right.  Filling up those widened arches are a custom set of AME Shallen WX wheels in XX x XX +/- XX offset for all you spec-hunters out there.  Of course, where there are big wheels, there must also be big brakes.  Sitting behind the AME wheels is a monster set of Futura brakes with anodized red calipers and hats.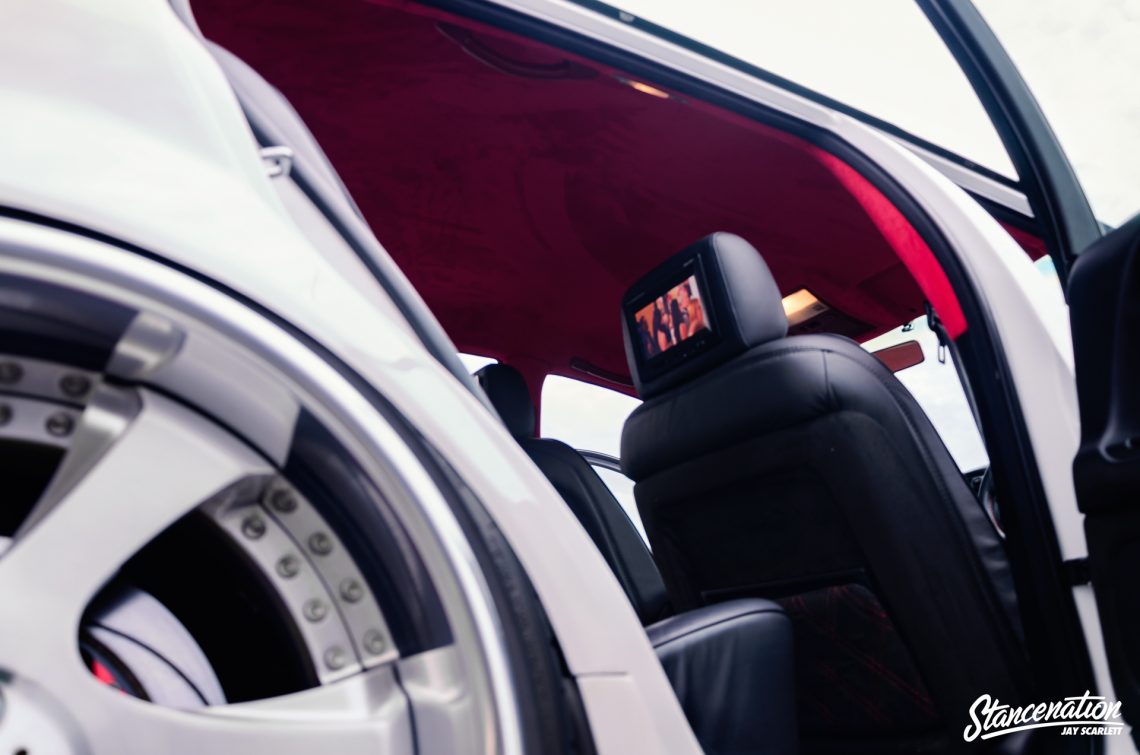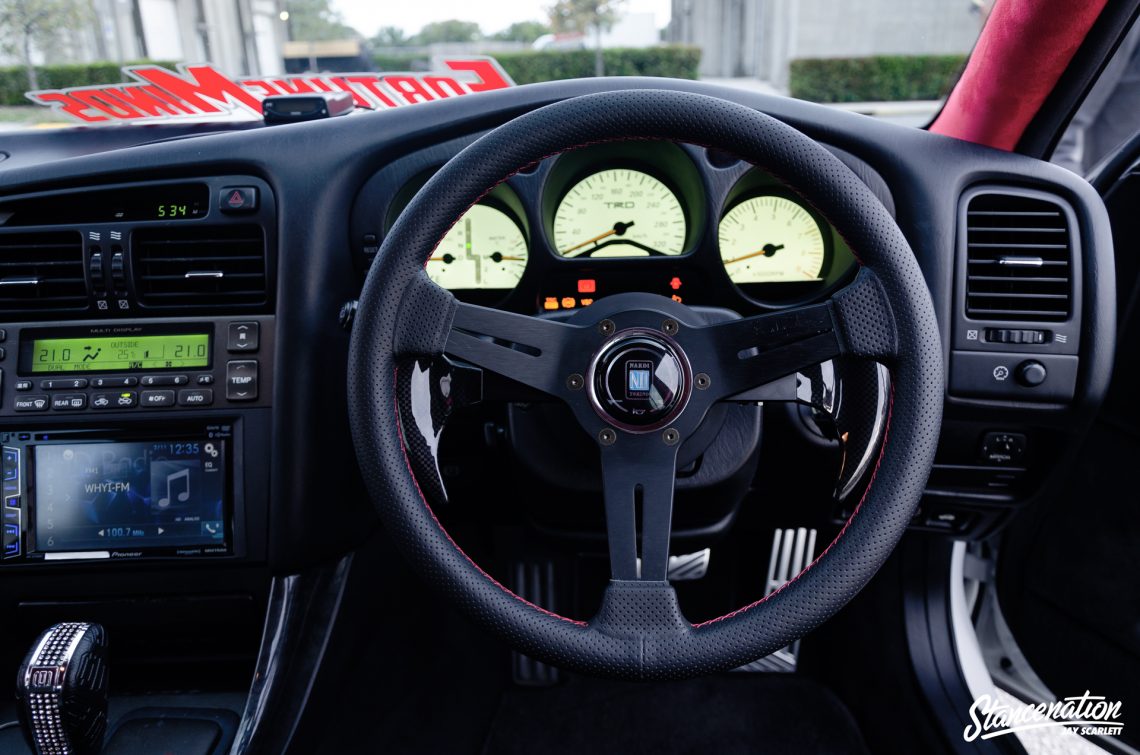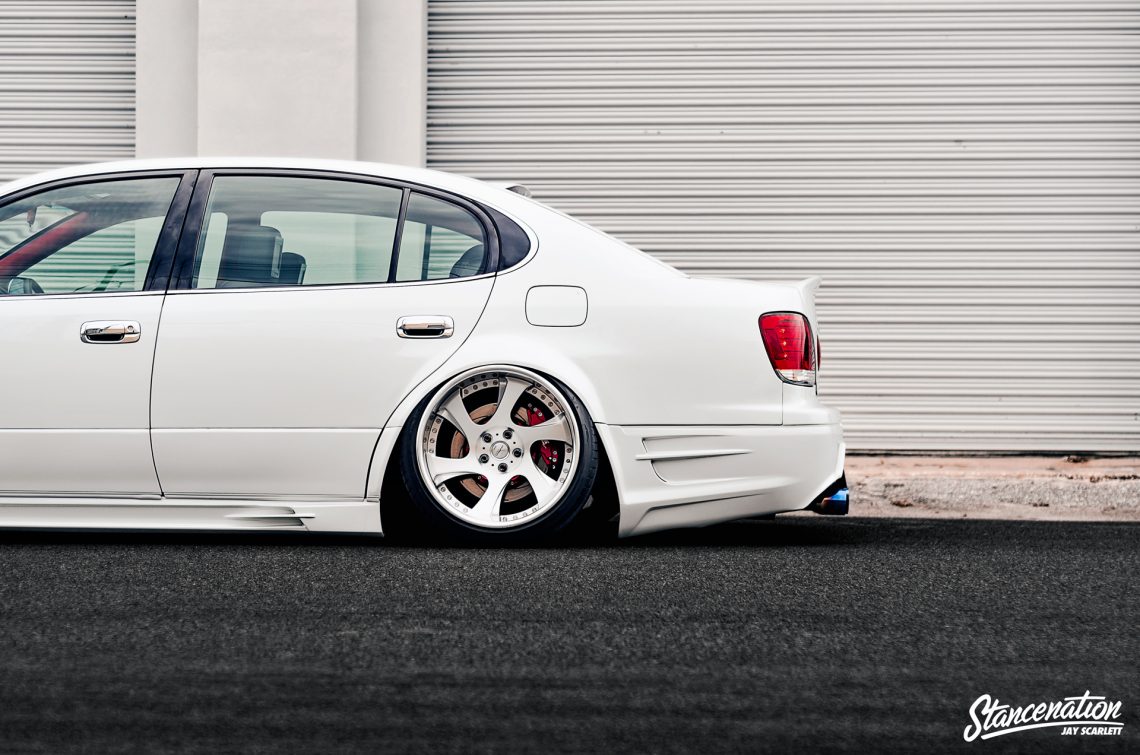 That's an awful lot of work in 15 short months.  The car made it's debut last year in December at Wek Fest Palm Beach where it definitely made a strong impression.  However, Jessie isn't exactly done with the car just yet.  He tells us he has plans to redo the fenders, change bumpers, get a new set of wheels, do a whole new trunk setup, and get rid of the Active Rear Steering by swapping to a GS300 rear-end.  Some people just aren't happy unless they're constantly changing their car, haha.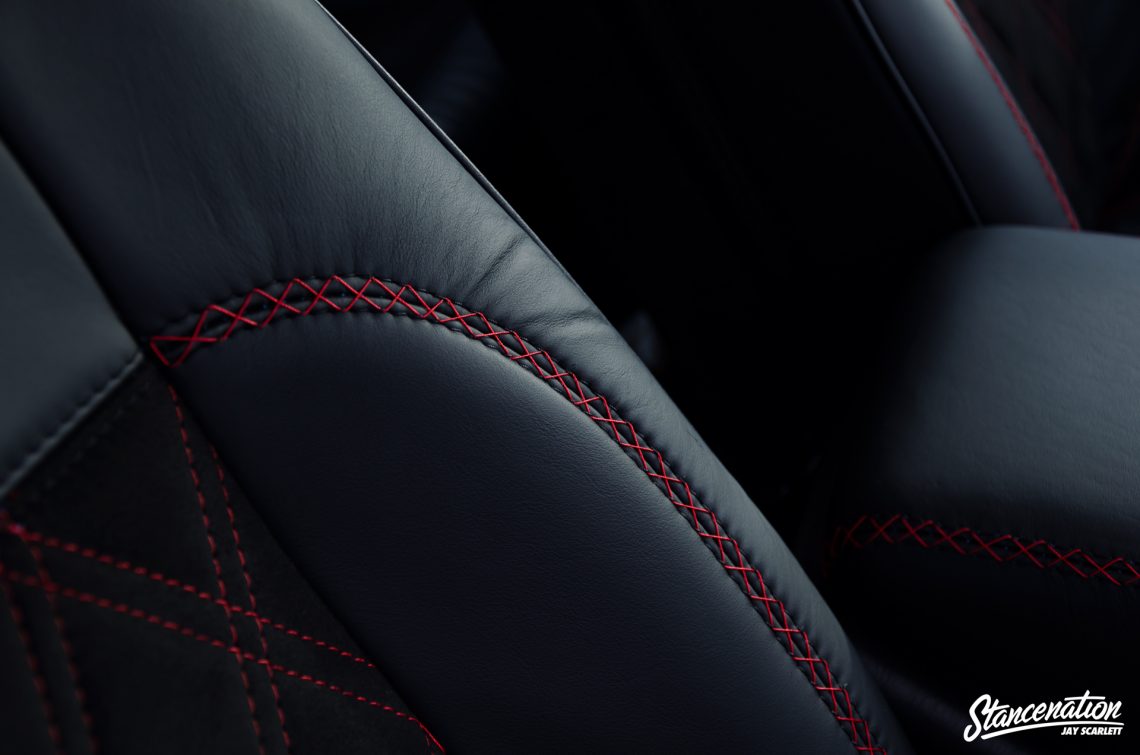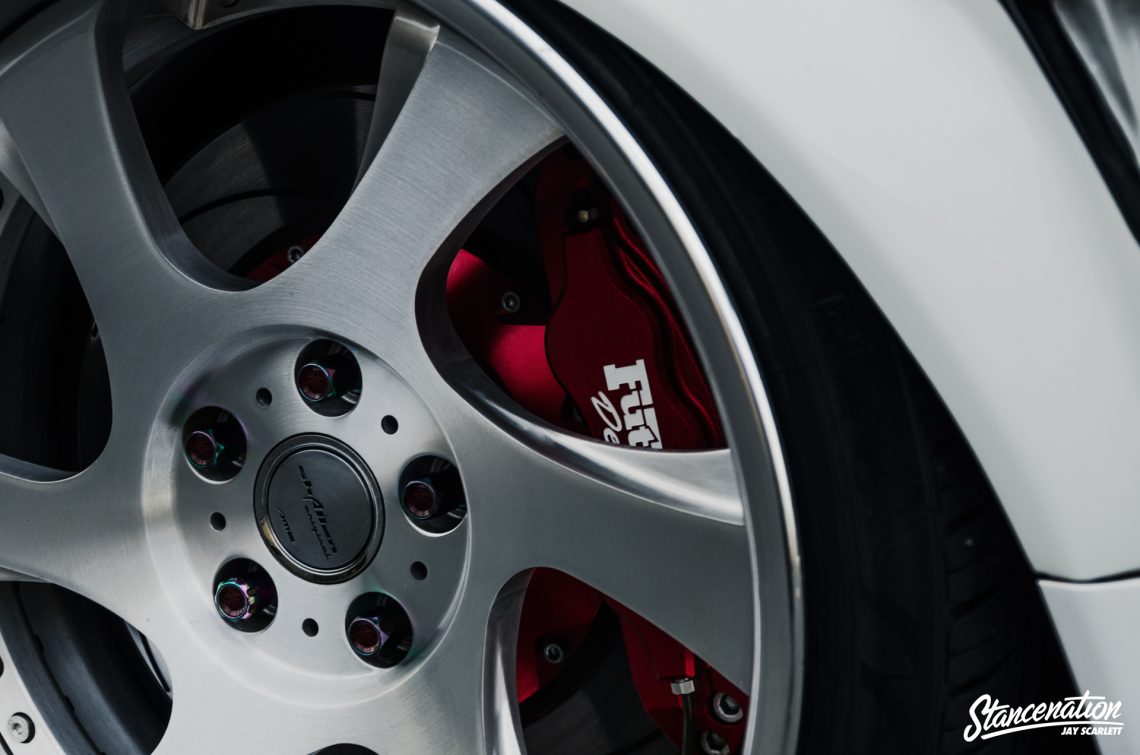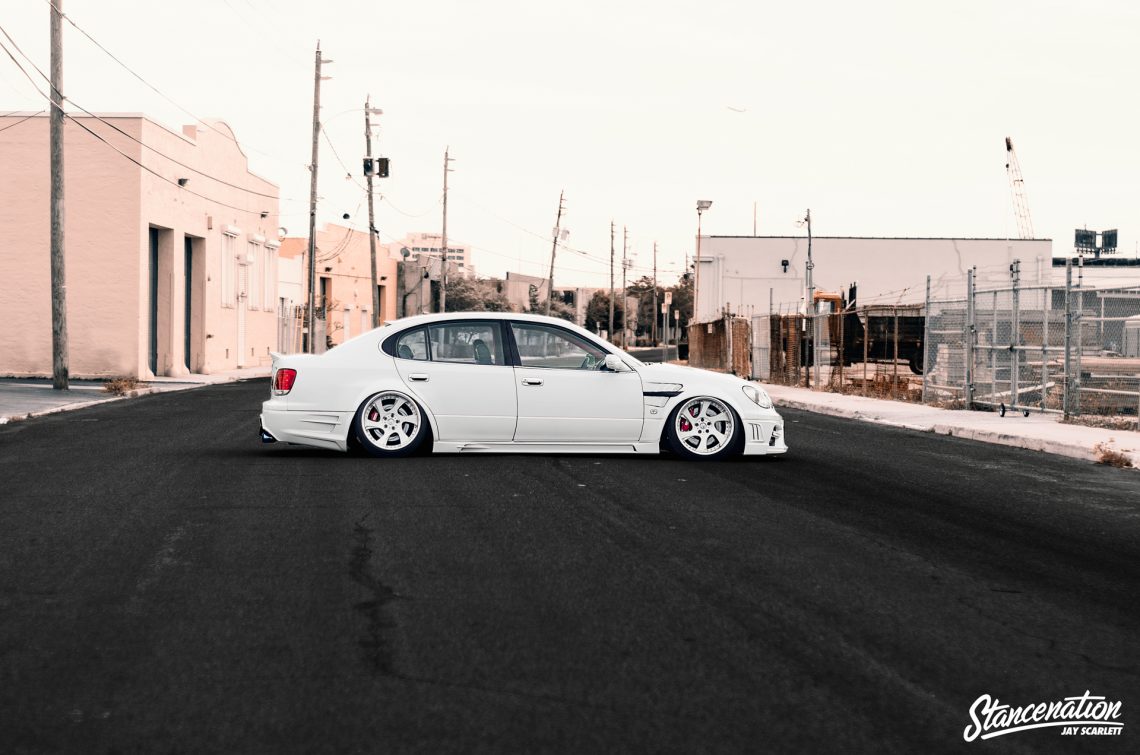 Despite the constant change, the execution, and fit and finish of the car is top-notch.  This wasn't an overnight success story, and it's certainly not a wannabe-VIP build.  This is the bar for US VIP-style.  Despite it's rise in popularity over the months, one aspect that I like about the US VIP scene is that we haven't lowered our standards yet.  The standards were set high years ago by some of the greats; Liberty VIP, Refined Elegance, and Endless Projects, just to name a few.  People like Jessie with his Aristo keep those standards high, and continue to push the scene forward.  Just remember, there's more to VIP than taking a four-door sedan and slamming it on some wheels with JP neck-pads and a tsuna.  Study the culture, learn from the greats, and don't be afraid to push the envelope.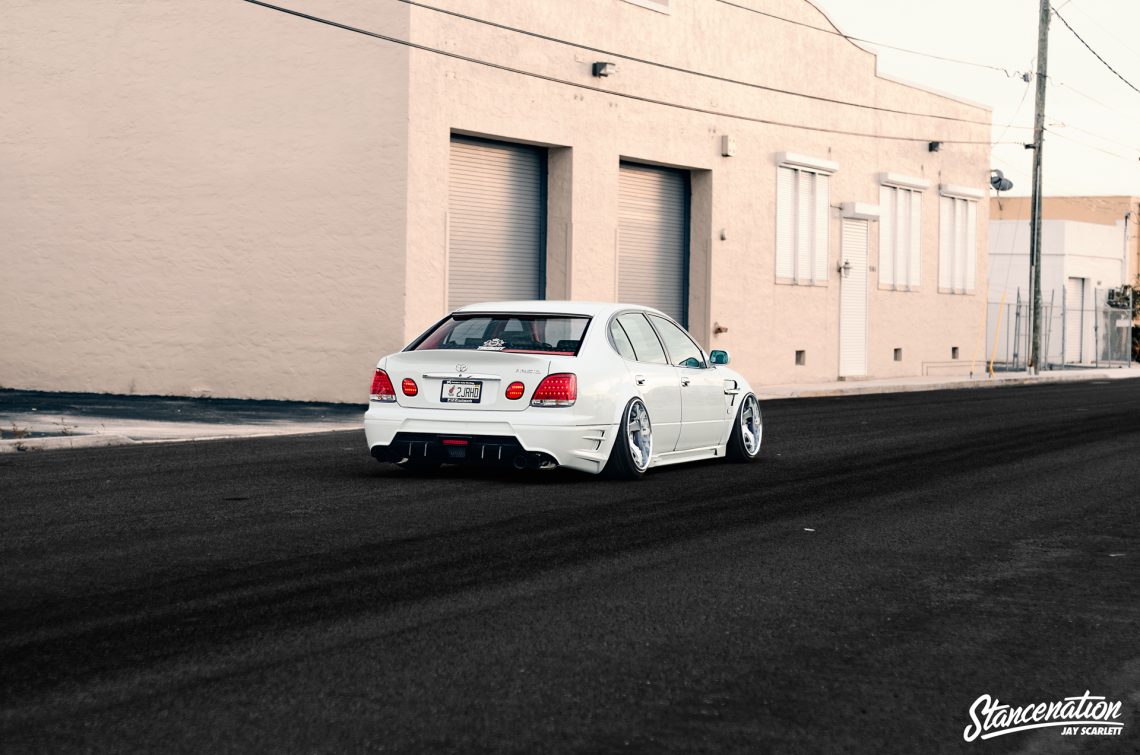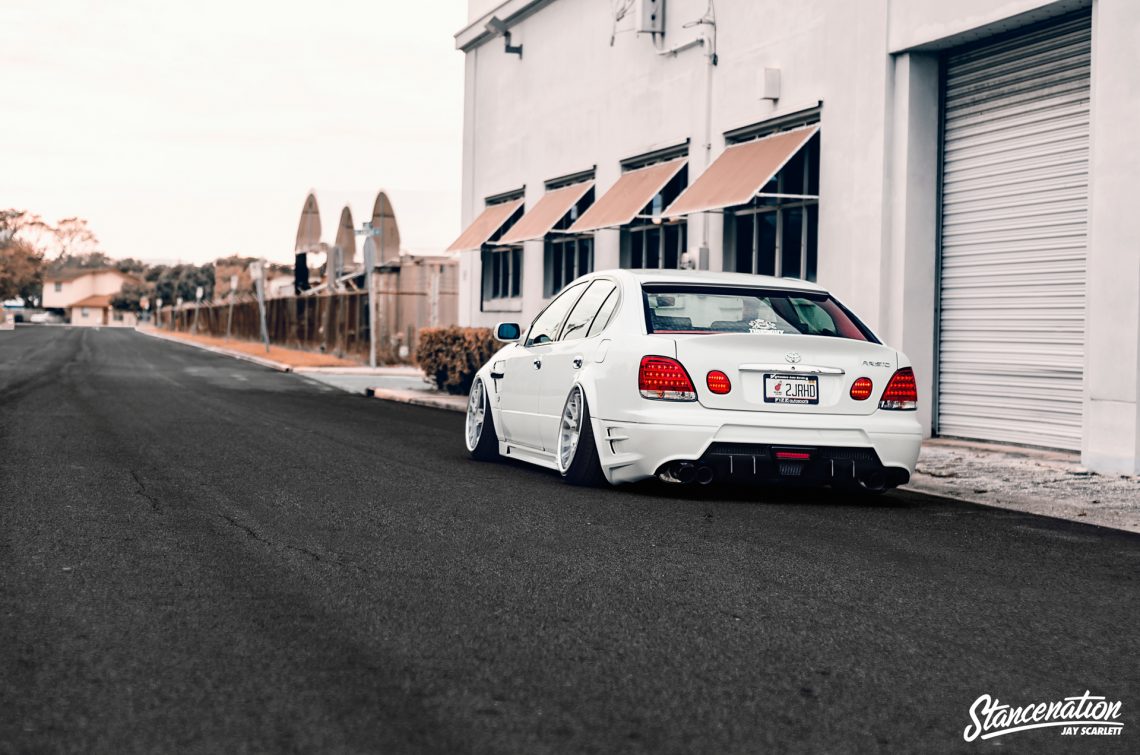 Performance
HKS BOV
Greddy intercooler
Greddy timing belt
BLITZ radiator cap
BLITZ ECU
TRD Sports thermostat
WALBRO 255LPH fuel pump
JIC downpipe
Vibrant mufflers / Titanium AMG style quad pipes
Greddy profector boost controller (NOT INSTALLED YET)
ARC induction air box
Body
Black Pearl Complete full body kit
VIS Racing Alfa hood
SerialNine trunk
Silk Blaze roof spoiler
Eagle Eyes LED taillights
Custom metal fenders –ProFab
Q45 Retro Fitted headlights –Nax Whitmore
K Break front grill
Chrome JDM door handles
JDM chrome JDM garnish
Suspension
Airlift air struts
AME Shallen WX Wheels
Futura Big Brake Kit
Dual 380C Viair Compressors
Accuair E-Level management
Greddy front strut bar
Cusco front sway bar
Cusco read sway bar
Cusco front lower arm bar brace
Silk Road rear tie rod
Silk Road ARS canceler (NOT INSTALLED YET)
Interior
7" Headrest monitors
10" JL SuB
JL Audio AMP
Pioneer AVH Radio
Nardi Steering wheel
Works bell wheel hub
Works bell paddle shifters
HKS turbo timer (NOT INSTALLED YET)
DAD Garson shift knob
Custom black and red diamond stitch interior –E3 Upholstery
Shout outs
My FortuneMinds, Royal Republic & Fizz Autosports
My Main Sponsors Ame wheels, Automotive R & D and Futura Design Brakes
Trunk setup by custom sound solutions
Interior by E3 Upholstery
Paint and Body Work by Robert Lara of Profab_SFL
Air suspension and custom exhaust system by Danny Colavecchio of Slammered INC