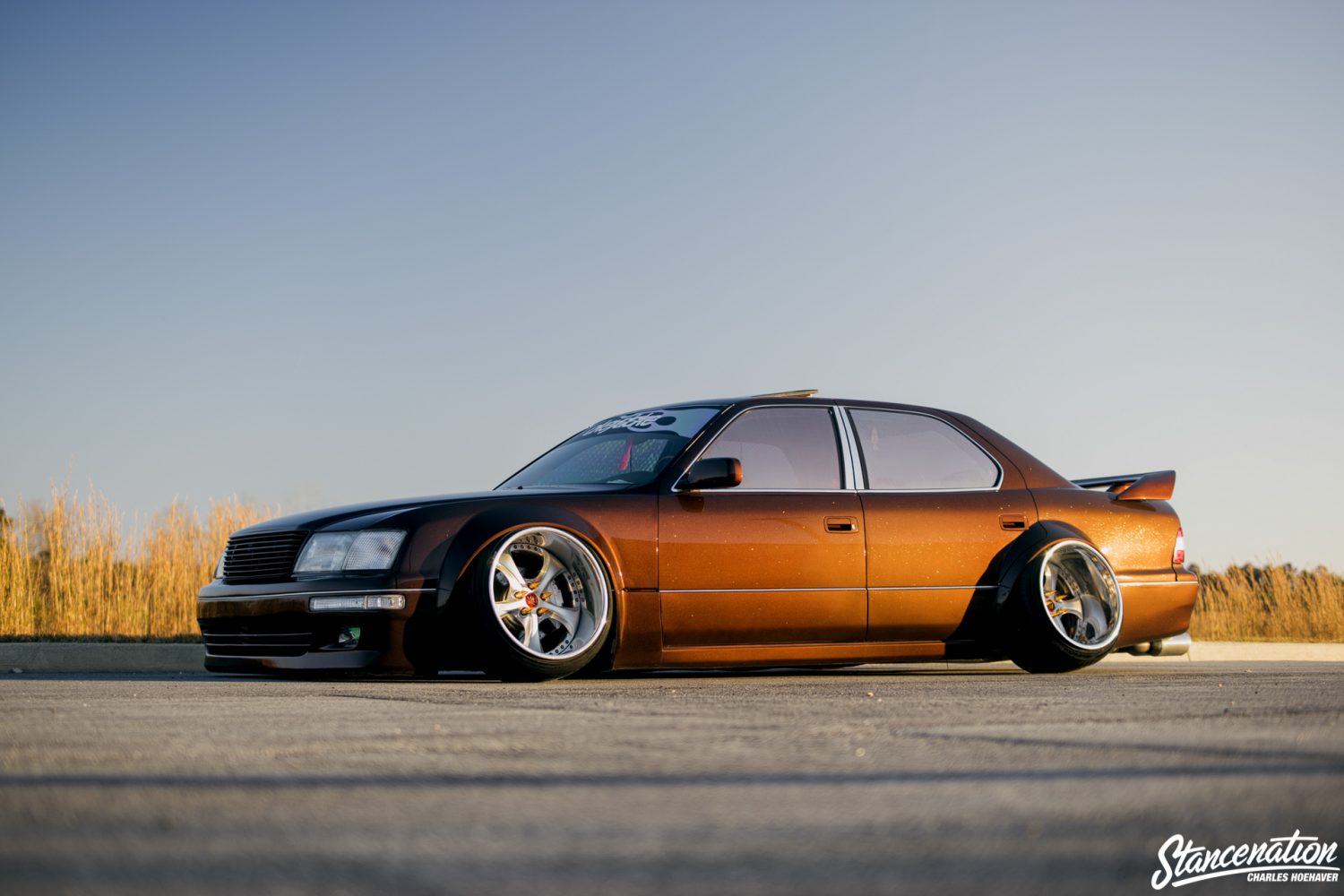 Ever since I started doing this whole freelance writer/photographer/editor thing I've gotten to meet a lot of people from all over the world, which is really something considering that when I was a kid, I was very quiet and shy.  For whatever reason though, this car culture lets me break out of my shell and lets me socialize with a lot of people.  A lot of the people I meet become acquaintances, but a few become friends.  We stay in touch through text or email or Facebook, and only get to hangout a couple times a year, but there's a certain familiarity that exists that takes us a step above, "oh yeah, I know that guy."  One of those friends I've made is the owner of this car here, and this whole feature is a bit of a surprise for him.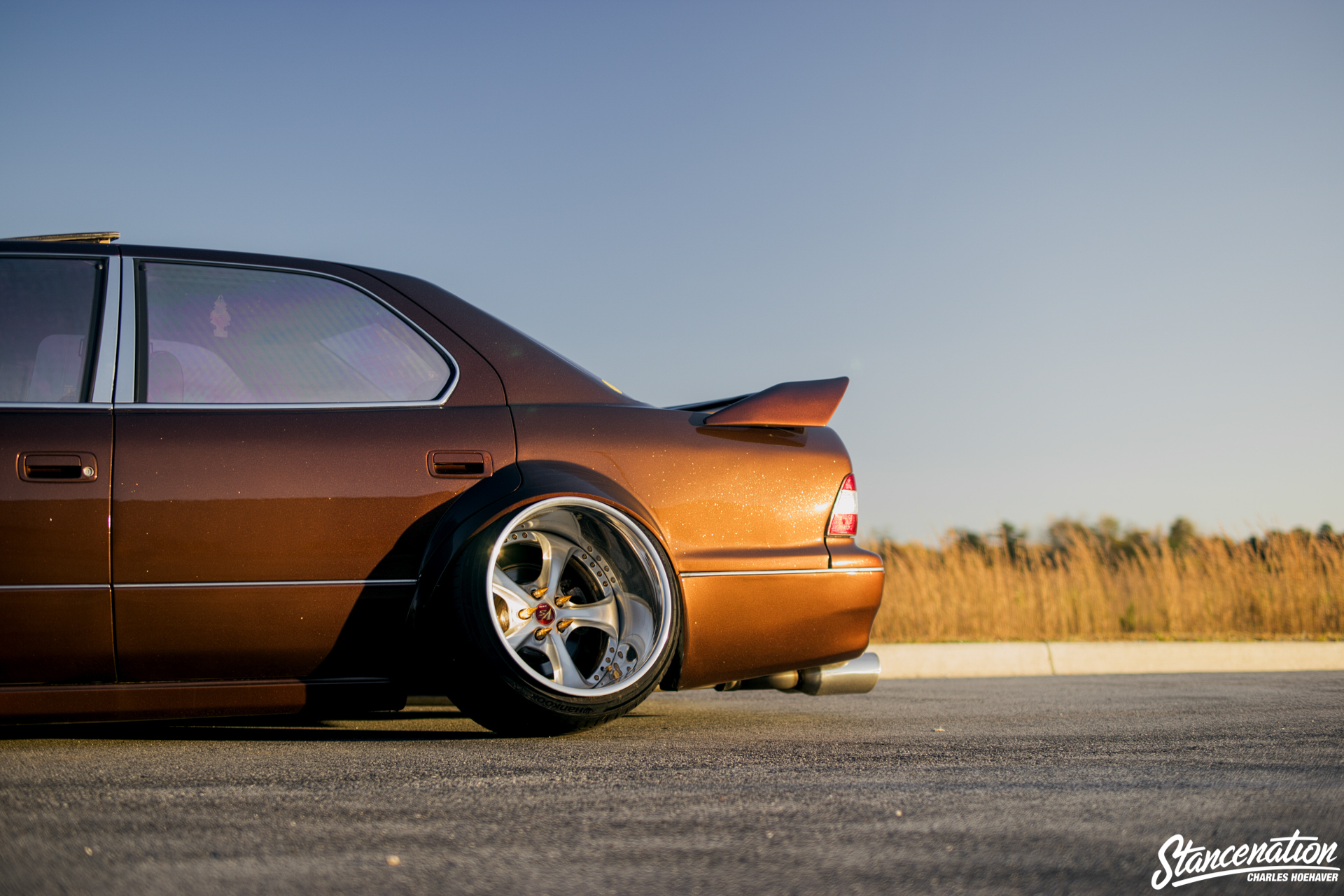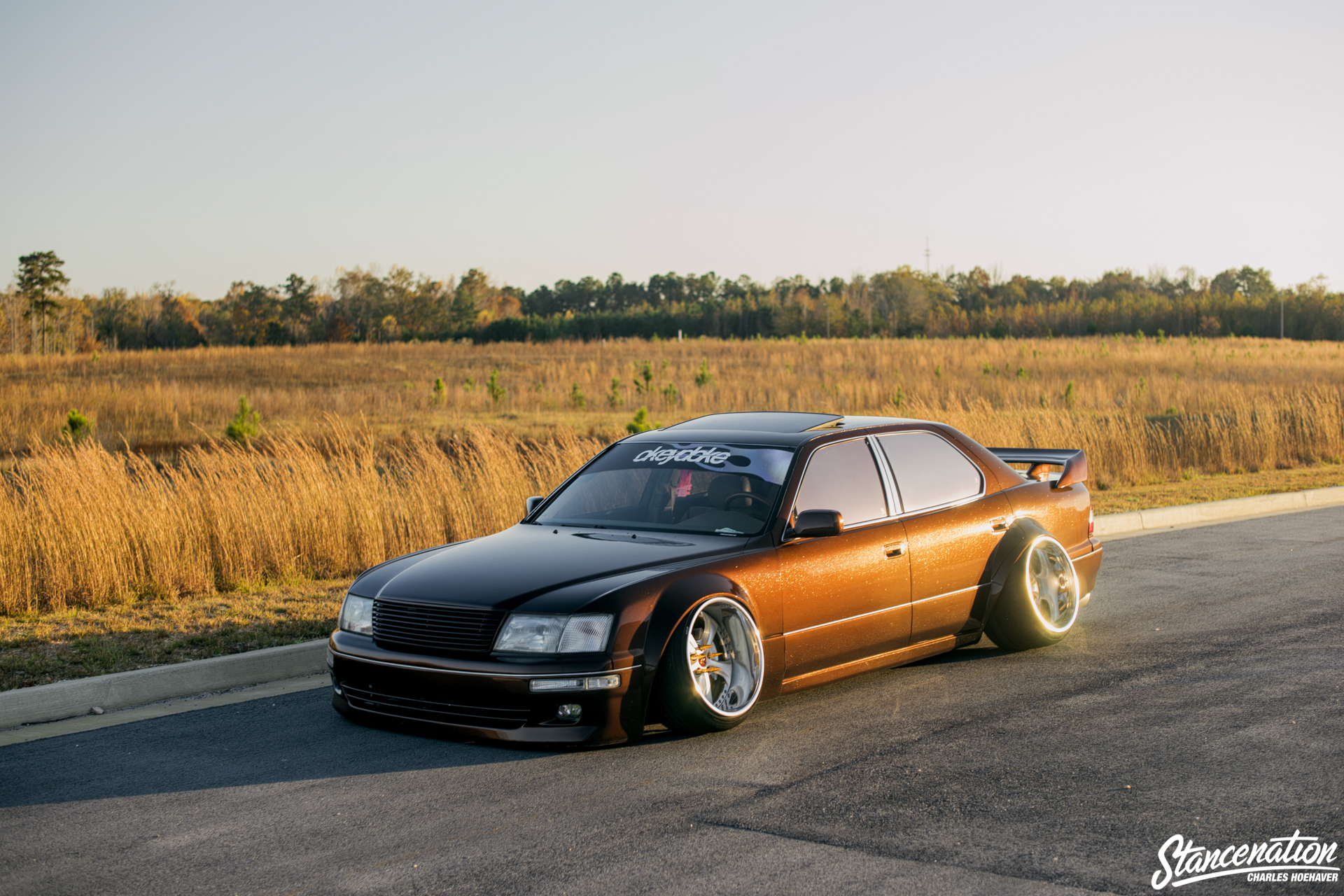 Ryan 'Highskewl' Coffel resides in Auburn, Alabama, an unlikely place to see a car like this come from.  I can't say I know too much about Auburn or Alabama other than its location on a map, and even then I'd probably mix it up with Arkansas.  Then again, I live in Minnesota, which for all intents and purposes may as well be considered Canada.  Bottom line is, when you think of fine VIP cars in the US, Alabama isn't going to come up in the conversation.  At least it wasn't until now.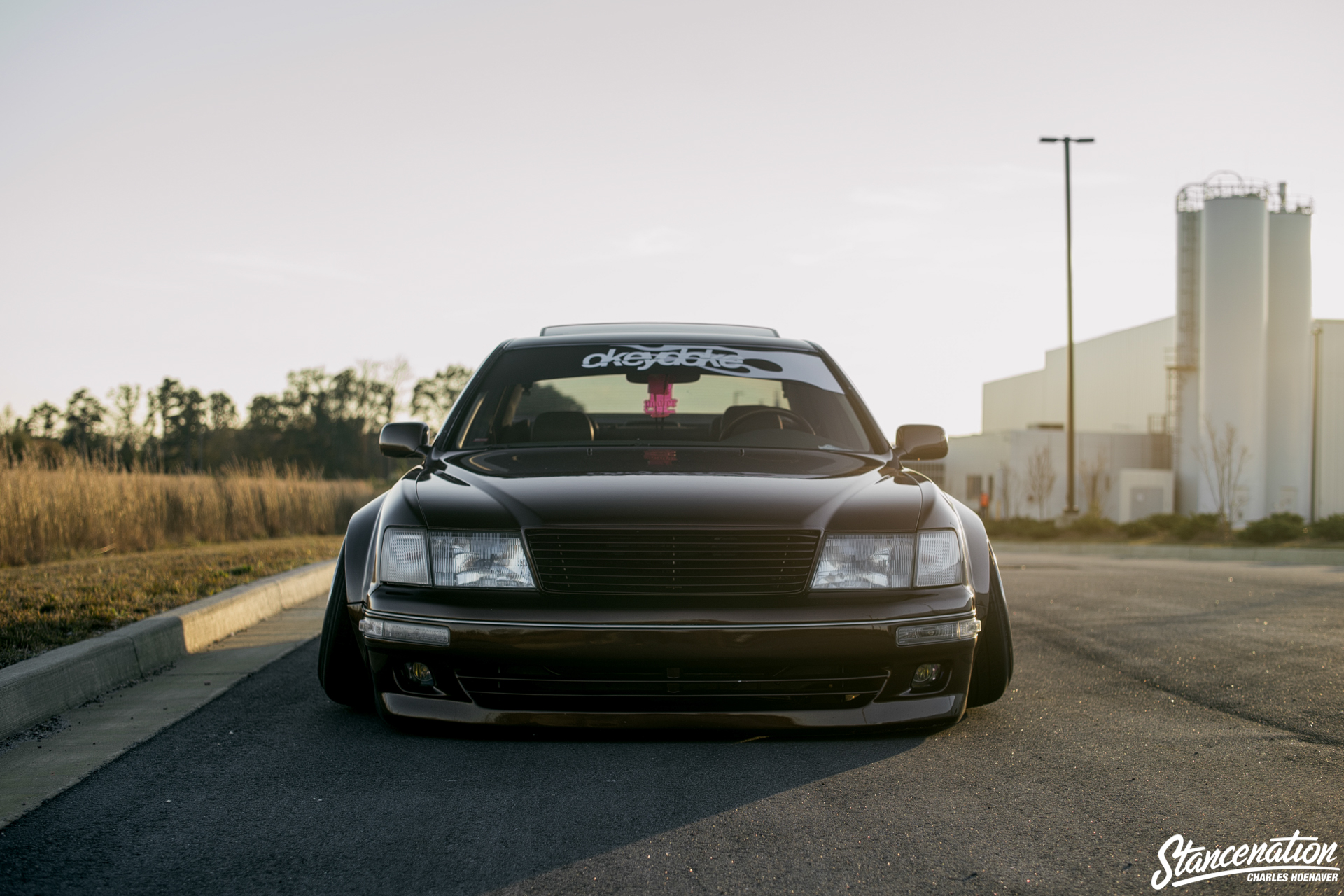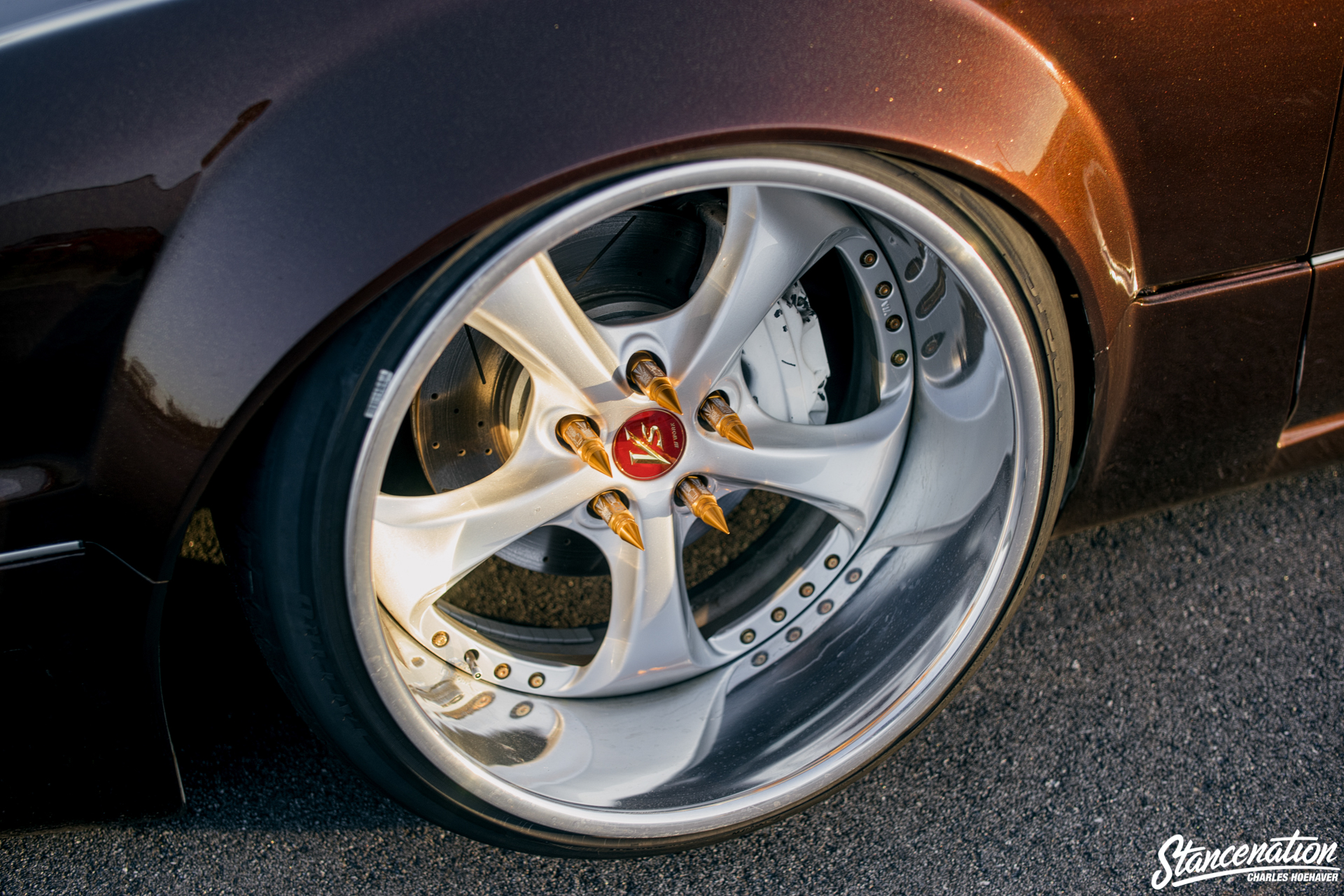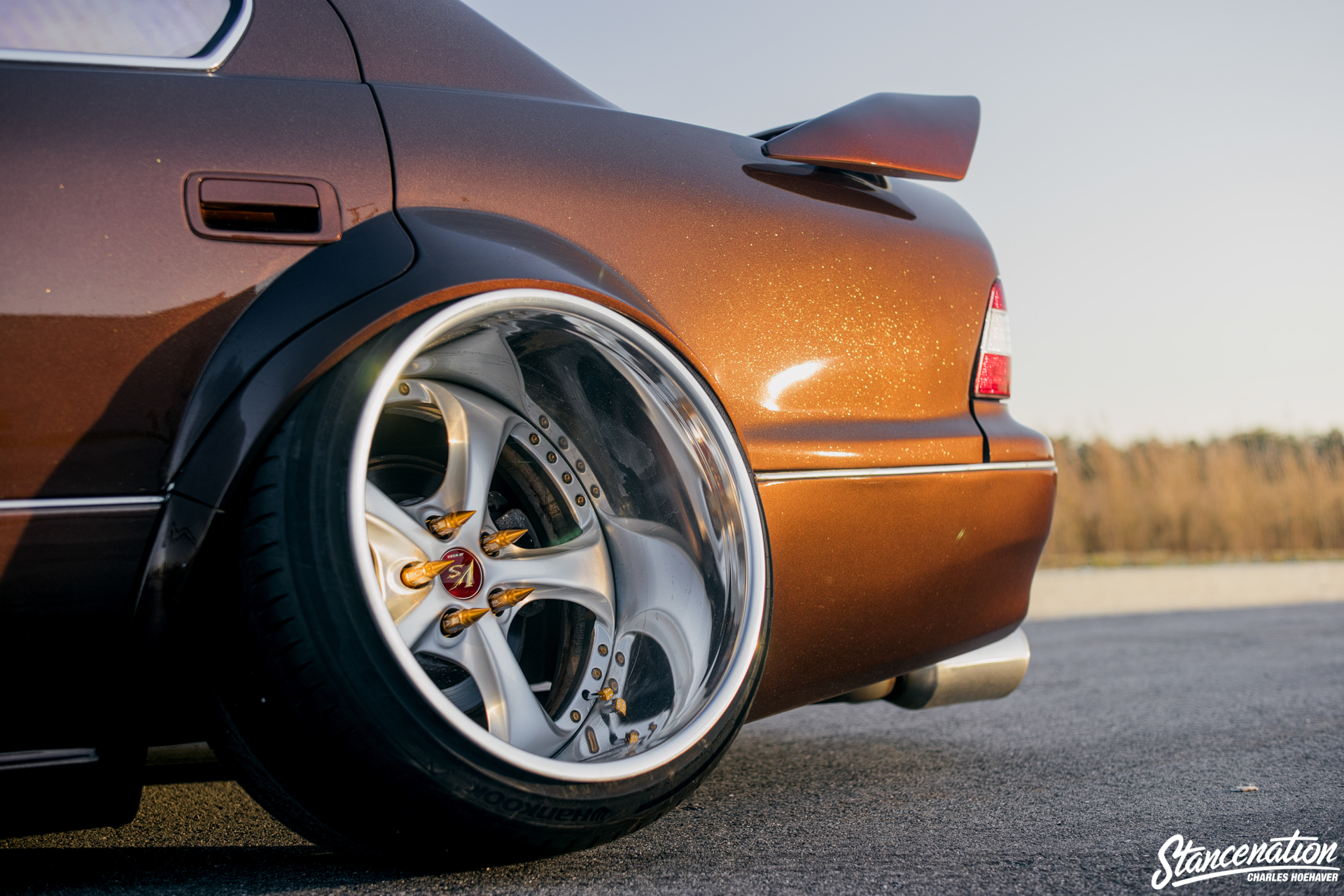 I can't remember  exactly when I first saw Ryan's name pop up, but it wasn't too long after I put up some pictures of my LS400 'finished' in a LS Facebook group.  I actually think it was because someone mistook his car for my car or vice versa.  Before this look, Ryan's LS was gold like mine.  Anyways, I soon saw a new friend request on FB from him and figured, "why the hell not."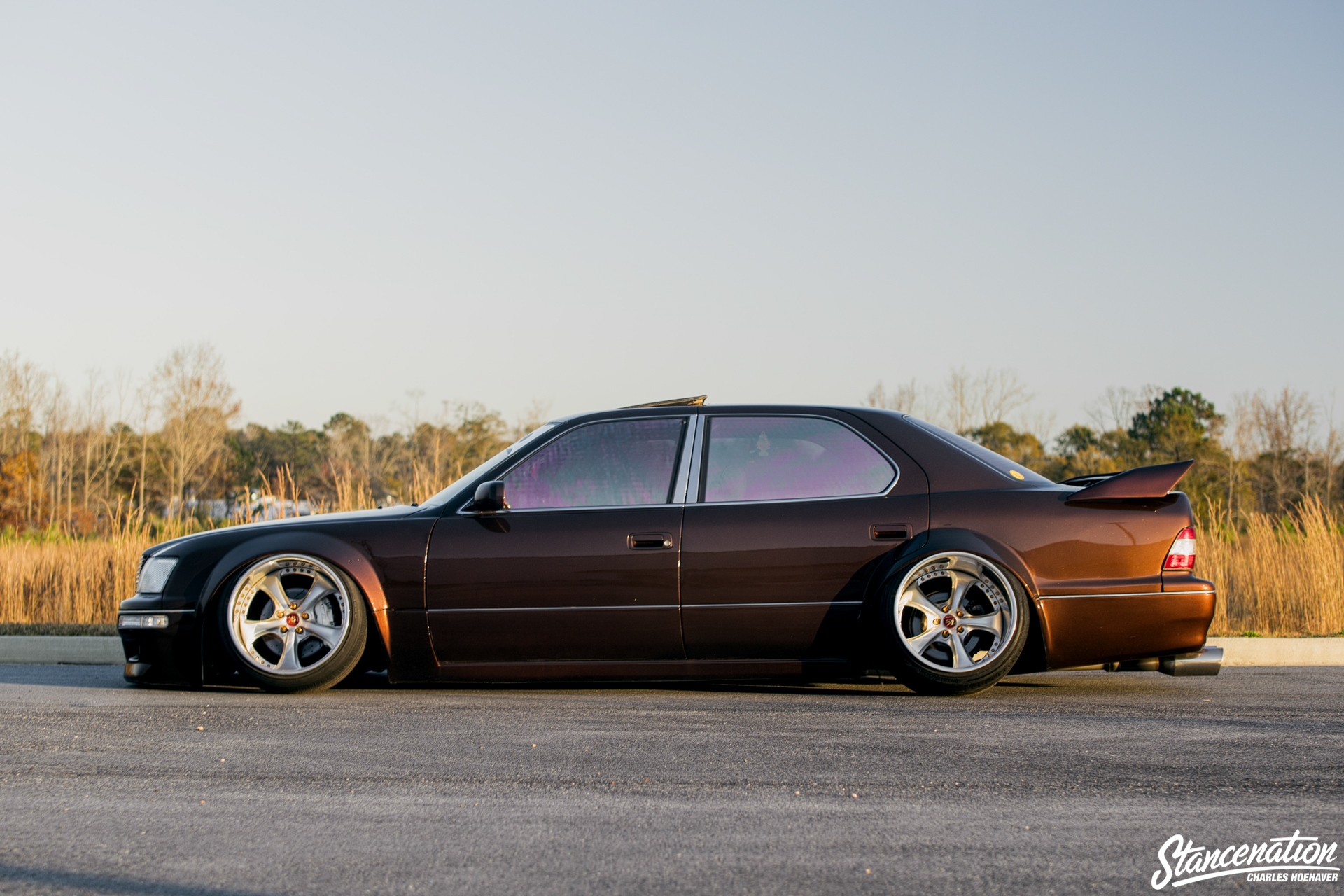 I probably got more than I bargained for, but beyond the meme-worthy FB posts, mutual roasting of LS400 FB group members, and stoking the flames of car crew drama, I found a genuinely good dude and a guy that is super passionate about cars.  Not just VIP or stance cars either, just cars in general, which is something that is becoming more and more rare these days.  Seems more and more of the younger generation just likes one segment of the car culture and ignores the rest it has to offer.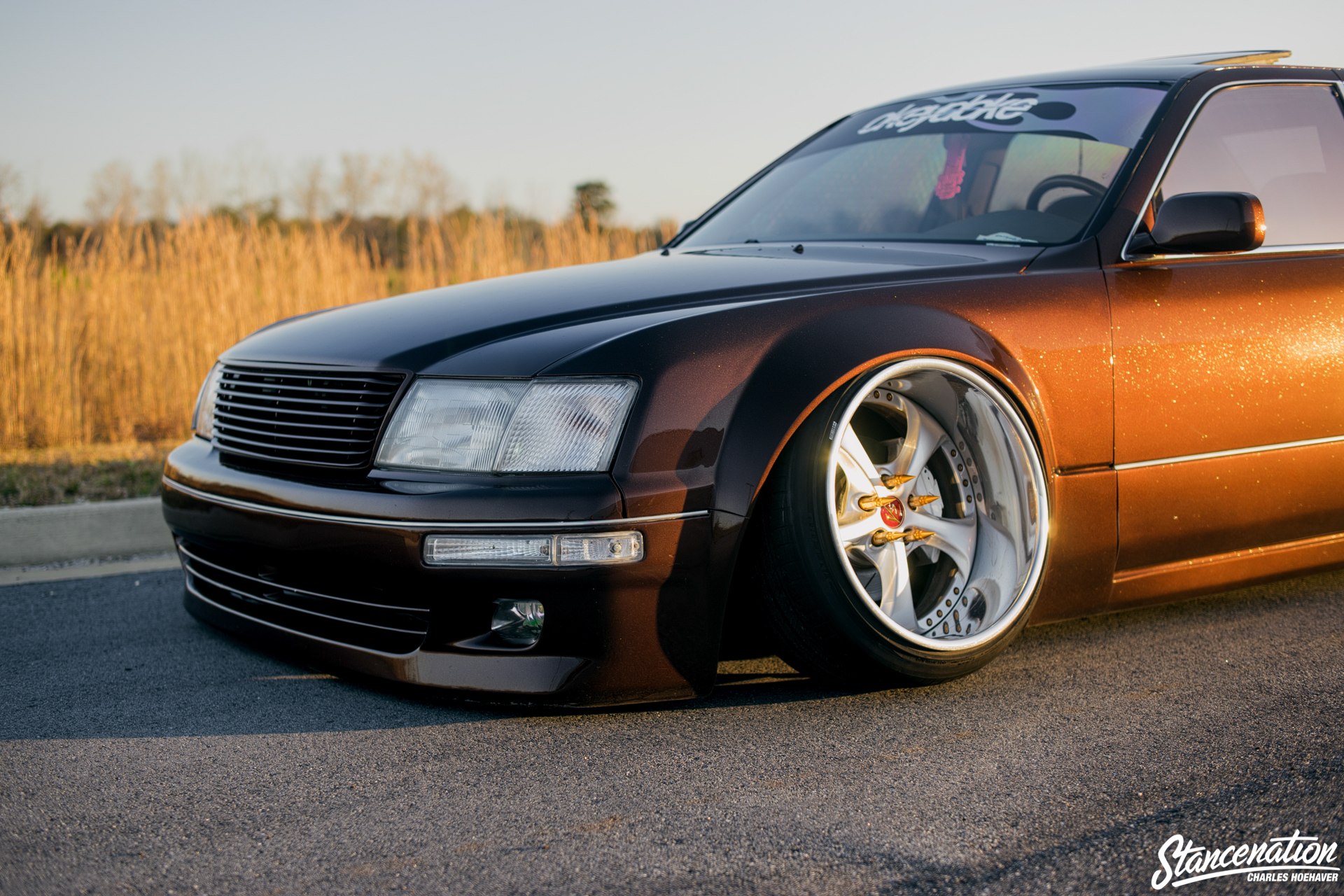 This LS400 has certainly been making the rounds since its debut this year, and I'm sure a lot of you caught it on YouTube where it was featured by The Smoking Tire.  That video sparked all sorts of controversy, and put Ryan and his car in the internet spotlight.  For most people in that position, that e-fame would all go their head, but I never saw that change in Ryan.  He just kept being him, and laughed it all off, and kept enjoying his cars the way he knew how, and that's how it should be for everyone.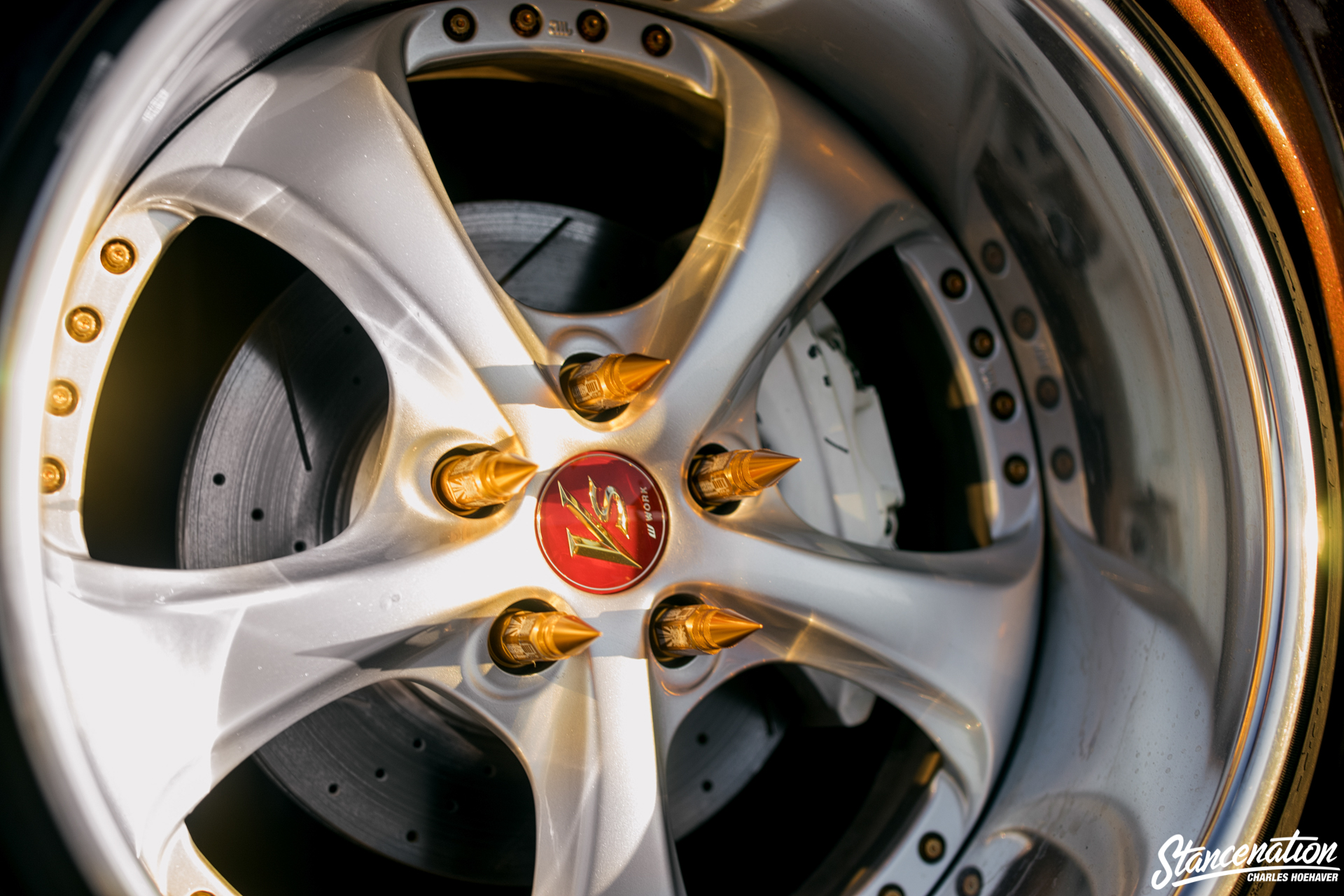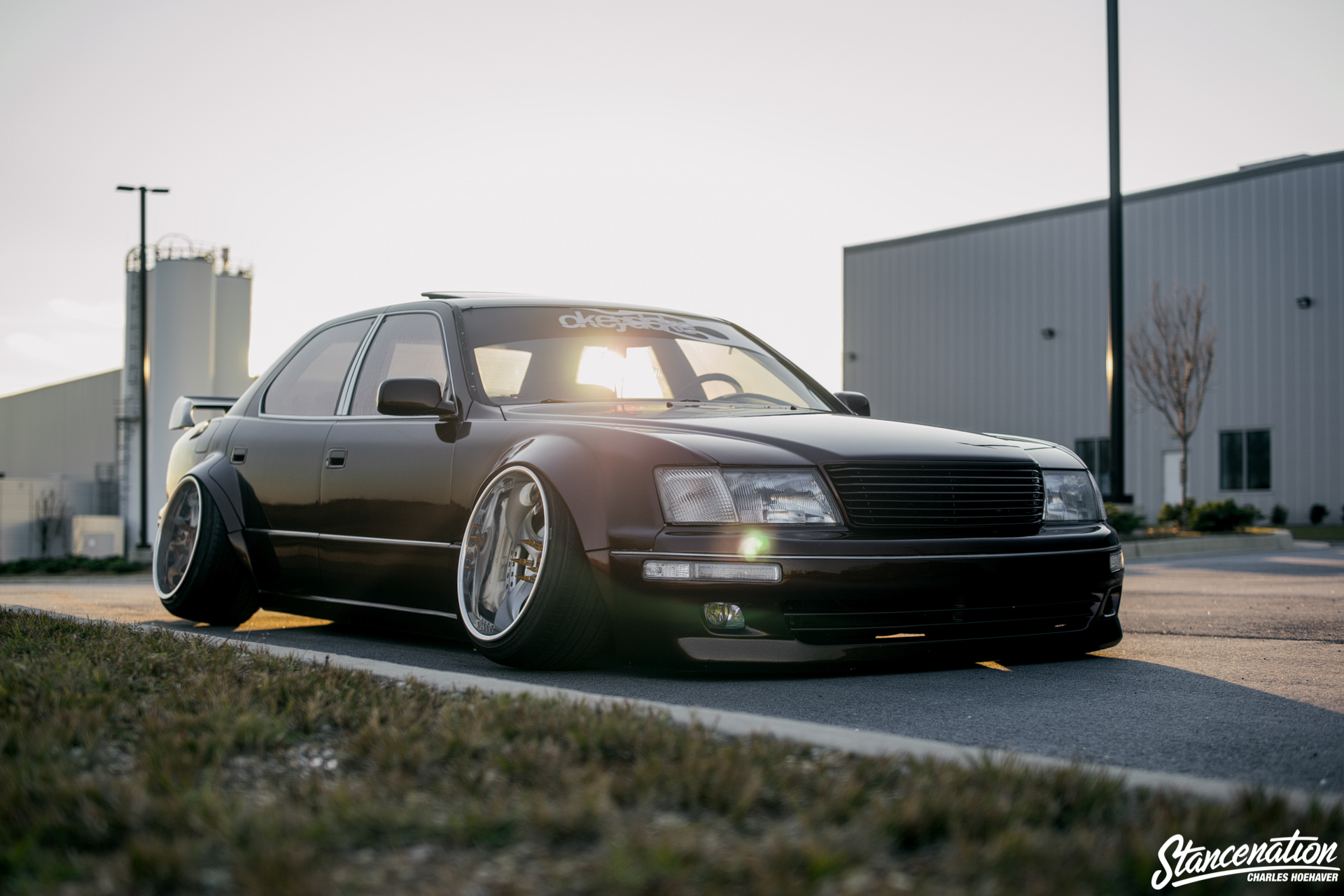 So, what makes this car so special that we just had to get our hands on it for a feature?  Well, I'm sure you know that a couple of us at SN have a thing for LS400s.  Elvis had one that was kind of cool I suppose, and then there's my long-term gold LS400 project that is way cooler than Elvis', and we always seem to be featuring/drooling over Celsiors in Japan.  Plus, we had the opportunity of seeing this car in person at our recent show in Atlanta, and that really pushed up the deadline to get this car onto our site to share.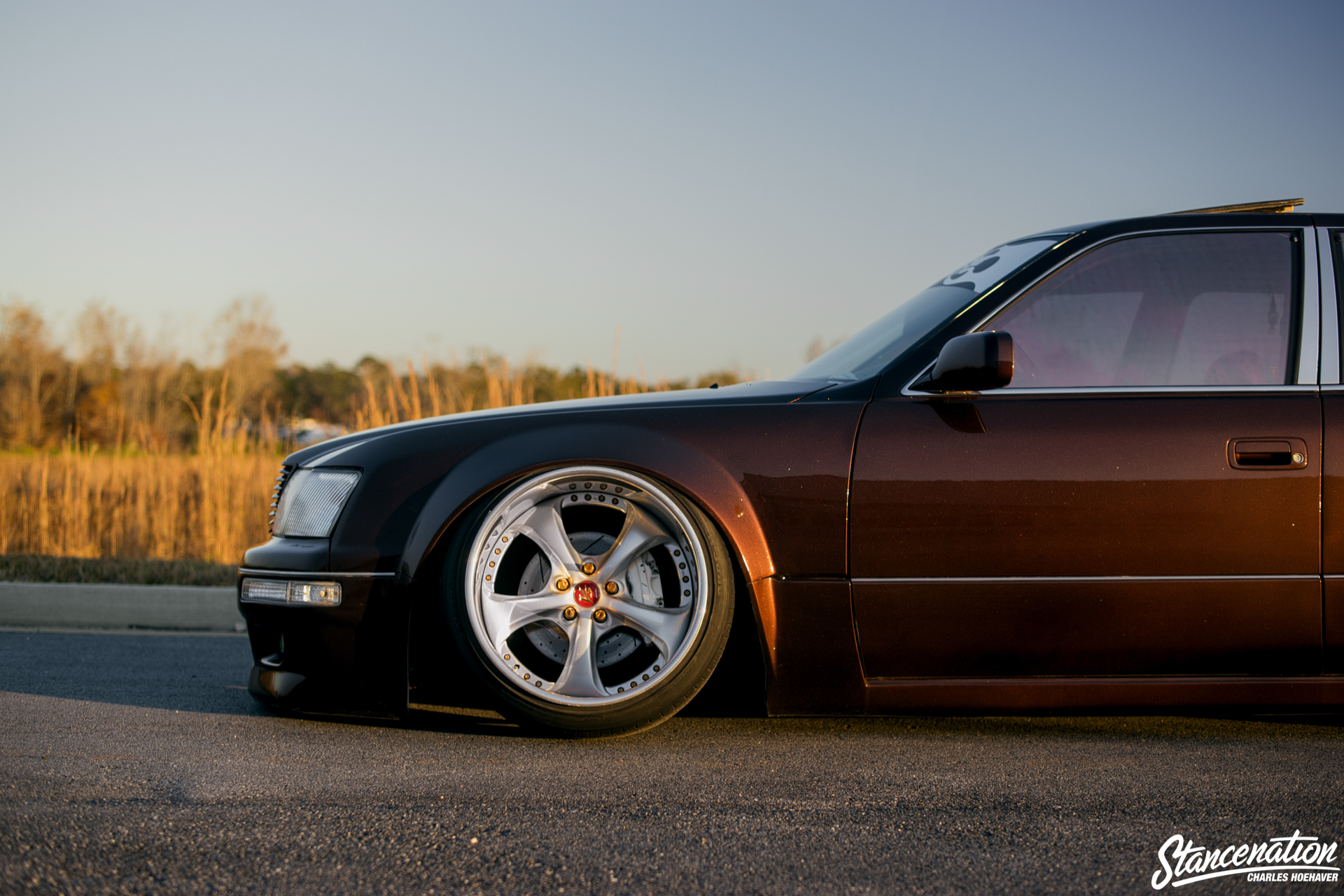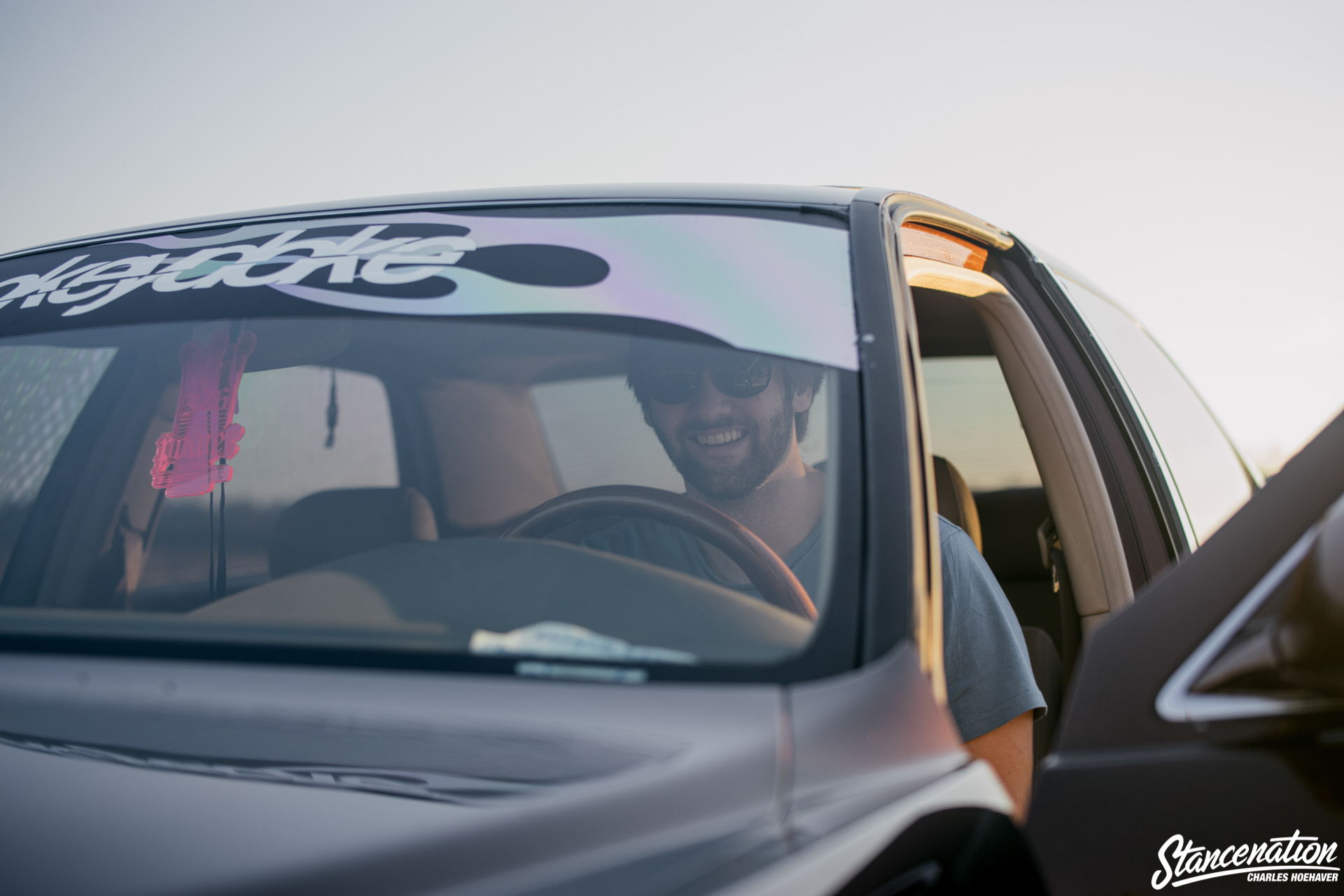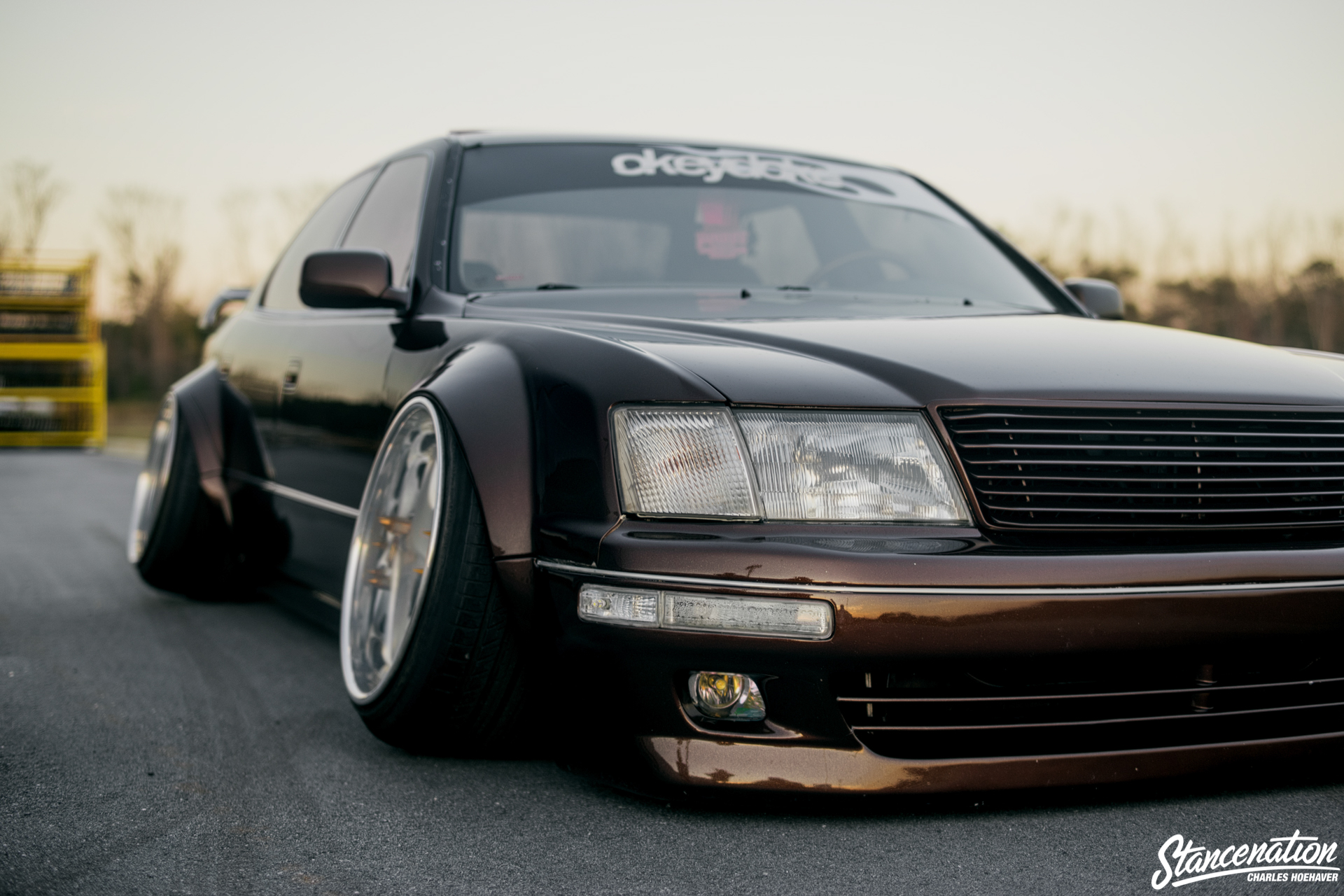 When people think of the UCF20 chassis of the LS400, most think of the 98-00 version, and that's what most people end up modifying.  The 95-97 version doesn't get the same amount of love, but this car is changing that.  The biggest difference between the two chassis is the front end, and the addition of vvt-i for the engines in the 98-00 version, but otherwise the cars are the same.  I'll confess that I preferred the 98-00 front, but the more I saw this car, the more I came to like the 95-97 front.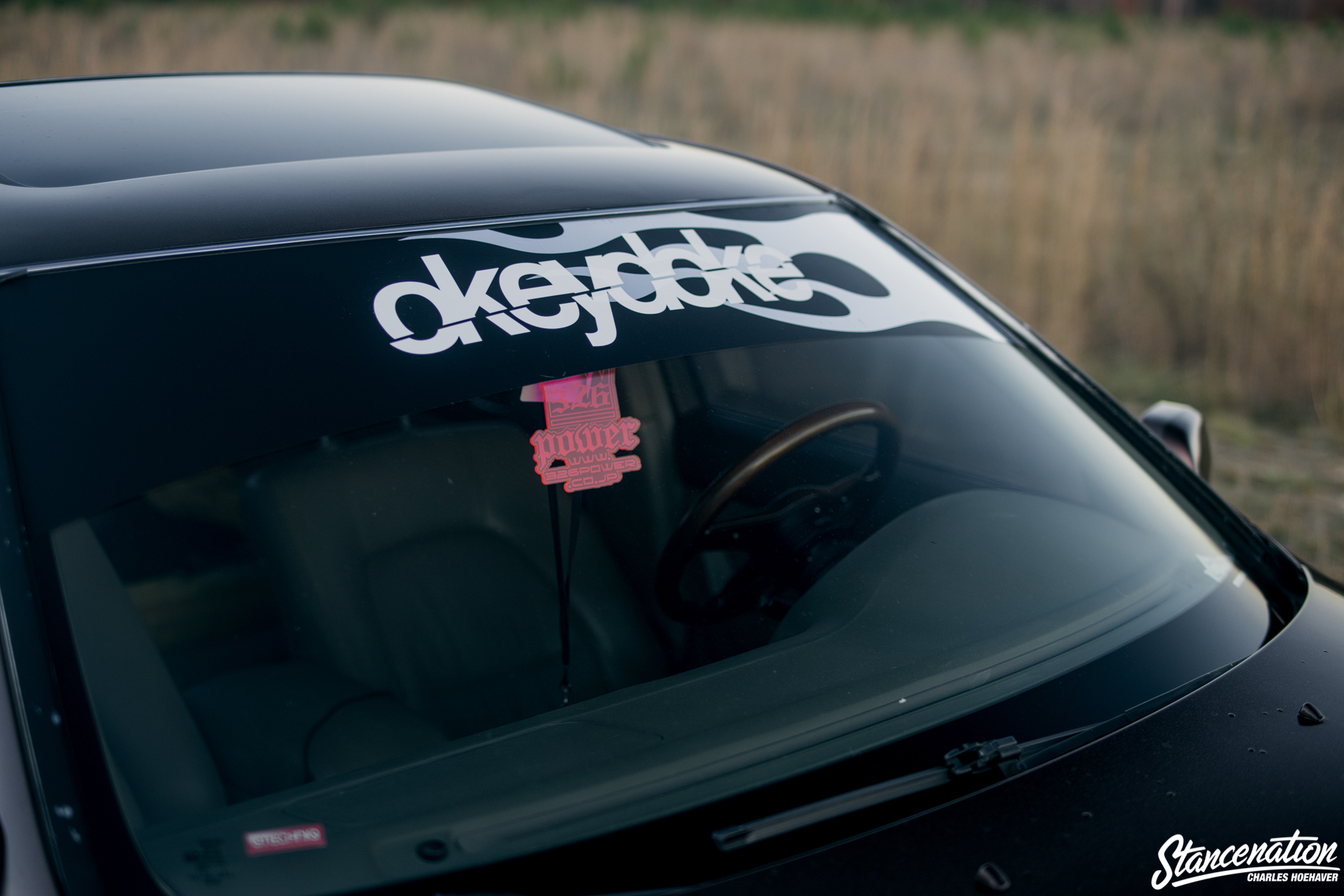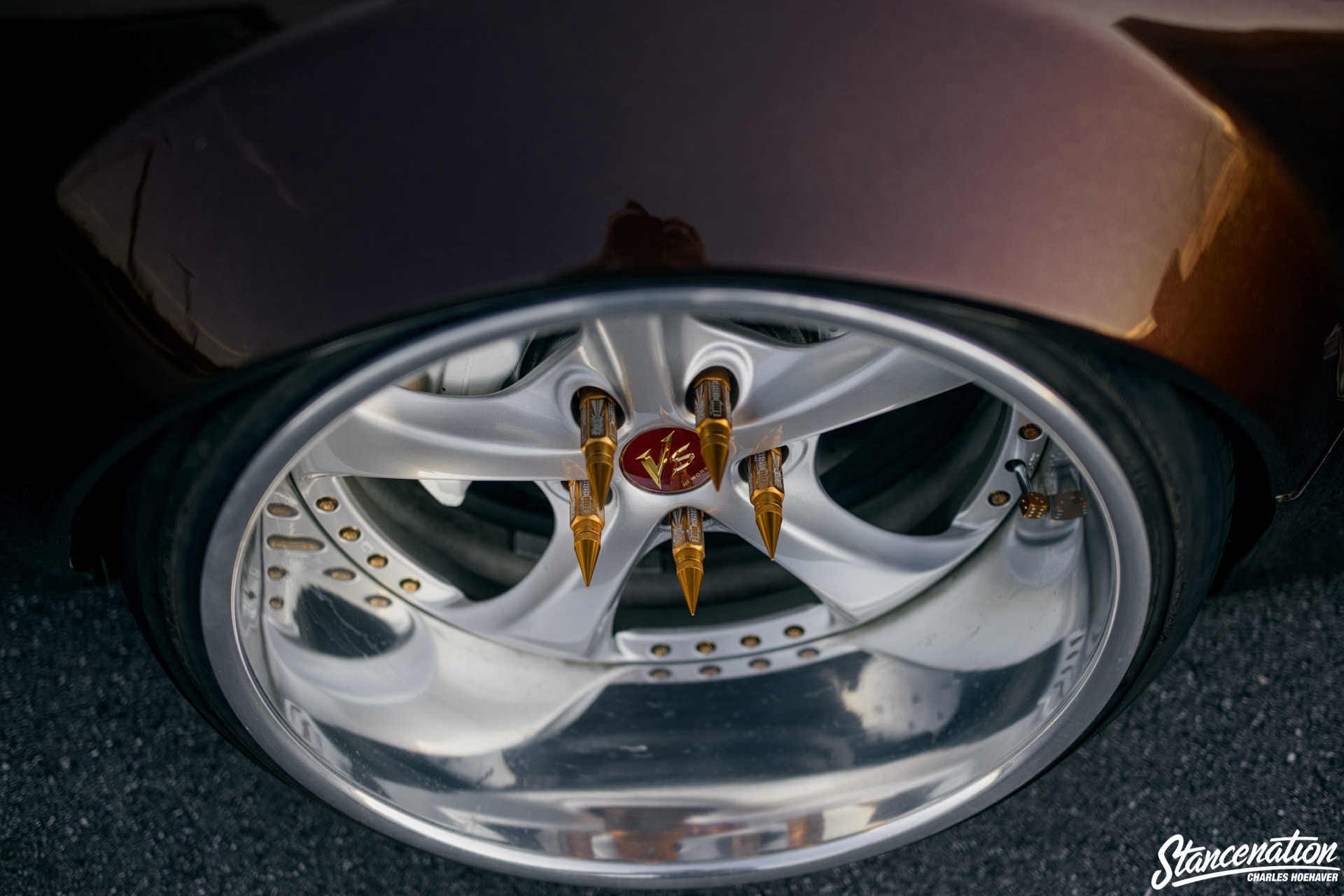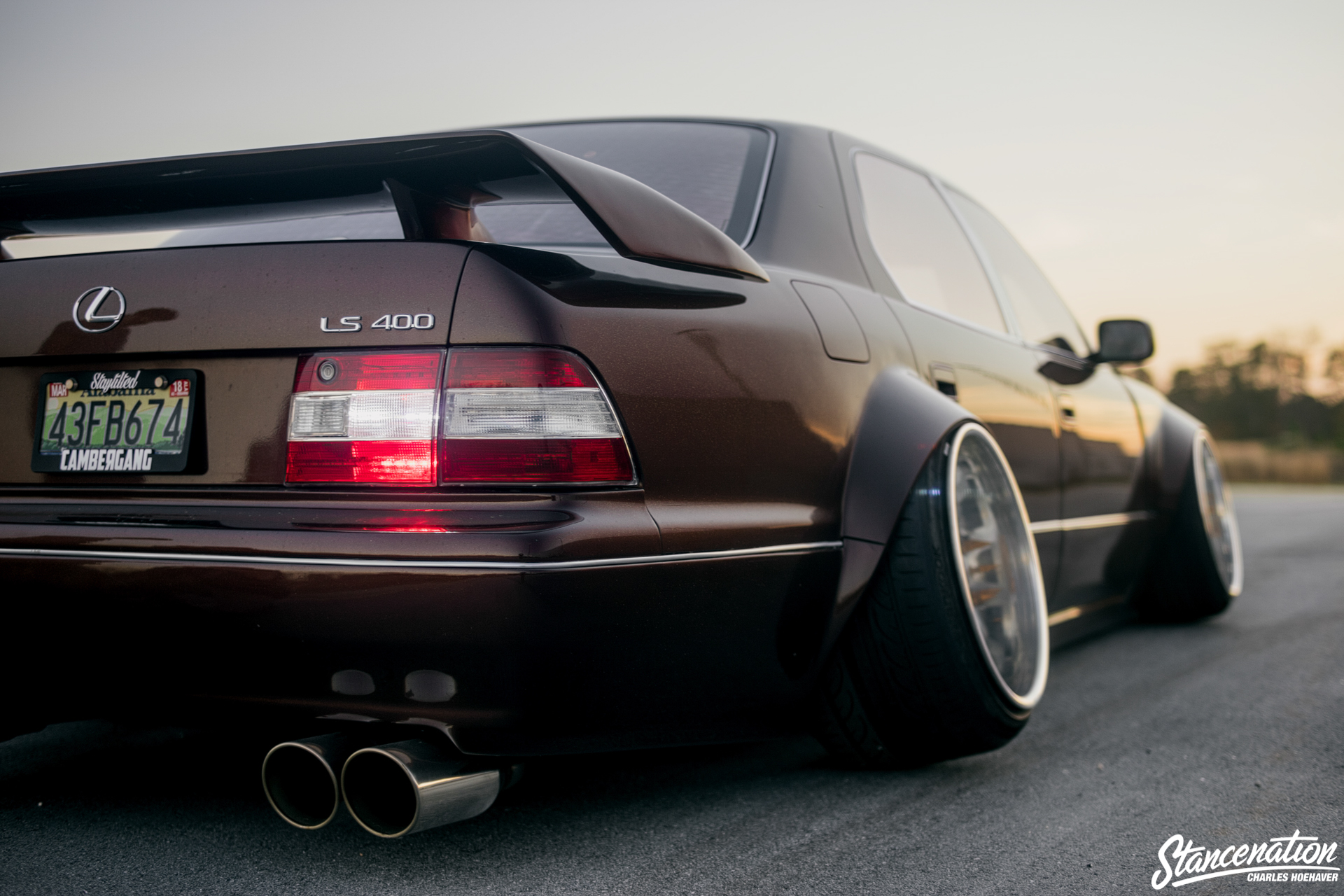 No one has gone this wild on a LS in the US in a few years, and I think that's why the car has gotten so much attention.  I mentioned earlier that the car used to be gold and it was also stock body with coils and a body kit.  It's obviously changed a lot since then.  The biggest change is the massive widebody conversion.  For this, Ryan had the car sent down to SuperStar Customs in Atlanta, Georgia.  This was actually one of the biggest hurdles during the build because it spent nearly a year down there to get the work done.  Luckily, Ryan is a patient guy, and he was pretty stoked when he finally was able to pick up the car.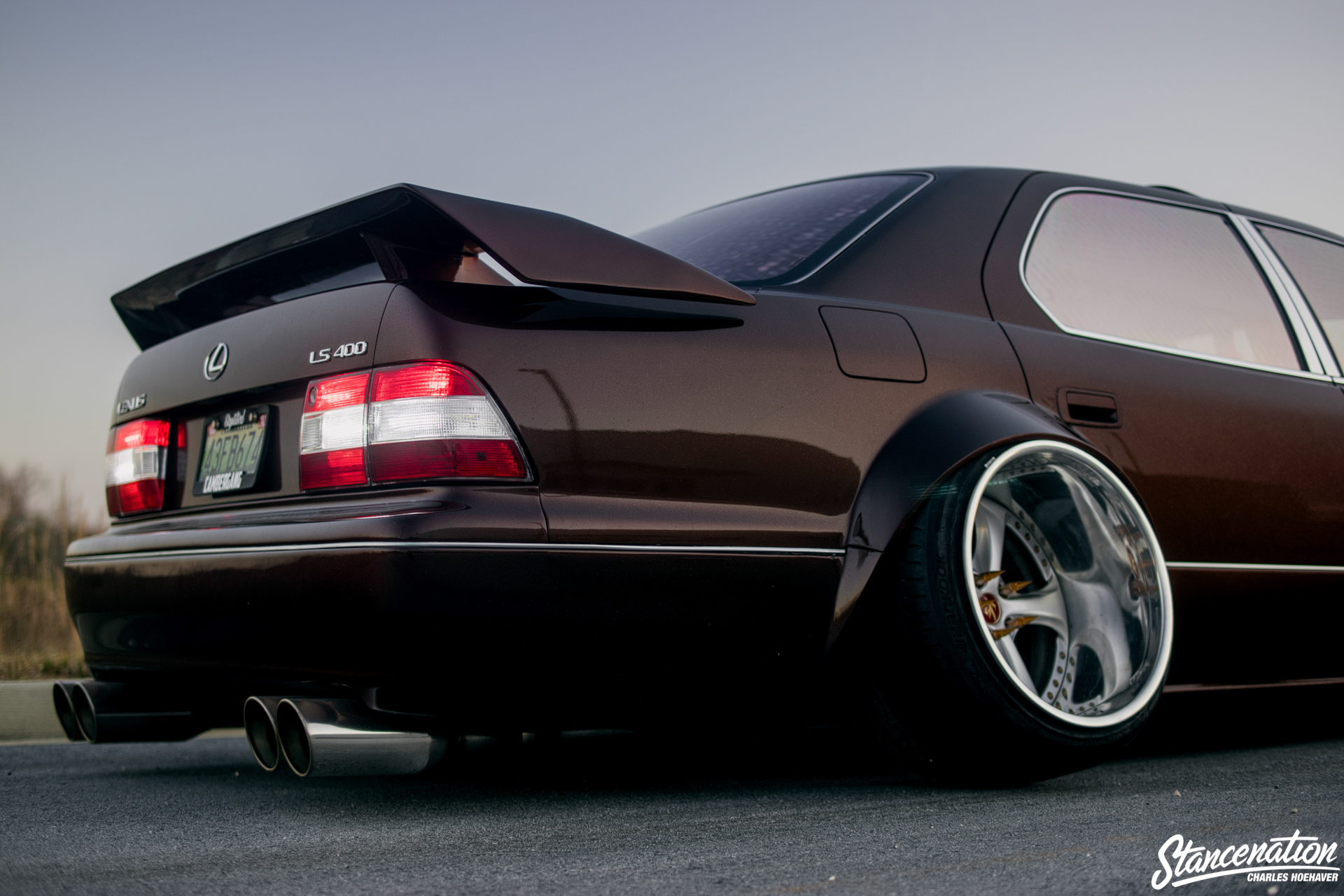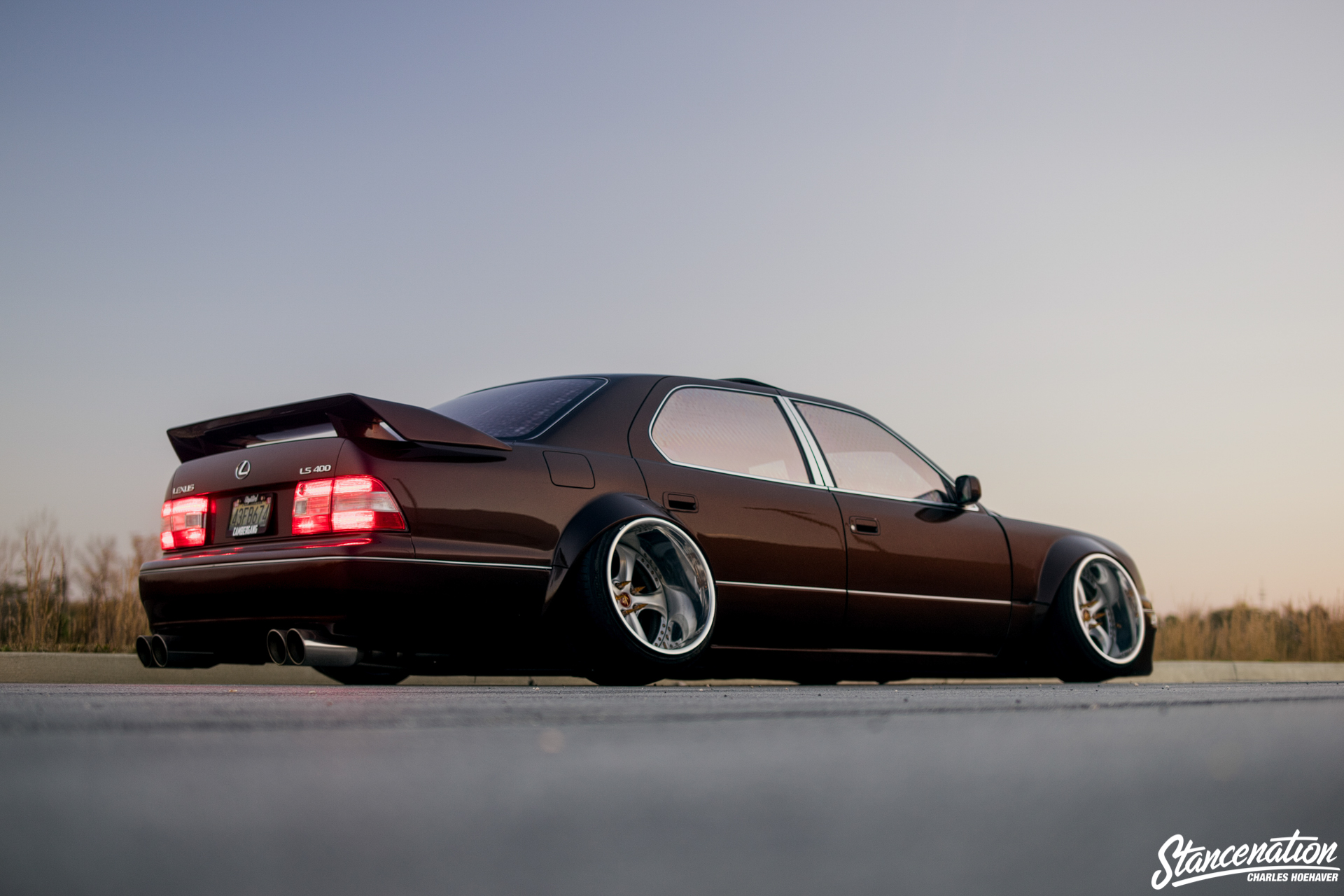 After picking the car up from SuperStar, Ryan brought it over to Boulden's Paint and Body to have the car painted.  There's a funny story behind the color.  Ryan has another car, a Nissan 240sx that he got after he started building this car that was painted sunset bronze metallic from a Toyota Venza.  Ryan liked the color so much that he decided to have his LS painted the same color when the time came.  There's some added flake to his version of the color, and it really shows in the light.  This happens to be one of my favorite colors as well because of how good it looks, and it almost changes color depending on the light.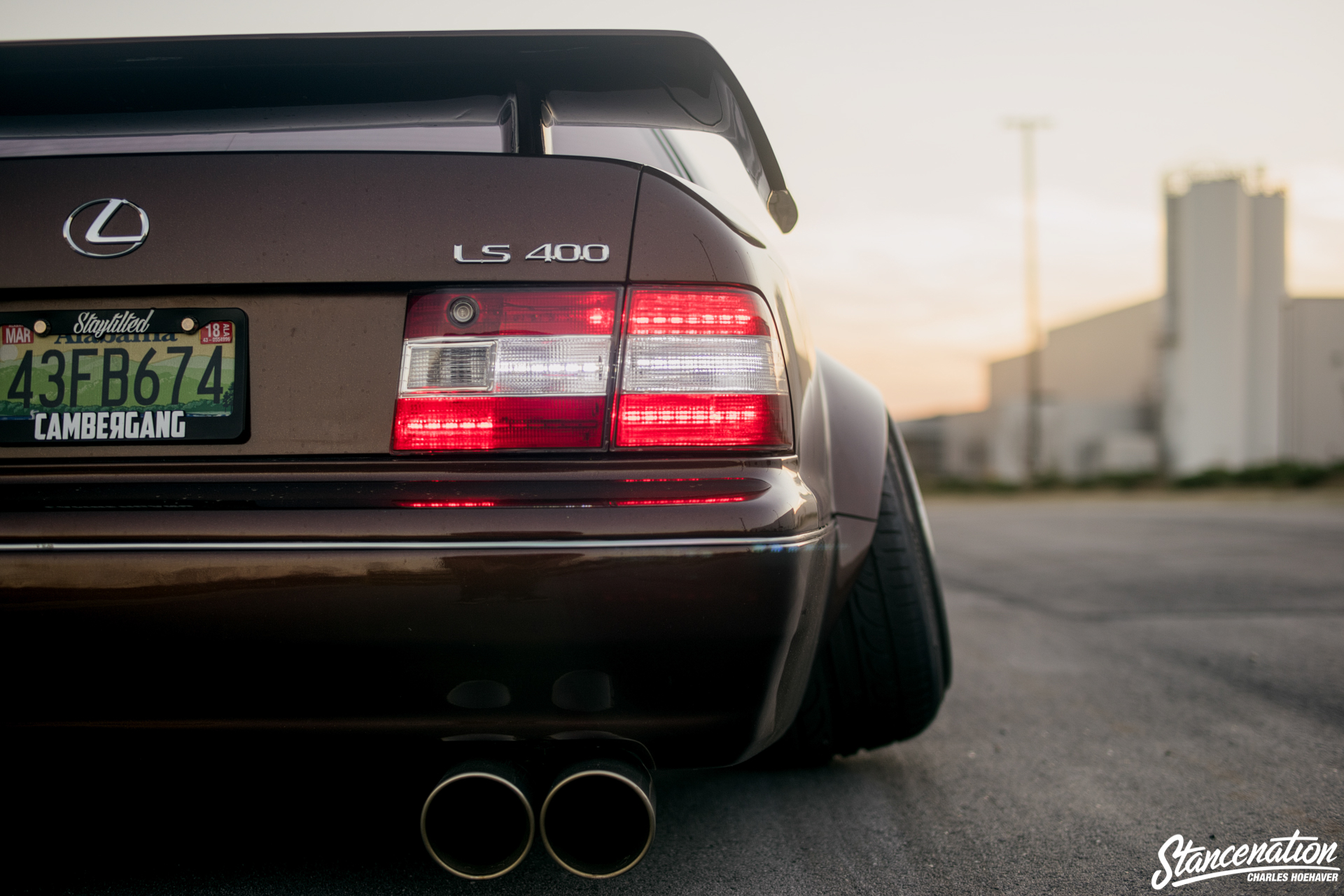 Apart from the fender and quarter panel work, the old kit he used to run is still on the car, modified of course to fit the widened body.  The kit itself is a rare, Junction Produce Destiny kit, and really sets Ryan's car apart from the rest.  With the addition of a Brave grill, 326Power wing, custom LED Braga tails, and massive 5″ exhaust tips, the exterior of the car was complete.  It's really a unique look, and is definitely a more modern take on VIP styling.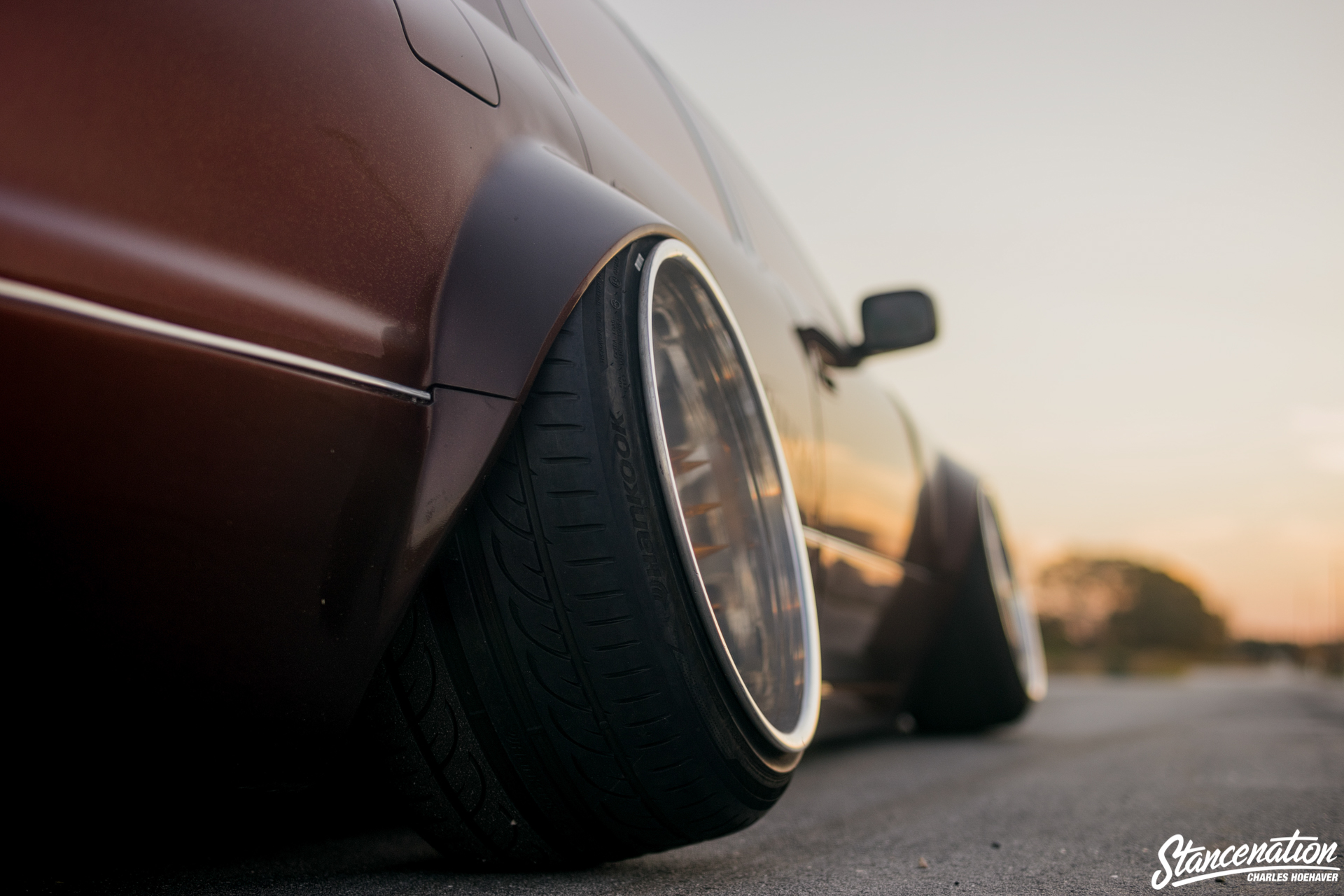 With the massive flares comes a set of equally massive wheels.  It was known from the beginning that to fill the widened arches, Ryan was going to need a ridiculous set of wheels, and VRWheels in California delivered.  Ryan  went with a classic choice, Work VS-KFs, but to bring it into the 21st century these babies were widened to fill their own zip code.  For all you spec hunters and hypebeasts, y'all better sit down for this one.  These steamrollers come in at 19×11 -52 and 19×14 -74.  Just nasty.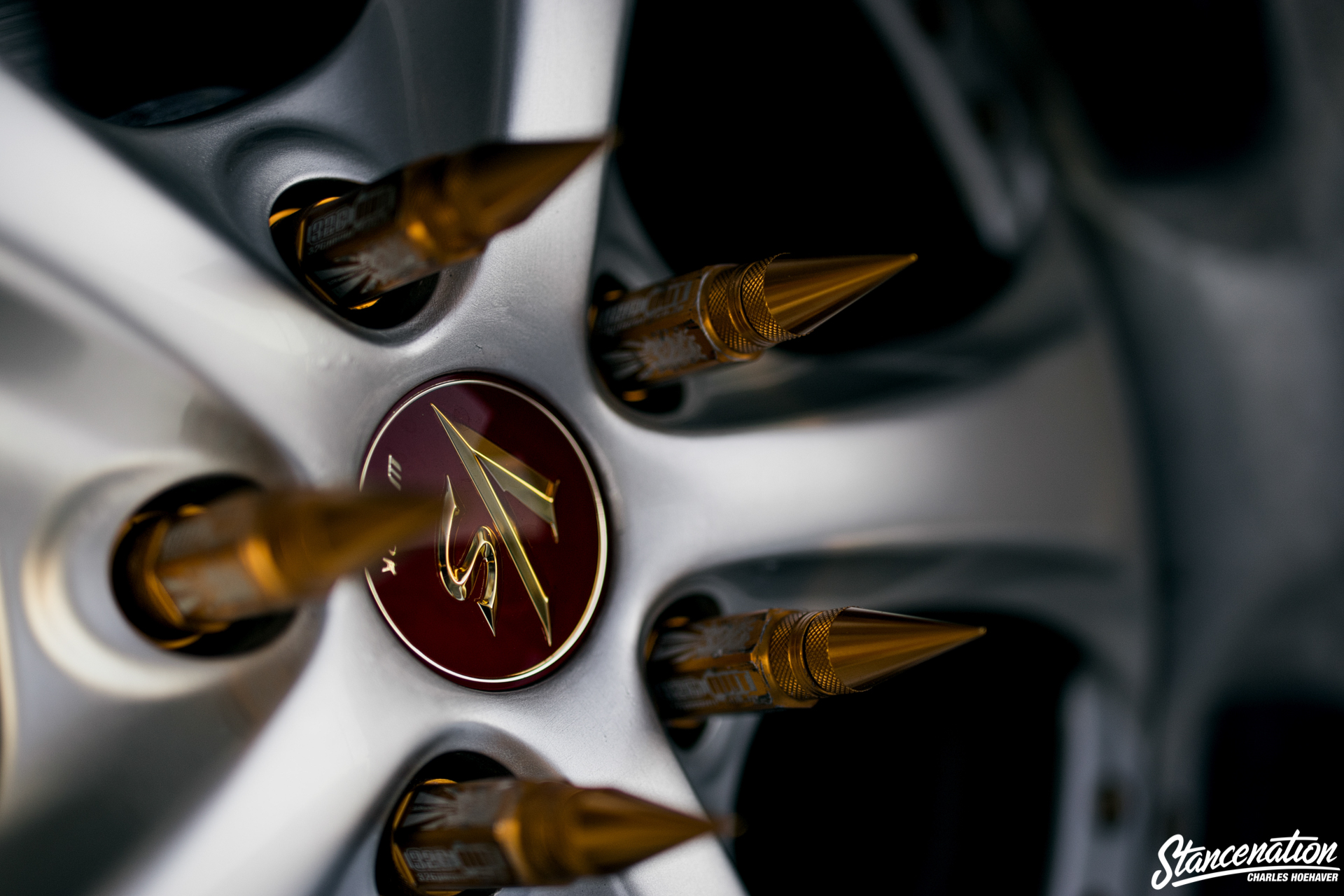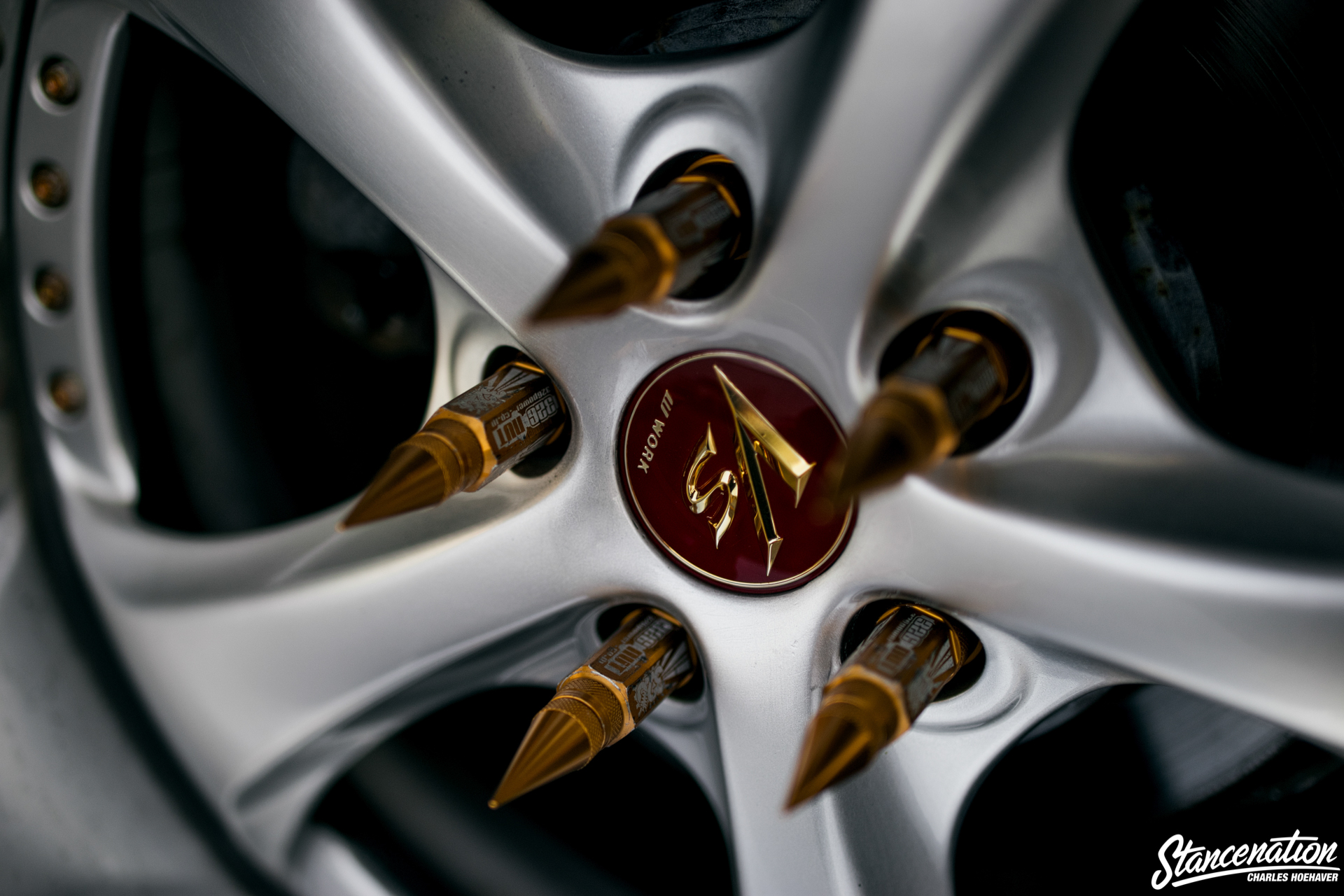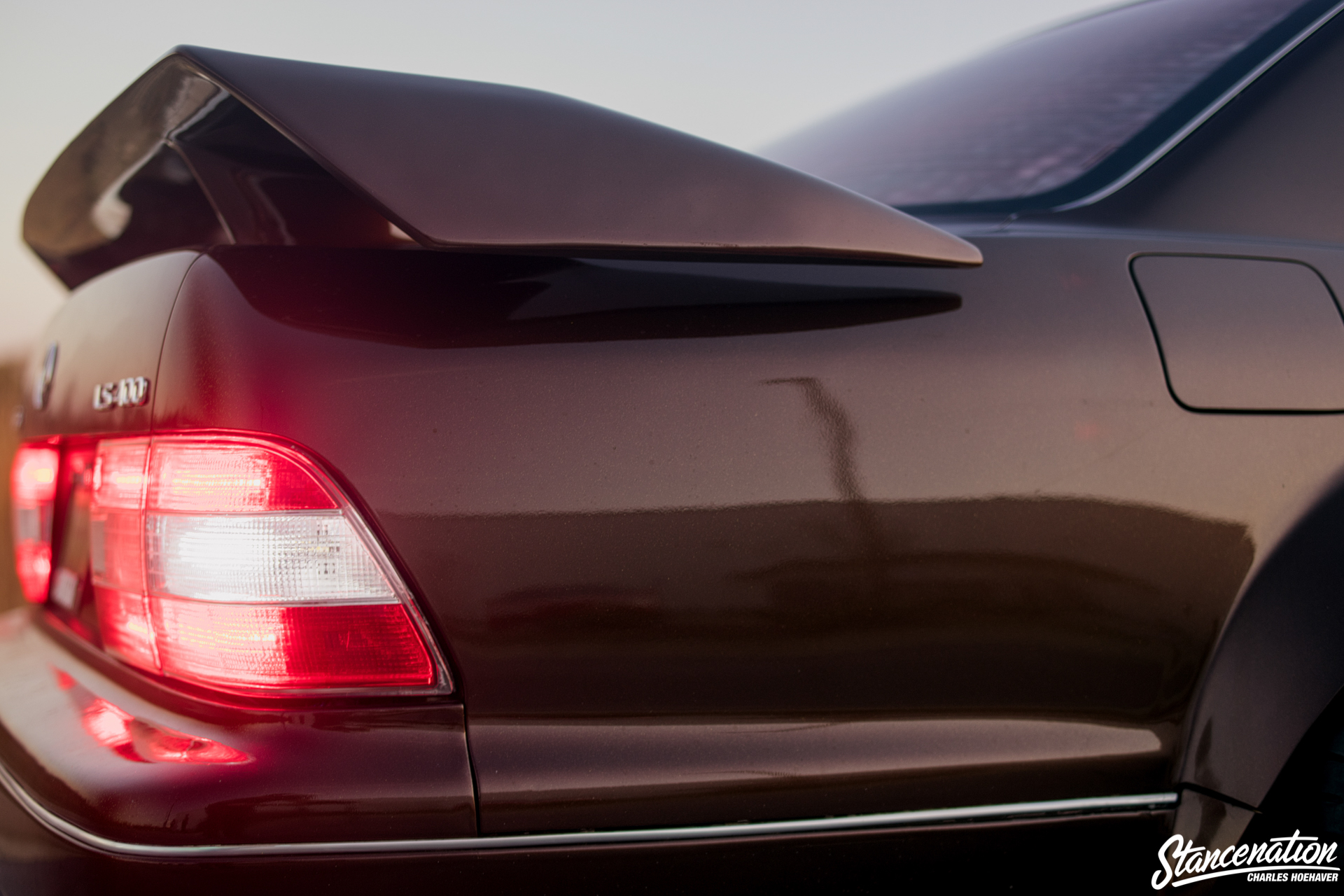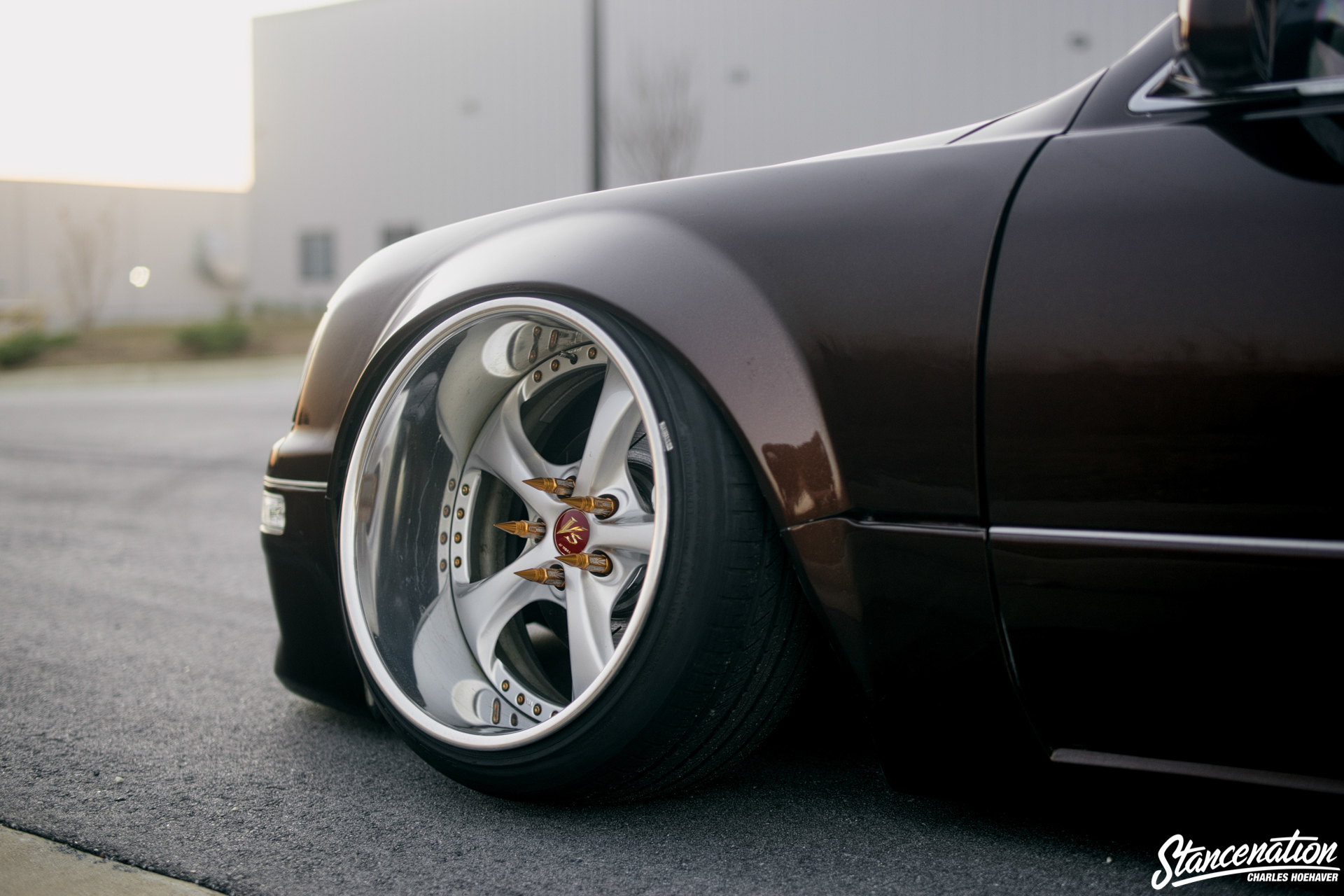 To get those monstrous wheels up snug against the fenders, Ryan employed the power of air-ride.  Sitting on K-Sport air struts with Airlift v2 management at all four corners, Ryan can dial in the height to suit the occasion.  To get the fitment dialed in, Ryan hit up the good people over at Serial Nine for a set of their arms, and had a set of extended tie rods and front lower control arms made to get some added camber in front.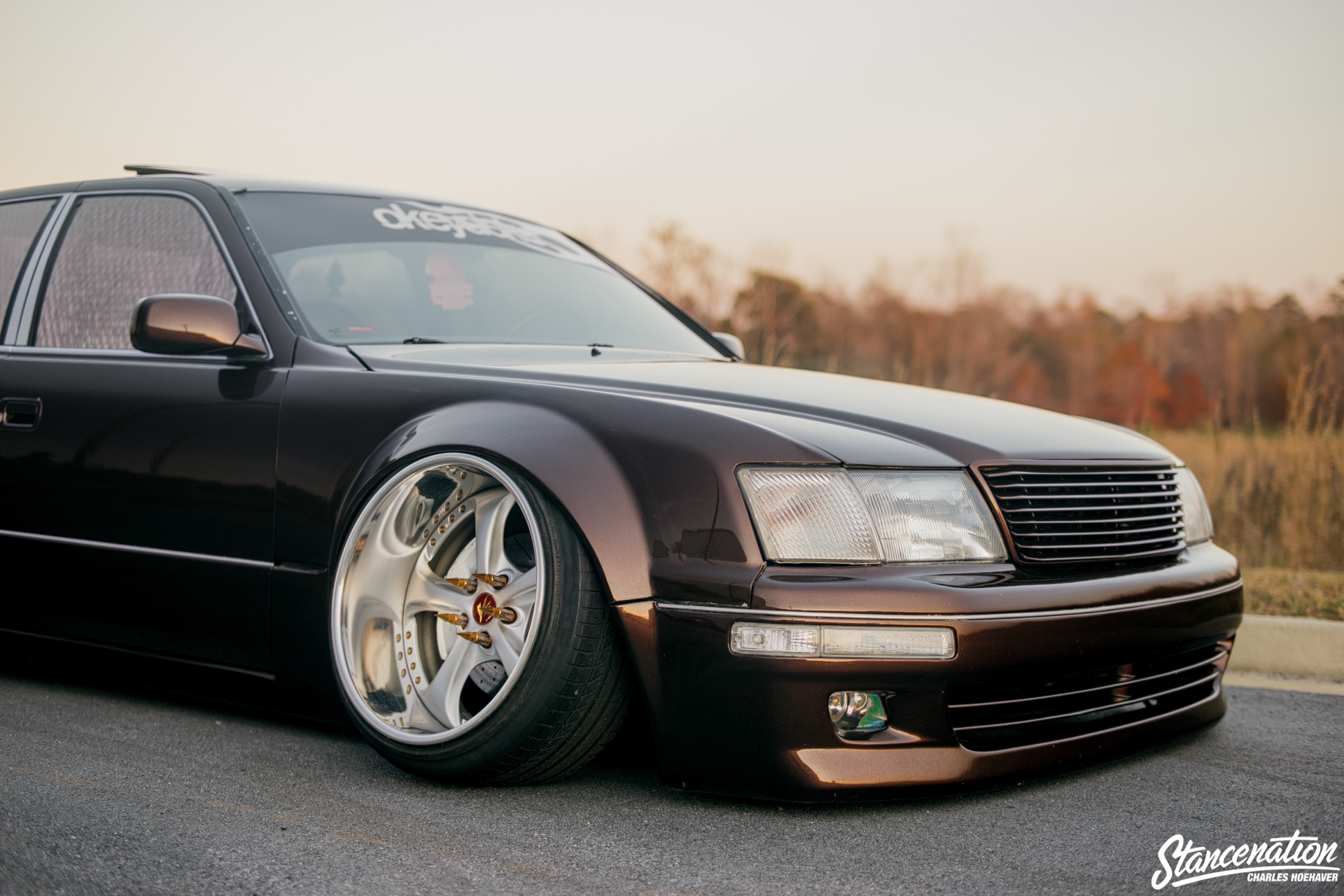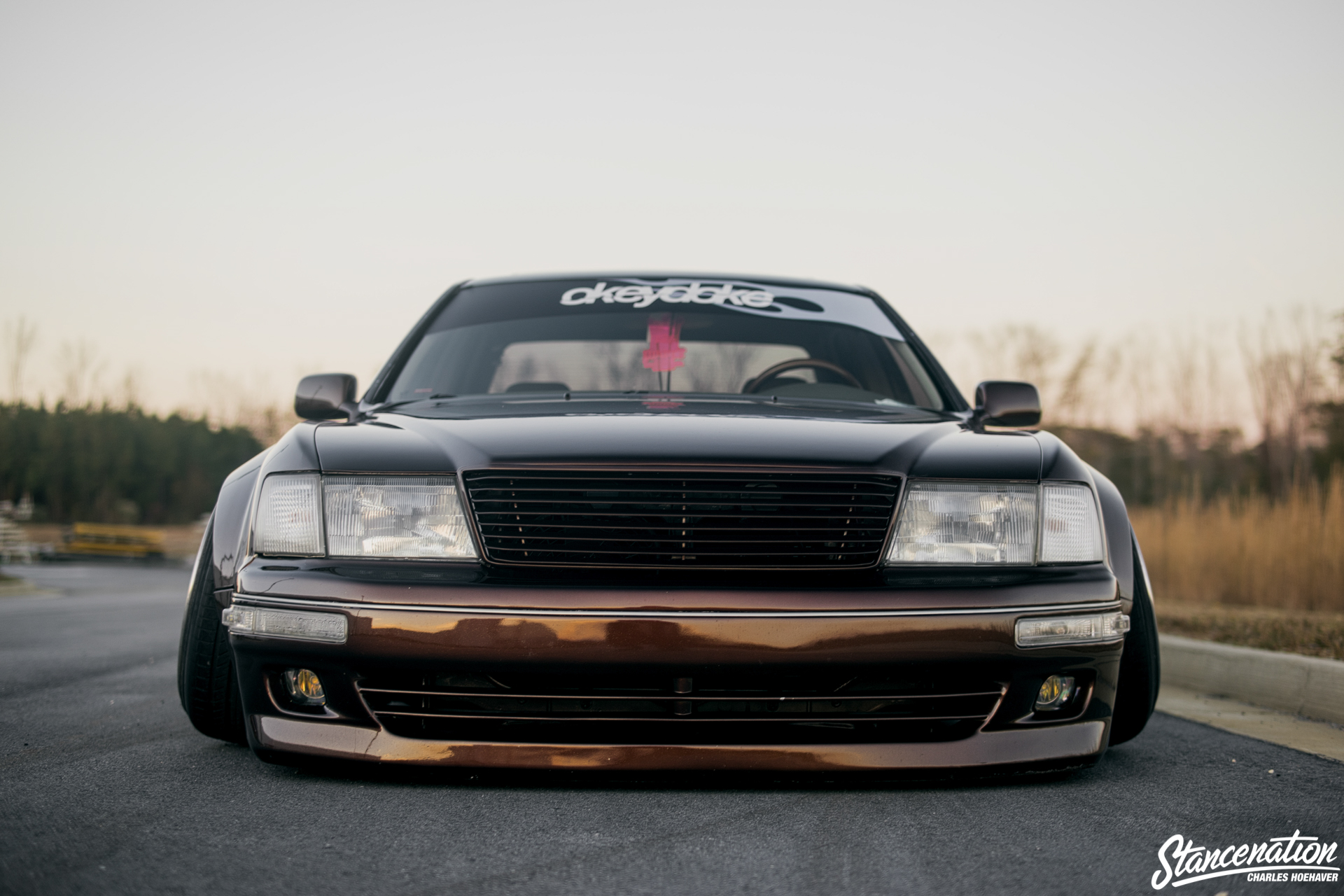 So what's next on the car?  I'll let Ryan answer that.  "Interior modifications.  As of right now, that's the one thing I hate to be lacking.  The exterior is so extreme, I need to go in depth with the interior to the same extent."  Interiors are also an important part of any build, and it's good to see Ryan recognize that.  Can't fault him though right now for wanting to bring the car out a bit after having it down so long for the body work.  It'll be cool to watch the interior take shape when it does to see how he's going to match it to the extreme exterior.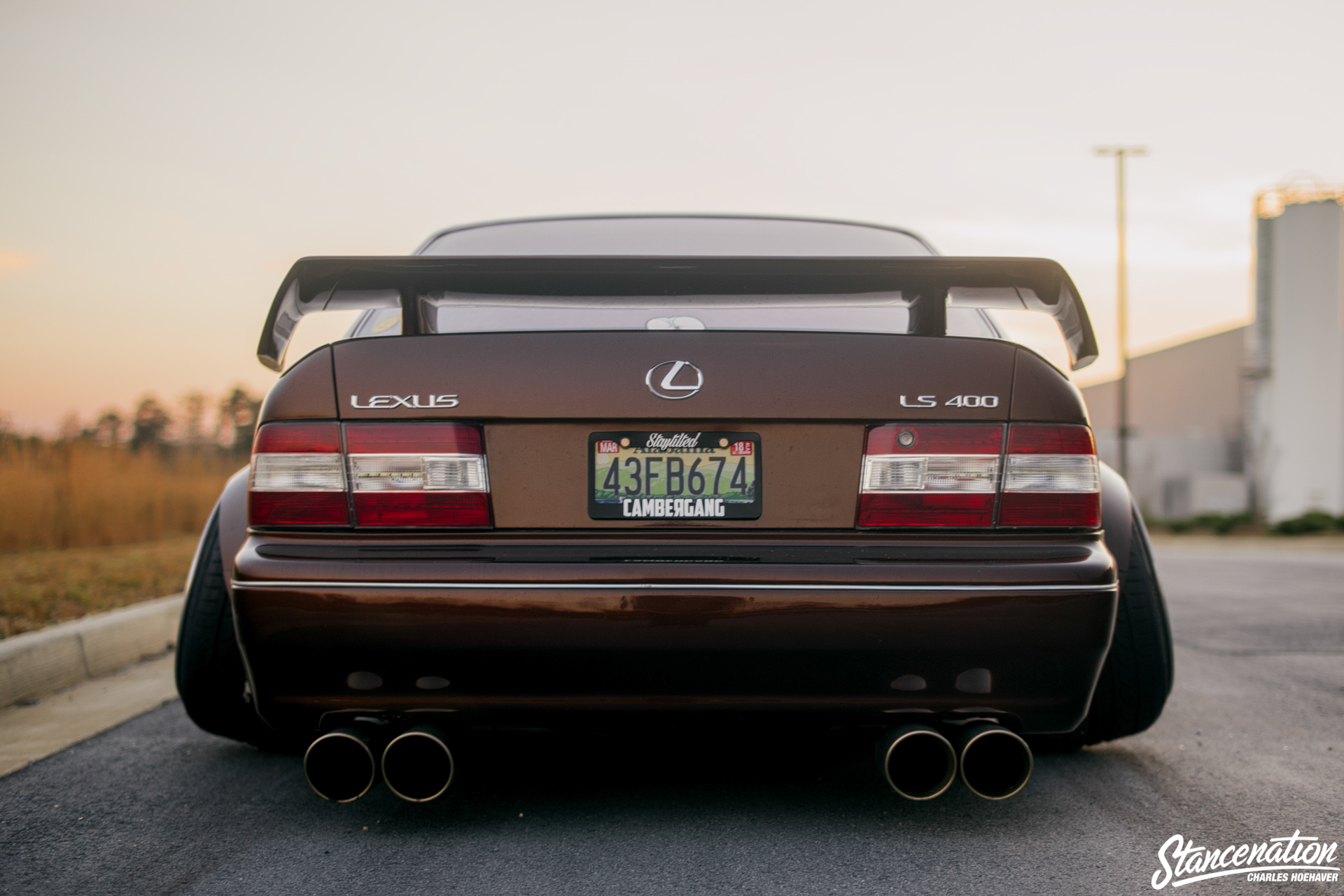 Like any good build, it's never really done.  We look forward to seeing the changes Ryan has in store for the car.  What was really nice though was to see him enjoy the car for the season.  Ryan's still on the younger side, and I definitely think he learned about the ups and downs of having a project like this, but he took it in stride for the most part, and at the end of it all he had fun.  Getting to meet Ryan at our show in December was a treat, and I added him to my short list of truly humble people that I've met in my years of the car community.  He took home a couple of awards and came up to me after the show still beside himself because he never thought he'd win at a show like SN.  In a day and age where you hear more people complain about not winning, it's nice to see people who see an award as more than a trophy, but as a symbol of recognition from their peers.  He told me it was like a dream come true.  Well Ryan, how about one more for you to start 2018.  Here's your very own feature on StanceNation.  Well deserved my friend.