Aimgain is a company that is synonymous with VIP, so you know that when they decide to build a demo vehicle it's going to be something serious.  Japan is still the epicenter of all things styling related, especially when it comes to modifying luxury sedans.  There are some impressive builds all over the world, but it's always safe to say that Japan will deliver the goods time and time again, and when Aimgain rolled out this new LS460 F-Sport, it hit hard.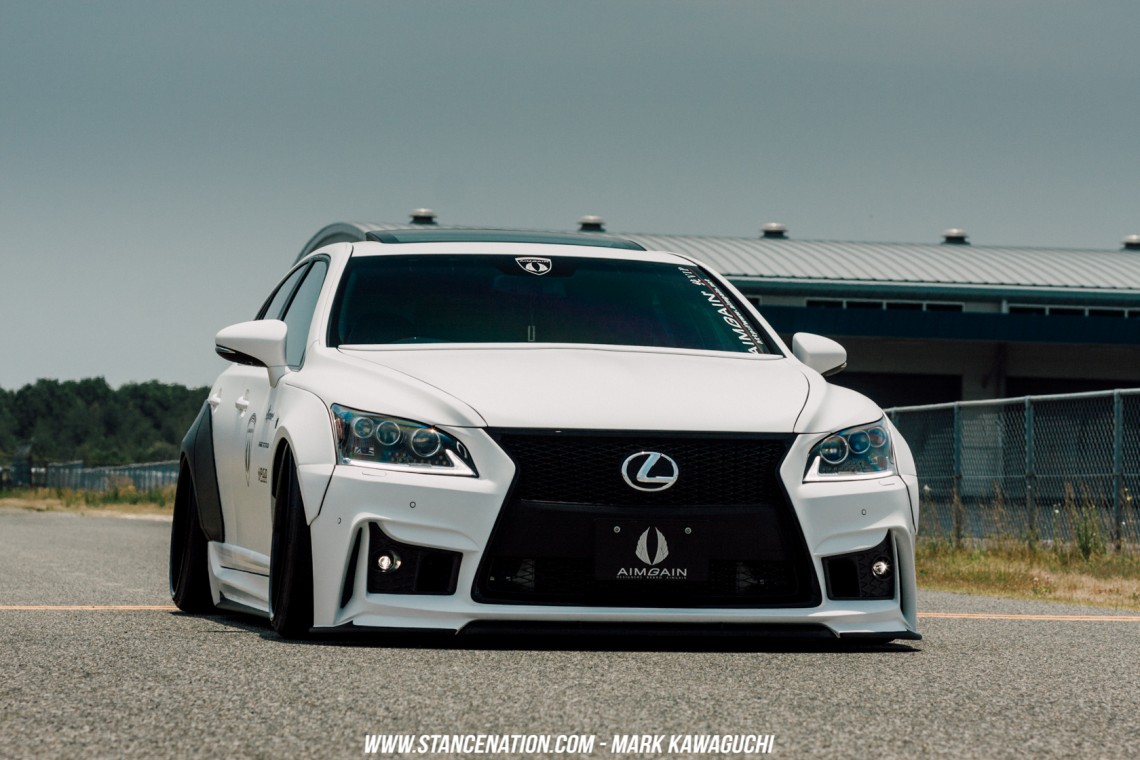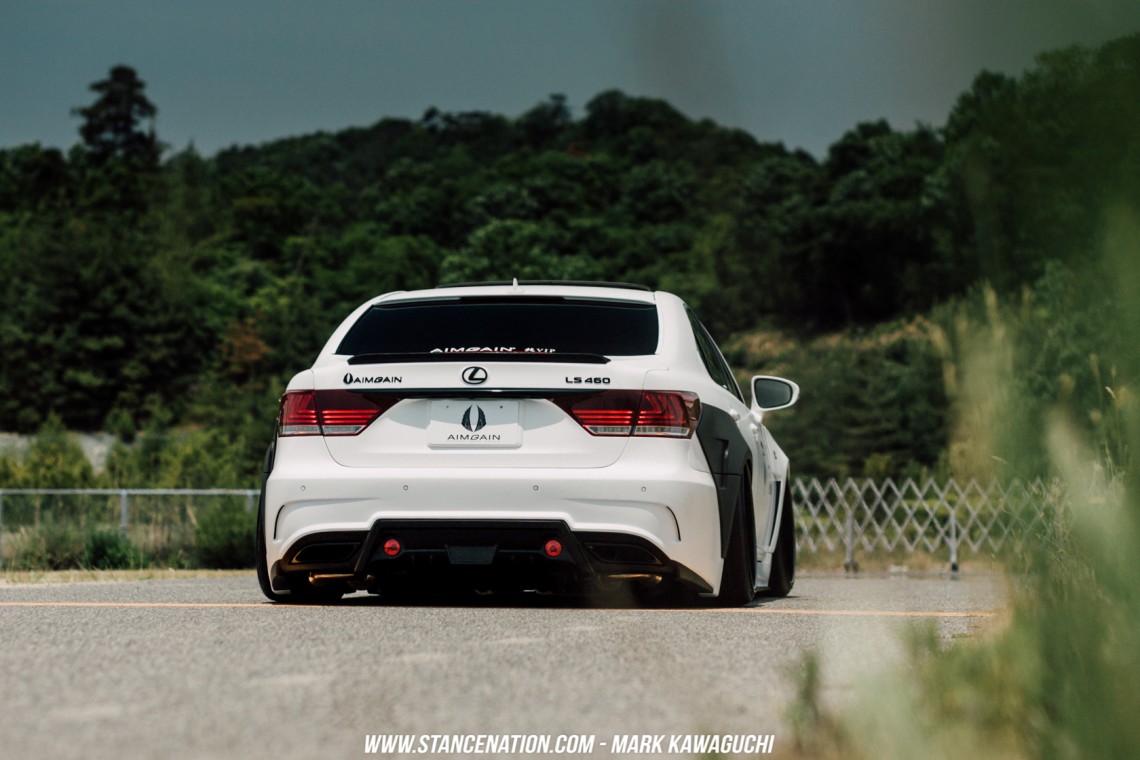 GT-Style VIP is definitely gaining more and more momentum in Japan.  As the designs of cars get tougher and sleeker, it makes sense to add a little attitude to them.  Especially when companies like Lexus have the F-Sport line, it makes sense that builders want to keep that sportiness aspect to the car.  Granted, it's still a LS which exudes luxury in every part of the vehicle, but I like that Japan is taking the fight to the Germans with their AMGs and M cars, and are delivering luxury, style, AND performance.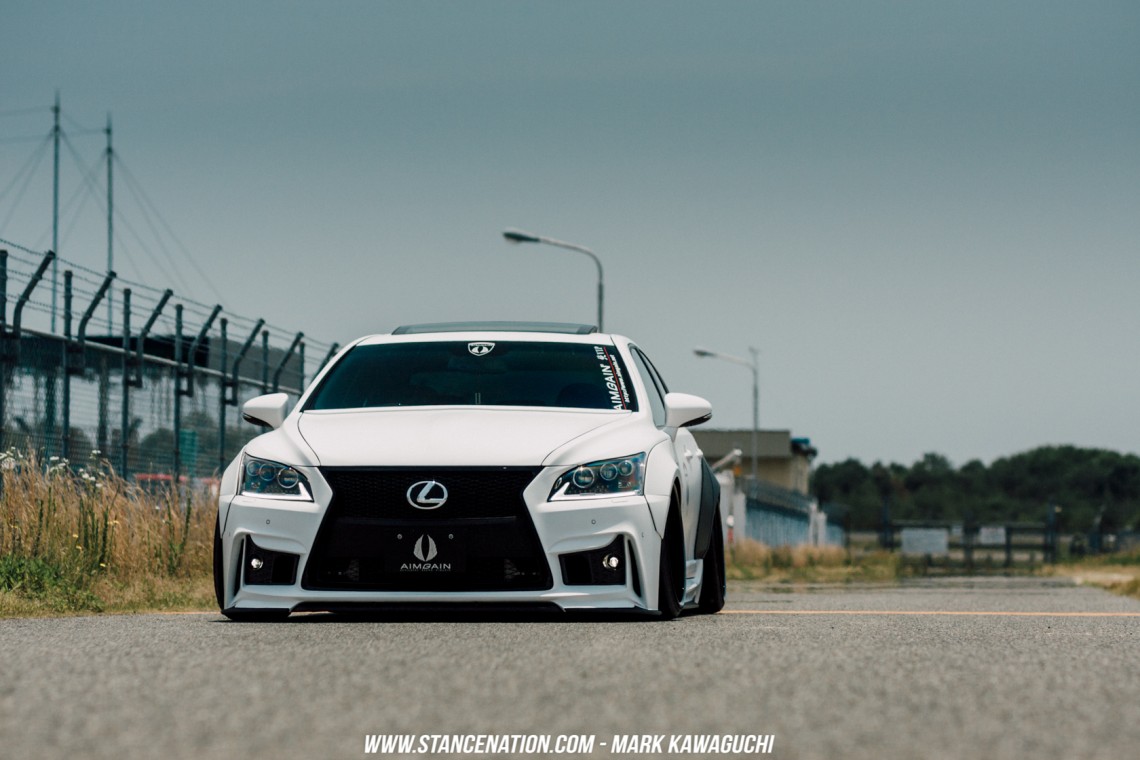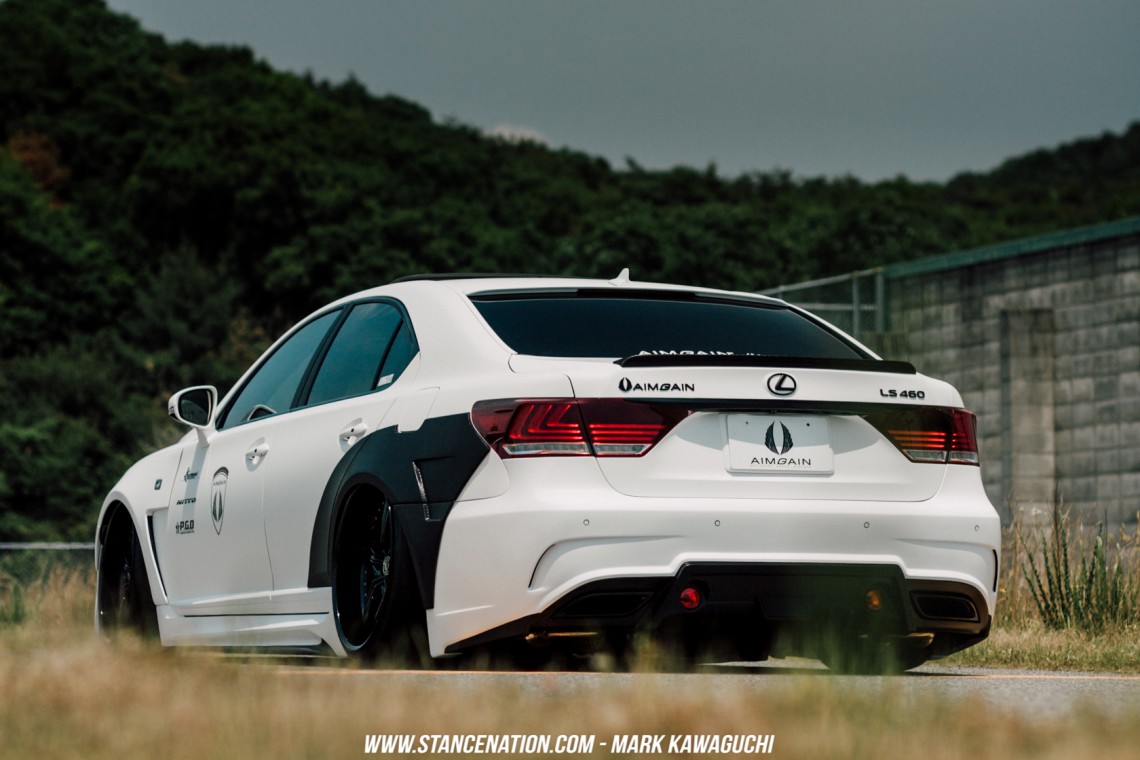 The new LS F-Sport already looks way more aggressive than the early LS460/600s.  The front end is more meaner and aggressive, and the updated rear-end definitely ups the ante in the attitude department.  Aimgain got the balance right with the body work.  It's obvious that they've added quite a bit, but not so much to the point that it starts taking away from the original car.  They played off the original lines, and developed off of that.  The result is a home-run for sure.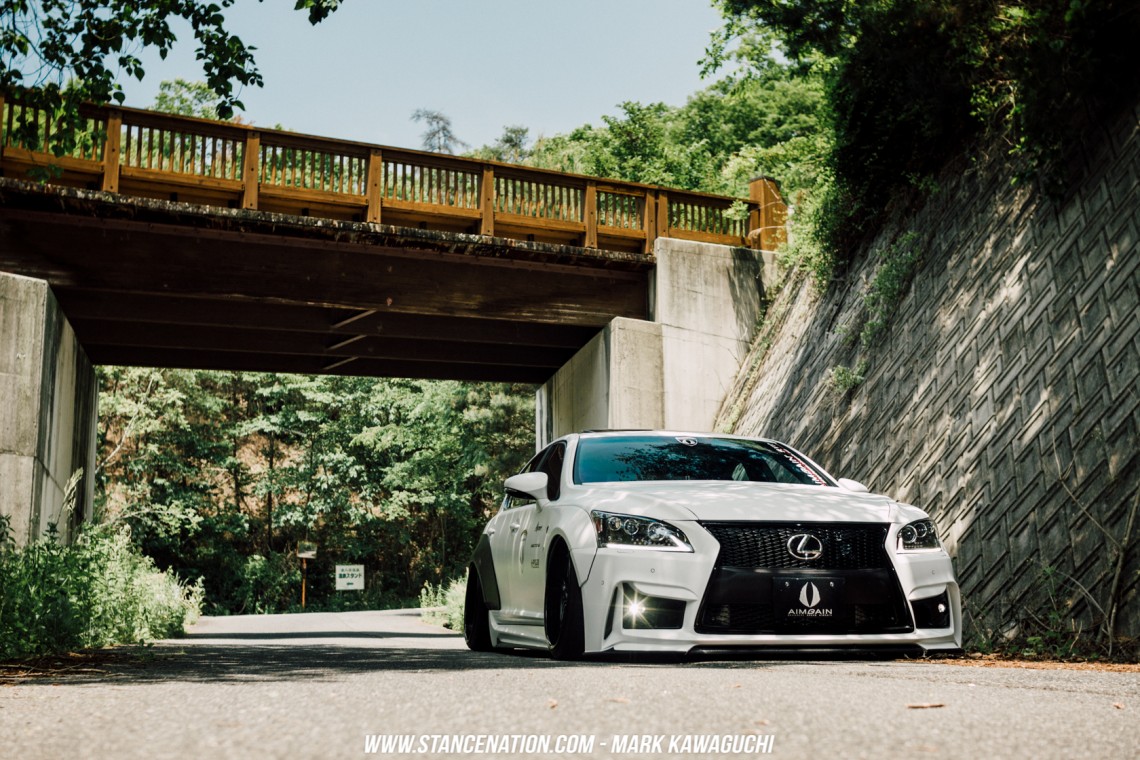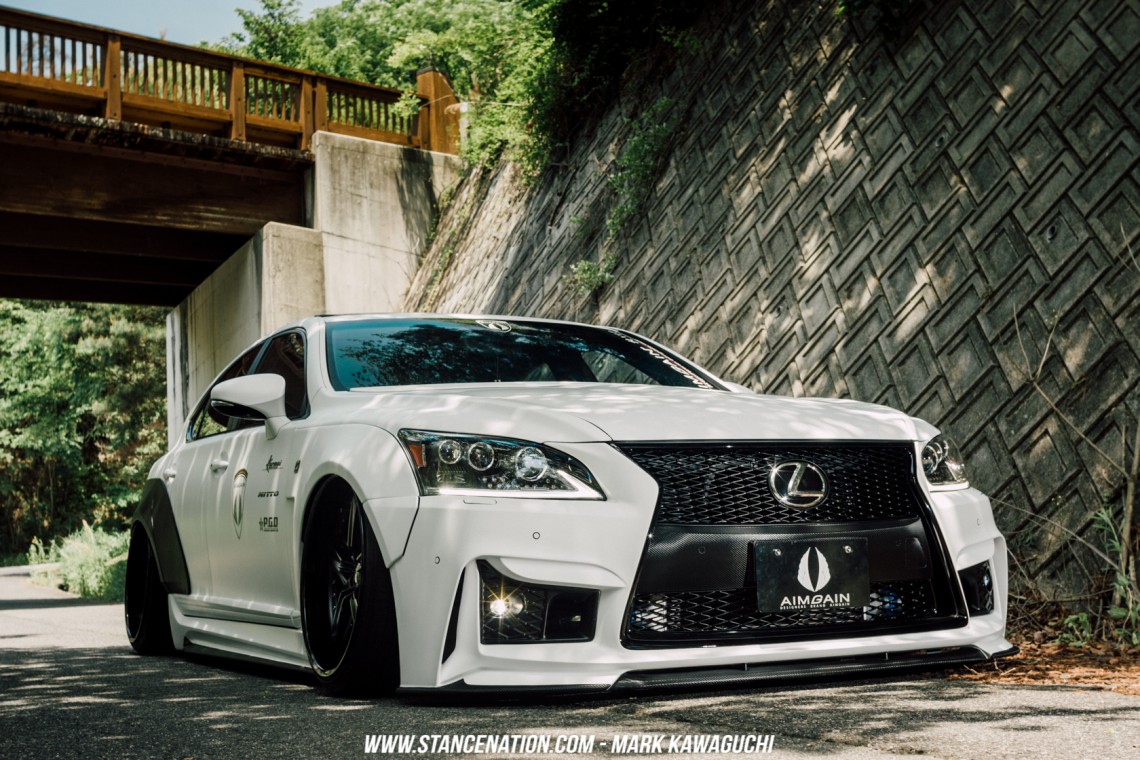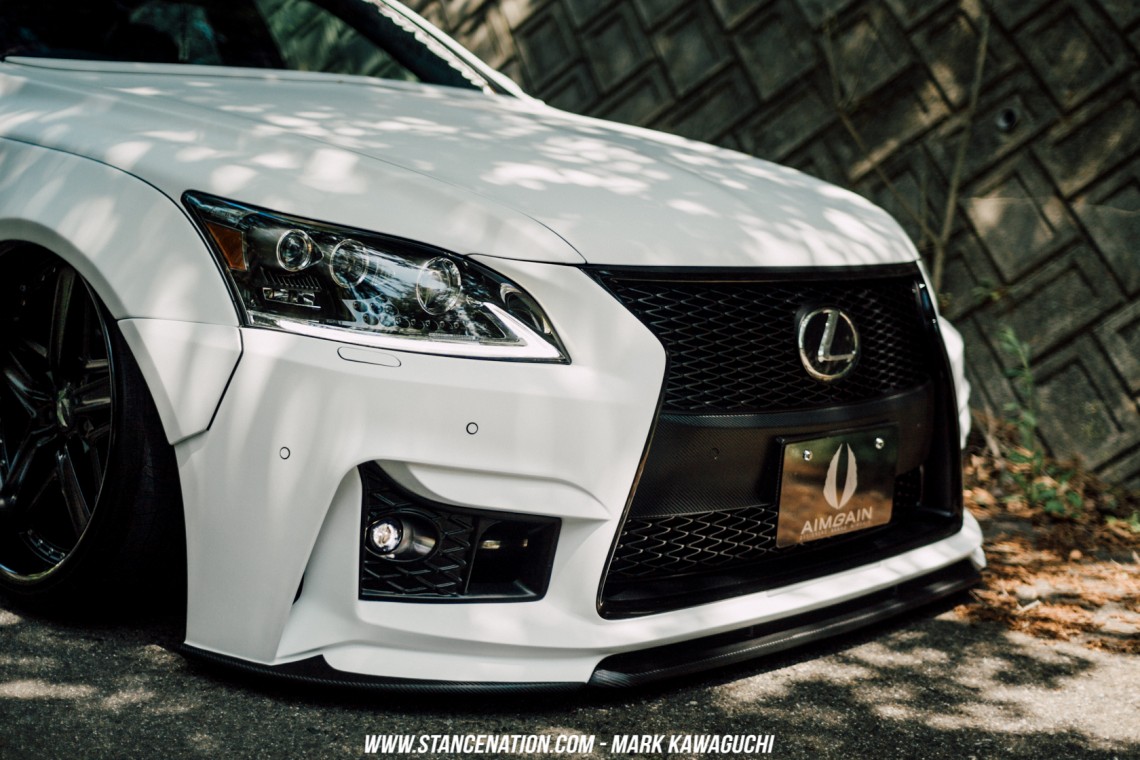 The car wears a full Aimgain GT-VIP kit which includes front bumper, side-skirts, and rear bumper.  To beef up the car even more, this 460 also has front and rear over-fenders which help swallow up those massive wheels at full drop.  The kit is aggressive no doubt, but like I said it doesn't stray too far away from the original design of the car.  I absolutely love the rear end of this car, with the lower portion of the bumper in black with the GT-style diffuser and rear fogs.  It's definitely a mod that has really caught on, and for good reason.  No matter how many times I see it, I think it looks good.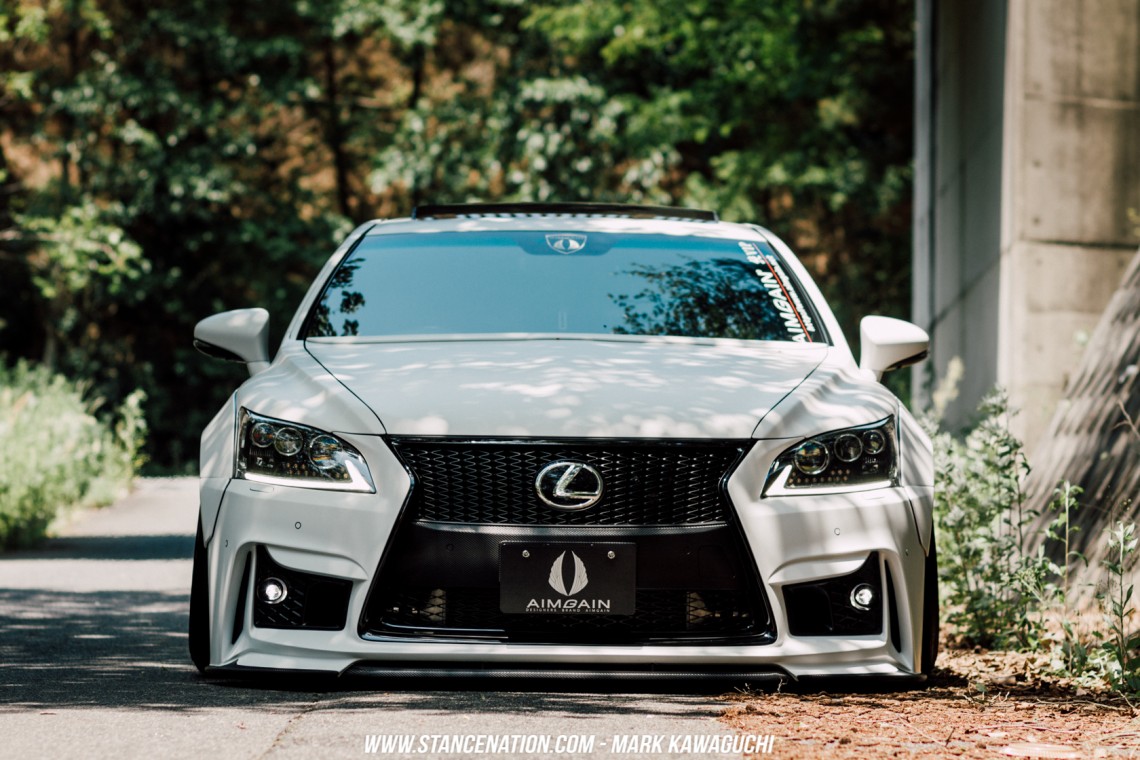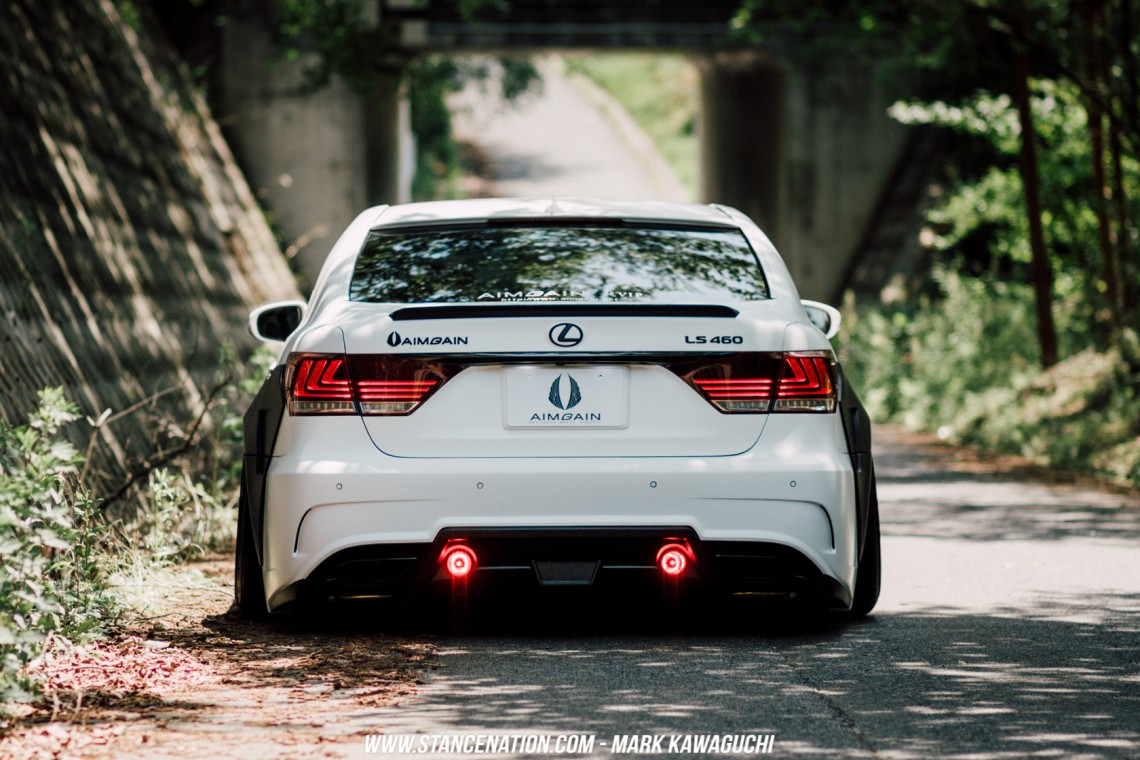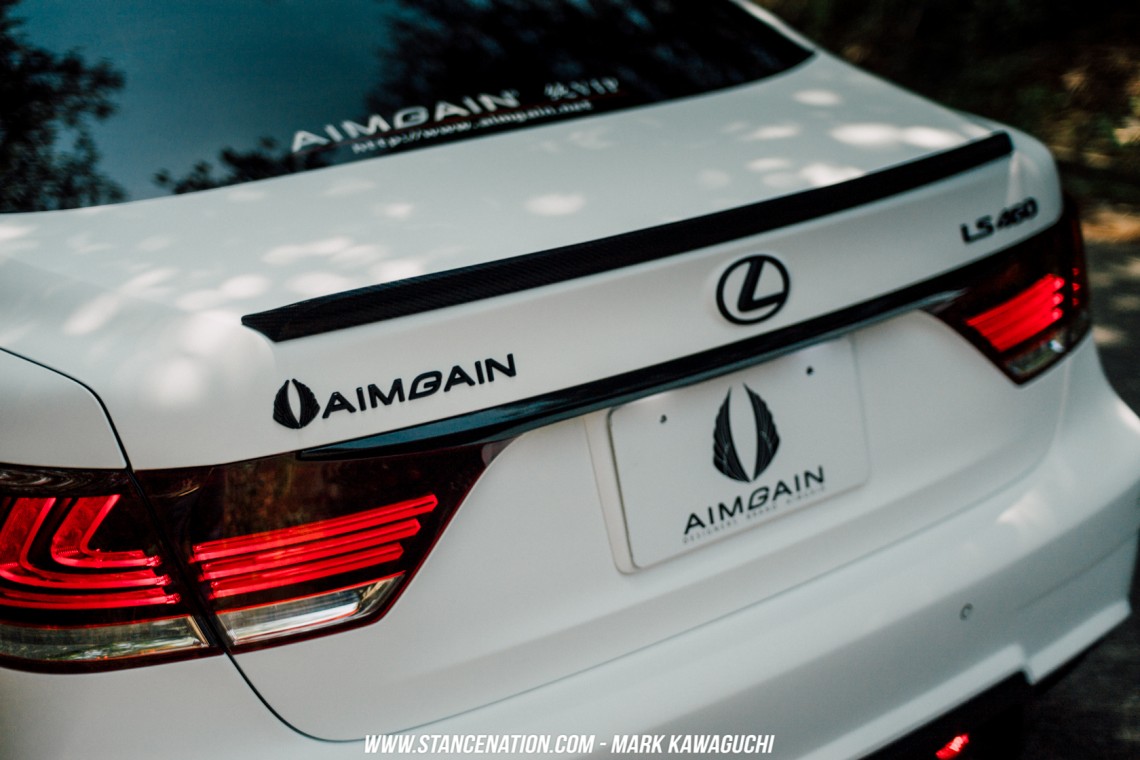 The car sits on the ground thanks to an Air Damper system from Aimgain as well.  I may like my static setups a lot, and Japan is always pushing the limits of how low you can go with coilovers, but cars like the 460 just seem so right on air.  Plus, with the car aired out, it swallows up those massive 21-inch Aimgain G-Luxe wheels like the boss it is.  Measuring up at a 21×10.5 +9 up front and 21×12 +16 in the rear, and wrapped in Nitto Invos 255/30 and 295/25, these wheels are sure to get your stance-pants all in a bunch.  Peaking from behind each wheel is an Aimgain big-brake kit because what set of ultra-high-dollar rollers isn't complete without a massive set of brakes behind them.  Once again, Japan setting the standards as usual.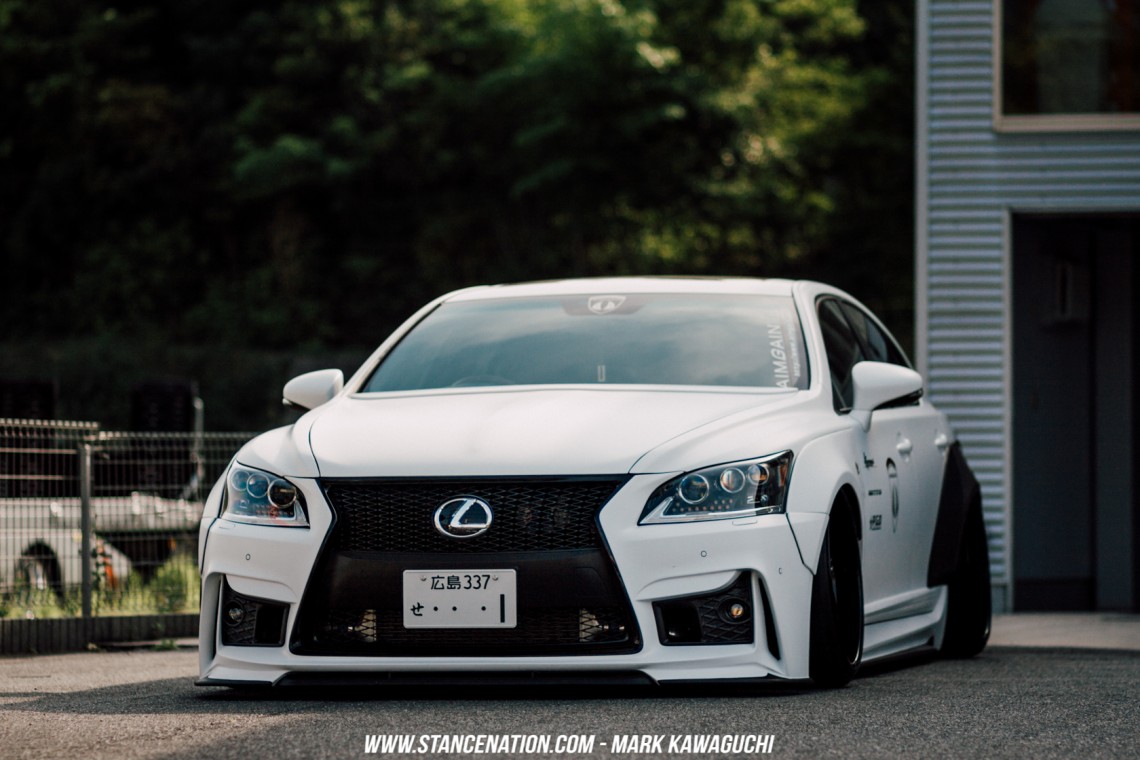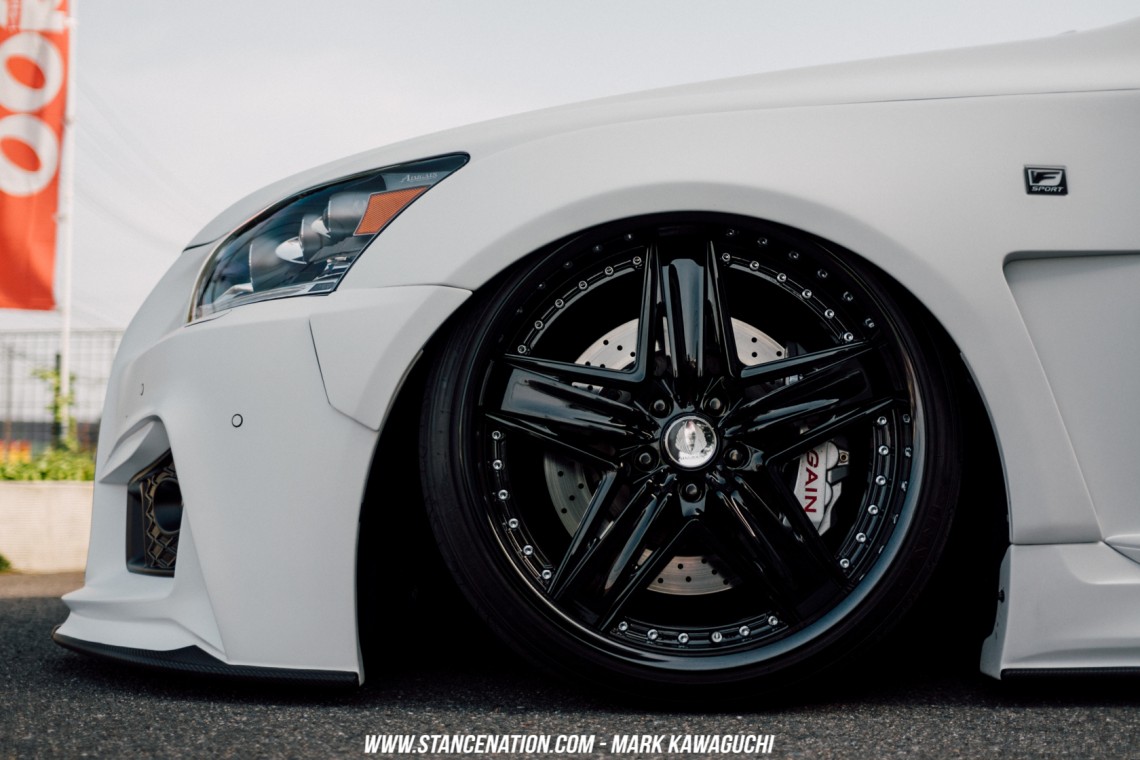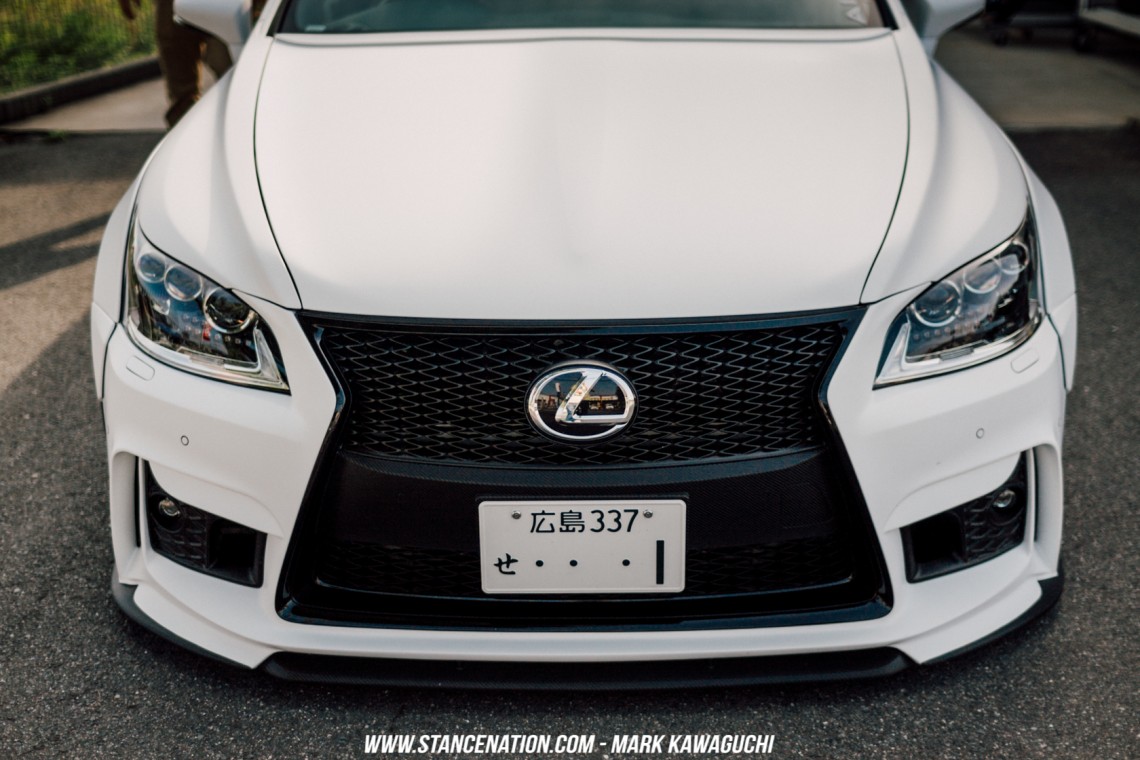 Most have probably noticed by now that there is an intercooler peaking from behind the front bumper.  Like a few other 460s I've seen from Japan (which I'm happy to report) this one is indeed boosted by an Aimgain GT supercharger kit which is based on a HKS blower.  I like that more and more VIP-styled cars aren't skipping over the engine bay and adding a bit of power to their cars.  The V8s in these provide a good bit of power out of the box already, but I always say that a little bit of boost never hurts.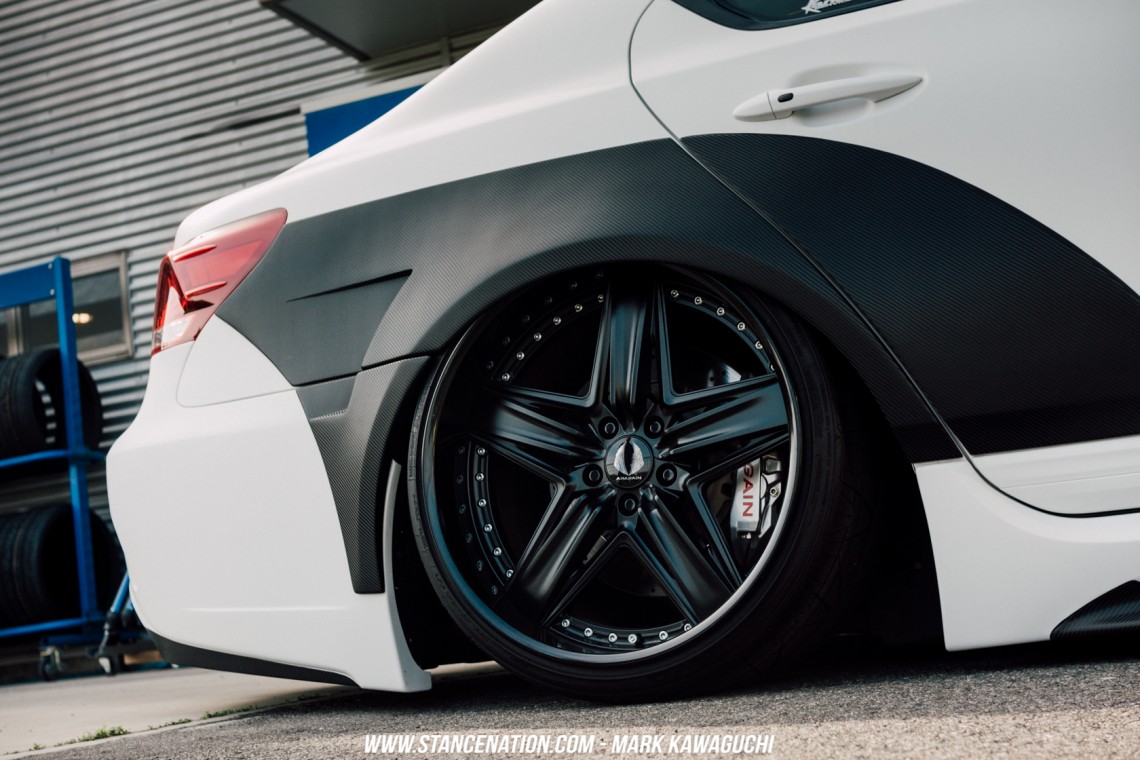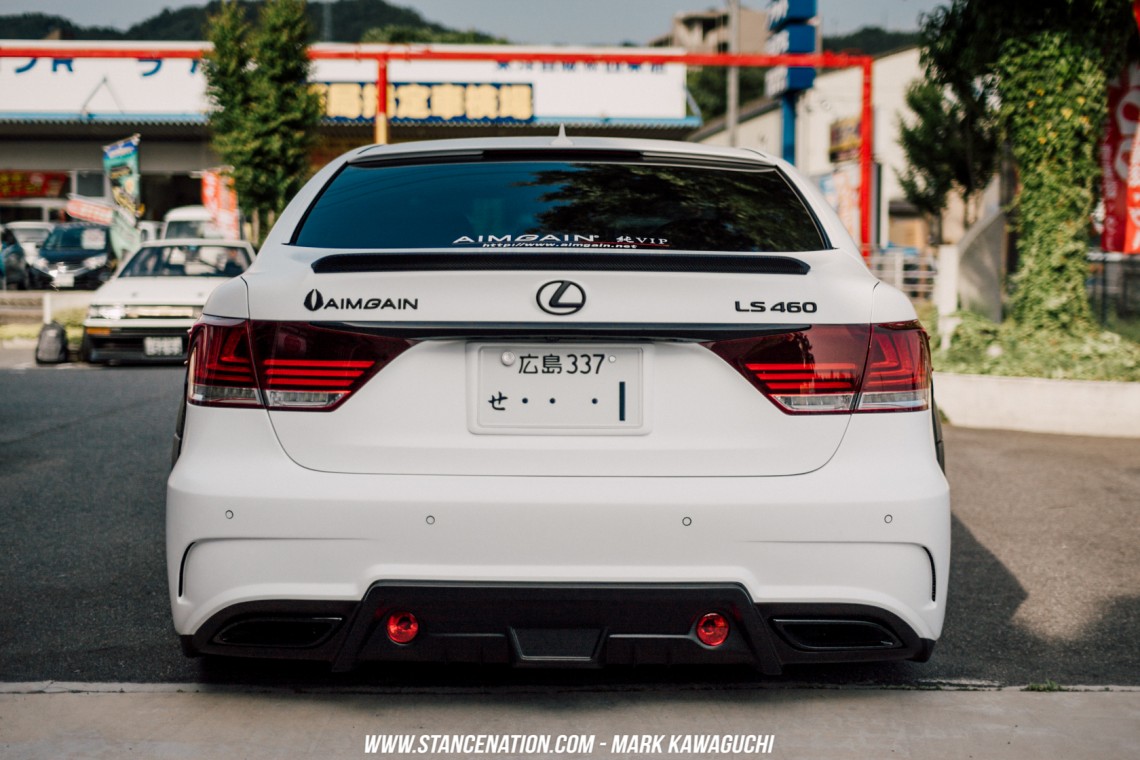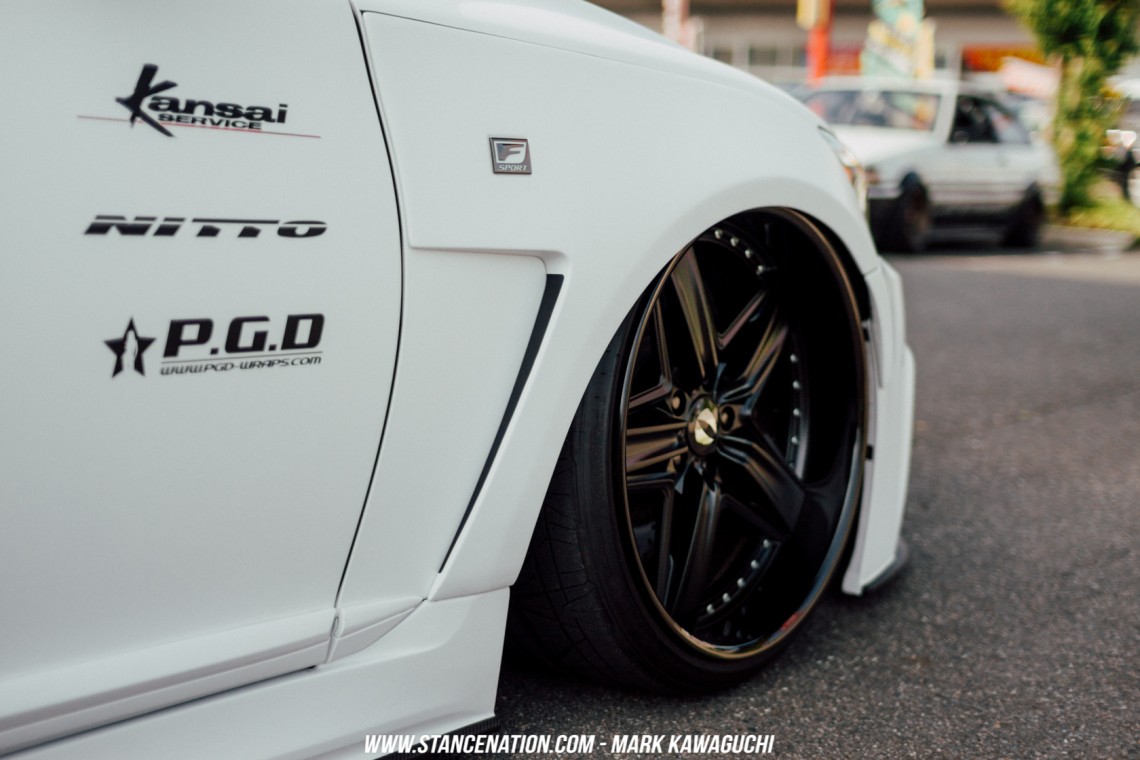 The resulting package is stunning which is what we've come to expect out of Japan.  The fit, finish, and style is just on a completely different level than what we see here in the states.  It's good though that we're being exposed to this because it will eventually trickle into US builds as more people are inspired to carry out quality work.  So, enjoy a few more pictures, take some notes, and draw some inspiration because Japan has no shortage of outstanding cars.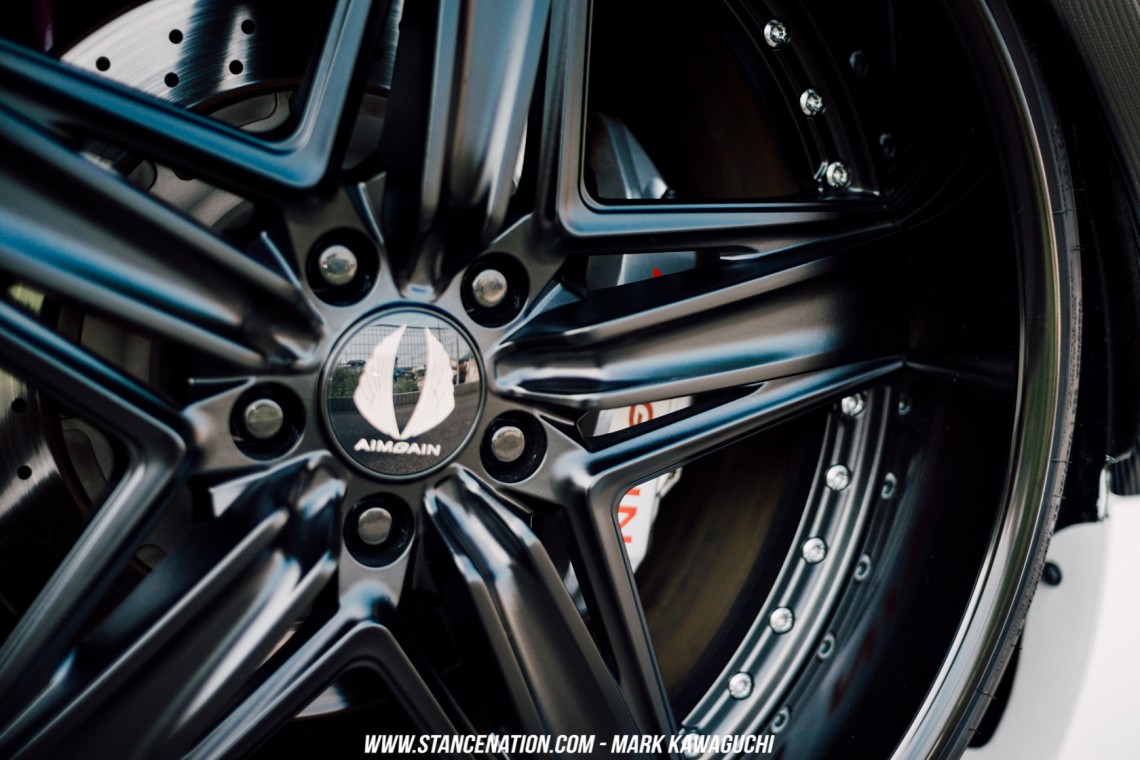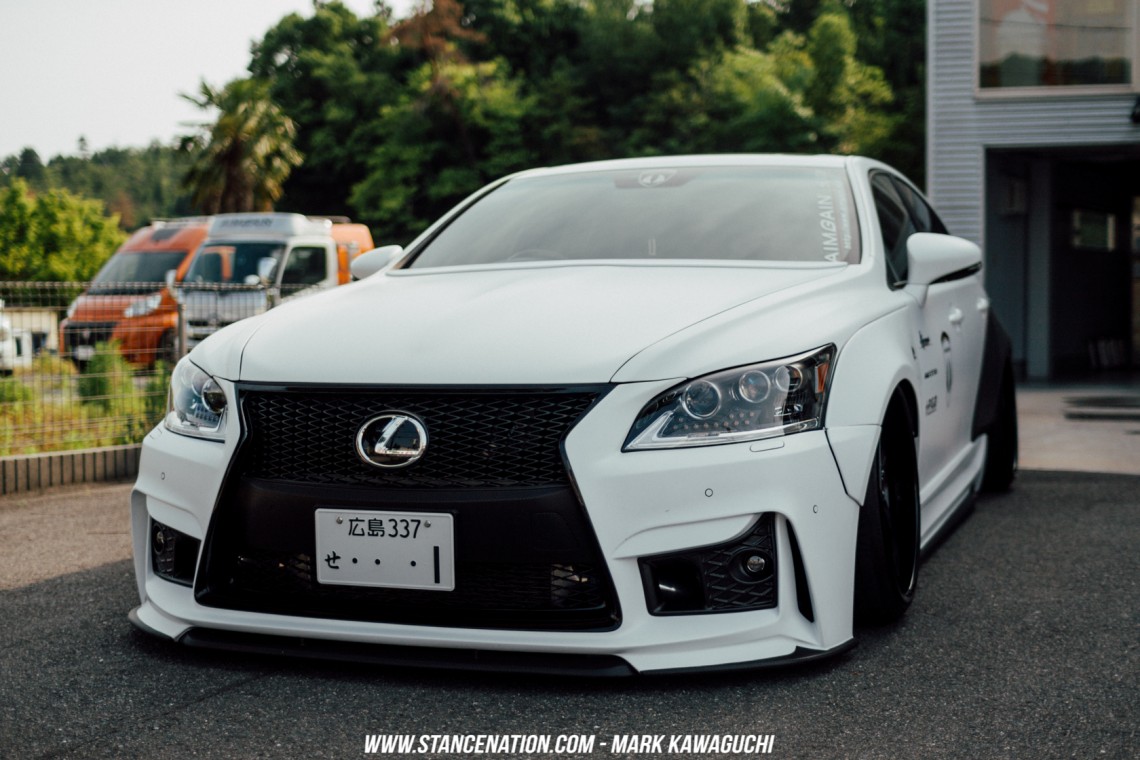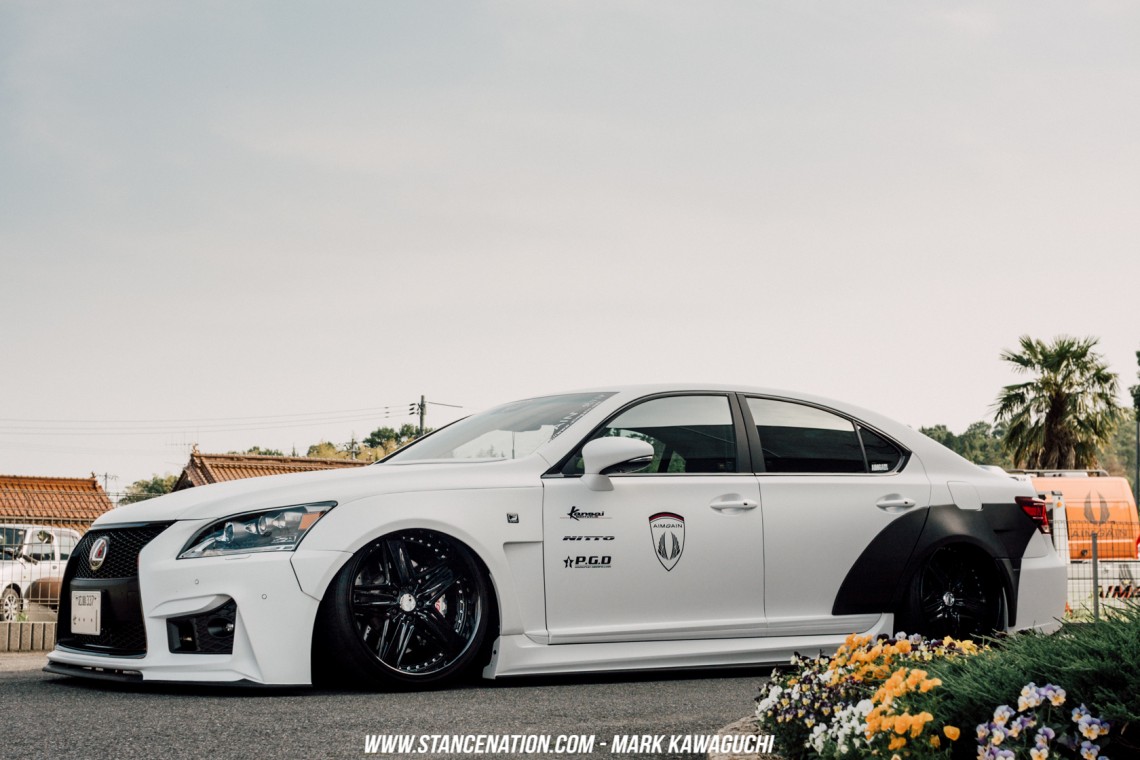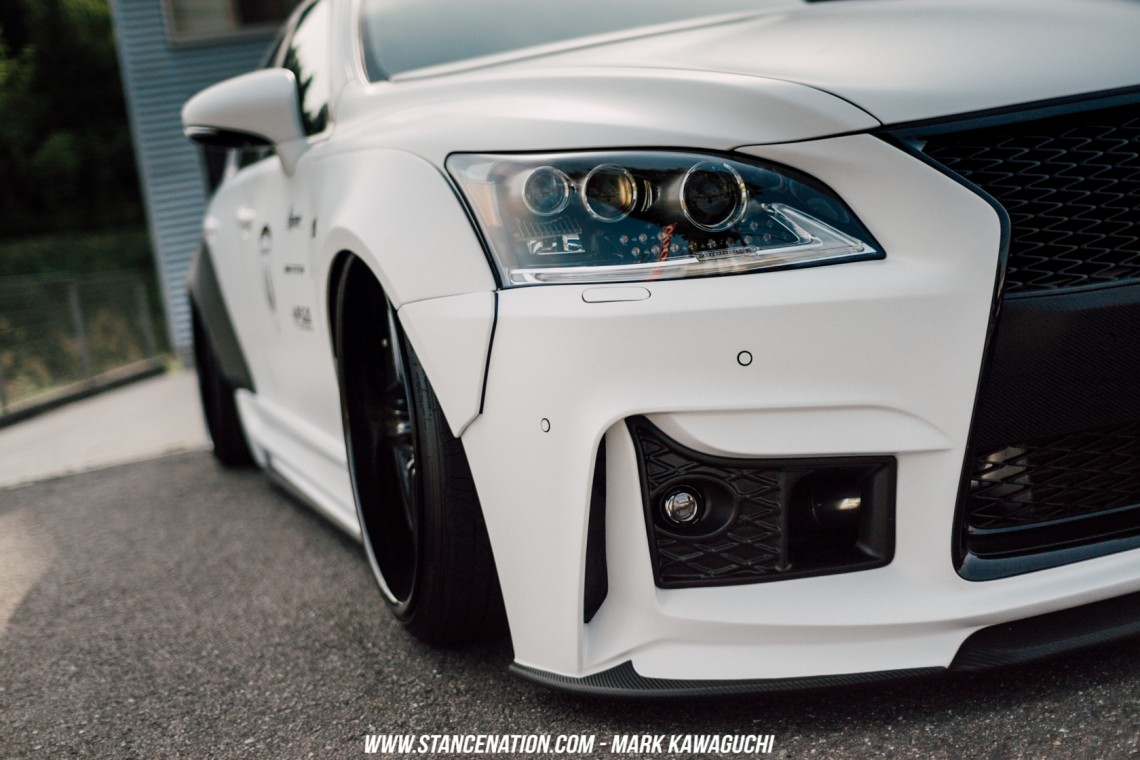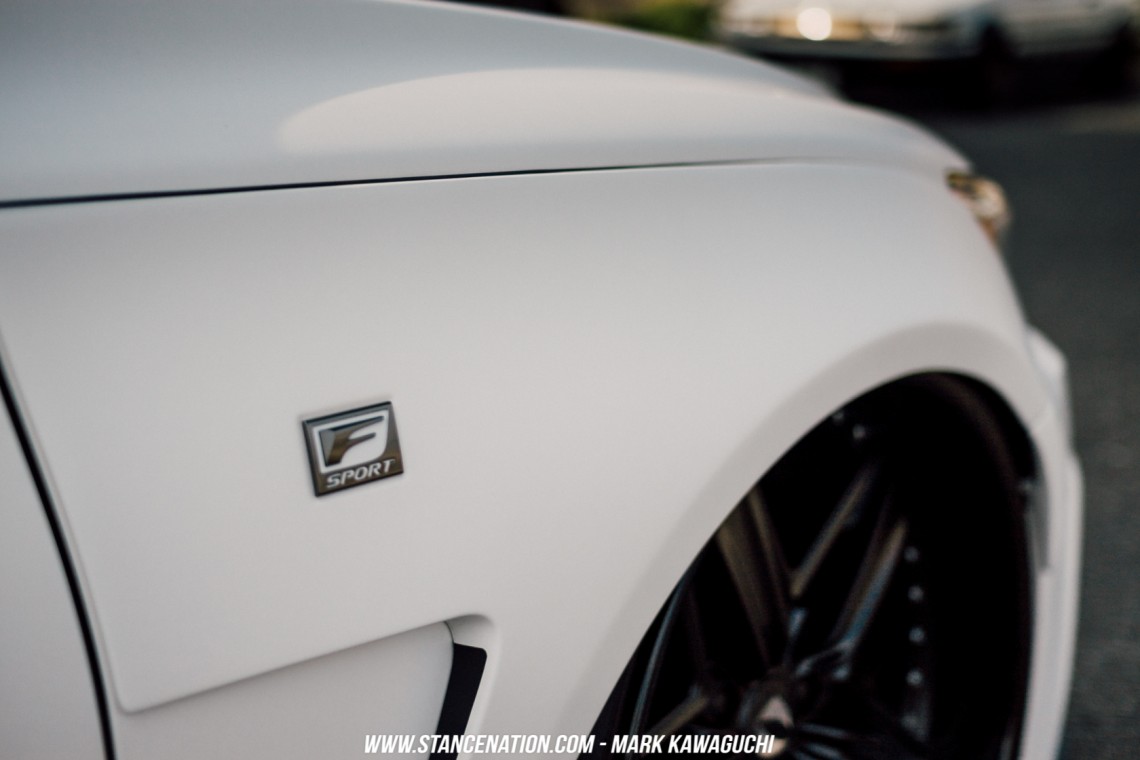 Wheels/Tires/Suspension:
AIMGAIN G-LUXE
21×10.5J +9HI BLACK (21mm SPACER INSERT)
21×12.0J +16HI BLACK (26mm SPACER INSERT)
255/30-21 NITTO INVO
295/25-21 NITTO INVO
SEDAN AIR DAMPER
Exterior:
AIMGAIN 純VIP GT
FB/SS/RB3点KIT
TRUNK SPOILERtypeGT
ROOF SPOILER
BONNET SPOILER
FRONT/REAR OVER FENDER
Full Wrapping – Matte WHITE × CARBON
Wrap By: PGD WRaps
Engine
AIMGAIN GT.SUPERCHARGER(HKS製)
AIMGAIN LOOP MUFFLER