Of all of the drift cars available on the Japanese market, the Nissan S13 Silvia has always been a driver favorite. Its body styling never seems to grow old, and the SR20DET motor has always been regarded as a magnificent power plant. The tremendous potential of this chassis has motivated Takashi Mine to hit the drawing board once again, and build his third S13. Takashi-san began building this S13 just a few months ago after his military-styled S13 was severely damaged in a drift competition. In that very short time, he has managed to craft a home-built car that will definitely leave a long-lasting impression on our readers.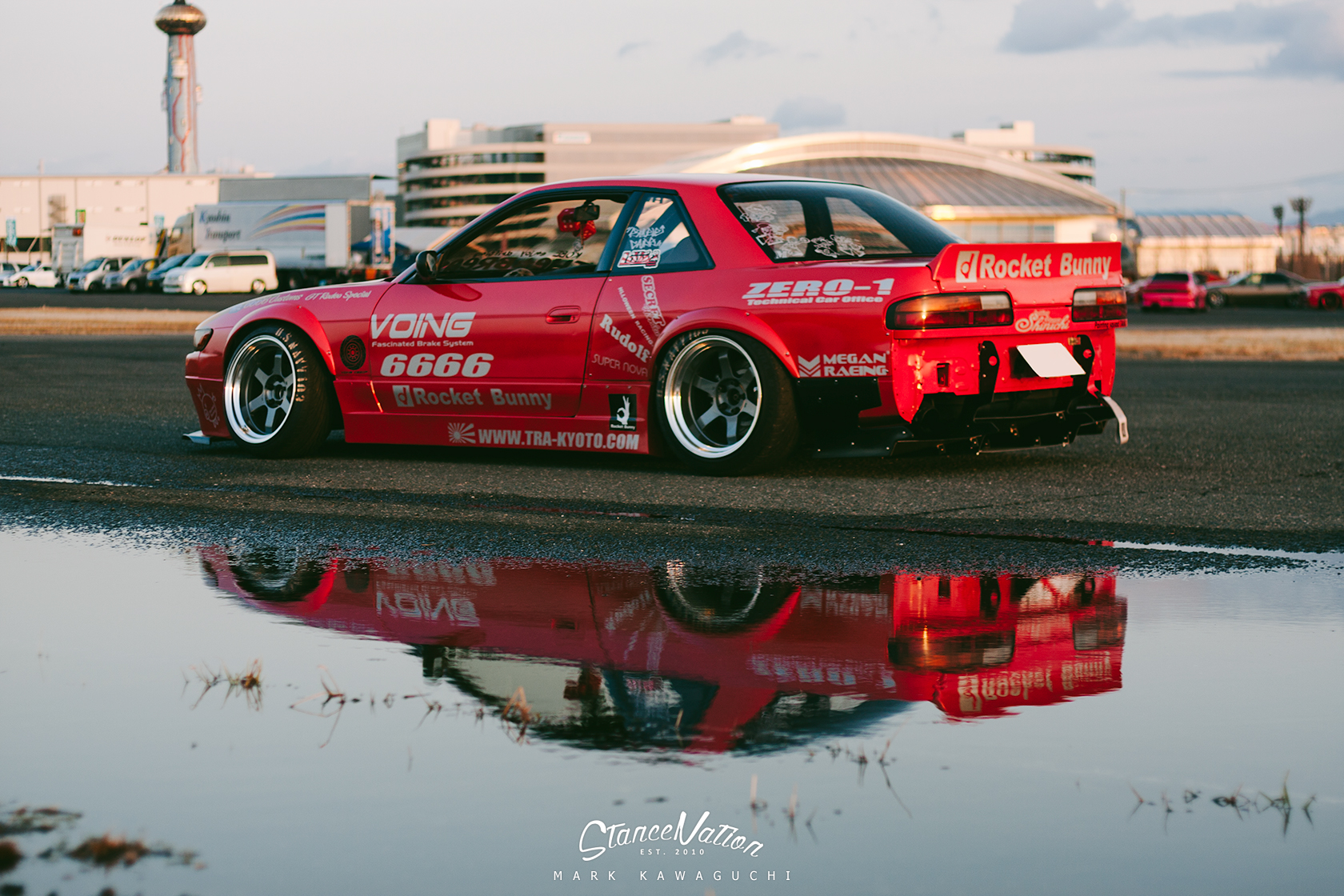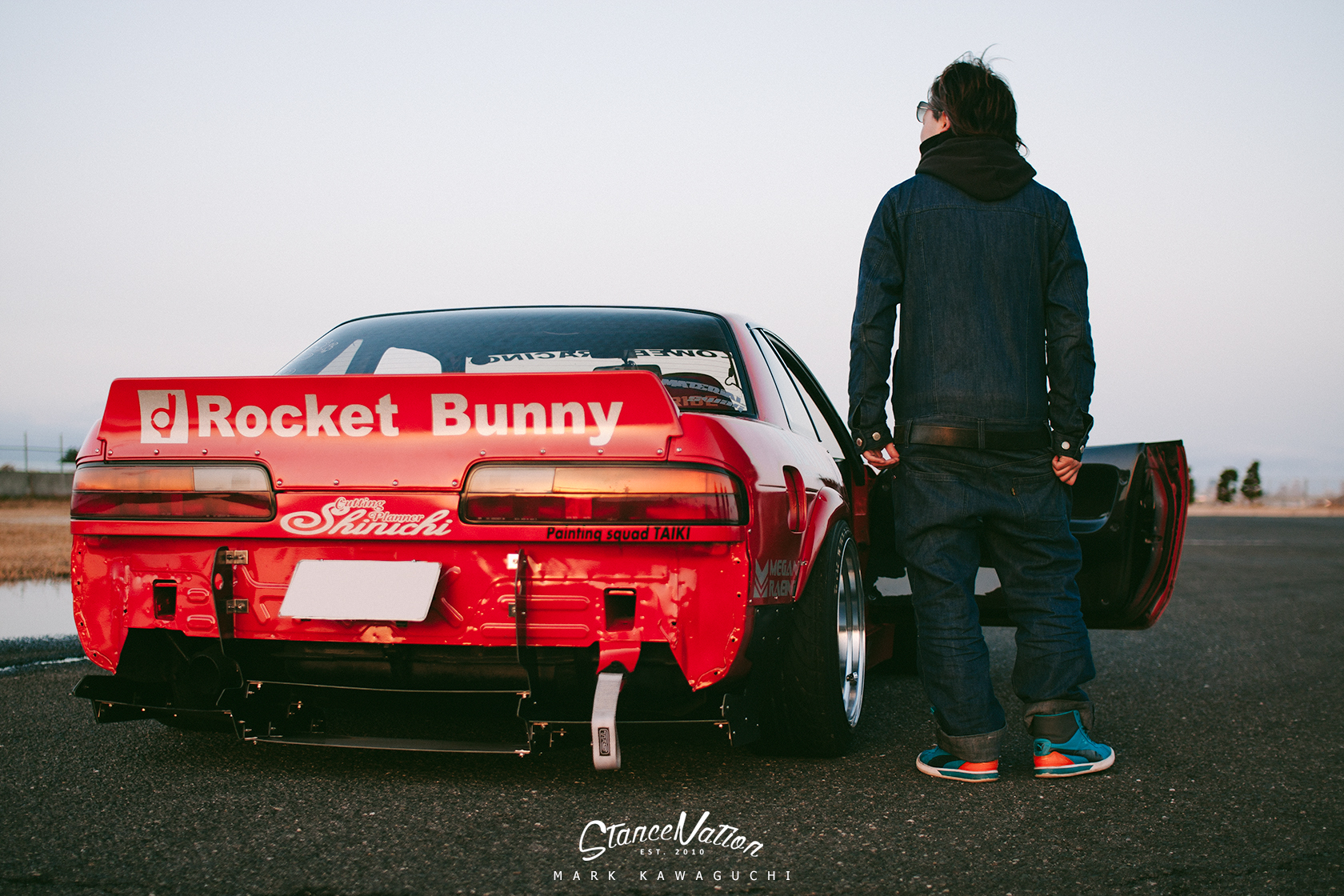 A competition crash that totals your car is often enough to push a drifter out of the scene and into something more practical. This was not the case for Takashi-san. He decided to find another S13 chassis, and challenge himself to build it from the ground up in a matter of a few months. He is eager and excited to get back into competitions and plans to finish this car before the upcoming season. Thankfully, it couldn't be further from thrown-together. Takashi-san's S13 finds the perfect balance between track monster and picturesque show-stopper.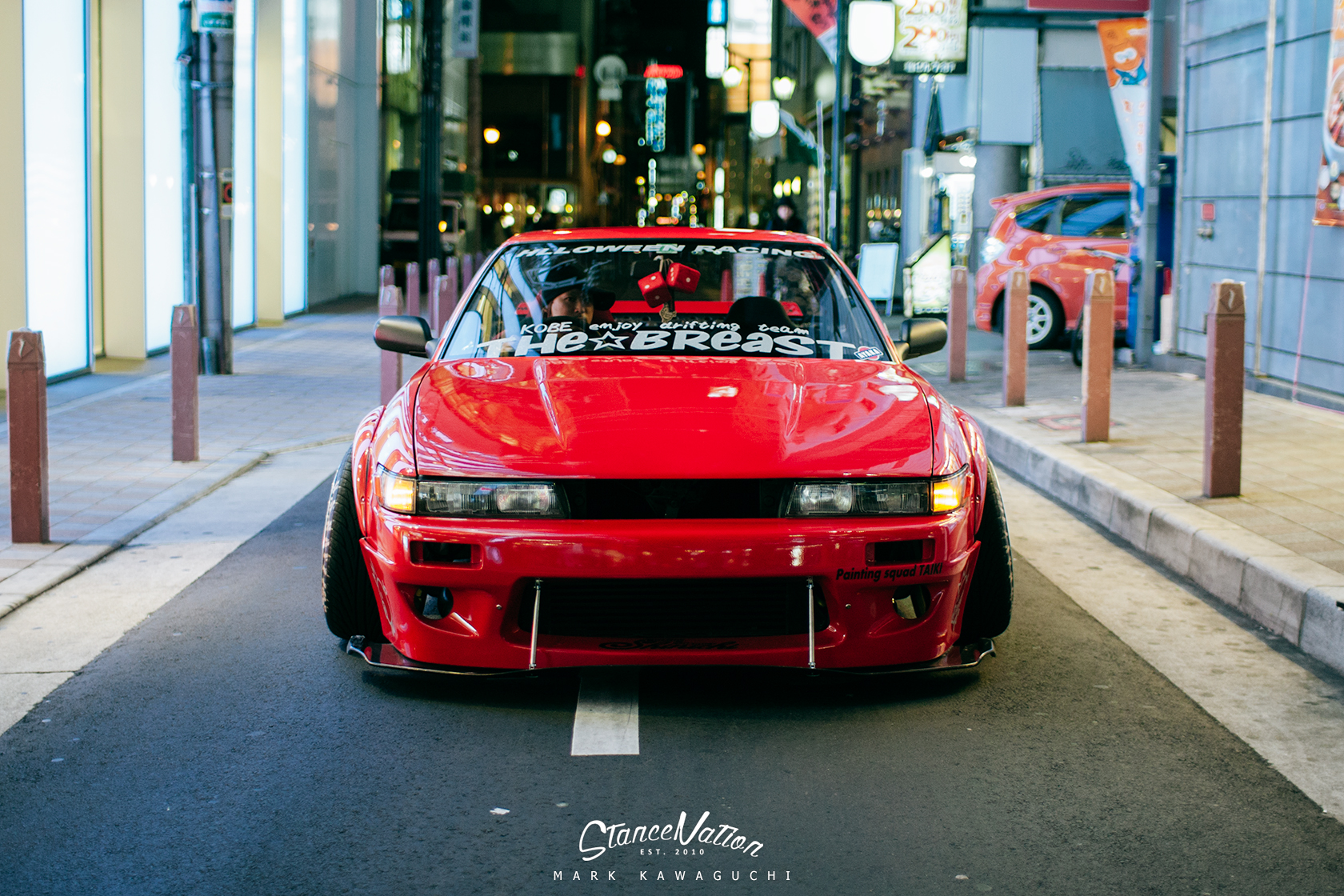 This car was not built by a shop, which can be something hard to find these days. This is Minekeru-san's third S13 Silvia and he has also owned five 180SXs, so you could say he's an S-chassis aficionado. Takashi-san and his friends built this S13 together from a bare chassis, so it has taken a lot of restless nights and weekends in the garage to get to this point. Piecing together everything under the hood was a difficult task at times. This was Takashi-san's first attempt at cleaning up the engine bay by redirecting the wiring harness and relocating the fuse box, so that was the biggest challenge Mine-san faced when building it.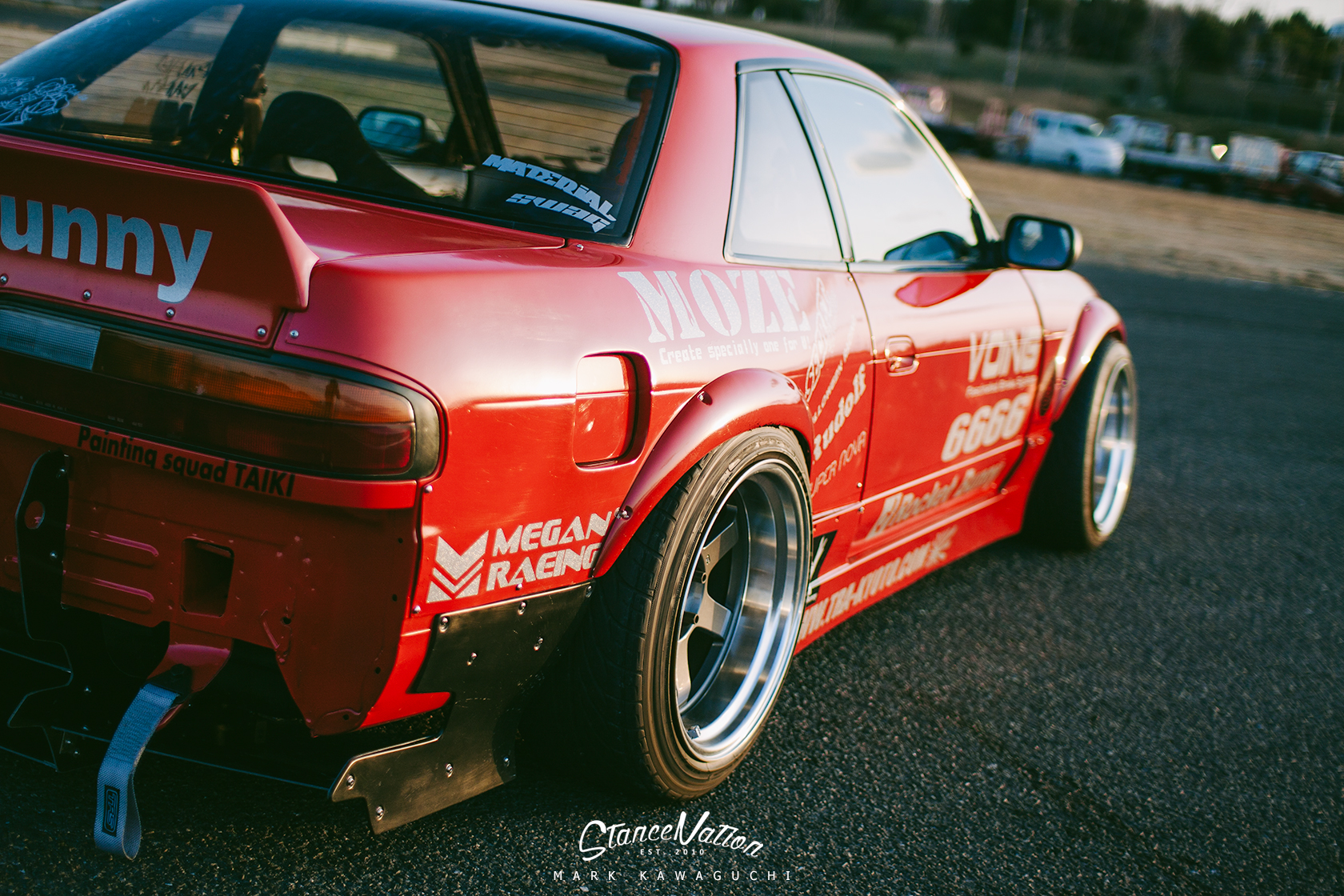 The exterior of Takashi-san's S13 is outfitted with a Rocket Bunny TRA-Kyoto 6666customs Front bumper, side skirts hand-me-downs from Kei Miura (Rocket Bunny), Ducktail wing, Rocket Bunny 180SX front and rear diffusers, and Origin + 30mm widened fenders paired with additional overfenders. Minekeru-san has never seen anyone else using the T.R.A.KYOTO ROCKET BUNNY 180SX front and rear diffuser fitted onto an S13 Silvia, so he is very proud to be the first. He is also running Rays TE37V wheels in 17×9-10 front and 17×10-20 rear with 215/40 (F) and 235/45 (R) tires.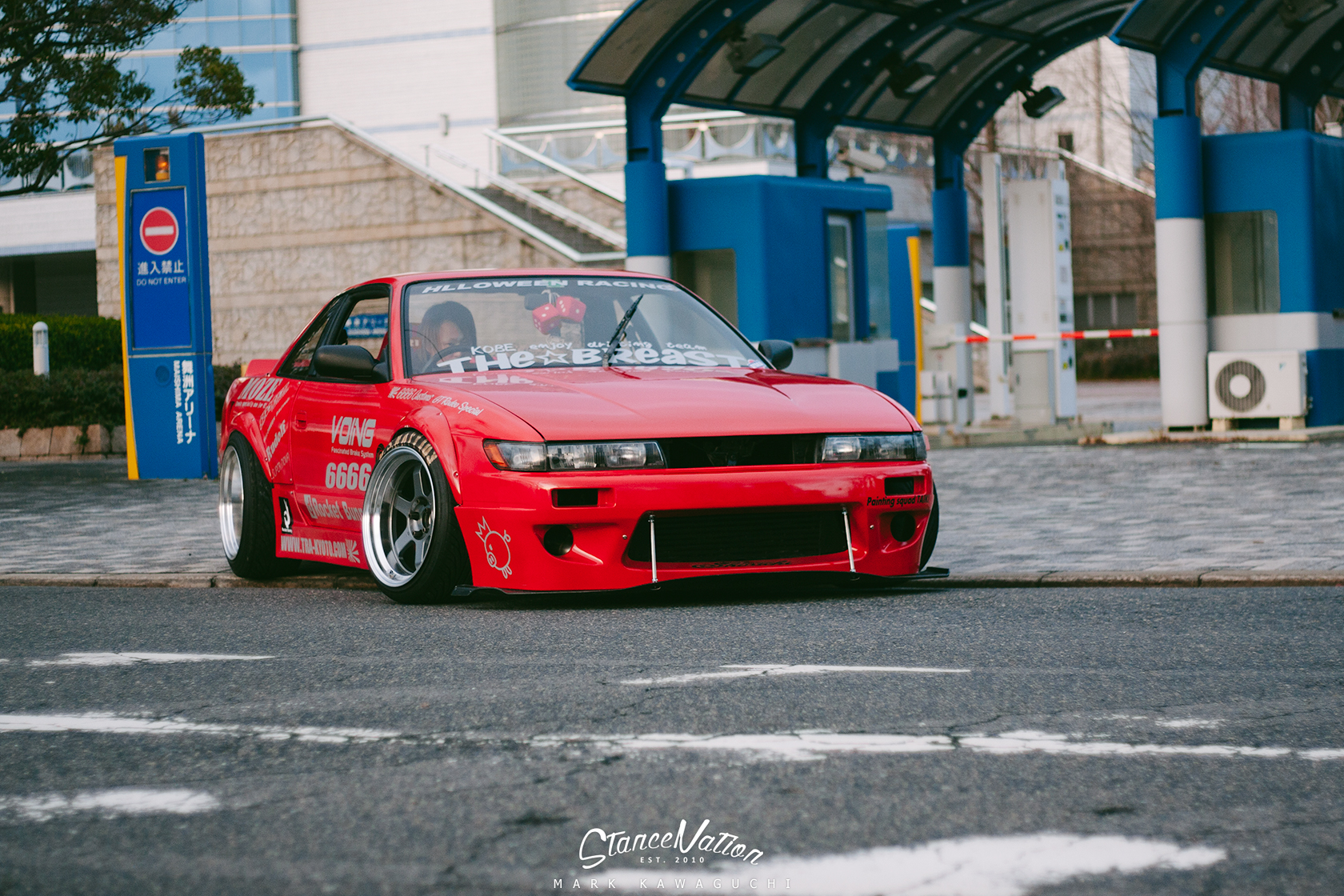 For suspension, Mine-san is running Megan Racing coilovers with 8kg/6kg spring rates, MOZE original short knuckles, extended front lower control arms, and a custom reinforced subframe. For stopping power, Takashi-san has Voing special customized ECR33 Skyline calipers up front with matching rotors and pads, and Voing special customized S13 calipers in the rear with oversized rotors.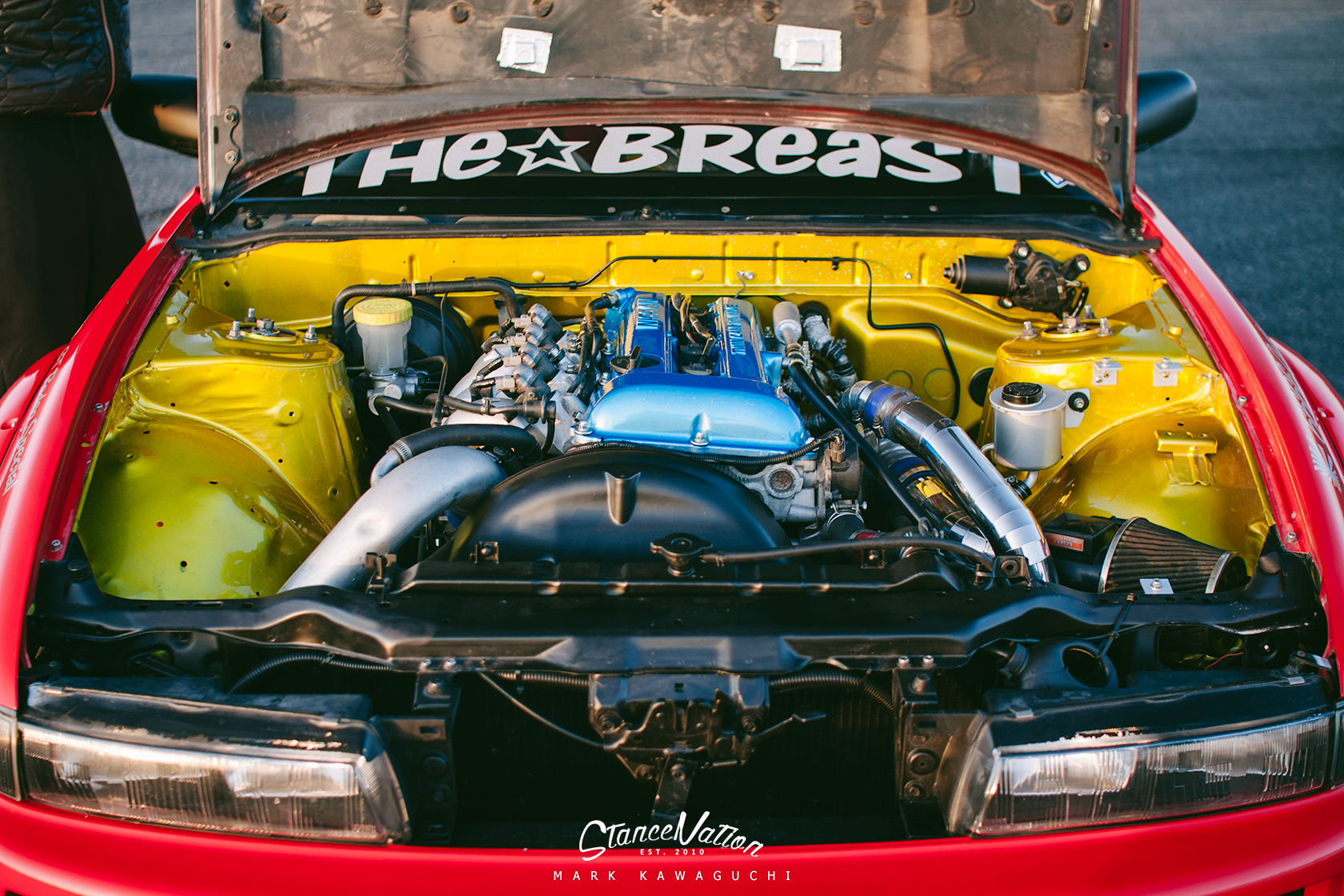 Takashi-san's SR20DET is equipped with a Trust TD06 20G L2 Turbine, a Trust exhaust manifold, Trust Type-R waste gate, Trust Type-R front mount intercooler, KOYO 3 row radiator and a "Minekeru original exhaust". It is all controlled by an APEXi Power FC and tuned with assistance from his friends at local shop, Nishimura Engineering. His SR20DET is paired with an S14 transmission with RG single metal clutch. His drivetrain ends with a NISMO GT Pro LSD with a 4.3 final drive.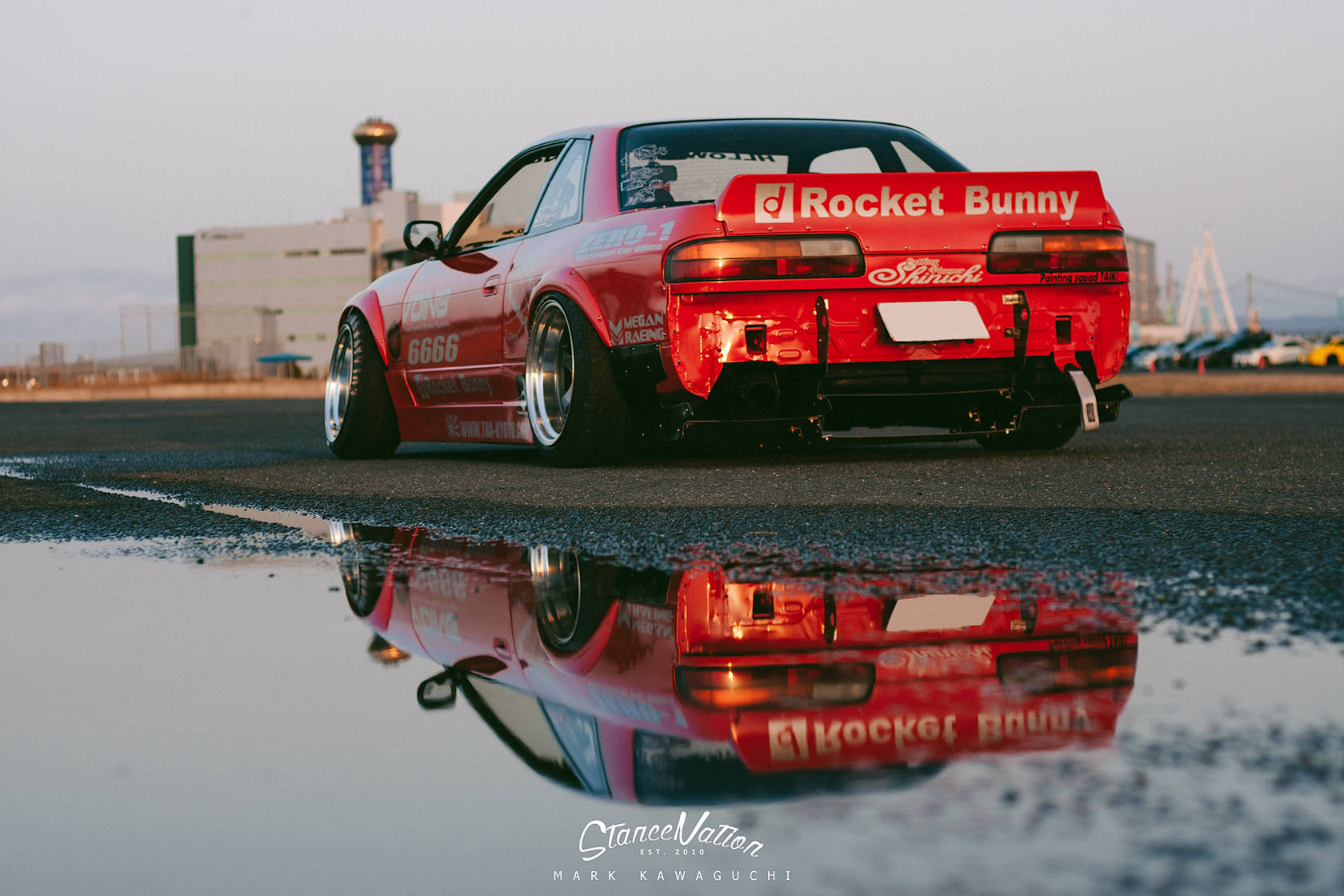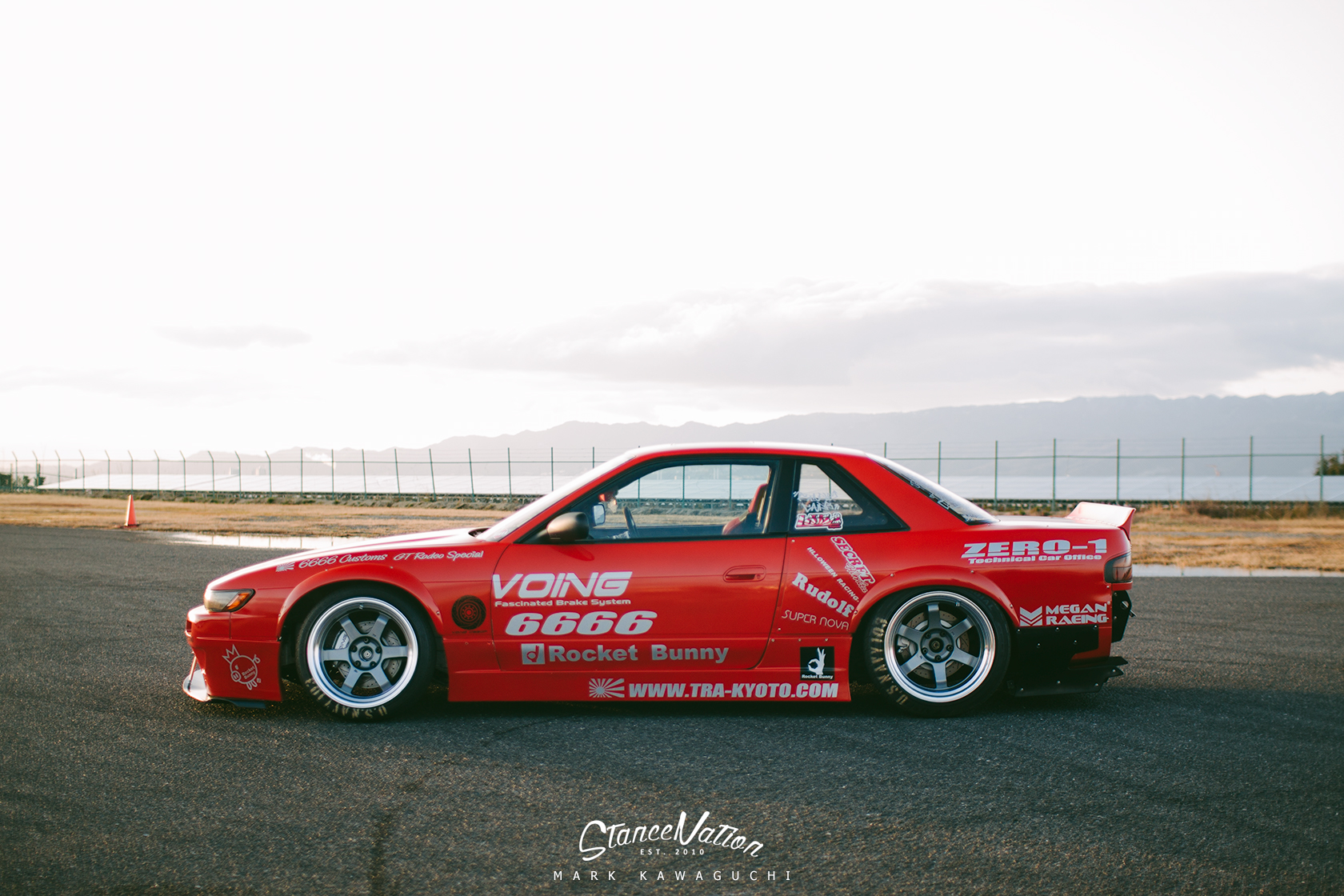 The interior of his S13 is fitted with a BRIDE ZETA III driver's seat with Megan Racing 5-point harness, a BNR32 (R32 GT-R) passenger seat, a Nardi Classic Steering wheel that has followed him through his past few cars, Defi gauges, and a Blitz boost controller.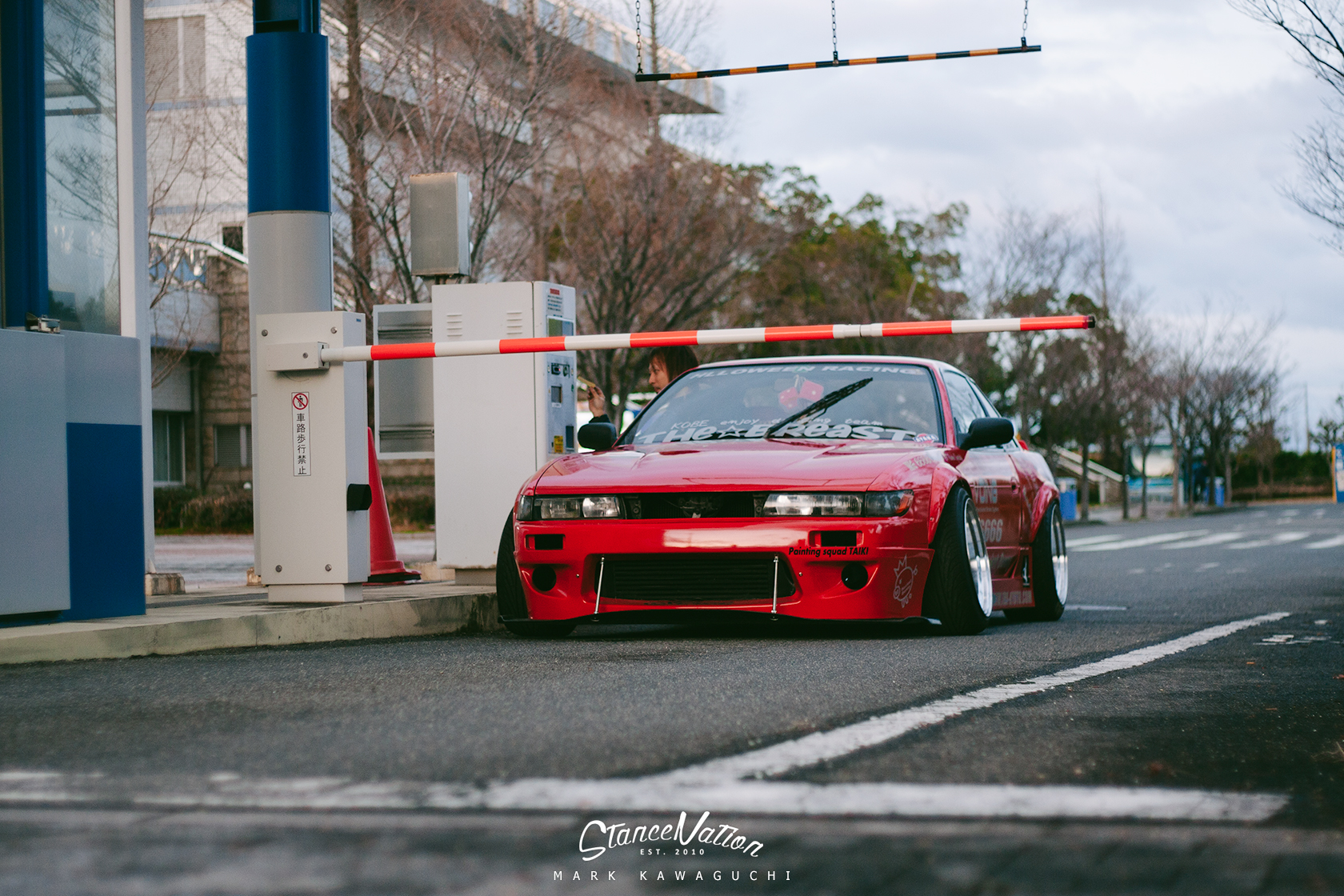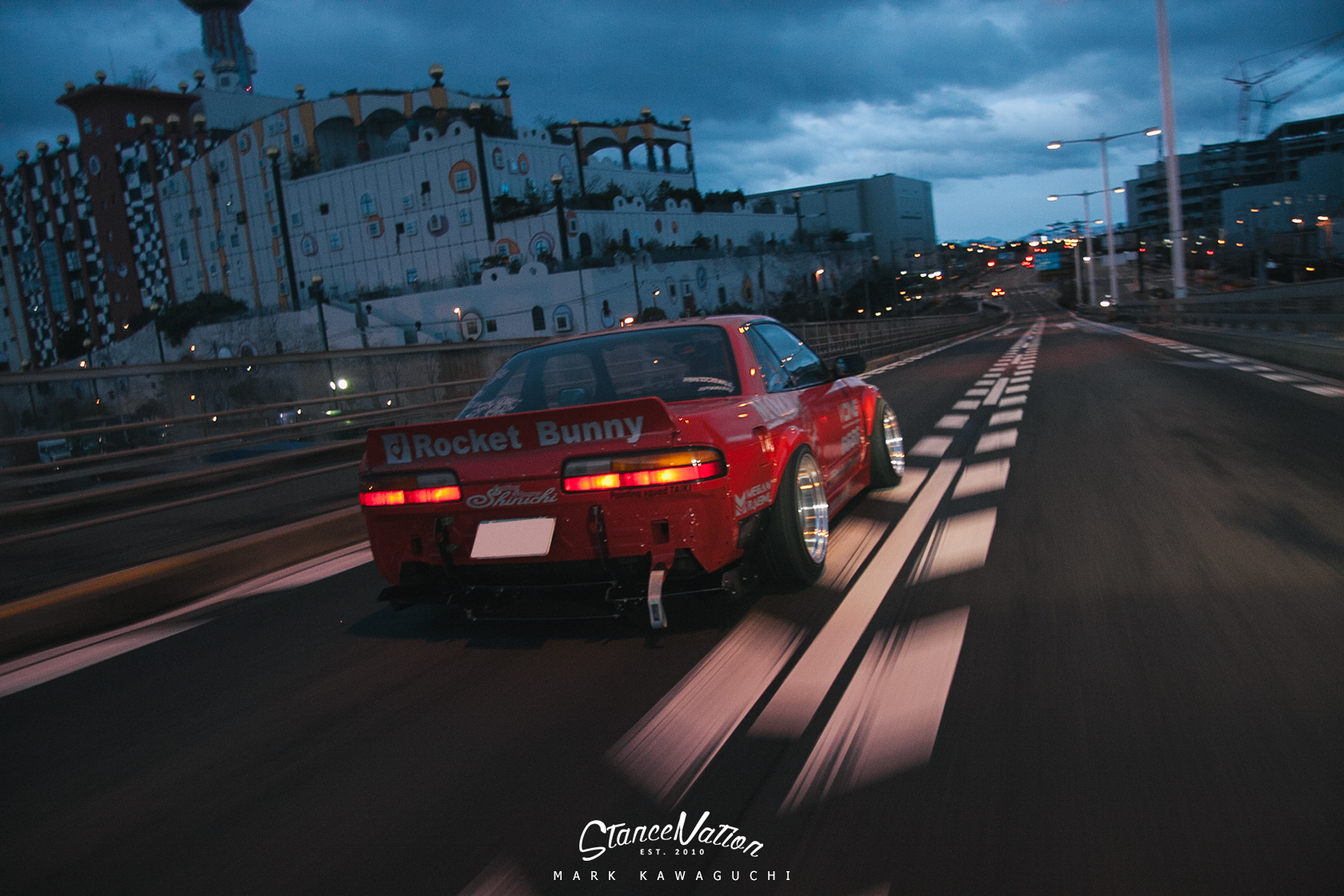 Takashi-san's future plans for the cars include tuning the suspension for the upcoming drift season, paint the interior, and install a roll cage. When it's finished and the drifting season starts, he plans on taking it out to Meihan Sportsland, Bihoku Highland, Tokushima Kart Land, Suzuka Twin Circuit, and plans compete in events. He also told us to expect some small exterior changes during the season.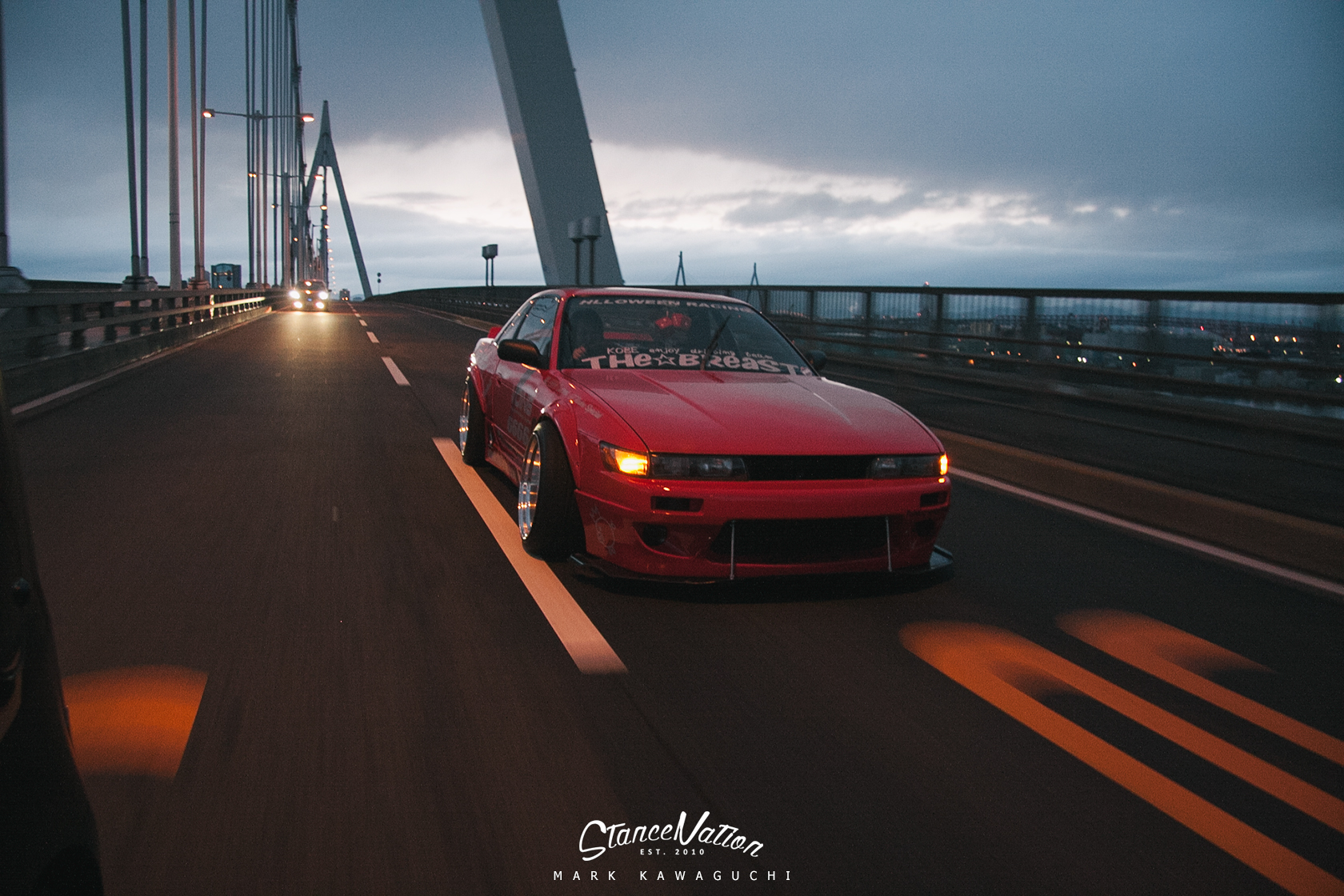 I'd like to finish with some words from Minekeru-san himself.

"It's been over 25 years since the S13 Silvia was first sold… it doesn't feel "old" at all and this car is still actively competing in this present day. It's awesome! I love it! Doing badass drifting in a badass-looking car doing, does it get cooler than that? All you Silvia owners out there, go and drift the hell out of them! I want to drive my Silvia every single day if it were possible!"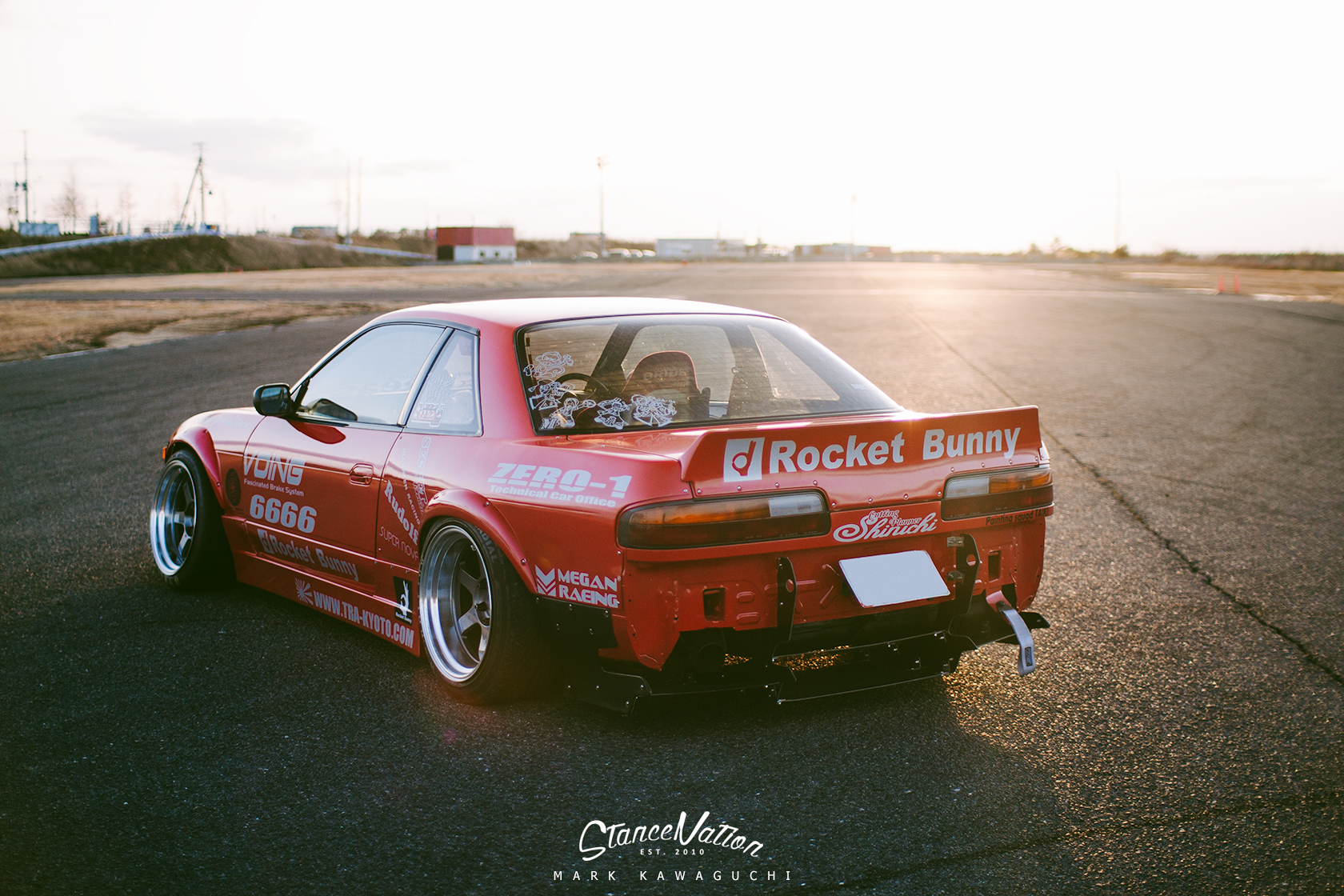 Minekeru-san would like to extend a special thanks to "Elvis-san, T.R.A.KYOTO、TRA Miura-san、TRA Nakawatase-san、Bad quality Nakagawa 、super him san、ZERO-1、MOZE、Mizuto-san、Shinichi、Taiki pizza、okaneka、Megan racing、Garage Mitio、Voing、orichan、qaqchin love it!!"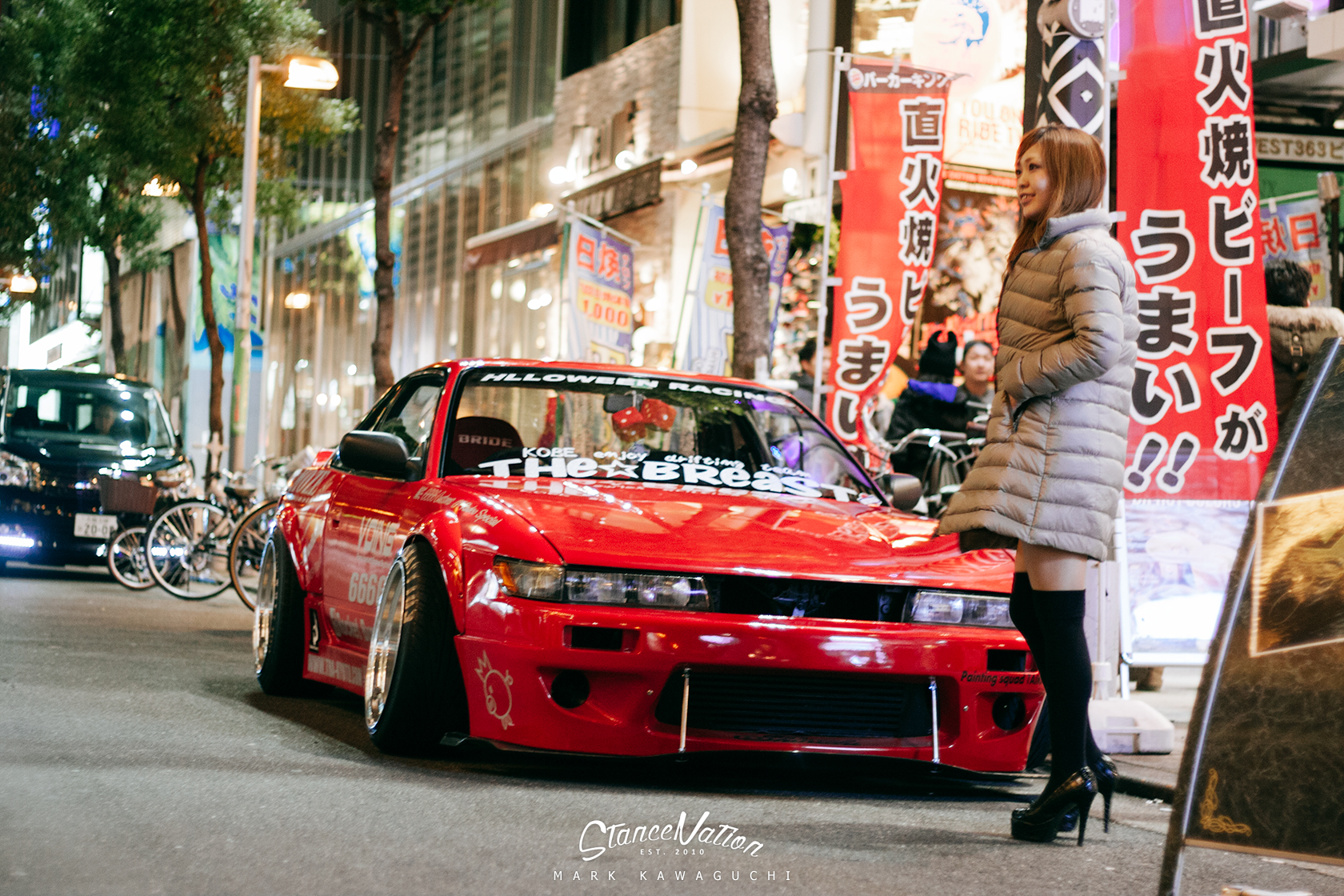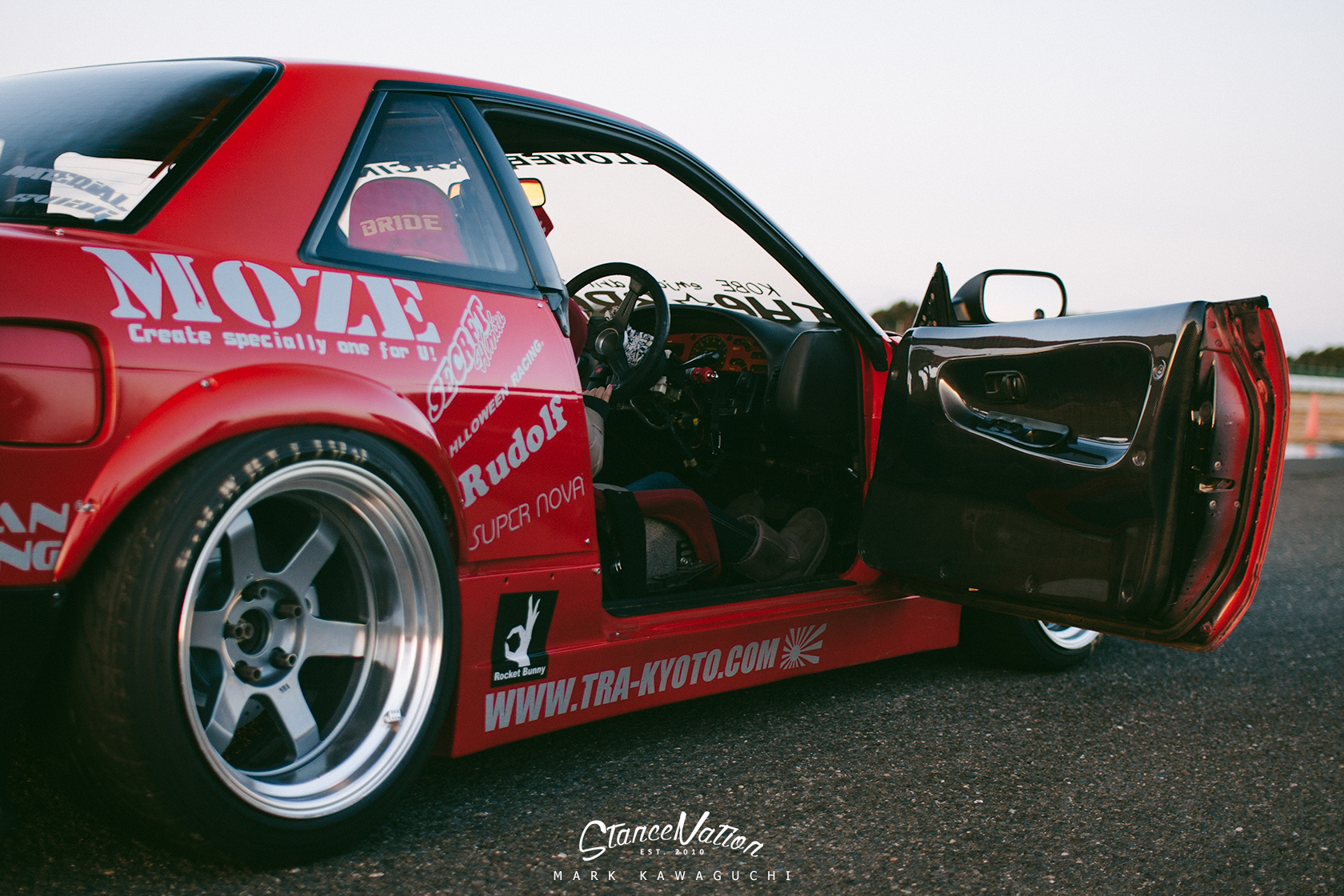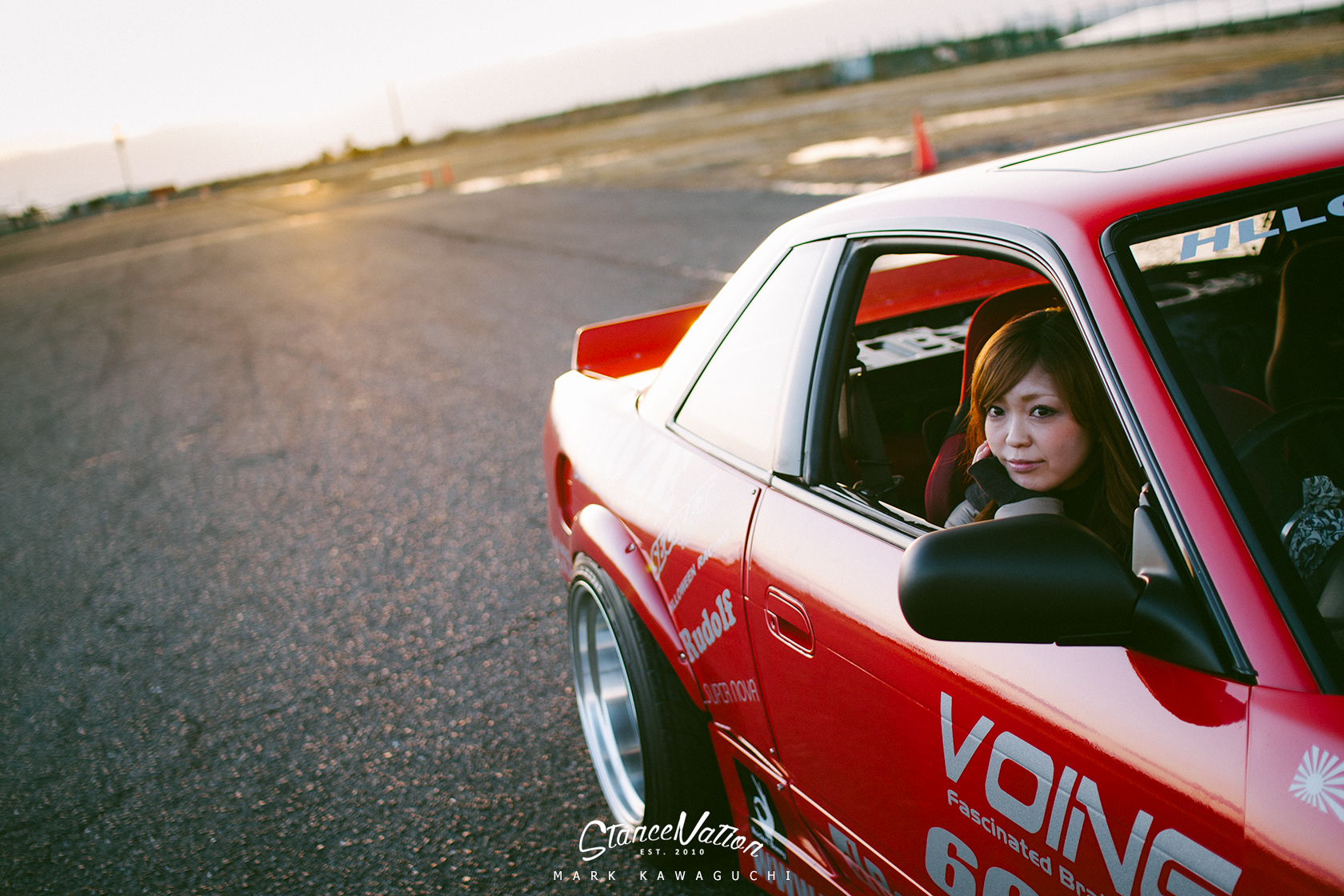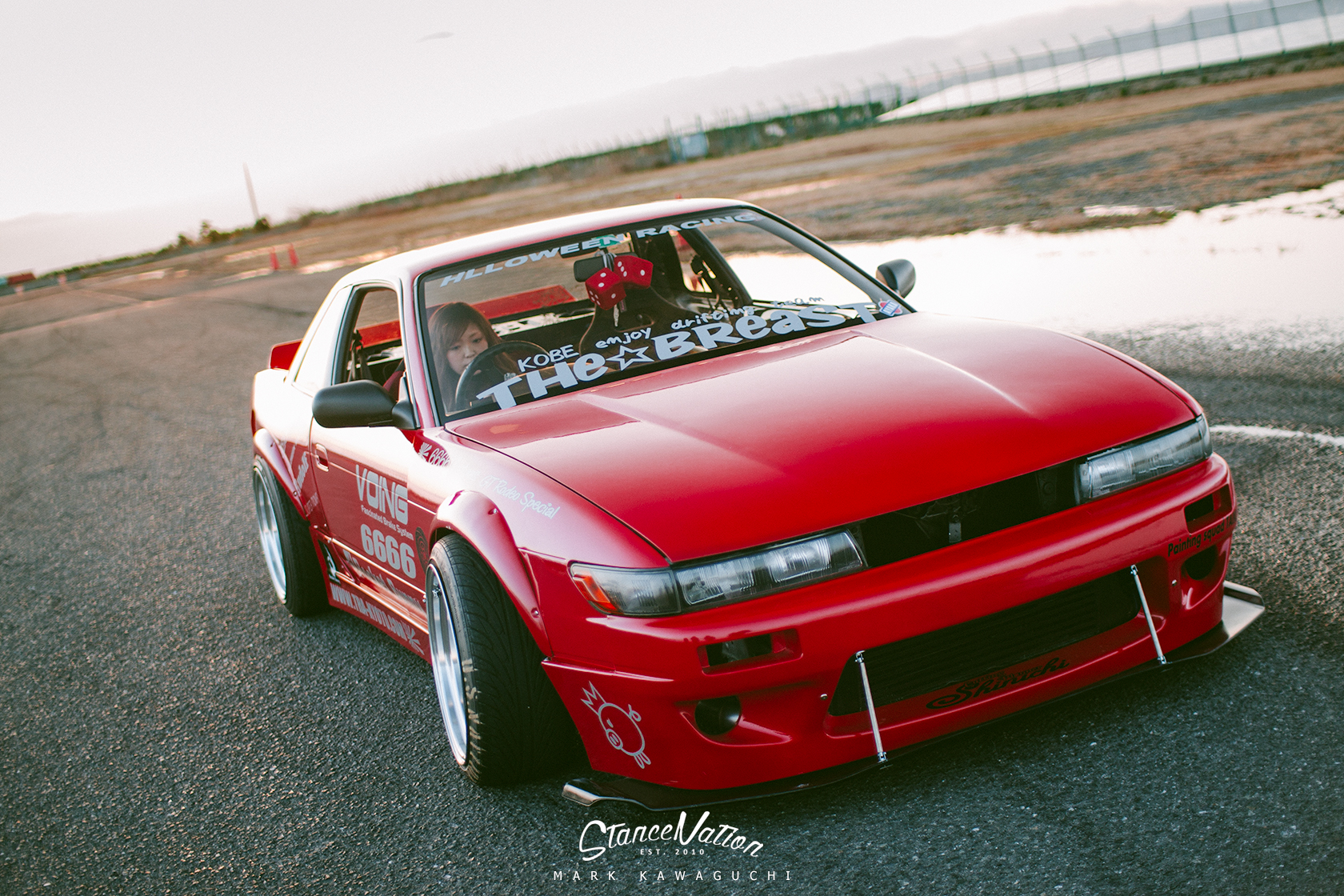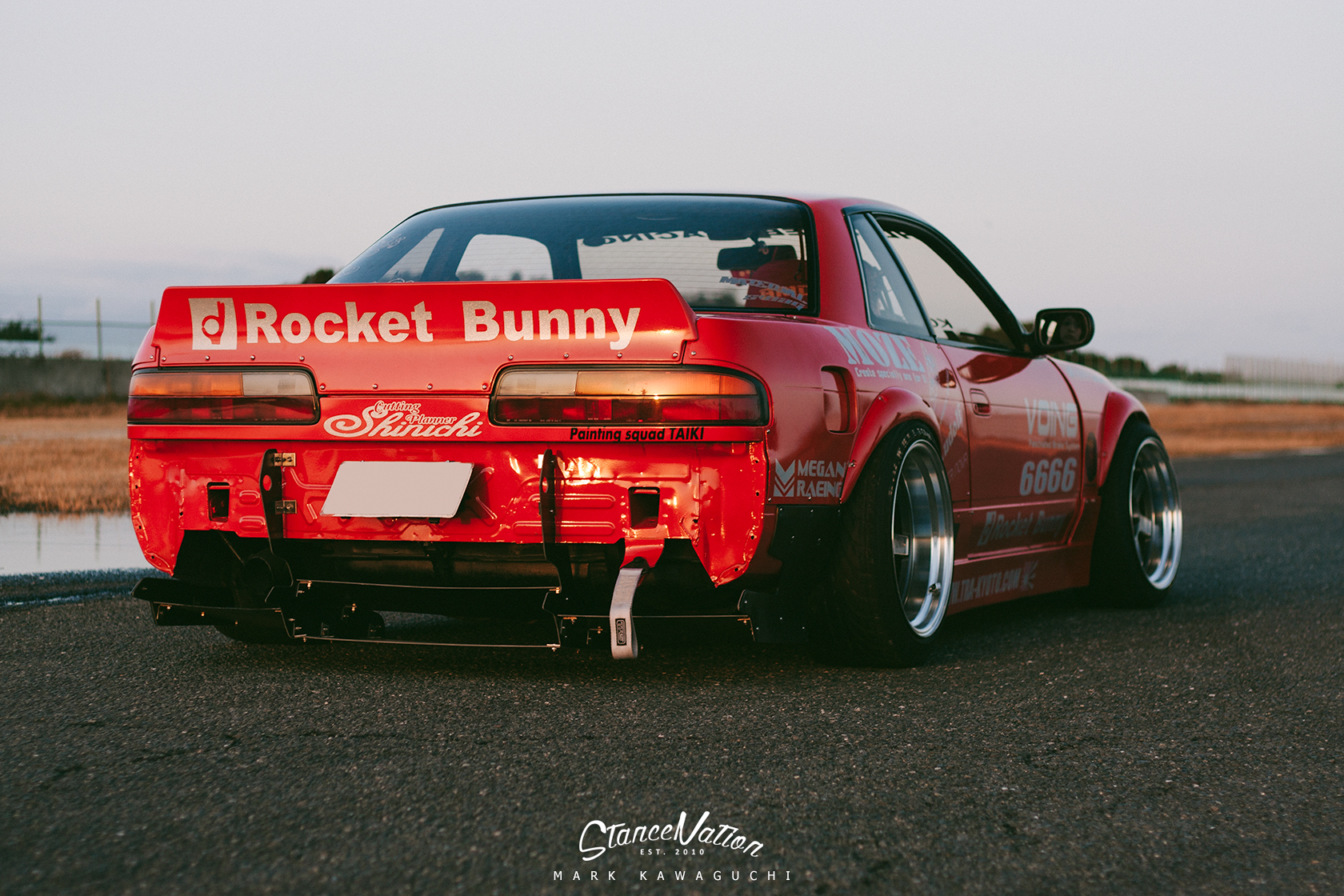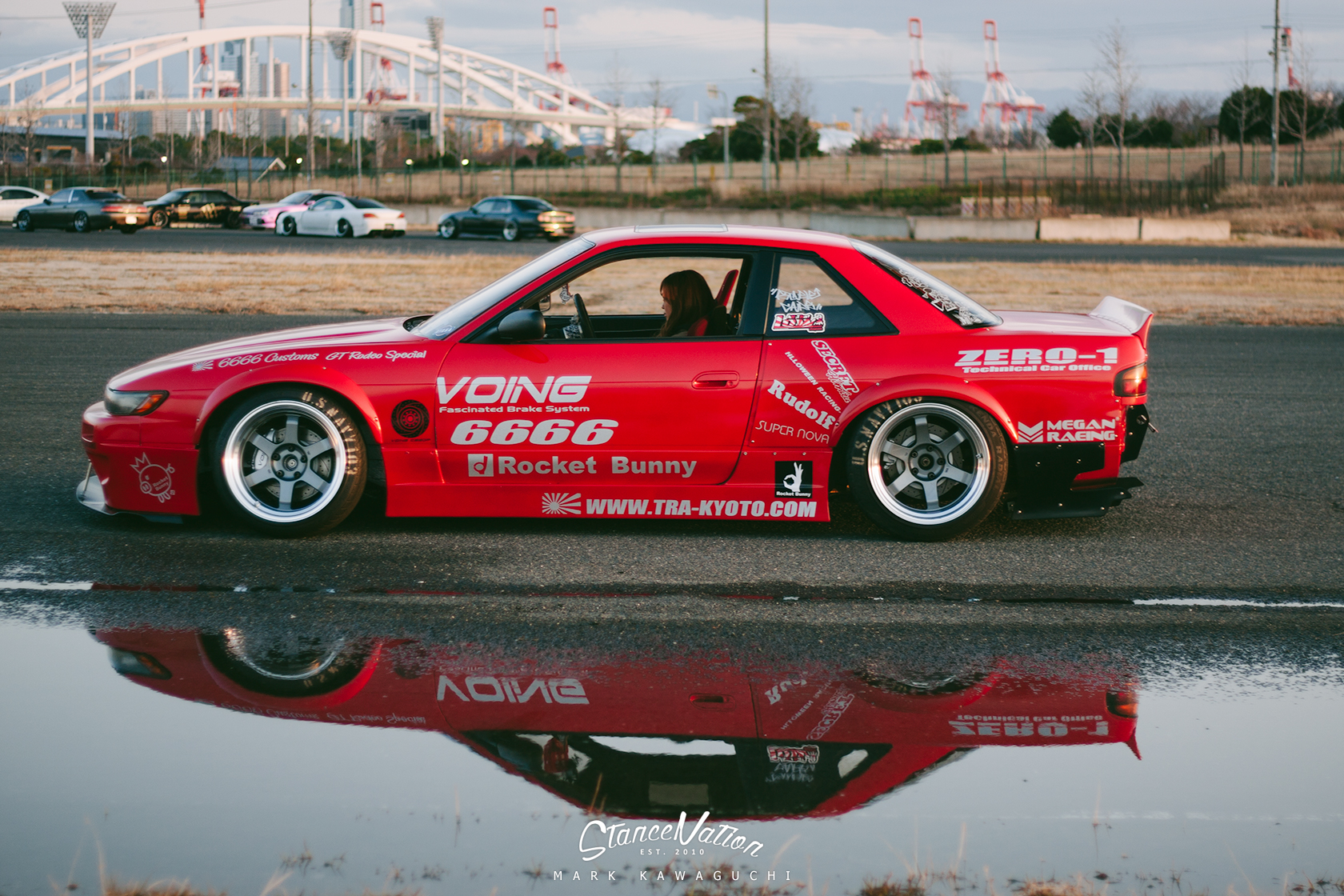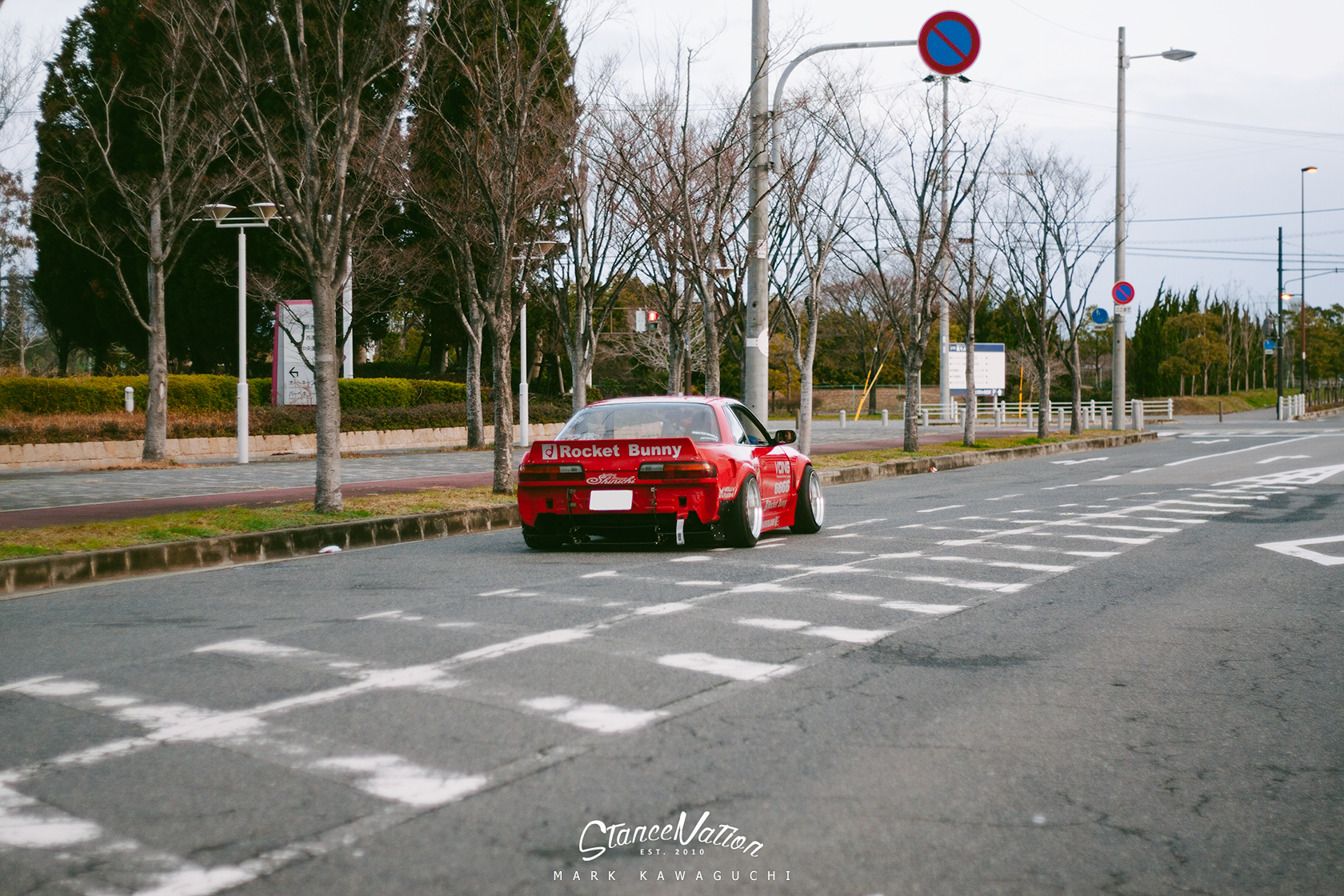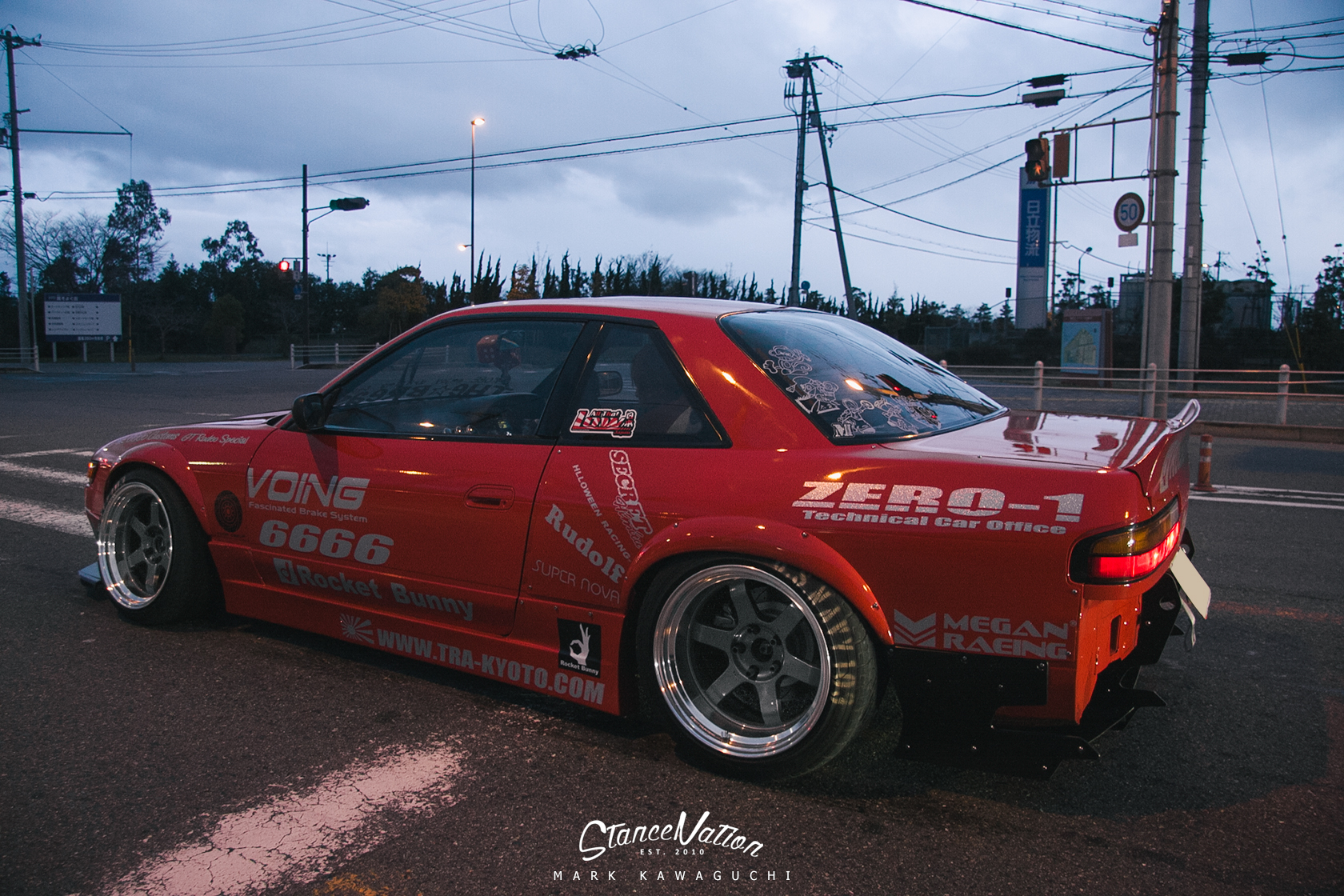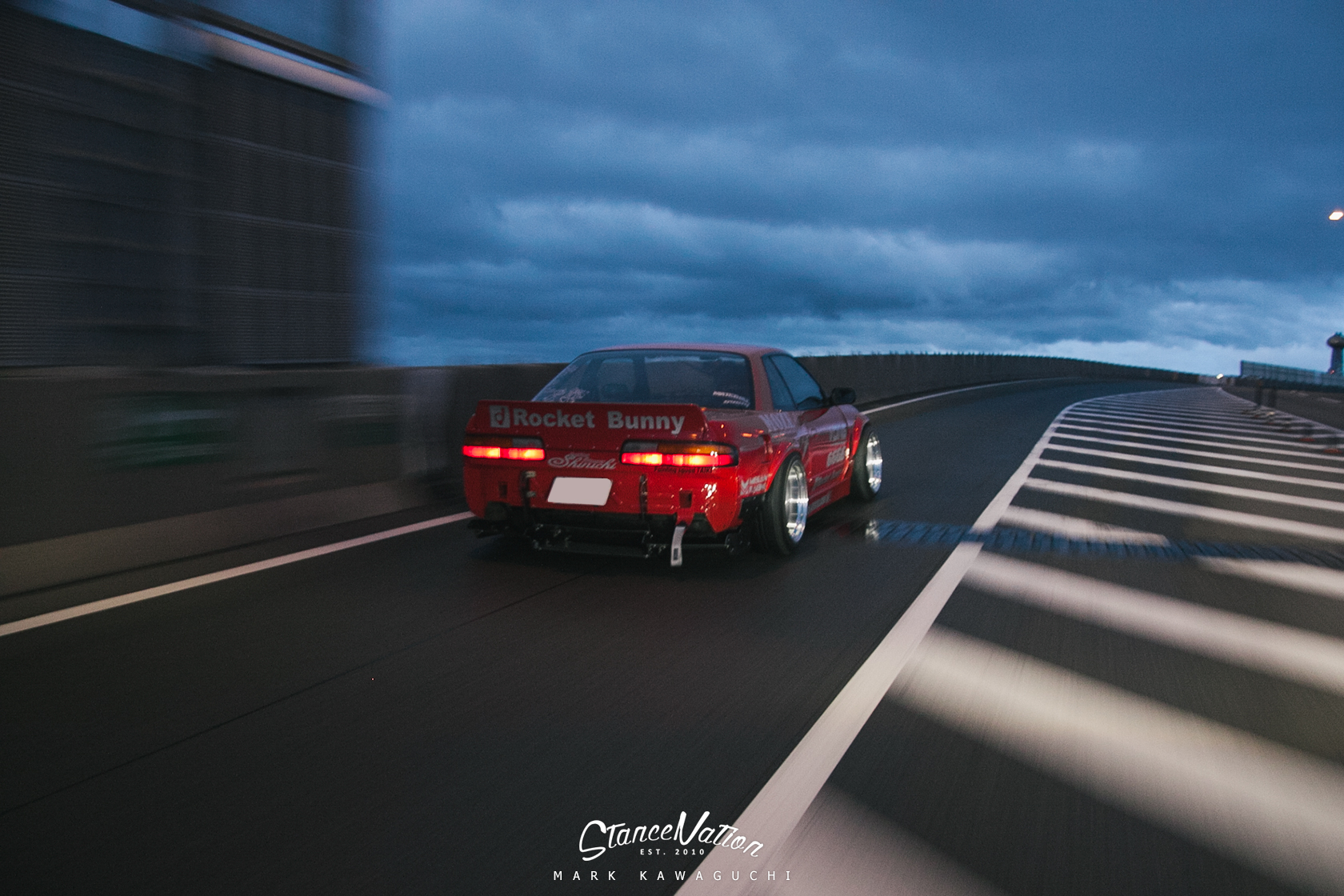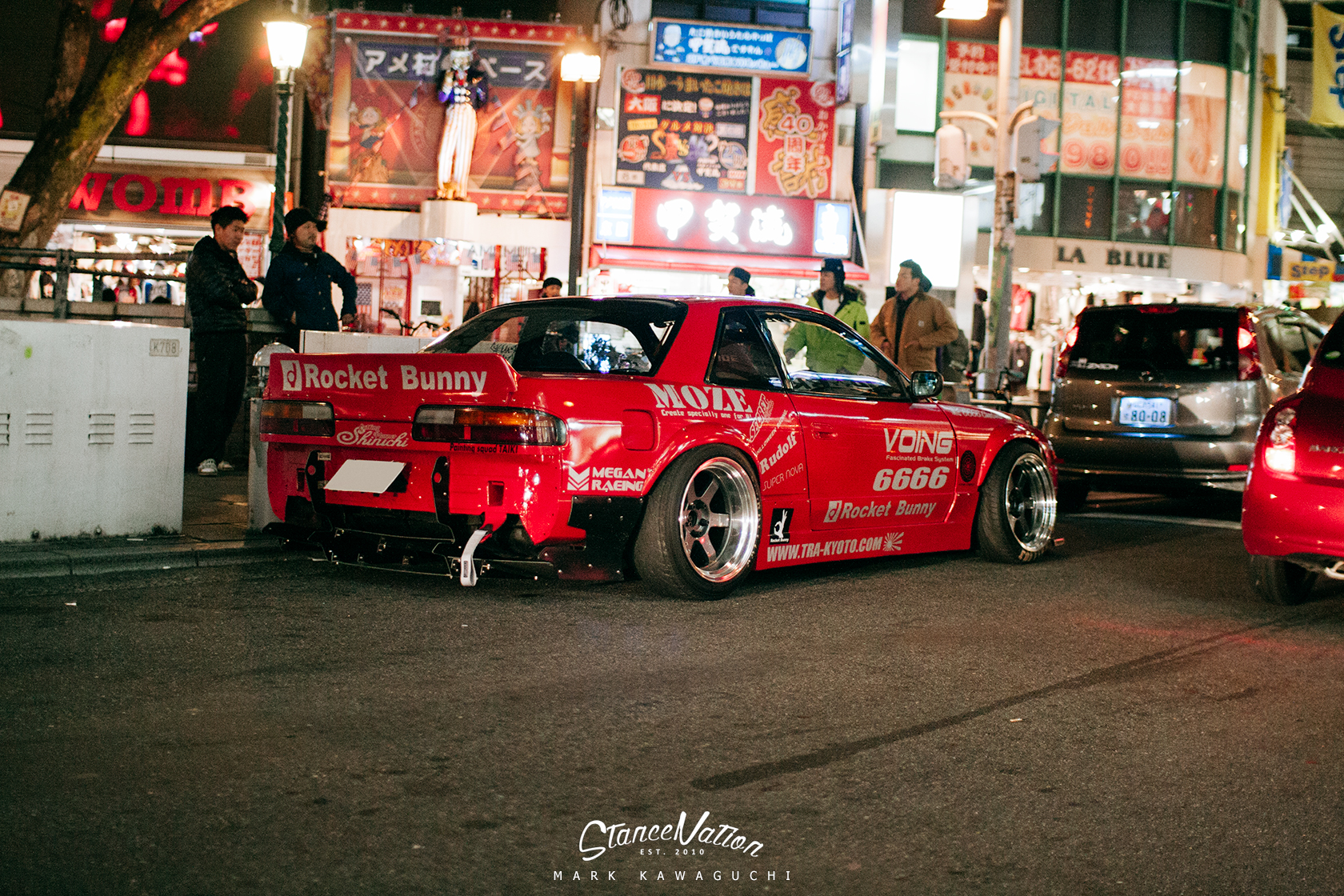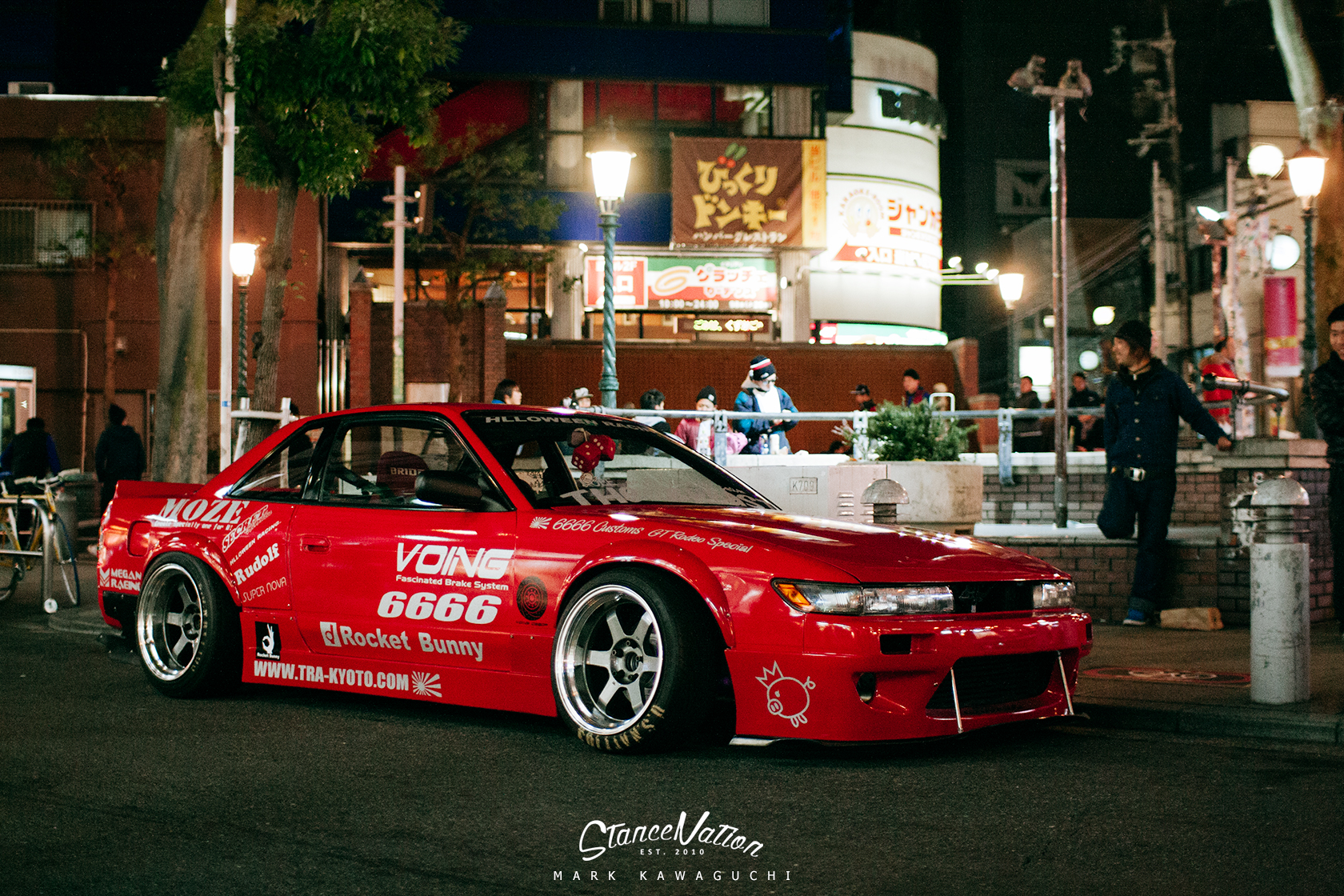 1990 S13 SILVIA
Exterior:
T.R.A.KYOTO ROCKET BUNNY 6666customs Front bumper
T.R.A.KYOTO ROCKET BUNNY 6666customs Side skirts
T.R.A.KYOTO ROCKET BUNNY 6666customs Ducktail Wing
T.R.A.KYOTO ROCKET BUNNY 6666customs Rocket Bunny 180SX Front and Rear Diffusers
Origin + 30mm widened fenders
Overfenders
Wheels:
Front:
RAYS TE37V 17x9J -10
Nankang NS-2 215/40/17
Rear:
RAYS TE37V 17x10J -20
Kenda Kaiser KR20 235/45/17
Engine:
SR20DET
APEXi Power-FC with Nishimura Engineering Tune
Trust TD06 20G L2 Turbine
Trust Exhaust Manifold
Trust Type-R Wastegate
Trust Type-R FMIC
KOYO 3 row radiator
Minekeru Original Exhaust
Transmission:
S14 Transmission
RG Metal Single Clutch.
Suspension:
Front:
Megan Racing suspension F 8kg
Tension Rod
MOZE Original Short Knuckles
Extended LCAs
Voing Special Customized ECR33 Calipers, Rotors, Pads
Rear:
Megan racing suspension R 6kg
RUCAs
Toe Control Rod
Traction rod
Special Reinforced Subframe
Nismo GT Pro LSD 4.3 Final Drive
Voing Special Customised S13 Calipers, Big Rotors, Pads
Interior:
BRIDE ZETA III
BNR32 Passenger Seat
Nardi Classic 33π Steering Wheel
Megan Racing 5-point Harness
Defi Guages
Blitz Boost Controller