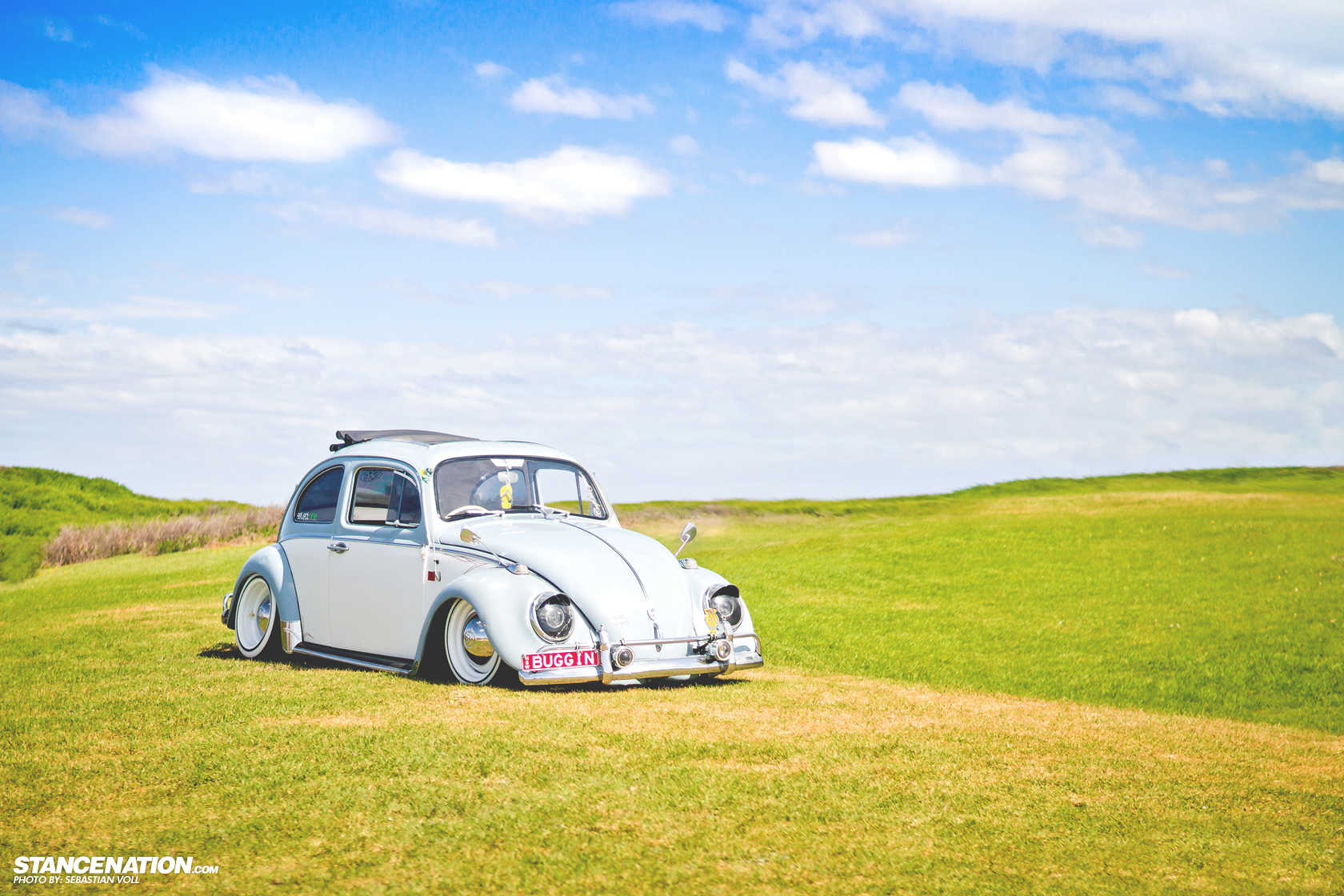 In our culture it is ingrained in our psyche to describe ourselves, and others, by what we drive.  Our interest becomes a part of our personality, so of course our mode of transportation has plenty to say about who we are.  I doubt you have many actual similarities to your car, you don't have to be Italian to drive a Ferrari and if your voice was an exact replication of the cacophony your straight pipe emits your conversations would certainly be interesting, if anything.  The connection of your personality to your car can often produce difficult car buying situations.  We've all been there, your friends asking what you'll pick up next and you shrug your shoulders — unable to give a definite answer.  Maybe there are ideas and a general direction you'd like to take floating around your mind, but there is a common answer to those questions — "I'll know it when I see it."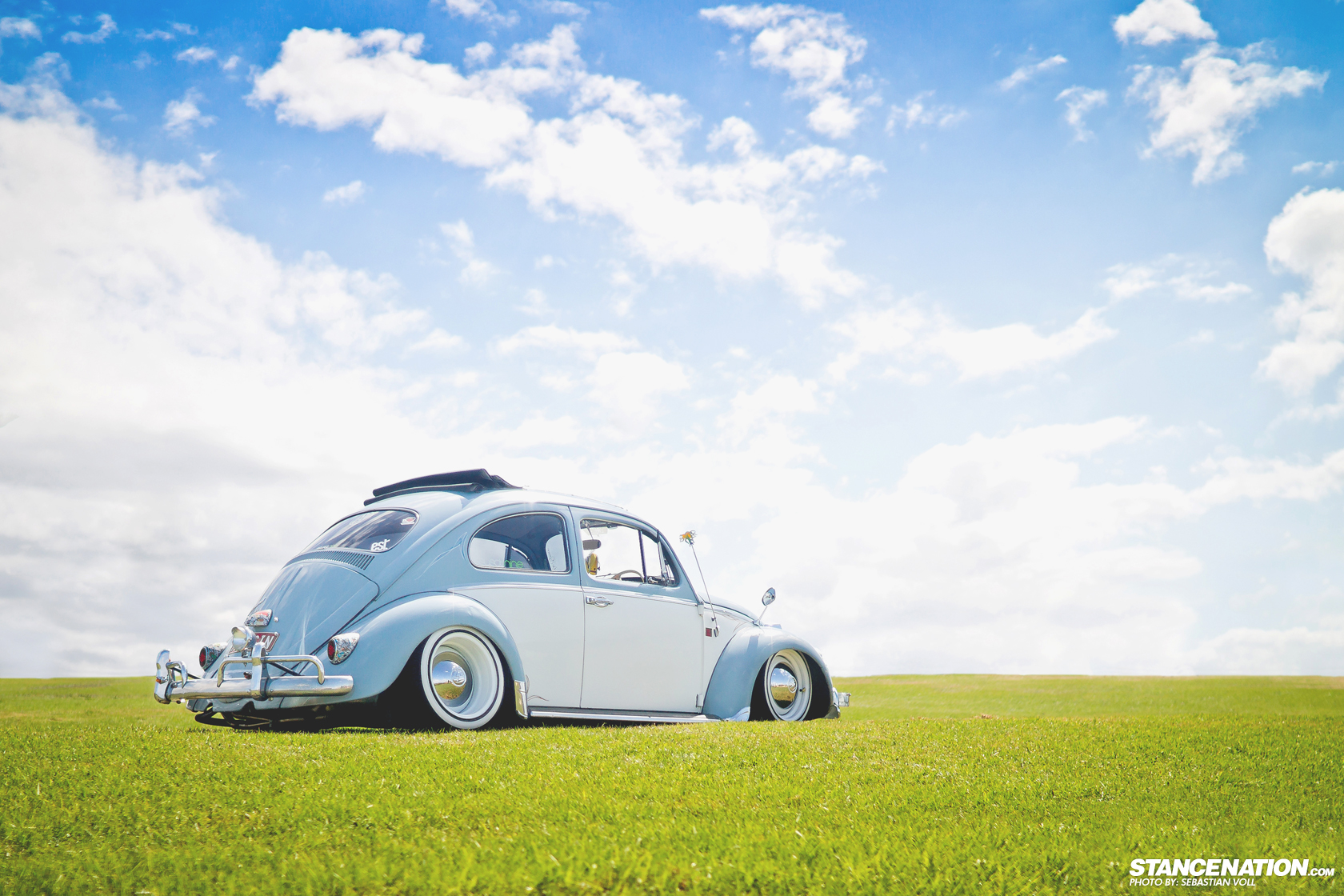 Classic Volkswagen Beetles can arguably be considered one of the most influential automobiles in existence.  For years hot rodders of various backgrounds have taken the platform in almost every direction imaginable, the car's rich history and simplicity tugging at enthusiasts' hearts worldwide.  You've seen them with huge fenders, small fenders, no fenders… stock ride height restorations, slammed street cruisers, raked drag cars, even lifted ones on mud tires.  The tiny little German auto has a quirky personality that seems to fit in everywhere, with everyone.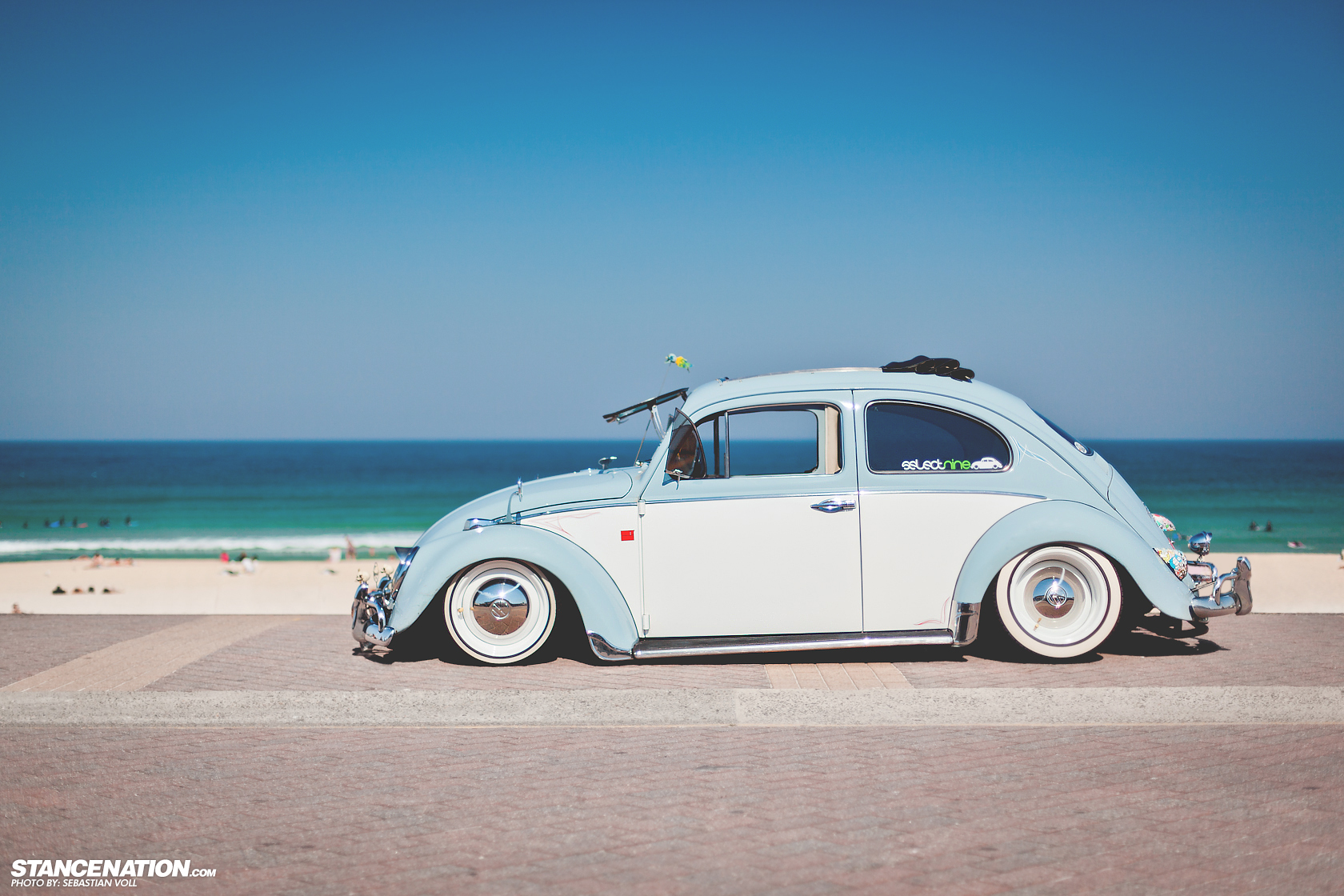 Six years ago Bhathiya Welaratne (he says to call him "B" for short, thanks for that) wanted to start a project.  B tells us he wanted something old school and lowered but his budget didn't allow for something old school muscle, so he broadened his search to include some of the classic compacts like Minis, Morris Minors, and Volkswagens.  Mulling over his options B decided the Mini didn't quite fit the older aesthetic he searched for and was too small, he didn't see much potential using a Morris Minor, which left him with VWs.  After three months of hunting, his heart was taken by this '67 1300 Deluxe that he found along the Northern beaches of Sydney.  It was a single-owner car that experienced a life of meticulous maintenance.  He knew it when he saw it.  The uncommon color combination won him over and the Beetle became his.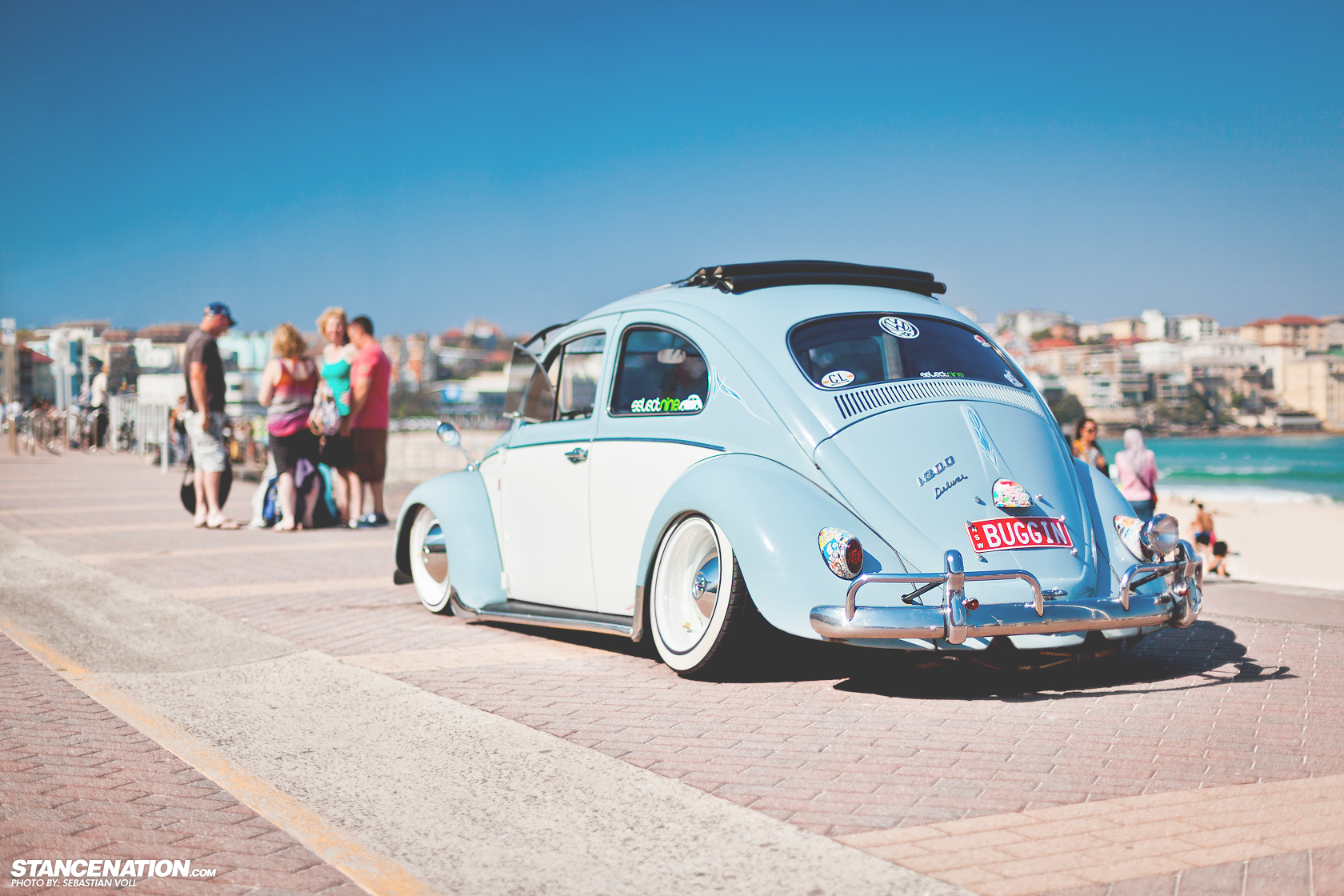 Of course, in our world, there is much more than the car itself that defines us.  We express ourselves through our interpretation of the automobile base.  Studying the landscape of Beetle enthusiasm in Australia B noticed a lot of Rat and Resto-style, but not the Cali/Beach look that he enjoyed so much.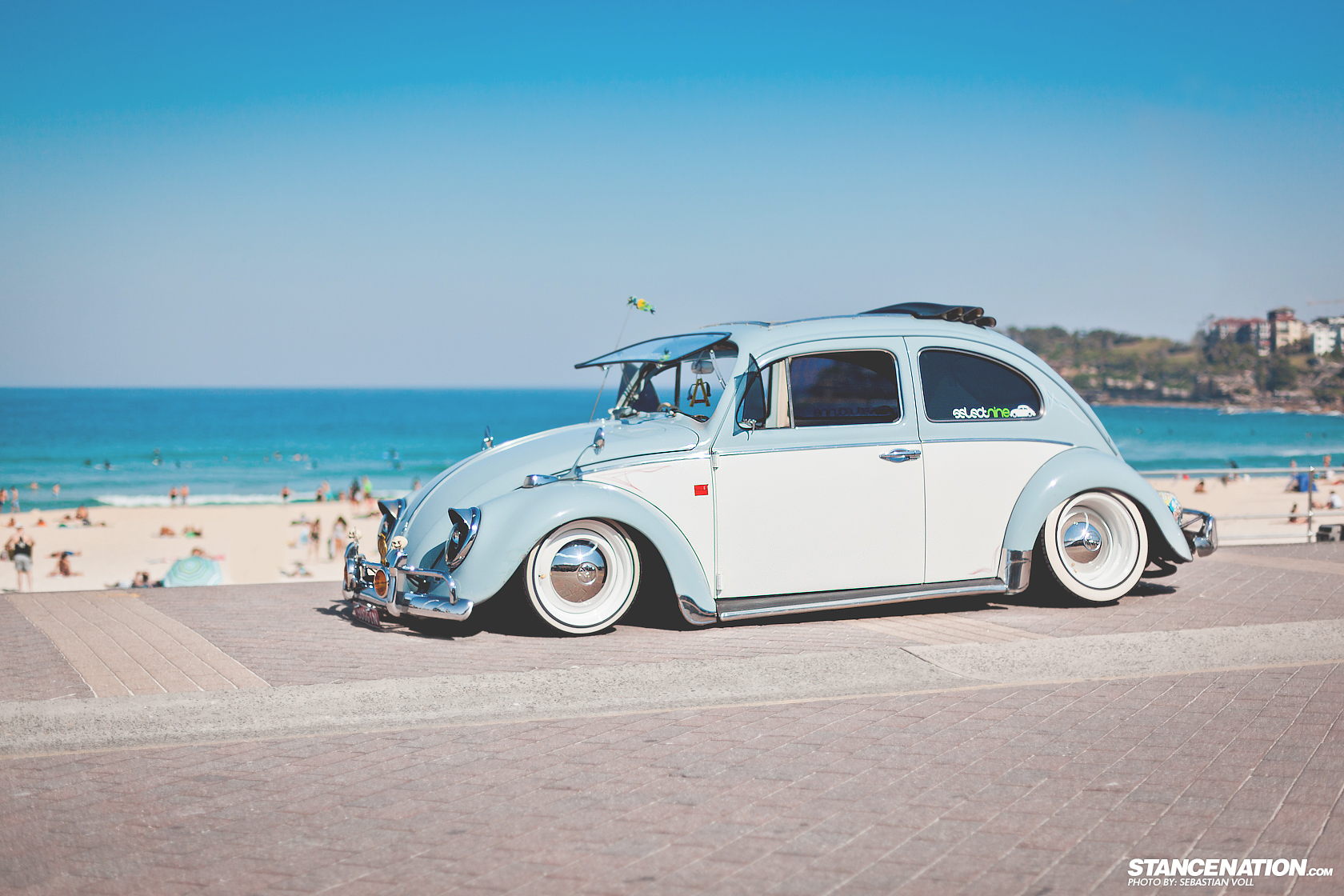 The well-polished chrome pieces, shiny original paint, well-executed pinstriping and safari window exude the Cali style B wanted to express with the car.  The car remains mostly original with a tasteful selection of details that really drive home the theme Welaratne was after.  Chrome bumpers and trim are a detail I personally wish had never left us, the nostalgia that emanates from the chrome hides beneath the brilliance of the sunshine reflecting off the plated metal reminding onlookers of a beauty that once was.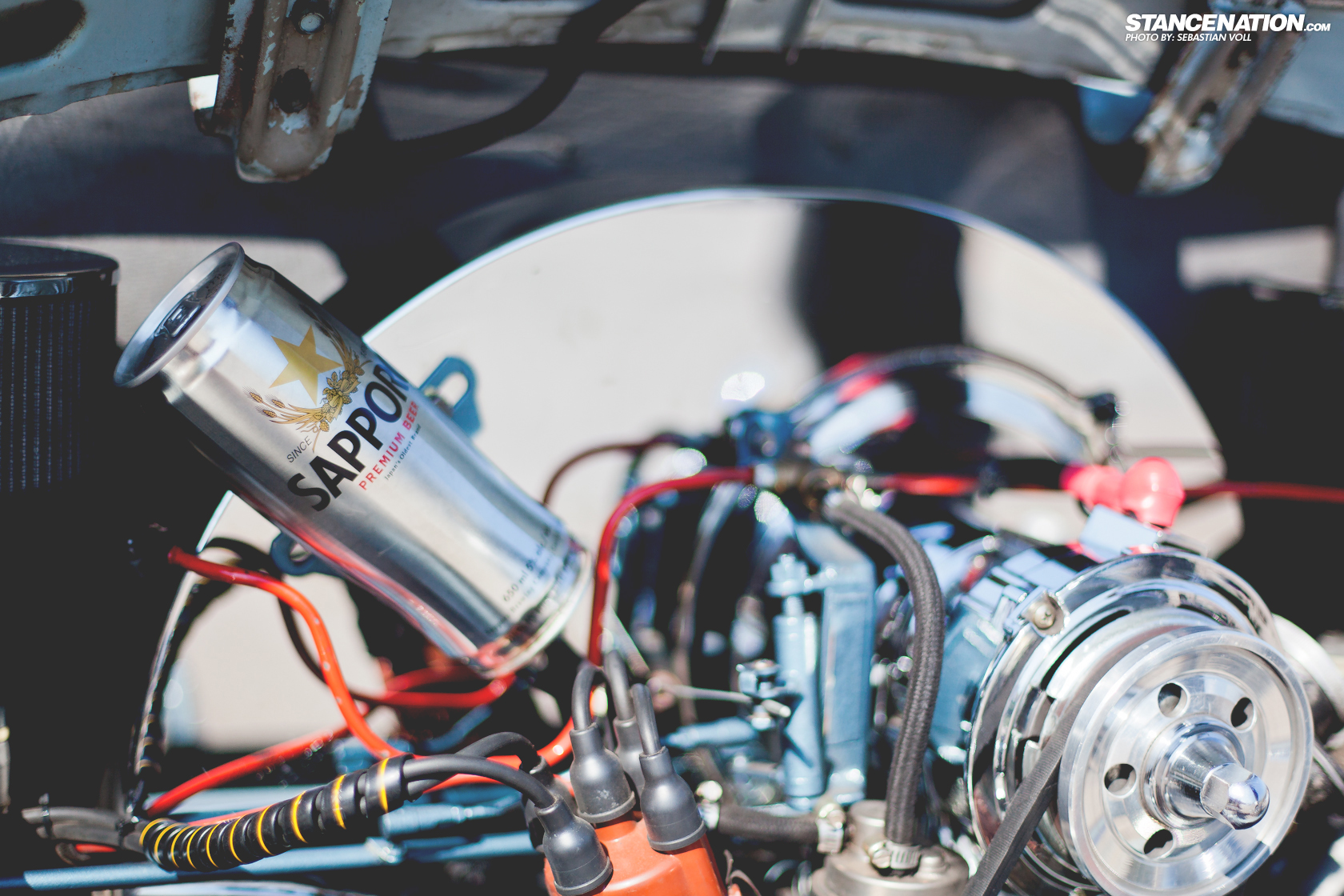 The 1641 Dual Kadron air-cooled 4 remains in mostly original condition, save for a few aesthetic additions.  The overall cleanliness and mechanical condition of the engine is impressive.  I've seen under the hood of cars 40 years newer that don't look this good.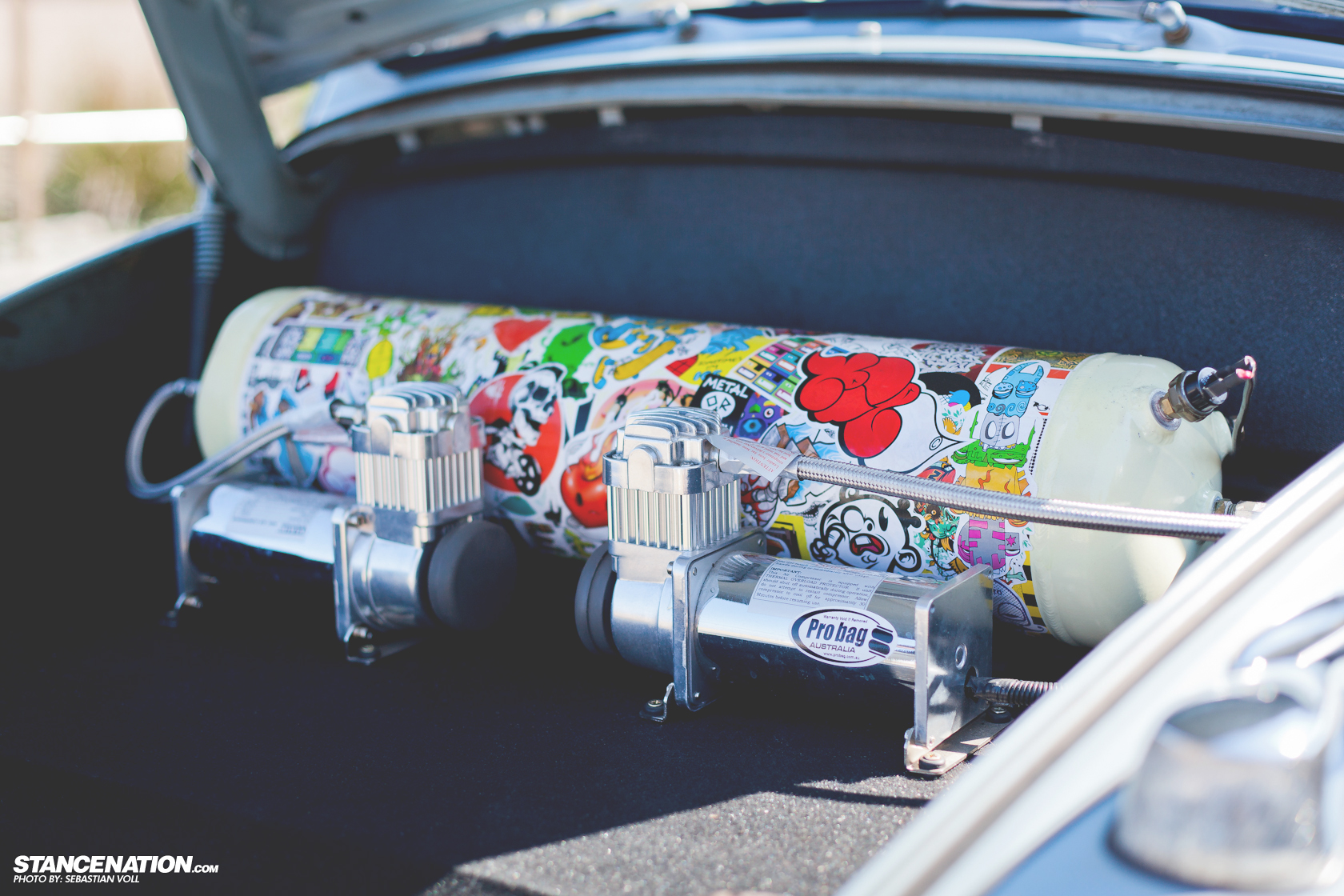 The most extensive modification B has made to the '67 1300 was the 4-switch airbag system.  In order to successfully achieve the look he was after, it had to get low.  After a lengthy search B located a workshop that he felt was capable of performing a clean install.  In order to get the front wheels to cleanly tuck beneath the fenders the front beam was narrowed 4.5″, a common and often necessary change Beetle enthusiasts make in the pursuit of lowness.  The result is beautiful, tucking the 5.5″ front and 9″ rear wheels and their white-wall tires correctly with the aggressive rear camber angles produced by the Beetle suspension design.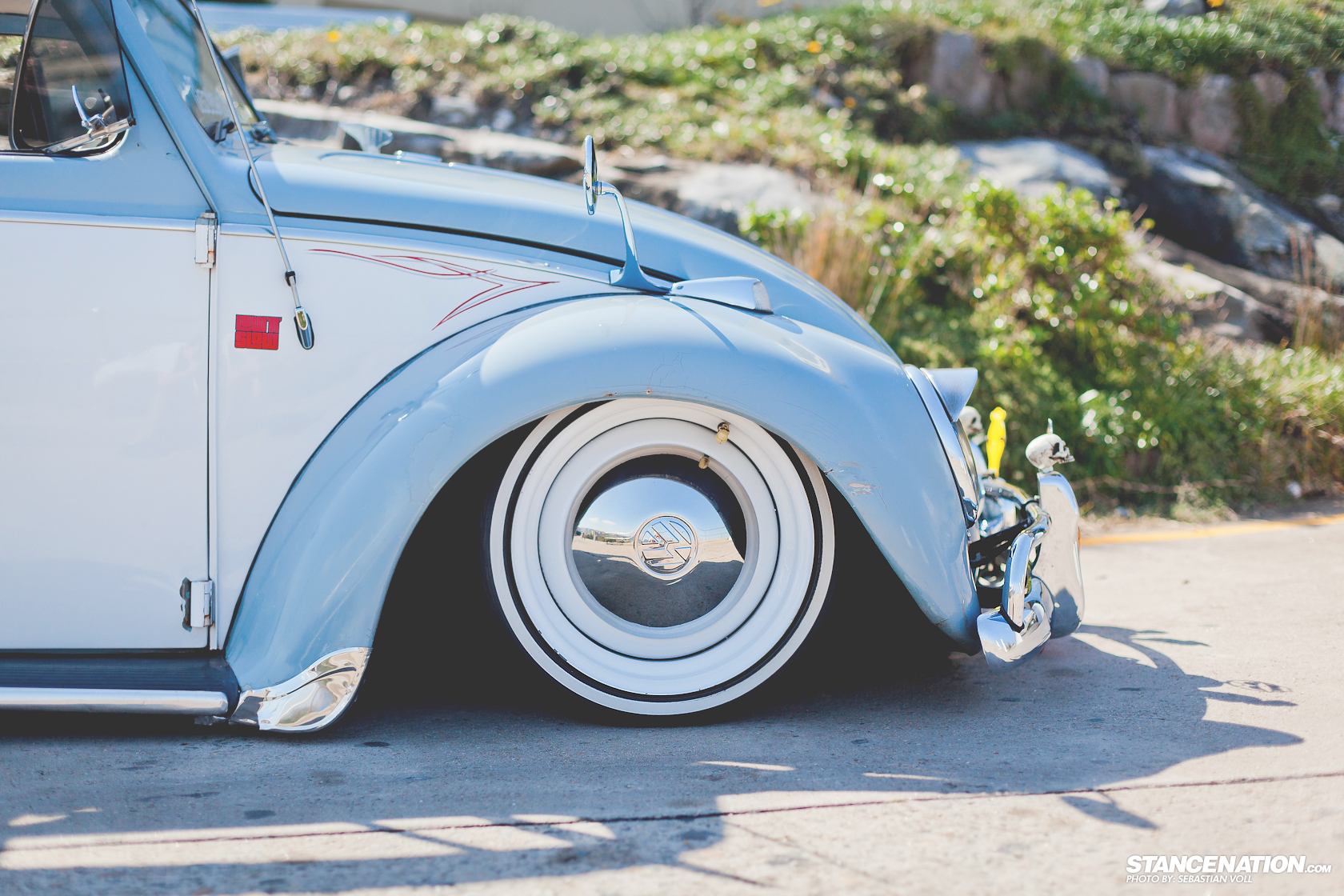 Echoes of Rastafaria resound from within the Beetle.  The interior fits its intended function perfectly — provide good vibes for beach cruising.  Flip flops dangle from the rear view mirror above the beautiful original steering wheel and painted dash (a detail I'm glad they brought forward in the modern Beetles) in case you forget where you were supposed to be and what you are supposed to be doing.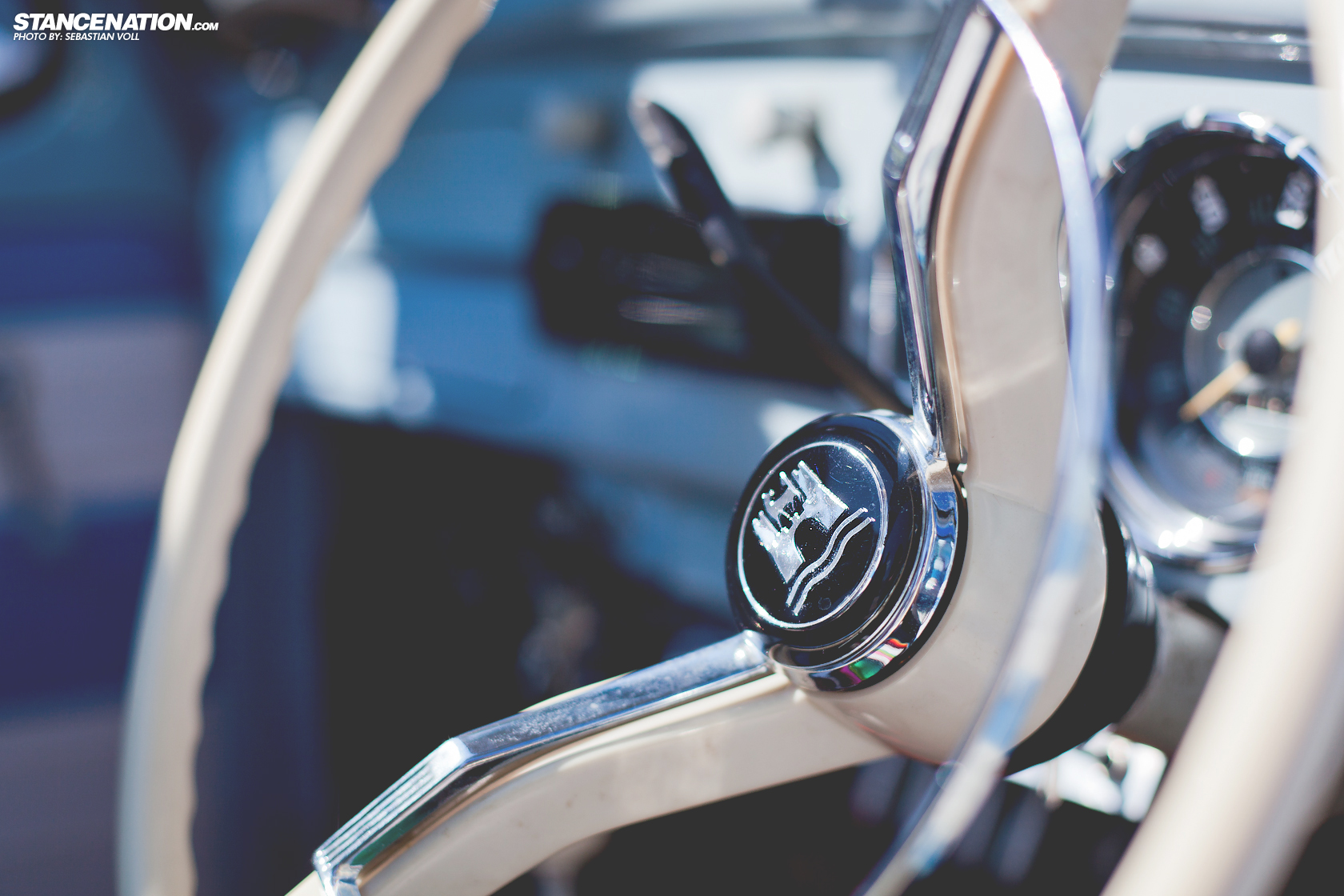 So is Bhathiya Welarante a Southern Californian German from 1967?  No, I don't believe his vehicle describes him literally.  It is his interest, his taste, and his quality-ethic that certainly shows through this Beetle.  The vintage auto exposes B to old stories, good and bad — and he has enjoyed the opportunity to hear those stories as well as create his own.  His continued journey with the car includes plans for a full paint restoration.  B knew it when he saw it and now he can simply enjoy his Beetle as intended and cruise Sydney beaches in colorful, slammed, old school, Cali-style bliss.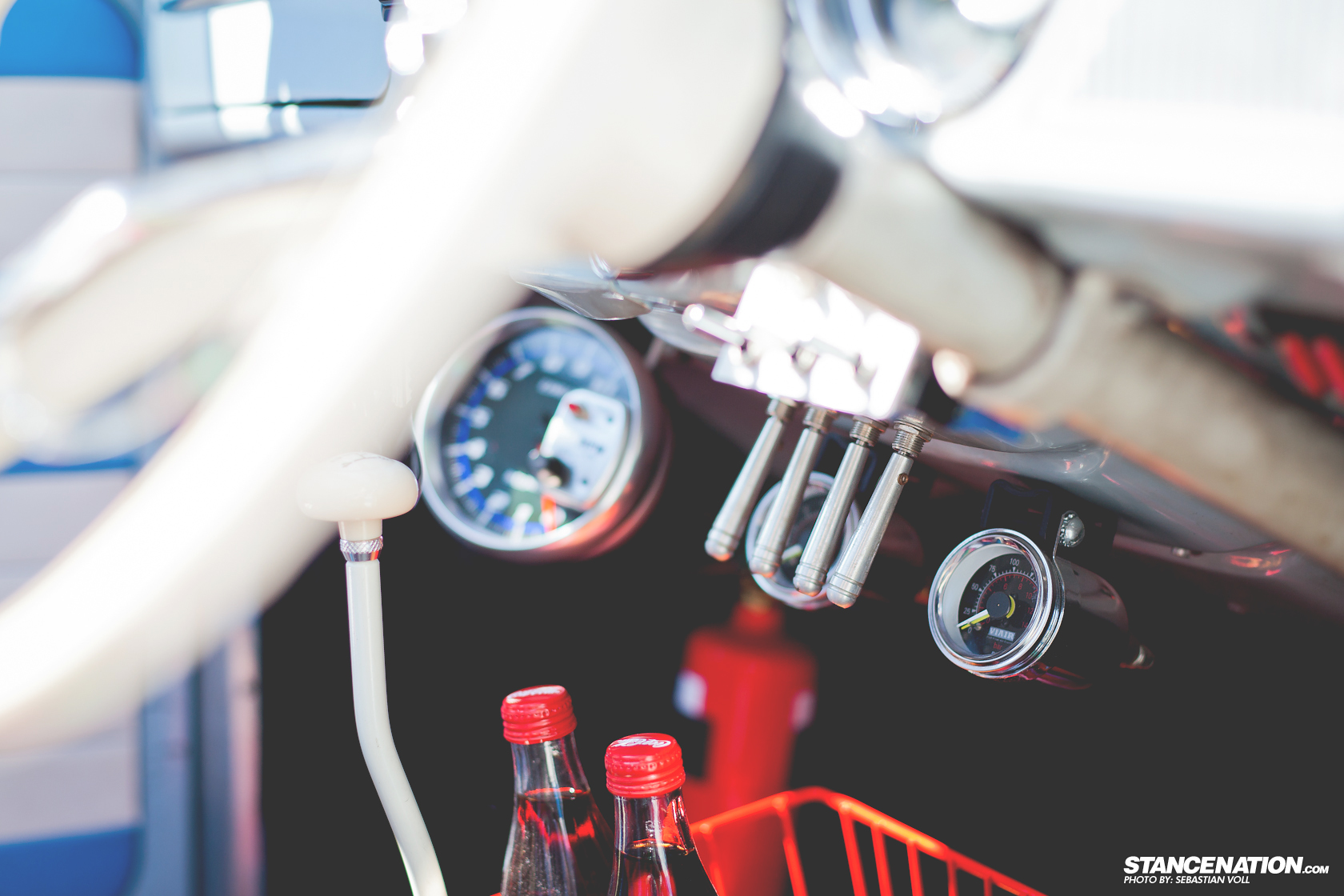 B would like to express thanks to Ricky Tan (Kevin Youngman), David Jasper, Andrew Dodd and Nosh/Alex/Rodney & Laurance from the Lifestyle store for all their workmanship and support throughout the years and of course the fellas at House Of Stance!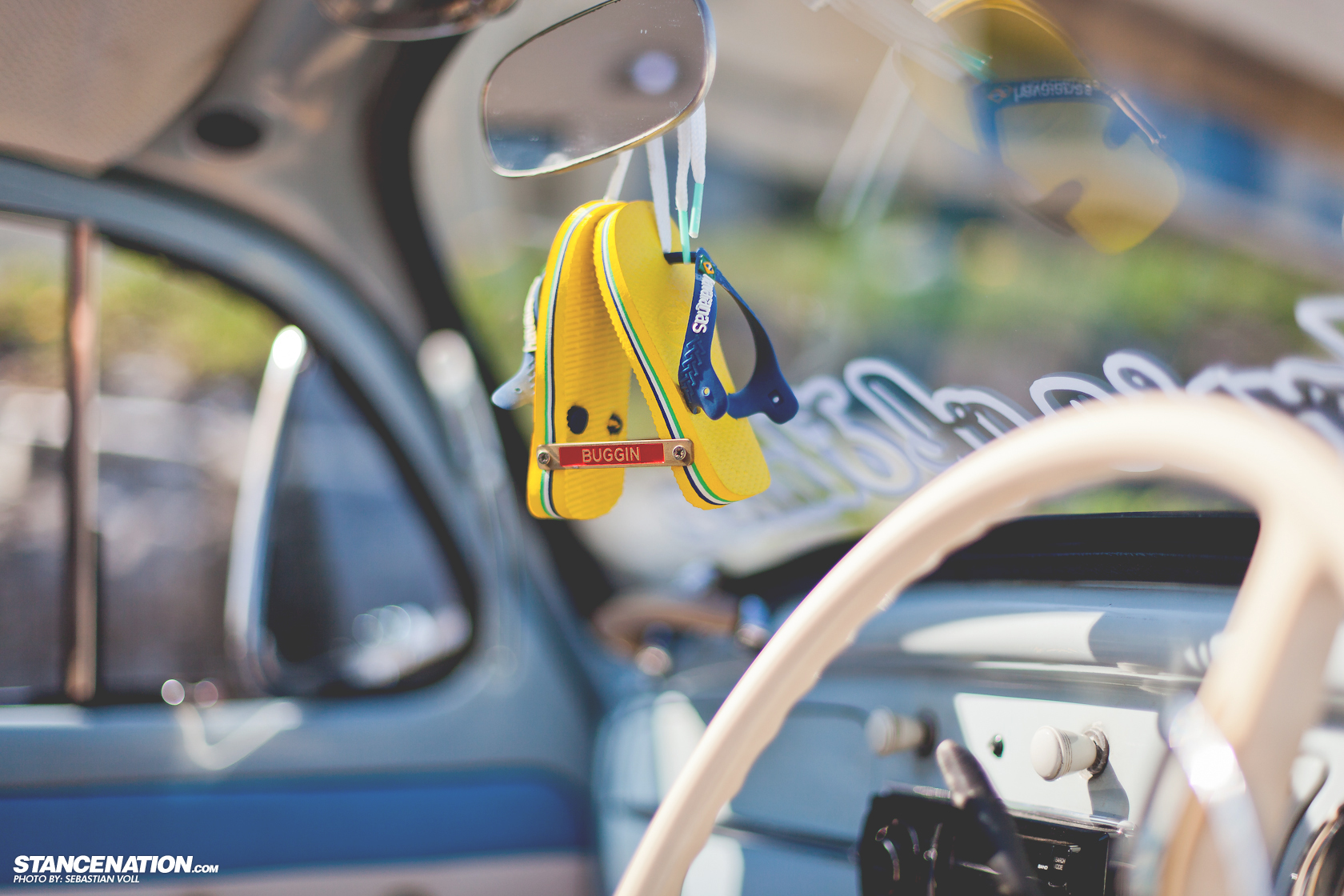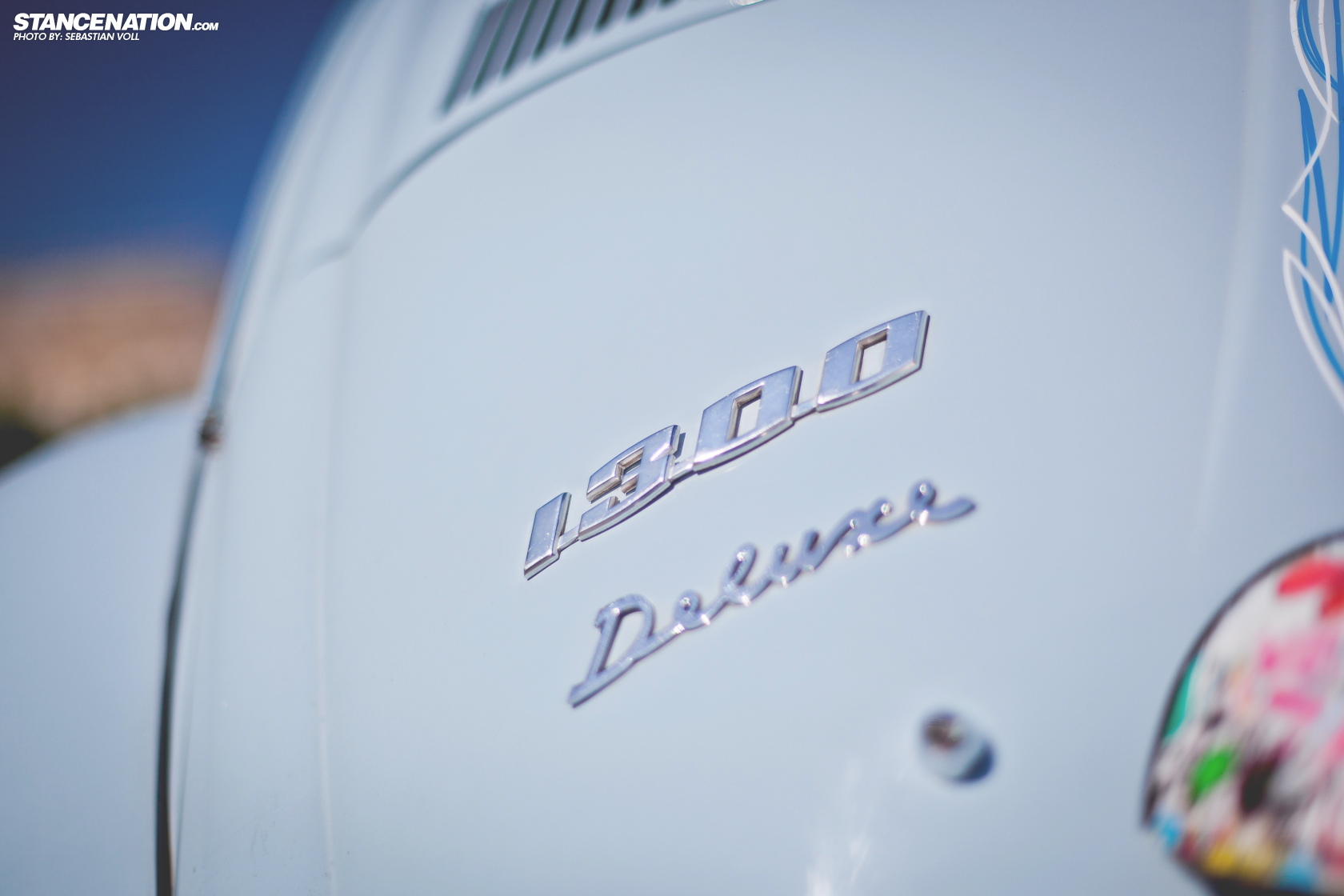 Wheels/Tires/Suspension
Suspension has been worked with a full four switch airbag system
Front has a 4.5 inch narrowed beam to tuck it all in neatly
Front wheels are 5.5" wide and backs are 9"[/toggle_item]
Exterior
Custom HID lights
Front safari window
Moon roof
Disk Brakes all around
Interior
Interior had a full do over with new padding etc.
Added a few Auto Meter gauges under the dash
Running a full custom fitted stereo which includes a 12'' sub
Front safari window
Moon roof
Engine
1641 Dual Kadron mated to 4 Speed Manual ( 1500 box )