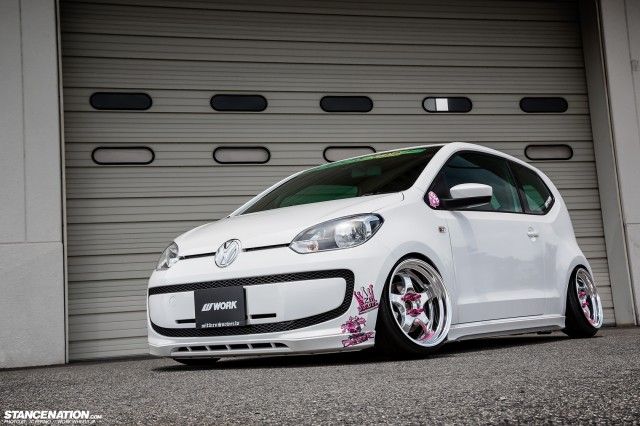 If you recall from mid October we did event coverage of the GSO Cup Vol. 9 with plenty of photos of the flawless 326Power cars via Mark Haraguchi. However, one car that was not shown was this beautiful Volkswagen Up. Our overseas contributor & Work Wheels photographer, JC Pepino, has blessed us with these wonderfully shot pictures and I am honored to be able to share them with you.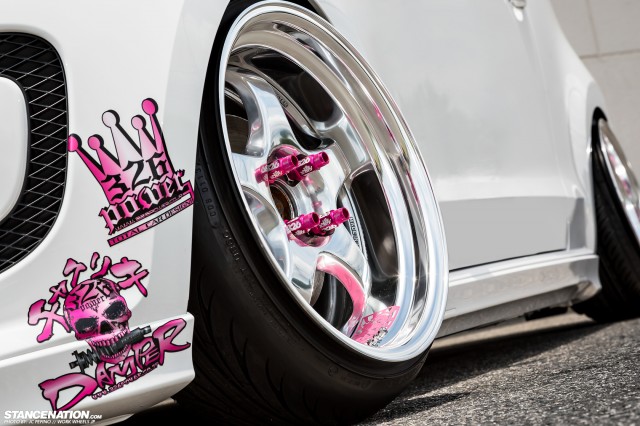 Like this Audi TT, this Volkswagen spawned from the ever famous 326Power in Hiroshima, Japan. Already, at first glance, you can see that the fitment of the car is flawlessly executed. This is due to the precision and care that 326Power is known for when it comes to dialing in the right wheel and tire specs to achieve the desired outcome of how the wheels, tires, and fenders sit in relation to one another. Honestly, to achieve this you would have to be measuring and calculating to find the proper sizing for everything down to the amount of tire stretch . . . or you could sacrifice a baby lamb to the stance gods. Whichever works for you.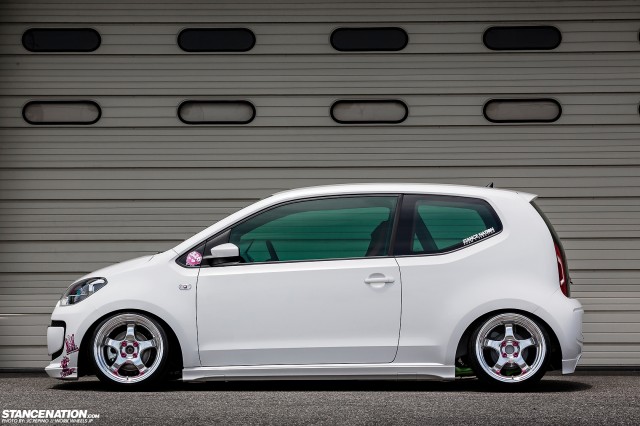 Talking about what works, the wheel selection that fills these wheel arches snugly are a squared set up of Work Meisters in 16×7 +4 offset. Yes, the wheels are only 7 inches wide yet they appear to be much more aggressive/wider (until you look at the front shot). That's of course because VW Up is an extremely small car with very small fender arches.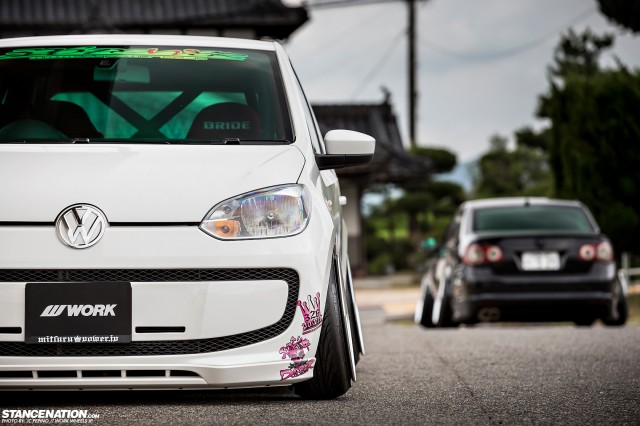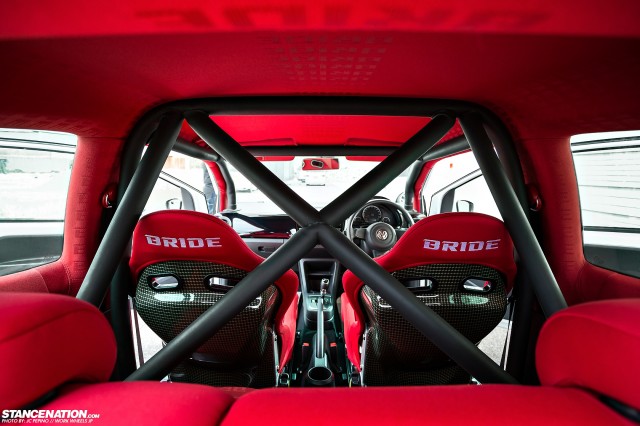 Take one look into the interior and it's almost like stepping through a wardrobe and into a different world. From the front to the back, this car is covered in a sea of Bride. From the carbon fiber front reclining bucket seats for both the driver and passenger to the rear seats that are only for contortionists to the headliner of the car, Bride can be found all throughout the car. In addition, a bolt in roll bar keeps the occupants safe in the event of a rollover. Knock on wood.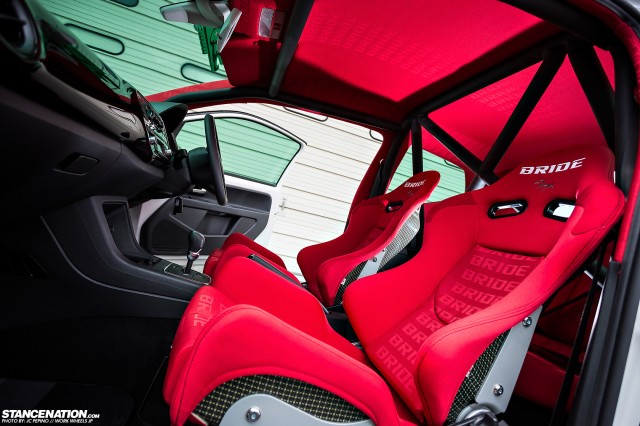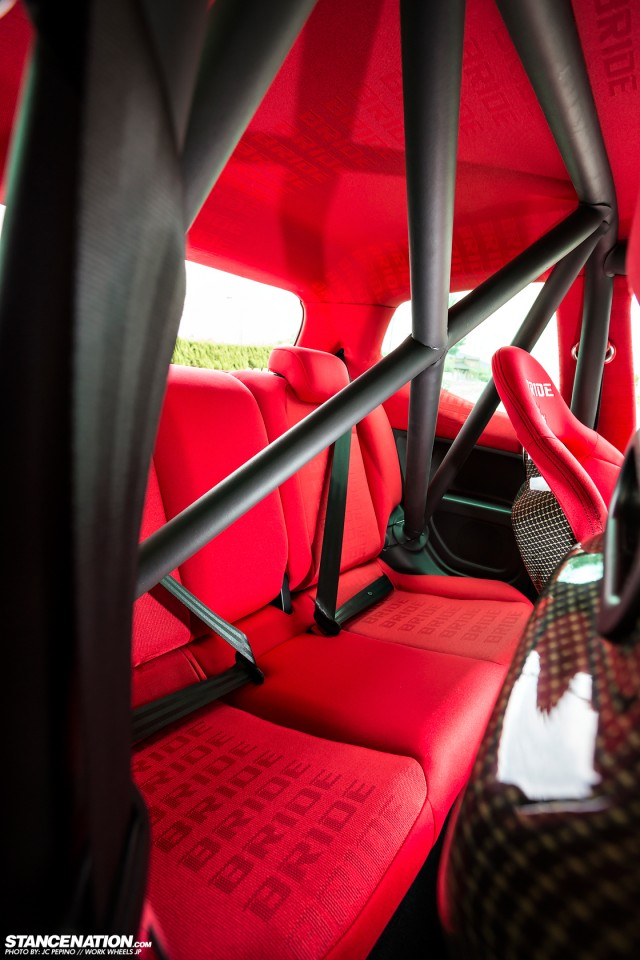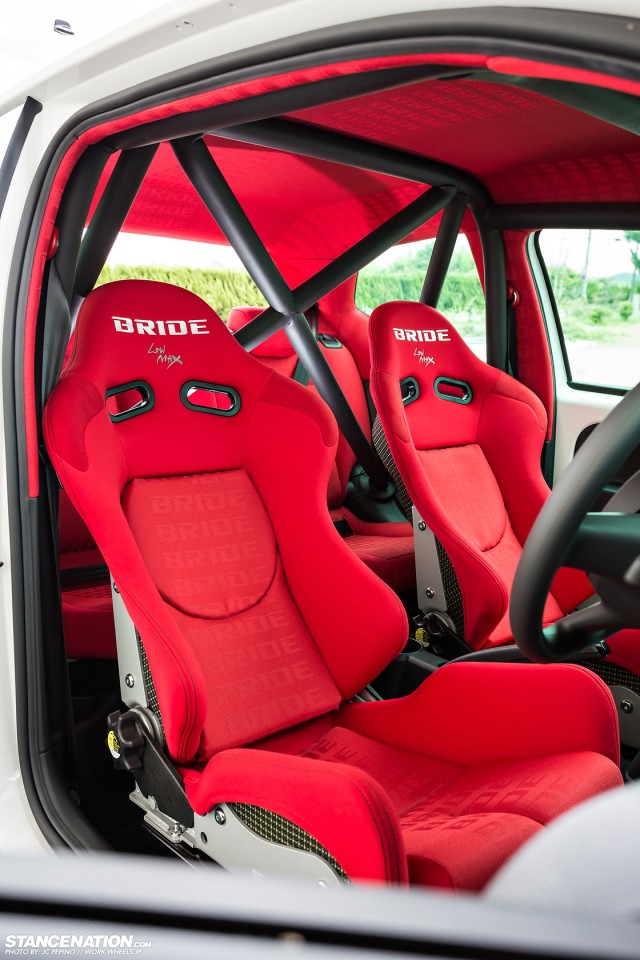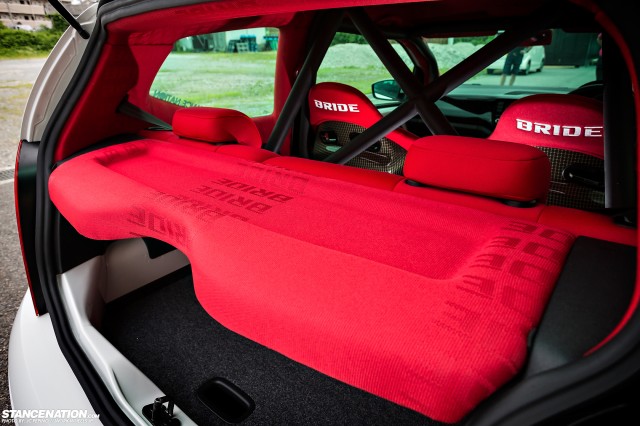 Wheels/Tires/Suspension:
Work Meister
F 16/7j 4
R 16/7j 4
Tire
F 185/40R16
R 185/40R16
326POWER Chak Riki damper coilovers
Exterior:
Genuine aero
Interior:
BRIDE full bucket × 2
Ceiling, rear seat, pillar BRIDE fabric re-covering
Roll bar