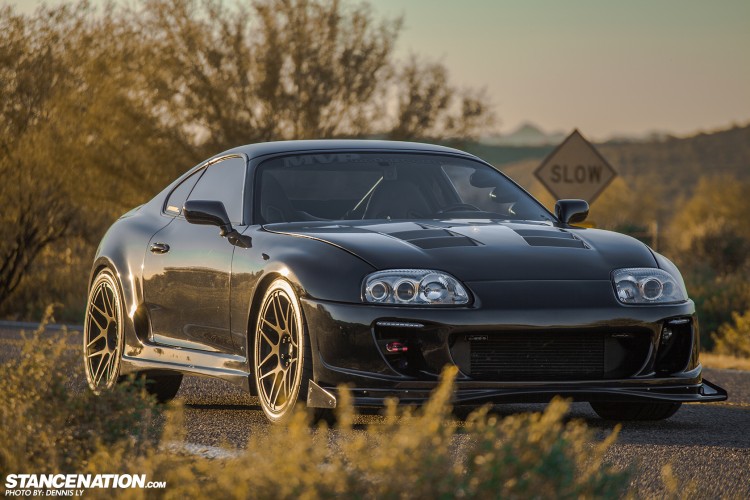 It seems like everyday, the StanceNation photographers, naturally out do each other! We continually bring our audience cars that inspire, motivate, awe, and occasionally even upset a few readers. With the numerous amount of differing opinions and individualistic thinking that we are all blessed with, its hard to simply please everyone. However, I'd like to offer a look into the other end of the spectrum that is wheel fitment. I love slammed cars, I love negative camber, and I love everything we feature here on StanceNation but that doesn't mean that I don't love and respect the cars that don't quite fit the "slammed" criteria. Here is a great example which I am sure we can all appreciate & respect. In the stifling midst of all the "broken axles" and "bacon fenders", I would like to offer you a breath of fresh function, in the form of Tyler Pflanz's 1100+ HP Toyota Supra.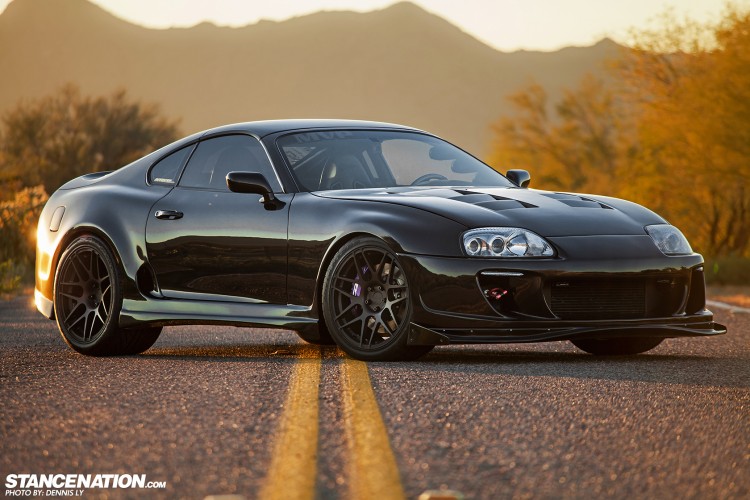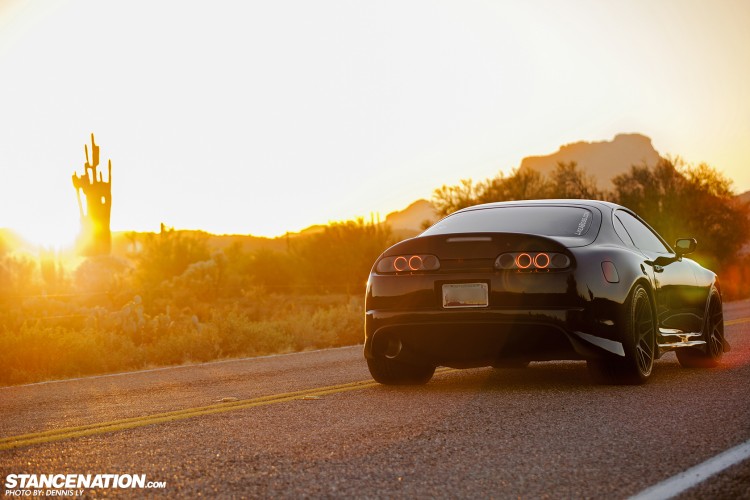 Almost like it's hiding its face out of sheer modesty, this Toyota Supra is the rare pinnacle achievement of a childhood dream. As children, many of us dream big, some of us begin that dream, and very few of us actually live it out. This is a rare example of the a dream come true.    When Tyler saw this car as an adolescent, he knew absolutely NOTHING about it. He was clueless in the area of automobiles but he was irrevocably in love. Matter of fact, out of all the 90's sports cars Tyler could safely say that the Supra would be his Holy Grail. Even after all these years none other could even begin to come close to its timeless look and design.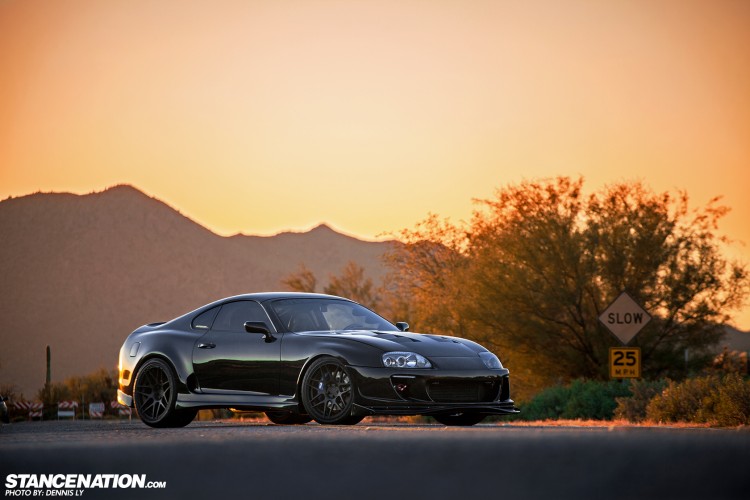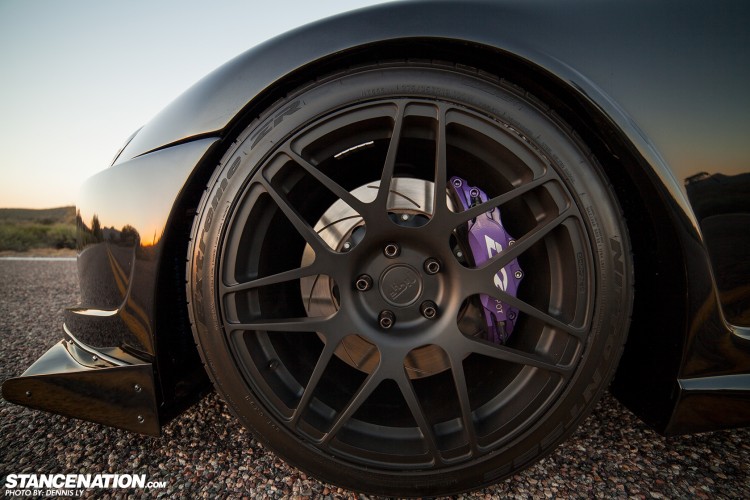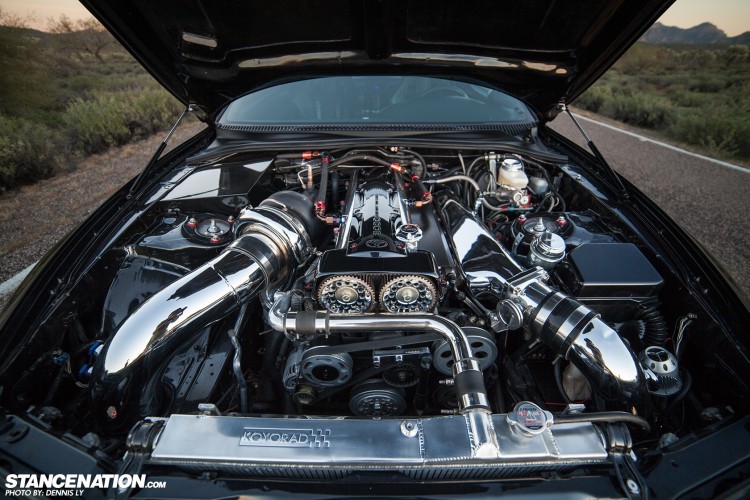 Bred from his wildest imagination stemming from his younger ages, Tyler endured the painful and total loss of a previous 3.4L 2JZ-GE Supra in a fire. What emerged from the ashes, well, it wasn't the same. Tyler knew, since the fire didn't kill him, it clearly had to make his build stronger and that is exactly what he did. Taking on a new engine because the old one was butchered by a previous shop, Tyler switched over to the forced  induction side adding on a HKS Type R Intercooler and a SP81 turbo. Although, on pump gas he only makes 650 hp @17 psi, his track tune brings the number to the range of about 1100hp! Did I really just say "only" 650hp?!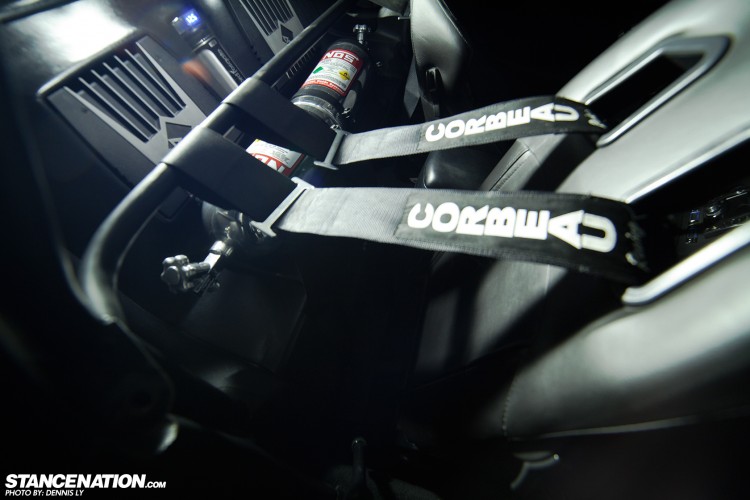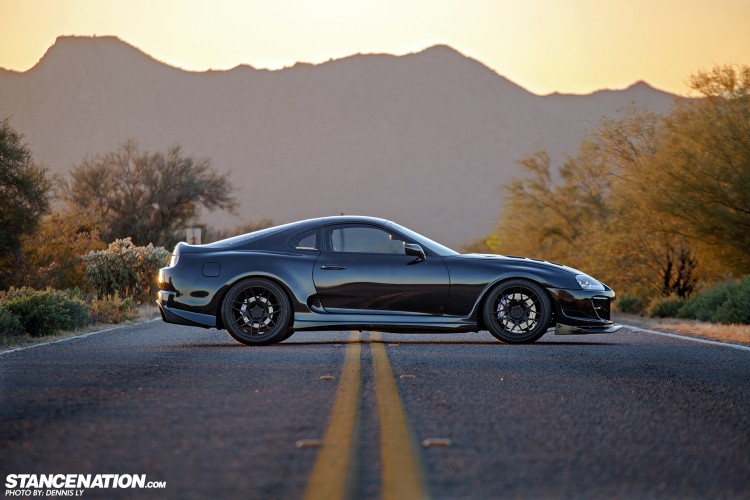 Rocking an uncommon look for Supras with the deleted wing, Tyler's Supra did not always look like this. When Tyler first got this car, he ran into a multitude of problems. From the engine dying in the initial 500 miles to a rusting chassis, it seemed like that clearly would have been the end of the road for this car. However, as Tyler remedied the engine problem, the very first shop he hired to mold the Ridox front bumper, Ridox Varis front fenders, custom Bomex side skirts, Trial rear bumper, and the custom Do-luck widebody rear, they managed to do that incorrectly and on top of it all, paint it the wrong color. Definitely a bump in the road..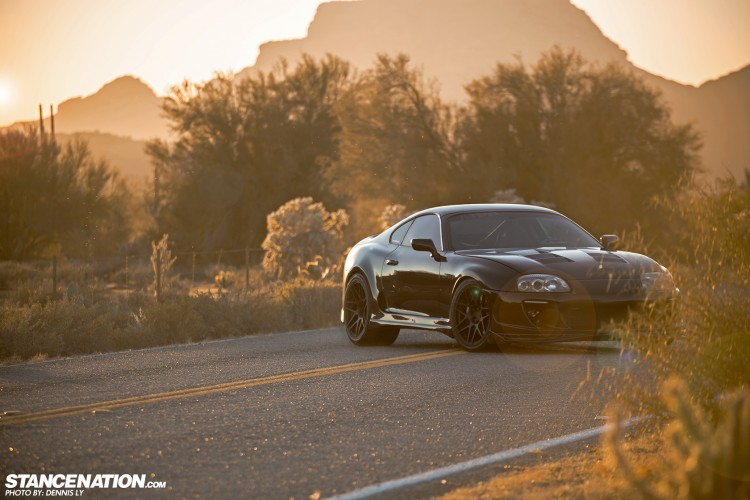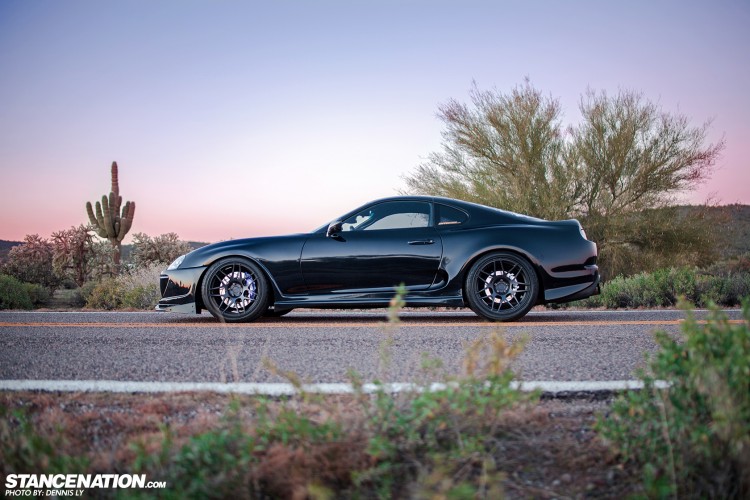 Although StanceNation is known for featuring some of the lowest cars, we truly love and appreciate all kinds of cars. Tyler's car is not just a car built for shows but rather versatility. Able to outrun most of the competition, this car can get down and look good doing so. At the end of the day, Tyler wants a car that can dominate on the track or the drag strip but is also reliable enough to take him home. Though it's safe to assume that the drive home may feel like a continuation of a race.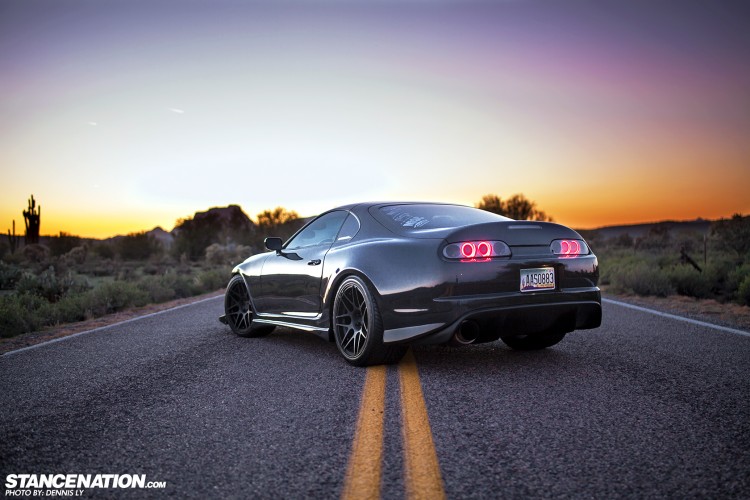 Tyler wants to give a shout out to his sponsors which include MVP Motorsports, Intense Motorsports, D2 Racing, Niche Road Wheels, App-Tronics, NRG, and Meguiars.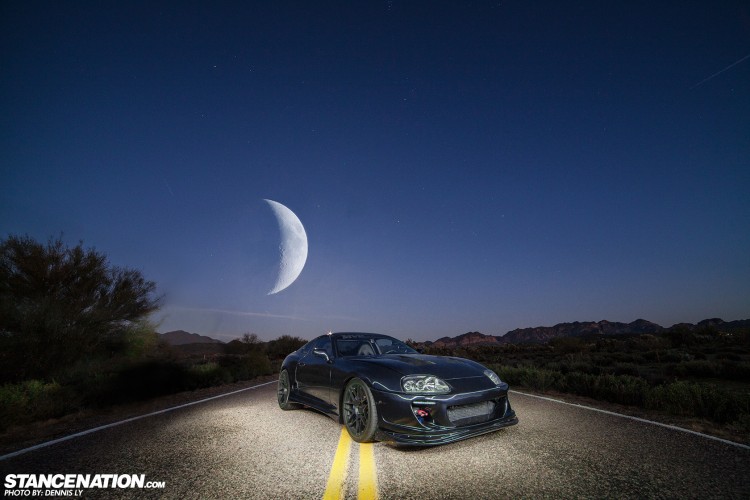 Photos By: Dennis Ly | Words By: Brandon Tang
Wheels/Tires/Suspension:
Niche Pulse 19 x 10 Rear: Niche Pulse 19 x 12
HKS Hipermax III coilovers
Project Kics R40 Black Chrome
Stoptech Slotted Rotors
Brake Caliper Swap in the Rear to Utilize Drag Wheels
D2 racing Front BBK with 356mm rotors and 8 piston calipers
Cusco Rear Strut Bar
Exterior:
Ridox Front Bumper
Shine Auto Front Splitter
LED Light bar Turn Signals
Custom Bomex Side Skirts Molded In
Seibon Top secret Carbon Fiber Hood
Trial Rear Bumper
Custom Do-luck Widebody rear
Ridox Varis Front Fenders
Interior:
Sparco Pedals
MVP Polished shift Knob
TTC Aluminum Gauge Bezels
TTC Aluminum Shifter Bezel
TTC Aluminum AC Dial Bezels
Line-lock Switch on Dash
Electric Cutout Switch in Glovebox
L.E.D and Sony LCD Switches in Glovebox
Reverse EL Glow Cluster Gauges
3 Gauge A-pillar Pod Defi Oil Pressure,Fuel Pressure, and EGT Gauge
GReddy Turbo Timer
GReddy Profec B Spec-II
Boost Controller
Silver and Black TRD Steering Wheel
Sparco Monza Seats Reupholstered in Italian Leather with Titanium Stitching
Custom SFI-Spec 6 Point Roll-Cage with Removable Swing-out Bars
5-point Racing Harnesses
Rear Seat Delete with Nitrous Bottles and Amp Rack Reupholstered and Recovered Door Panels
Custom Upholstered Sound System
Audio / Video
JVC kw-xg700 Double-Din Head Unit
6.5" JBL GTO Speakers Custom Mounted In Doors
6.5"Alpine Type R Speakers Mounted In Rear
Rockford Fosgate Punch 200a and Rockford Fosgate Power 200a Amplifiers
Rockford Fosgate RFC1D 1 Farad Capacitor
2 JL Audio 10w1v2.8 Subwoofers
Custom Laser Cut Plexiglass with JL Audio Symbol and Lit by Red L.E.Ds
Sony I-Frame Screens
App-Tronics Stealth
Interceptor
Engine:
CP Pistons .20 Over
Carillo H-Beam Rods
L19 Studs
Brian Crower +1mm Valves
Brian Crower Valve Springs
Brian Crower Retainers
Port and Polish C 274 Camshafts
Customized Virtualworks
Intake Manifold
Accufab 90mm Throttle Body
4" Intake Side Intercooler Piping
3" Tubo Side Intercooler Piping
Cold Air Intake
Sound Performance Turbo
Manifold
Tial 44mm Wastegate
SP81 Turbo
HKS SSQ Blow Off Valve
Tial Blow Off Valve
4" Turbo Exhaust Outlet to Electric Cutout Branched to Custom GReddy TI exhaust
PHR Fuel Rail
Injector dynamics Injectors
Triple Walbro Fuel Pumps
Custom 5" Cold air intake
SP ABS Heat Shield
Customized Oil catch Can
JEGS Elite Series Fittings
GReddy Oil Cooler
Koyo Radiator
Greddy Alternator Pulley
GReddy Power Steering Pulley
Meziers Electric Water Pump
Dual AAP fans Inside Shroud
Spal Puller Fan Between Radiator and Intercooler
HKS Type R Intercooler M6 Bolts Replaced with Flush Mounting Bolts
Mojo Performance Coil Packs