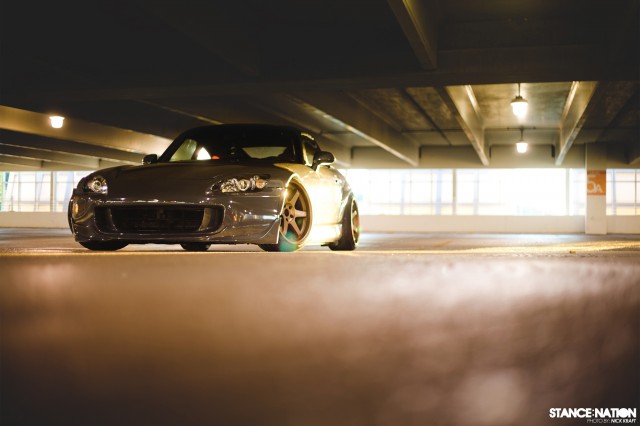 If you are viewing this, you are most likely interested in building cars. By "building cars" I do not mean assembling them in a factory for average use, but instead molding them into an extension of your personality or to fit a certain purpose above such mundane utility. The car build is the force that moves you. It fills car shows with attendees, race track grids with competitors, and internet forums with registrants. However, the friendships that are fostered from our participation in this lifestyle often transcend our relationships with the cars themselves. The owner of this immaculate S2000 credits several friends with the success of this build that has taken place over the course of the past year.
Photos By: Nick Kraft exclusively for StanceNation.com
Many of my personal friends are well aware of my affinity for S2000's. They're amazing cars and I enjoy seeing the different directions people take them; from a track car to a street cruiser, and everything in between. There was a distinct goal for this particular build, even though a slight case of buyer's remorse halted the plans for 2 months after he initially purchased the car. I'm sure I'm not alone when I say that most of us go through the same phase.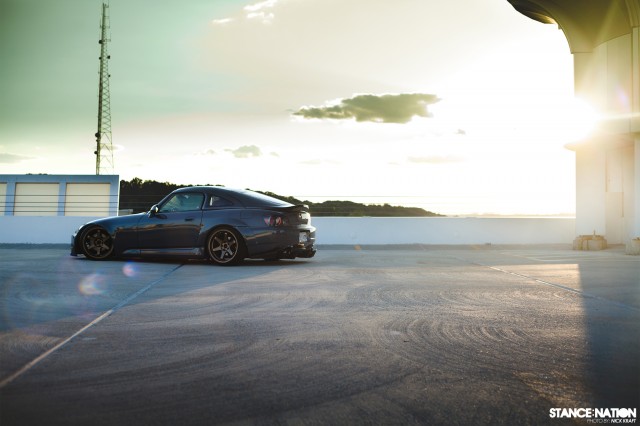 He tells us he wanted to create from this AP2 a functional fastback that stood out in the crowd and it seems that mission was thoroughly accomplished. It was not a task he tackled solo, however. The stunning color change was actually an impromptu, spur-of-the-moment project. After hanging out and discussing the perfect color choice, the owner and his friend Tim Hicks of Baltimore Body Shop performed the paint work within 24 hours – including all of the jambs and trunk. Lamborghini's Grigio Telesto Grey envelops the Honda roadster's widened body, accentuating its aggressive lines. Funny thing is he is already planning out the next color, but we'll keep that to ourselves for now.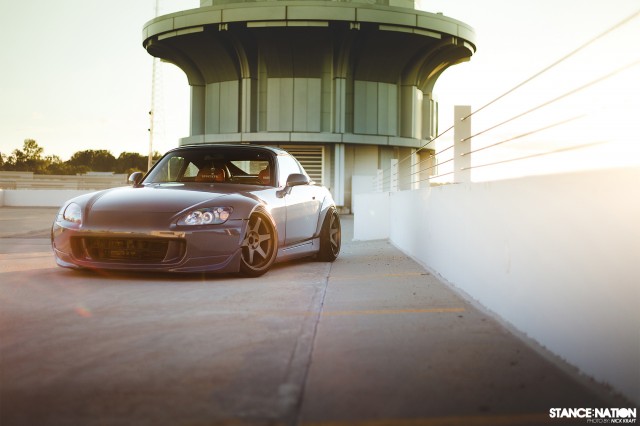 Another friend was called upon when it came to the body components. Ken of Shine Auto Project assisted him with a one-off roof, featuring 2×2 carbon weave accents around pillars & spoilers and a hinged rear hatch; accomplishing the functional-fastback criteria set forth in the beginning. Shine Auto Project also supplied the rear over-fenders and 2×2 carbon diffuser. The package flows nicely with the OEM front spoiler and the AIT 25mm front fenders. The custom-tailored pieces in the roof are quite impressive and are definitely a unique detail in the overall build.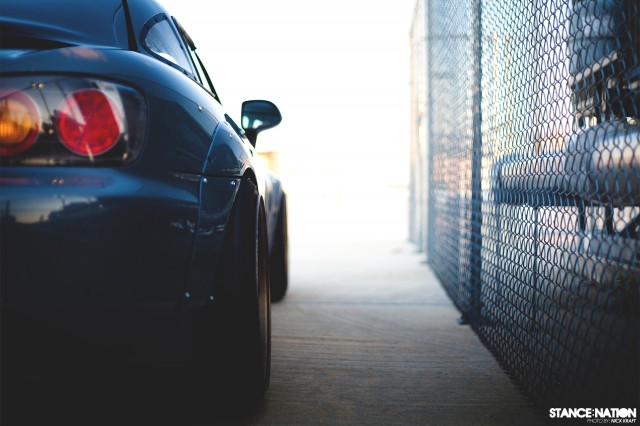 Function & Form Type II coilovers fit the wide fenders tightly over a set of Varrstoen 2.2.1 wheels sized 18×9.5" +12 in front and 18×10.5" +15 in the rear, respectively. You just gotta love Honda S2000's with over-fenders..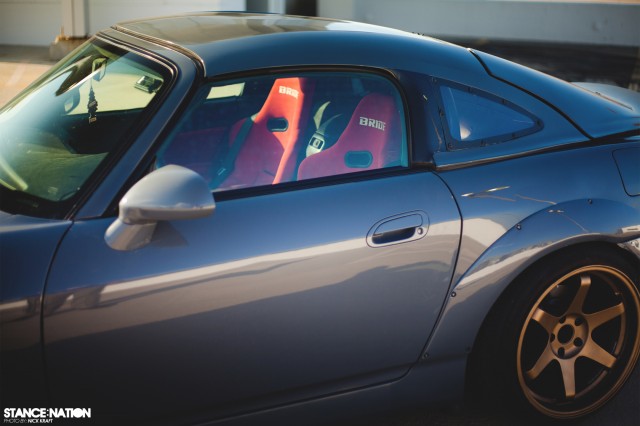 Red Bride Zeta IIIs on Buddy Club rails provide the cockpit for low and slow rollin'.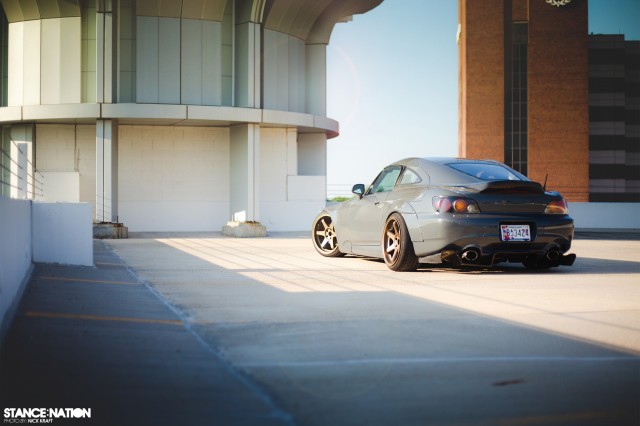 One detail I particularly enjoy about this car are the bumper extensions front and rear that carry the line of the widened fenders along the bumpers, providing a more complete look.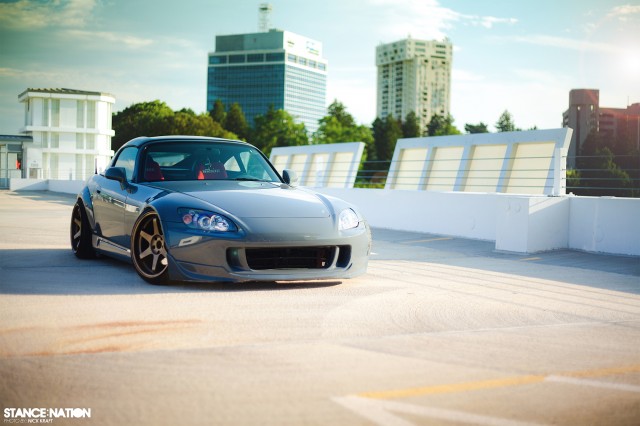 Of course the S2000 is not finished.  Its evolution continues with plans for a full turbo build in the future, along with some aesthetic changes as well.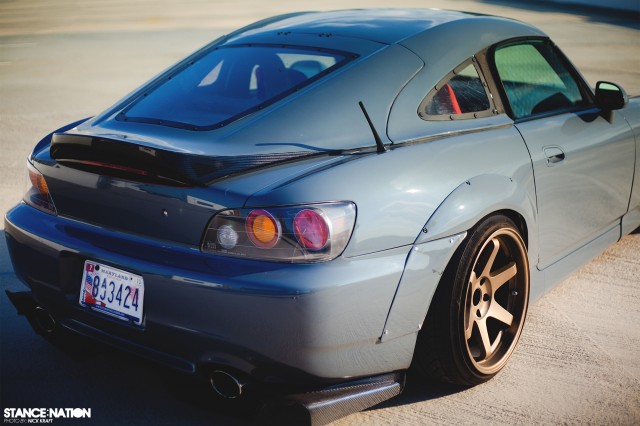 Photographer Nick Kraft does a great job emphasizing some of the stand-out qualities of the car.  I love how randomly aggressive those stock exhaust tips look due to the Shine Auto Project diffuser.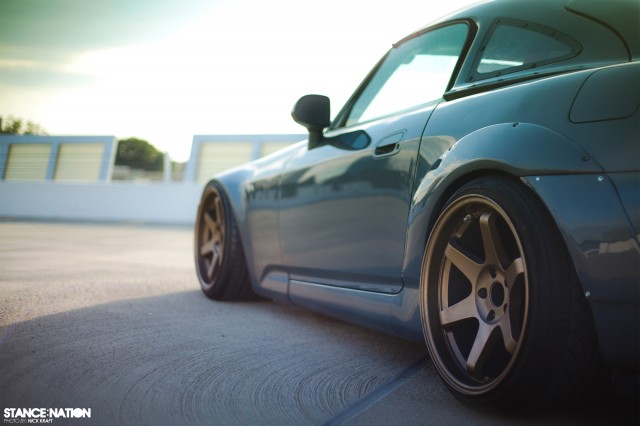 Sometimes, the adventure and excitement of the build is not found in the car itself.  Instead, it manifests itself in the experience the build takes us through and the relationships we build along the way.  Those concepts foster our growth in the community and contribute heavily to the direction the car takes.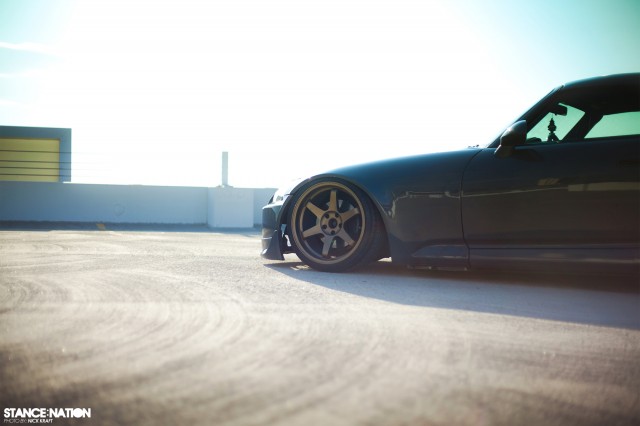 With the first phase of the project completed so well, I have high expectations for the next step.  I'm sure it will turn out awesome, with a little help from his friends. Ty (owner) wants to give big shout out to his good friend Tim Hicks from Baltimore Body Shop and photographer Nick Kraft, so here is to them! With that said, we'll leave you with some more photos below!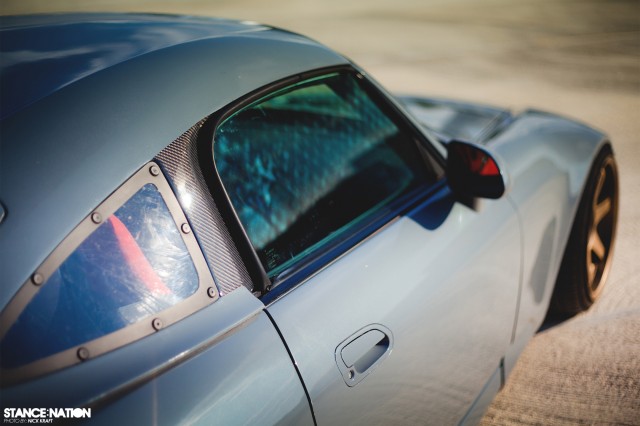 If you think your car has what it takes to be on our site make sure you email us at snfeatures@gmail.com. Make sure you include a few photos and your spec list as well as any other information we should know about you or your car. We're always looking for cars to feature! In the meantime we'll see you guys over on our facebook.
[toggle_box]
[toggle_item title="Wheels/Tires/Suspension" active="true"]Function & Form Type Two Coilovers
Varrstoen 2.2.1's (18×9.5 et12 wrapped in 225/35/18 front and 18×10.5 et15 wrapped in 235/35/18 rear)[/toggle_item]
[toggle_item title="Exterior" active="false"]0098 Grigio Telesto Gray Full Respray (engine bay/door jams/trunk)
Shine Auto Project CF (2×2 Twill) Hardtop w/ Custom Rear Hatch Hinge
Shine Auto Project CF (2×2 Twill) Rear Diffuser
Shine Auto Project Rear Over Fenders w/ Rear Bumper Extensions
AIT Racing 25mm Wider Front Fenders w/ Front Bumper Extensions
OEM AP2 Front Lip Spoiler[/toggle_item]
[toggle_item title="Interior" active="false"]OEM AP2 Red Door Panel Inserts
Bride Zeta III Sport Seats (special ordered in red)
Buddy Club Super Low Mounts/Sliders (driver/passenger)
CR Radio Door Cover
CR Center Console
'Engine Start' Relocated To Factory 'Roof' Switch Location[/toggle_item]
[/toggle_box]