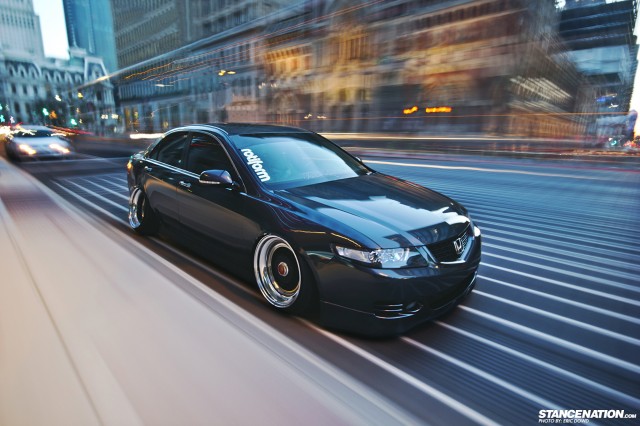 There are some things that just draw us in.  We see something and it takes over our minds, you can call it lust or maybe even love.  This magnetism is present in every choice we make.  It can be found in the wheels we buy, the styles we follow, and obviously in the platforms we choose.  The attraction can sometimes be tough to decipher, but when you feel it you know you must have whatever it is, regardless of how long it takes or how much work it may require of you.
Photos By: Eric Dowd exclusively for StanceNation.com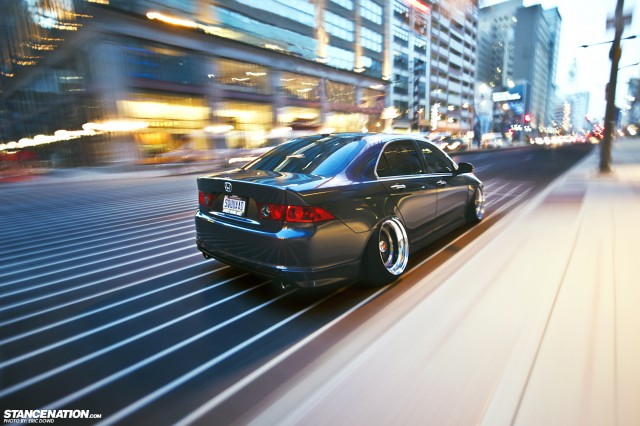 The 1st generation Acura TSX holds a special place in my heart.  As an enthusiast with Honda roots I've always enjoyed the double-wishbone suspensions that were found in the popular models.  The advanced design would be phased out eventually (for packaging or cost, whatever) in the new models – the TSX existed as the last front-drive Honda equipped with the wonderful suspension.  Brand marketing made it an Acura product in North America; it was a sporty and well-equipped model that was available for the Honda enthusiast that may have otherwise purchased a BMW 3-series or Lexus IS.  Sold with R nomenclature as a Honda Accord in overseas markets, the performance DNA runs through the breed.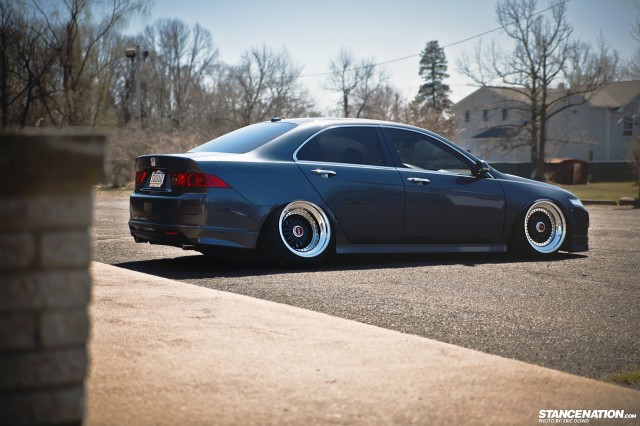 Matthew Begley from Morrisville, Pennsylvania was captivated by the TSX from its introduction.  He tells us he had always wanted one as a teenager and a year ago he was finally able to pick up this 2008 model.  Matt was attracted to the aggressive lines of the TSX; its sharp edges exude an aura of refined athleticism.  The car has been through several stages leading up to the current specifications.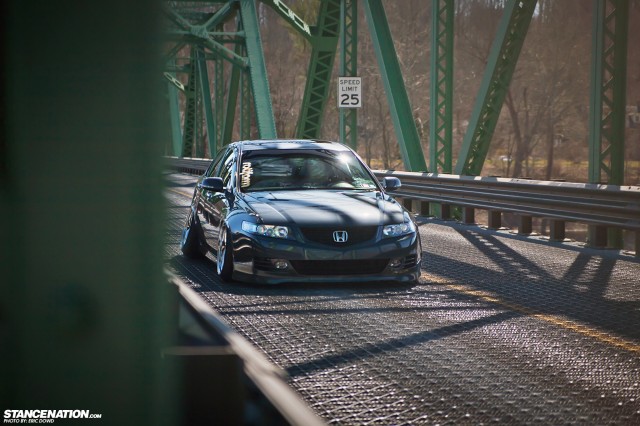 As a re-badged European-market Accord, the Matthew was provided with a choice selection of aesthetic additions for his TSX.  The front lip, headlights, grills, and emblems were pulled from the Euro-R while an A-Spec rear lip adds a finishing touch.  The R-model pieces amplify aggression while maintaining the natural styling.  Original equipment enhancements insure the integrity of the factory lines that Matt enjoys so much about the TSX.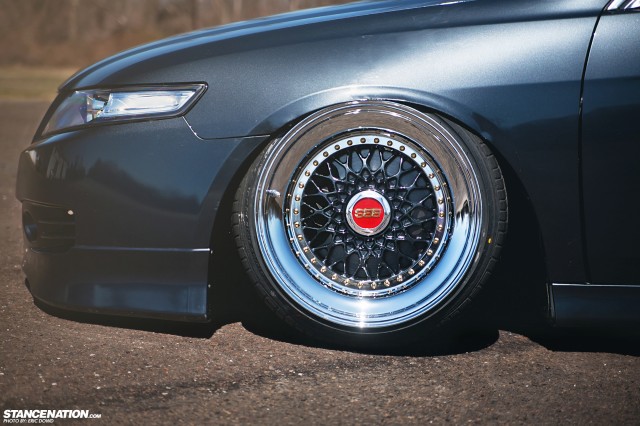 The Rotiform-built BBS RSs are impressive, at 18×10" -5 up front and an incredible 18×10.5" -25 in the rear.  In the past 18" RSs were practically unobtainable.  However, modern techniques and a growing market have given life to business like Rotiform — who make the beautiful wheels much more available for enthusiasts.   The classic BBS RS is always easy to appreciate and re-building them to new dimensions have allowed them to maintain relevance even while new cars continue to increase in size.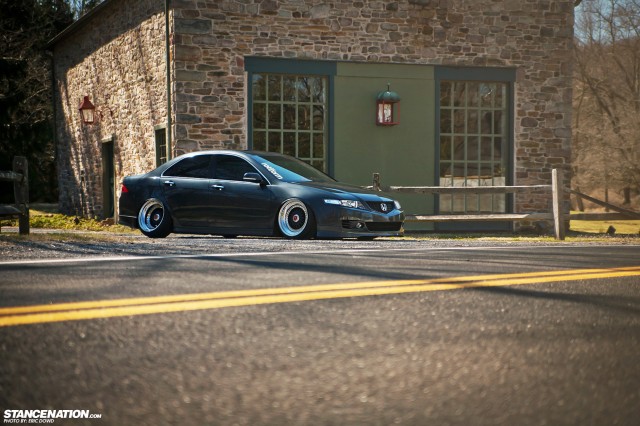 Begley admits the extreme camber angles may not be everyone's cup of tea, but it is his cup of T…SX. (lol..sorry)  It took some ingenuity for Matt to fit the wide, negative offset wheels beneath his fenders.  In typical Honda fashion, the TSX was blessed with a plentiful aftermarket.  BC Racing 'Extreme' coilovers are in place with Skunk2 and SPC providing alignment components.  Each of the suspension pieces were modified in order to achieve the ride height and negative camber Matt wanted.  The front shock towers were also massaged to allow for proper clearance.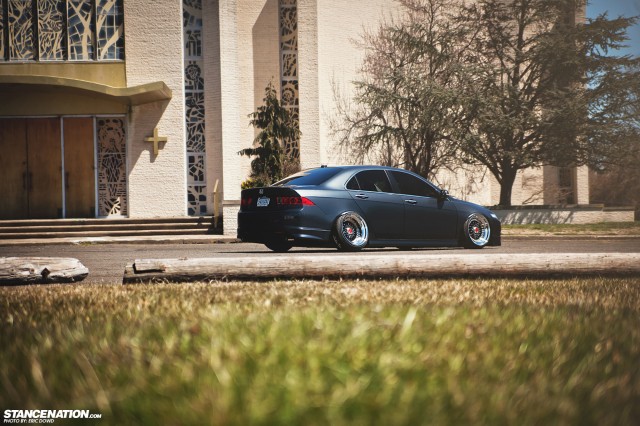 Patience paid off for Matt, who now experiences the pleasure of daily driving the vehicle he was drawn to years ago.  Every week, every day, hundreds of miles are covered in an oni-cambered version of his dream sedan.  With each revolution of the shiny custom lips a dream is realized.  Sounds like the good life!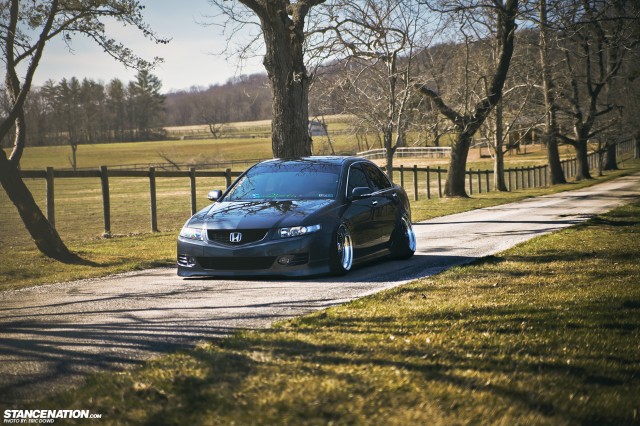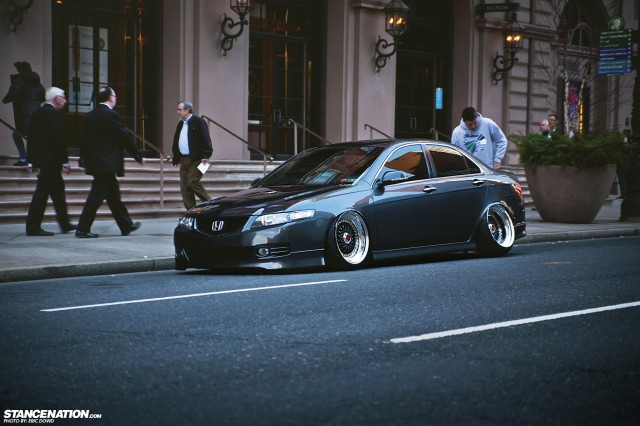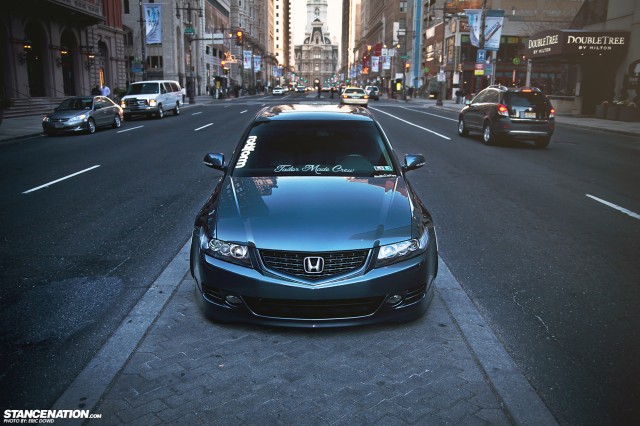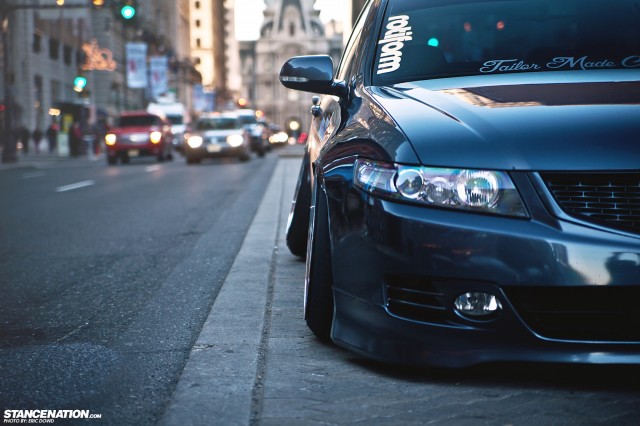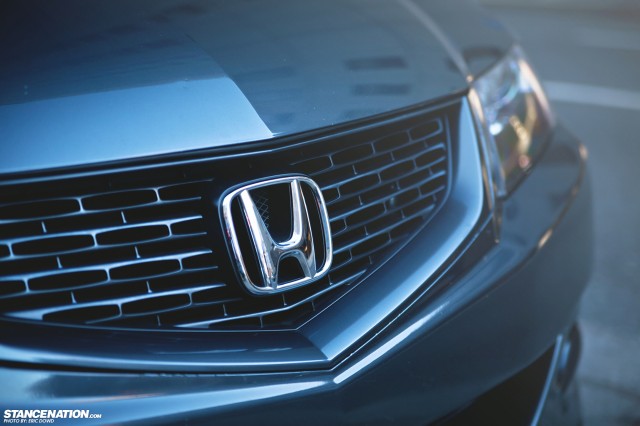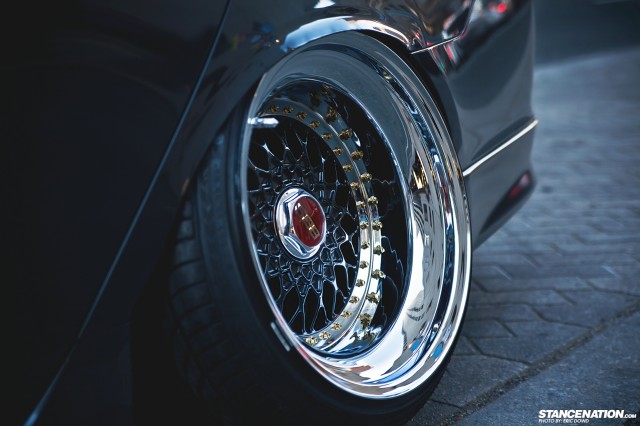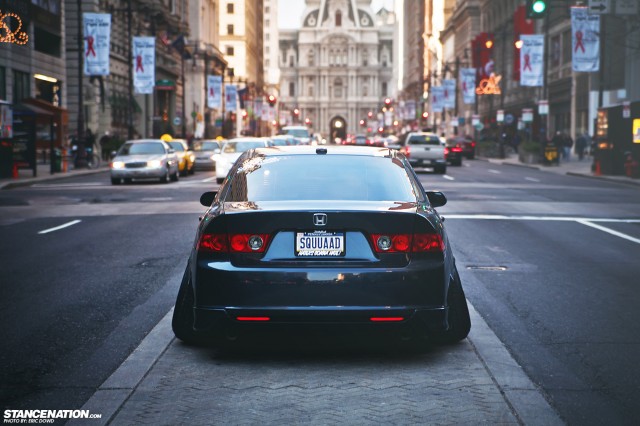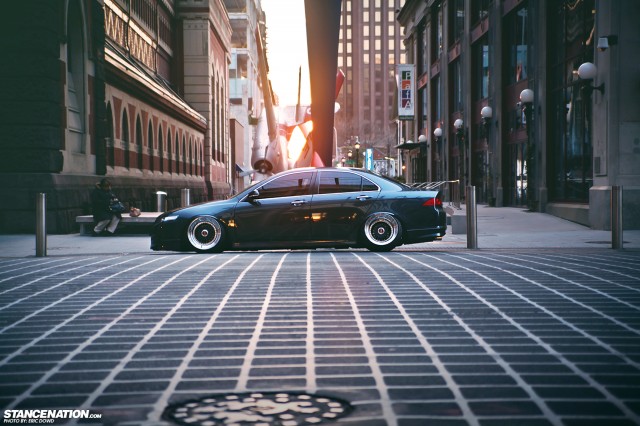 [toggle_box]
[toggle_item title="Wheels/Tires/Suspension" active="true"]Rotiform upconverted 18 inch BBS rs' s
18×10 et-5
18×10.5 et-25
Customized BC racing extreme low coilovers
Customized skunk2 front camber kit
Customized SPC rear camber kit
Customized front strut towers[/toggle_item]
[toggle_item title="Exterior" active="false"]Accord euro r front lip
Accord euro r grill
Accord euro r badges
Accord euro r headlights
A-spec rear lip[/toggle_item]
[/toggle_box]