With body lines reminiscent of cars from the 1970's, the Nissan 180sx did not have a difficult time in filling in its predecessors' smoking skid marks. Features like the rear hatch, found on its predecessor, have been rounded out into a more smoother and appropriate fashion. However, my absolute favorite part about the 180sx would have to be pop-up head lights. Although its been discontinued in all modern-day cars (to my knowledge), as the moving mechanisms eventually tend to fail over time, this car still finds significance in many different enthusiast's hearts for a multitude of reasons. Being known as "the" drift car, it has steadily maintained a decent chunk of its value, albeit known as drift tax.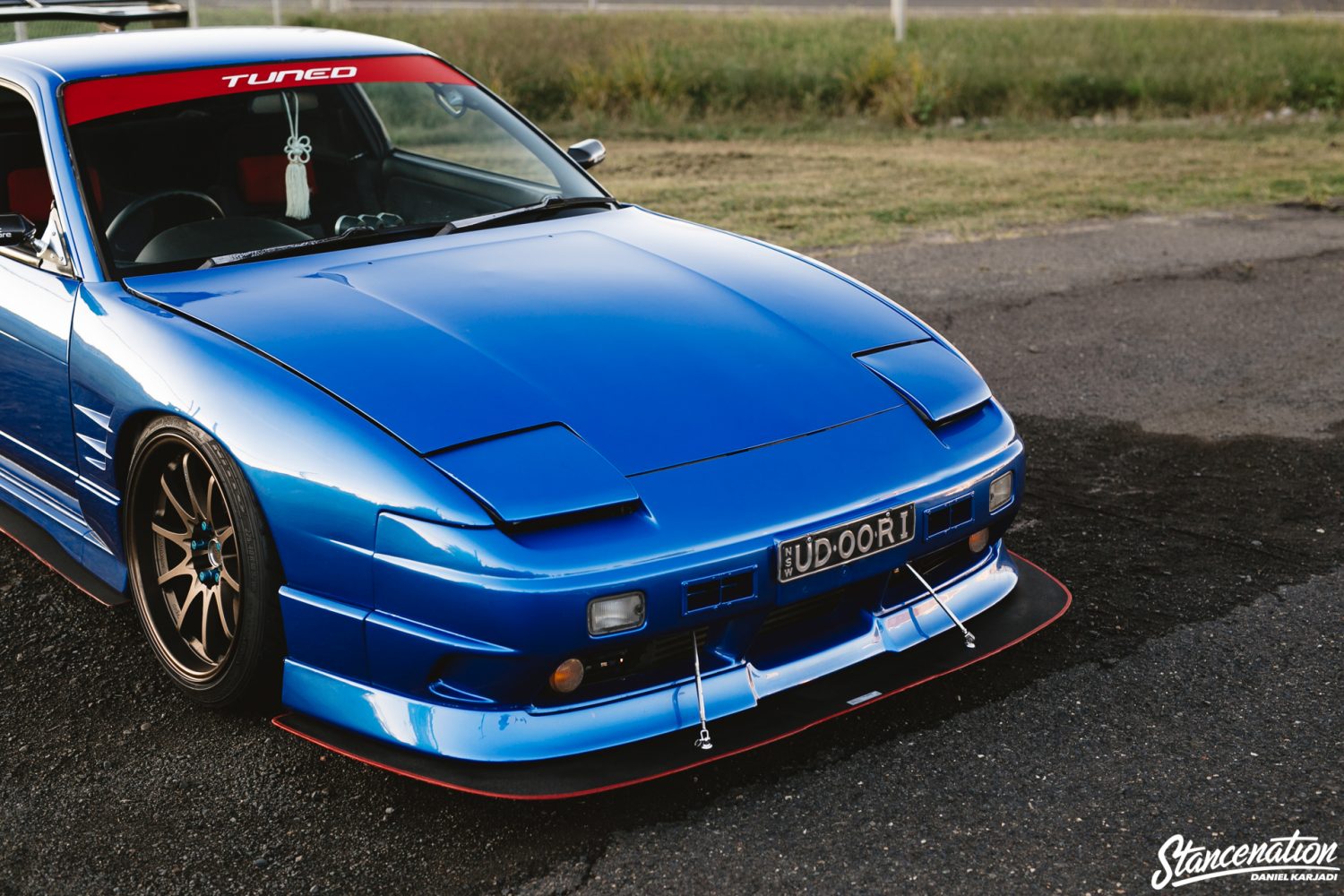 Although many of these cars have been abused, hacked apart, and smashed into walls and other vehicles in an attempt to go slideways, they are absolutely stunning when built correctly. Don't get me wrong, as some battle tested drift cars have a rugged look about that brings a sense of happiness to me, kind of how rusted ratrods look as well. But this car is the exact opposite of the beauty of chaos idea. Built by Van Dam out of Sydney Australia, this car is the result of good planning, flawless execution, but most importantly, experience. I name experience, solely out of the fact that this is not Van's first walk in the Nissan carpark.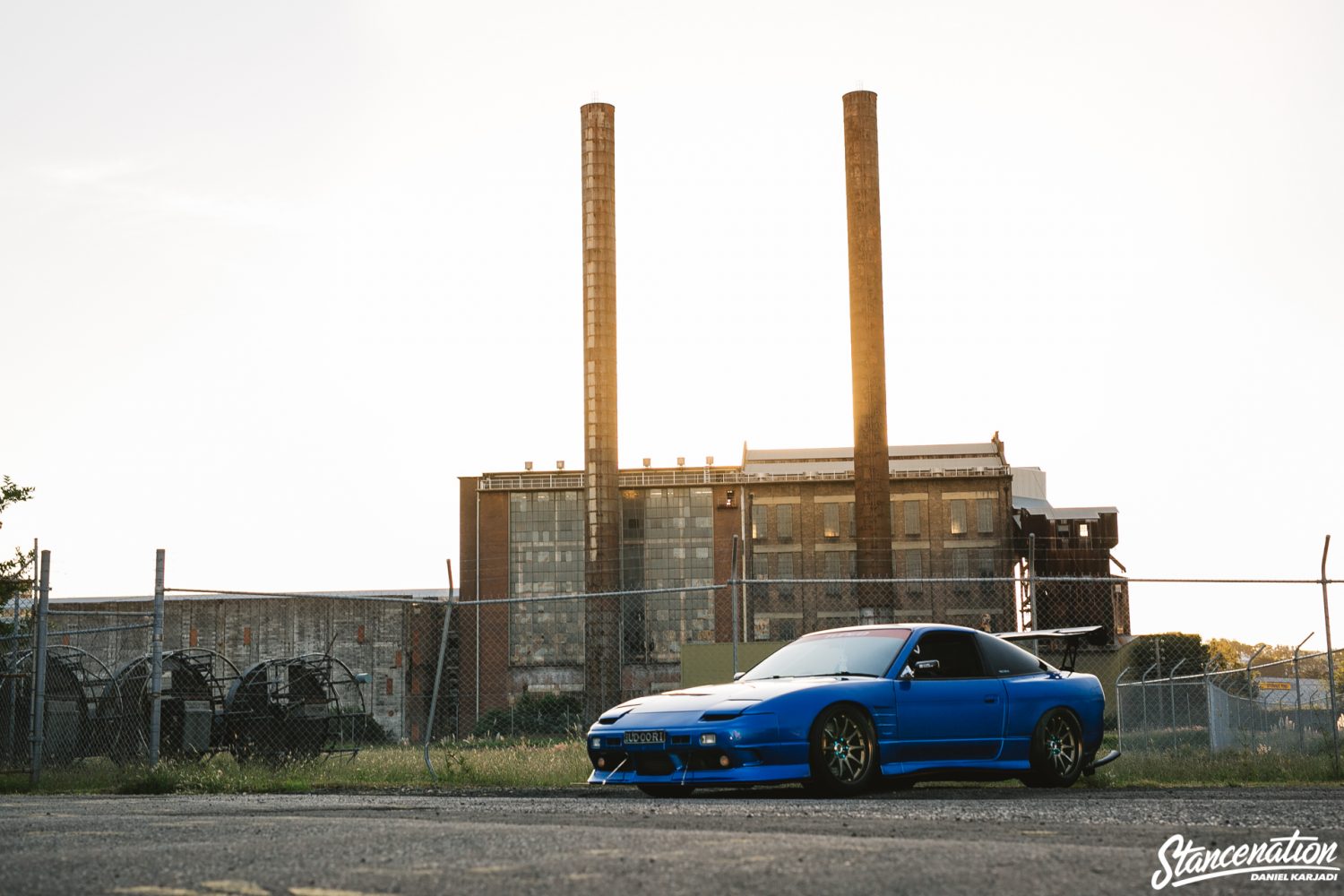 Van has had some prior history with the Nissan 180sx. Not prior history like he's on his second or third wife, but history like he is on his 9th 180sx. Aside from talks about addiction and relapsing, Van has also owned a few other cars that would make us drool, stateside. In his long list of vehicle ownership, he has also had the pleasure of owning a few S15s and R34 GTRs, and yes that is in plural. With that knowledge of Van's history, it is no mystery that the builds he undertakes are nothing less than magnificent as we all know, "Practice Makes Perfect"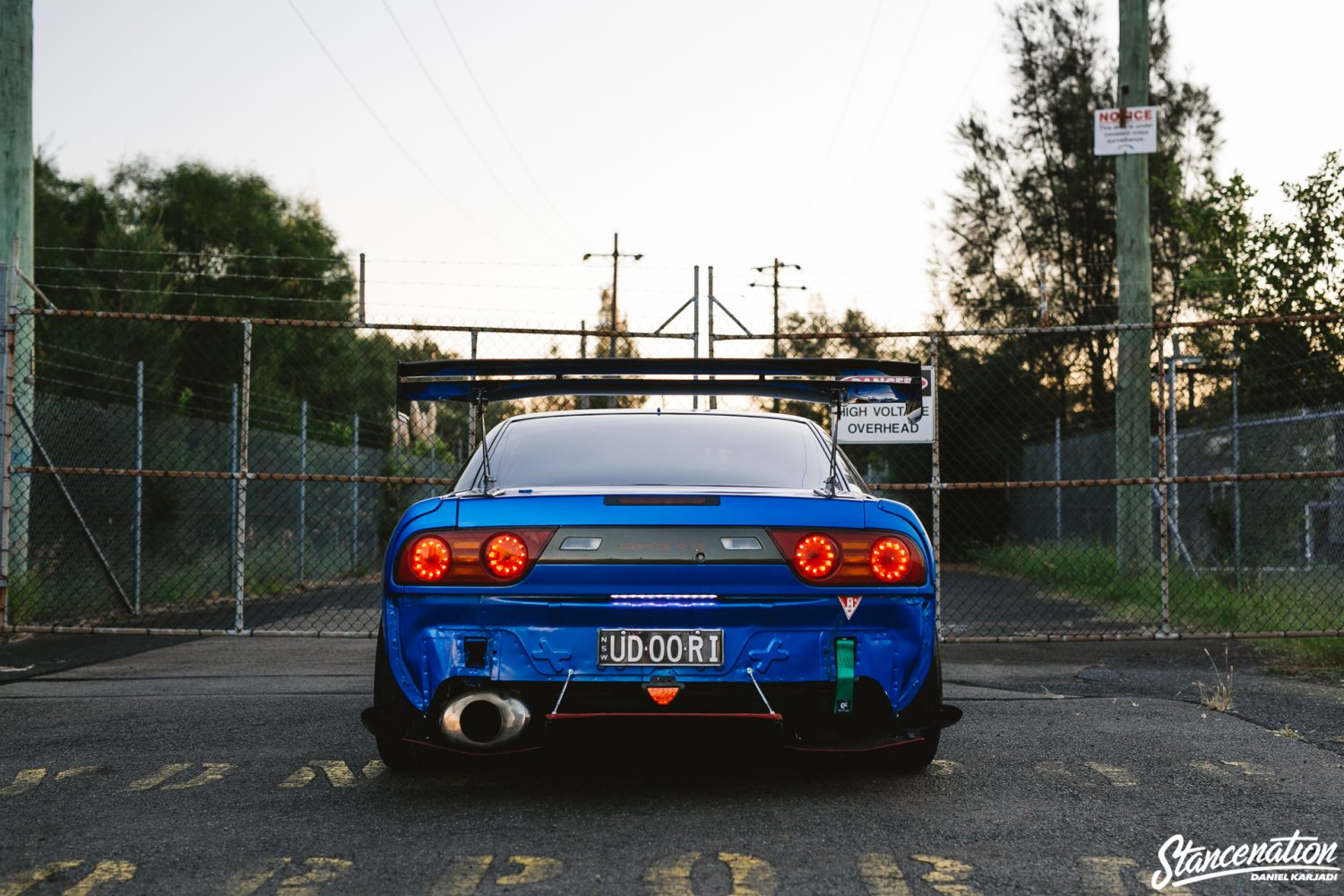 Originally white, this 180sx is Van's current pride and joy. Although this particular car tends to be mistaken for his previous ride, a red coloured 180sx, he assures us that it is not. After selling that previous car, he purchased and sold a yellow R34 GTR which allowed him to open up his own business in Sydney Australia called Nextmod Automotive. Finally, after the dust settled, Van undertook this 180sx as a new project and sprayed it in a striking blue. Reminiscent to BMW's special Laguna Seca blue, the color is a perfect choice for this automotive canvas. The craziest thing is that within two weeks of owning the car, all the modifications and wheels were on the car. That efficiency is rare within the car industry as some companies and people are known to lag the build, at the customer's dollar.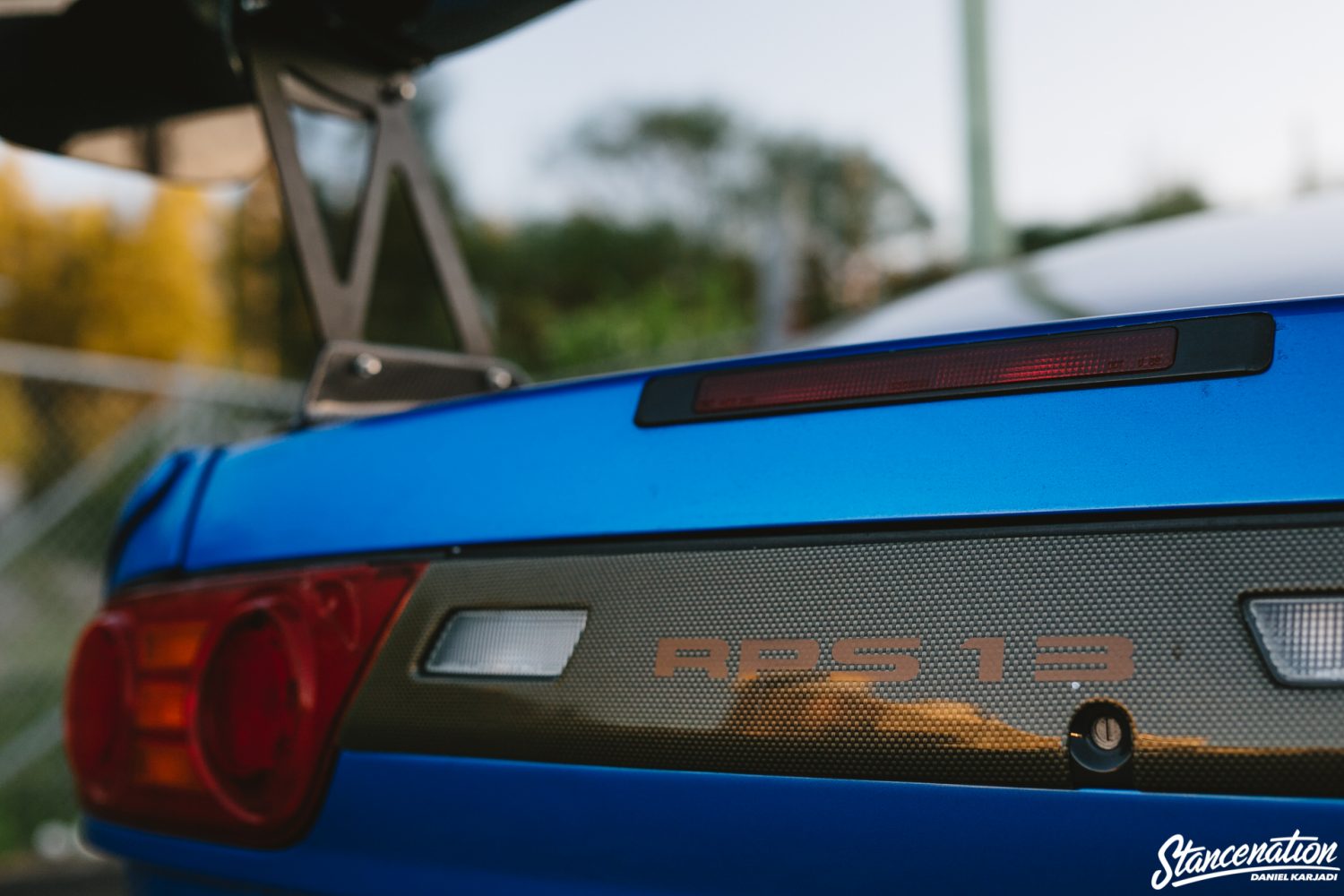 Sitting underneath the ventilated fenders of the Type X kit are Rays CE28N wrapped in Nitto NT05's. The evenly spaced multi-spoke wheel is perfect for its weight saving application on the 180sx. To lower the car's center of gravity, Van called upon HKS to provide the coilovers that help close that nasty wheel gap that many stock cars suffer from. Sitting behind the bronzed beauties, providing crucial stopping power lies Brembo disks and calipers borrowed from the Mitsubishi Evolution X. As for the rear braking system, Van utilizes parts from the Nissan R33 GT-R.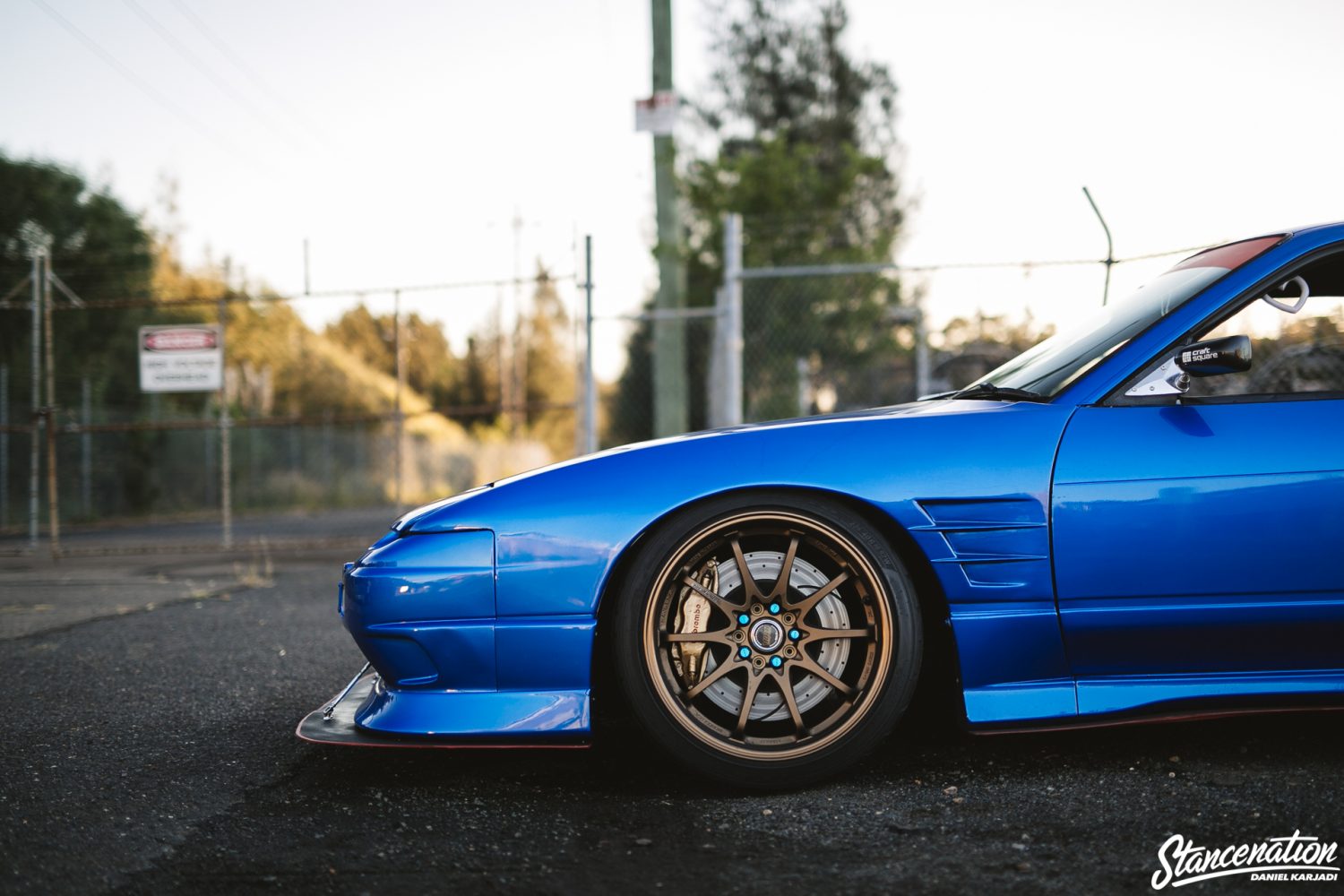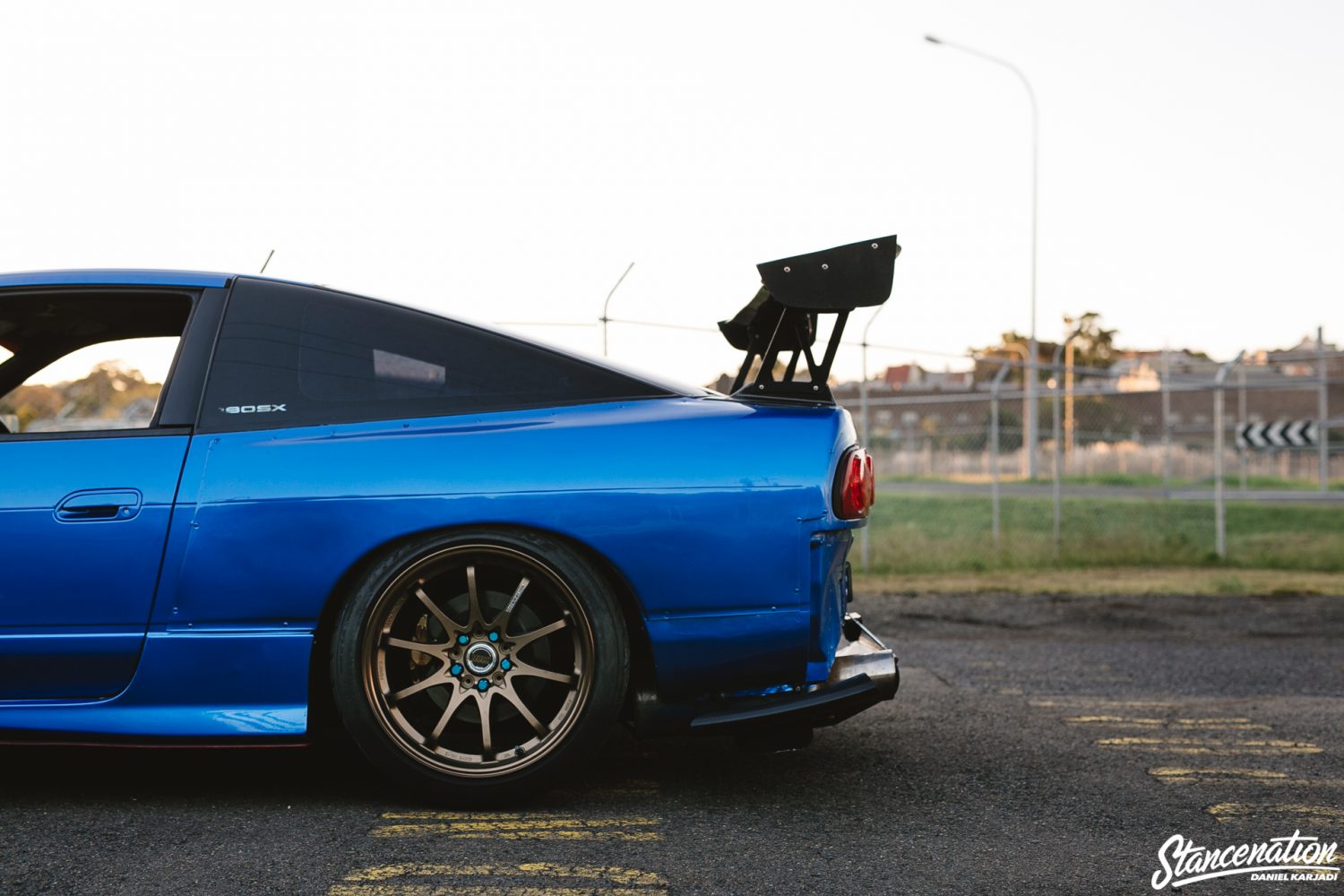 Van's favorite part of the car would have the be the personal touches. Forget things like unique plush animals or stickers that people try to use and differentiate their cars, Van decided to create his own aero accessories. Starting with the splitter and rear diffuser, Van aimed to give a unique look to his car. Following the rear bar delete ( something I am against as it is for safety), I will not deny that it gives the car a different feel and look from the posterior. He decided to take it one step further and self engineer the LED taillights to round out the "one-offness" of his build.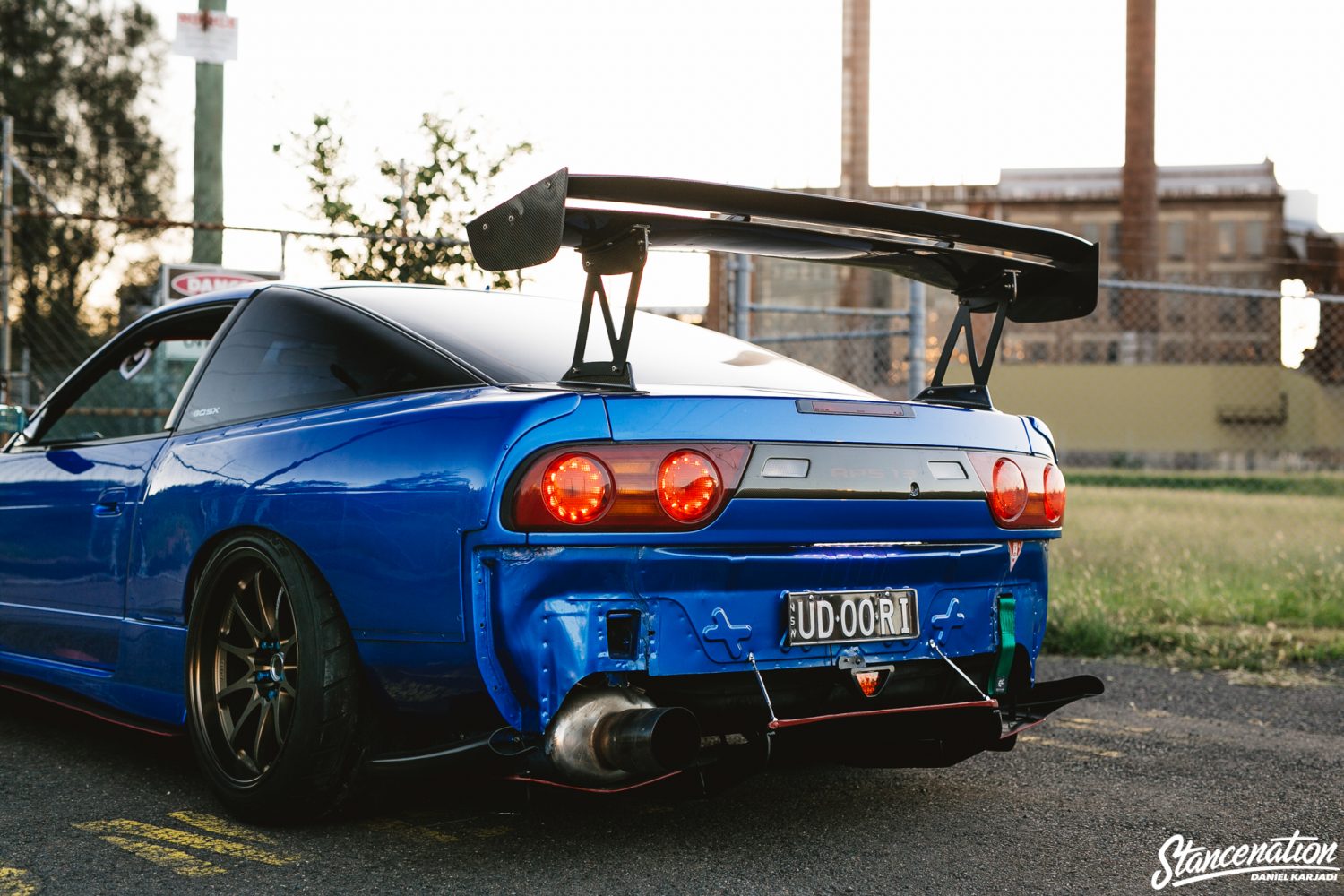 Van has also started building his interior, starting with gauges and his Bride bucket seats to accommodate for the lateral G's the 180sx is capable of. This helps with his next planned modification of a bigger turbo and much more in-depth engine work as the exterior of the car is certainly show worthy. Sadly the car has not seen much time on the streets as Van tells us that the Australian law enforcement has been finding revenue in the form of tickets to car enthusiasts. It's a shame, but it's an inevitable game of cat and mouse we play.