There seems to be a trend going on lately here at StanceNation that may have a lot of you running back to your drawing boards. Just when you thought you had seen it all, just when you thought that maybe us car guys and girls in the states were finally starting to catch up, Japan keeps dishing out more amazing builds that truly set the standard and raise the bar just a little bit higher. And they're waiting for no one.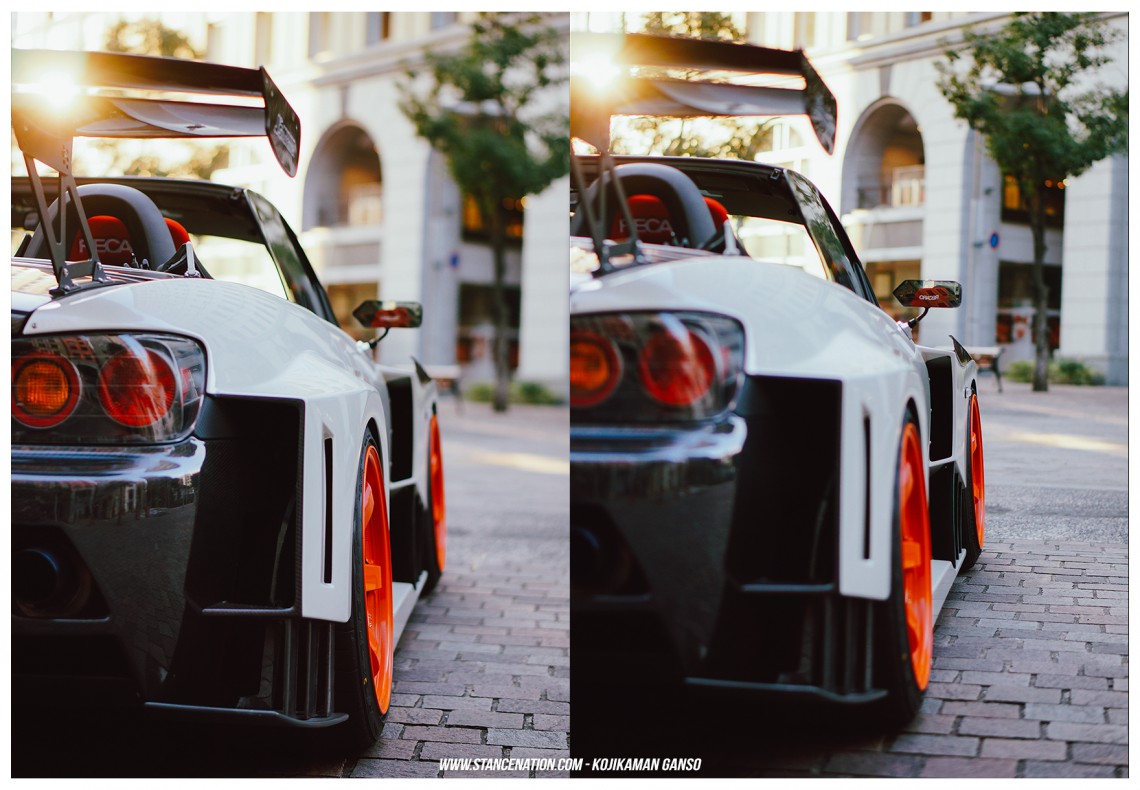 There's no doubt that the S2000 is an icon among roadsters that has no trouble grabbing your attention. As a high school student, "Bambi" as his friends like to call him, was drawn to the styling of the S2000 upon its release. Something new and "shocking" he says, that quickly gave him feelings of admiration. Something I think a lot of us can relate to when we look back on our high school years. Flipping through magazines, dreaming, even lusting over what our current car could become… or what our future car might be. Luckily for Bambi, he was able to act on his dreams of owning such a vehicle, and he has been sure not to disappoint.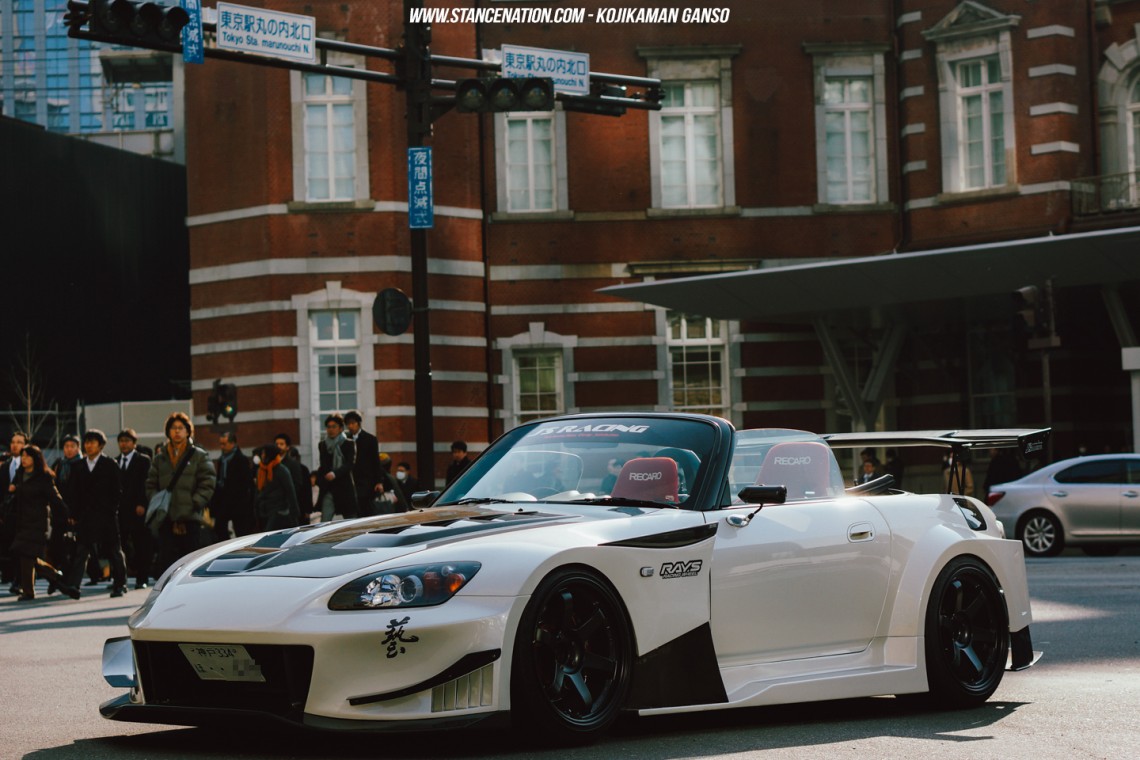 Viewing this car as a whole, it's almost overwhelming on where to even begin to talk about it. Everywhere you look, there's something to be noted. The car has such an "in your face" and aggressive presence that could keep you staring for long periods of time just to take it all in. As all great builds do, this one started with a concept. A multi-dimension one at that. Bambi wanted a comfortable look and feel for the car while still being able to make its way around a track. Most of the time it's difficult to have the words "track" and "comfortable" in the same sentence, but somehow this one pulls it off. Though it may make its competitors feel anything but comfortable.
Let's start with the obvious focal point of this car. The exterior. This beauty (or beast) depending on how you look at it, is dressed bumper-to-bumper in a J's Racing Type GT wide body with all the option parts to go with it. It was also treated to a healthy dose of carbon fiber as well. From the J's Racing hood, back to the rear bumper, rear fenders, VARIS trunk, and J's Racing GT wing providing a classic black on white look that's hard to ignore. Small additions such as the Craft Square TC mirrors and Mugen Civic RR rear fog light, are just the cherry on top of this list of parts all working in harmony to provide that aggressive track inspired presence that Bambi was going for.
On anything with a widebody, having the right set of wheels is a must to complete the look, and there's no arguing that even though they're a very familiar wheel to most of us, these TE37's absolutely belong on this car. Sporting a matte black finish on the left side and bright orange on the right side, they're sure to make you look twice. Now on to the numbers that push these wheels right where they need to be. Up front it's sporting 18×10.5's with a +10 effective offset after a 5mm spacer, and out back are 18×11's with an effective offset of -7 after a 25mm spacer. As for the tires, the car sits on 235/40 and 265/35 Goodyear Eagle RS Sports.
So now that we've covered just about everything in the looks department, how about the feel? No worries here, we've got all the bases covered. There are so many things that come into play with the overall feel you get when you're driving. From the way the suspension and brakes react to your commands in the cockpit, to how the seat and wheel convey those reactions back to the driver. The J's Racing treatment didn't just stop at the body, beneath the shell of this roadster, no stone was left unturned. Though the S2000 is decently equipped to hug a corner or two off of the showroom floor, it just wouldn't be right to stop at the factory suspension and brakes and be satisfied. This is where the feel really matches up to the looks. The car is perched on J's Racing /SHOWA Special dampers with J's Racing/Swift 24kg coil springs, J's Racing front camber joints, J's Racing pillow tie-rods,  J's Racing pillow upper suspension mounts, J's Racing rear roll center adjuster, 20mm J's Racing pillow rear control arms, J's Racing side inner brace, J's Racing driveshaft spacer, J's Racing Rear tower brace, J's Racing lower arm bar, J's Racing 6-Pot brake caliper system, J's RACING rear big brake system, and SEIDO-YA brake pads. Is your head spinning yet? Mine too.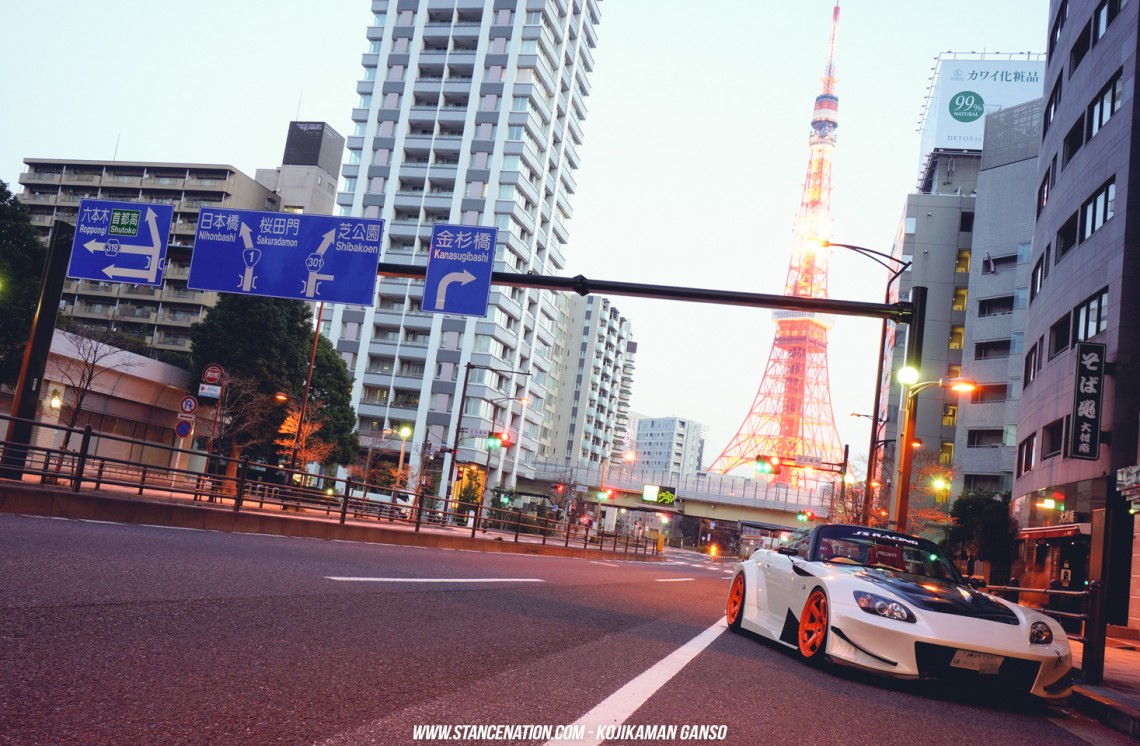 With a convertible, you can't leave your interior off of your to-do list because well, there's really not much hiding it. Same goes for a car that you want to go fast in. It's your own safety at risk while pushing the limits of your machine, and you want to be as safe and comfortable as possible while doing so. Take a look inside and you immediately notice the red Recaro TS-GS/RS-GS seats, draped in those familiar green Takata MPH-341 harnesses to hold you in place when things get a little more wild than your typical commute to work. A MOMO wheel attached to a Rapfix GTC-R flip-up hub and J's Racing titanium shift knob give the driver something nice to hold on to. As for the passenger? Well, just hold on.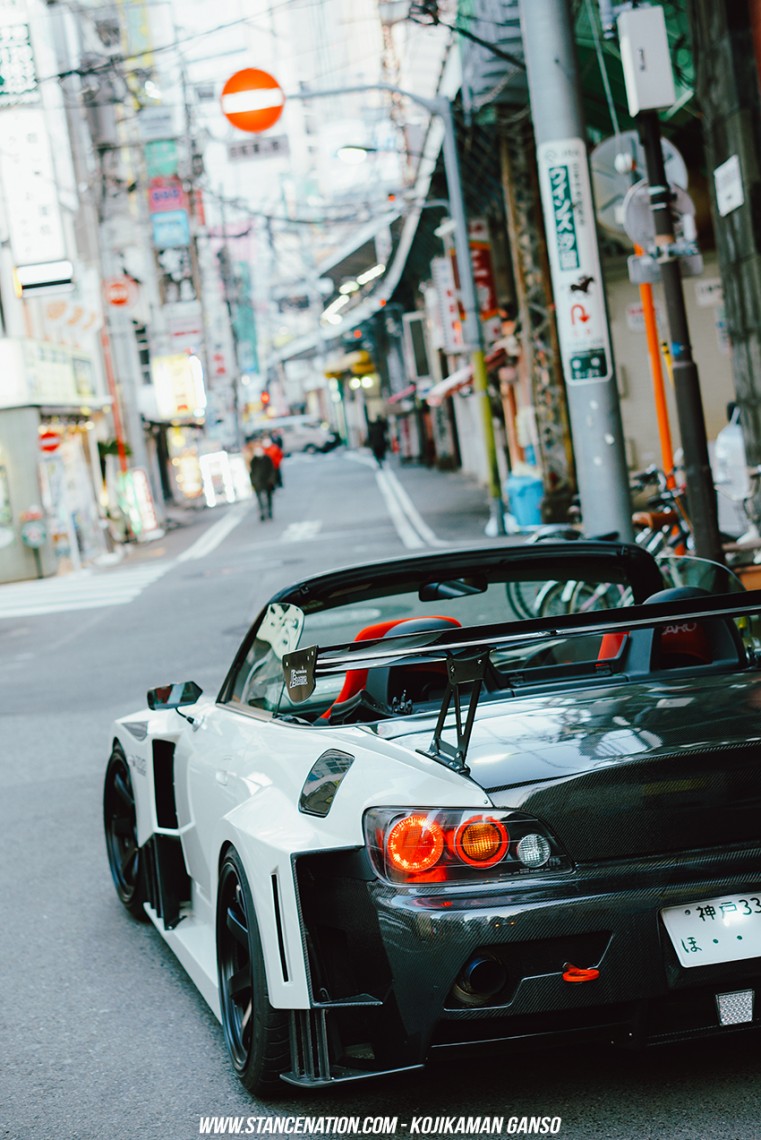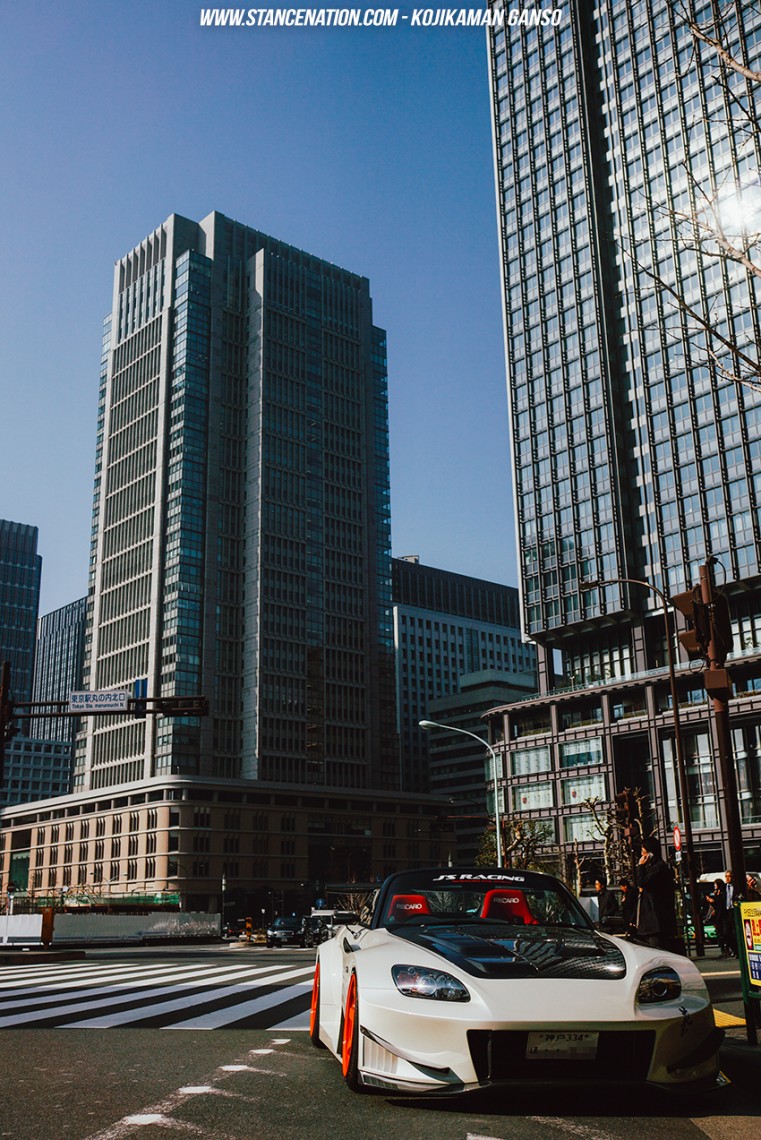 To this point we've covered both the impressive look and feel of this car, and the engine is nothing short of that. Pop the hood and you'd see what many of you have been wanting to read about from the beginning. What makes it perform. Pushing the wheels is a complete 290hp J's Racing engine on J's Racing engine mounts, equipped with a Toda Racing A2 Camshaft, AP1 Genuine lightweight pistons, Toda Racing Lightweight crank pulley, J's Racing full exhaust and intake, J's Racing max cooling radiator and oil catch can, Exedy Hyper single clutch, J's Racing Hyper ECU, J's Racing 1.5 way LSD and a 4.444 final gear ratio. Not a bad list if I do say so myself.
Engine:
J'S RACING Complete Engine
TODA RACING A2 Camshaft
AP1 Genuine piston(Lightweight processing)
TODA RACING Lightweight crank pulley
J'S RACING Full exhaust and intake (Air intake,intake panel,big throttle,EX manifold, straight cat pipe,exhaust muffler)
J'S RACING 1.5way LSD and 4.444 Final gear
EXEDY HYPER Single clutch
VF J'S RACING HYPER ECU
J'S RACING MAX COOLING radiator
J'S RACING Strat brace bar
J'S RACING Oil catch tank
NGK Iridium plags ♯8
J'S RACING Mission and engine mount
Interior:
RECARO TS-GS and RS-GS TAKATA MPH-341 Harness
MOMO steering wheel
quick release
RAFFIX GTC-R Flip-up
Defi Water and oil TEMP
Oil pless meter
amis meter panel
J'S RACING Titanium shift knob
Special audio control panel processing
Exterior:
J'S RACING Type GT Wide Body Aero System(with full option parts)
(Special orders full carbon rear bumper and rear fender)
J'S RACING hood and GT wing
Craft Square TC mirror
VARIS Carbon trunk
MUGEN CIVIC RR Genuine back fog
AP1 Genuine Pillar cutting sheet
Beloff Hi and Low HID KIT(6000K)
Wheels and tires:
RAYS TE37SL
18inch x 10.5J+15(and 5mm Spacer)
18inch x 11J+18(and 25mm Spacer)
GOOD YEAR EAGLE RS Sport
F#235/40R18 R#265/35R18
J'S RACING Lug nuts Long
Suspension/Brakes:
J'S RACING×SHOWA Special damper
J'S RACING×swift 24kg Coil Springs
J'S RACING Front camber joint S2
J'S RACING Pillow tie-rod
J'S RACING Pillow Upper suspention mount
J'S RACING Rear Roll Center Adjuster 20mm
J'S RACING Pillow Rear Controll arm
J'S RACING Side Inner breath bar
J'S RACING Drive Shaft Spacer
J'S RACING Rear Tower breath bar
J'S RACING Lower Arm Bar
J'S RACING 6POT Brake caliper system
J'S RACING Rear big rotor system SEIDO-YA Brake pads