The R33 Nissan Skyline is often regarded as the least attractive of the Skylines. Its body styling and size doesn't scream "sports car" or "drift car" to most, but the R33 will always hold a special place in my heart. Many years ago, I learned how to drive a manual transmission car in my (now) wife's Nissan R33 GTS-T when I was living in Japan. That drive in her R33 changed my life forever, and I will always love them for that. Hate me all you want, but I'd take an R33 over an R35 any day.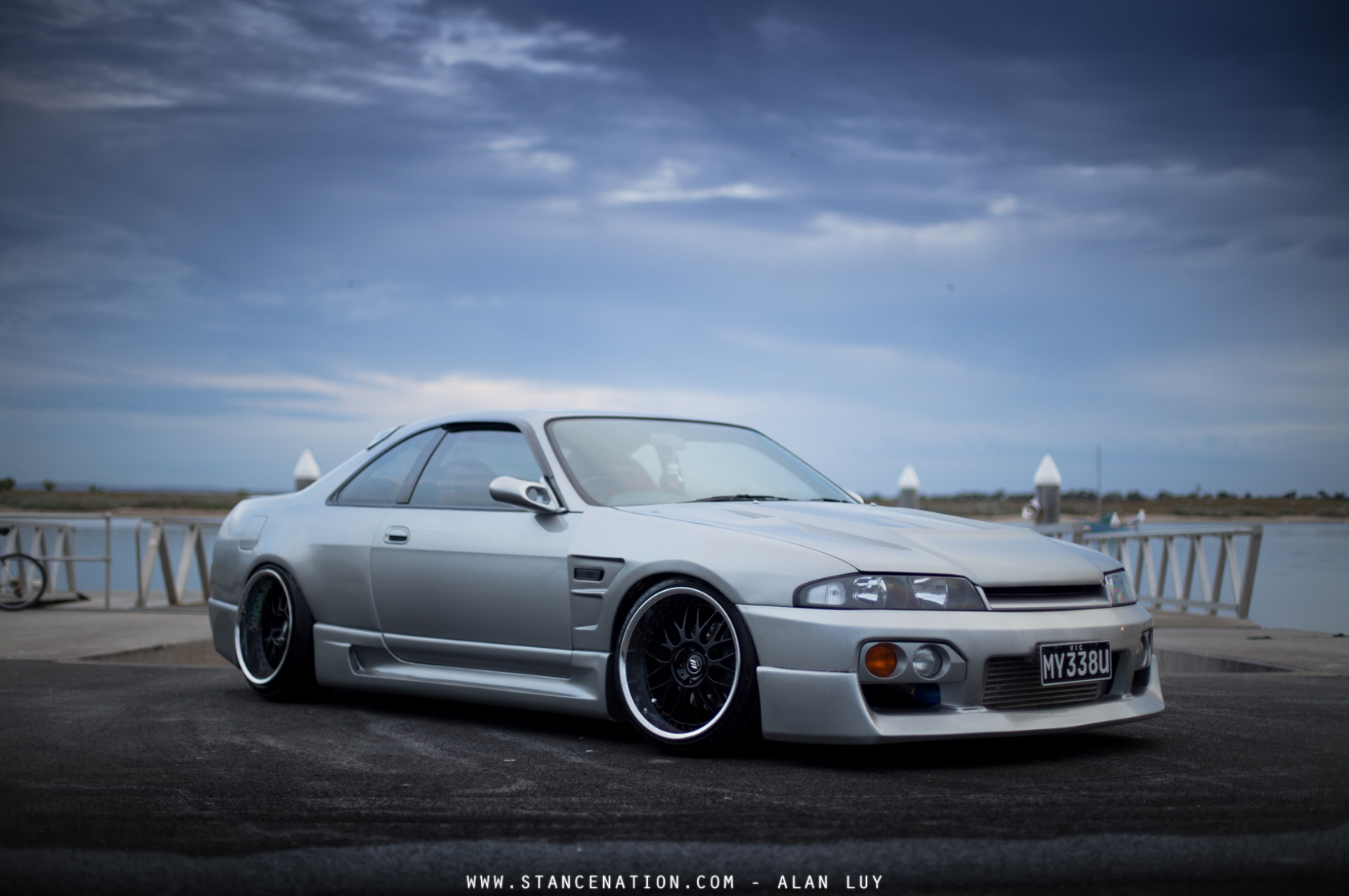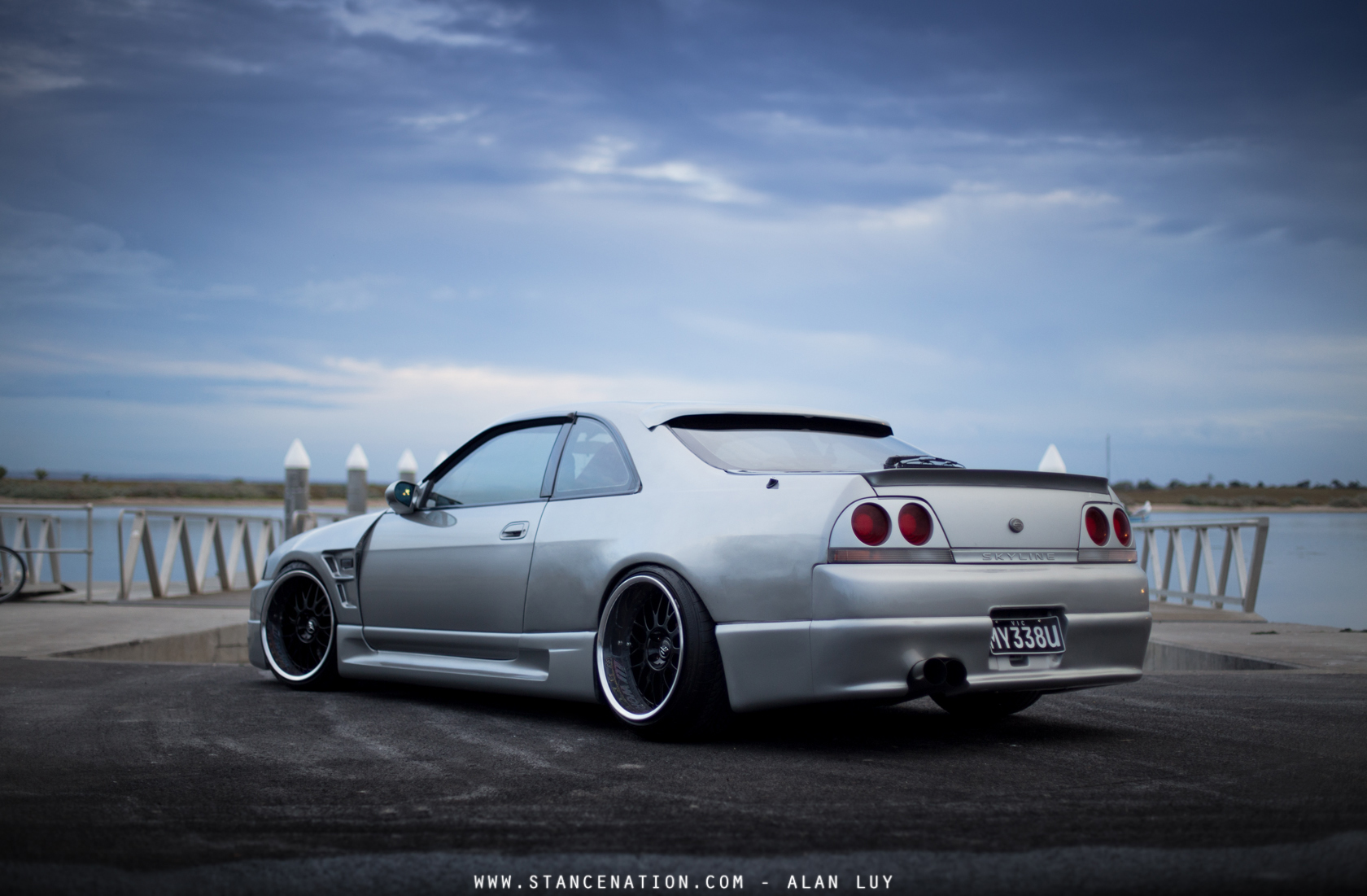 The owner of this 1996 R33 Nissan Skyline GTS-T, Ali, hails from Melbourne, Australia. Ali has owned this car for just about 4 years now and this is his second R33. While he was beginning to build this car, the "stance" scene had emerged and was growing rapidly, but he hadn't seen very many "stanced" R33. Ali researched around the forums and the car community, and noticed there seemed to be a negative stigma associated with R33s. Ali set out to change that stigma and build a unique R33 that would change people's opinions about them.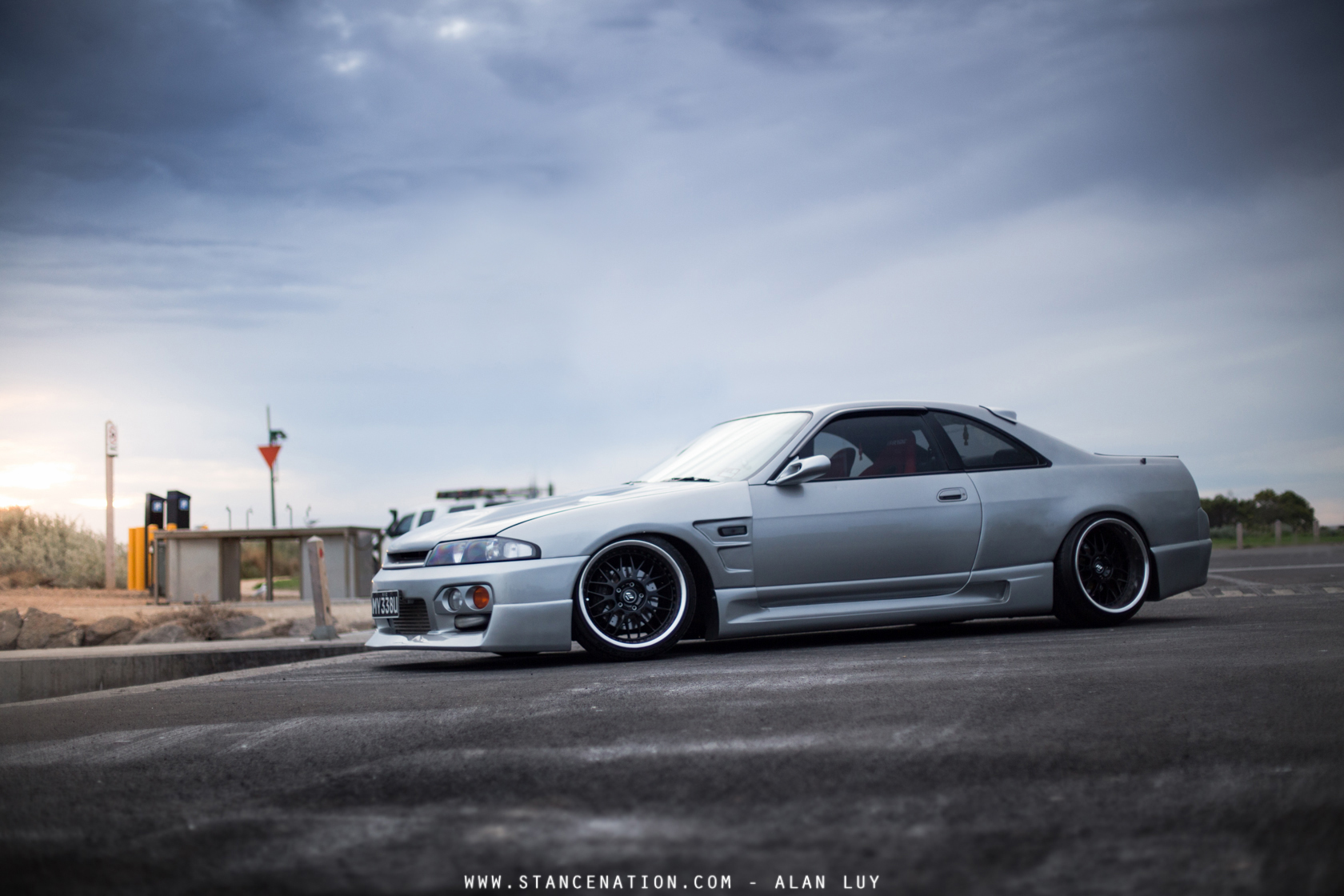 Ali loves everything about his R33 and built most of his car with his own two hands. He only sent the car into a shop for assistance once. He says the build process went pretty smoothly until it came time to hack up the rear fenders and put on the rear over fenders. He says, "I couldn't bring myself to hack the guards with a grinder in case something went wrong so I took it to a shop to get it done professionally." While the car was in the shop he opted to have the over-fenders molded into the body instead of having exposed rivets. It turned out great, and flows really well with the factory body lines, a very smart choice.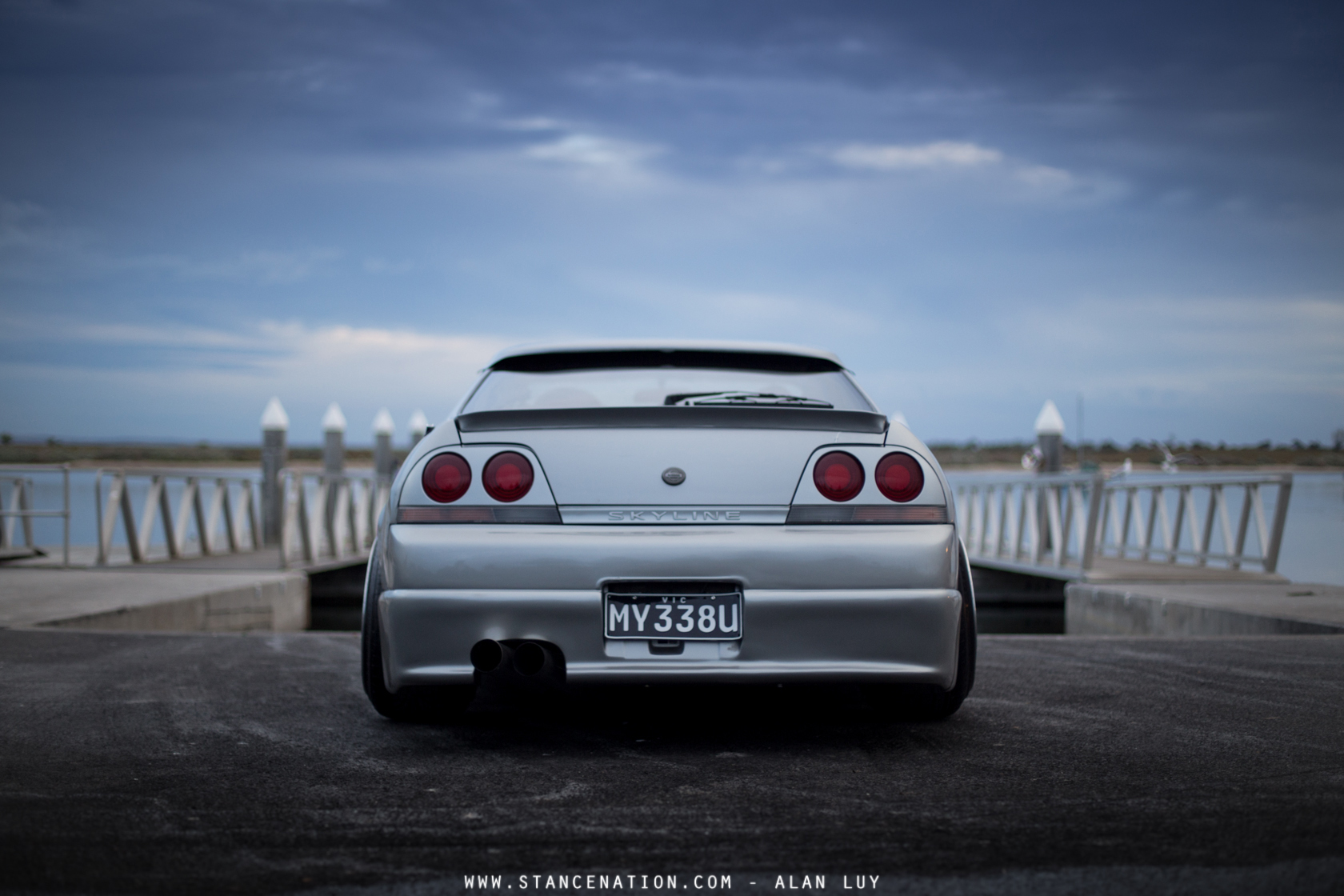 Although "stance" was on Ali's mind when building his R33, he set off to balance the build with a properly built and tuned motor. The ECR33 GTS-25t comes standard with an RB25DET motor. The RB25DET motor is a dual overhead cam, electronically fuel injected, turbo motor that pushes out a modest 245bhp from the factory. Ali replaced the factory turbo with a high-flowed low-mount Garrett GT3071R turbo and upgraded the factory side-mount intercooler to a larger front-mount intercooler.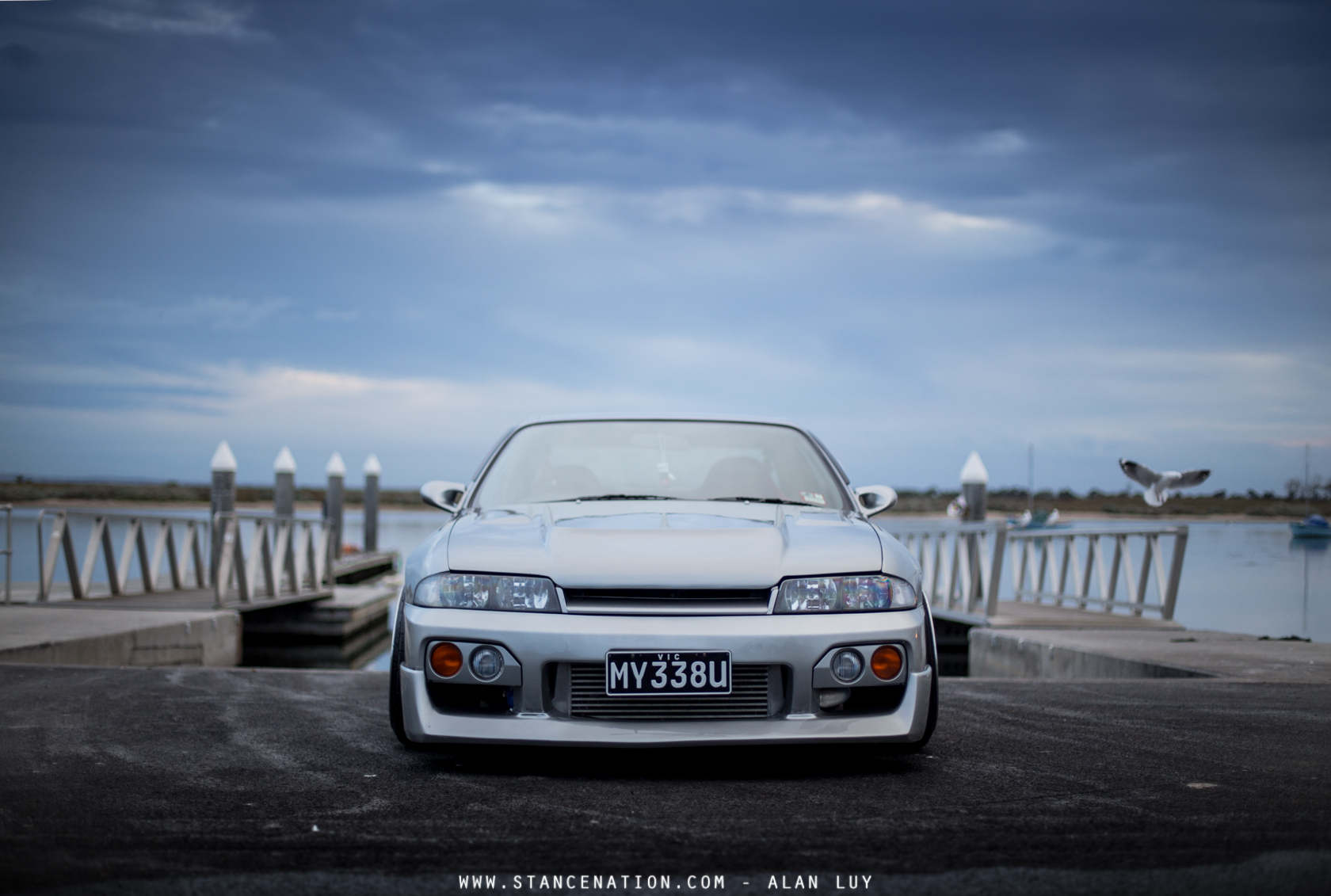 He also added a Jun-Style Front Facing Intake Plenum, 90mm Throttle Body, 550cc Injectors, Walbro Fuel Pump, Adjustable Fuel Pressure Regulator, 52mm Aluminum Radiator, HKS Mushroom Pod Intake, Custom Intake Heat Shield, Yellow Jacket Coil Packs With High Heat Range Plugs, and a 3" Turbo Back Exhaust With Twin Tip Angled Straight Pipes or as I call them "fence pipes". Ali also equipped the car with a Exedy Button Clutch and Tomei 2 Way Differential. Ali controls the ECU tuned with an APEXi Power FC and the boost in check with a TurboSmart Adjustable Boost Controller. Currently the motor produces around 365whp on his high boost tune.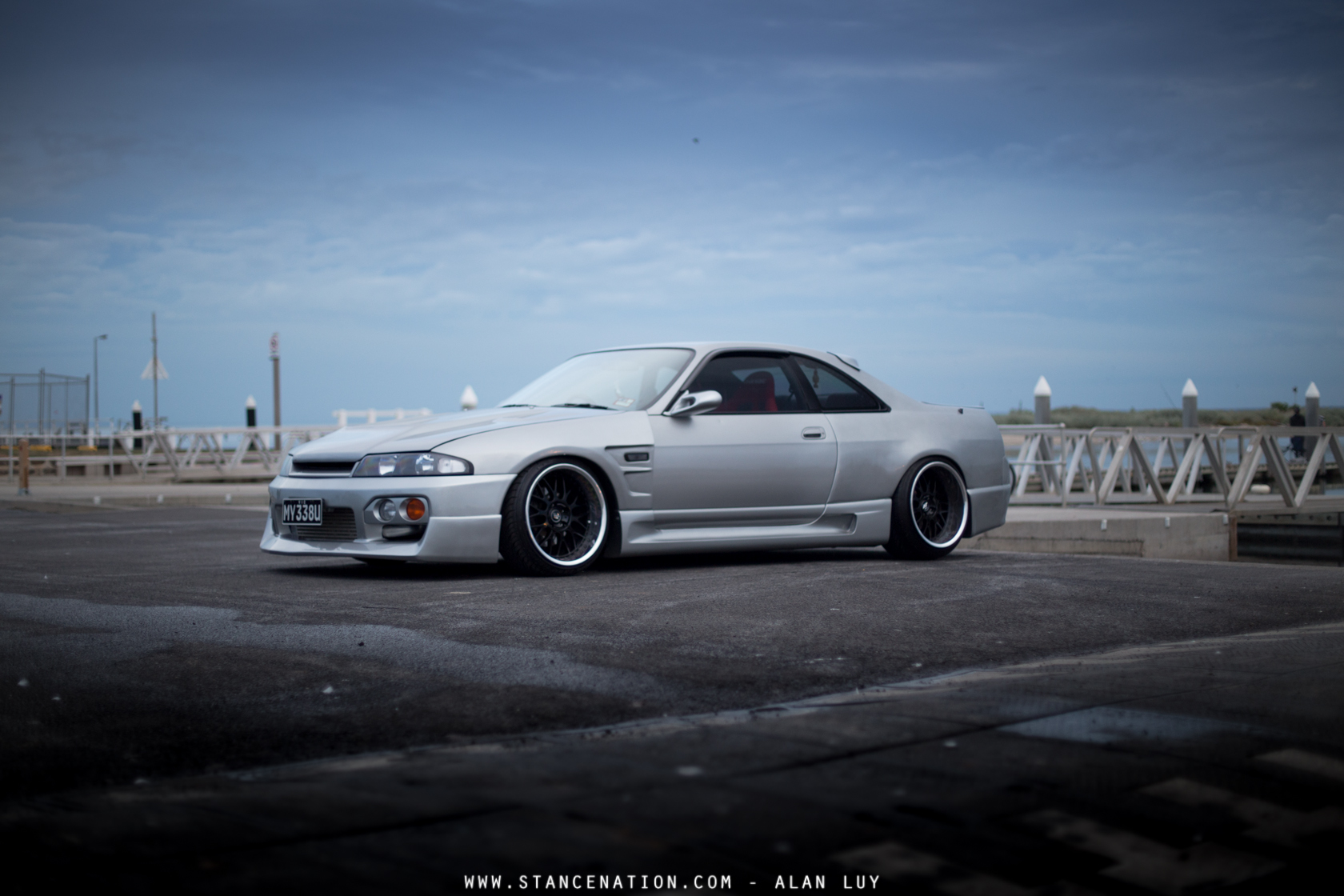 The R33 has a bad reputation for handling like a boat, but such is not the case with Ali's R33. In addition to Tein Flex Fully Adjustable Coilovers, Ali added several suspension upgrades to his R33 to tighten up steering response, add adjustability, and eliminate body-roll. Ali added an adjustable 27mm Front Strut Bar, an in-cabin adjustable "Monkey Brace", a set of adjustable front Castor Arms, adjustable front lower and upper camber arms, adjustable 24mm Rear Strut Bar, and adjustable Rear Camber Arms. For added stopping power he equipped the R33 with DBA Gold Series Slotted and Drilled Rotors and QFM A1RM Brake Pads. Ali also added a HICAS Lock Bar and deleted the HICAS system to keep the rear wheels from trying to turn with the car.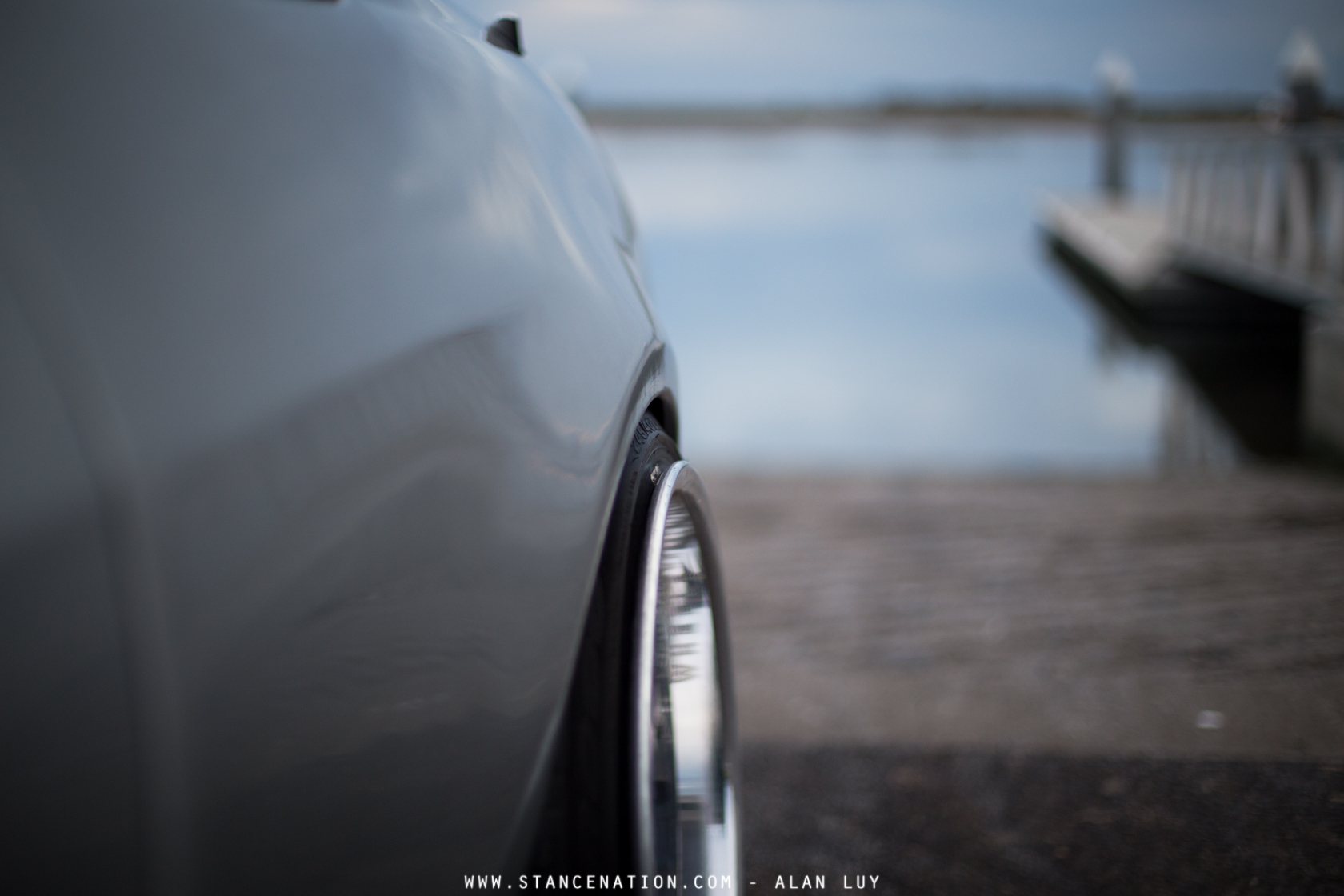 The exterior of Ali's R33 really helps to set his R33 apart from the rest. His car is sporting an OEM Kouki front bumper with Viva Garage "Type BL" Front Lip, vented Carbon-Fiber Hood, DMAX 30mm Front Guards, Nismo 400R Side Skirts, molded PSI Parts 35mm Rear Over Fenders, Nismo 400R Rear bumper, Ducktail Spoiler, custom Roof Wing, and Ganador Mirrors.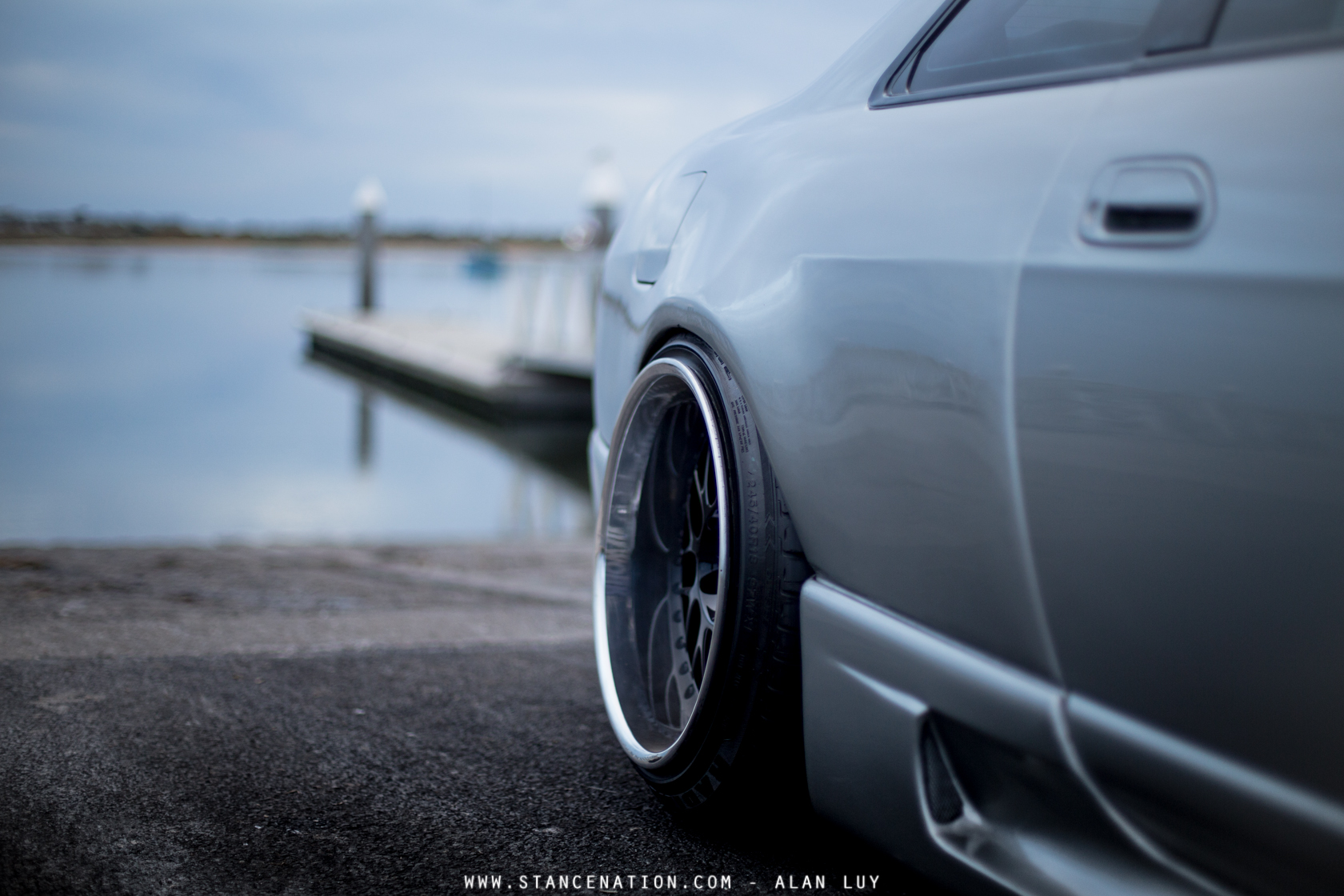 Ali's wheels are none-other-than WORK VS-XXs in 18×10-12 front and 18×12-4 rear sizing. Ali wrapped them in drifter-favorite Federal 225/35/18s up front and Dunlop 245/40/18s in the rear.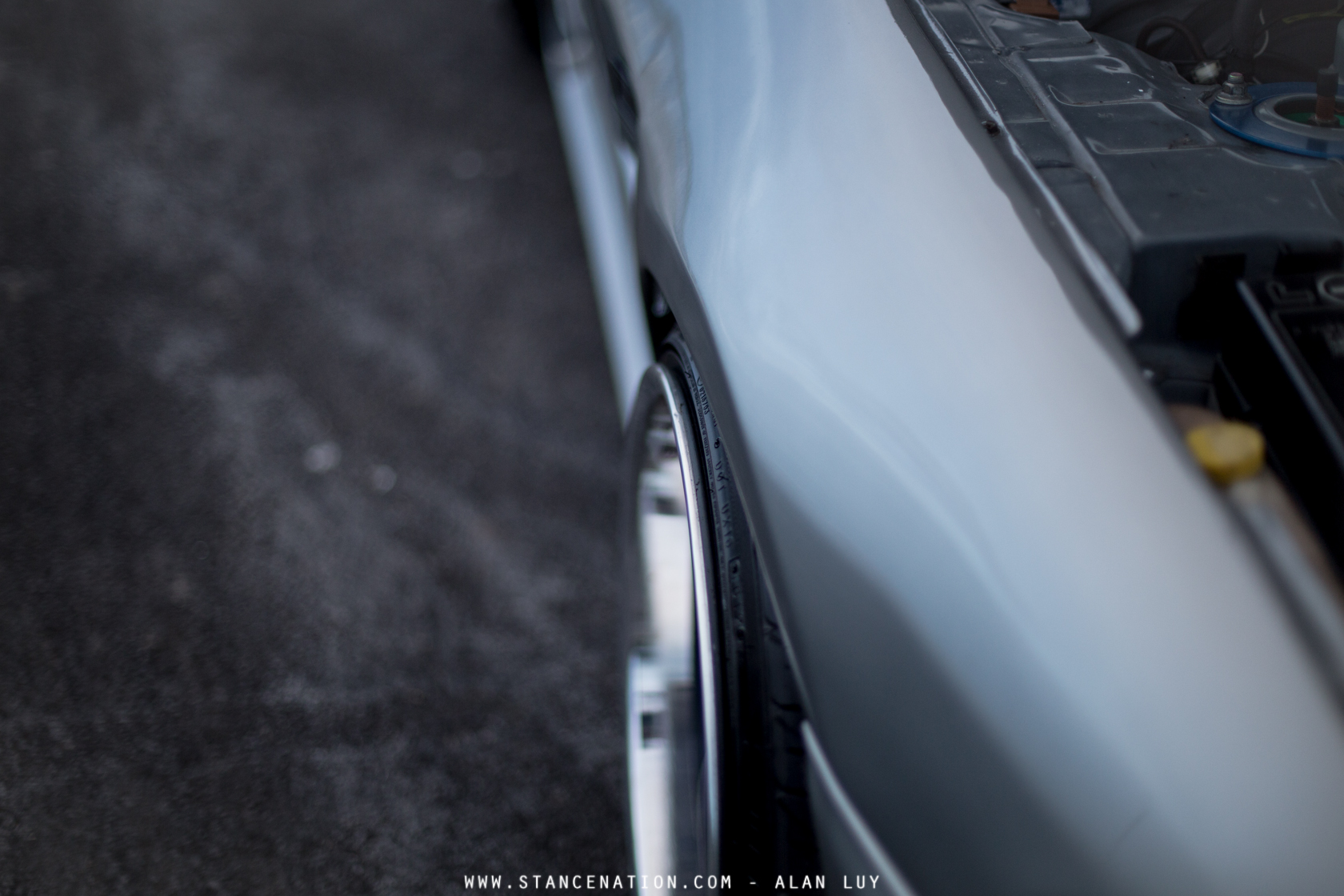 Ali kept the interior of his car simple with the addition of some Bride Gias II Front Seats, a Sparco Quick Release, GKTECH Deep Dish Steering Wheel, Boost and Oil Gauges, and a super-JDM and super-explicit 300mm "Dildo" Shift Knob.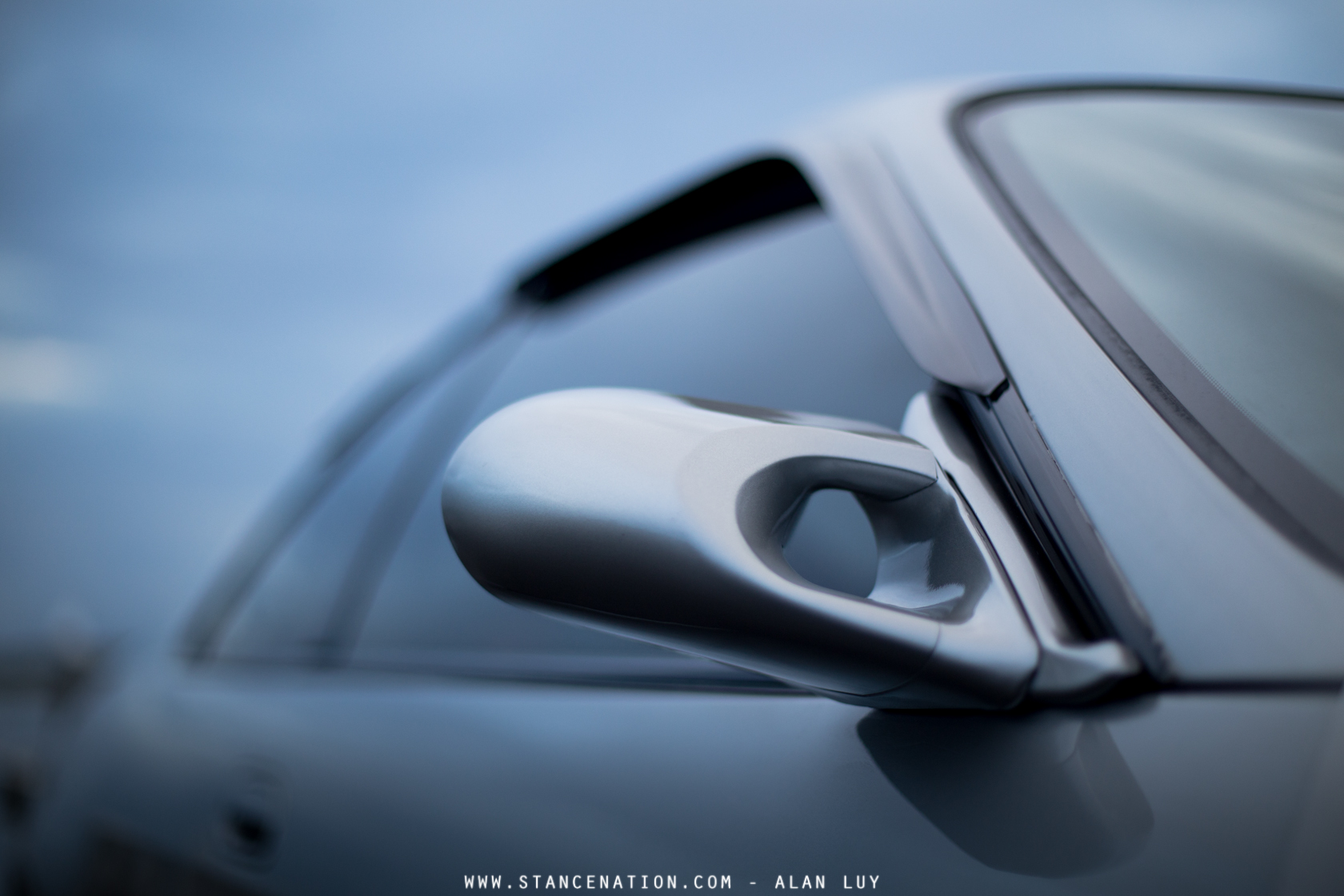 Ali's future plans for the car were originally a forged RB25/30 engine swap (hence the plates) but given the way the car sits, it would be hard to take advantage of the extra power without destroying the fenders, so that plan has been put on the back burner for a bit. He says that a change in color or new wheels may still be on the agenda.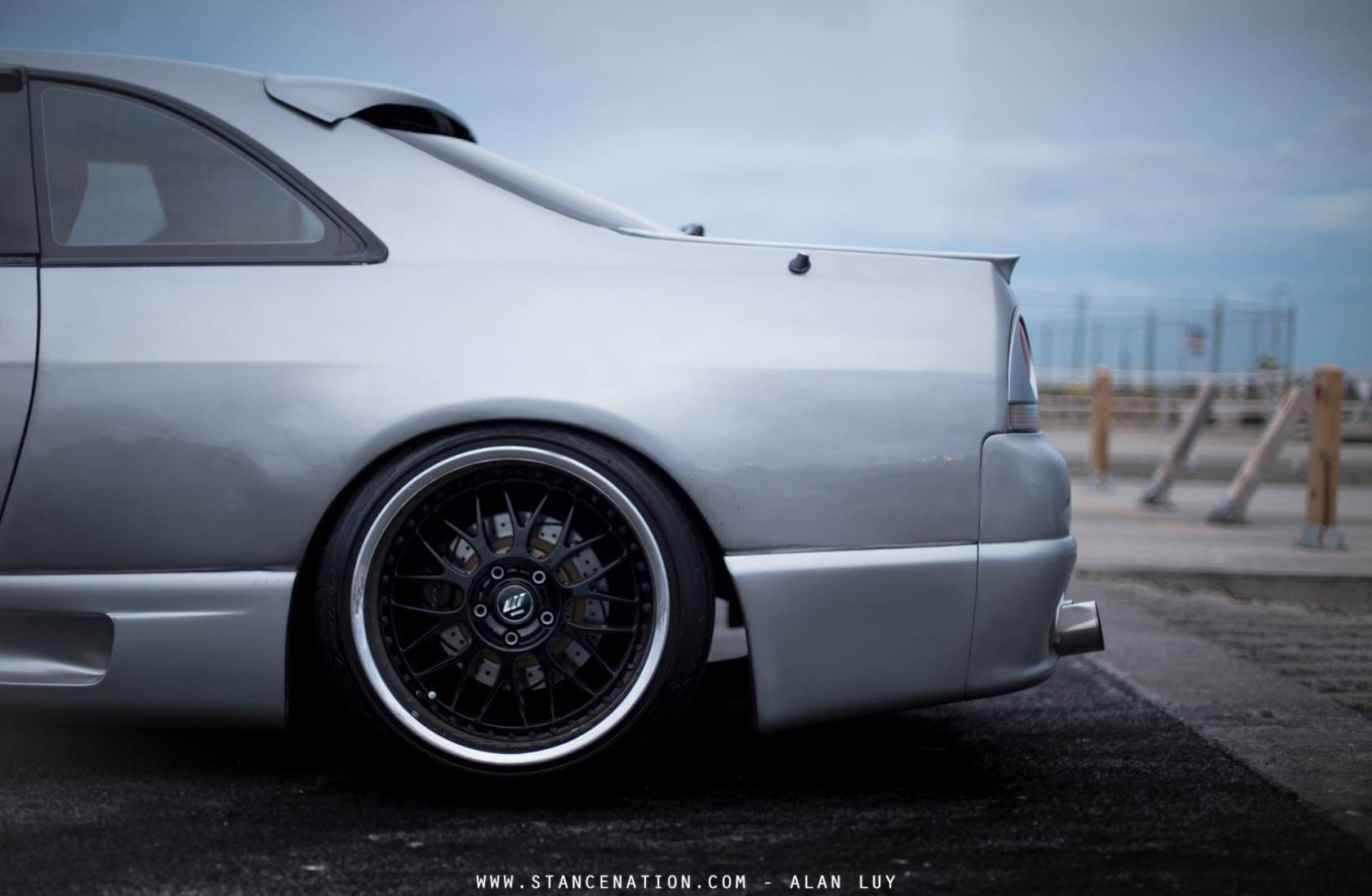 Ali built this R33 with the intentions to change the negative stigma that follows the R33 and to change everyone's opinion of this car. I feel Ali succeeded, and I love that people are taking notice to his car and it's getting the attention it deserves. Well done Ali. We at StanceNation can't wait to see what's in store for your car in the future.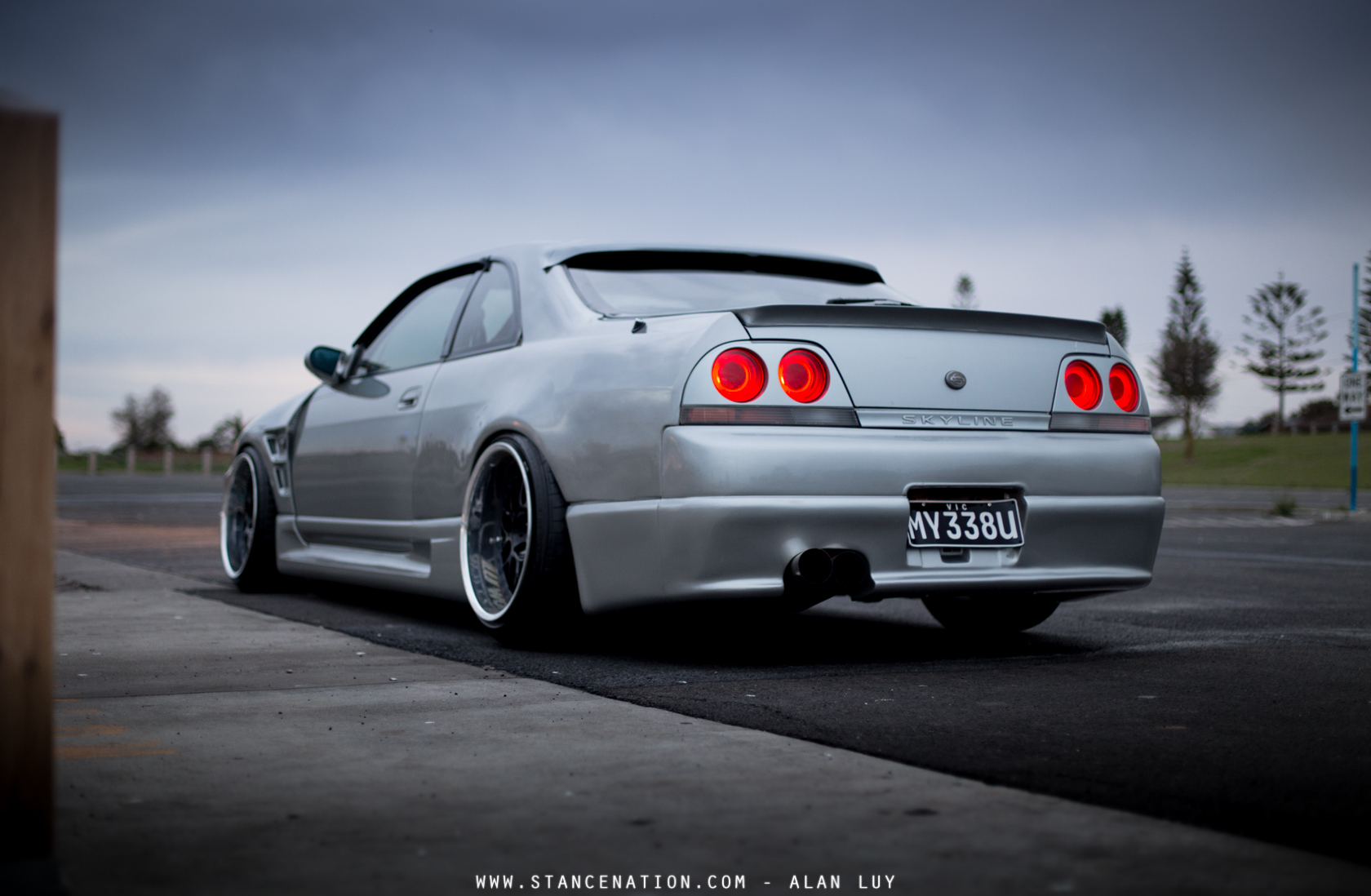 Engine:
– RB25DET
– High Flowed GT3071R Turbo (Low Mount)
– Front Mount Intercooler
– Jun Style Front Facing Plenum
– 90mm Throttle Body
– Larger Fuel Rail
– 550cc Injectors
– Walbro Fuel Pump
– Adjustable Fuel Pressure Regulator
– 52mm Aluminium Radiator
– HKS Mushroom Pod
– Custom Intake Heat Shield
– 3" Turbo Back Exhaust With Twin Tip Angled Straight Pipes
– Yellow Jacket Coil Packs With High Heat Range Plugs
– Producing 272 RWKWS (365WHP) @ High Boost
Engine Management:
– Apexi Power FC with Hand Controller
– Turbosmart Adjustable Boost Controller
Drive Line/Suspension/Brakes:
– Exedy Button Clutch
– Tomei 2 Way Differential
– Whiteline Sub-frame Spacer Kit
– Tein Flex Fully Adjustable Coilovers
– Adjustable Front Strut Bar
– In-cabin Adjustable Monkey Brace
– Adjustable Front Castor Arms
– Adjustable Front Lower Camber Arms
– Adjustable Front Upper Camber Arms
– 27mm Adjustable Front Sway Bar
– Adjustable Rear Strut Bar
– Adjustable Rear Camber Arms
– 24mm Adjustable Rear Sway Bar
– HICAS Lock Bar
– DBA Gold Series Slotted & Drilled Rotors
– QFM A1RM Brake Pads
Exterior:
– Standard Series 2 Front Bar with Viva Garage "Type BL" Front Lip
– Vented Carbon Fibre Hood
– DMAX 30mm Front Guards
– Nismo 400R Side Skirts
– PSI Parts 35mm Rear Over Fenders Moulded In
– Nismo 400R Rear Bar
– Ducktail Spoiler
– Custom Roof Wing
– Ganador Mirrors
Wheels:
– Front: WORK VS-XX 18"x10 -12 wrapped in Federal 225/35/18
– Rear: WORK VS-XX 18"x12 -4 wrapped in Dunlop 245/40/18
Interior:
– Bride Gias II Front Seats
– Sparco Quick Release
– GKTECH Deep Dish Steering Wheel
– Boost & Oil Gauges
– 30cm "Dildo" Gear Knob