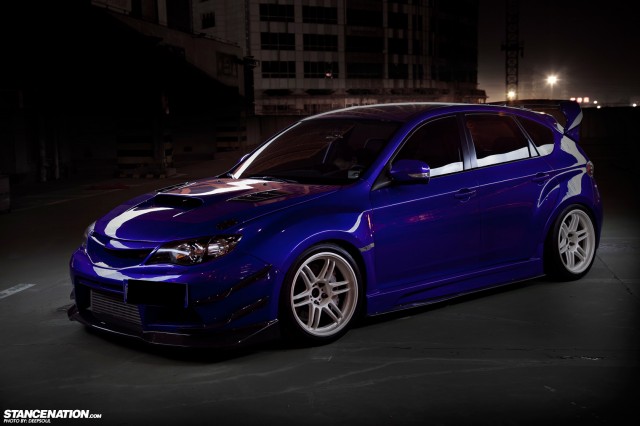 One of the toughest questions during a job interview, to me, has always been "If you could describe yourself in one word, what would it be?"  Shrouded in ambiguity, the question calls out your deepest personal characteristics.  Not only is the answer itself important, but the direction you take to answer the question has strong validity.  Are you a confident person?  Maybe too confident?  I wonder what this late-model Impreza STi would say if it was asked such a question.  I can think of a few it could use.
Photos By: Deepsoul exclusively for StanceNation.com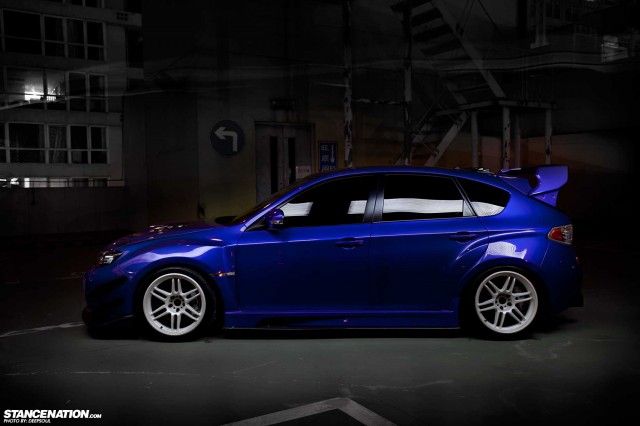 Muscular.  Custom hand-widened fenders by FIST Auto broaden the Subaru's flanks.  The wider stance is complimented well by the elegantly aggressive Varis aero.  Varis circuit-spec engineering is evident in the flowing carbon dive planes and high-rise rear wing.  The hood has been replaced with a Seibon carbon version in order to drop some weight.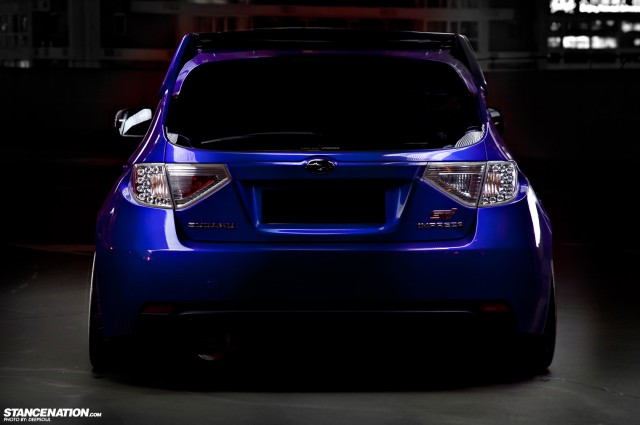 Agile.  Adequate damping is provided by an Ohlins suspension system, with Whiteline sway bars increasing roll stiffness fore and aft.  Bushings are optimized by components from Hardrace.  The STi chassis is already highly capable directly from the factory, however when modified for track use the running gear must develop further with increased grip and speed.  White 18×10.5″ +22 AME TM-02 wheels fill the fenders and offer appropriate surface area for the wide tires.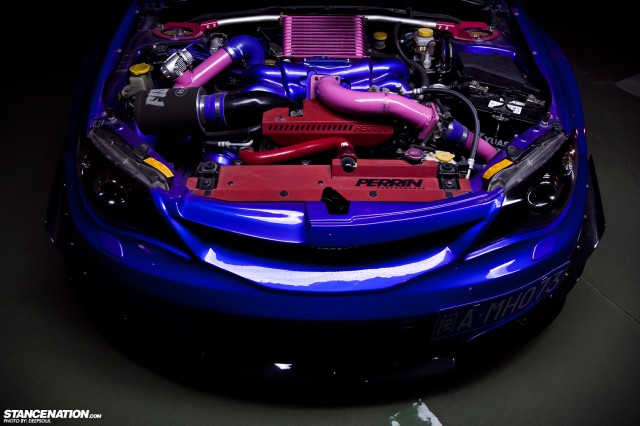 Powerful.  The STI EJ25 has been worked over thoroughly by FIST with improved pistons and camshafts/valvetrain from renowned engine builder Cosworth.  Pressurizing the fortified flat-four is an ATP GTX3528R turbocharger feeding to a custom reversed manifold by FIST.  Boost pressure is property maintained by a TiAL 38mm wastegate with an AMS front-mount cooling the charge.  Aside from the increased power available from the heavily modified boxer, the aesthetic value of the engine itself is notable with the bright pink manifolds as a center piece.  FIST also managed to maintain the air conditioning system with the revised intake manifold configuration.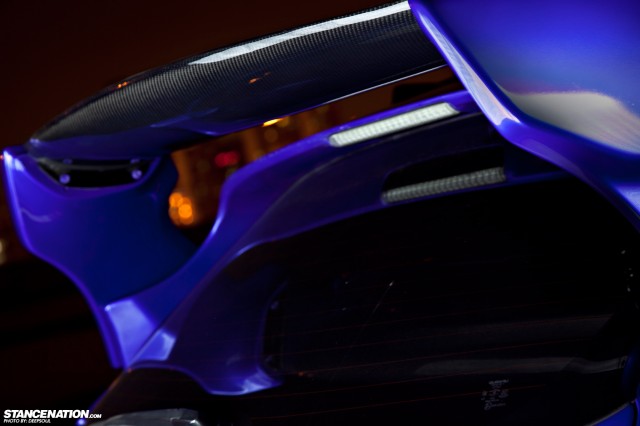 Motivated.  While the build seems to be complete, there is more in line for the 5-door — of course.  The most concrete of future plans call for further power enhancements via a JUN engine and a larger Precision 6266 turbo.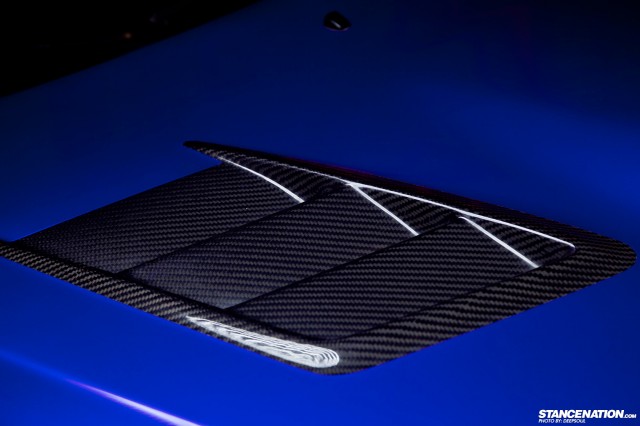 This STi from China has plenty of single-word descriptors it could use.  The list sounds like a list of qualities you would look for in an athlete, a track star — which is certainly fitting.  The owner tells us that each modification is made in order to insure durability in race conditions.  If I ever need a beautiful AWD machine for track duty I'll know just where to look…and it should interview well.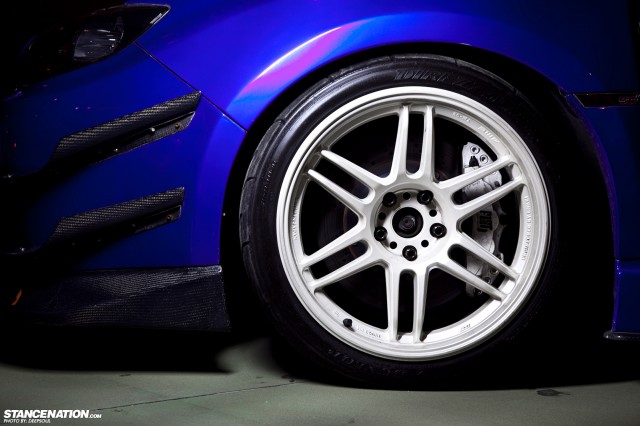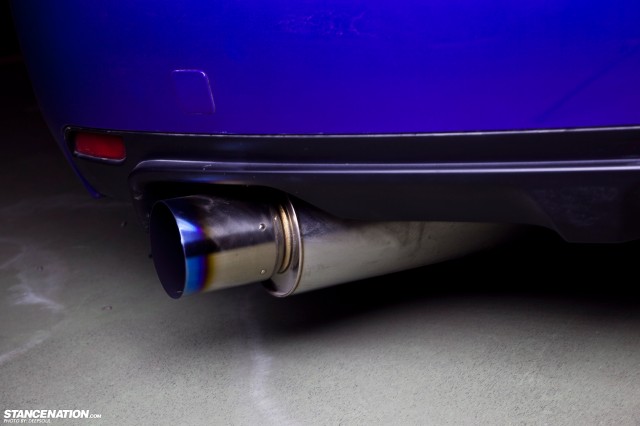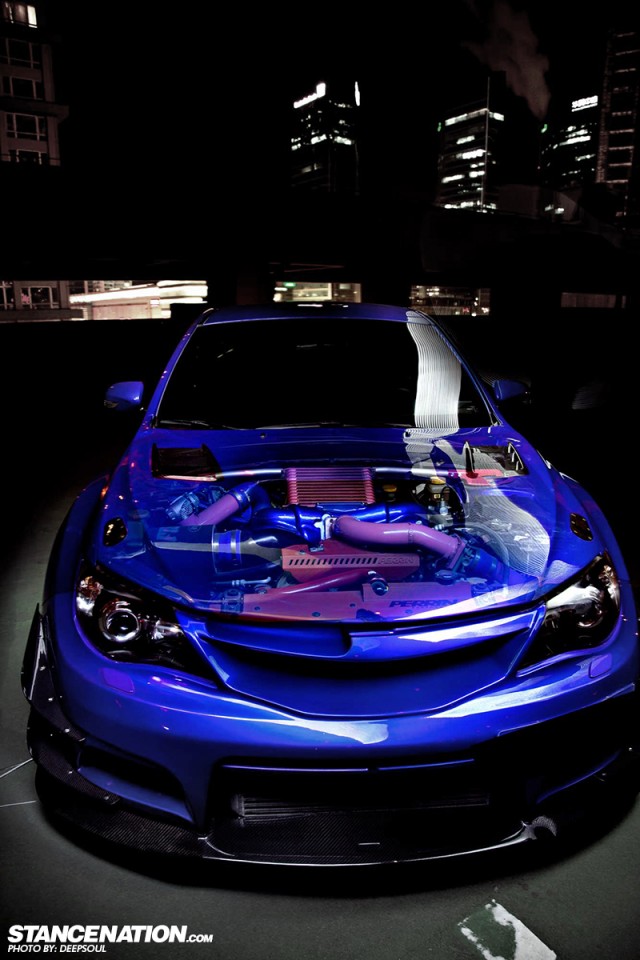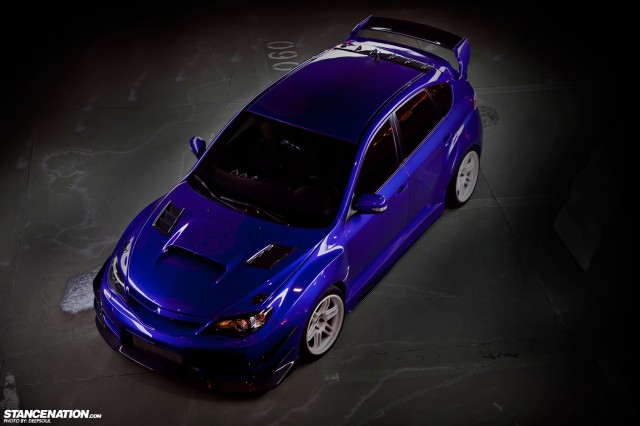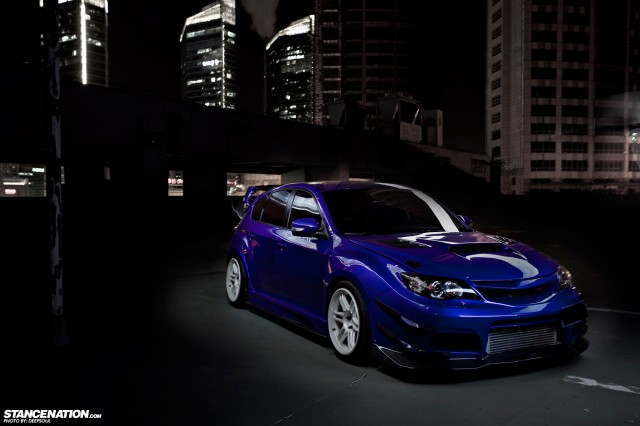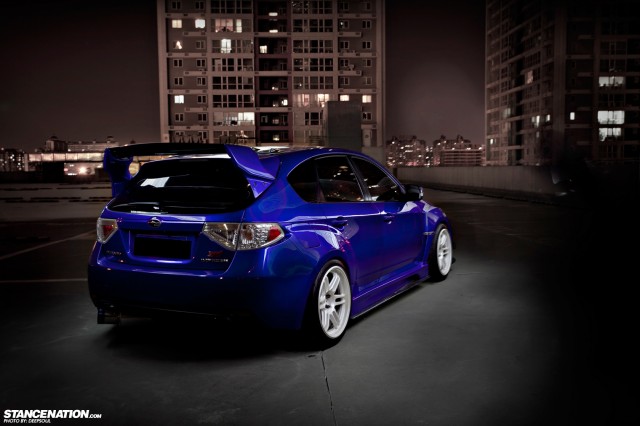 [toggle_box]
[toggle_item title="Wheels/Tires/Suspension" active="true"]AME TM-02 18X10.5J +22
STI front strut bar
OHLINS Road & Track Suspension
WhiteLine sway bars
Hard Race HARDEN ENGINE MOUNT 4PCS/SET
Hard Race SUPER TIE ROD END
Hard Race TPV SHIFTER BUSHINGS
Hard Race FRONT ROLL CENTER ADJUSTER
Hard Race REAR TOE CONTROL ARM
Hard Race REAR TRAILING ARM
Hard Race REAR LOWER ARM[/toggle_item]
[toggle_item title="Exterior" active="false"]Varis front bumper
Varis side skirts
Varis wing trunk
Seibon bonnet
FIST AUTO handmade custom widebody[/toggle_item]
[toggle_item title="Engine" active="false"]STI EJ257
FIST Spec forged pistons
FIST Spec Main&Rod bearings
Cosworth Camshafts
Cosworth Valve Train
Cosworth oil pump
Cosworth Manifolds
AMS intercooler
ATP GTX3582R Stock location Turbo
TiAL 38MM Wastegate
HKS catless downpipe
HKS SSQV
FIST Spec FRP Intake Pipe
FIST Spec 70mm Intercooler Pipe
FIST Spec Rotated Intake Manifold[/toggle_item]
[/toggle_box]