If you are a long time follower of StanceNation you'll most likely recognize this car as it was featured here some time ago. Since then, the car has stayed relatively similar since Hiro is all about keeping things clean and simple. Can you blame him though? This is one of the cleanest Skylines out there if you ask us. And yes, we said Skyline because you're looking at a genuine RHD Nissan Skyline CKV36 that's been re-badged to Infiniti. Why? Because USDM style! Hiro is a huge fan of the USDM styling and he draws a lot of inspiration from how we do things here.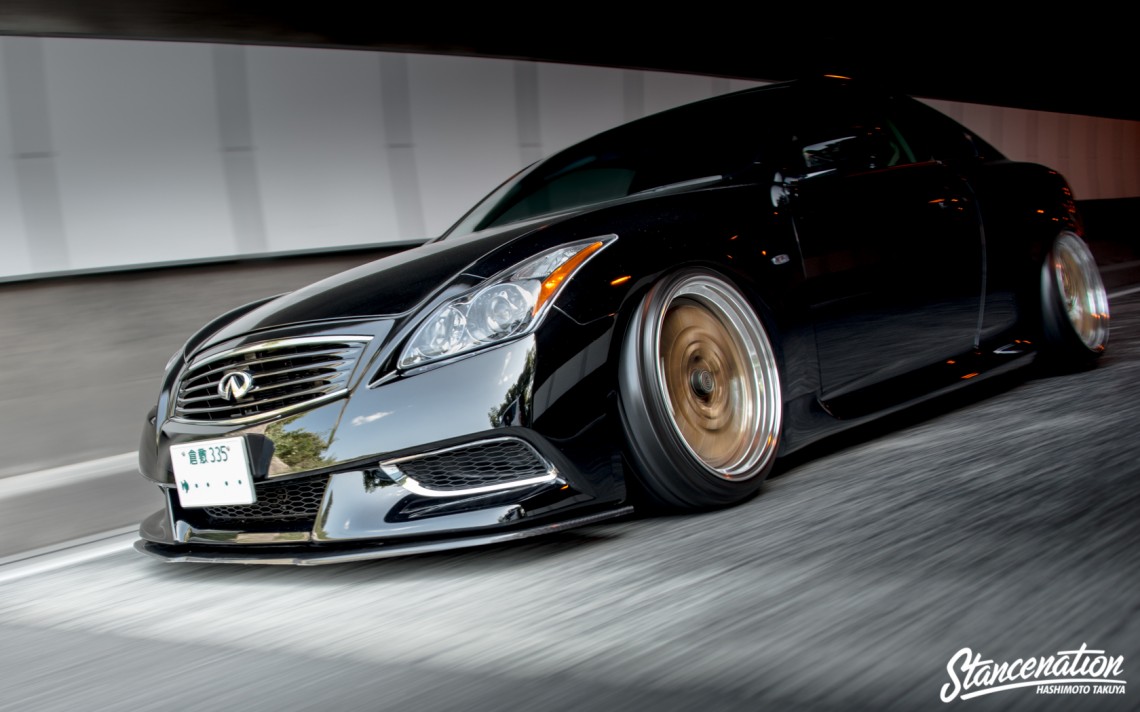 So what's new in store for Hiro since his latest feature? Let's start with the new aero. IPL bumper & carbon fiber front lip with IPL sides and Maddogato & Autokits custom carbon rear diffuser. He even changed out his headlights for some customized USDM ones, finished off the rear end by tinting the tails all red and adding a Lamborghini Gallardo side marker to the side of his rear bumper. Talk about detail..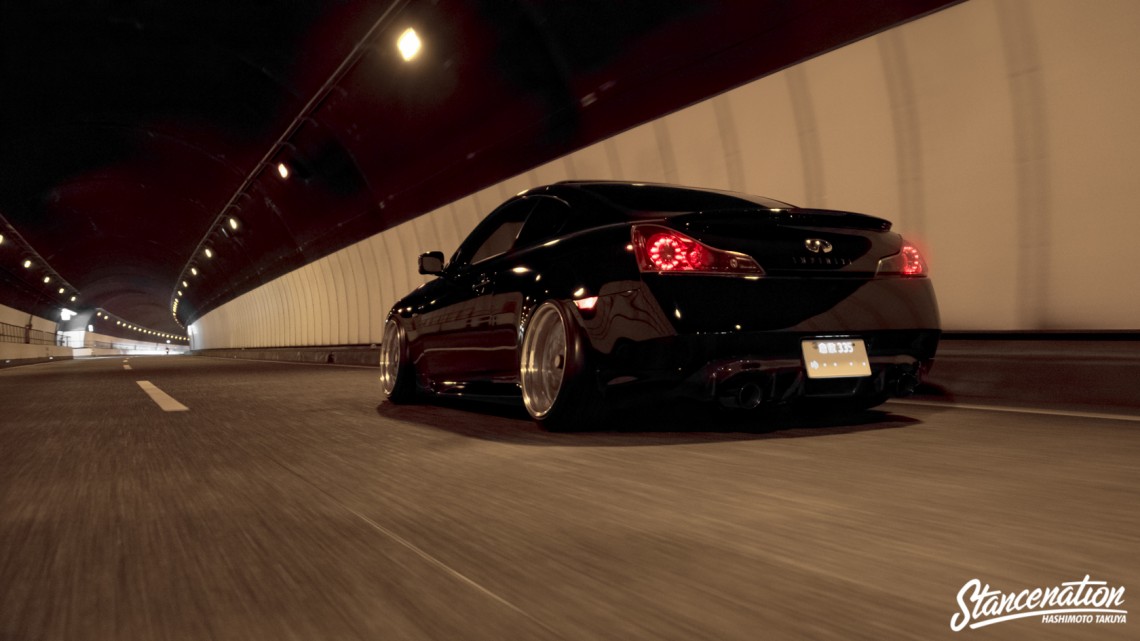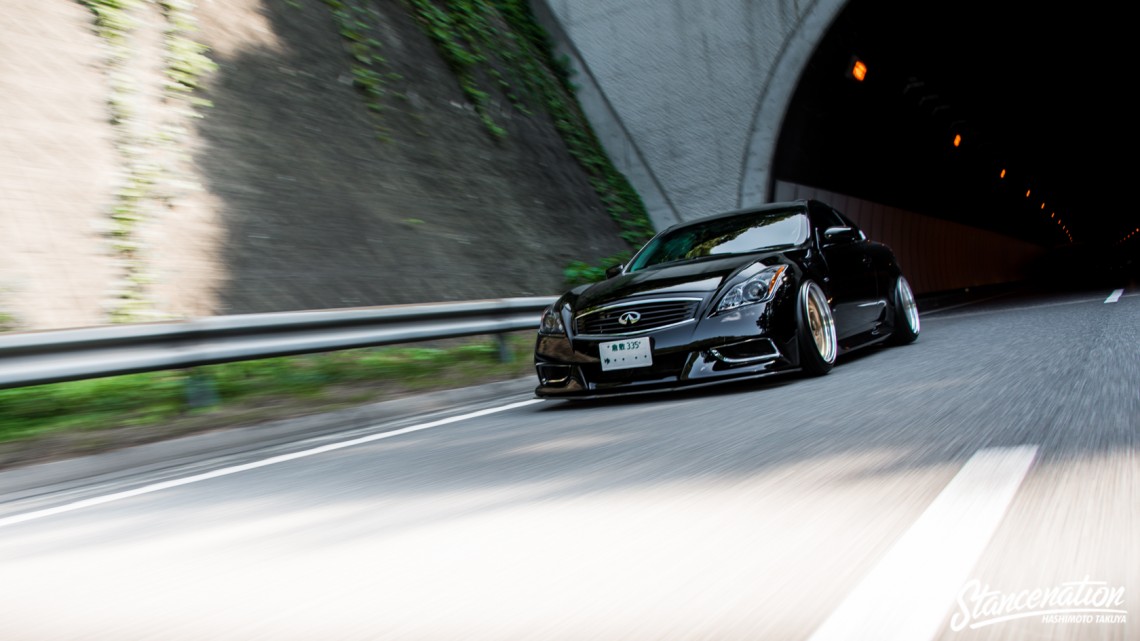 HKS Super Power Flow filter does it's magic, while Maxim Works equal length exhaust manifolds and SARD metal catalyzer give the car that well deserved sound and power. Hiro also opted for a couple Power Craft goods like the center pipe, twin dual intermediate pipe and tail pipes. Hiro told us that the exhaust system was the toughest thing to do to his car, thought it worked out just fine!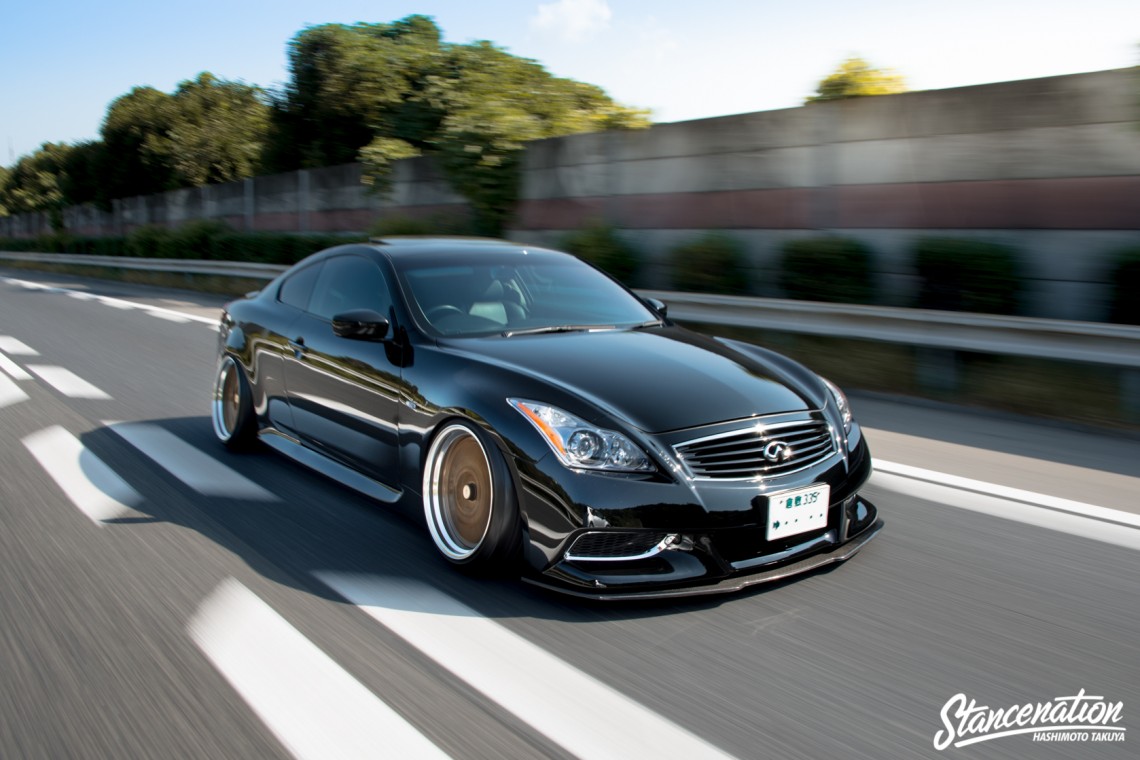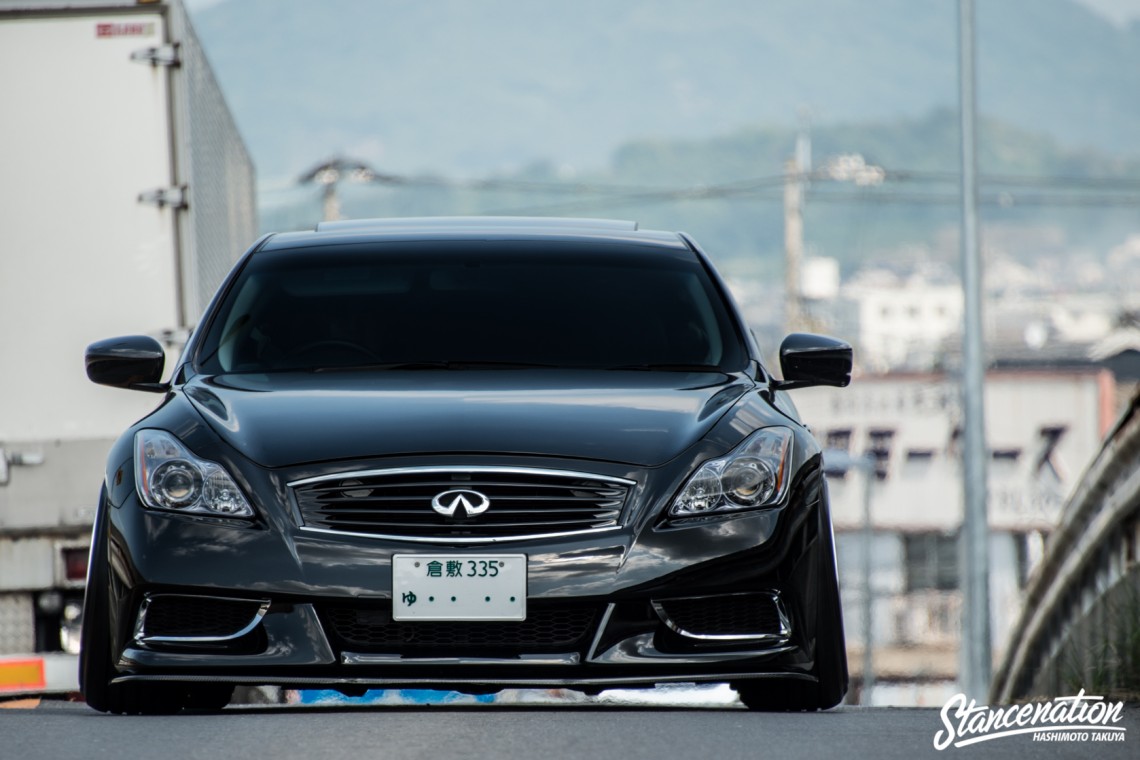 SSR Formula wheels compliment the car just right. Fronts are 10″ wide wrapped in (Michelin Pilot Super Sport 235/35/19) tire while the rears are 11″ wrapped in (Michelin Pilot Super Sport 265/30/19) set of rubber. Suspension wise, there is quite a few things going on but the coilover setup is Nizo Low's very own produced by none other than 326Power. 45kg spring rates up front and 14kg in the rear help give this Skyline the incredible fitment you see in front of you. Nizo Low upper arms, tension arms, rear lower arms and T-Demand rear upper arms keep everything in check.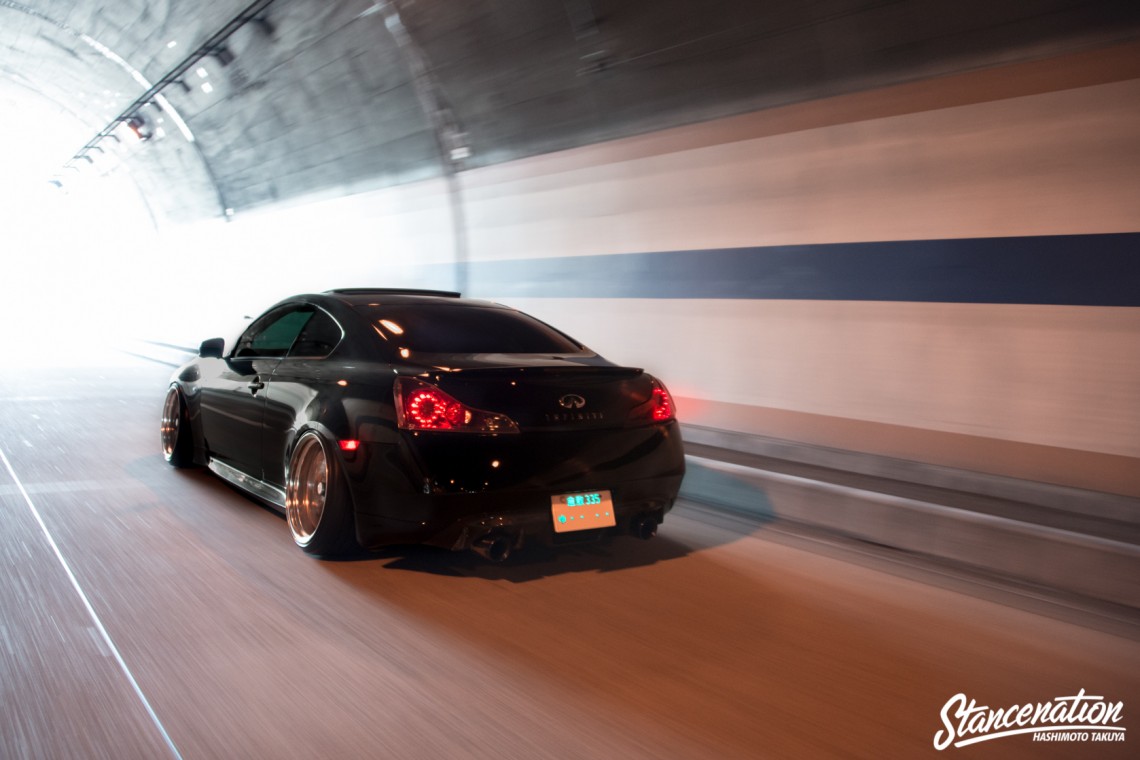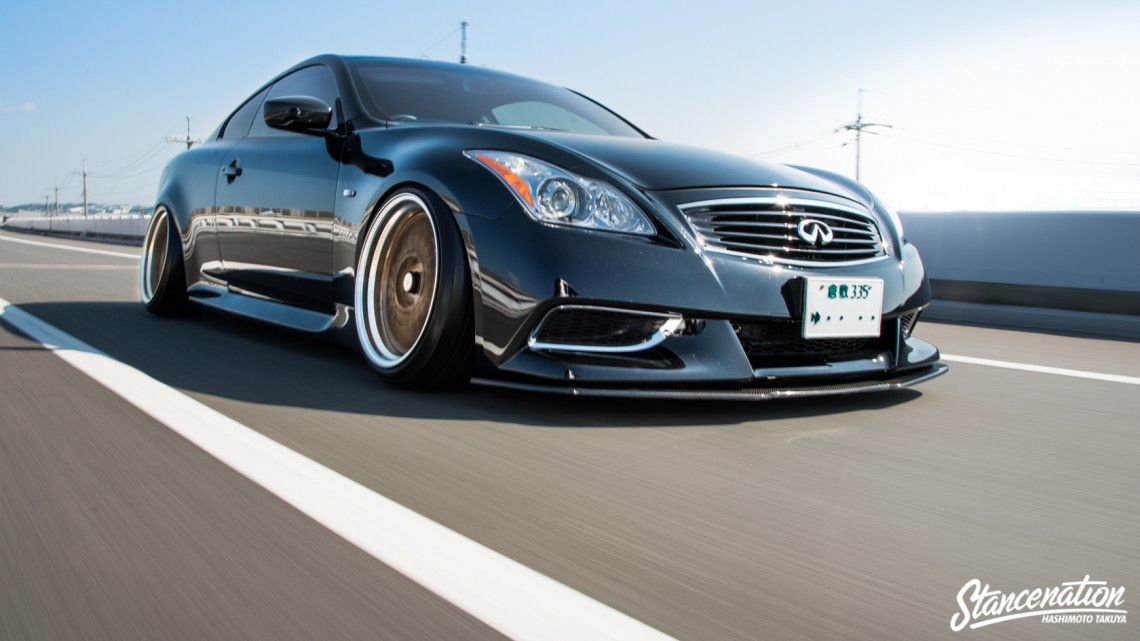 It doesn't end there as we all know that no car is complete without a proper set of brakes, which is why Hiro decided to mount a set of Stop Tech & Ideal brakes on his beautiful Skyline. Up front is a 6 pot/380mm set of drilled rotors, and in the rear is a 4 pot/356mm rotor & brake combo. At this time the car is as "complete" as Hiro wants it to be, though we'll have to wait and see where the car sits in another year or so. If there are any drastic changes we'll be sure to keep you all updated. Enjoy rest of the photos!