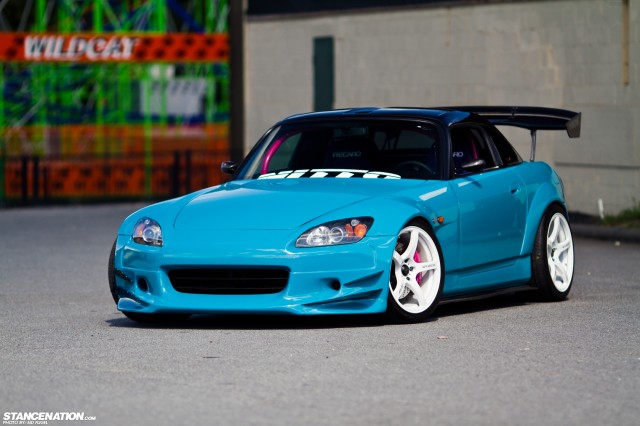 As human beings we all need variety.  Lest we become drones, we actively seek exciting ways to break through the mundane and differentiate ourselves from the status quo.  The routes we take to achieve this personalization are each unique to the individual and those of us in this community utilize our cars as our canvas.  This moment of automotive existentialism comes courtesy of KJ Drapeau's colorful S2000.  KJ's palette is reminiscent of a rave with bright color combinations that have served him well with his S2000s and he is a repeat offender here on StanceNation.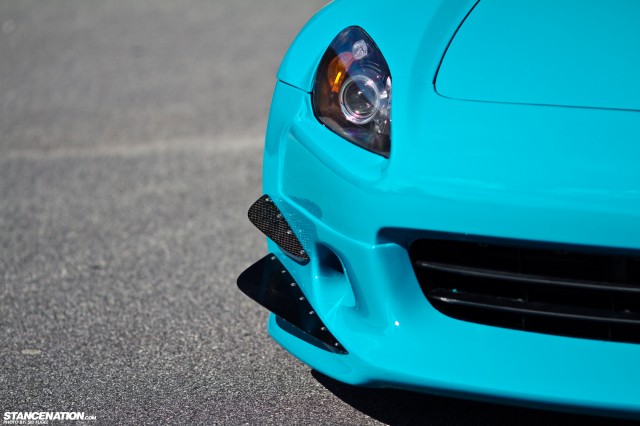 The S2000 is rightfully one of the more popular platforms in the community.  Personally, I've always been a huge fan of the Honda roadster — I actually just bought one a month ago.  With it's aggressive lines and manic attitude the car is a youthful expression of freedom and excitement, emotions that are balanced by its expert capabilities as a performance vehicle.  As with many Honda offerings the S2000 experienced several updates through the model run with each version (AP1/2) possessing their own individual crowds of 'sub-fans' for their slightly different characteristics.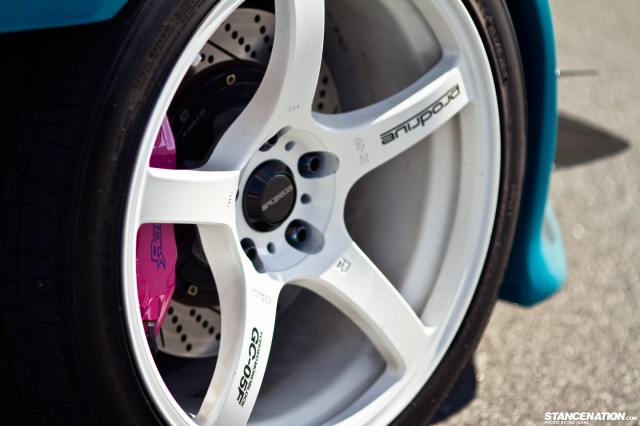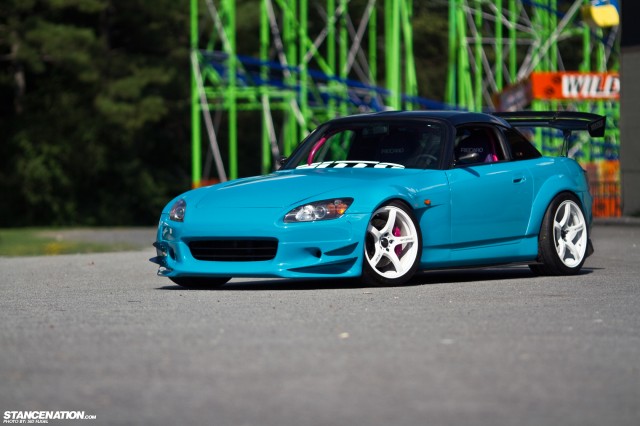 Drapeau's S2000 is of the AP1 generation as a 2001 model, though the updated AP2 lighting makes this slightly difficult to determine at first glance.  From the factory the S2000 is blessed with stunning good looks but the aggressive lines naturally lend themselves to aerodynamic additions.  Luckily for S2K enthusiasts, the aftermarket has blessed the world with bountiful options.  J's Racing supplied the front wide fenders, lip spoiler, and canards.  Additional girth in the rear is provided by ASM over-fenders along with their matching rear bumper that calls to mind the 997 Porsche GT3.  The most interesting piece is difficult to notice — the Asuka trunk lid is a rare item that flows perfectly with the Mugen hardtop.  Of course, any Japanese GT-inspired build would be incomplete without a massive GT wing and KJ delivers with a Voltex Type-III perched high above the Voltex diffuser.  Voltex aero, if it had been available during the French Revolution, would've accelerated the beheading process exponentially but we'll just have to benefit from the aggressive aesthetic and track-tested effectiveness of their products.  Along the sides you'll find subtle carbon side diffusers originally intended for a Mazda RX7.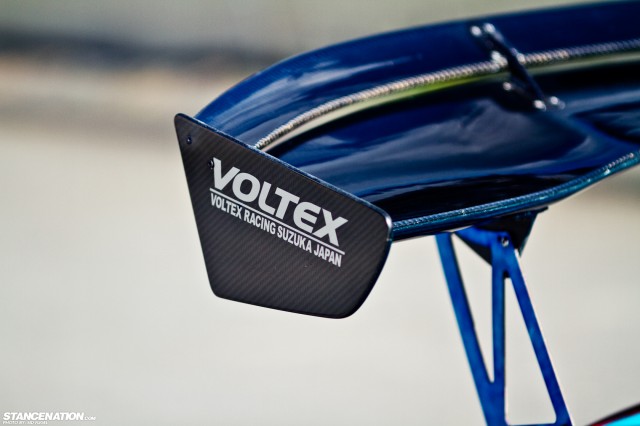 The body has been smoothed over with the removal of the emblems, antenna, and the side mirrors — which have been replaced by ASM carbon M-Racing components.  The overfenders and J's front have also been molded into the body.  Of of the impeccable bodywork is swathed in "Miami Vice Turquoise" which leads us a signature of KJ's builds — custom paint.  I first saw a KJ creation during an Import Alliance event in his hometown of Atlanta, the flourescent yellow S2000 commanded my attention and despite the loud hue it simply worked.  Drapeau calls this S2000 a love-hate idea, saying he was simply excited to try new combinations of parts and colors.  The color works especially well contrasted with the fuschia rollcage and Rotora big brake calipers.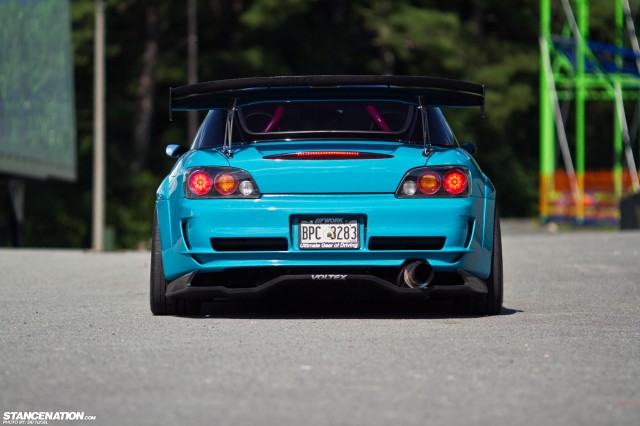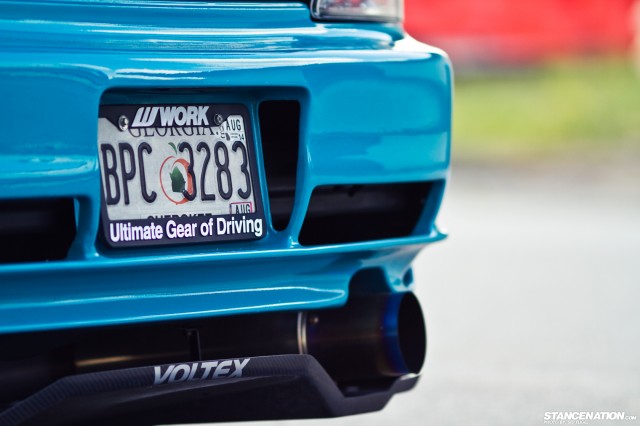 Continuing the colorful theme inside are the custom Recaro Pole Position seats, which are covered in luxurious purple alcantara.  A Vertex wheel and J's Racing shift knob add to the race feel of the high-RPM driving experience.  The rest of the interior is treated in black alcantara and the entire setup is framed by the aforementioned custom painted Cusco 6-pt cage.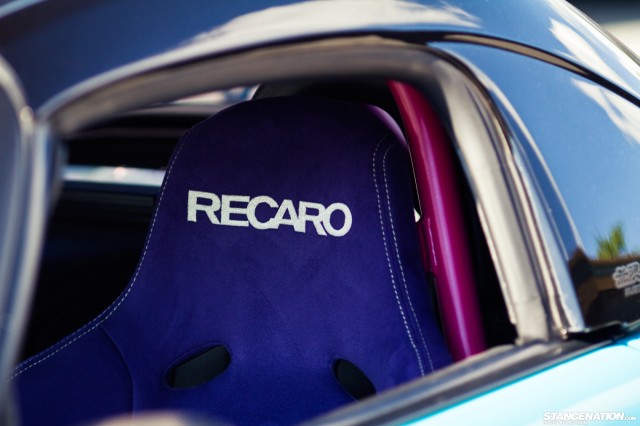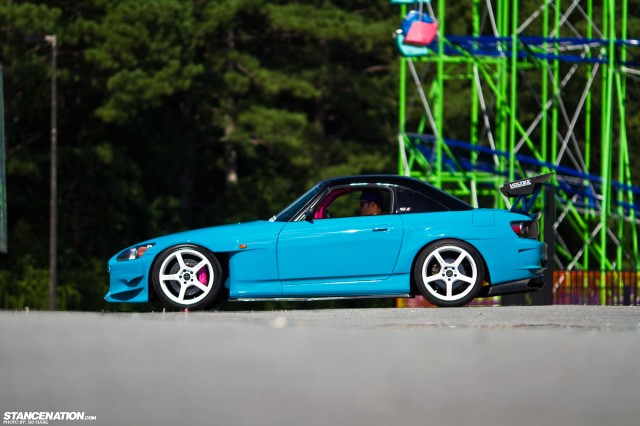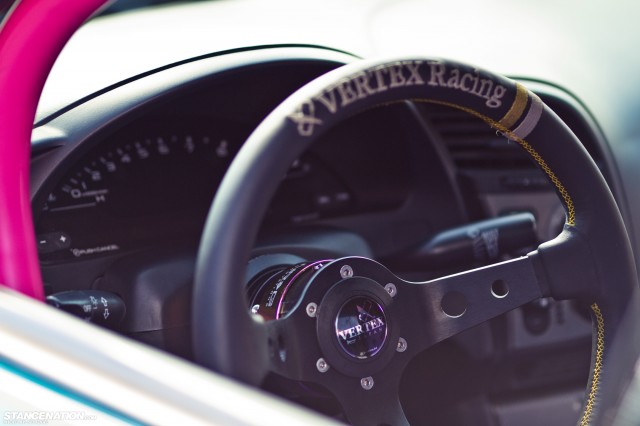 Of course, if the S2000 didn't sit right it wouldn't be here.  Tein Flex coilovers suspend the car at its aggressive ride height with Megan Racing arms and a bump-steer kit to maintain geometry and provide adjustability.  Beneath the custom bodywork are a set of Prodrive GC05s, sized squarely at 18×9.5″ +22.  These wheels are rarely seen outside of the Subaru world (from which KJ has a past in) and are a refreshing change to be seen in the popular S2000 crowd.  The wheel design is simple but evokes a sense of strength from the broad 5-spoke design.  Nitto Invos provide contact with the roadway as well as a map to the world of Tron.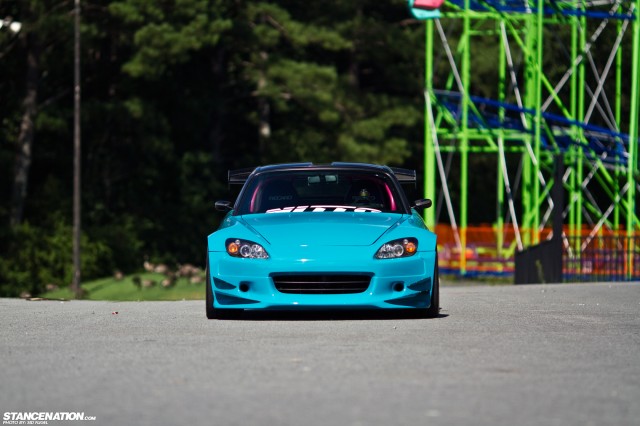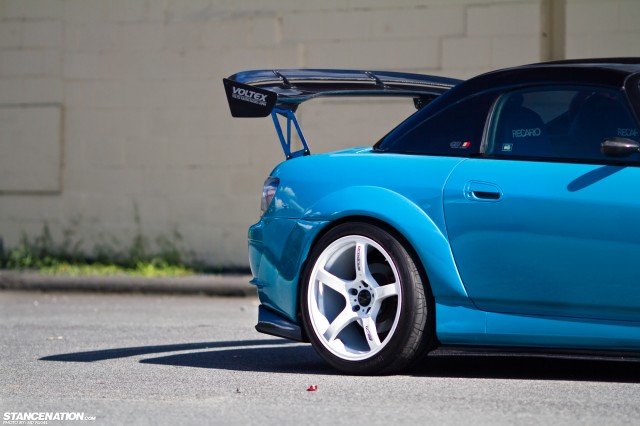 So maybe Atlanta resident KJ Drapeau ate a few too many bags of Tropical Skittles.  To that, I say…. Tropical Skittles are awesome.  His development with this project is not at a close, with a custom turbo setup in the works (with a lot of custom Ti he advises) as well wider body panels for new wheels.  Thanks for keeping it colorful, low, and aggressive KJ — I can't wait to see what you turn up with next.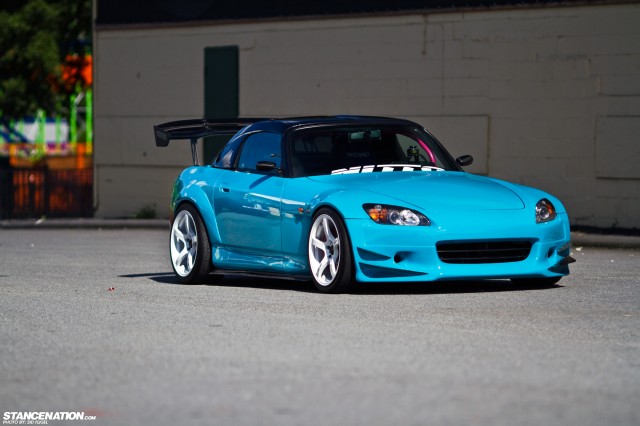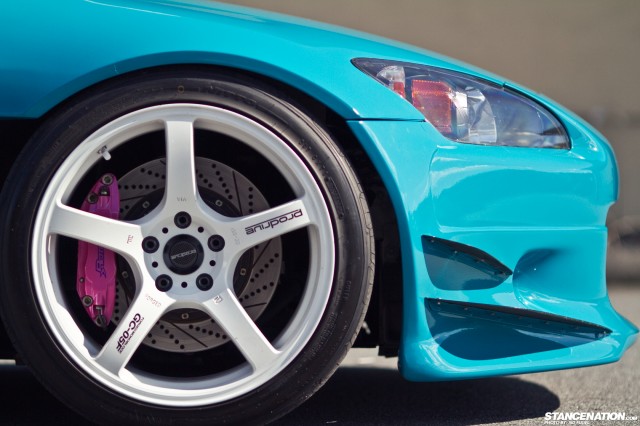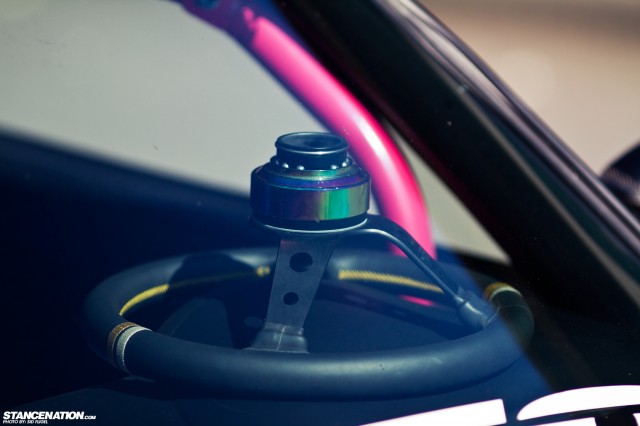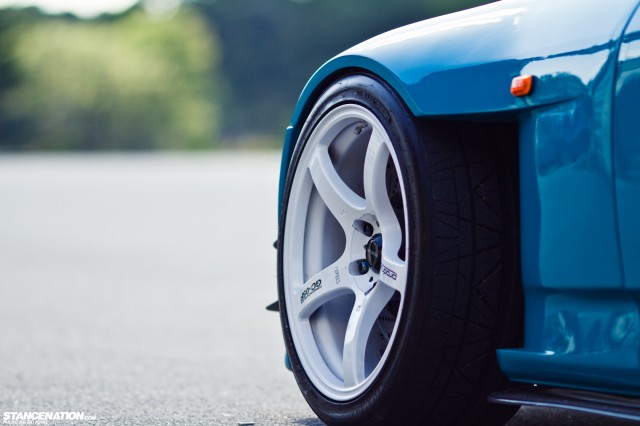 Wheels/Tires/Suspension
Prodrive GC05 18×9.5 +22 (back to my subaru days, rare to see anymore)
Tein flex coilovers; Megan racing LCAs, megan racing bumpsteer kit
Project kics neo chrome lugs
Exterior
Custom "Miami Vice" Turquoise paint
shaved door mirrors; antenna, emblems, etc
Js racing custom molded widebody front bumper; J's canards
Js racing widebody fenders
ASM rear over fenders molded
ASM widebody rear bumper
Voltex rear diffuser
Voltex type 3 wing with custom Ti risers
Asuka trunk lid
Mugen Hardtop
ASM M-racing cf mirrors
RX7 cf side diffusers
OEM ap2 headlights and tails conversion
Rotora BBK custom fuschia pearl
Interior
Cusco 6pt cage custom fuschia pearl
Custom Recaro pole's wrapped in purple alcantara
Interior redone in black alcantara
J's racing burnt blue shift knob;
Engine
J's racing baffled oil pan, J's thermostat