What drives the progression of cultures? In an automotive sense, it is a desire powered by passion to transform your character into a reality, a material, that you can see and touch. An expressionist artist uses a canvas to, of course, express, the inner experiences of one self, and much like an expressionist artist we are all automotive expressionists wanting to tell our story. This also extends to Mr. Takakuni Jo, a man of incredible dedication to the Japanese VIP scene. Traveling around the world showcasing his prized LS460L, which we will soon discover, he has become quite the icon and a representation of progression.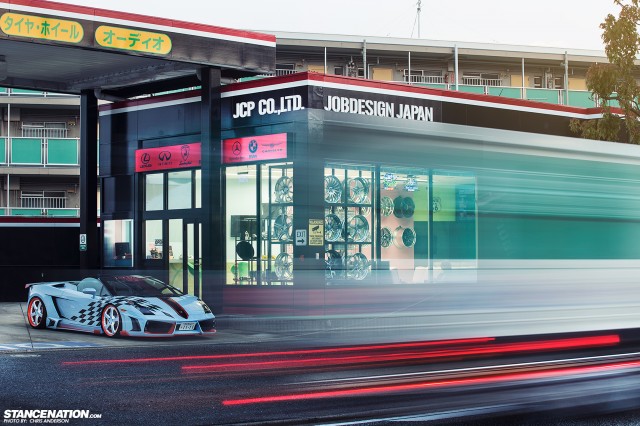 Let us begin by going back in time a decade when Jo-san entered his 2JZ UCF20 Celsior into the 2002 All Japan Dress Up Contest, which awarded him the title of the Best VIP Car in Japan. Now, that's quite an achievement, and for Jo-san, this was his personal affirmation into creating his VIP dynasty that is now Job Design in Fukuoka, Japan. With prior knowledge and a license for construction under his belt, he acquired a non functioning gas stationed and started going to work by totally gutting the interior and reconstructing the shop to his vision. Below is the massive trophy he took home from the 2002 All Japan Dress Up Contest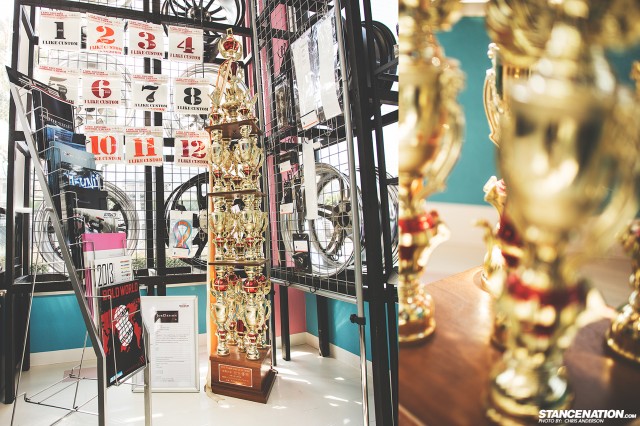 10 years in existence, Job Design has built itself into not only a shop that will tailor-make kits onto your coupes or big body sedans, Job Design is… just that, they design arguably some of the most sought after bumpers and automotive accessories for the VIP connoisseur, so whether you need brakes or wiring done to something as tasking as suspension or full out fender fabrications, this place has your back.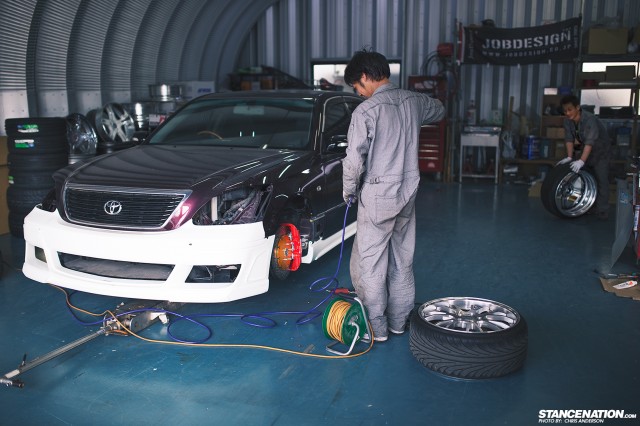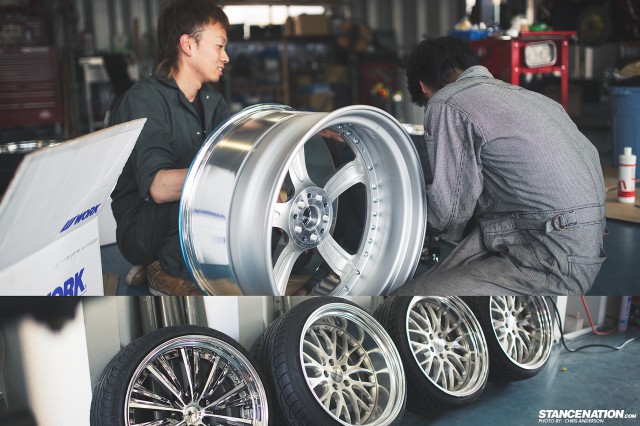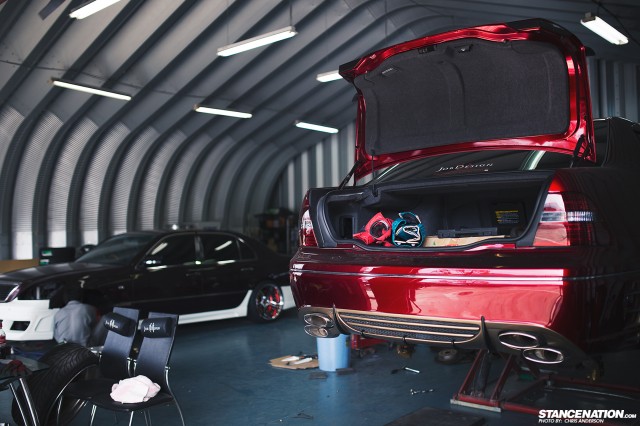 Now as I took my first step into his shop I was welcomed with vibrant, refreshing colors. The walls sky blue and pink with deep dish ornaments, mint green stools out of the Jetsons, pink couches, and the only word I could pull out from all this was 'fun', this person must be absolutely fun to be around. So I felt an important co-existence of 'fun' and passion, that whatever the challenge he works like a disciplined artist while maintaining a level of joy, and through this joy powered passion I see comes incredible respect from an ever-growing automotive culture.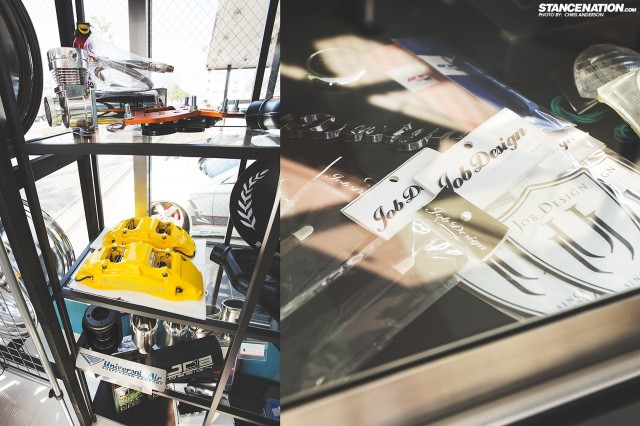 Jo-san arranged to have some of his clients bring their cars out for my arrival so without further ado lets take a step outside to his lot! Aristo belly grounded on Work Cr Kais dressed up in a custom created Job Design Completion kit.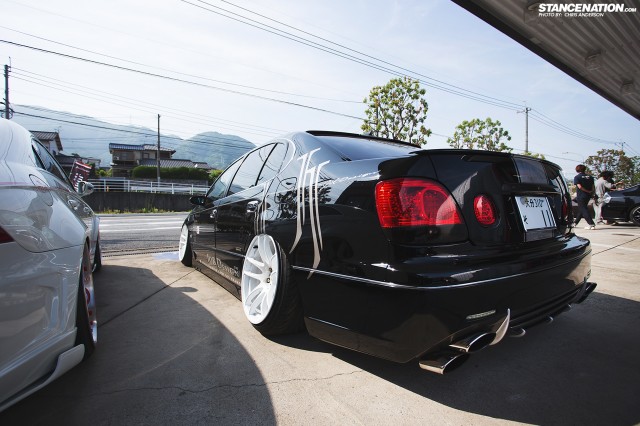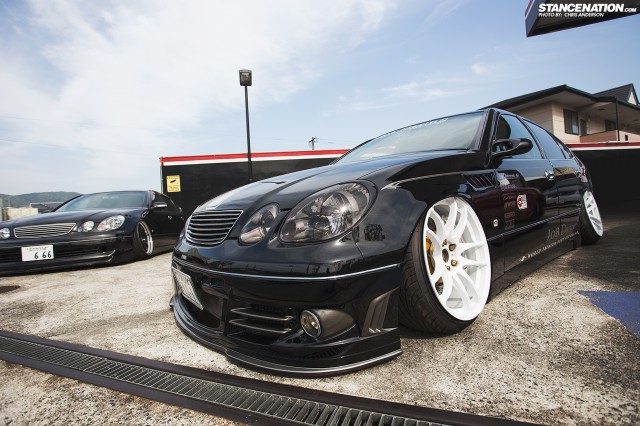 Beautiful Nissan F50 Cima tucking in Gnosis wheels for a clean stylish appearance.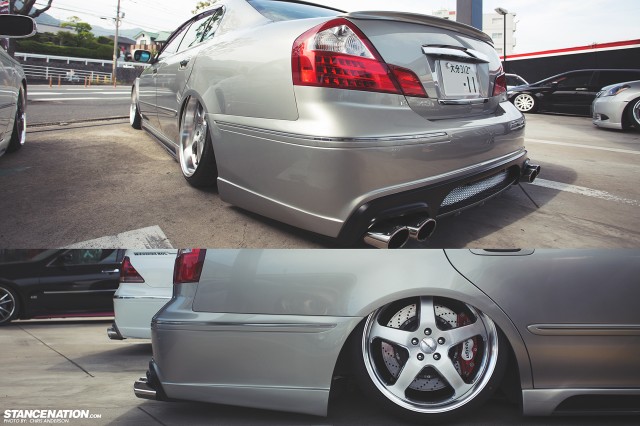 A customers Z sitting on VIP Modulars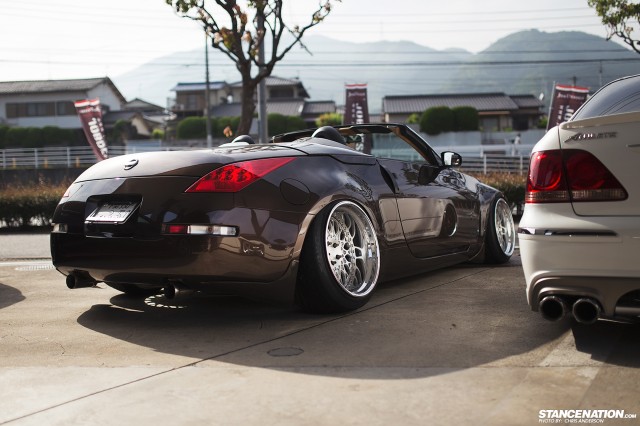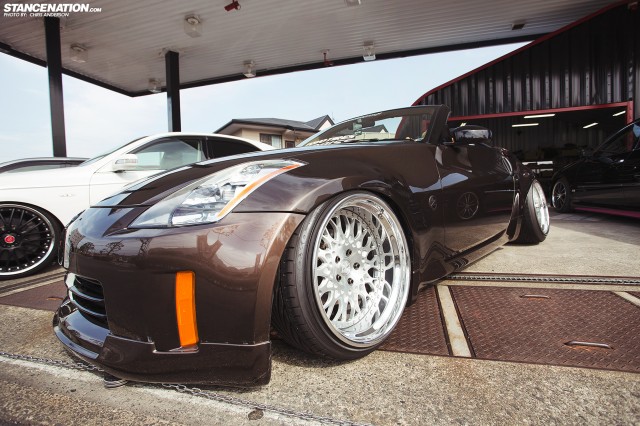 Here we have another Nissan Cima waiting in line for some major bodywork to be done.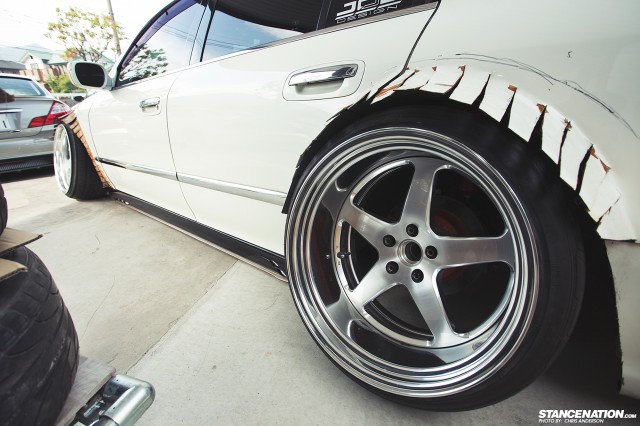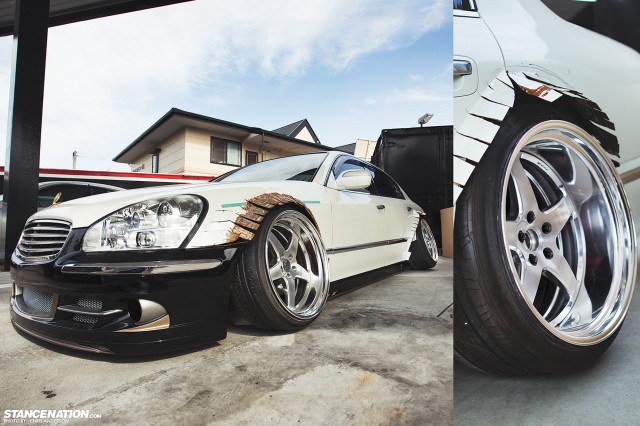 Lexus SC430 imported directly from the U.S. equipped with a Job Design Completion kit custom fitted with Type III Muffler tips sitting on Work Gnosis GS-2 wheels.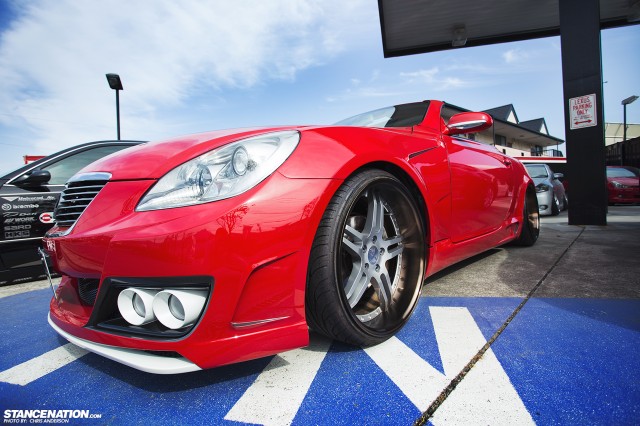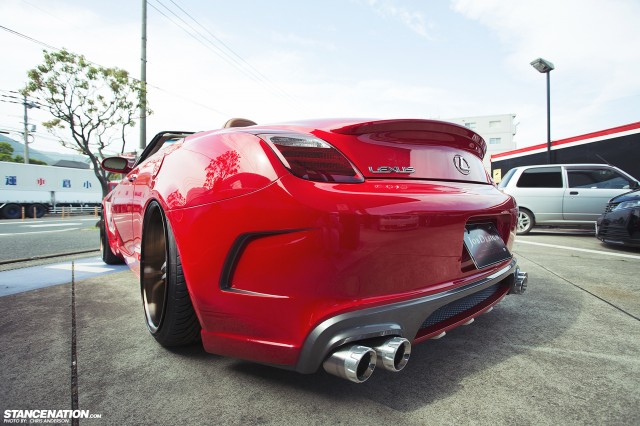 Quite crazy to see a CL550 with this much done to it! Custom CL Completion kit and a deep dose of Forgiatos Linees.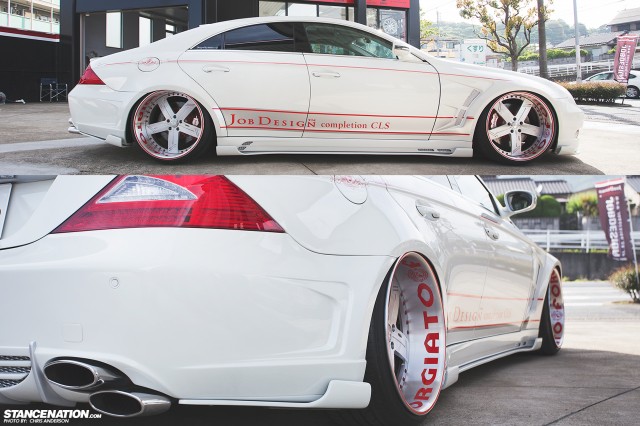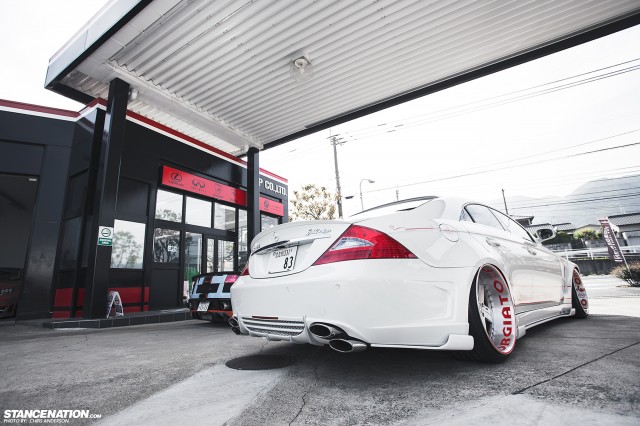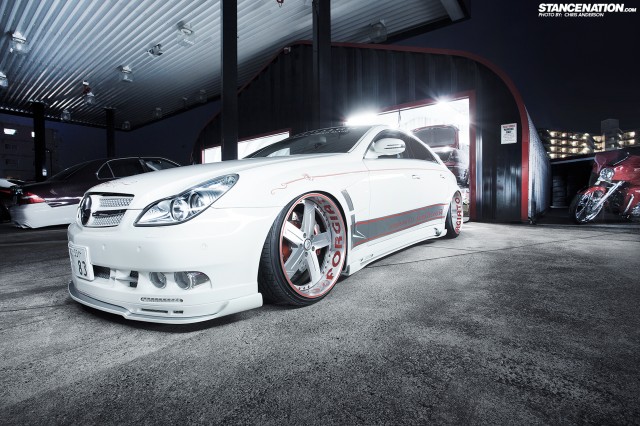 This Gallardo is one of Jo-sans personal cars. Yes, he also makes kits for Lamborghini's as well as Ferraris. Job Design Neo-teny Gallardo kit paired with Work Equips.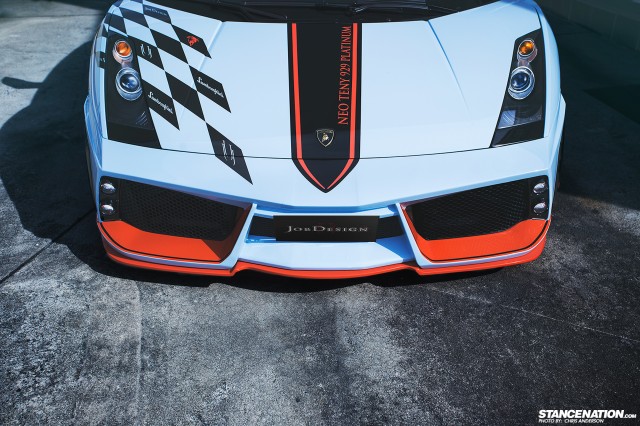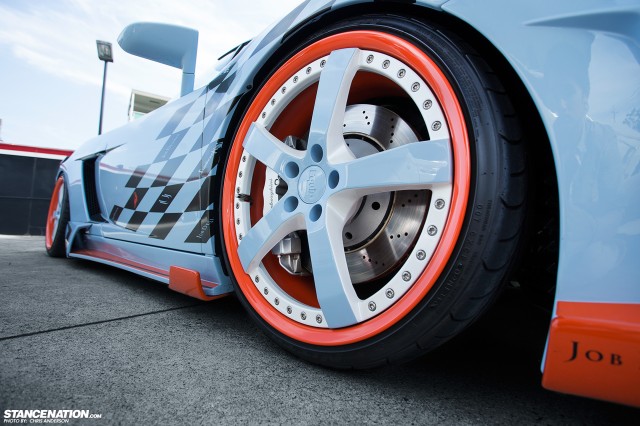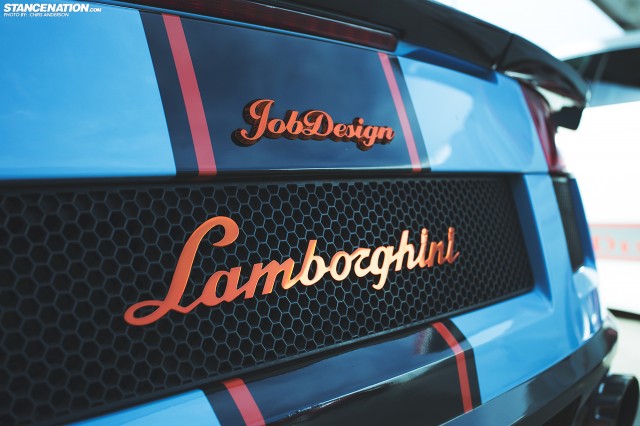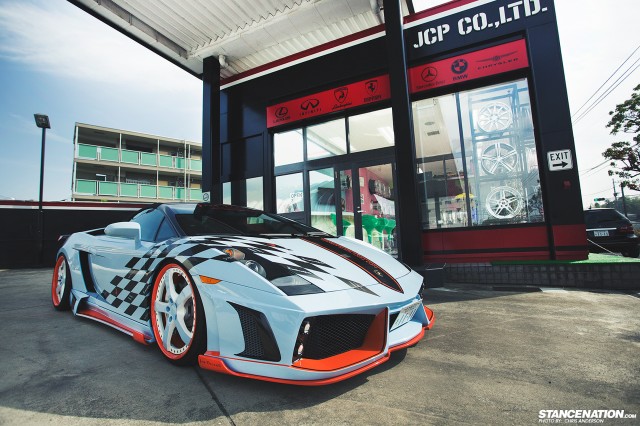 Before we explore this next vehicle, I'd like to share some of Jo-sans words, which sheds light onto how he, as an individual, came to be where he is now.
Prior to owning the big body 460L he used to own an LS600HL, but it could be said this is where it actually, and oddly, takes a turn for the better.
[quote align="center" color="#999999″]
"Firstly, I used to own an LS600HL, which throughout my ownership I really found no joy out of. At this point I decided to acquire my Lamborghini Gallardo. However, considering a sedan was my first vehicle at the age of 18, many of my friends started asking me 'did you give up on VIP Sedans? Well, no, I never necessarily 'gave up' on VIP Sedans!" he adds "Disregard my aero business, I now wanted to prove myself, to revive myself into VIP on a personal level! As such I decided I will be coming back strong with the LS"
[/quote]
With that being said, I'd like to revisit the word 'passion'. The LS460L is a passion-fueled creation that represents where he belongs in VIP. Of course consequently, with as much time put into it, this became Job Designs flagship car he now proudly displays around the world.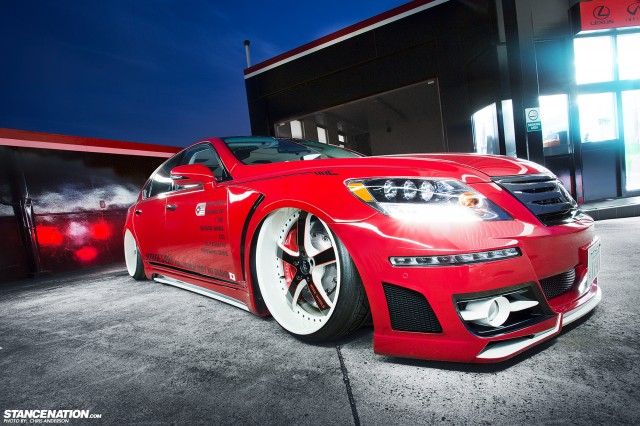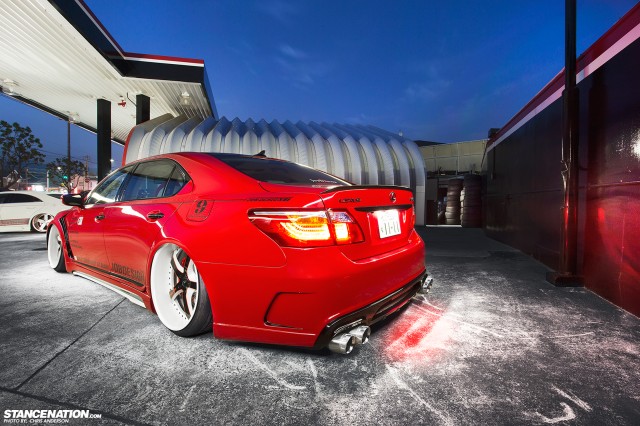 First impressions matter to Jo-san. Whatever catches your eyes first, whether it is the aero kit that pushes the boundaries of status quo, or the head tilting wheels, I'm here to run down it all. This beast is sporting the World Premium 8 designed for the LS with additional custom ductwork behind fenders extending out 35mm up in front and 60mm at the rear all while grounded by a Universal air suspension kit. Jo-san says "The blister fenders were, arguably, the most difficult part of this build by far"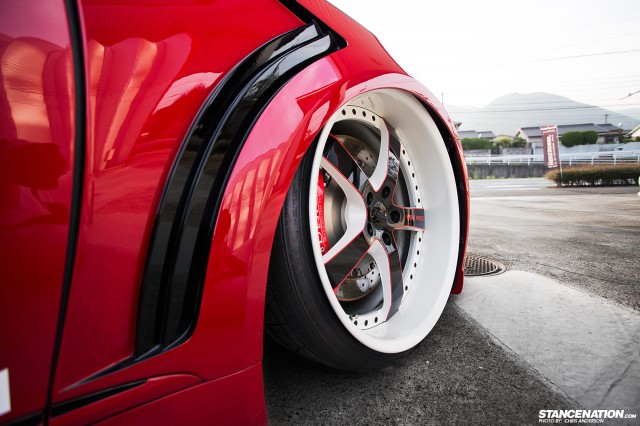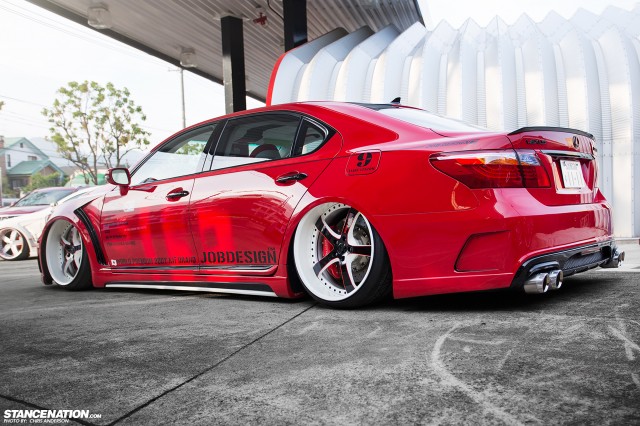 Tucked behind the fenders you'll find a fitting choice of Work Equip e05's. Front with a respectable 22×10.5 and at the rear 22×12. Now, keep in mind Work Wheels don't traditionally make 22inch e05s wider than 11.5, but nothing is off limits to Jo-san. Work Wheels specially made them for Job Design; Also spotted inside his shop were custom 22×12.5 Equips for a future car. Limits do not apply. Naturally with a vehicle of this size he'll need some stopping power as well. At the front we see an 8-piston caliper hugging a 430mm caliper and, suitably, 6-piston paired with a 400mm rotor at the rear wheels (Both respectively just upgraded to 16 piston and 8 piston CSDs after my visit!)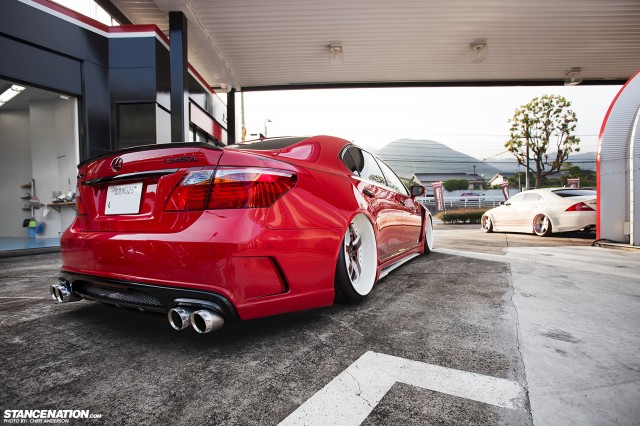 The interior also has its fair share of eye candy. Fully wrapped by VIP L-Tide is a JD Red and white interior, the steering wheel, dash, and other significant details covered in suede and leather, custom floor mats, digital controller for his suspension. He isn't done just yet though. Jo-san will be kicking it up a notch by adding a complete audio system as well in the near future.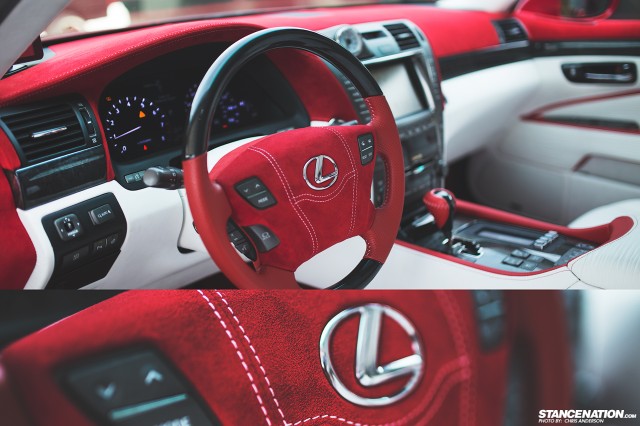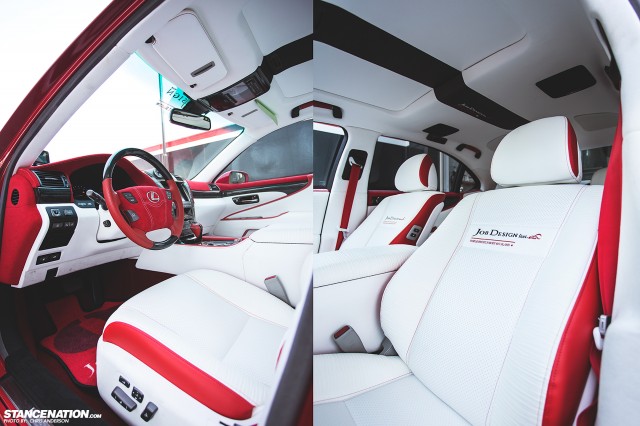 While going through these photos, I can't help but feel provoked into thinking deeper of what is presented in front of us. Could be you're a diehard fitment aficionado and having wheels quarter way tucked in is not your cup of tea, and maybe you're a minimalist and like to keep your colors at a basic, but Jo-san doesn't conform to set ideas. He covers all bases. Perhaps non-conformity is the ultimate engine of cultural progression. Pour a bottle of expressionism into the engine and you can't go wrong.
"I am a maker, but before that I am a VIP owner. I am a designer, but also a craftsman" "This year I will bring my creation to SEMA. It is my dream to show the United States what Japanese VIP is" "I will be adding a whole new sound system as well as fitting a newly designed kit onto the 460L so please feel free to visit me at SEMA this year!"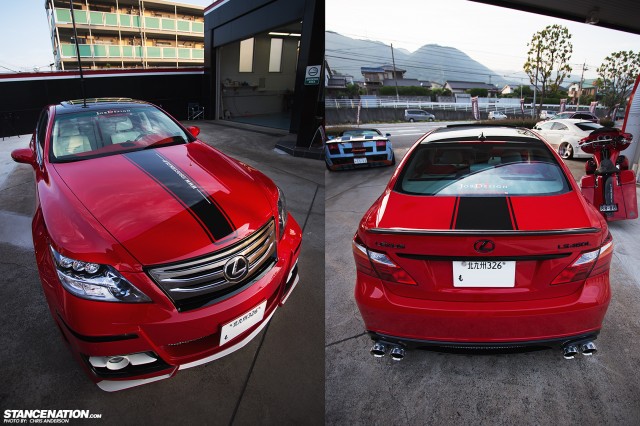 As a final touch, I'd like to briefly go over another one of his toys. That is his 2009 JD Red Harley Davidson FLHX. As with everything else owned by Jo-san, this couldn't be left alone. Sometimes cruising around the seaside or mountains doesn't feel right without some music so he decided to beef up his audio. With the help of Respect Customs Jo-san has built on a second pair of speakers giving a total of 4 MTX Audio speakers giving off sufficient sound even on the windiest of rides. Adding some more quirks, he has created 6 strips of LEDs behind his center headlight, added some aero taste around the dash and side-box, but the side-box's fate wasn't finished there as he went onto customize it to make room for a side exit exhaust to complete his desired look. Enjoy the rest of the photos.