From built and k-swapped Hondas to race bikes and cafe cruisers, Eric Banks out of Oklahoma has always built whatever he felt like was right for him at the time; regardless of what was popular at the moment. Upon deciding he wanted to build an old body Ford pick-up; Eric hunted for months until the right one appeared in front of him. He instantly grabbed a friend, headed out to look at it, and long story short he took it home that day in what can only be described as a " white-knuckled" drive home. Setting the pace around 60mph, the old F100 with 4 wheel drum brakes was all over the rode due to the over weighted 351c and the 6 cylinder suspension. After about 2 weeks of having the truck home, Banks had decided on his mental plans for the build, and set out from there.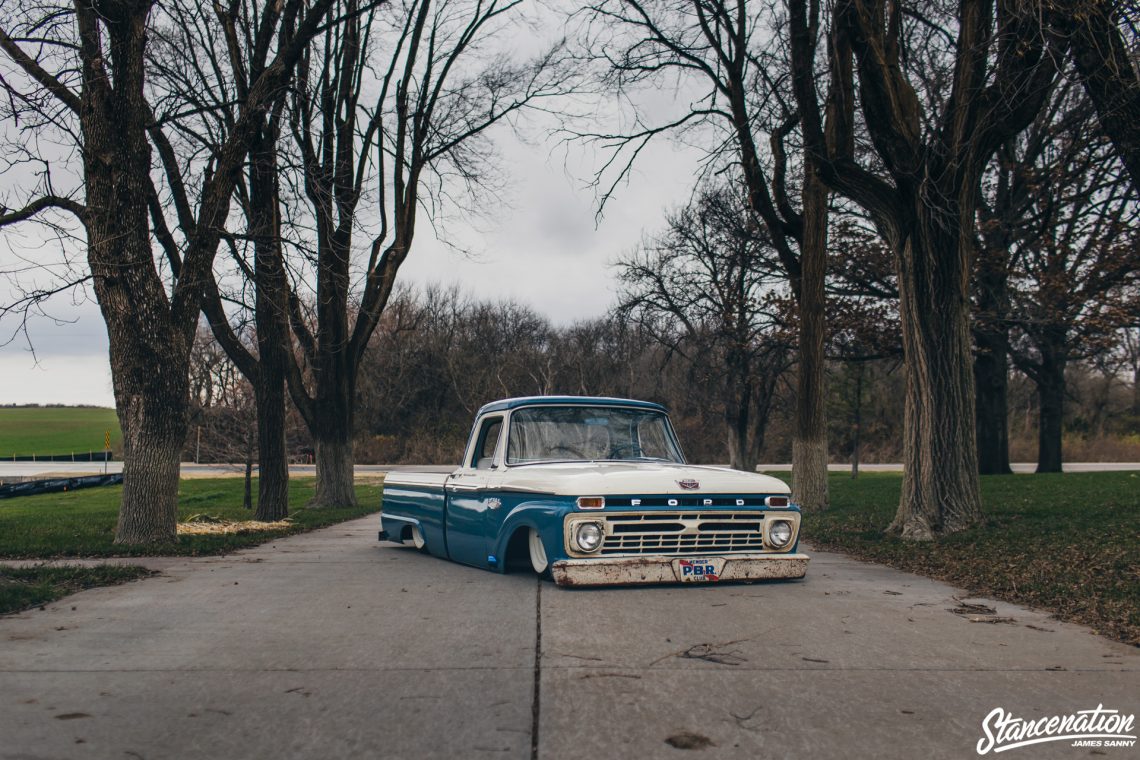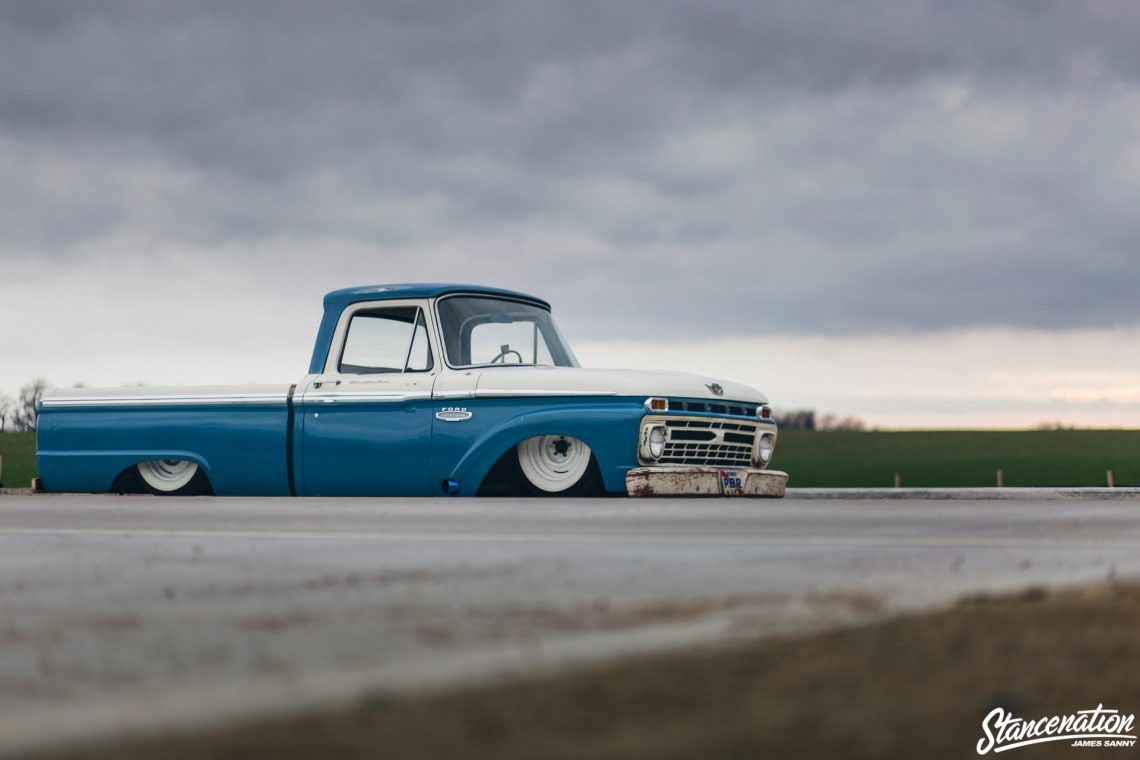 After one full suspension set up built from a crown vic set up; he sat back and decided it was sitting how he wanted it to. Without hesitation, he began the full rebuild to achieve the frame-lay and stance he desired. Starting in the back, the rear suspension is a parallel 4 link bag over bar, the F100 riding on slam specialties re6 air bags, which lead up to a custom Mustang II front end, then the full chassis was all done and everything was powder coated by Eric himself. With the chassis done Eric and his friend Aronldo Flores repaired all the rust spot and repaired the floors, as the cab was sent off his brother James Inscoe to get all the interior and engine bay shaved sandblasted to bare metal, straightened and repainted back to factory spec, which was very important; everything needed to stay period and factory correct as he was going to be keeping the original factory paint on the body and only giving it a long, slow, careful buffing to bring it back to life.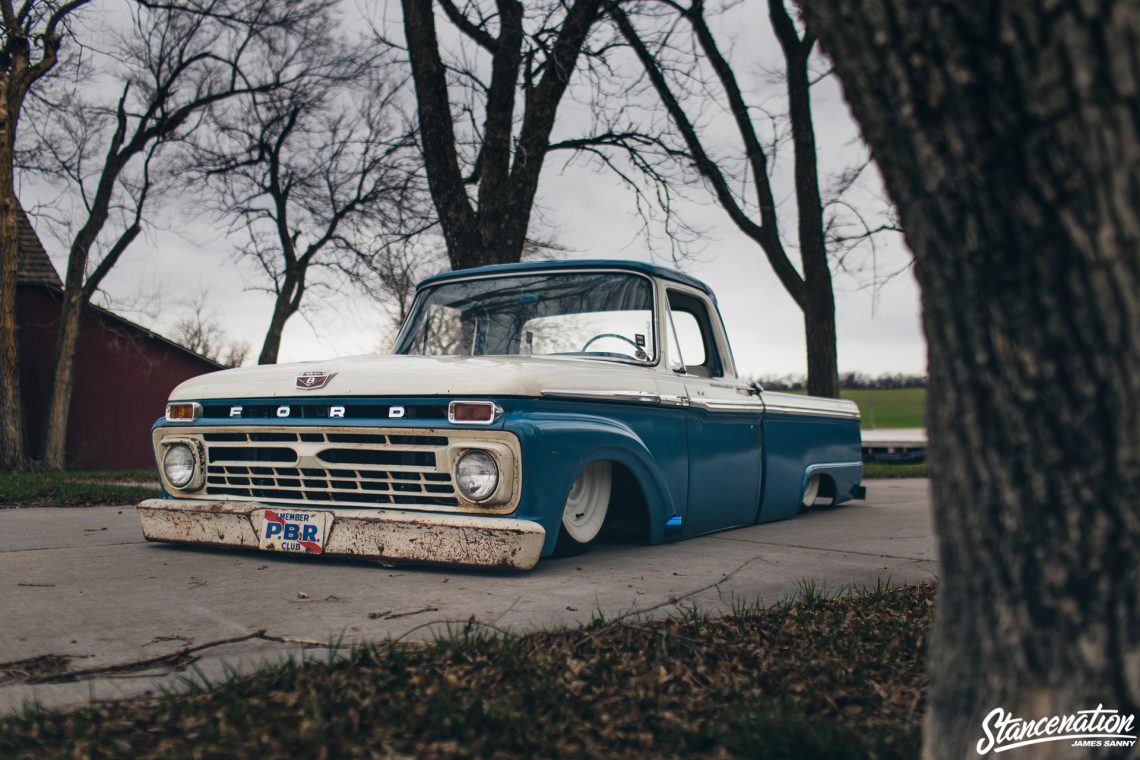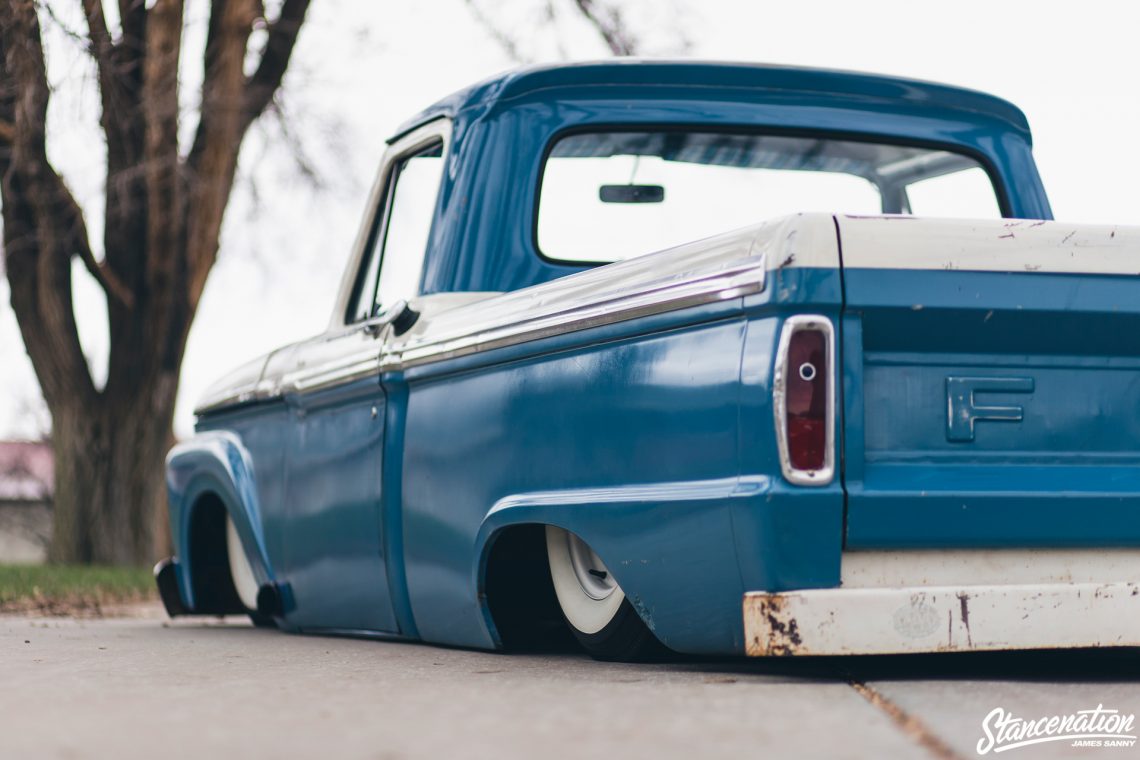 From the white vinyl with blue white and black plaid, installed a b&m shifter with a modified crafty b shift lever, to the custom meat cleaver handle, to the raised the factory bed floor so he could avoid cutting a hole for the huge 10" hometown fab c-notch it is easy to see no detail was forgotten and EVERY detail was done with care. Once the bed was finished, Banks built the custom trunk area to display the custom built ww2 shark face bomb, copper hard-lines and the air management, underneath the floor are 2 viva-air 440 compressors with all an fittings and braided lines. At this point, Eric could not skip the opportunity to add one more touch of his own to this beautiful step back in time; an all new power plant. If you have not caught on by now, he skips no corners with what he chooses to do and with the help of Scot Johnson Machine and Steve Jones at Performance Auto and Diesel they built the 408w with scat stroker kit, with JE flat top pistons, Ford Racing rocker arms, aluminum heads and then topped it off with a set of vintage Weiand valve covers and intake, and a black diamond series quick fuel carburetor with all Lokar throttle cable. Incase that was not enough detail for you, the dipstick all hardware was switched to stainless allen-head bolts and the lake-style headers were custom routed out the front fenders on both sides of the body.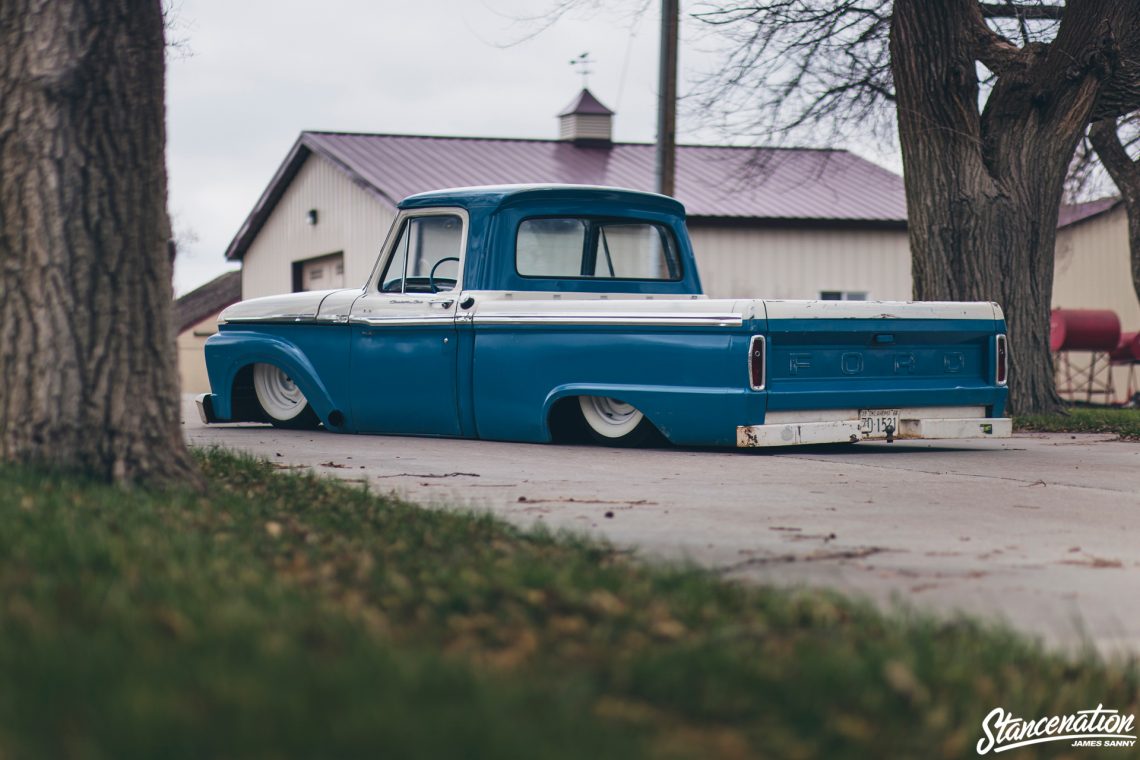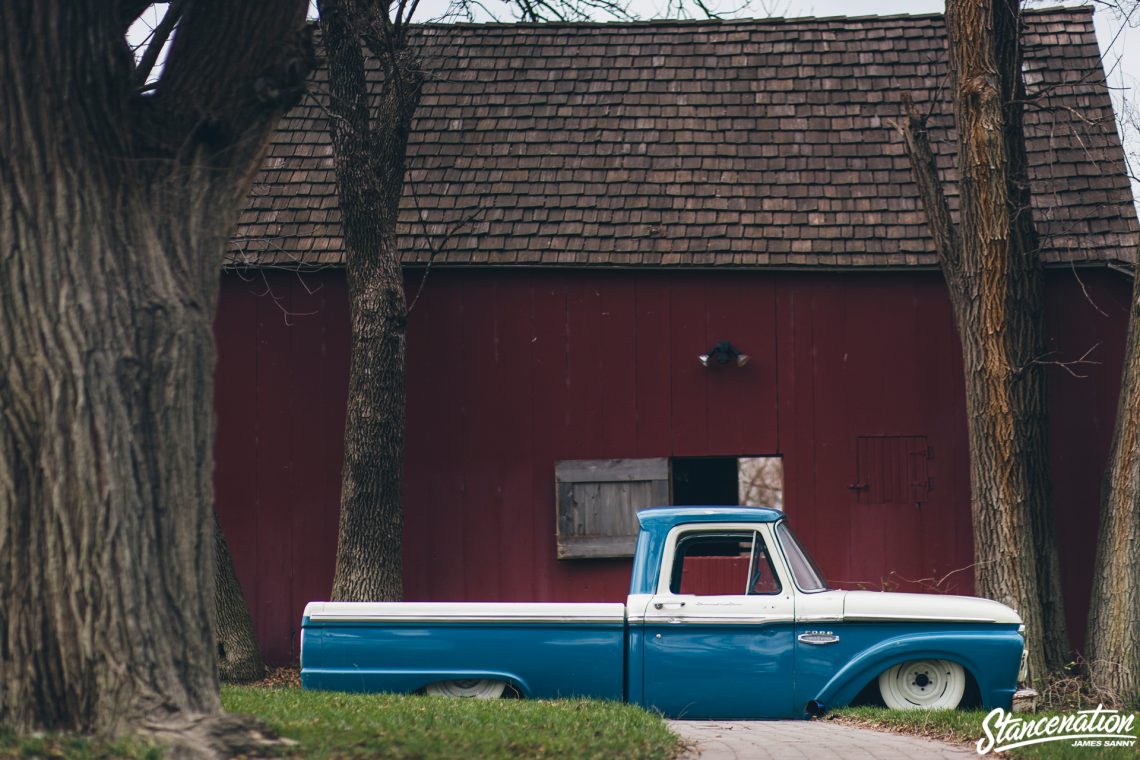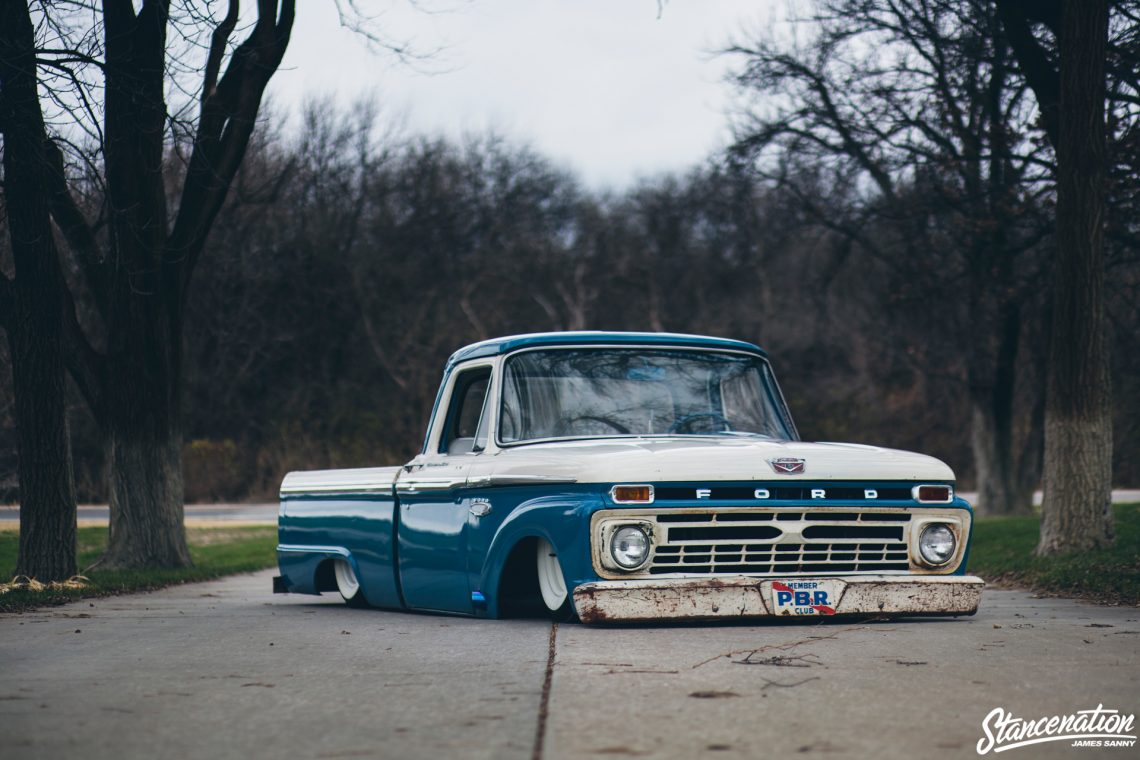 While the truck will always be a project in progress, Eric Banks is very happy with how the truck sits currently and will be keeping his future plan for it as a "need to know" basis; and well StanceNation readers, at this point; you don't need to know yet. For now, he is going to start work on his '49 Ford 4 door; so keep an eye out for it. Special thanks to everyone who has helped in making this build possible and to Cowskin Creek Clydesdales for the use of the most perfect photo location this truck could ever ask for.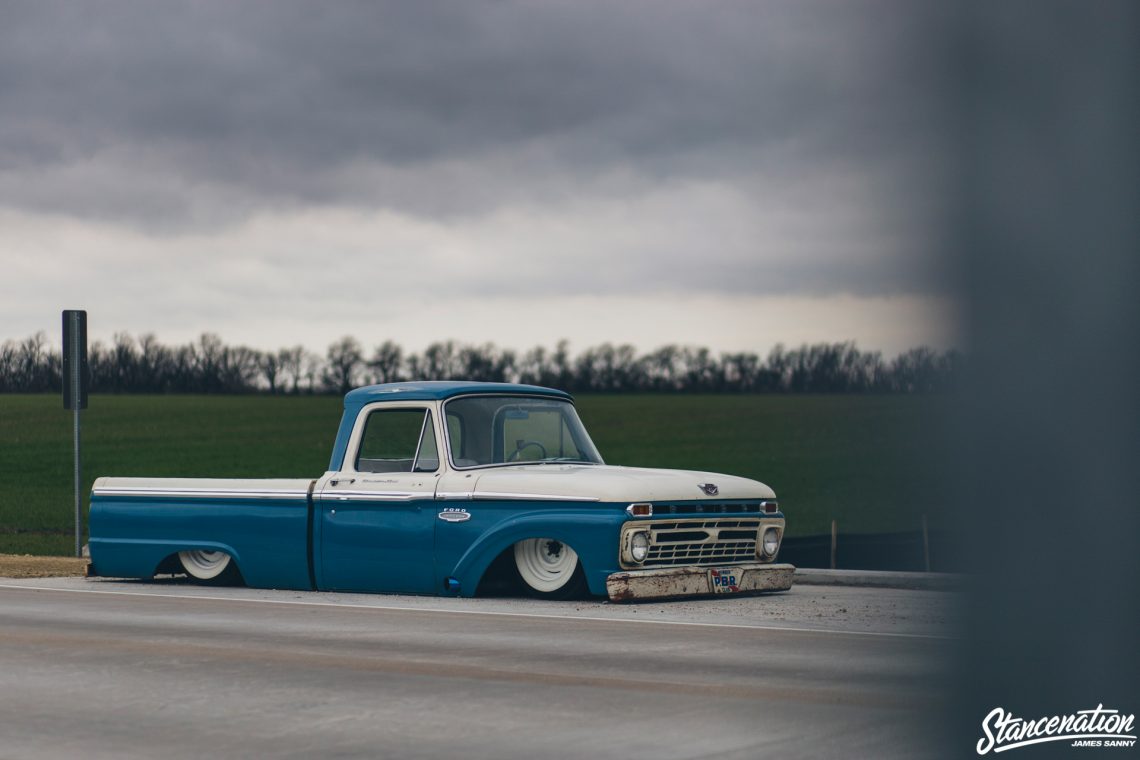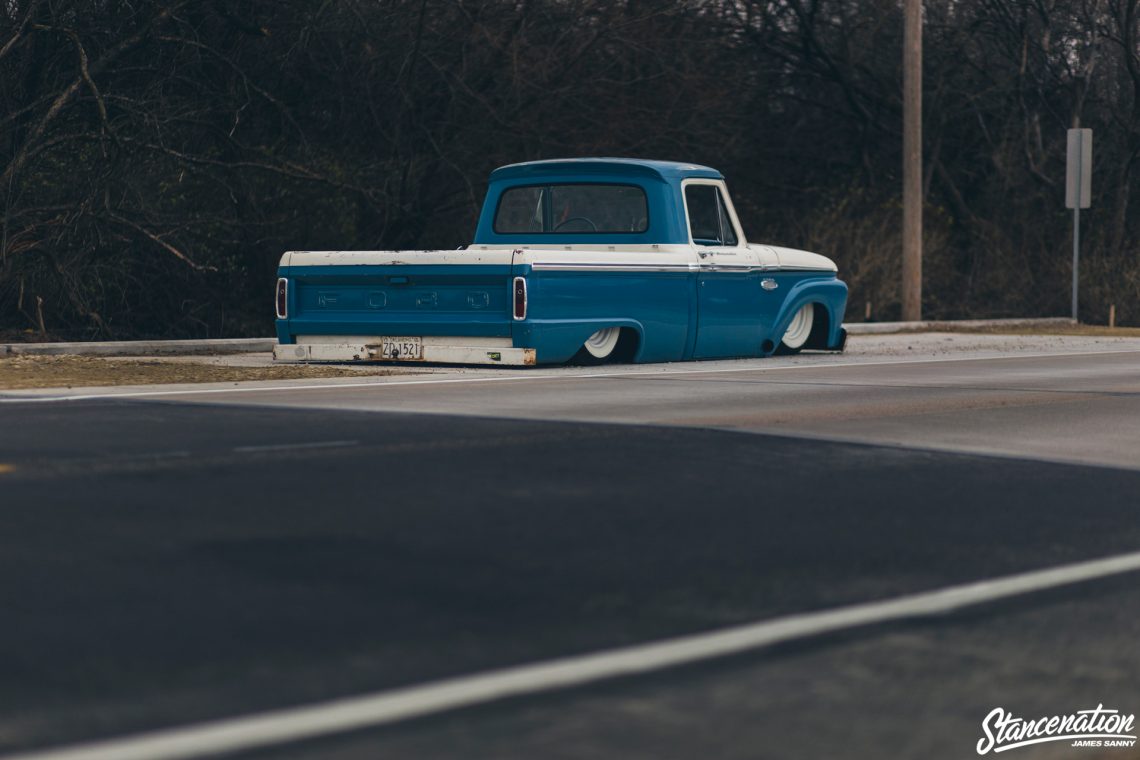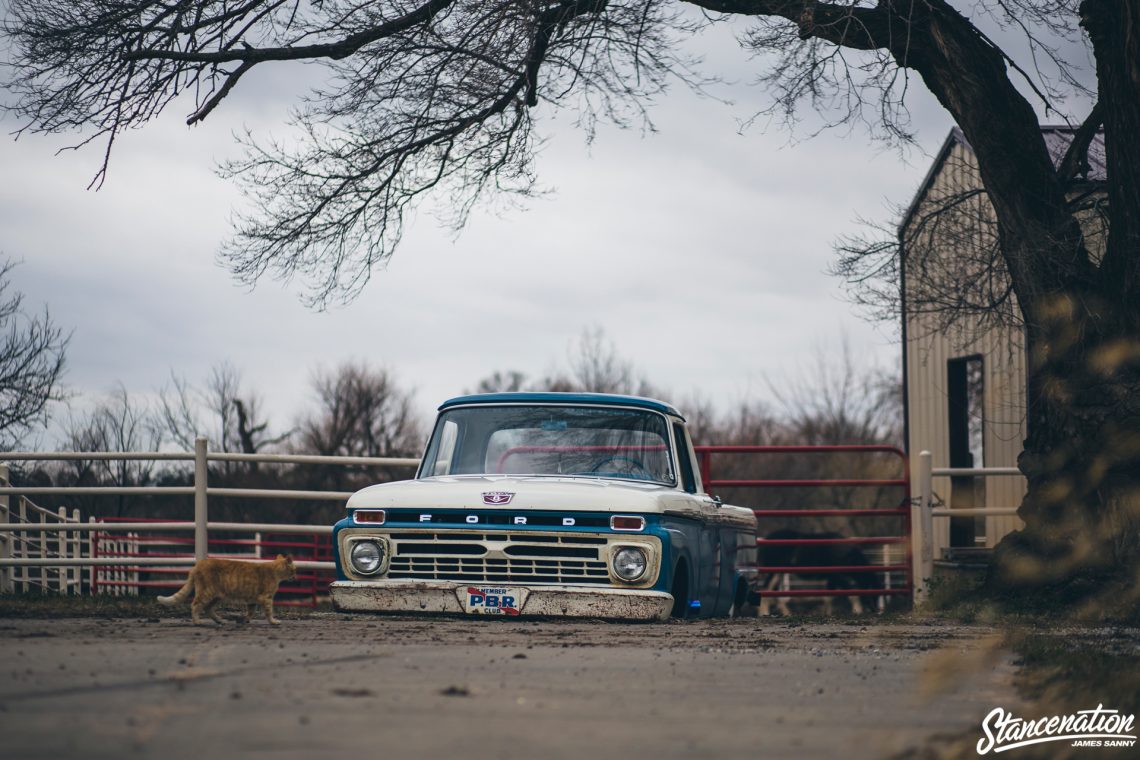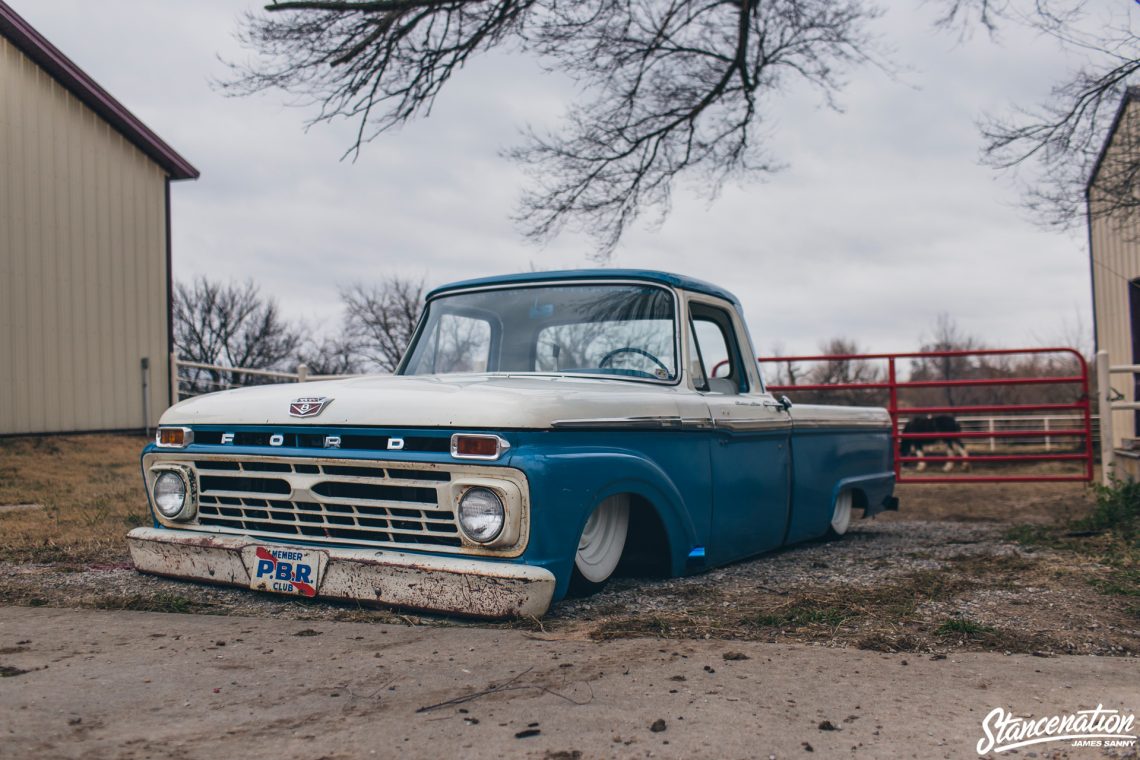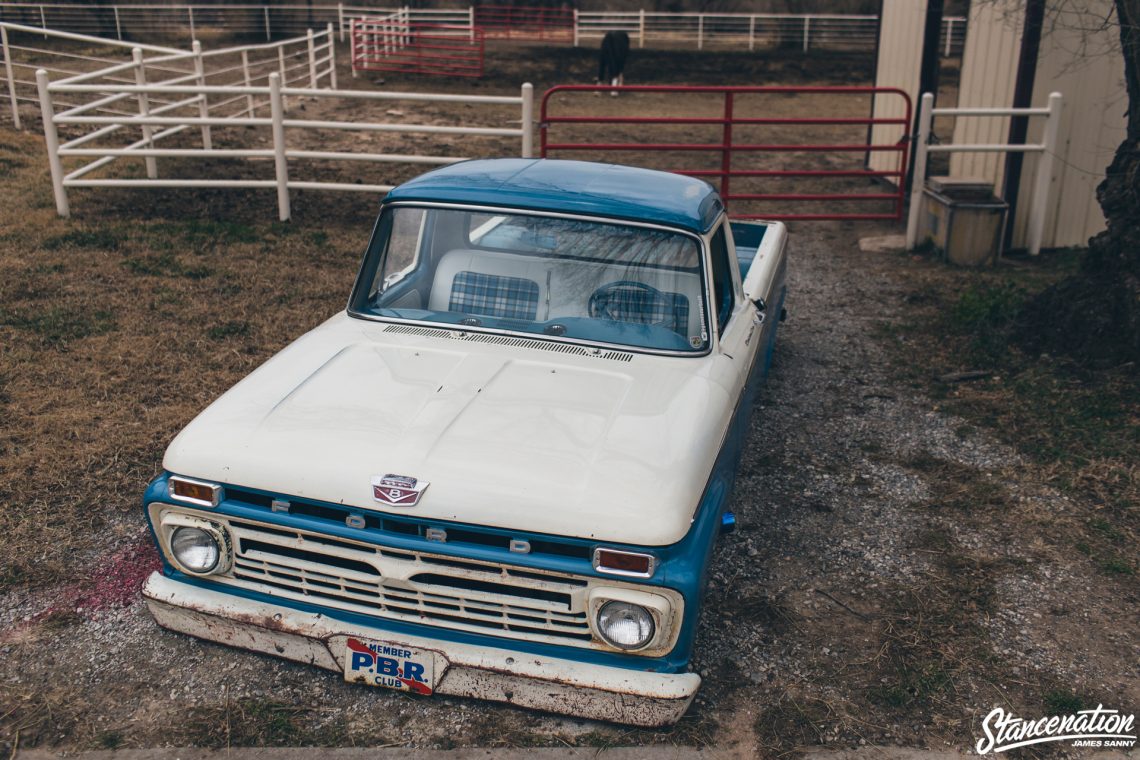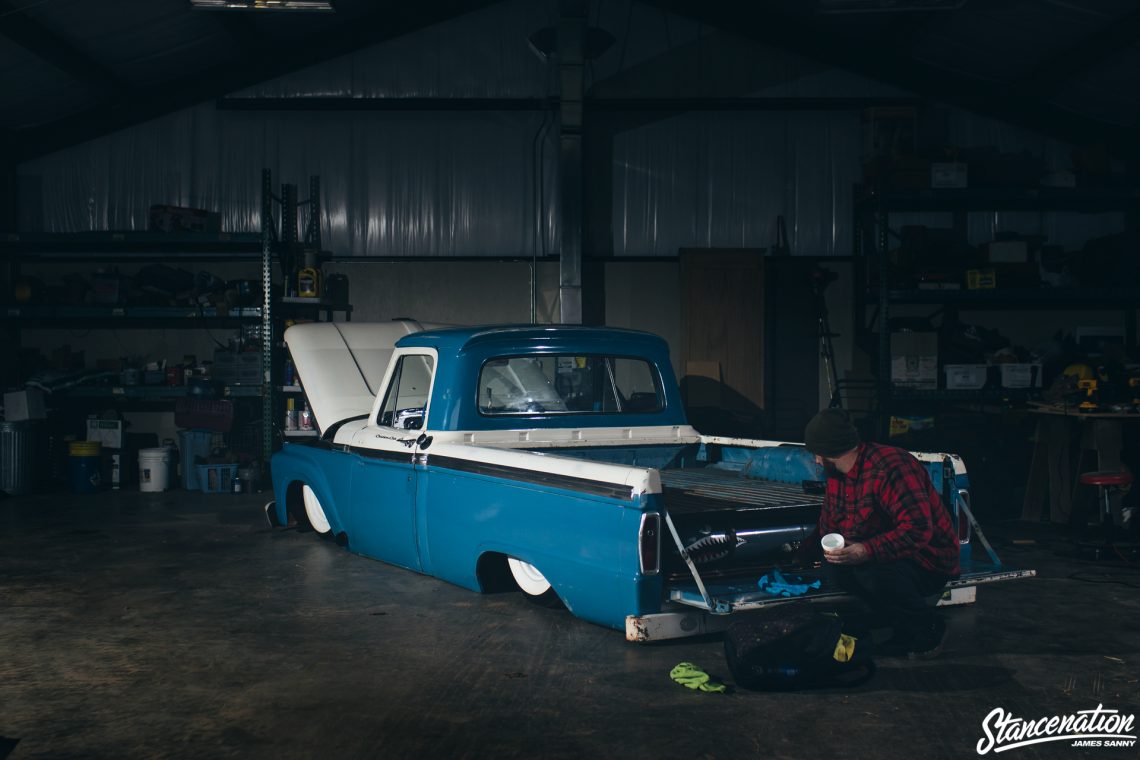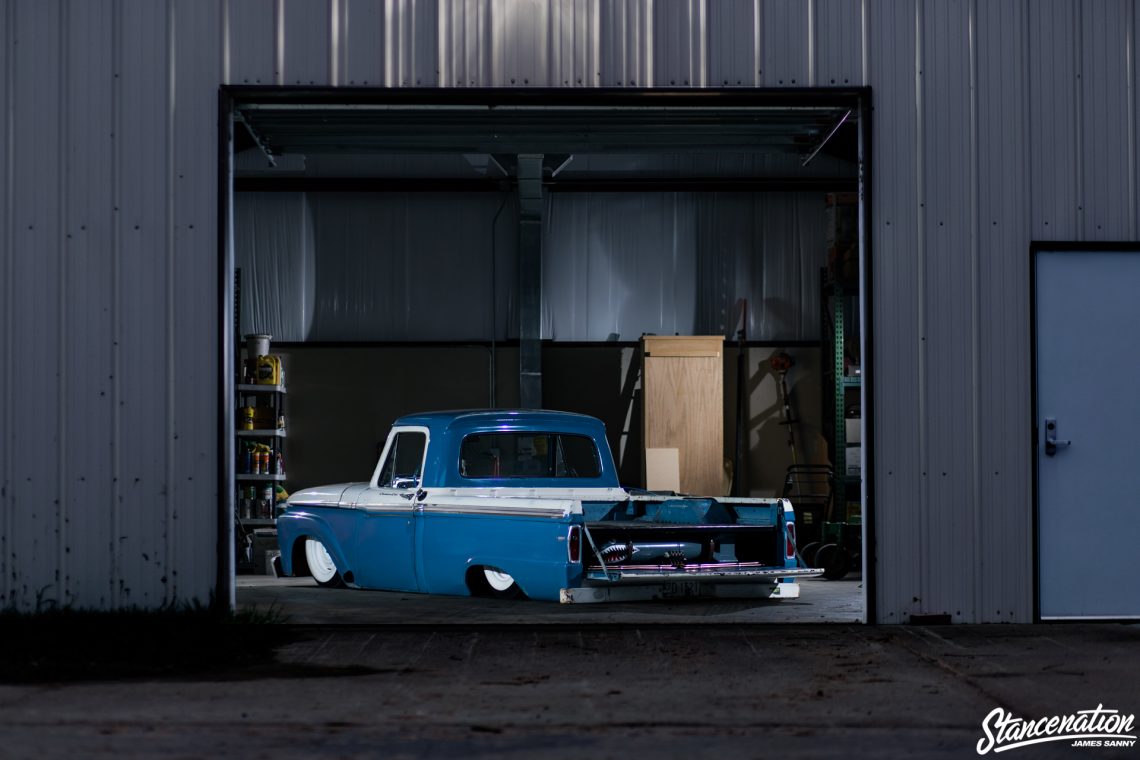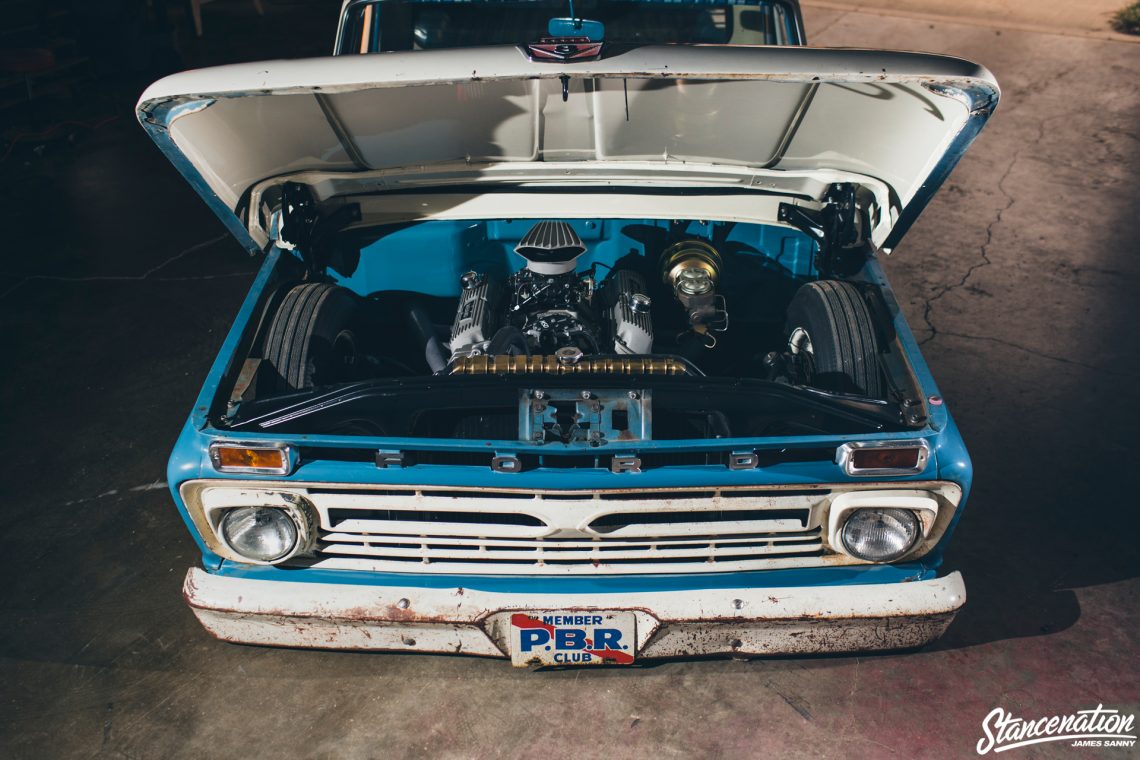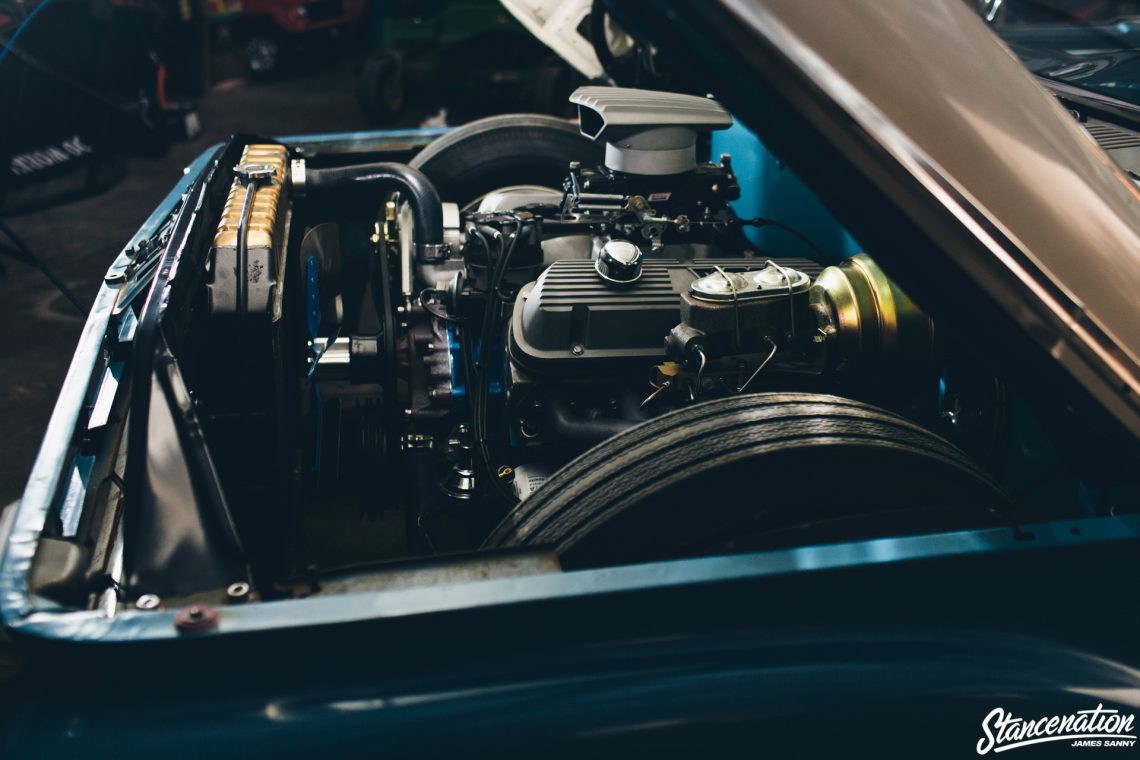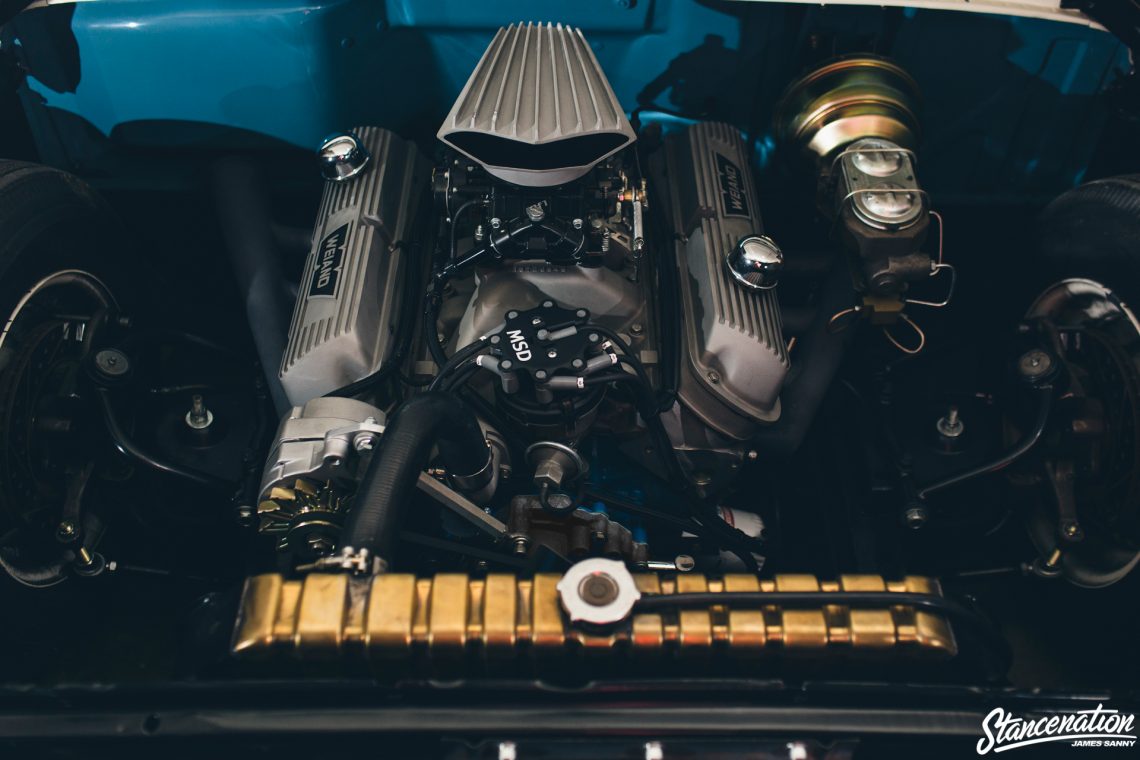 Engine
351 Windsor Stroked to 408
Scat stroker kit
je Pistons
aluminum heads
Ford Racing lifters
comp cam
quick fuel black diamond carb
custom lakestyle headers
c6 transmission
wieand intake manifold and valve covers.
Wheels
oe 15in steel wheels with 670 15 coker classic wide whites
Interior
white and plaid wrapped seat
sun visors and factory option door pockets.
Full interior has been to Bare Metal and repainted back to original with all new trim, gauges,knobs and seals.
Crafty B shifter arm with one off 44 build Hatchet shifter handle.
Suspension
front is packing full tilt street rods mustang ii cross-member set up with flaming river steering rack, with slam specialities re6 bags.
Front suspension raised 3in.
Rear has a triangulated 4 Link bag over bar with slam specialities re6 bags and hometown fab c notch.
Body
all original paint buffed back to a shine minus the repainted interior shaved and repainted firewall
custom trunk compartment under the raised beds floor.